Hey guys!
You may or may not have noticed that I've been trying to consolidate my Everlane reviews into helpful one stop shop kind of posts.
After getting such an overwhelmingly positive response to my Everlane Denim Guide and then my Everlane Boot Guide, I realized that having everything in one place makes the most sense… which I totally get. I feel the same way when it comes to reviews. I like to be able to compare options and see everything in an organized space.
SO with that in mind I thought I would do a roundup of Everlane outerwear that I own.
The idea for this post was sparked because Everlane just released some new outerwear styles for spring that had me super excited. I've been itching to share them with you!
It also happens that I own seven pieces of Everlane outerwear so I thought it would be fun to style those seven pieces for an entire week…
Now I know what you're thinking: this post is called 6 days of Everlane Outerwear! You're right. After I took my photos and sat down to write this post, I realized that the fleece is no longer available so obviously I'm not going to review it for you guys if you can't get it. I did still include the photo at the very end just in case you already own it (or something similar), and want the outfit inspiration.
Alrighty then! Let's get into the outfits/reviews: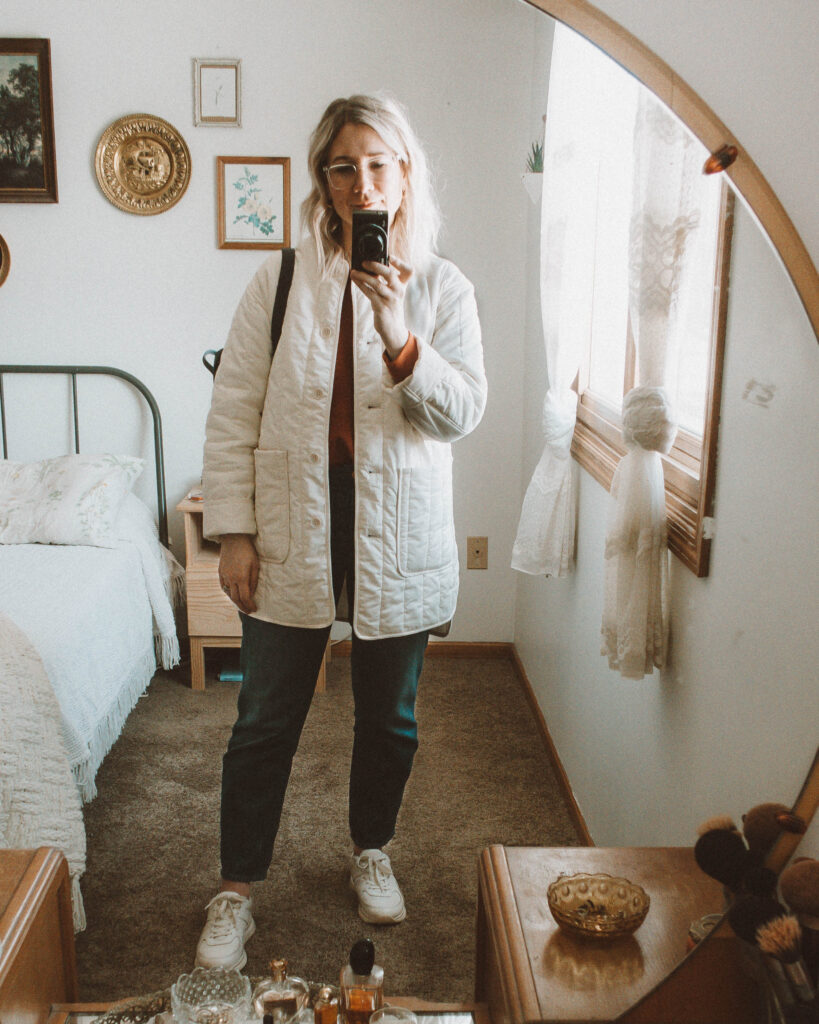 Quilted Jacket (gifted) | Sweatshirt (gifted) | Denim (secondhand via the RealReal) | Sneakers (gifted, see review here) | Backpack
---
SOOO cozy, way more cozy than I was expecting. It almost feels like I'm wearing a quilt.
Surprisingly warm. Definitely not for days like yesterday (-11… yikes!), but I wore it on a 30 degree day and it was perfect paired with this sweatshirt.
It's over-sized so stay true to size if that's the look you're going for, otherwise size down (I'm wearing it true to size).
The arms are pretty long, which is great for my tall friends… everyone else will either have to roll the sleeves up (which I actually really love the look of) or consider having it tailored.
It has two really deep front pockets that fit so much you wouldn't even need a purse. I could even fit a diaper and wipes in there if I wanted. 😉
The color is a really pretty creamy white. It's not quite cream, but it's not quite white either. Bonus? It's machine washable so you don't have to be afraid of getting it dirty.
Overall thoughts: this is my new go to jacket for days when I just want to be comfy and cozy while still looking put together. It's like the grownup version of the North Face fleece that everyone in the Midwest gravitates towards. 🙂
---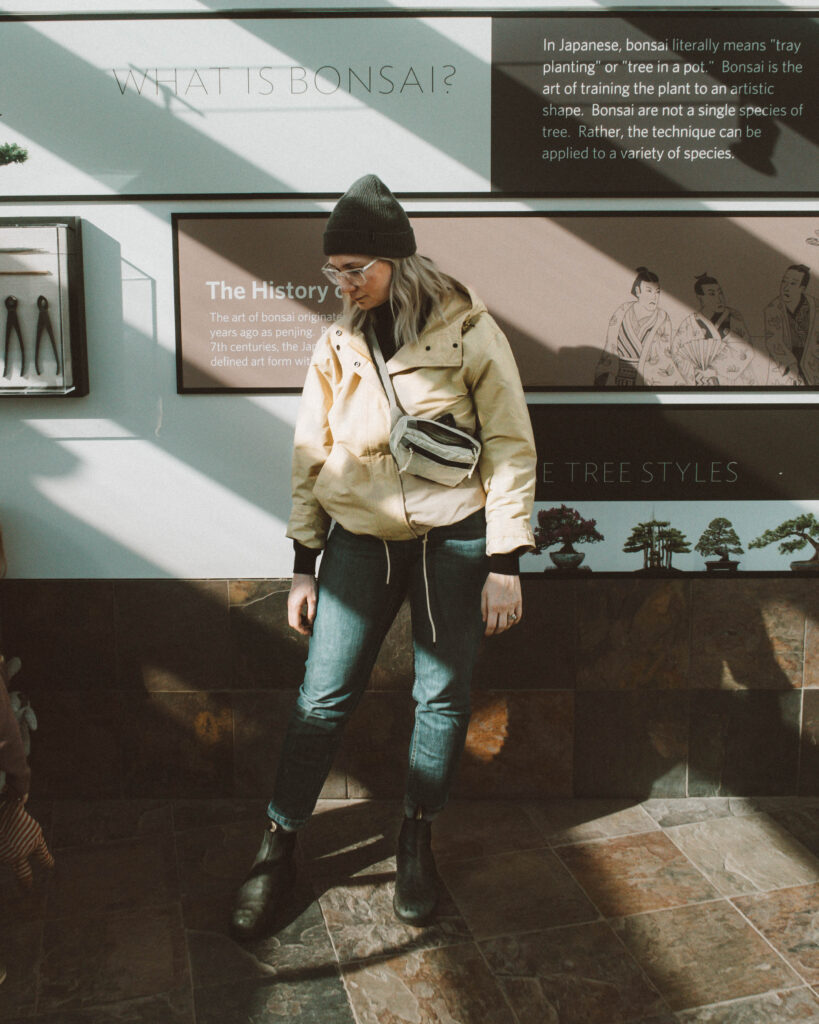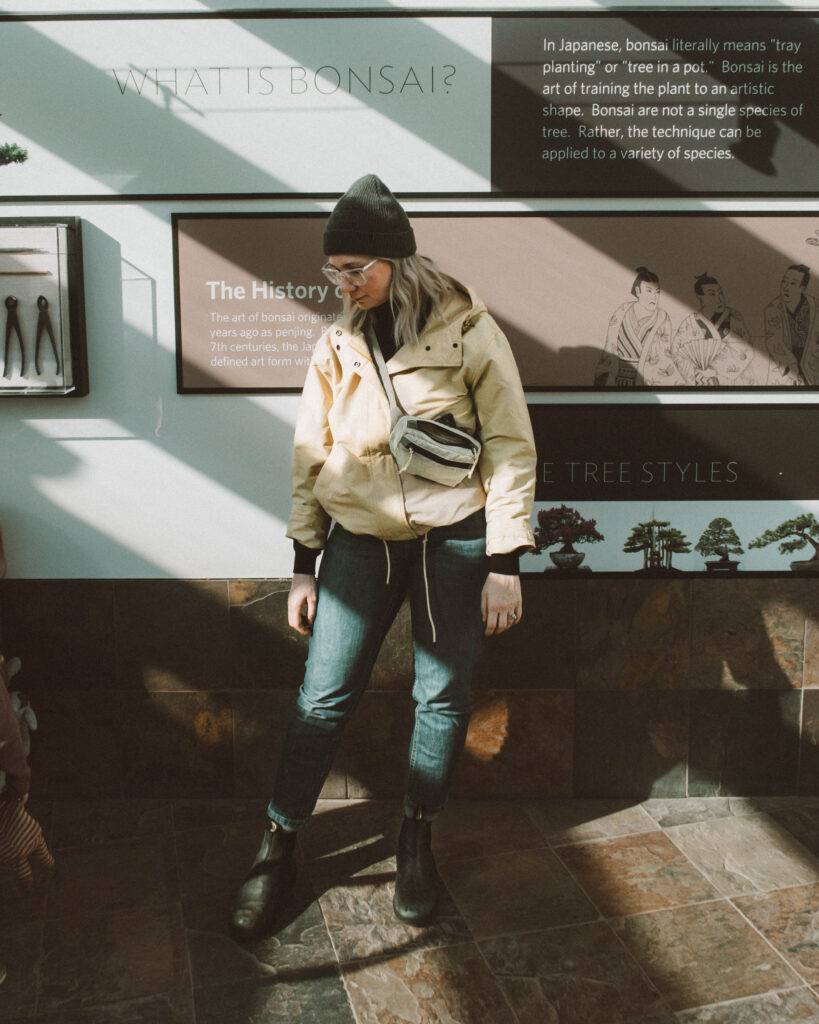 Rain Jacket (gifted) | Turtleneck | Hip Pack (secondhand via Poshmark)| Denim (review here) | Boots (review here) | Hat
---
super lightweight, stylish option for rainy days.
the color is a really interesting muted yellow. It's definitely not as buttery yellow as the website makes it look. My photos are a better representation of the actual color.
It has a nice, big hood and deep side slash pockets plus the zipper closure is hidden under a flap so no moisture gets in.
While it is lightweight, it's also very sturdy and durable.
I ordered a size up for this fit. I had an old Patagonia raincoat that finally called it quits last year and I wanted a similar fit. Stay true to size if you want something that looks less "outdoorsy". I also have it cinched at the waist, but it has a much boxier fit when left undone.
In fact, I love that this jacket is so versatile in it's aesthetic.
Overall thoughts: my new go to for outdoor activities, plus an all around great jacket for spring. I love the fresh color as well… it remains a neutral, but with a bit more interest than traditional khaki.
---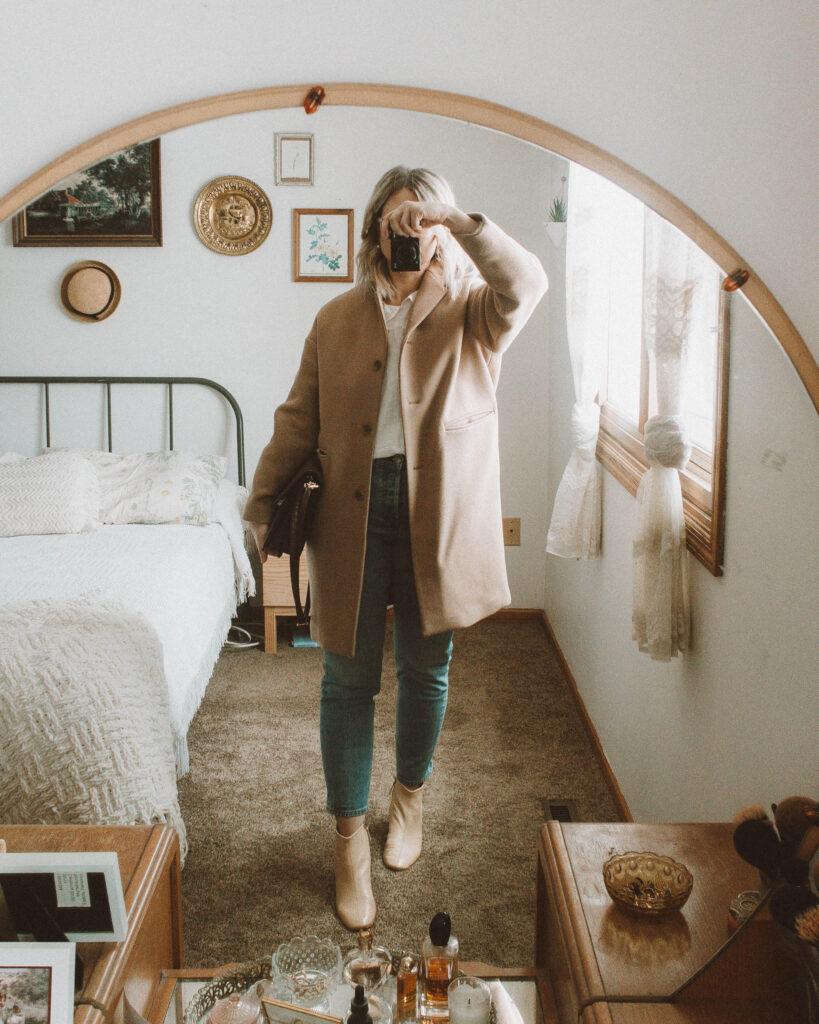 Coat (gifted) | Linen Blouse | Denim (sold out so linked similar) | Boots (review here) | Bag (secondhand via Poshmark, linked similar) | Earrings (hand me down, linked similar)
(The next four coats have already been reviewed in other blog posts. I'll copy those review here for your convenience, but I'll also link to the original reviews if you're interested)
---
Very oversized so definitely size down.
As with the other two outerwear pieces in this post, you can wear a thick sweater underneath.
The color is a perfect light camel and the material feels really nice.
Super warm, and easy to close if necessary. (AMENDED to say that it's not warm enough for severely cold days)
There is a fun contrasting gray detail underneath the collar which makes popping your collar a fun touch.
Hits me right at the knee.
Overall thoughts: Great, lightweight wool coat for cooler days. It really elevates any outfit, and the camel color is a classic that you can't go wrong with.
---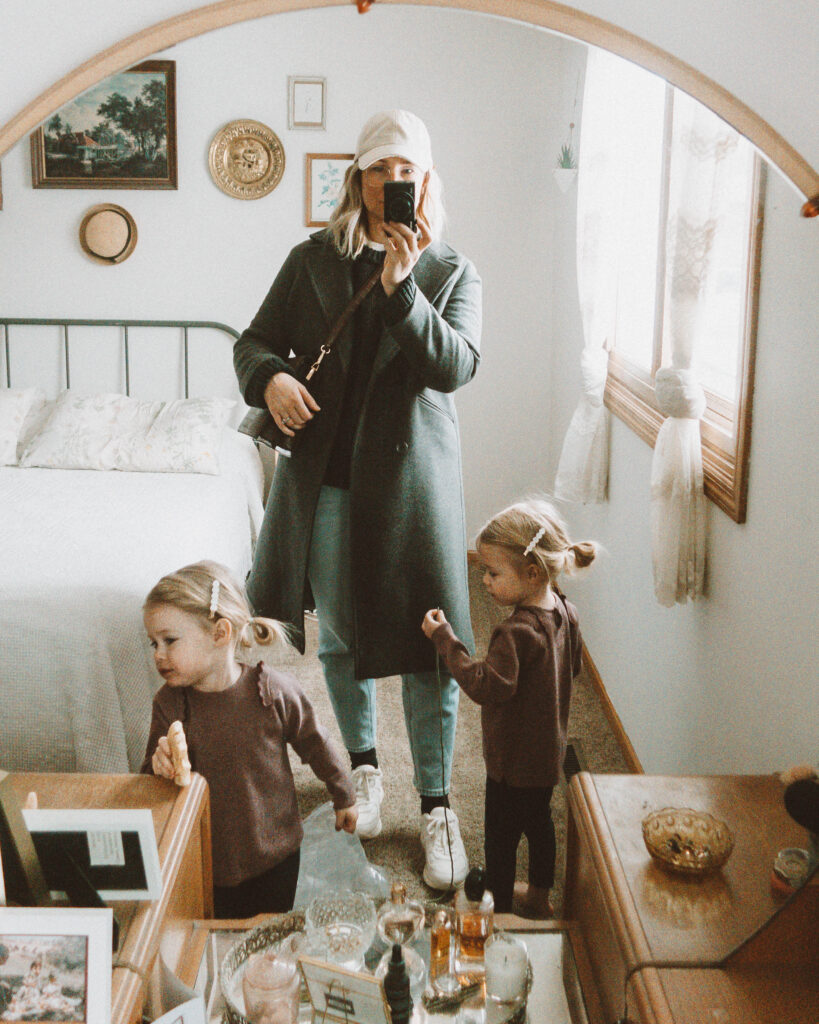 Coat (gifted) | Sweater (secondhand via eBay) | Denim (size up for this fit, currently on sale for $30) | Sneakers (gifted, see review here) | T-Shirt | Hat | Bag (secondhand via Poshmark, linked similar)
---
Very oversized. I sized down and it's still got lots of room.
The arms are relaxed enough to layer over a thick sweater.
I'm 5'5″ and it hits me right below my knees.
Very thick and warm… especially when buttoned up.
It's a deep charcoal color, and I love that the buttons are the same color.
The pockets are nice and deep, and the lapels are structured enough that I can flip them up for added warmth.
Overall thoughts: It's a classic example of you get what you pay for. It's really well made and substantial. It should last you many years.
---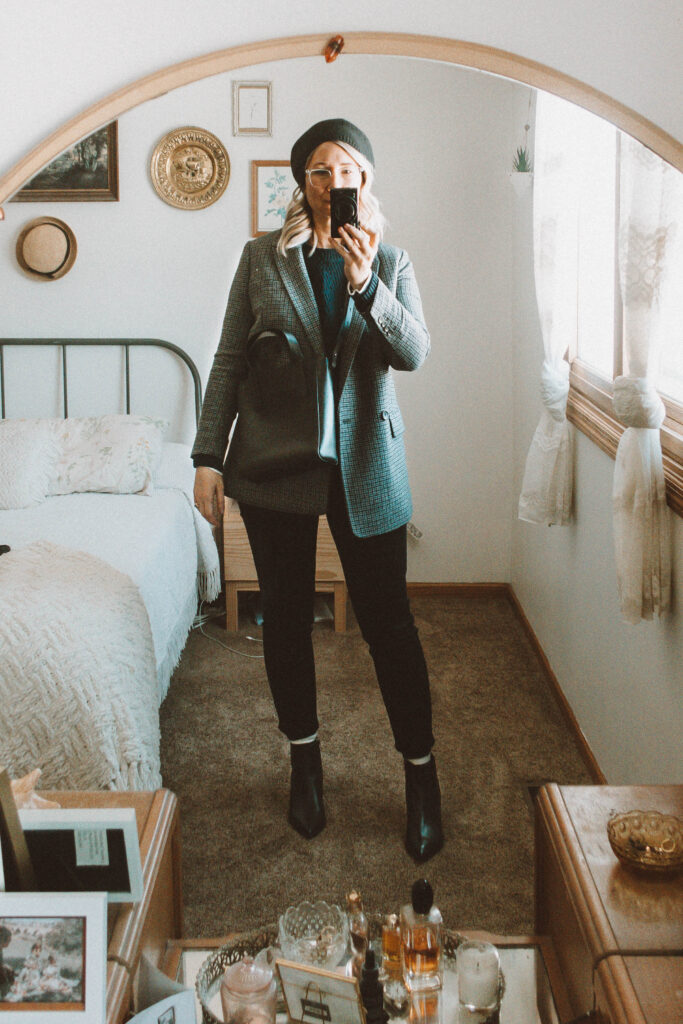 Blazer (gifted) | Tee | Sweater (no longer available, linked similar) | Denim (gifted, limited sizes so another option here) | Boots (gifted, see review here) | Bag (no longer available so linked similar) | Beret (no longer available so linked similar) | socks
---
Super oversized. I sized down, and I could have gone down even one more size.
It's double breasted so very boxy, and structured.
It's a nice, thick wool material that feels really substantial. In fact, it's warm enough to wear as a light jacket.
It can fit a chunky sweater underneath, and it passes the arms in front of you test (where you put your arms out in front of you, and the shoulders still lay comfortably… super scientific I know).
The hounds tooth is a really pretty bluish gray.
Overall thoughts: A great blazer for work, and casual dressing and comfy enough to wear all day without a backache.
---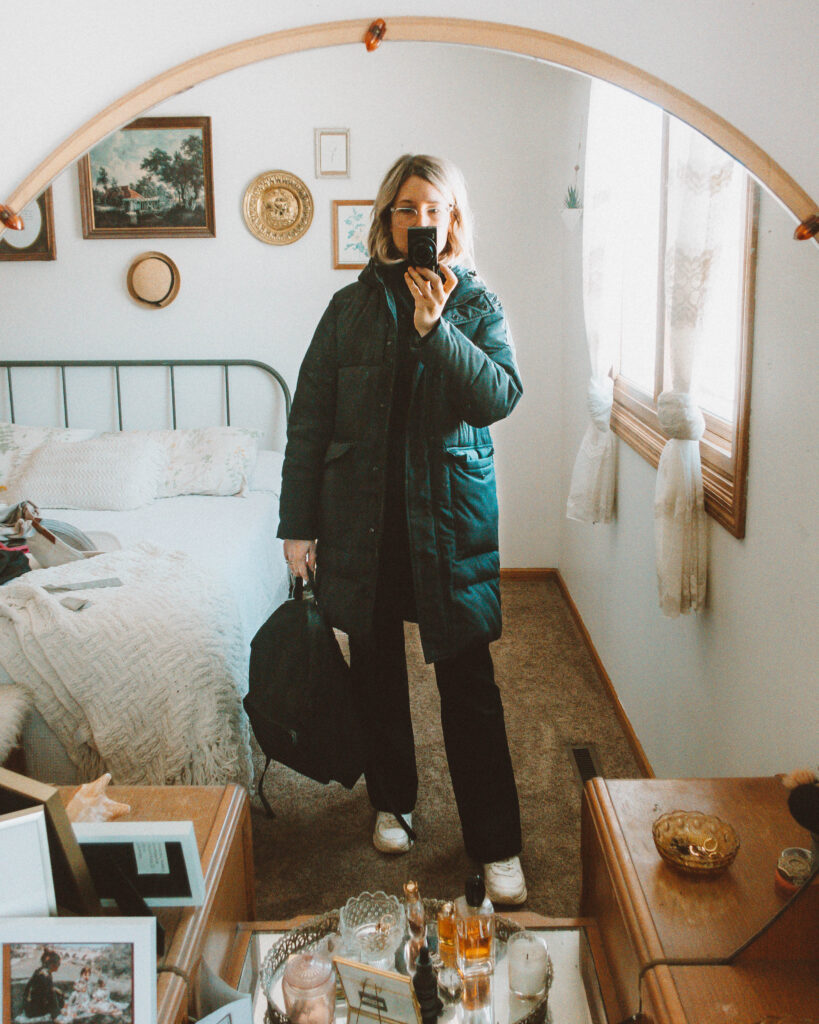 Coat (gifted) | Turtleneck | Denim (gifted, review here) | Sneakers (gifted, see review here) | Backpack
---
I'm 5'5″ and it hits me right at my knees
It's oversized. I normally wear an XS, but I gambled on a S so I can wear chunky sweaters with it. I would suggest doing the same and ordering a size up if you plan on layering under it. Order your normal size if not.
It's still very structured for a puffy coat, with a slight a-line shape. The material is very sturdy and thick. It's definitely meant for very chilly weather.
It has a nice, big hood, the hard wear is black, and the pockets are massive (love!). It zips up the front, and there are also button closures.
The fabric is very matte, which I love. I hate black puffer coats that look shiny… whether they are or not, I think it makes them look cheap. This one is a nice shine free fabric that looks really nice.
Overall thoughts: It kept me warm and cozy through an entire winter (with one of the coldest/snowiest February's on record). With that said: it may be TOO warm if your climate isn't like mine. Something to keep in mind. But if you're going for serious warmth, I highly recommend it!
---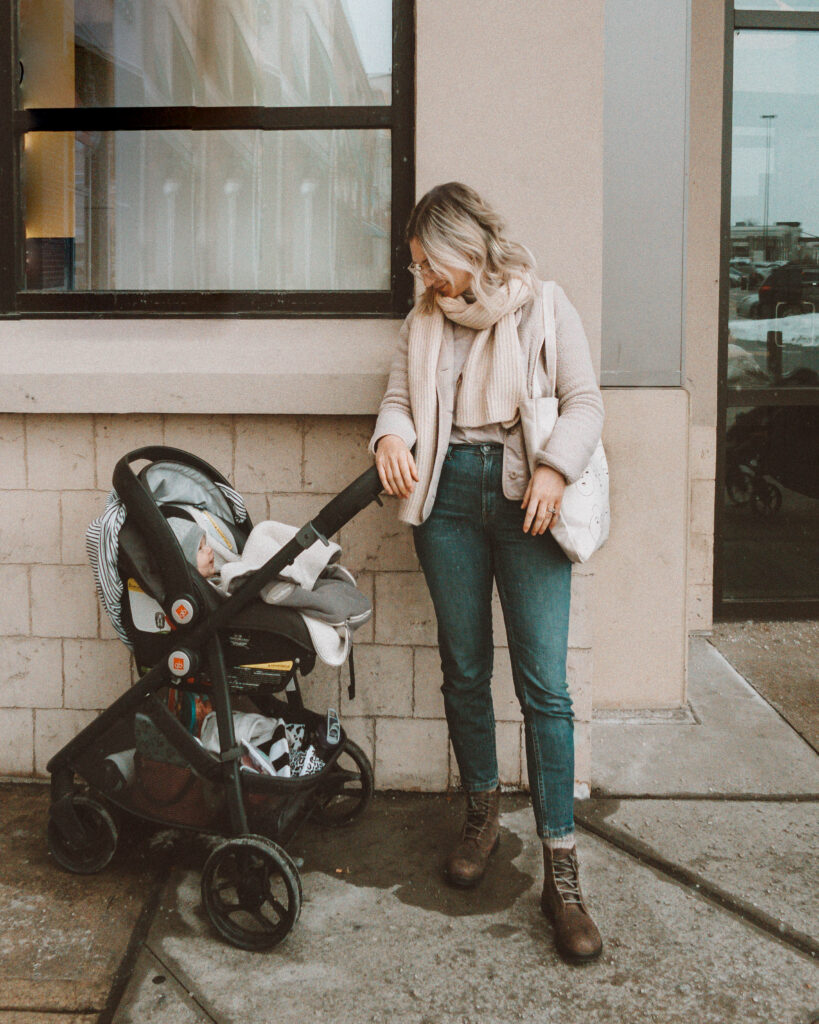 Fleece is no longer available so I linked another fleece I love | Turtleneck | Denim (review here) | Boots | Tote | Scarf (sold out in ivory, but I linked the camel color)
---
And that's all I've got for you guys today! I hope this was helpful as always. I'm really excited for the two new spring outerwear additions to my closet. They are definitely pieces I'll get a lot of use out of.
We still have to get through a couple more months of intense cold though ha! When does it start to warm up where you live? Here it's usually early to mid April.
Until next time,
Karin