*** this Everlane denim guide was updated on 9/13/21 and is now up to date.
Hey guys!
I'm going to keep this intro pretty brief… simply for the fact that this post kind of speaks for itself.
The other day I had the realization that I actually owned pretty much every style of Everlane denim…
you might say I'm a fan 😉
But in all reality, I have been really impressed with the quality and fit of Everlane's denim collection, not to mention the fact that it's made responsibly.
It costs less than certain fast fashion denim darlings (*cough Madewell), but the quality is either the same or better.
But a major drawback is that Everlane only has a few store locations, which means that the vast majority of us have to rely on reviews on the actual website or keep our fingers crossed that our favorite blogger will do a review.
So with that in mind, I thought it might be helpful to you if I were to do a comprehensive Everlane denim guide, and keep it in one spot so you can refer/compare whenever you need to.
Oh and just a note that I have a style from each category, but I don't have one of each rise/inseam. So if you're wondering about a different rise/inseam just let me know and I can pick up a pair to review for you.
I hope you find this helpful! I plan to add to it as they release new styles so check back if you're ever curious.
Oh and just a note that I do make a commission if you shop through my links. I appreciate your support of Truncation when you use my links, but if affiliate linking makes you feel like the world is coming to an end then feel free to go straight to the website (kidding).
Alight let's get to my Everlane Denim Guide:
My measurements:
5'4.5″
130ish lbs.
26.5″ waist
32″ hips
:: Slim/Straight ::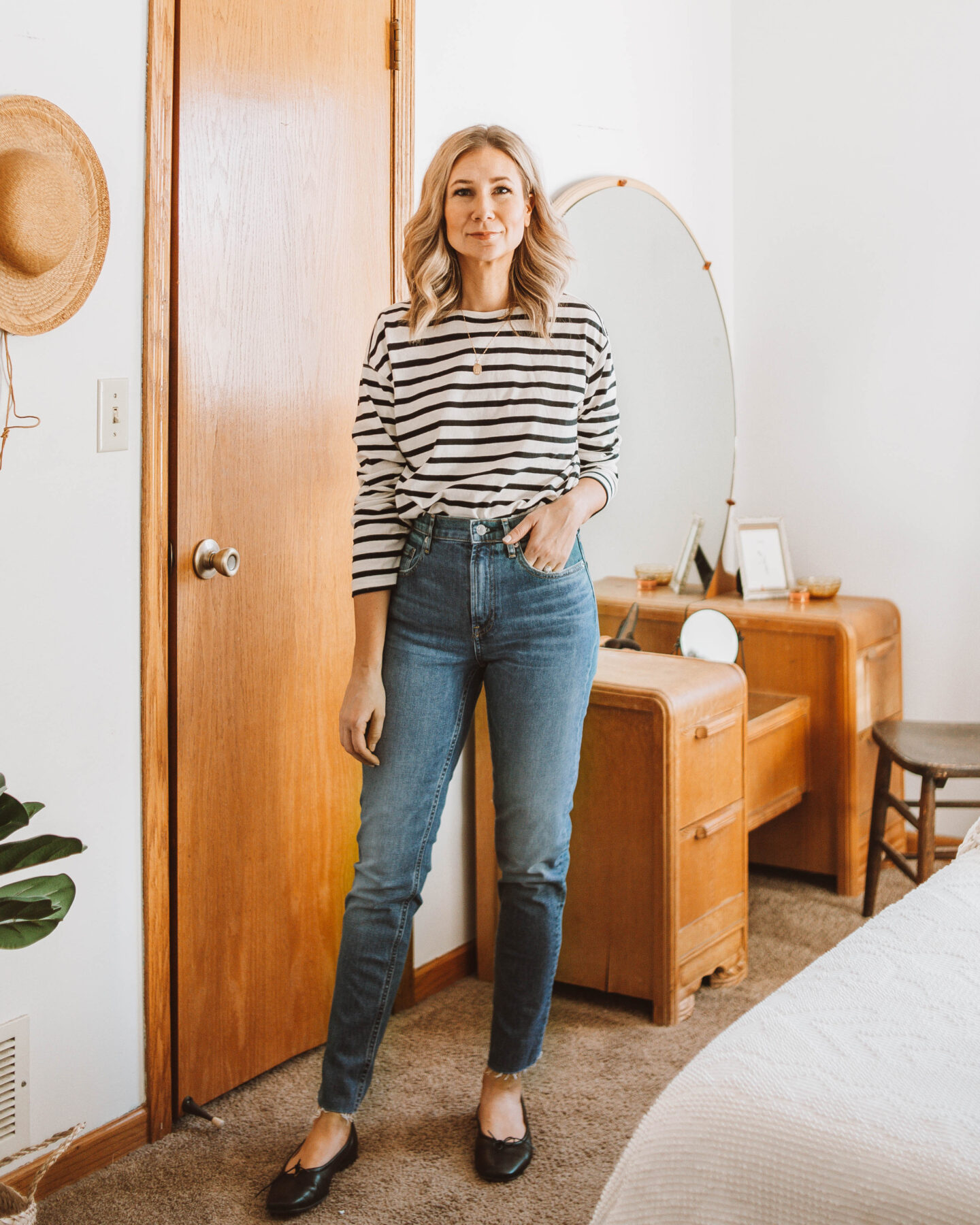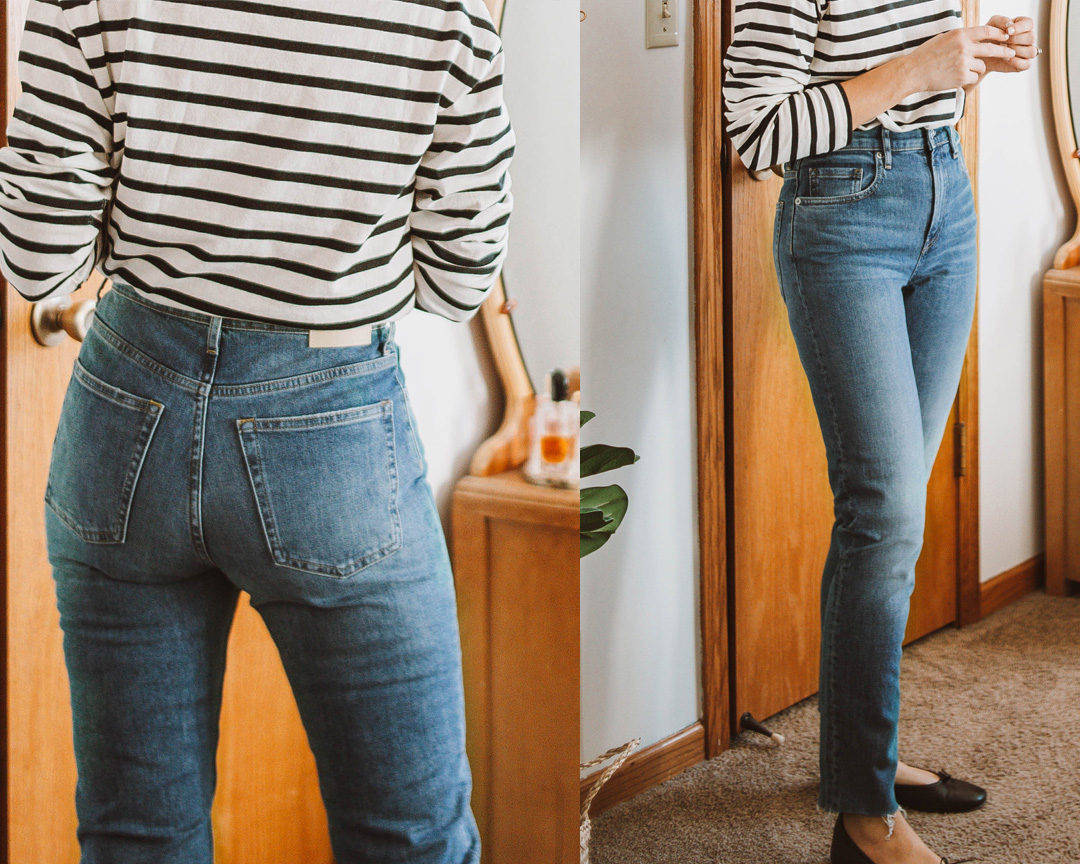 Style: The Cheeky Straight Ankle Jean Classic Blue Raw Hem
Cost: $78
My Size: 26 ankle
What the website says:
Straight fit. Cropped at the ankle. Sits at high waist. Rise: 11". Inseam: 26.5". Leg opening: 14" (size 28).

Women at our office like to wear them two ways: one size down for a tighter fit in the seat, or in their true size for a more relaxed fit.

98% cotton, 2% elastane.
DESCRIPTION
Meet Cheeky—engineered for the perfect rear fit. This straight leg jean has a super-high rise and a raised back hook seam that lifts and tightens. Plus, they feature our Happy Pockets, which are set higher and closer together for a bouncy, lifted look.
What I say:
Fit: LOVE, LOVE, LOVE these. I really couldn't be happier with them. They are definitely my most modern pair of denim, but I love what they add to any outfit. I will say, the website says to size down for a tighter fit, but I got my true size and I feel like they would be really uncomfortable a size down. They probably would be a bit tighter in the rear, but I think the waist would be too tight because it's such an extreme high rise. So for what it's worth, I suggest just sticking with your true size. I find these to be super flattering in the rear and hips and it's definitely because of the small details they mention in the description such as the raised back hook and the placement of the pockets. I really do think these would be flattering on pretty much every body type.
Material: These are not 100% cotton, but they definitely feel like they are. I also haven't noticed any bagging out or stretching out between washes. And again, they wash beautifully. Just a note that the lighter wash is actually a bit more rigid and stiff than the indigo wash. I find them both to still be comfortable, but if anyone is between sizes that may be a bit of an issue as the rigidness does cause the lighter wash to be a bit tighter.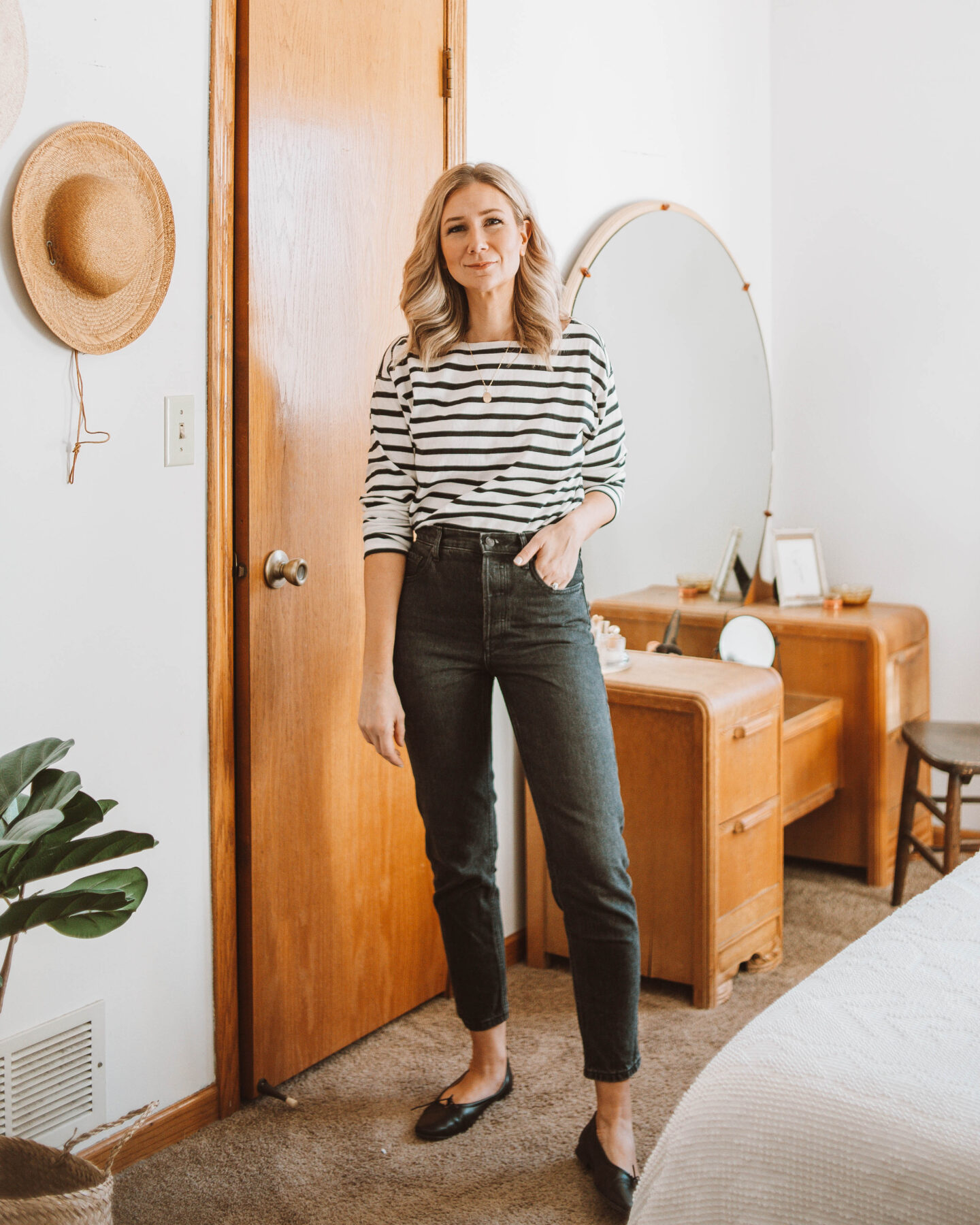 Style: The 90's Cheeky Straight Ankle Jean in washed black.
Cost: $78
My Size: 26 ankle
What the Website Says:
Straight fit. Cropped at the ankle. Sits at high waist.
Rise: 11". Inseam: 28.5". Leg opening: 14" (size 28).
100% cotton.
Machine wash cold. Tumble dry low.
Button fly
DESCRIPTION
Our favorite jean meets our favorite decade. Made from premium non-stretch Japanese denim for a vintage-inspired look, the '90s Cheeky Straight Jean has an easy straight leg, an extra-high rise, and a butt-boosting rear fit.
What I say:
Fit: OK. I'm a fan of these. They are the most similar to vintage denim of any of Everlane's styles. They are a true rigid fit, and they nailed it with the washes (in my opinion). They are 100% cotton, but they feel so soft and they are BY FAR the most comfy pair of jeans I own. I went for the same size I've gotten in the other cheeky style 26, and they fit great. They do stretch a tiny bit over time so if they are a bit snug at first, that's okay. The rise is high with a button fly and they hit at that just right spot on your waist. I now own these in 5 different washes and they are my most worn jeans by a long stretch. If I had to recommend one pair of Everlane denim it would be these. I'm not exaggerating when I say you NEED these in your life ha!
Material: These are 100% cotton, and they definitely feel like they are in terms of weight, but they are very soft and comfortable to wear.
Style: The Way High Baggy Jean
Cost: $88
My Size: 26
What the website says:
High-rise Wide-leg Inseam: 31″Front Rise: 12.5″ Leg opening: 18.5″
98% Organic Cotton, 2% Elastane
Machine wash cold, wash inside out. Tumble dry low.
Organic Cotton: This style uses GOTS-certified organic cotton.
DESCRIPTION
A jean for a new era. Featuring our highest rise yet, the Way-High Baggy Jean is designed to accentuate your true waist, give you legs for days, and hold you in—in the best way possible. Plus, it features a fuller, more relaxed leg shape and an extra-long 31″ inseam for a cool, laid-back look. Even better? It's made of our cleanest denim fabric yet.
What I Say:
Fit: I'll be real honest with you guys: when I first tried them on it was a hard pass for me. BUT… I decided to style them and my thoughts completely changed! So I wanted to share more styled photos for you guys so you can see what I mean. The fit on these jeans, in my opinion, is best suited for a dressier look… without heels and a more fitted top they definitely fall more into the category of "too" relaxed (of course that's just a preference – you may feel differently and I respect that!)… with that said I really think these are the perfect Gen Z jeans ha! I also disagree with the website that these have a wide leg fit – they are definitely straight leg even if there is a lot of room in the leg. I do really love that even though they have a more Gen Z fit, the hips are a bit more fitted than other relaxed leg jeans I've seen so they really are very flattering through the butt, hips, and thighs. I ordered my true size and they fit perfectly. I think they will look super cute this fall with heeled boots and a slim fitting sweater.
Material: The weight of these jeans is very similar to the original way high jeans and the 90's cheeky jean, and they're super soft. The comfort level is definitely high with these because of how soft they are paired with the extra room in the legs. I also think the softness/stretchiness of the material makes the rise still comfortable even though it is so high. Love 'em!
Style: The 90's Slouch Jean in Vintage Sky Blue
Cost: $98
My Size: 26 Regular
What the Website Says:
Inseam: 27.5″
Rise: 11.63″
100% Organic Cotton
Machine wash cold, tumble dry low
DESCRIPTION
Sometimes it's okay to slouch. Made of non-stretch, organic cotton denim for a vintage-inspired look, the '90s Slouch Jean features a straight, slouchy fit that sits at the perfect spot: on your hips and just below your belly button. Plus, it has a longer, 27.5″ inseam and a relaxed, straight leg, which gives it a comfortable, laid-back feel. Consider it the next evolution of boyfriend jeans.
What I Say:
Fit: I like the idea of these jeans, but I'm not sure I love them. I really like the fit and the way they look, but… they're not super comfortable on me. Because of the rigid 100% cotton they don't feel great over the hips and butt… when I move the denim doesn't move with me if that makes sense. However, if you have a very straight body I think you'll really love these jeans. I had high hopes for them because I've been on the hunt for a pair of slouchy jeans just like this to wear with my Birkenstock's and clogs this fall, but comfort is too important for me! Also, the rise was a bit confusing on these as well… the website says it's an 11.63″ rise, which is quite high! But they are supposed to fit like a mid rise (which they do) so I think some of the issue I have with the feel of the fit is that the rise makes the top feel too bulky and awkward. I wonder if someone with a taller torso would feel differently, but I do have my very short torso to contend with.
Material: Like I said, they are a 100% rigid cotton. One misconception people make is that 100% cotton equals uncomfortable, and that is definitely not always the case… but in this scenario I have to sadly say that it's true. Of course, 100% cotton does soften up over time so if you're really into these jeans and the fit feels good on you, they may be worth the effort. My final thoughts: if you are straight, have a taller torso and don't mind stiff denim give these a try because the look is really cute (and on trend). If you're not any of those things then I'd maybe skip 'em (and stick to your 90's cheekies 😉)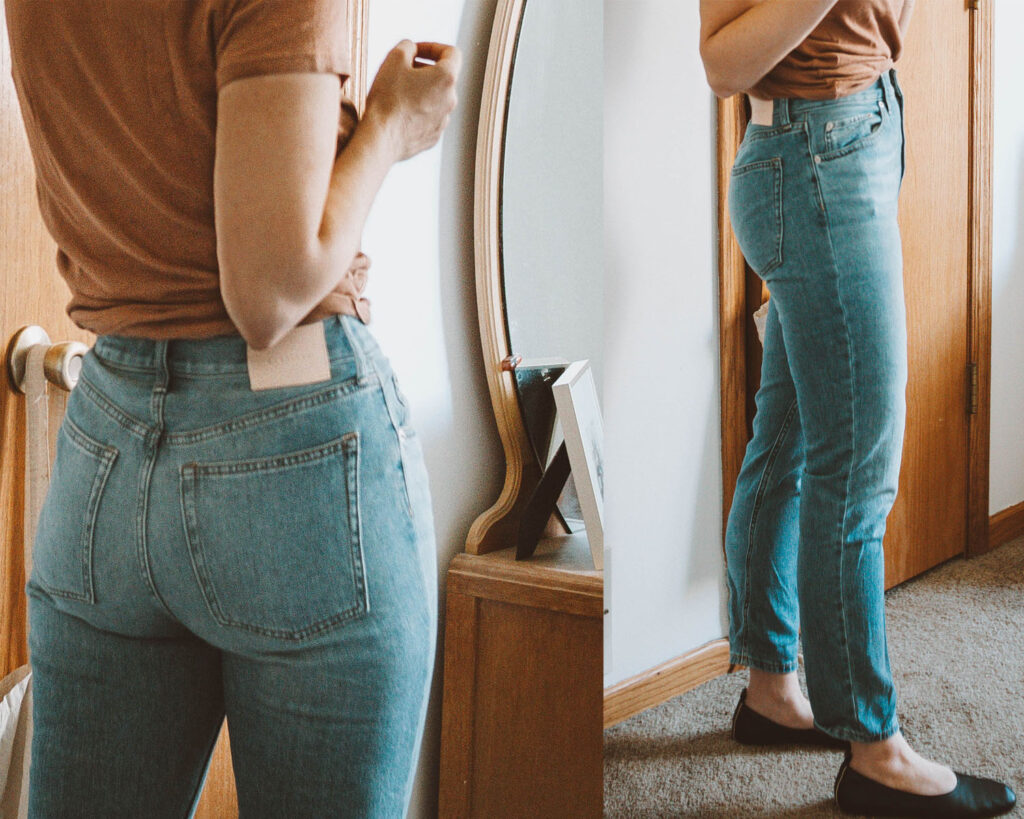 Style: The Super Soft Straight Leg Jean in Vintage Light Blue
Cost: $68
My Size: 27
What the Website Says:
Rigid: 100% Cotton
Machine wash cold. Tumble dry low.
DESCRIPTION:
Our most comfortable jean yet. Featuring a casual mid rise, a relaxed straight leg, and an easy ankle length, the Super-Soft Straight Leg Jean has a slouchy look with a perfectly broken-in feel. Plus, it's made of non-stretch 10 oz organic denim that's loosely woven with less yarn per inch, so it has an airy softness that typically comes from decades of wear.
What I Say:
Fit: these fit true to size… although they do stretch out over time to give them a more slouchy appearance/fit so if that is not your thing, definitely size down. Personally, I like the addition of a slouchier fit to my closet as it's not something my other denim features. They do have a very relaxed and broken in fit so they truly will fit like that pair of jeans that have been in your closet for forever. They are slightly tapered at the ankle, and the rise is more like a short high rise than a mid rise (though I am short torsoed so keep that in mind). They do have a longer inseam than the cheeky (to be fair I have those in an ankle inseam), but I actually like the extra length on these jeans because the slouchy fit almost begs for a slight roll up at the bottom… personal opinion of course!
The material on these really are so, so soft! Don't let the rigid 100% denim mention above fool you… these are so lightweight and soft. Like the wide leg counterpart (see below), they are an extremely comfy pair of jeans to wear. If you work from home or are a stay at home mom… these are the jeans for you!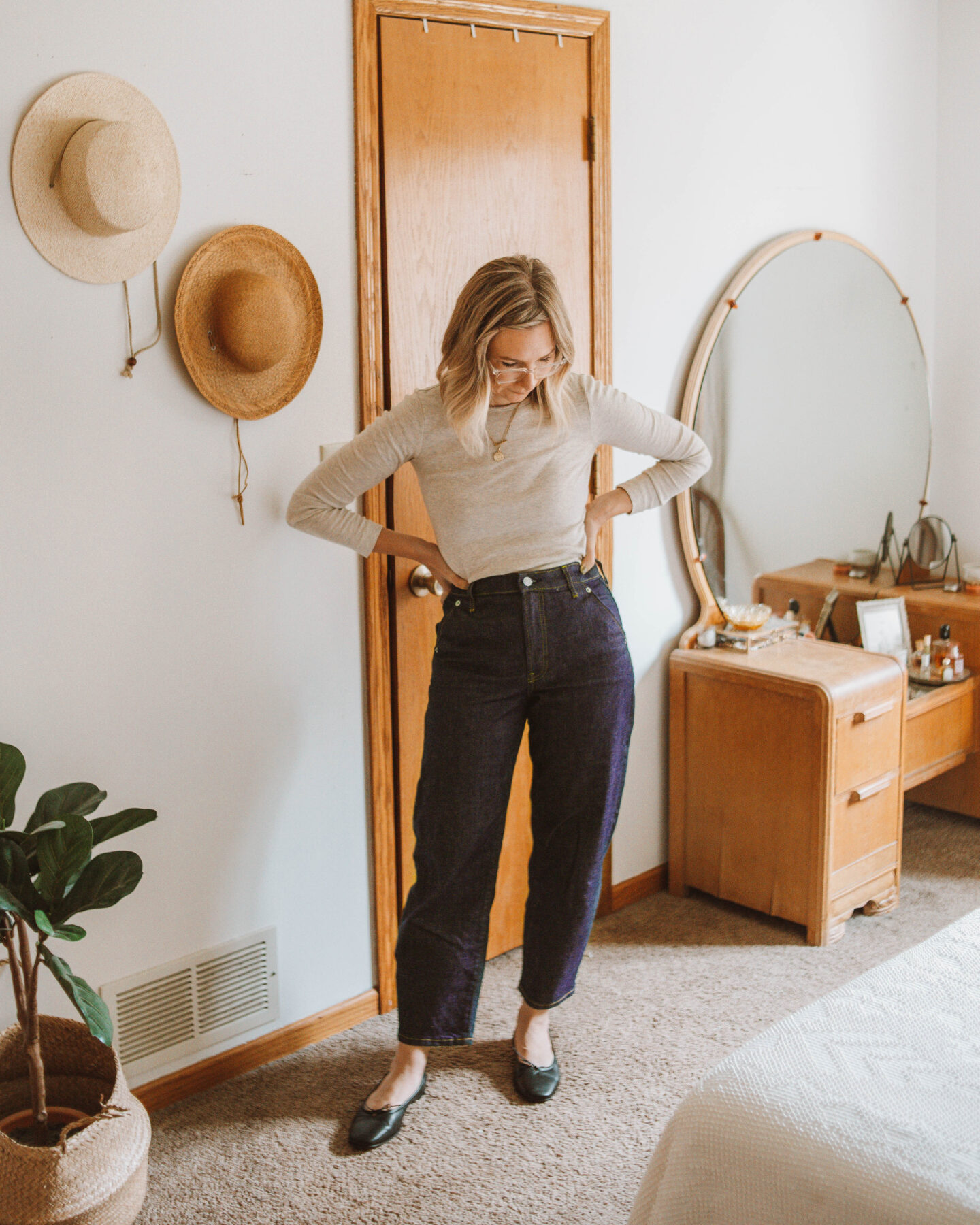 Style: The Arc Jean in Dark Indigo
Cost: $78
My Size: 4
What the Website Says:
Rise: 11 1/2″. Inseam: 26 1/2″. Leg Opening: 14 3/4″ (size 28).
98% Cotton, 2% Elastane
DESCRIPTION:
A shape that's ahead of the curve. The Arc Jean has a curved-leg fit that tapers in slightly at the hem for a silhouette with tons of attitude. It features a holds-you-in 11.5" rise and is made of our original stretch denim for just the right amount of movement. The best part? It's an instant outfit-maker—just add any top and shoe from your wardrobe to see what we mean.
What I Say:
Fit: these fit true to size… I have not noticed any stretching out on these and I have worn them a lot already. These have such an interesting shape with the curved leg, and I'll be honest… I had every intention of reviewing them for you and then returning them because I did not think these jeans would be for me. BUT I actually really, really love the fit on these! I think where Everlane really nails it on this design is in the slight arc of the leg. These could have looked very costumey if they would have done it any bigger, but they left it subtle, which makes these very wearable for regular people like you and me. They are slightly tapered at the ankle, and the rise is very high rise, and as a 5'5″ person they hit at the bottom of my ankle.
The material on these feels slightly rigid, but it's also light weight. As we learned with the super soft jean, rigid does not mean stiff or uncomfortable. These do have a bit of stretch in them, but I find that they stay in place really well and they stay at your waistline like my other 100% cotton denim does. I also love the true dark rinse on these with zero feathering or distressing. If you are even slightly on the fence with these I would say give them a try! They really surprised me and I think they might suprise you too.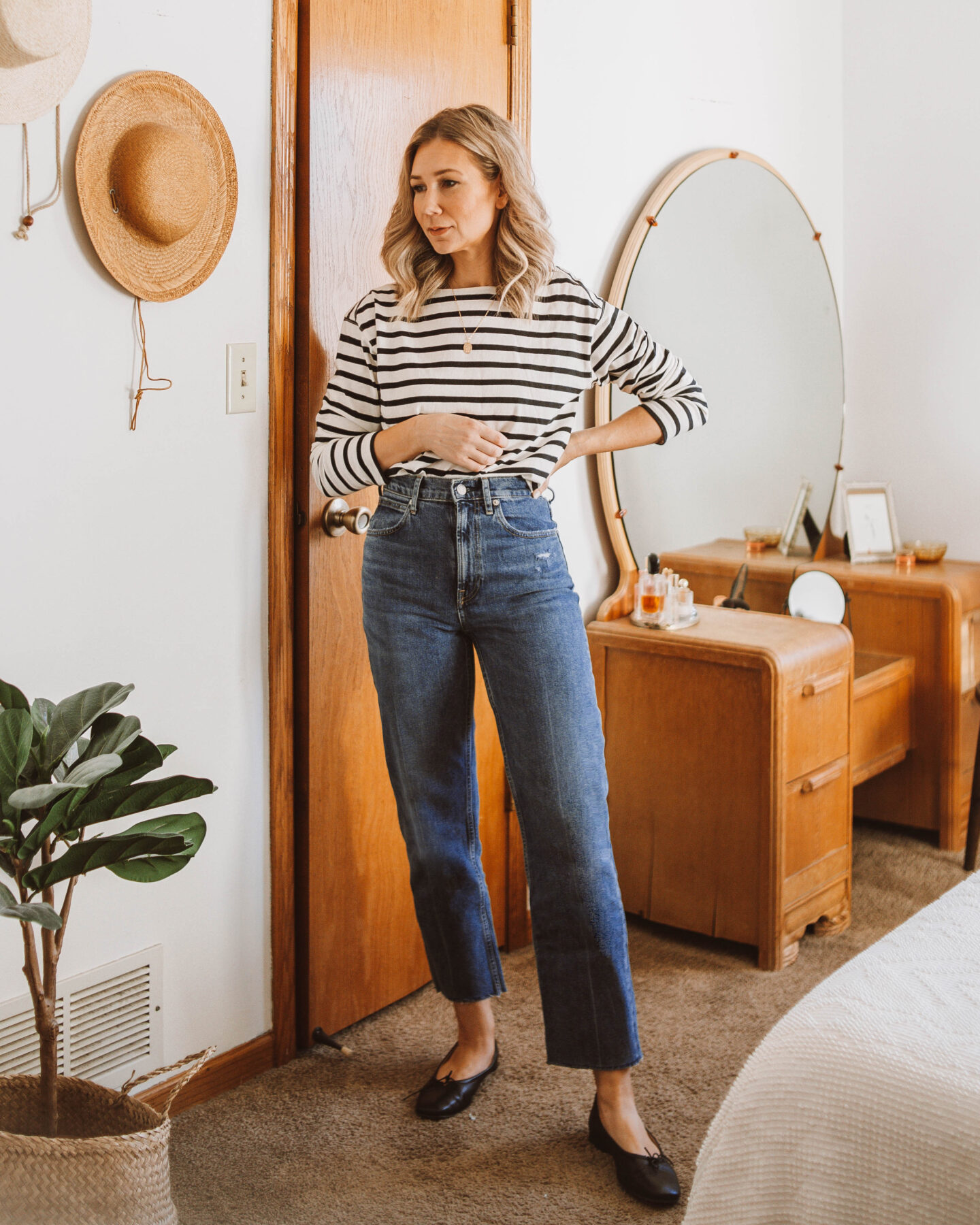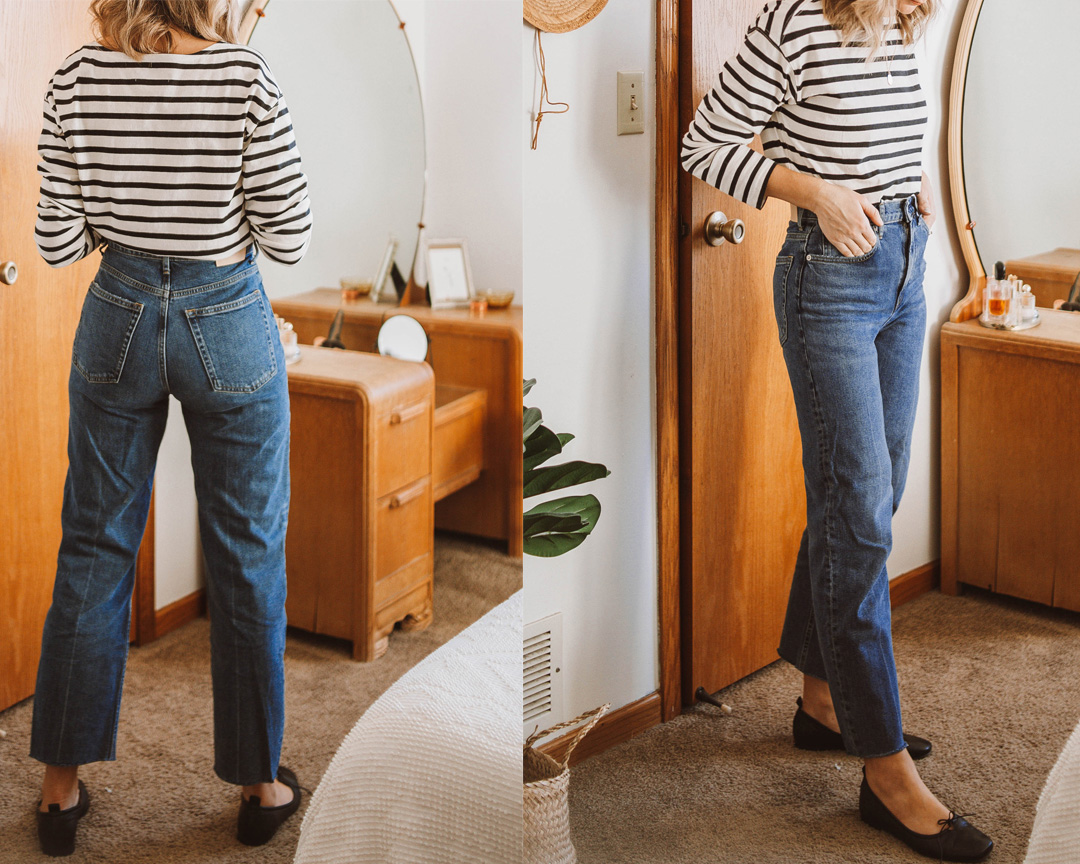 Style: The Way High Jean in Distressed (gifted)
Cost: $78
My Size: 26
What the Website Says:
Rise: 12 1/8". Inseam: 27 1/2". Leg opening: 16 1/2" (size 28).
98% Organic Cotton, 2% Elastane
Machine wash cold, inside out. Tumble dry low.
Raw hem
DESCRIPTION
Say goodbye to your belly button. Featuring our highest rise yet, the Way-High Jean accentuates your true waist, gives you legs for days, and holds you in—in the best way possible. Plus, it's made of premium organic cotton with a touch of stretch, so sitting down isn't a deal-breaker.
What I say:
Fit: So when I heard Everlane was going to be releasing these jeans I was a little bit nervous about the rise seeing that I have such a short torso, but these actually really do work! They are definitely a very high rise, but they just sit so nicely at the waistline, and the stretch makes them very comfortable to wear so that I have had no problems at all. I kept my true Everlane size of 26 in these, and they fit perfectly. I just love the cut of these jeans… they are a wider straight leg, but they also aren't a wide leg so they are easy to wear with boots now, and they will look great with sandals in warmer weather. These don't have an ankle or tall length, but I do think they would fit on most heights. If you are more petite, I would definitely recommend one of the raw hem versions as you could then just cut them to the length you want.
Material: The material is on the thinner side, but it doesn't feel cheap or overly stretchy. It still has the signature Everlane denim feel to it, but the weight makes them work for a variety of weather. I love that on this wash in particular there is a slight amount of distressing, but not enough for it to be a full on ripped jean look.
:: Flared/Wide Leg ::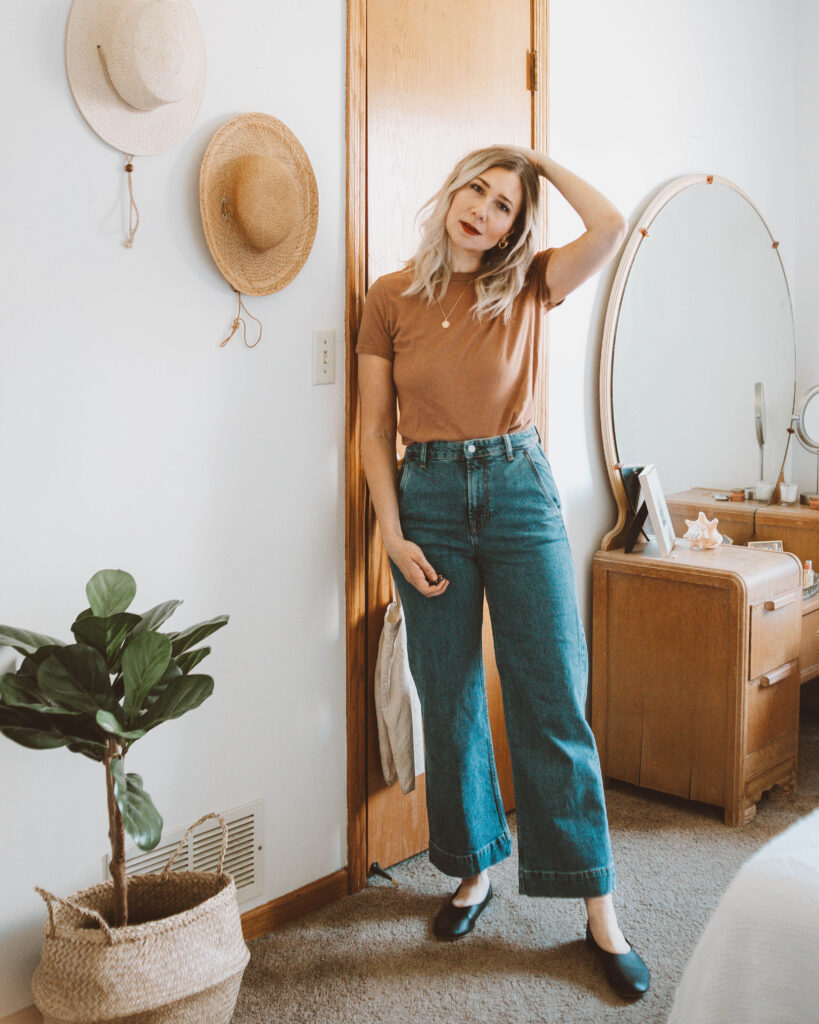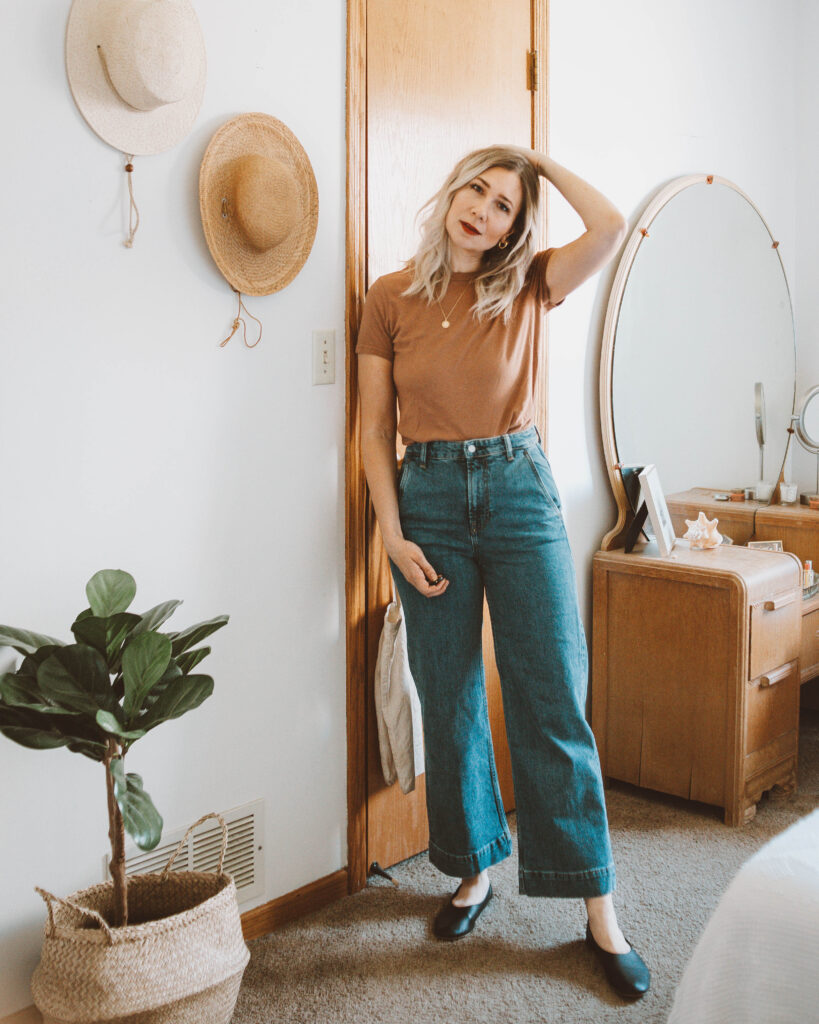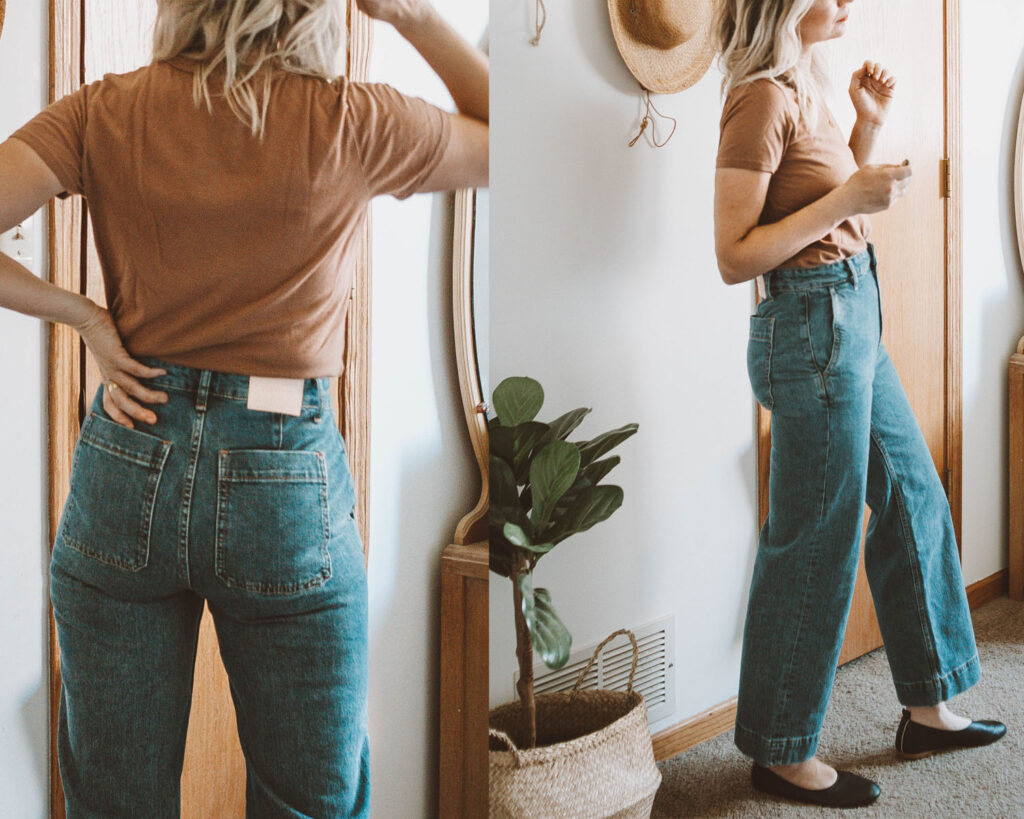 Style: The Wide Leg Jean in Medium Indigo
Cost: $78
My Size: 27 Ankle
What the Website Says:
Inseam: 26.5″
98% Cotton 2% Spandex
Machine Wash Cold With Like Colors, Wash Inside Out, Only Non-Chlorine Bleach When Necessary, Tumble Dry Low, Cool Iron If Needed
DESCRIPTION
Our ultra-flattering Wide Leg Crop is such a fan favorite, we decided to make it in jean form. Inspired by our favorite vintage pants, the Wide Leg Jean has an authentic feel, a higher rise, and wider leg openings for a lengthening effect. We even added a touch of stretch for extra comfort and movement—plus, higher-set rear pockets to give your backside a lift.
What I Say:
Fit: Surprisingly I love these! I knew I was going to review them for you guys, but I also wasn't really that excited about my purchase because the pockets made me nervous. Ha! They just looked like they were awkwardly placed, and I was sure they would stick out to the side. Surprisingly? They don't. And they actually look really nice on the hip. They also fall really nicely down the leg because of the weight of the material. I've tried a few other wide leg styles from other brands, and the wide leg didn't lay correctly because they were too stretchy. This pair looks very structured, but yet they hug in all the right places. And I agree about the lifted backside… they do lift your butt up quite nicely. I love the little details on this style including the wide hem, and the interesting pocket shapes (both the front and the rear).
Material: It's funny how a lot of the Everlane denim styles have the same material makeup, but they feel so different. This material feels thicker and more stretchy. I would say these are the most comfortable to wear in this material range (the authentic stretch is still the winner though). There's just so much room in the leg, and they don't cut in at the waist even though they are such a high rise.
:: Skinny ::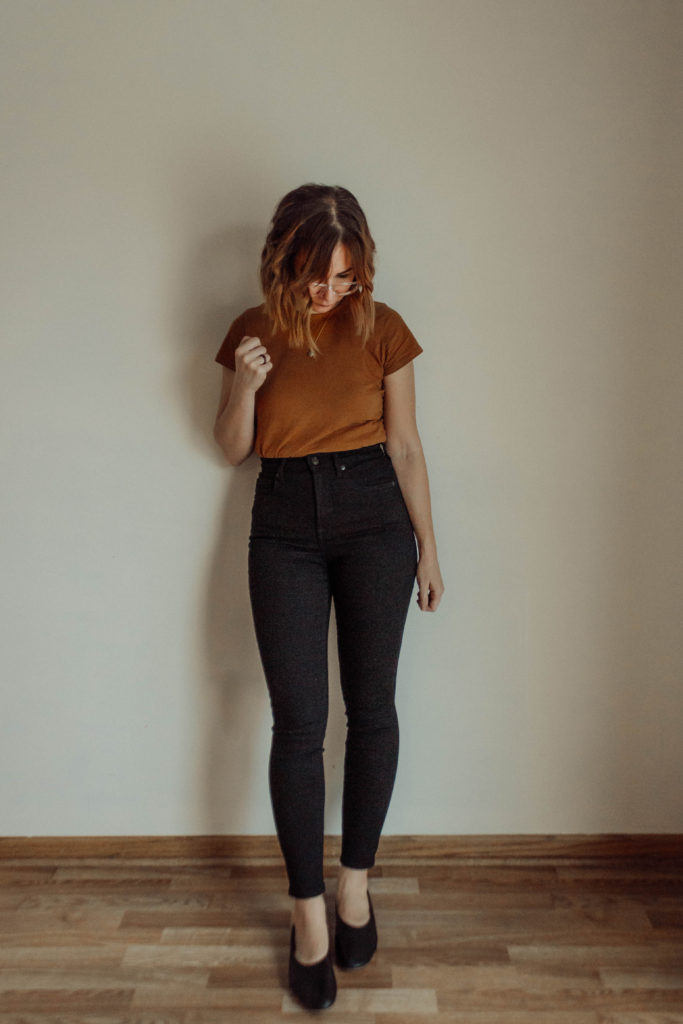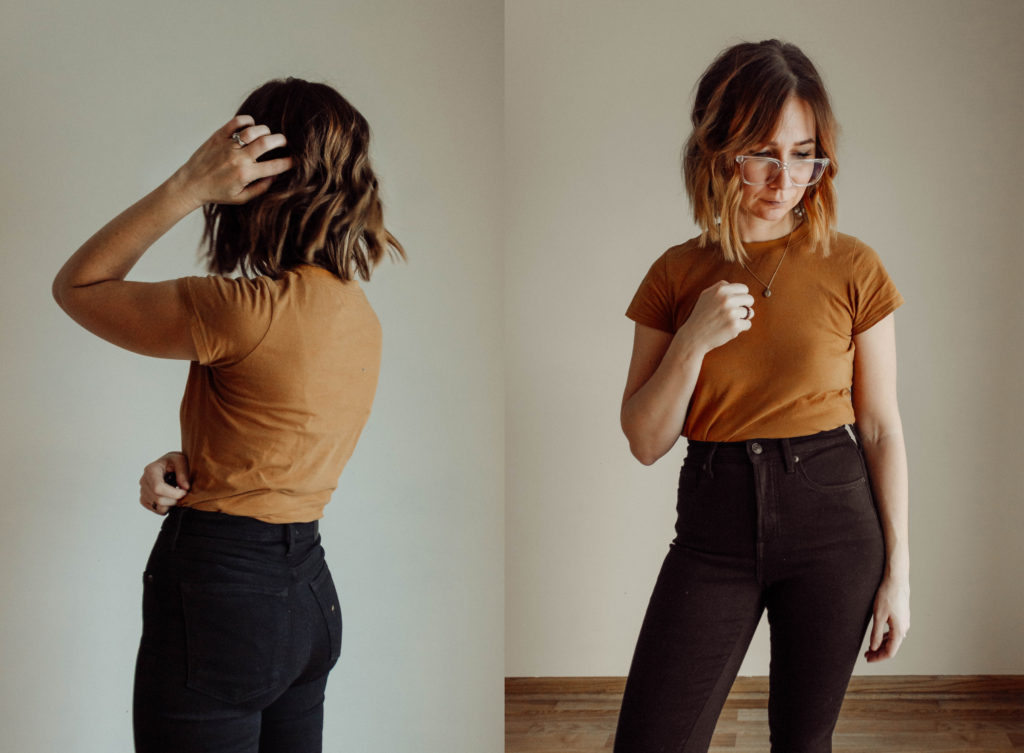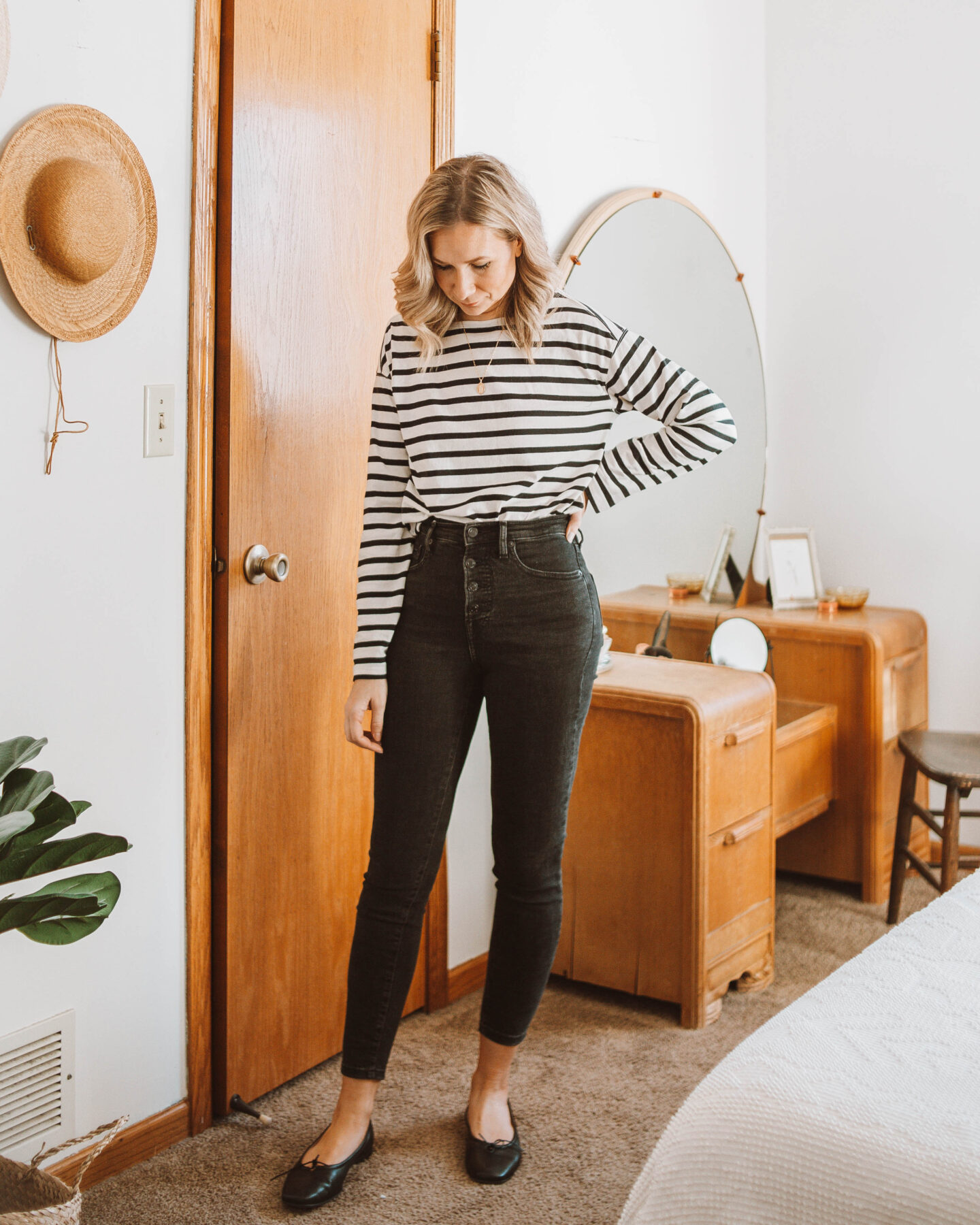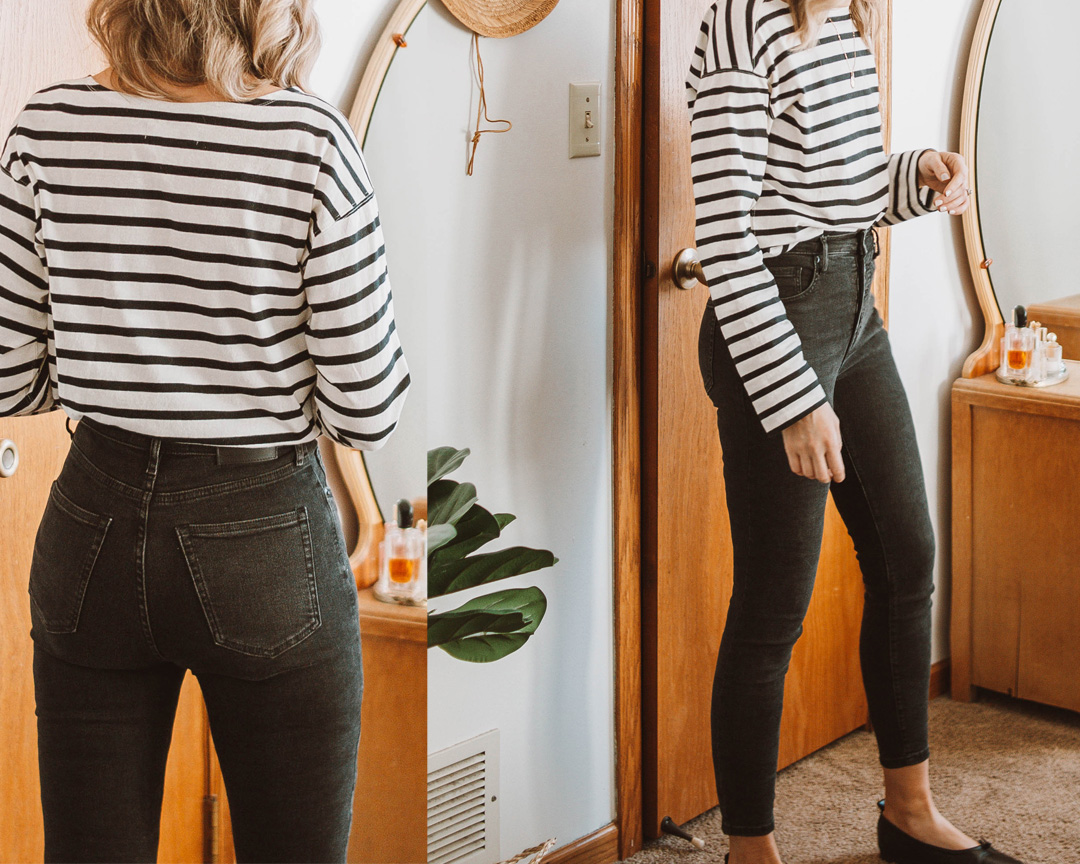 Style: Authentic Stretch High Rise Skinny in Black and Washed Black Button Fly
Cost: $68 for Black and $78 for Washed Black
My Size: 27 regular for Black, and 26 Ankle for Washed Black
What the website says:
Skinny fit. Slim at the ankle. Sits at high waist. Rise: 11″. Inseam: 28 1/2″. Leg Opening: 10″ (size 28).
77% Cotton, 17% Modal, 2% Elastane, 4% Other Fiber
Rear leather patch.
DESCRIPTION
Stretch denim—that actually looks like denim. This high-rise skinny has a form-flattering fit, with a figure-hugging 11″ rise and a classic skinny leg.
What I say:
Fit: I think these jeans are SO flattering! I really love the way they look. I'm in a place in my life where I don't where a lot of skinny jeans because they haven't gotten as much wear as some of the other denim, but I do still really love them, and they're perfect for a girls night out or date night. 🙂 The super high rise and the sucking in action of the stretch denim really does something special for the figure ha! If you are a skinny jean fan I would definitely recommend these! I don't find these to have that constricting feeling that you get from some skinny jeans (like you're being squeezed into a sausage casing). I got the regular inseam and it's perfect. I don't like ankle skinny jeans in the winter because too much ankle causes cold feet, but I also hate when skinny jeans pool at the ankle. They do have a tall size as well for anyone that is taller than my average height. I sized up in these as well for the perfect fit. But I do find the button fly to fit a little bigger so I kept to my normal size 26 for those.
Material: The stretch on these jeans is so nice. It has that same heavier weight fabric so they keep their shape and smooth out curves, but they are still stretchy enough to be really comfortable (the button fly feels a bit more thin). I didn't find the material to cut in anywhere, and there is minimal bunching at my knees.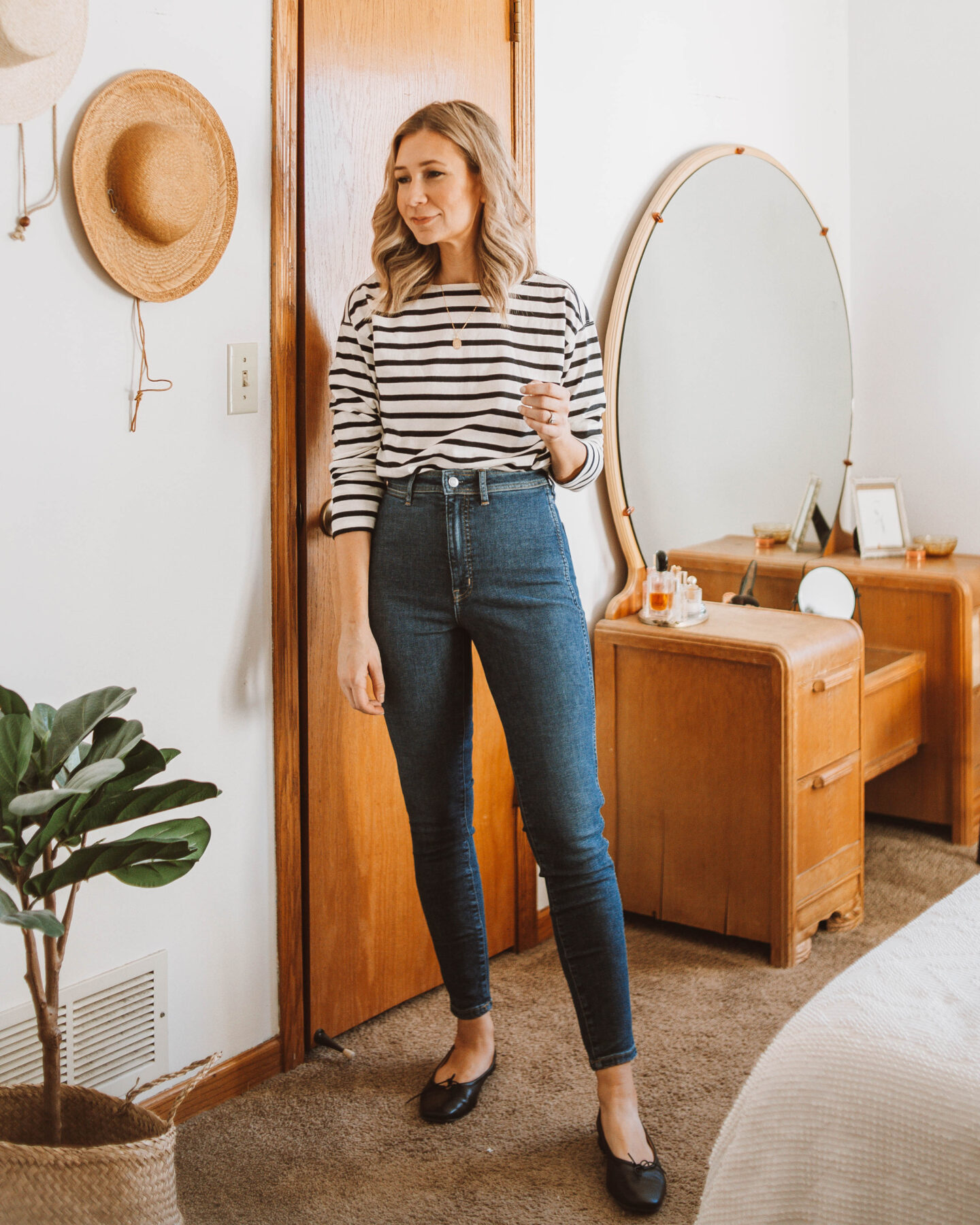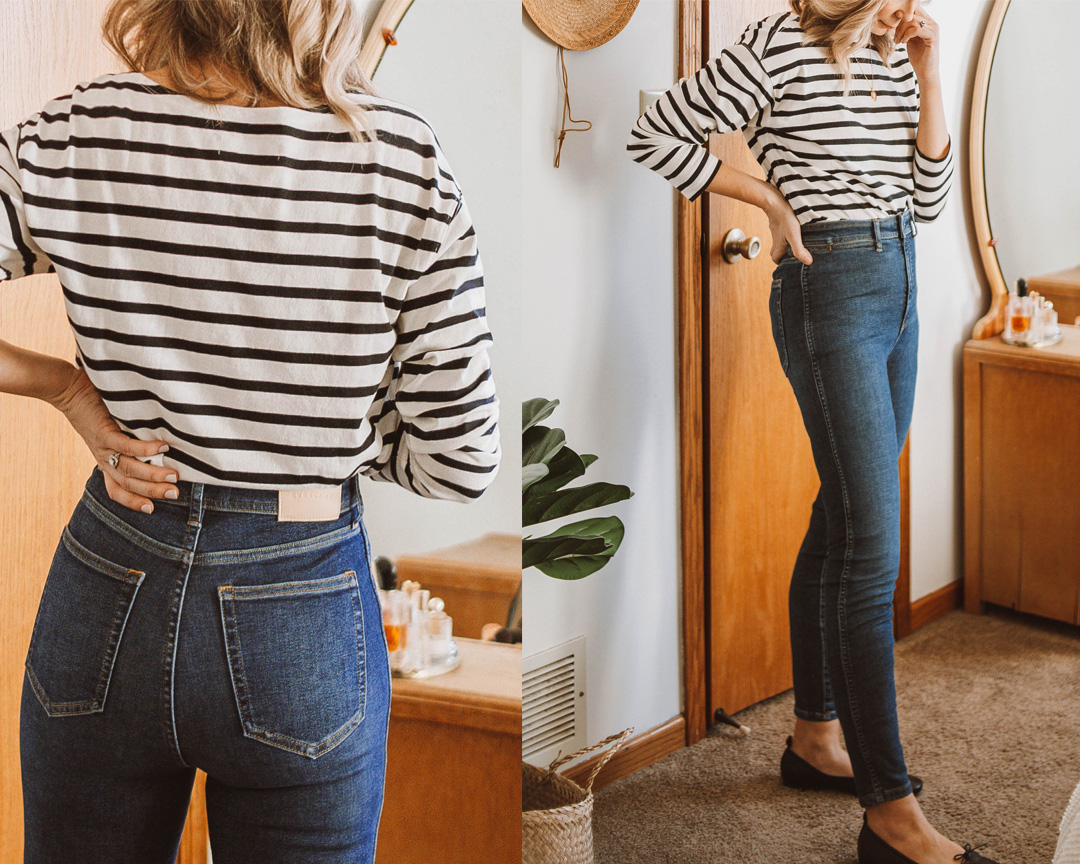 Style: Way High Skinny Jean in Vintage Blue
Cost: $78
My Size: 27
What the website says:
DETAILS
Rise: 11.75". Inseam: 28.5". Leg opening: 9.5" (size 28).
55% Organic Cotton, 25% Viscose, 18% Recycled Polyester, 2% Elastane
Machine wash cold, inside out. Tumble dry low.
DESCRIPTION
Proof that truly comfortable denim exists. The Way-High Skinny Jean features our highest rise yet, a sleek front panel (no bulky pockets here), and a stretchy, legging-like feel with a gutsy denim look. Plus, it's made of a super-soft blend of organic cotton and ECOVERO™, so it's breathable and doesn't stretch out after wear. In other words, it feels just as good as it looks.
What I Say:
Fit: Okay so these jeans truly are insanely comfortable! They really do fit like a legging, but the denim is thick enough that they don't really look like a jegging. As with most other Everlane skinny jeans I sized up for extra comfort, and even with the stretchiness the 27 is a perfect fit. I thought I would really hate the slit pockets at the front, but actually I really love that they create such a sleek silhouette at the hip. I hate when pockets bag out, and the slit pockets ensure that they don't. One of the things I love the most about Everlane skinny jeans is that they don't bunch up a ton at the knee or slip down during the day while you wear them… even though the authentic stretch, and now the way high skinny are very stretchy. Somehow they are stretchy, but also retain their shape extremely well. I also super love the placement of the pockets on the backside… they really emphasize the curve of your butt. 😉
Material: As you can see from above, these are only 55% cotton, and it definitely shows in the way they feel. They are very stretchy, and soft and don't feel entirely like you are wearing a pair of jeans… however, as I mentioned above you still very much look like you are wearing jeans.
UPDATE: watch out when washing these jeans because the dye bleeds in the washing machine. Quick tip: wash the jeans (or other clothes that do this) with a cup of white vinegar and it'll remove the excess dye. Repeat until they no longer bleed.
:: Bootcut ::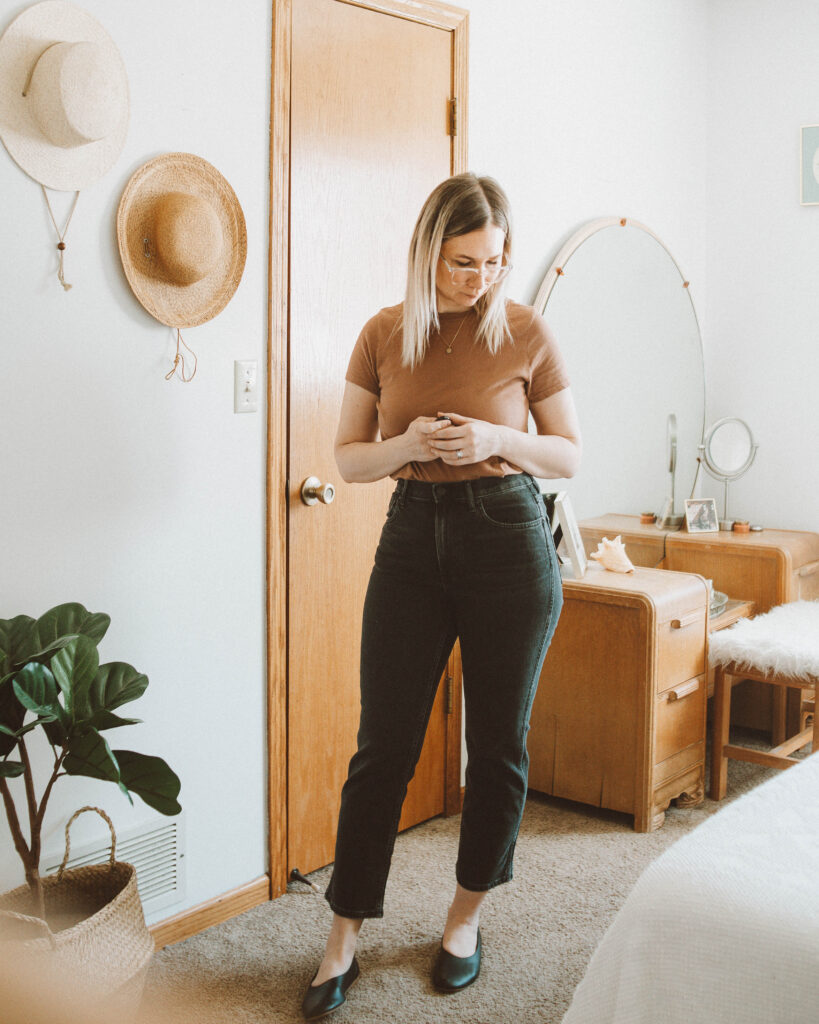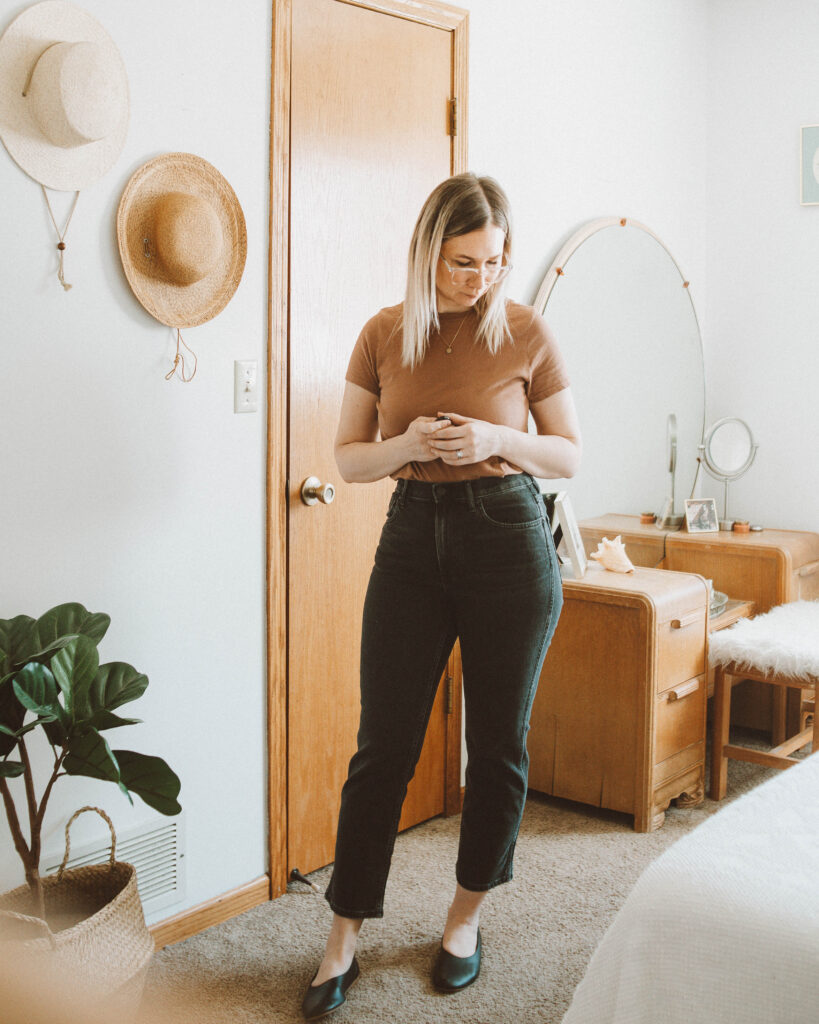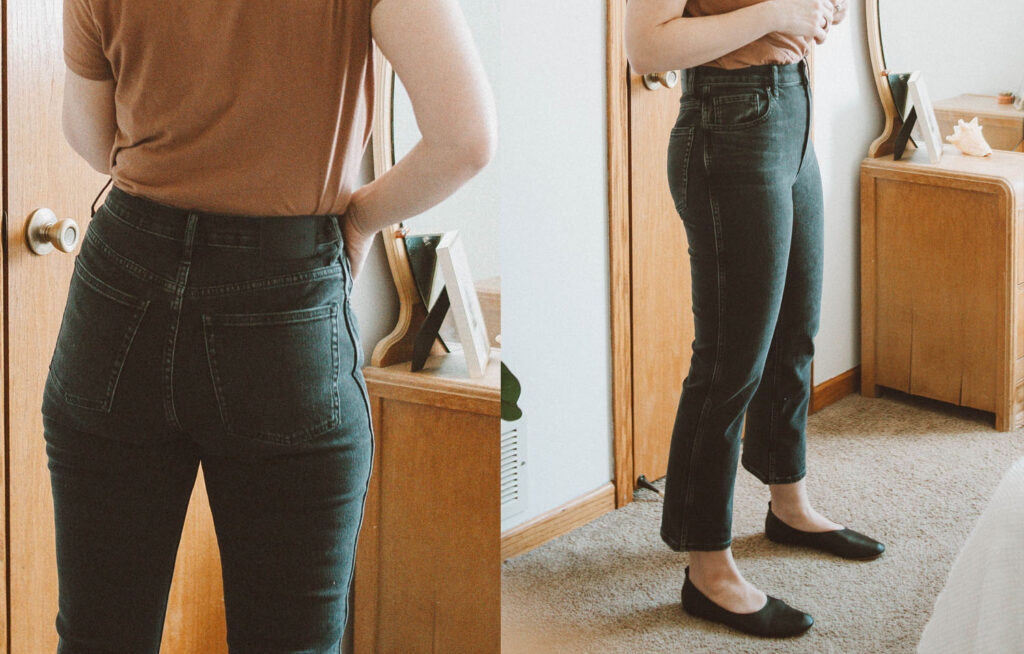 Style: The Cheeky Bootcut Jean in washed black.
Cost: $78
My Size: 27 ankle
What the Website Says:
Rise: 11″. Inseam: 28.5″. Leg Opening: 16.25″ (size 28).
98% Cotton, 2% ElastaneMachine
wash cold. Tumble dry low.
DESCRIPTION
The Cheeky Bootcut Jean combines all the signature elements of our favorite Cheeky fit—like a waist-nipping rise and high-set pockets, for a lifted look—with the classic leg-lengthening shape of 1970s bootcut jeans. We made it modern with a slightly straighter leg, timeless washes, and just the right amount of stretch. The result? Your best butt meets denim's leggiest look.
What I say:
Fit: OK. These fit very similarly to the regular cheeky straight jeans, but with a slight flare out at the ankle… which is true to their name. On my height, I don't love the placement of the flare. They're just a little too cropped and I find the flare to be a bit awkwardly placed on my calf. With that said, paired with a heel I do like it much better, and they are the perfect length to wear with ankle boots. I actually don't mind the flare placement when I'm wearing a higher ankle boot so that's something to consider. They feel a bit more structured than the original cheeky straight so they will require some amount of breaking in, but they don't seem to stretch as much as the cheeky straight does. I stayed true to size with a 27, and they fit like a glove. I definitely wouldn't size down or size up in this style.
Material: They have 2% elastane in them so theoretically they should feel nice and stretchy, but I actually find them to have a bit more of a rigid fit. I attribute that to the actual weight of the denim: it's a lot bit more heavyweight than the original cheeky straight so they definitely have a lot of structure to them. It does feel comfortable in the waist and at the fly so that's where the 2% elastane really shines.
*just a note that I lowered the shadows on all of my photos with black jeans so that you could see the details, but in person all but the non stretch skinny are a rich, saturated wash. The non stretch skinny is slightly more of a washed black.
Okay then! Those are my thoughts. I hope you found this Everlane denim guide helpful! Let me know if I missed anything in the comments so I can add it into my reviews, and like I said above let me know if you'd like a review of any of these jeans in different rises/washes/inseams.
I think that's it!
Until next time,
Karin
The striped shirt I am wearing is the modern breton tee from Everlane
You can find my other Everlane reviews here. I also have a Madewell Denim Guide here and a Levi's Denim Guide here.