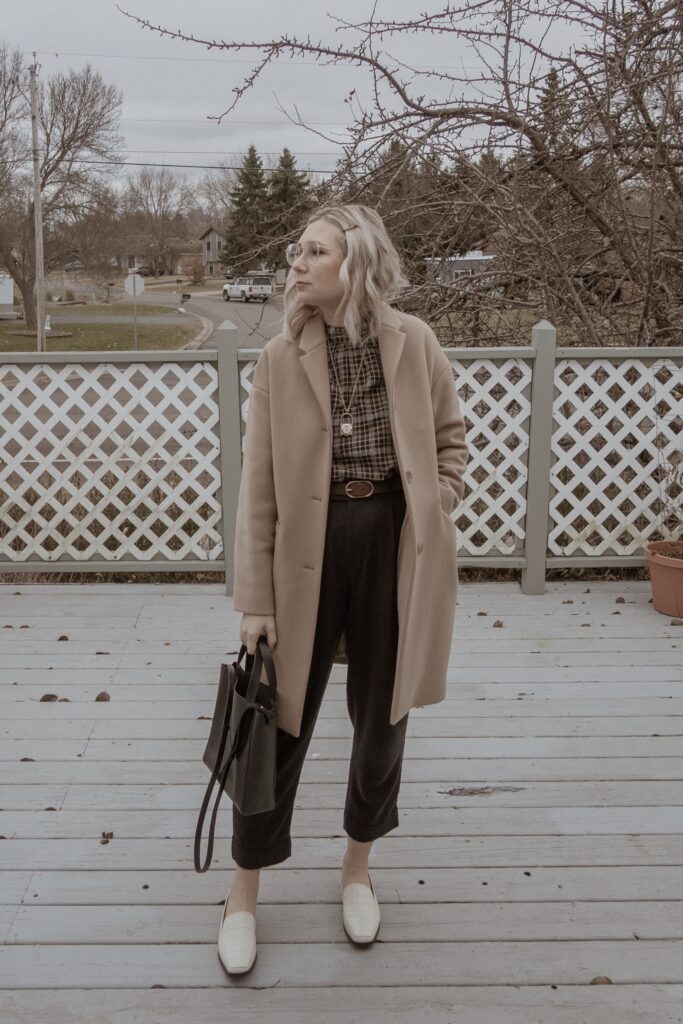 Boy oh boy today has been a DAY. I'm on day two of David being back at work, and logistically everything is going okay, but the girls are clearly emotionally adjusting to daddy being back at work, and the tears are plentiful.
We didn't really have too much of an adjustment when Gabe was born with them emotionally, but I think it may have just been prolonged by the distraction of David being home with us.
But you know what? It's just one of those seasons of parenting where you dig your heels in, stay consistent, and just get through it.
c'est la vie right?
I was planning on getting this post up tomorrow, but Everlane is running a free 2 Day shipping promotion today (ends at midnight) so I wanted to get this up a little early in case anything catches your eye.
I skipped my Everlane review post in October while I was taking time off after Gabe was born, so I have a lot of ground to cover today.
With that said, I'm going to do a slightly different format: I'm going to show you 3 outfits for Thanksgiving by styling new and old pieces from Everlane, and I'll do a mini review on everything I haven't reviewed yet (if I have reviewed it in the past, I'll include a link).
Let's get to it shall we?
---
Runs a bit small so I would size up.
Fabric is thick and warm, but not the softest.
More structured than slouchy.
Very cropped.
I have a very short torso and it hits me right at the top of my hips.
The crew neck is more of a mock neck as it comes up fairly high.
I love the cable detail on the sleeves, and the wide hem. It's a nod to the traditional cable knit, but it's a more unique version.
Overall thoughts: I really like it, but it's not what I'd reach for on days when I want to feel super comfy.
---
---
Very oversized. I sized down and it's still got lots of room.
The arms are relaxed enough to layer over a thick sweater.
I'm 5'5″ and it hits me right below my knees.
Very thick and warm… especially when buttoned up.
It's a deep charcoal color, and I love that the buttons are the same color.
The pockets are nice and deep, and the lapels are structured enough that I can flip them up for added warmth.
Overall thoughts: It's a classic example of you get what you pay for. It's really well made and substantial. It should last you many years.
---
Very comfy. The heel isn't super high so they are really easy to walk in.
I'm 5'5″ and they hit right at the knee.
They stay up really well… I have no slippage when wearing them. However, they may be a bit tight for anyone with very muscular calves.
They're made of a very thin material so they do slouch a bit at the ankle, which gives them a vintage vibe.
They're not a super structured riding boot type of knee high boot.
Overall thoughts: Super comfy, and easy to wear. A great addition to my ankle boots only boot collection.
---
Super lightweight tote, and very structured.
I also have the Madewell transport tote, and this one is much more structured and the leather is way less soft.
I like it for transporting valuables like my laptop and camera, but I prefer the transport tote for ease of wear.
This one has to have some weight in it for it to stay up on my shoulder without slipping off.
With that said, it fits a LOT more than the transport tote and is really nice for when you have to haul a lot.
Overall thoughts: a nice, lightweight way to carry a ton of stuff but probably not for you if you prefer your bags to be soft and slouchy.
---
---
Super soft and cozy plus it's really warm.
It stays on really well, and feels really luxurious.
Stretchy enough that it should fit most heads.
Overall thoughts: the perfect beret for cold weather.
---
Super oversized. I sized down, and I could have gone down even one more size.
It's double breasted so very boxy, and structured.
It's a nice, thick wool material that feels really substantial. In fact, it's warm enough to wear as a light jacket.
It can fit a chunky sweater underneath, and it passes the arms in front of you test (where you put your arms out in front of you, and the shoulders still lay comfortably… super scientific I know).
The hounds tooth is a really pretty bluish gray.
Overall thoughts: A great blazer for work, and casual dressing and comfy enough to wear all day without a backache.
---
Super soft.
It's very thin, but not see through (though I imagine the lighter colors might be).
It's a perfect layering piece, but I also love wearing it on it's own as it's super easy to tuck it into jeans.
Arms are full length so they shouldn't be too short on most arm lengths.
Overall thoughts: Perfect layering piece, and I've worn it non stop since getting it.
---
Super soft and silky feeling material while still being thick enough to feel substantial.
Beautiful draping down the front gives them extra shape and movement.
High Rise and ankle length on my 5'5″ height.
They do collect lint so you'll need a lint brush with these, but they have minimal creasing.
Overall thoughts: these are my favorite item I've gotten from Everlane in a long while. They feel really well made, and they are a nice change from jeans.
---
These are a great statement boot.
The ankle shaft comes up just below your calf, and is close fitting but stretchy enough that it should fit a lot of people.
Very easy to walk in due to the chunky heel.
The slight square toe also avoids toe pinching.
Very easy to get on and off even though they don't have a zipper.
Overall thoughts: the perfect stylish boot for when you need to be on your feet a lot.
---
---
---
I really like this blouse, but it doesn't feel like flannel to me. It feels like a typical cotton blouse.
The plaid is a lovely palette of neutrals which makes it stand out for me from other plaids that always seem to have some sort of bright color in them.
It fits into my neutral wardrobe super well.
The cuffs and mockneck aren't super tight so they should fit most people, and the length comes to the top of my hips.
I ordered my true size and it fits great.
Overall thoughts: a fun take on the plaid shirt trend in the unique mockneck blouse style.
---
---
Very oversized so definitely size down.
As with the other two outerwear pieces in this post, you can wear a thick sweater underneath.
The color is a perfect light camel and the material feels really nice.
Super warm, and easy to close if necessary.
There is a fun contrasting gray detail underneath the collar which makes popping your collar a fun touch.
Hits me right at the knee.
Overall thoughts: The perfect coat for satisfying your menswear outerwear itch.
---
Phew! That was a lot to get through. Hopefully it was helpful!
Have you been eyeing anything at Everlane? Let me know in the comments below!
Until next time,
Karin