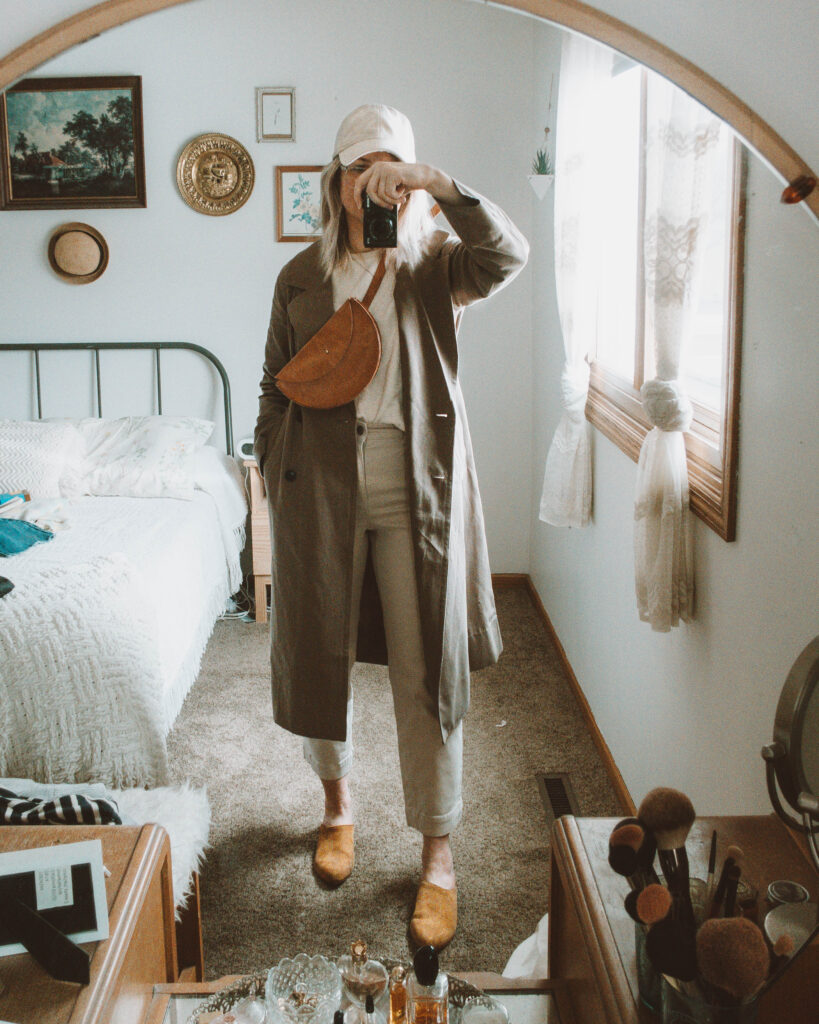 Today I think it would be nice to focus on something a bit more lighthearted.
I've heard the sentiment a lot lately: "I just can't focus on that right now with everything that's going on." And I get it.
I 100% get it.
But I also think it's good to take our mind off of the Corona virus and focus on the normal stuff. The stuff we love. The stuff that will bring a bit of joy back.
If ALL we do in the next few months is focus on the bad stuff, then that puts us in a pretty bad place doesn't it?
I'm going to make it my goal in the next few weeks to be as "normal" as possible (while social distancing of course). I want my kids to see me being normal, and I want to maintain as much normalcy as possible for my own mental well being.
So I'm not going to stop blogging, and sharing good things with you now just because the outside world is falling apart. If you can't imagine focusing on this kind of thing right now, that's okay. I respect that and I will happily welcome you back in June.
But if you want to join me in staying "normal," then I'm happy to have you here.
So with that said:
Today I thought I would share a post styling new in at Everlane… some pieces are brand new, and others I've had for a couple of months. I'll add my reviews to the new pieces, but if I've already reviewed something I'll just link to it… I don't want to sound redundant.
So let's get to it!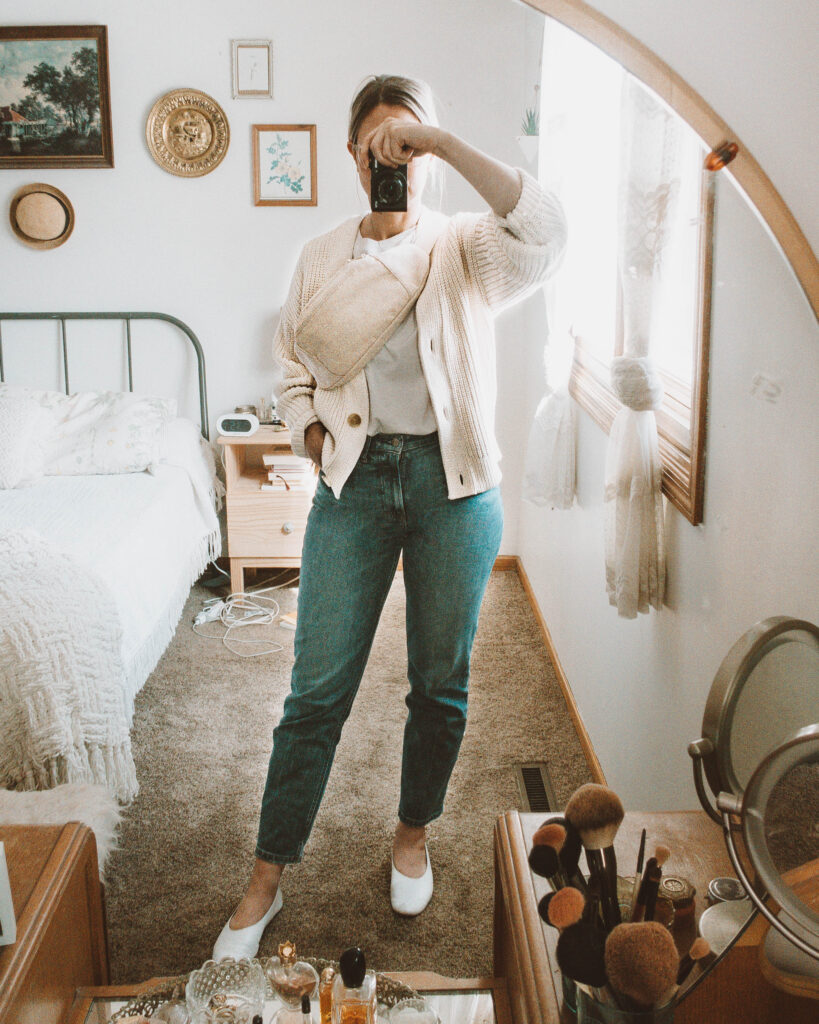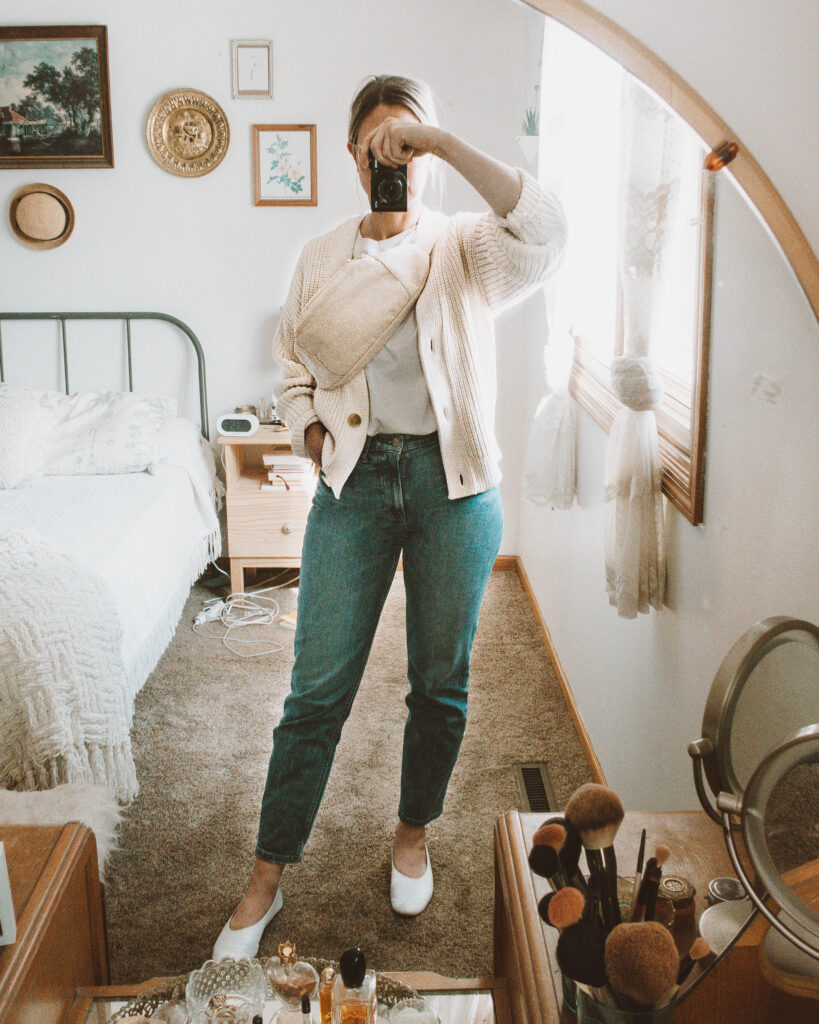 Outfit Details (Affiliate Links):

Cardigan (Gifted. Review Here) | Denim (Gifted. Review Here) | Flats (Gifted. Review Here)
Not a whole lot to say here as most of these pieces have been closet staples for awhile, BUT I did want to say these new straight jeans have really grown on me since I got them. I liked them right away, but I wasn't reaching for them because they are a much weightier denim than some of my other jeans… but they have loosened up and softened since I first got them, and now they are super comfy. I think they'll go great with a lot of my spring wardrobe.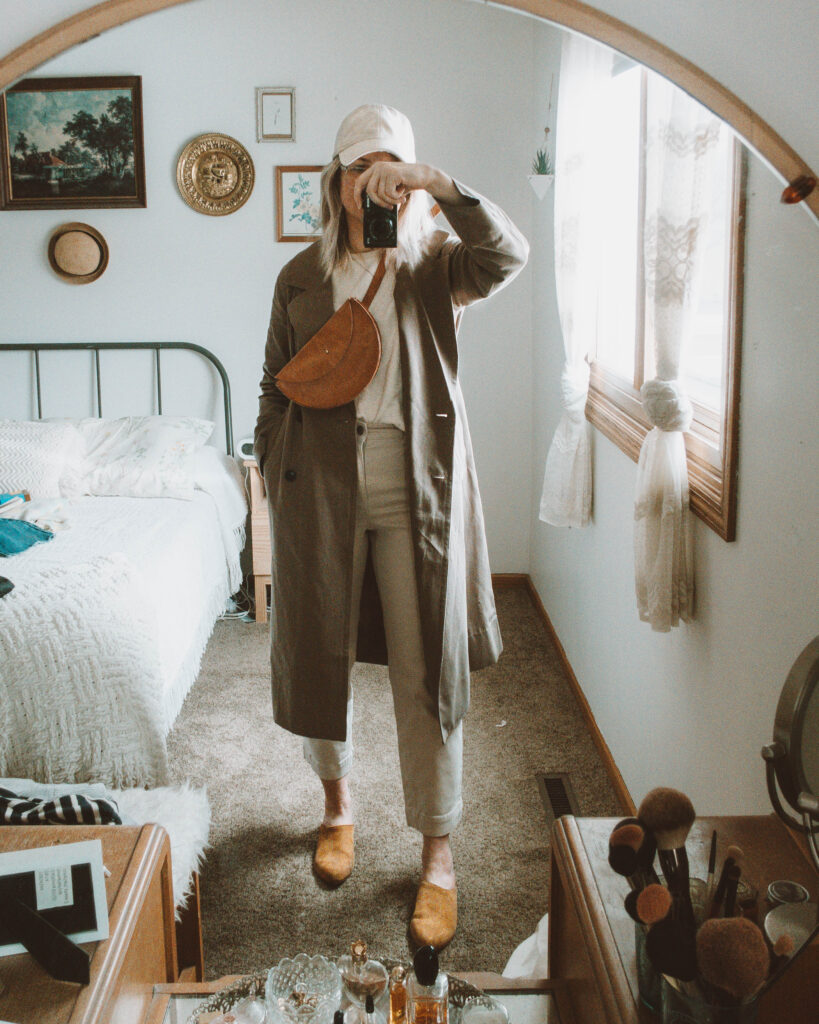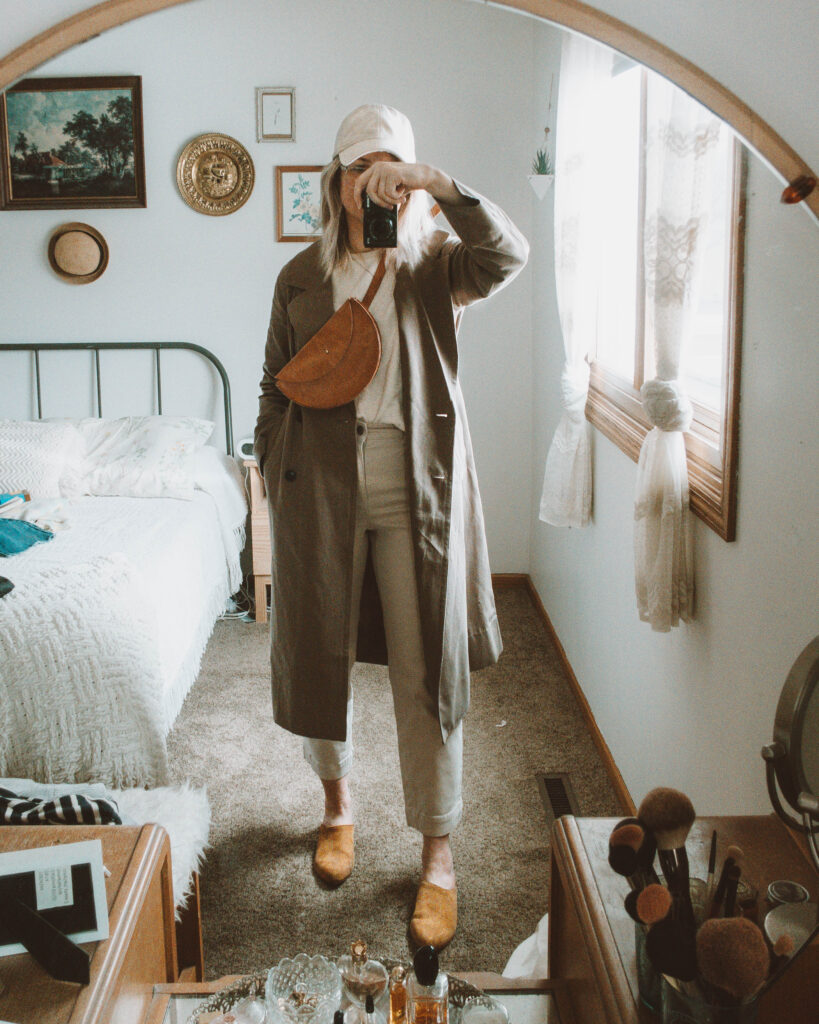 Outfit Details (Affiliate Links):

Trench (Gifted)
Weirdly, I've never reviewed the wide leg or straight leg pants from Everlane… I'm not sure why, BUT to give you a mini review of the pants: I'm 5'5″ and you can see that they hit just above my ankle bone. They run big like their wide leg counterpart so size down. My only complaint with this style is that they do bag out at the pockets on the sides (you can easily stitch the pockets up a bit, but still it's annoying), but if that doesn't bother you I would say definitely try these because they are a really great, classic shape.
This trench is a brand new addition to my wardrobe, and I can't stop wearing it. It's so comfy, but it adds an extra level to any outfit (see below). It's definitely on the thin size (not lined) so it's a true spring jacket… or maybe a better way of saying it is that it acts as more of a topper than a coat. It also wrinkles fairly easily, but my other trench jackets do as well so I don't think that's specific to this style. I sized down and I'm glad I did because there's still a lot of room, and the fabric really is very drapey so it has a beautiful flow and weight to it. They do have it in a classic trench color, but I really like this more browny taupe color… it's just a bit more unique!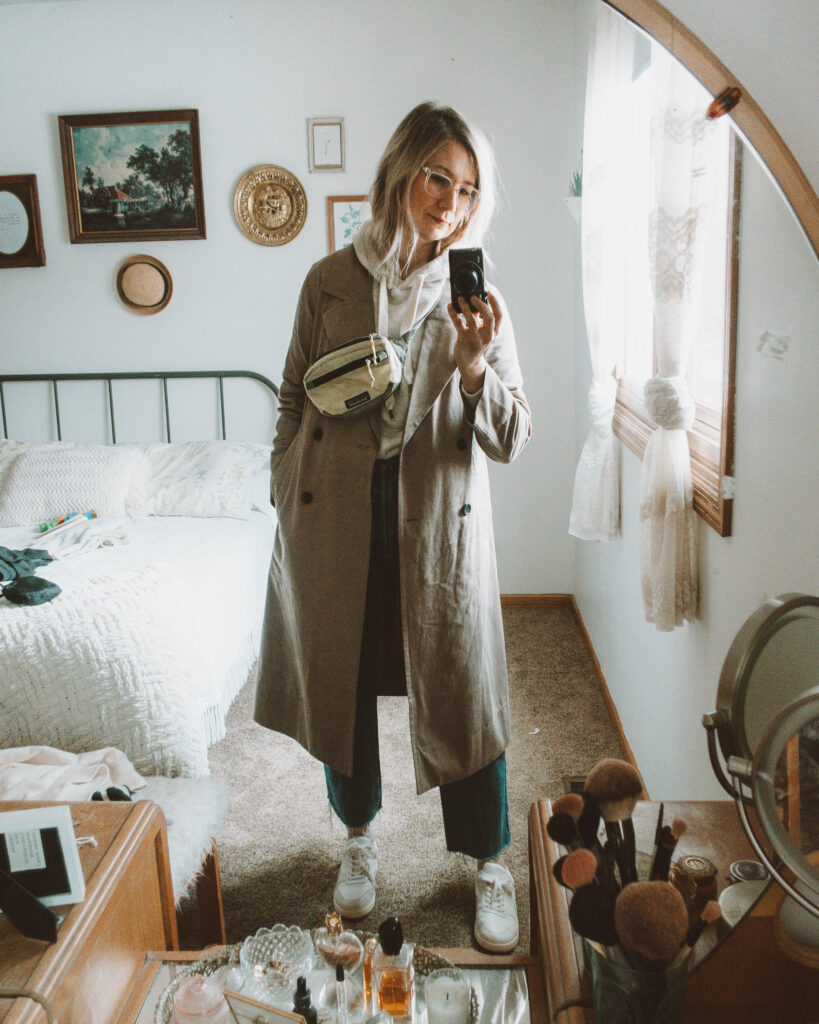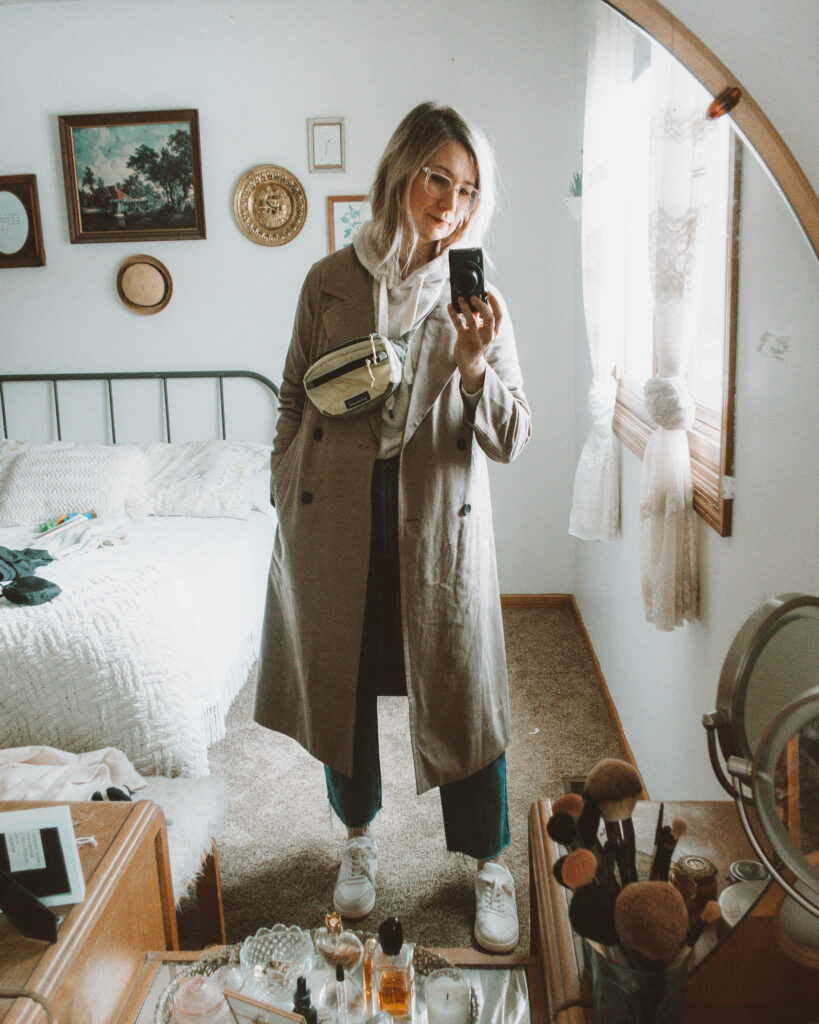 Outfit Details (Affiliate Links):

Denim is vintage so I linked similar | Sweatshirt is old so I linked similar
Jacket and sneakers (review here) are gifted
See above for my review, but I wanted to show you this second styling so you could see how the jacket looks over a basic hoodie, jeans, and tennis shoes… it makes it look way more intentional doesn't it?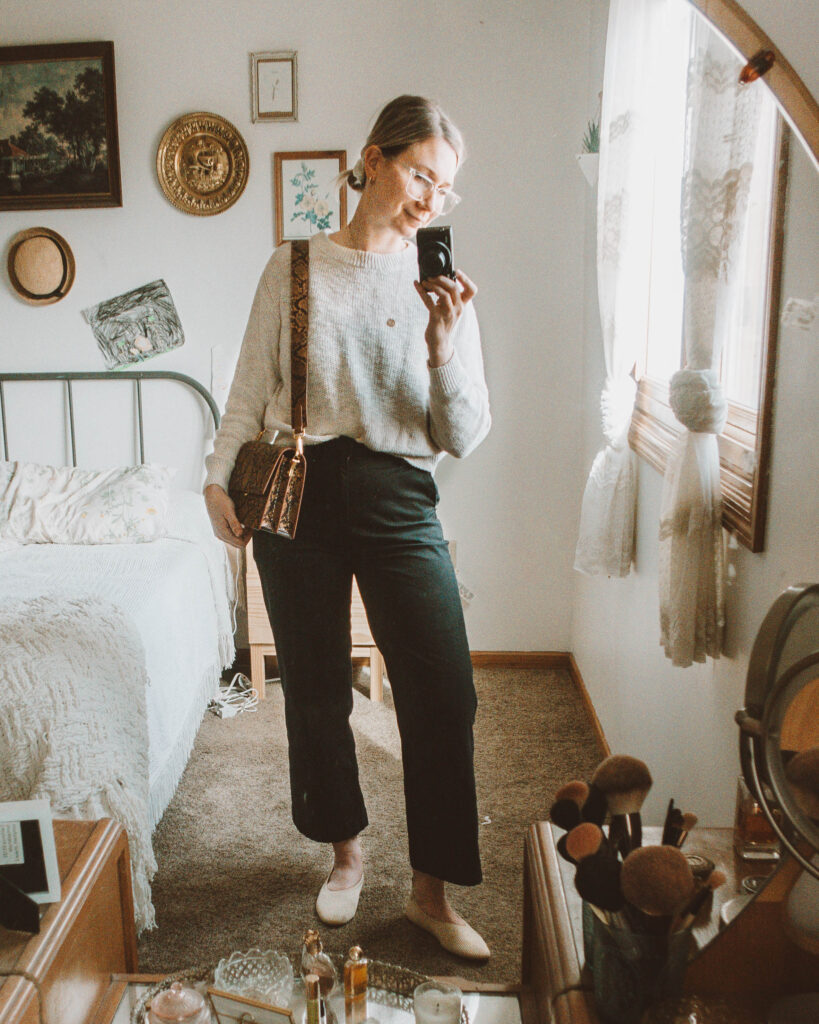 Outfit Details (Affiliate Links):

Shoes and pants were gifted
I'm not going to go into an in depth review of these flats because I already reviewed them in another color here, but I will say that I got this color/style to replace (I think) my white pair. My feet grew a tiny bit while I was pregnant this last time and the white pair (strangely not my black pair) now feel a bit too tight. I'm going to give my feet some more time to see if they end up fitting again, but since I wear them a lot, and I had been wanting to try a more cream color I decided to give this reknit version a try. I did order in my previous size (9) because I had a feeling they would run a tad big, and I was right. They seem to run about a 1/2 size bigger. They are just as comfy as the leather version though, and I'm happy to have added them to my closet. (the lighting was pretty bad all last week so I couldn't get a great close up picture without distorting the color, but the color on the website is accurate FYI).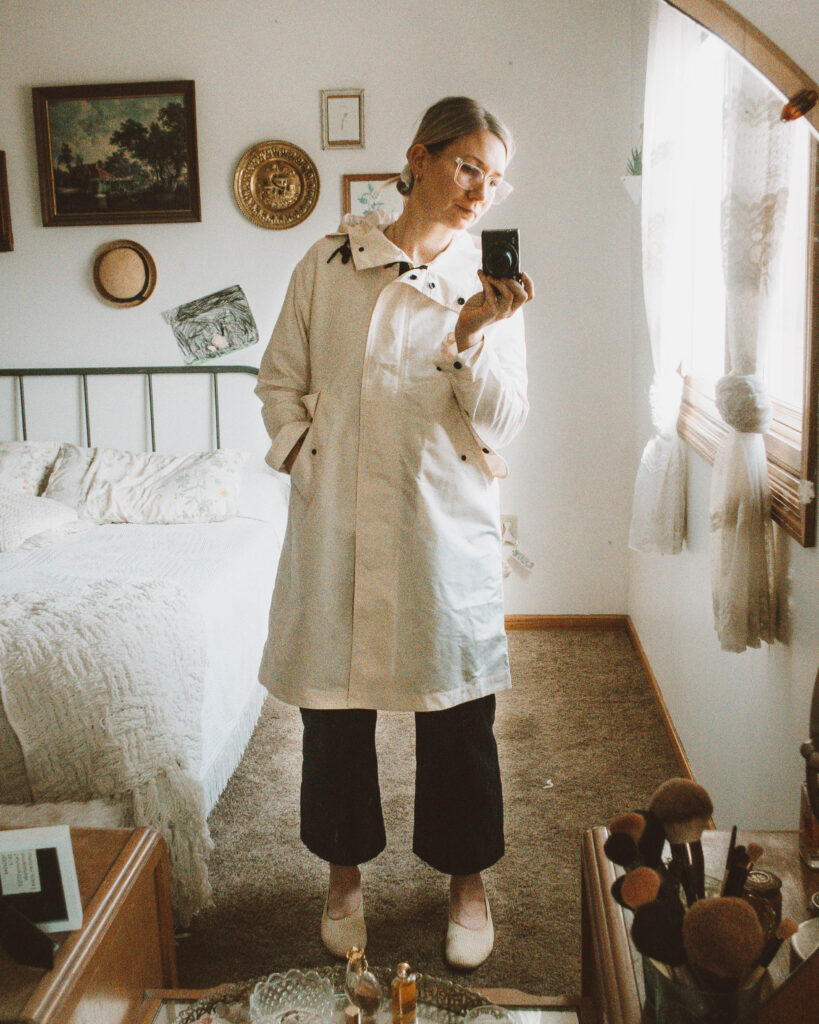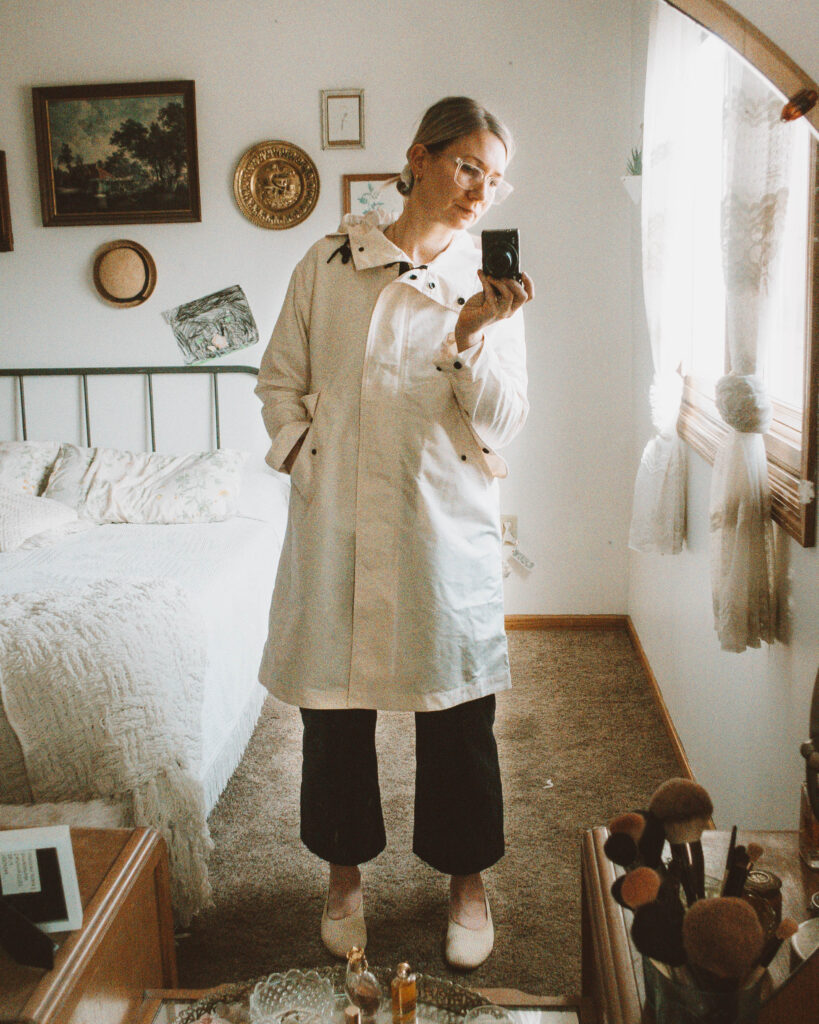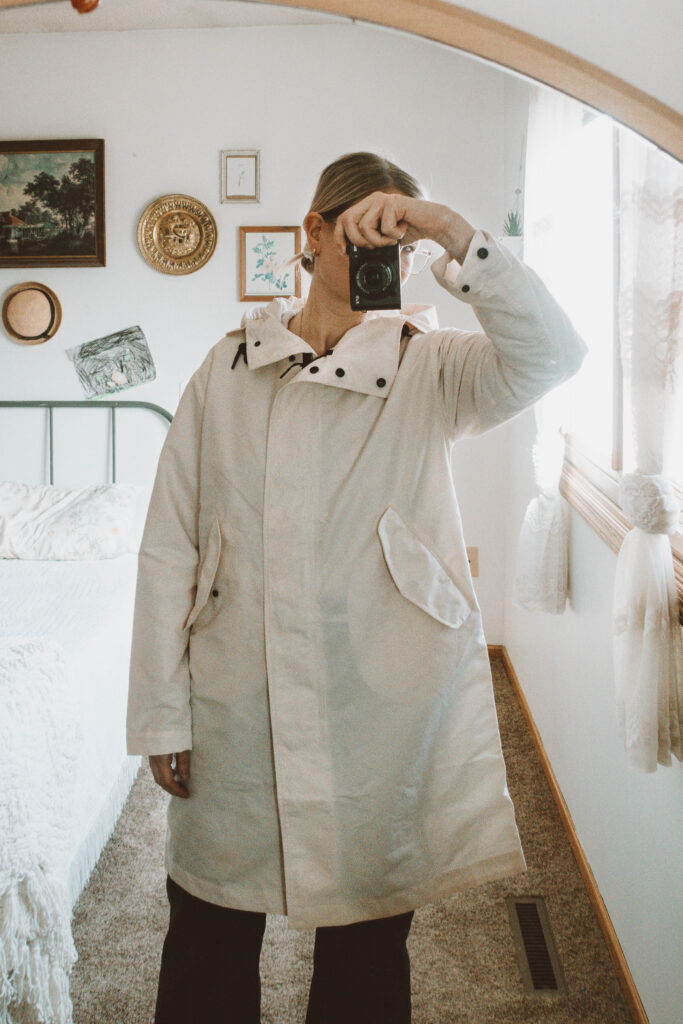 Outfit Details (Affiliate Links):

Shoes, pants, and jacket were gifted
And finally we've reached the new rain anorak. I actually wasn't going to give this a try, but a bunch of you asked if I was planning on reviewing it, and then an Insta Story poll revealed you pretty much all wanted me to review it ha! The only reason I wasn't going to pick it up is that I have something similar in my closet so it felt redundant… and to be honest I may not end up keeping it for that reason, but I do have some thoughts after trying it on: First, it runs big so size down. I tried to capture this in my photos, but the sleeves are really long… which is great for my tall friends, but not so great for my petite friends. I have fairly long arms, and if I decide to keep this I'll have to roll the sleeves. Second (and this may be specific to this color), it's kind of see through. I took a close up so you could see what I mean: the inner pocket fabric can be seen through the front of the jacket. Third, it's VERY lightweight so it's not the jacket for you if you want something that will keep you warm. I guess my overall thought is that it's just okay. It feels well made so if you want it for the style, then you'll probably be really happy with it. If you're looking for performance, I would look elsewhere.
And that's all she wrote (who knows that reference?).
Stay safe and healthy out there friends.
Until next time,
Karin
To see my other Everlane reviews go here