Happy Wednesday friends! Earlier this week, I shared a little summer Everlane haul in my stories and you guys loved the pieces as much as I did so I thought I would make a post just to permanently house my thoughts on those pieces. I know a lot of you rely on these reviews so hopefully this is helpful!
ANYWAY. You know the drill. Let's get right into the summer Everlane haul!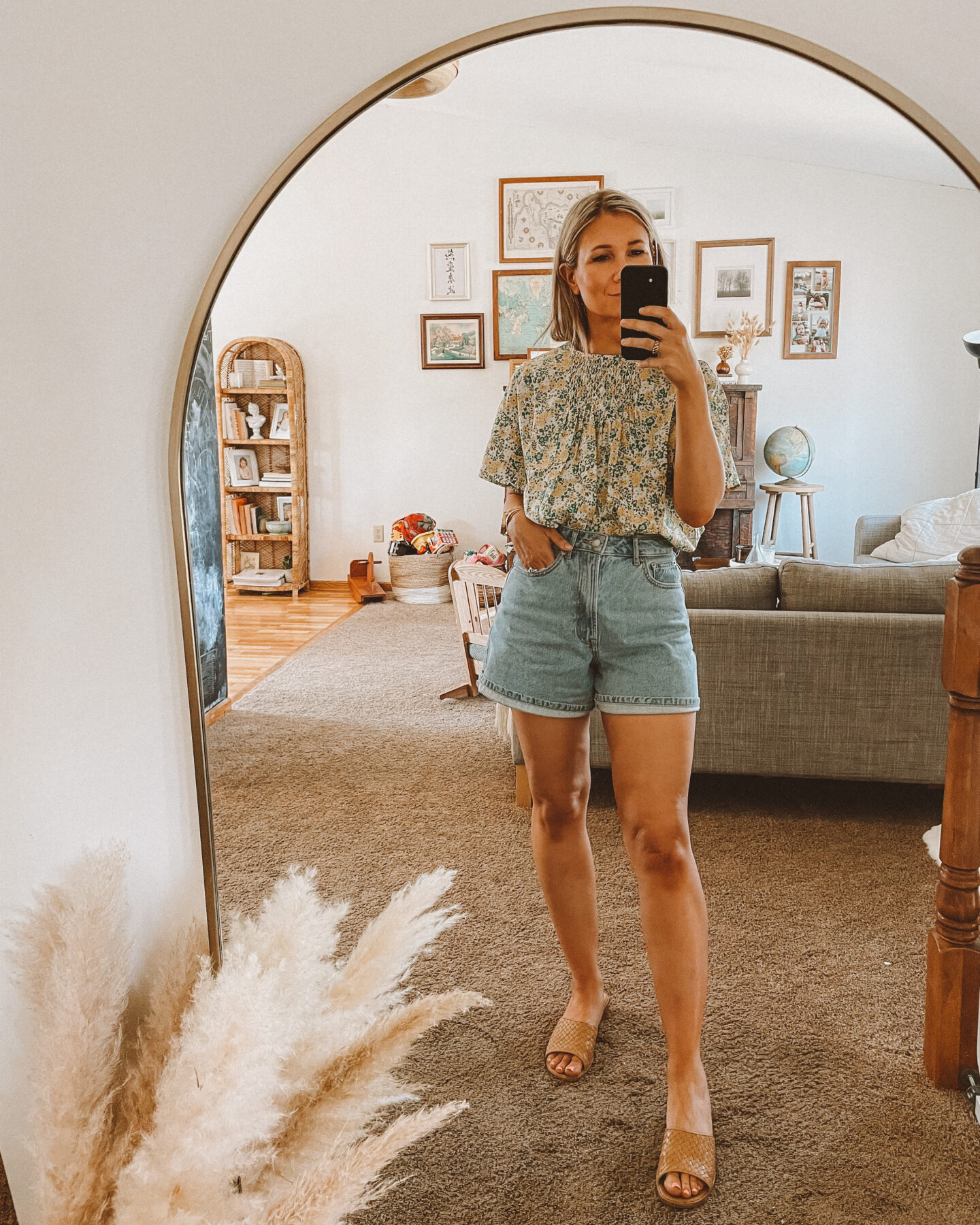 Shorts and sandals were gifted
Oh gosh you guys. These shorts are just so good! I can't get enough of them. They are made of a nice, rigid (but comfy!) denim. They remind me a lot of the 90's cheeky jean but in short form! The are very high waisted, and they have a bit of a longer inseam with a really fun A-Line fit. I think they look very retro. I love them long, but I also think they look cool rolled up once at the hem! I stayed true to size (26), and they were a bit snug at first, but have stretched out to a perfect fit. I know they're selling out quickly, but if you can get your hands on a pair definitely do it!
This top is also a really fun new piece. It was definitely out of my comfort zone, but something about that floral print, and the COLOR just drew me in so I went with it! I'm so glad I did because it is the sweetest little blouse, but the color scheme makes it a little spicy too ha! It has a bit of a smocked detail at the neckline, and the sleeves have a slight flutter to them. It hits me right at the hip so it's also a great top if you don't like to tuck things in. I'm wearing a size small!
---
Pants and Sandals were gifted
Okay. I really wanted to love these pants! They are such a fun, fresh take on a throwback style. My biggest issue with them is the length! I'm 5'5″ and I just find them to be too long on me to be flattering. I often feel "swallowed up" by pants that are full length, and I don't prefer them on my frame.. and that runs true here. I also could have sized down. I got them in a small, but definitely could have done with an XS as they are very roomy! I'm still undecided if I want to attempt to hem them. Other than the length, they are a really nice lightweight pair of pants that would be perfect for summer! And I love the details at the waist line like the extreme pleating. I think I might be talking myself into trying to hem them ha! I'll keep you posted.
The tank is a different color in a style of tank that I've had in my closet for years. I love this style! The deep v is such a fun neckline to play around with, but I do find that you need to size down in these tanks or else they do fall open when you bend over. I'm wearing an XS and I don't have a problem with that in this size. These tanks last forever! My white one lasted 3+ years (I think!) so they are a great basic.
---
Shop the Edit

Shoe reviews can be found here
---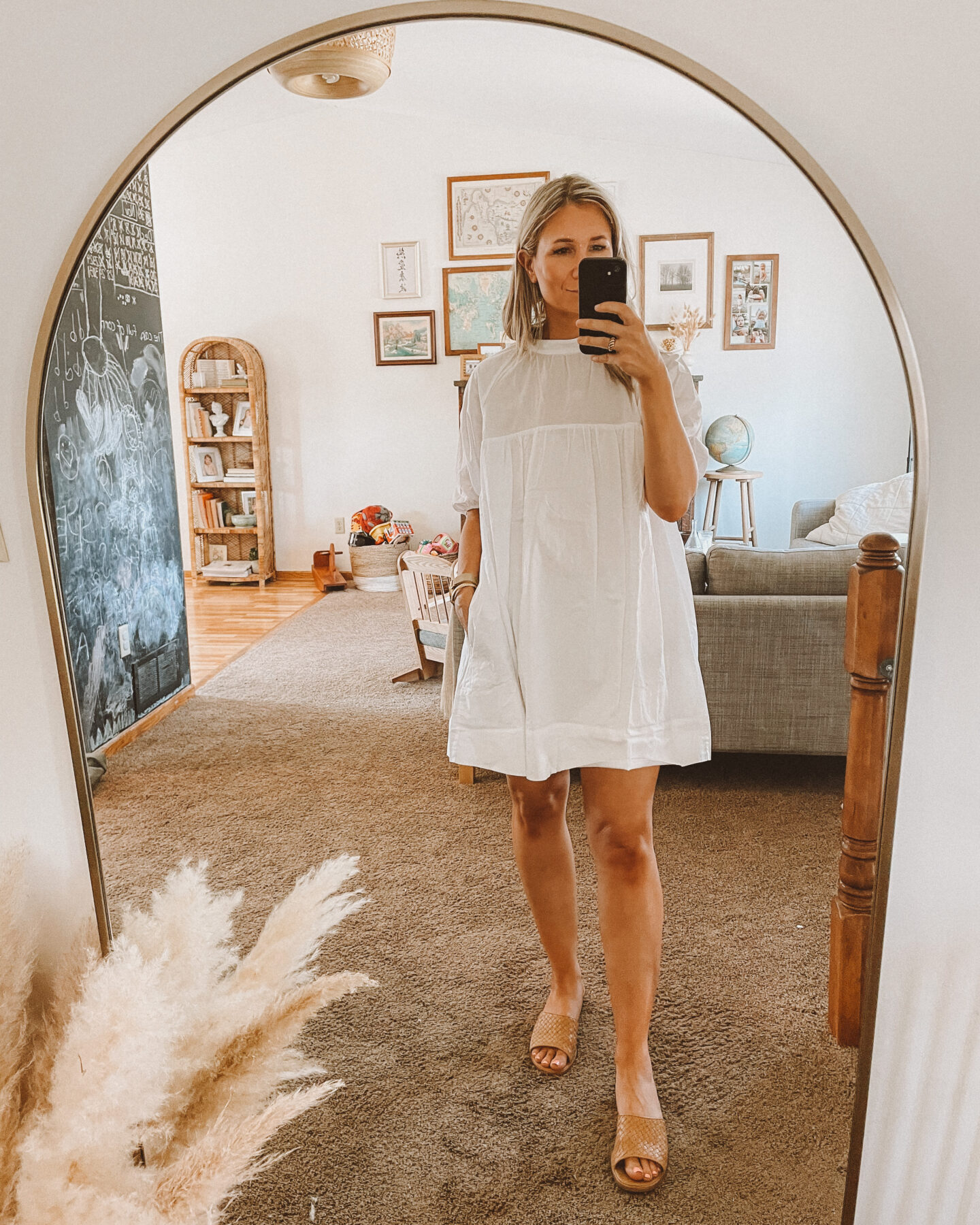 Sandals were gifted
This dress is the sweetest thing! At first I thought it would only be good for date nights or other slightly dressy events, but the more I've thought of it, the more I think this will be super cute dressed down with sneakers and a ball cap. It IS lined so you don't have to worry about what you are wearing underneath, although at this length I would definitely wear a pair of bike shorts. I was worried about the length, but the volume of the dress definitely makes it feel longer than it is! Plus it only hits me at the bottom of my mid thigh so it's not that short in actuality. Plus the longer puff sleeve balances everything out. The top of the dress has a panel that is NOT lined so you do still need either a strapless bras or a nude bras that's very close to your skin tone (or you could just skip a bras since it's lined where it matters!). I got this in a small and it's perfect.
---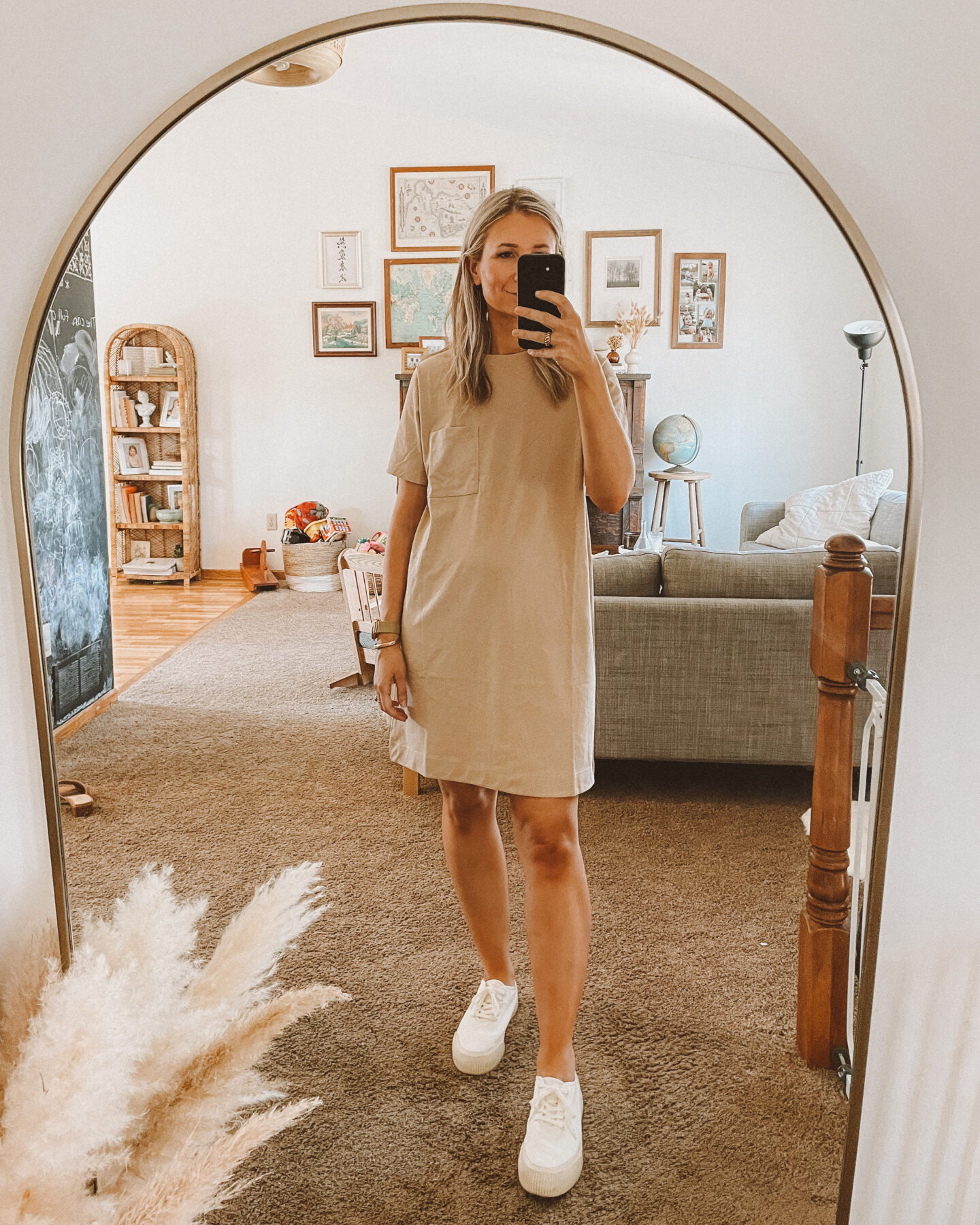 Sneakers were gifted
This dress is one of those throw on and go pieces that are so easy! I think everyone needs a good tee dress in their closet, and this one is a great start! It has a thicker material so it lays really well, isn't too short, and has a really flattering sleeve length + the front pocket is a cute touch! I also think this color (warm khaki) is really unique and SO perfect for summer! It just screams beach vibes to me (and would make a great swimsuit coverup too!). I got this in a small, but I wish I would have gotten a medium. I always size up a couple of sizes in tee dress just because I like them to look really relaxed.
---
Well that's all I've got for you guys! I hope you guys enjoyed this little summer Everlane haul, and that having it here will help you be able to refer back. Have you been eyeing anything at Everlane lately? Let me know in the comments!
Until next time,
Karin
Shop my Home Decor

---