*Update on Janunary 17, 2019: For one day only… today! The Day glove is on sale for $100. If you've been thinking about getting a pair, now's the time to do it.
I did, in fact pick up a black pair and I have gotten a ton of use out of them this fall (less so this winter, but that's because it gets frigid here in Midwest 🙂 ). I still highly recommend them after having them for 10 months now. The leather still looks great, and there are no creases from use.*
Happy Monday!
Today I interrupt your scheduled programming to bring you a review of the new Everlane Day Glove Shoe that is officially available today, 4/23!
Everlane was kind enough to send me a pair to try out and review for you guys, and I have to say that it was perfect timing!
The weather warmed up enough this past weekend that I was able to really put them to the test, and I think I have a good handle on how I feel about them.
So lets get into the review!
Fit:
These shoes run true to size. Originally, I had them send me a half size bigger because the Day Flats that I own run a bit small. BUT, I had to have them resend them in my normal size. I'm a pretty true 9, and that's what I ended up with.
However, If you are in between sizes I would say go with the bigger size because they do hug the feet.
Speaking of that: they truly do mold to your feet, and fit like a, well… glove.
I've never owned a pair of new leather shoes that didn't need a good bit of breaking in, but these pretty much had zero break in time.
I wore them all day on Saturday and Sunday (with a fair amount of walking), and I only got a tiny bit of redness and rubbing on my heels. I'm super prone to blisters, but I didn't get a single blister.
By the end of the day on Sunday, they had stretched out just enough that they weren't rubbing anymore. Such a quick break in!
Everlane claims that these are the replacement to your tennis shoe when you want to look a bit nicer, and I can honestly attest to that… and if you've been following me for awhile then you know I live for my sneakers! They are so, so comfortable! And I love that they make any outfit look super modern.
Quality:
These shoes are super high quality!
I honestly was really surprised when I received them. The Day Flat is a pretty stiff shoe so I assumed that these would be similar, but the leather is extremely soft and buttery.
In fact, it's probably some of the softest leather I have ever felt!
I got them in a white, and the color is so bright and pretty.
The sole is also super comfortable, and they really do perform like a sneaker. The sole is very stable and they don't slip around at all.
I will say, they don't have a lot of arch support, but with the softness of the leather you could buy a half size bigger and add your own support.
Overall Thoughts:
You can probably tell by now that I absolutely love these! I had been thinking about investing in a pair of Martiniano Glove Shoes, but I think these are a really, really good alternative.
As a stay at home mom who is constantly on my feet, I will not wear a pair of shoes if it isn't comfortable, and I'm so happy to have found a pair of shoes that is both comfortable and dressed up. I think I'll be picking up a pair in black as well when the weather gets cold again.
And now some photos! Excuse the grainy appearance of the first few photos… my mirror, as it turns out, is super dirty.
The first few are some close ups of the shoes, and the last few are a couple of styling ideas for you guys: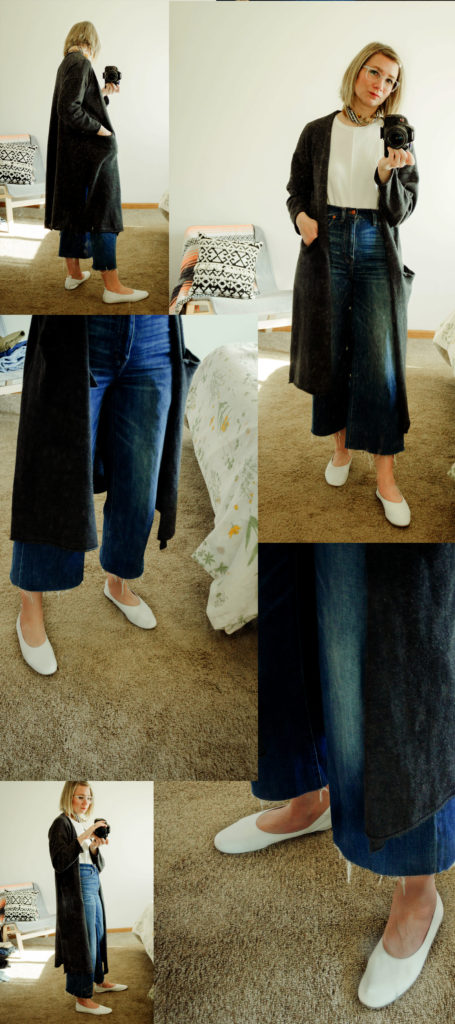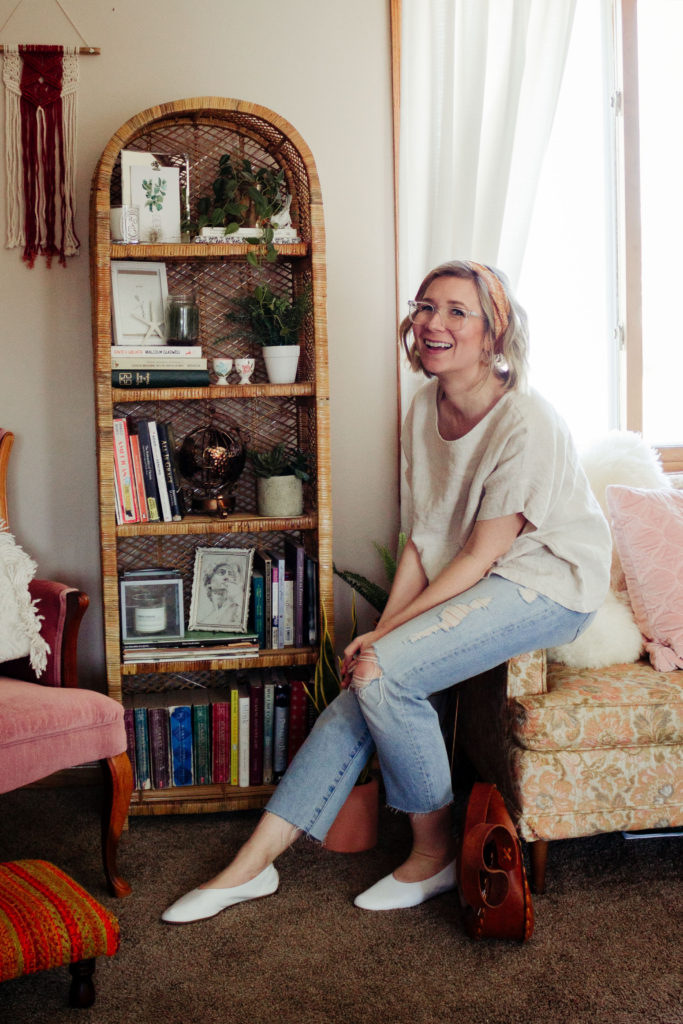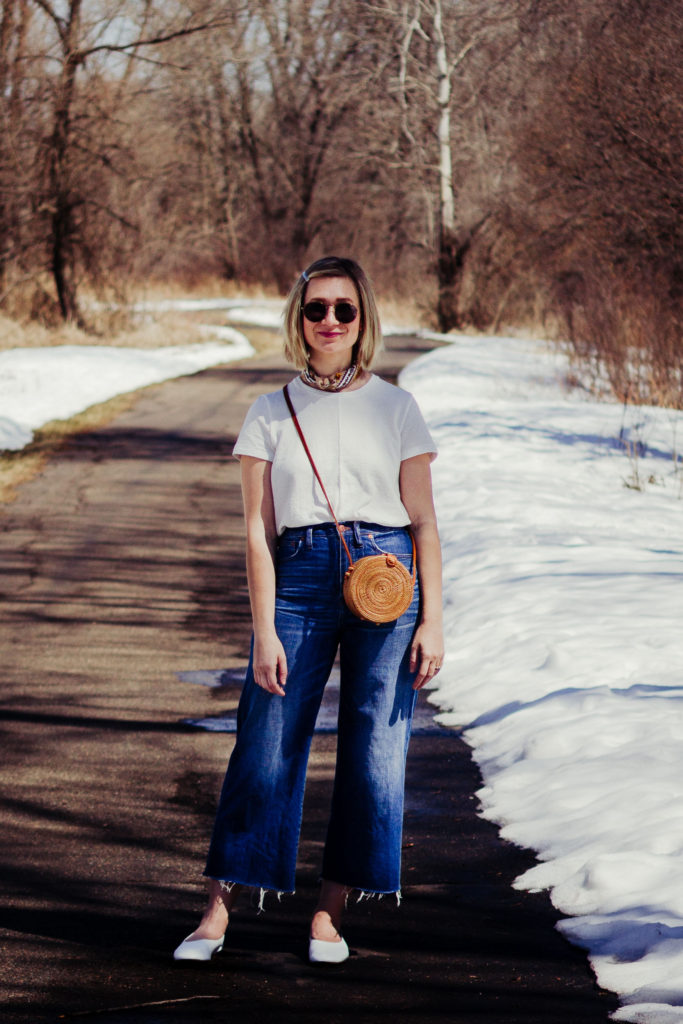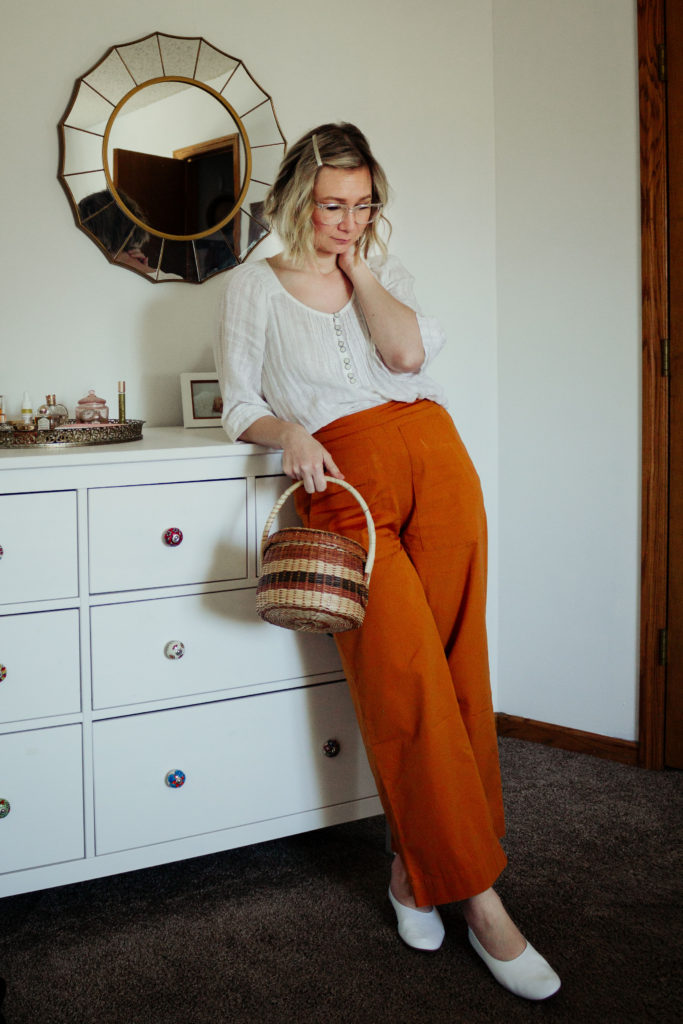 I hope you guys find this helpful! If you want to pick up a pair, you can get them here.
Until next time,