Hello hello friends! I'm going to keep this intro short as this is a bonus post for the week, but I recently took a look around the Target website and saw a bunch of new in pieces that are really cute for Spring/Summer! I decided to order a few things to try on, and I thought I'd share my little try on session with you guys.
I did just want to clarify, that I didn't keep all of the pieces I am showing you here today… I just picked my top favorites to keep so I'll let you know which pieces I sent back, and which pieces I decided to keep.
Okay! Let's take a look: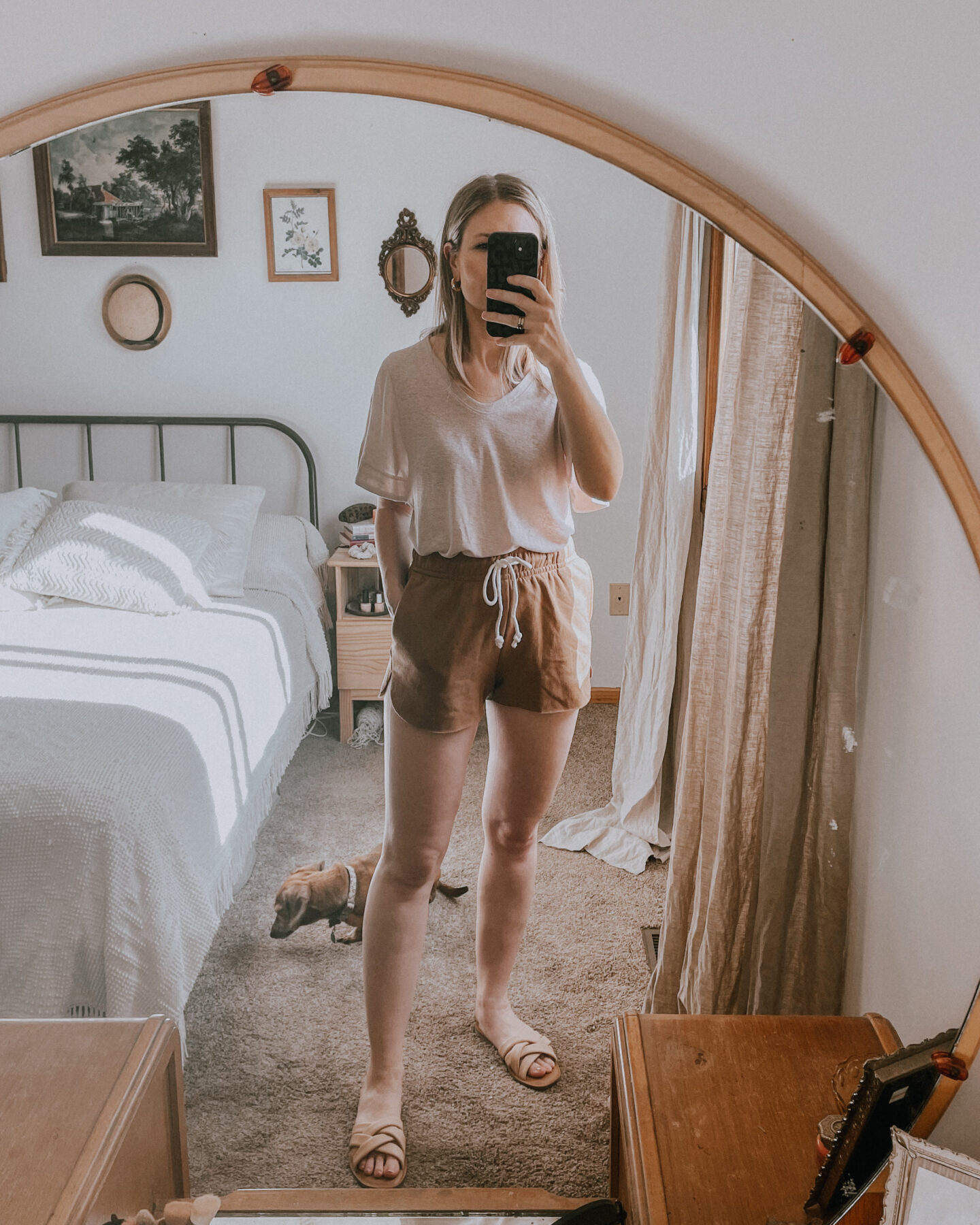 Shop the Look:

These shorts run true to size, and are made of a nice midweight sweat material. They're very soft and comfy… however I won't be keeping them because they are too short for my taste. It's such a bummer though because I love the overall look!
These sandals are SO cute! I was super impressed with the quality, and how comfortable they are. It's been years since I owned a pair of Target shoes, but I do remember several pairs I had and they all lasted me a really long time. This style is a very classic style of sandal, but I do love the modern touch with the square toe. They run true to size! I kept these sandals.
More on this tee below.
---
Shop the Look:

I love this skirt so much! It's so pretty. Obviously it needs a good steam in this photo, but it is made of a really lovely linen blend material. It is fairly see through, but I'm cool with nude underwear. If you need a bit more you'll need to wear a slip with it. I did send this one back, but only because it runs a bit big and I needed to size down.
---
Shop the Look:

I've been wanting a cream colored bag so when I saw this one I was really happy with the price point! It's very well made and the material is super soft. I love the minimal design with the slight detailing of the knot on the strap. It also fits a ton! I kept this bag.
---
Shop the Look:

I wanted to love this dress, but… it fell a bit flat for me. Overall the dress is really pretty and it's made well, but the sleeves were just a bit too much for me! I also thought it ran a bit small so I would have needed to size up as well. I do think this would maybe work a lot better for someone with a longer torso because I also felt like the waistline hit me at a weird spot (although I am very short torsoed). So I guess what I'm trying to say is that the quality is there, but the style didn't work for me.
---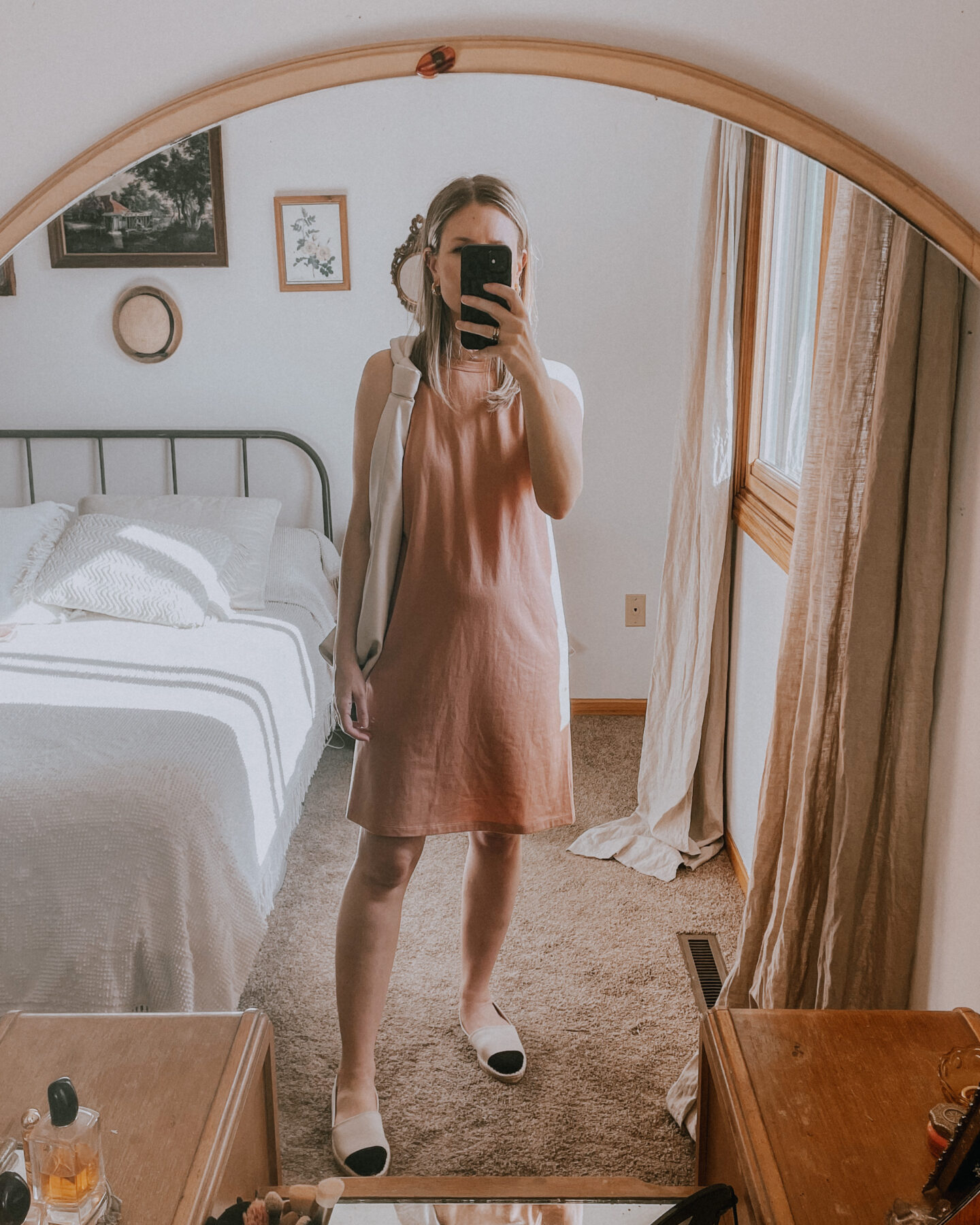 Shop the Look:

This tank dress is super cute + it's only $10! It's thick enough that you don't have to wear a slip underneath (although I always wear bike shorts underneath shorter dresses), and the arms are cut wide enough that you don't have to wear a special bras with it. I always size up in a line dresses like this because I don't like them to fit super slim to my body and I would definitely suggest that with this dress as well. I did end up returning this only because I didn't love this color on me, but I'm going to stop in a store to see if I can get one in black.
These espadrilles are another pair of super cute of shoes, and the quality is there with this pair as well! These are very designer inspired, and I love what they'll add to any outfit. They also run true to size and are very comfortable.
---
Shop the Look:

This flutter sleeve top is super cute! The fabric feels really nice, and the cut is very flattering. I often times shy away from flutter sleeves because they just feel like a bit "much" for me. These don't seem overwhelming because the overall simplicity of the blouse pairs well with the statement sleeve. It runs true to size, and I kept this one!
I couldn't find these exact shorts online anymore so I linked similar, but definitely try to find them in store because they are so nice! I love the fact that they are a paper bag waist style, but in a more structured material. They run true to size, and I did keep them! UPDATED! They have them back up. You can find them here >>
---
Shop the Look:

And finally, this linen tee is really pretty. It has a slight flutter sleeve to it, but overall it's a really minimal top. I love the shape of the sleeves, and the neckline. The material is really nice as well and the cut has a really luxe feel. Definitely kept this!
---
That's all I've got for you guys! Did you see any cute pieces you might want to try? Let me know in the comments!
Until next time,
Karin