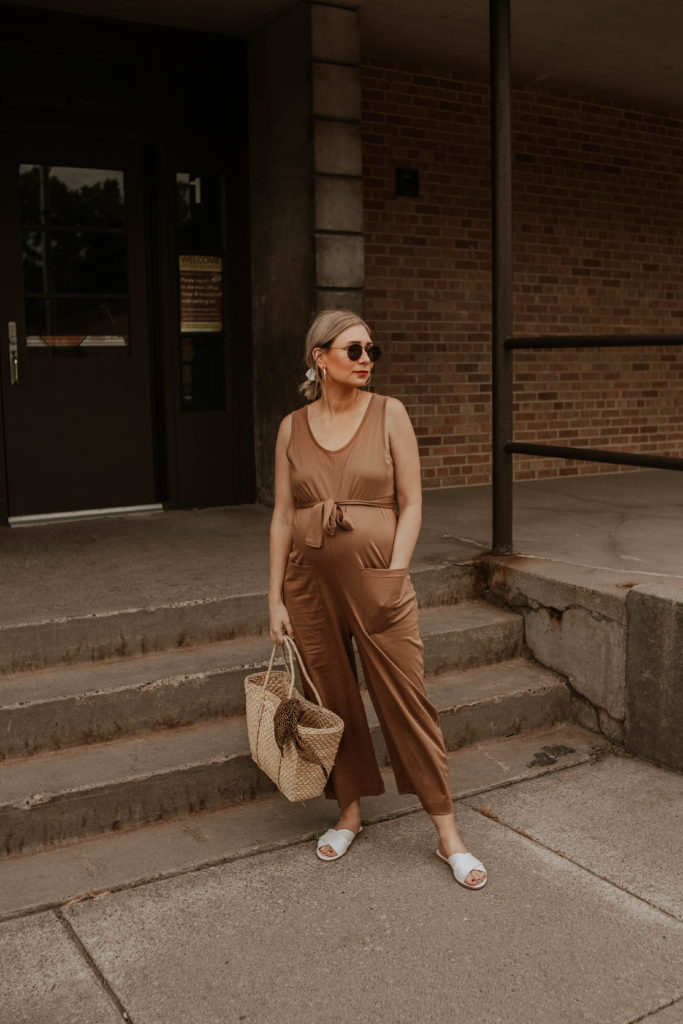 We're halfway through the 30 Days of Summer Style series… yay! It honestly hasn't been that much of a challenge to upload more frequently, so I'm playing around with the idea of continuing after the challenge is done (although I'd take a break on the weekend). What do you guys think? Do you like this "real time" way of posting?
I was pretty excited to see that Everlane was releasing new styles of jumpsuits in cotton! I didn't grab any of their original styles because the black colors were too similar to my Hackwith jumpsuit, and the other colors didn't suit my taste.
But as soon as I saw this style, and this beautiful caramely brown color I was pretty excited to try them out.
So today I have a little review of the Everlane luxe cotton jumpsuit for you in case you were eyeing this style as well:
For reference I'm 5'5″, my pre-pregnancy size for jumpsuits was a small, and I ordered it in a size small.
Like other jumpsuits, it works really well during pregnancy because its quite roomy in the midsection. And I appreciate that the waist tie is not attached because I was able to to tie it above my bump. For non maternity, the tie would sit at your natural waistline. They do have little belt holders at the sides of the waist, but I like that they are really flush to the material. Sometimes when belt holders stick out too far, it cheapens the overall effect. I also love how it looks without the tie.
The fabric is really soft, and lightweight and while it is 100% cotton it has a good stretch to it. One downside to this is that it does wrinkle fairly easily so you'll need to keep it hung up between wears. It's not an overly thick material, but I do find that it still skims over curves without showing everything underneath.
Some of the small details that I love are the seam down the middle, and the patch pockets at the front (it doesn't have side pockets). They lend just the right amount of interest.
I think the neckline will work for most bust sizes as it is cut fairly high, and the length should also work for most heights, though for my very petite friends you'll probably need to hem it just a bit.
One major bonus for me with this jumpsuit is that the fabric at the crotch doesn't hang super low. For some reason, I've found that with a lot of jumpsuits the crotch connects so far down that it's almost to my knees. This one sits at a much more natural place, while still giving enough room for tall torsos. I really appreciate this detail!
Overall, I really like this jumpsuit. My only reservation with it is that it does wrinkle and probably won't be a piece that I travel with (unless I have an iron or steamer available).
The Everlane luxe cotton jumpsuit comes in three colors: black, toasted coconut (what I'm wearing), and dusty blue. It has a size range of XXS to XL and it retails for $68.
So tell me: are you a jumpsuit person? I held off on them for so long, but now I'm totally smitten!
And a little side note: Everlane just released three new limited edition colors in their TREAD sneaker line: Sand, Lavender, and Slate. I was really tempted by Sand, but ultimately decided I didn't need another pair. 🙂 To see my review of the pair I DO own, go here.
To see the rest of my Everlane reviews go here.
Outfit Details:
Everlane Luxe Cotton Jumpsuit, c/o (sustainable)
Sandals, Everlane (see a review of them here) (sustainable)
Basket bag, thrifted. Similar here (it's handwoven and only $15!)
Scarf, Whimsey and Row (sustainable)
Scrunchie is from my summer Causebox. c/o Get $10 off your first box with code karin10
Some of the links in this post are affiliate links. If you choose to shop through them I will make a small commission. Thank you for supporting Truncation!