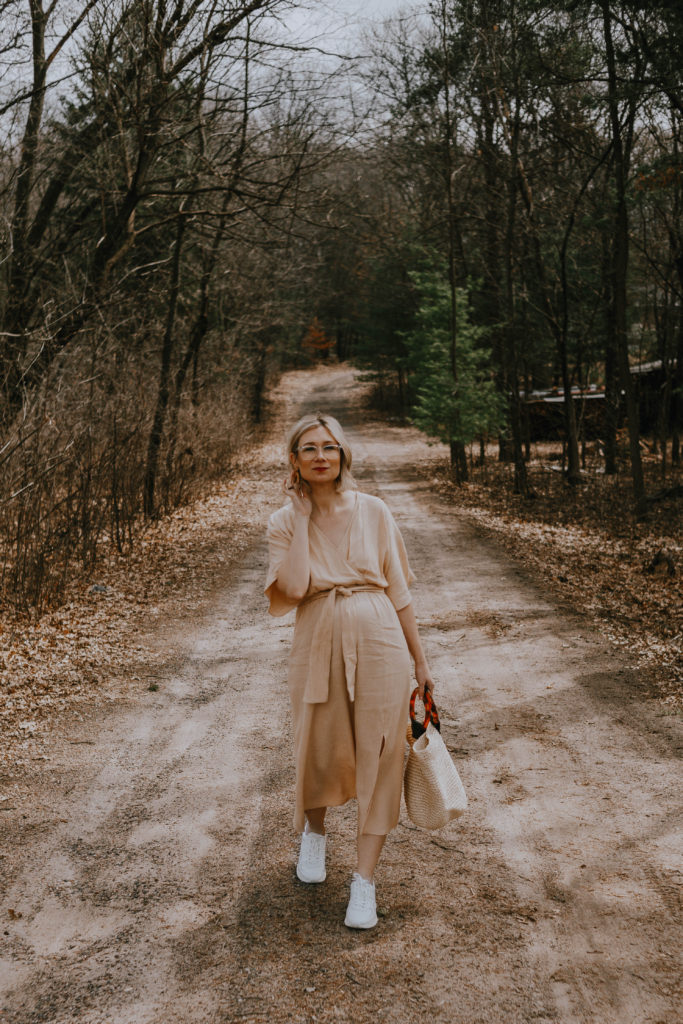 Easter weekend is behind us! Does anyone else feel like once Easter is over, spring can officially start? Maybe that's just me. 🙂 And maybe it's just a product of living in Midwest, and the weather not typically warming up until now. But we had the most glorious weather last weekend, and it FELT like spring is officially here. We spent as MUCH time as possible outside, and it was magic. The girls played so hard all weekend, and basically begged to go to bed every night (okay, not quite… but close ha!). Seriously though, we needed a slower weekend spent outdoors. Of course the easter egg hunt, and delicious food added to the overall ambiance. 🙂 It's supposed to be a really nice week, and I'm excited to keep moving forward with the outdoor activities.
*this post is not sponsored, but Everlane did send me these shoes so that I could share them with you.
Today, I'm really happy to be sharing with you guys the new sneaker brand, Tread by Everlane! First of all, you guys know I love my sneakers (to a fault I think ha!), and second, you know how much I love Everlane. So the fact that these two loves are combining is a happy day for me. I've been waiting for the day that Everlane would release a sneaker (for the above reasons), and after reading more information about the how/why behind their new brand "Tread" I'm happy to have waited.
The mission behind Tread was to create the world's lowest impact sneaker. From their press release: "of everything we wear, sneakers have one of the heaviest footprints. They require a ton of energy to produce, are made largely from virgin plastic, and never break down. So we buy and replace them often – billions end up in landfills around the world… we're starting with a leather trainer that's the lowest impact of its kind. Made with less waste and almost no virgin plastic – it's also completely carbon offset. Best of all, it's designed and constructed to last – so fewer end up in landfills."
Tread is launching with one style of sneaker in 7 colors (mine are the off white color), and retail for $98.
I haven't had mine for very long so I can't give you a thorough review, but here are my initial thoughts: they're really comfortable. I got mine in my true size 9 and they fit perfectly so I would say they run true to size. The leather is pretty stiff, but in a good way. Obviously in a running shoe, you want a nice, flexible shoe but I like my walking shoes to feel really supportive (that just made me sound 80 years old didn't it?). So what I'm trying to say is that they aren't very soft and flexible, but I think that's a good thing. I do think they'll soften and stretch out a bit as they are worn, but not much. I love the simple silhouette, and I think the monochromatic look makes them work with a variety of outfits. I can keep you guys updated in a few months to let you know how well they hold up, and if they are comfortable for extended periods of time.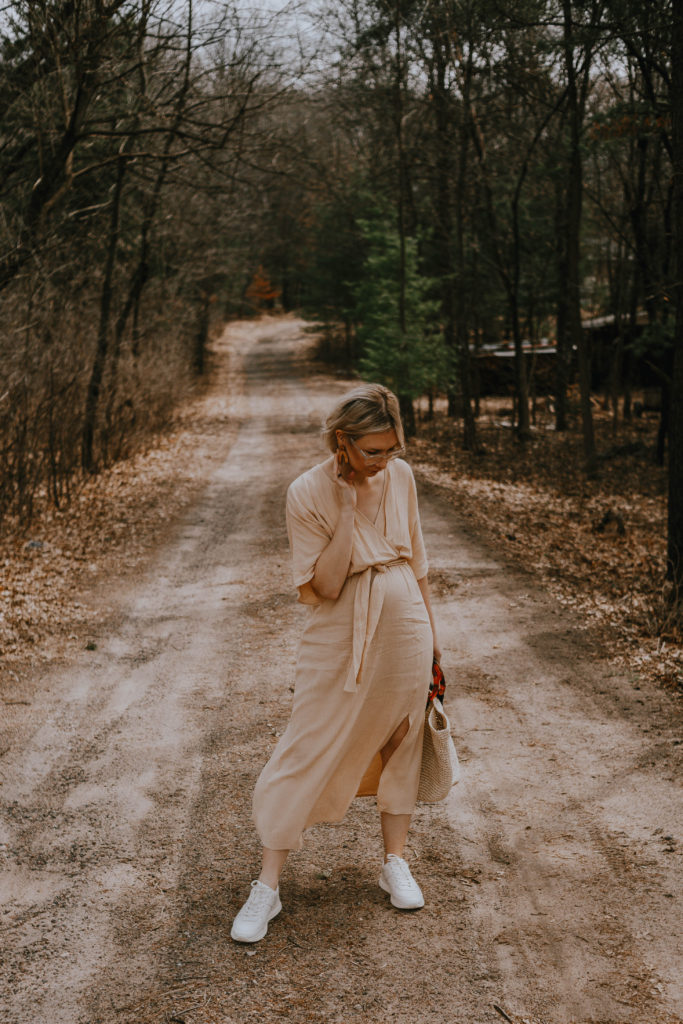 I'm pretty excited about this new venture from Everlane, and I'm interested to see what they come out with next. Do you think you'll be picking up a pair? What color is your favorite? I kind of love the mustard color as well!
What I'm wearing in this post:
Dress (runs slightly large so size down if in between sizes). Bag. Shoes c/o
Some of the links in this post are affiliate links. If you choose to shop through them I will make a small commission. Thank you for supporting Truncation!