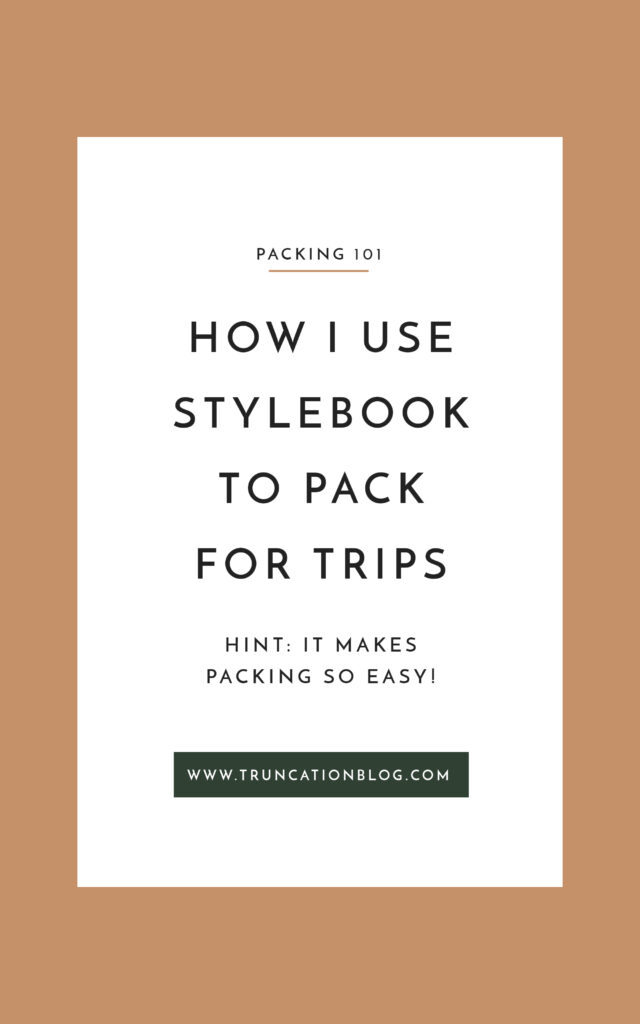 Happy Wednesday friends!
I'm starting this post in a very good mood because for the last three nights, Gabe has slept 8 hours straight (read how we sleep train without cry it out here)… I feel amazing ha!
I mean, granted I'm not getting 8 hours because I have 3 other children, but STILL. It's a win in my book.
Just in time for the Holidays too, although fingers crossed we don't have travel regressions (those are a real thing by the way).
But speaking of Holiday travel, I've been putting together my packing list for Thanksgiving, and I thought you guys would be interested in how I use Stylebook to pack for trips (to see how I wardrobe plan using Stylebook click here).
It's super simple, but it works really well for someone who is visual like me.
So.
Here's how I use Stylebook to pack for trips:
Step One:
I create a look, and include everything I'm thinking of bringing. I always choose items from my wardrobe that I know and love. As much as it might be tempting to pack newer things (or even go shopping for new things), packing pieces you know will work makes putting outfits together so much easier.
When I'm choosing pieces, I also make a point to look at the weather, and take into consideration the kind of activities we'll be doing.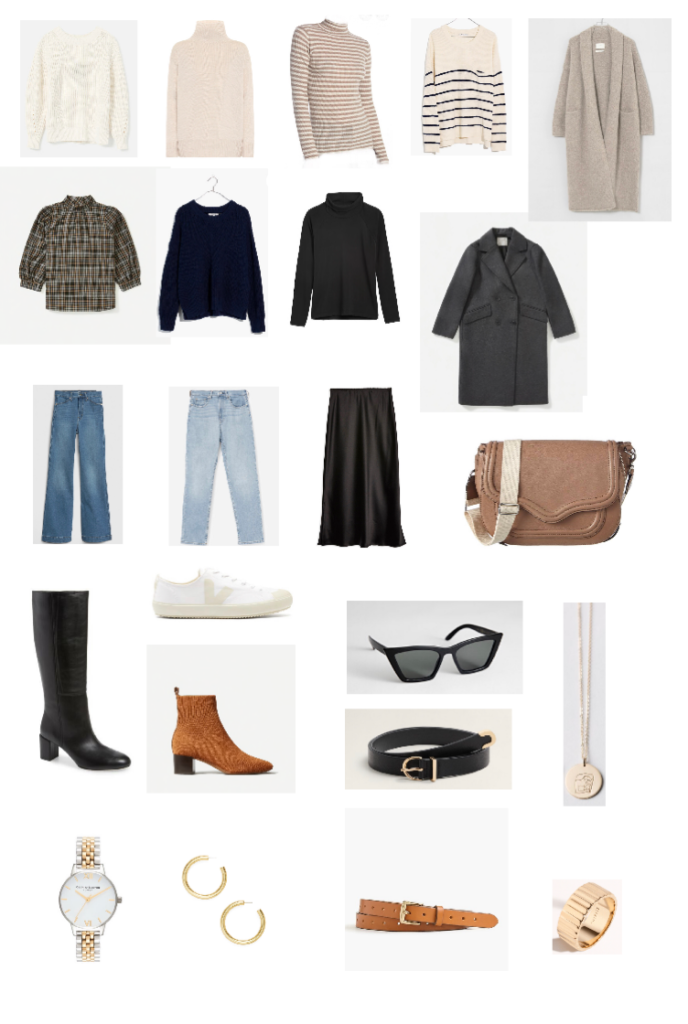 Clothing links:

After I have everything collected into a look, I create an outfit from those pieces for each day we'll be gone.
Day One:
A travel day so cozy, comfy layers are important. I also want to wear the cardigan as its my bulkiest piece, and it will save room in my suitcase.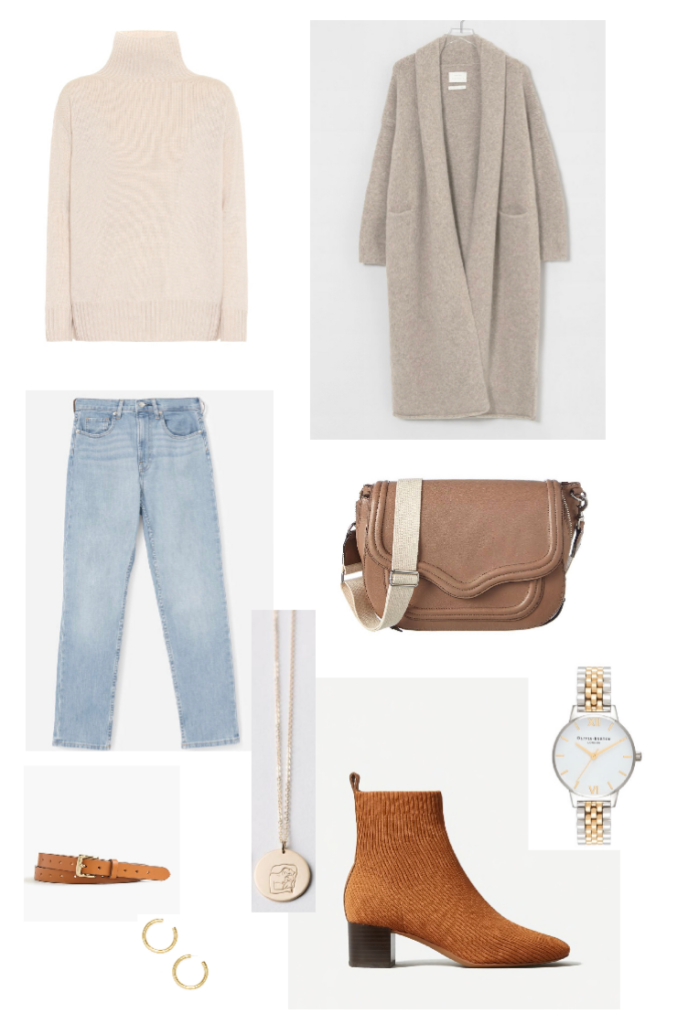 Clothing links:

Day Two:
I plan to wear this for Thanksgiving. It's perfect because it looks chic, but the jeans are stretchy so they'll accommodate all of the yummy food I'm planning on eating.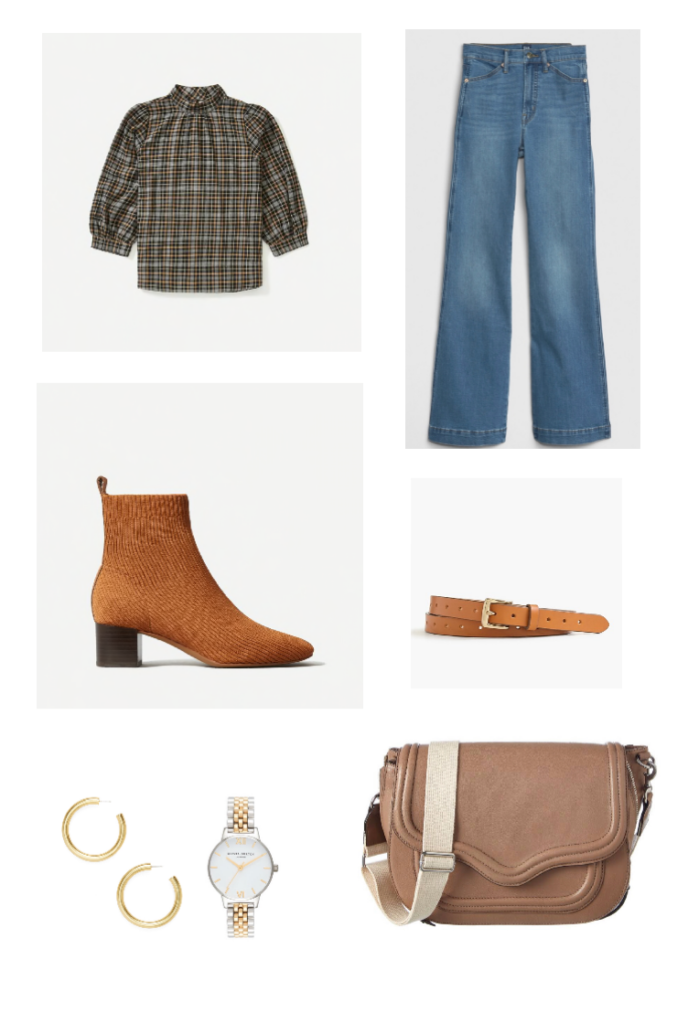 Clothing links:

Day Three:
We're planning on taking the girls to see Frozen 2, and then doing appetizers/games with extended family later in the afternoon so this cozy outfit is perfect.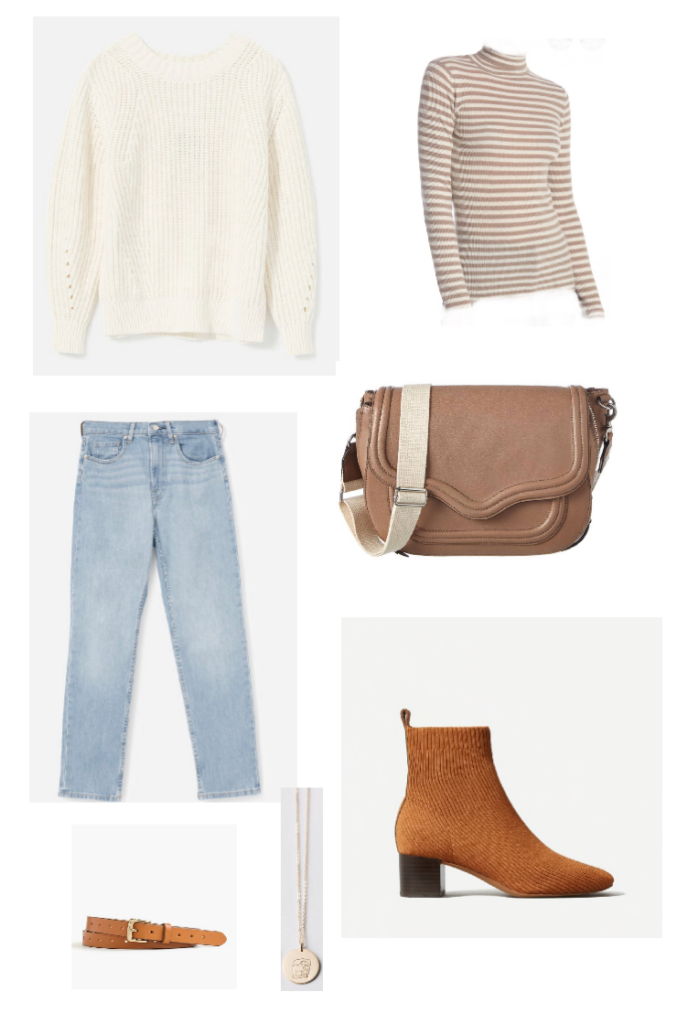 Outfit links:

Day Four:
I'm not sure yet what we'll be doing on Saturday, but this outfit can work for a variety of scenarios. It's dressy casual, but it's also really comfy.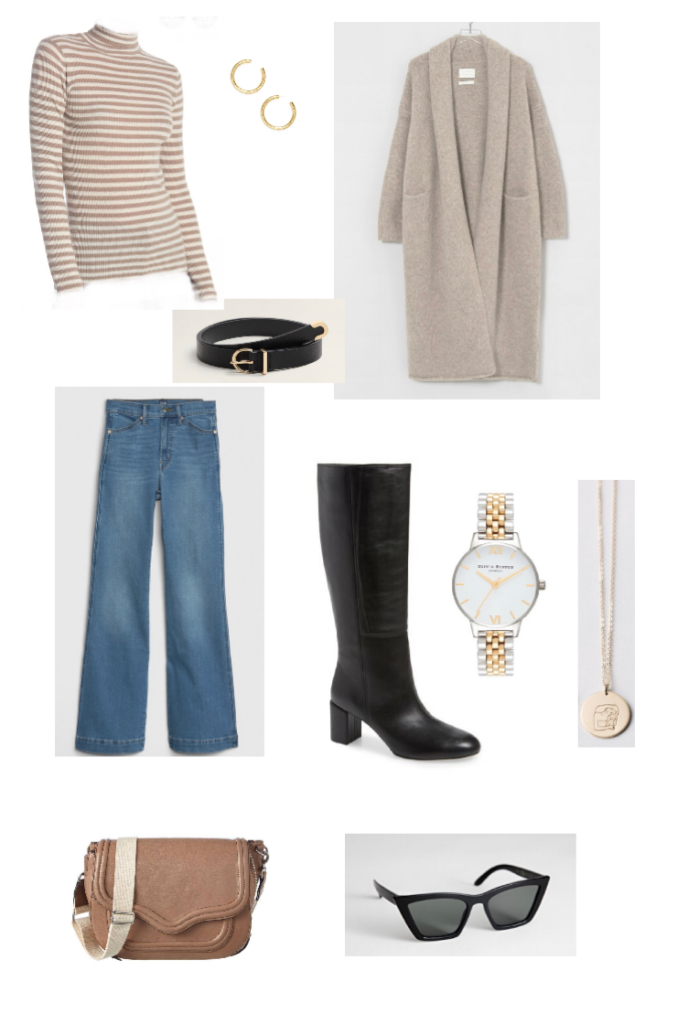 Outfit links:

Day Five:
We usually go to church on Sunday (fun fact, my dad's a pastor!), and then travel home so I'll wear this for church, and then change back into my day one travel outfit for the ride home. I like the idea of bringing along a skirt that packs down really small since it will only be worn once. This skirt is secondhand Eileen Fisher. I linked a similar option. The boots, work well under flared jeans so their versatility makes them a good choice for my black shoe option, even if they do take up a lot of room in my suitcase. FYI they are the new Everlane boots that will be released on 11/23. I'll update links once they are available, but you can also waitlist here.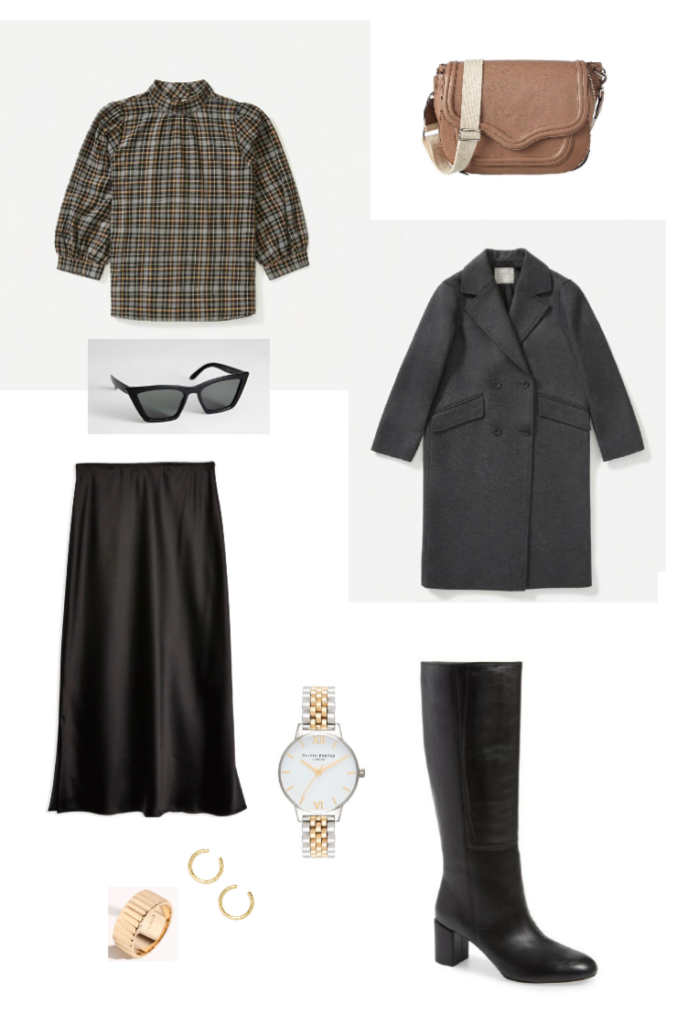 Outfit links:

So now that I have my outfits planned, I create a new look with the pieces I won't need removed. Planning out the exact outfits helps me see where I'm overpacking.
I do always like to bring some "just in case" clothes, and in this case it's the navy sweater and white tennis shoes. I enjoy a bit of spontaneity in my outfits, and I find that if I'm too rigid in my packing I'm tempted to buy something new while I'm on the trip. If I pack a few wildcards, I can bypass those impulse purchases.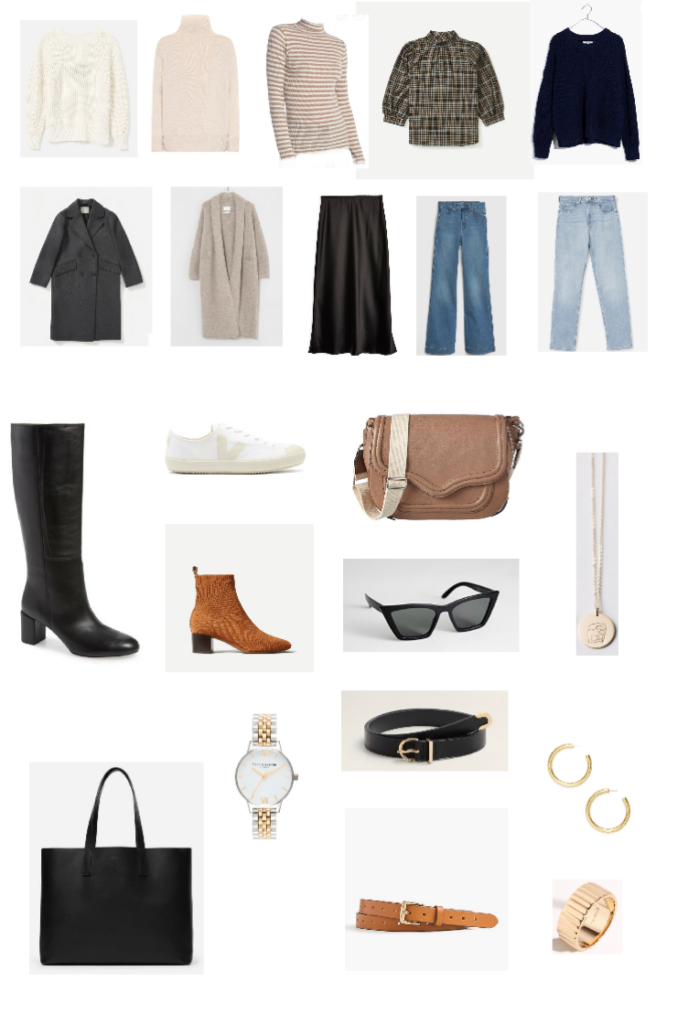 And that's pretty much it how I use Stylebook to pack! The only additional thing I will do is try on each outfit after I have it planned… just to make sure I like how it comes together, and to make sure I have all of the proper undergarments packed along.
I'll affiliate link to everything I mentioned (or similar items as some pieces are old) below for you guys. Just scroll through the photos, and click on the images to be brought directly to the item.

Are you guys traveling for Thanksgiving?
Until next time,
Karin