Hello and happy Monday! I have two days left with David on paternity leave so we are TAKING ADVANTAGE of this glorious Monday.
If you think of it, send a prayer my way on Wednesday because I will be officially on my own.
Gulp.
Like I said. Prayers please (totally saying that in my best Mona-Lisa Saperstein voice… "money please!"… who gets that reference? 🙂 )
Another thing that's glorious about this Monday is the start of a fun new series I want to do here at Truncation: recreating outfits from Pinterest.
I've been really inspired by outfits I've been seeing on Instagram and Pinterest, so I thought it would be fun to show you some of the photos that really stand out to me, and then try to recreate them using clothing that's already in my closet.
I've seen posts like this from various people on Instagram (and Alyssa Beltempo just posted a video doing this as well), so I thought I'd throw my voice into the mix.
It's pretty easy. I'll choose three photos and tell you why I chose them, then I'll style them with my own clothing and break down each piece of the outfit.
Fun right?
So here's the first three I chose:
Outfit Thoughts:
I love this look from Emma Hill. The all black paired with a lighter colored shoe is really sleek and pulled together, but in reality it's a pretty casual outfit. The cross body purse and the walking shoe makes it really practical for everyday wear. Emma is really good at creating these kinds of outfits and I really look up to her style. This is a great outfit for copying as well because almost everyone has some version of the individual pieces she styles (you could even style something similar with leggings).
My Version: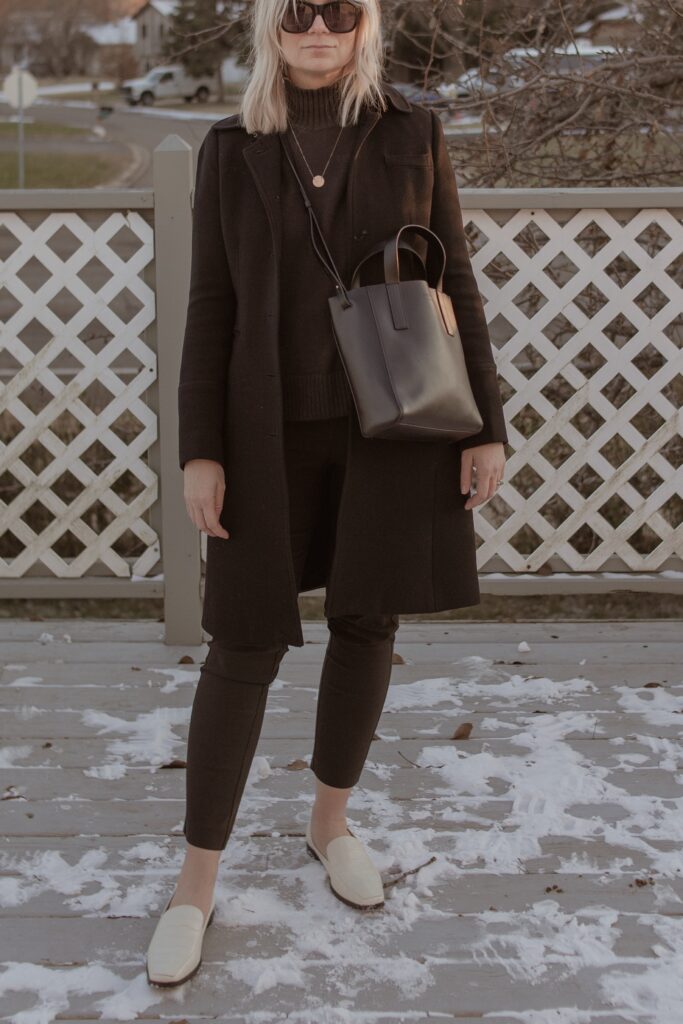 Outfit Breakdown:
Black Turtleneck: Hers looks more like a lightweight sweater, which I don't have so I'm using this Cotton Turtleneck sweater from Everlane.
Black Pants: My pair from Brass are super similar. Just make sure you choose a slim fit pant to balance out the oversized coat. This outfit works so well because of the proportions: baggier outerwear paired with sleek, slim everything else.
Dark Coat: Hers looks like it might be navy blue with some kind of textured fabric. I don't have that so I'm using this black coat from J.Crew that I've had for years.
Black Purse: I don't have this style of purse, but I'm using this mini tote from Everlane (gifted).
Nude Loafers: I don't have nude loafers, but I'm using these white loafers from Everlane (gifted).
Simple gold necklace: hers is a moon shape, but I'm wearing this older pendant necklace I have because it's about the same length.
Sunglasses: I'm using this pair of prescription sunnies from EyeBuy Direct. Don't discount the accessories when recreating looks. They may be simple, but more often than not, outfits are made in the details.
Outfit Thoughts:
This is literally the most simple outfit ever, but there's something about the way it's styled that just makes it work. I really wanted to recreate this outfit because I've been wanting to flex my styling muscles and I think this is the perfect outfit for you to "get your toes wet" with if getting dressed is a struggle for you. Nothing is easier than a sweater, jeans, and sneakers… but if you nail the way you pair them together you can look really pulled together. It truly is all about proportions and styling. The oversized sweater over a straight leg jean keeps everything balanced. Then the little details like her small jean cuff and dangly earrings makes it look pulled together vs. sloppy. Finally, she's kept her color palette to three colors (blue, white, and black) which pulls everything together instead of being overwhelming. Even the addition of a brown belt would have taken away from the overall look, while a black belt would fit seamlessly.
My Version: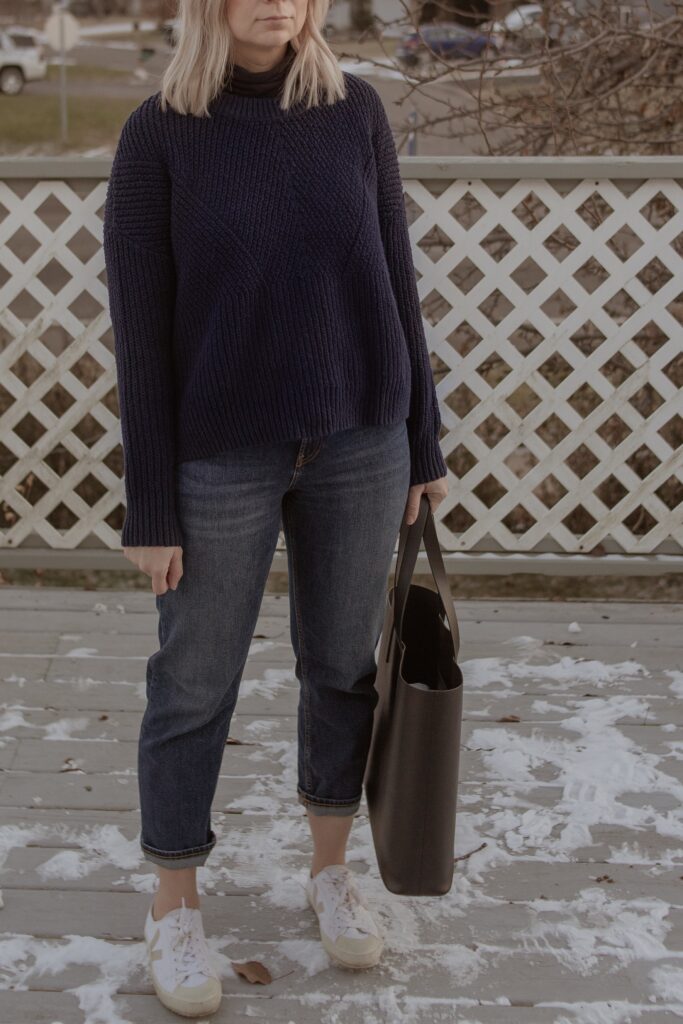 Outfit Breakdown:
Navy Sweater: Hers has a more distinct turtleneck and a finer knit, but my Madewell sweater will still do the job. You just don't want anything too cropped so you can recreate the relaxed vibe of this outfit.
Straight Leg Denim: My pair are a bit more dark wash than hers, but they're my most true straight leg denim, and I thought the style made the outfit more than the exact color. I did cuff them like she did in the photo to add that extra touch
White Sneakers: Hers are a bit more sporty, but I'm just wearing my canvas pair from Veja because they are my only true white pair and I think the white really pops against the blue (as opposed to off white or cream).
Black Tote: I'm using my Everlane Day Tote (gifted) (see what I keep in it here) as it's super similar, but you can use any black bag.
Dangly earrings: The earrings are really the only "fussy" part of this outfit, but I think they really take it to the next level. I'm just using a vintage pair I have, but even a pair of hoops would look great.
Outfit Thoughts:
This outfit by Katherine Bond is probably the "fanciest" outfit I chose to recreate, but I really wanted to do this one because I've been working on learning how to do color pairings better lately, and I think this is a great example of someone nailing a color palette. The black, white, and camel is so simple, but it looks SO nice when worn together. Plus she's practicing the "bookend" trick which I think is worth mentioning: she has black on top and black on the bottom and so it ties everything else together. The white pants really zing as well when paired with the darker tones. Overall, this is a super classic look that you could pull off even if you didn't have white jeans/pants… just pair with the lightest wash denim you own and it would give a similar vibe.
My Version: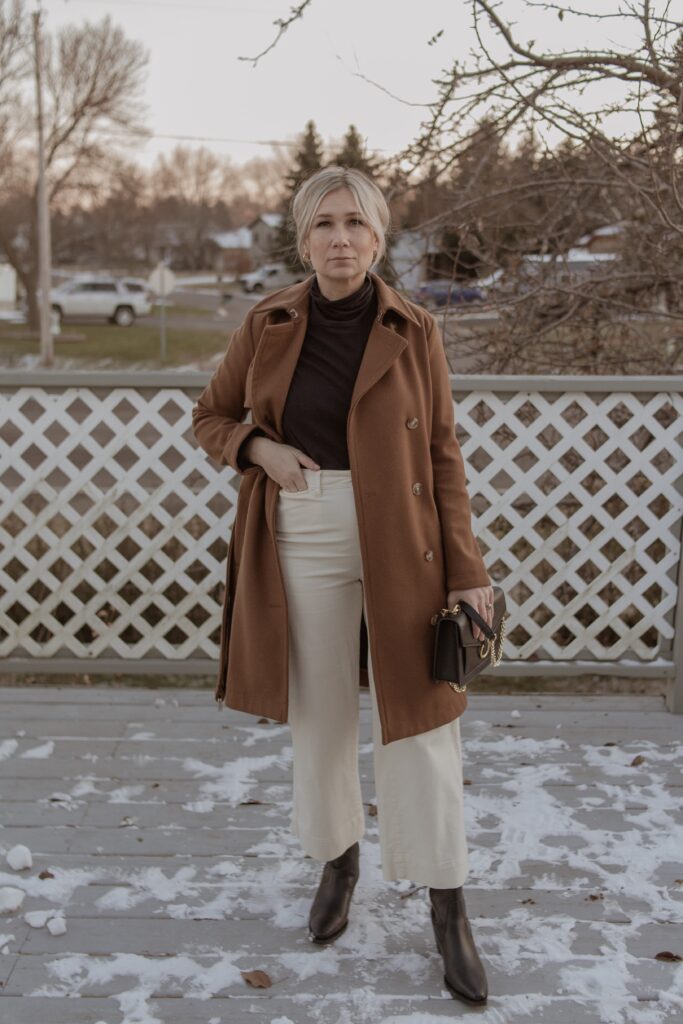 Outfit Breakdown:
Wasn't that fun? I thought it was! If you want to see more of what I'm pinning, make sure to follow me on Pinterest. Have you guys tried doing this? You should definitely give it a try if you haven't! It's a fun way of breathing a bit of new life into your wardrobe… the perfect thing to do this time of year when adding new things is the overwhelming message. I find doing fun style challenges like this keeps me much more content with what I already have. Cheers to that right?
Until next time,
Karin
Some of the links in this post are affiliate links. If you choose to shop through them I will make a small commission. Thank you for supporting Truncation!