Happy Friday friends!
David and I have been savoring this week because this is his last full week of paternity leave. It's been so great to have him home these last few months, and I'm sad thinking that he'll be back at work!
And I'm also a bit nervous because… well… four kids by myself seems a bit overwhelming. Don't be surprised if I look a bit more frazzled in my next week of outfits post ha!
Honestly, I think it will be fine. I'll just have to figure out how to keep the girls busy while I'm breastfeeding without completely relying on shows. Any ideas? Please share in the comments!
But okay. Back to my week of outfits! Here they are: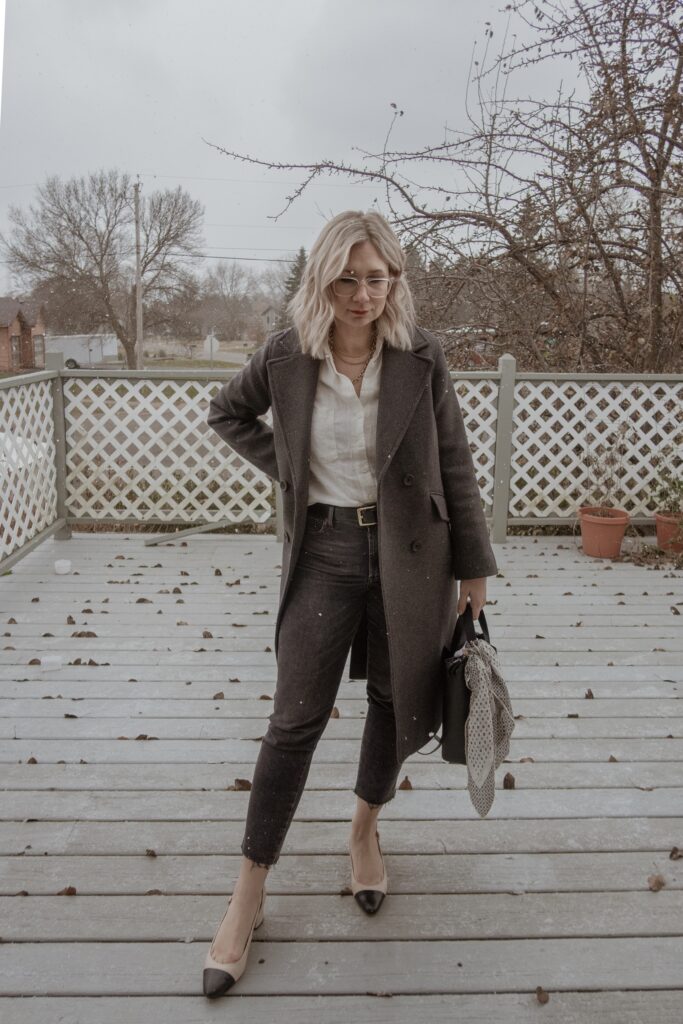 I've been in a bit of a style transition over the last couple of years, and this outfit is evidence that the "work" is finally paying off. It's an outfit that feels very "me." I had the revelation that I felt the most confident with my style when I was dressing for my 9-5 job pre kids. Once I made the decision to stay at home with my kids, I've felt a bit adrift and I finally realized it's because very casual dressing just isn't for me. It really never has been. But now I'm figuring out how to translate that revelation into dressing for my current life. I wore this to Church so the shoes are a bit impractical for running around with my kids, but the rest of the outfit is actually super comfy. The jeans have a good amount of stretch so I can move in them, the shirt is made of linen so it's really soft and comfy, and this Everlane outerwear has enough room in the arms that I can easily pick up a babe (or two). In other words, it's "elevated", but still practical.
I know I just mentioned that I'm not a "casual dresser," but I had to throw this outfit in to show you that there are SOME days where I don't change out of my loungewear (I even wore this on a quick little trip to peruse the Christmas decorations at my local thrift store). Still, even on my loungewear days, I like to wear something that's comfy… but also cute. Over the last decade, I've been working on replacing my ratty sweatshirts/sweatpants for loungewear that feels a bit more special. That may seem silly to some of you, but I've come to realize that, as an introvert, cozy time spent at home is integral to my mental health and overall well being… it's sacred really. And so I want to honor that time with loungewear that makes me feel good.
This is another example like the first one of an elevated look that's still comfortable and practical. The sweater is cozy, but looks polished when french tucked; the pants are stretchy and comfy, but because they are white they look chic; and the boots have a low enough heel that they're easy to get around in, but they have a really sleek shape. Top it all off with a roomy trench coat and the overall effect looks a lot more polished than athleisure (nothing wrong with athleisure, it's just not the look I'm going for). I'm really learning to appreciate the power of structured shapes, and well made materials when it comes to they way they make me look and feel in an outfit.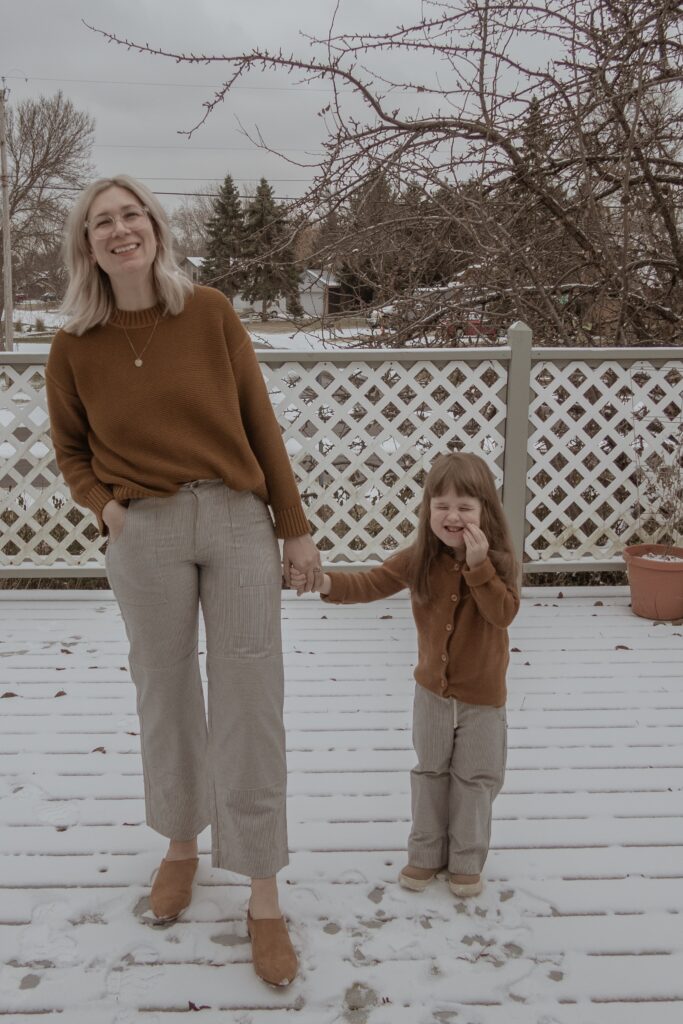 A few years ago when I did my big Marie Kondo purge, I got rid of any color that wasn't a warm tone. At the time, I was really swayed by Caroline Rector and her love of warm toned neutrals so I got rid of anything cool toned. Now, I realize that my coloring actually really suits cool tones like blues, grays, whites, and blacks. So I've been slowly adding them back into my wardrobe. The subtle blue and white pinstripe on these pants from Jackalo are a great new addition… I can't wait to pair them with a navy sweater and white tennis shoes BUT my first test run had to be done with head to toe matching with Kit. She was tickled to find out that they have a matching version in her size AND she was really excited to also wear our matching sweaters. So the navy pairing will have to wait. 🙂
Last month I picked up these black pants from Brass, and I'm really pleased with them. I used to wear black pants for day wear all of the time, but I wore the pair I owned until they were literally threadbare; and then I just never replaced them. When I saw this pair was on sale, I decided to give them a try and I'm really glad I did! I didn't realize how much I missed having a slim fit pair of black pant in my wardrobe on the days I don't want to wear jeans.
And you get a bonus outfit because I had a girls' night last night! It was so nice to get out of the house for a few hours and relax with my girlfriends. Full disclosure, I was planning on wearing this outfit but I changed into my cozy Vince cardigan at the last minute. Still, I do love this outfit (I was just feeling a bit under the weather and wanted to be extra warm and cuddly). Blazers are a world I haven't ventured into since my workin' days, and even then the style was single breasted and much more form fitting. This double breasted, oversized style is much more modern and I'm excited to get my feet wet learning how to style it. I haven't quite gotten my groove down yet, but I do know that you can't go wrong with a turtleneck and blazer combo so I thought I'd start there. How do you like to wear your blazers? Let me know in the comments below!
And that's it! I hope you enjoyed this little peak into what I wore over the last week. This will probably be my last week of outfits for the month because I've got some fun posts planned for the next couple of weeks (including a new styling series + a new in at Everlane review post, + a holiday lookbook), so if you want to see my outfits make sure to follow me on Instagram. I'll do my best to share my outfits there everyday. In the meantime, let me know about that blazer question I asked above… I'm truly curious as to how you style them!
Until next time,
Karin
Some of the links in this post are affiliate links. If you choose to shop through them I will make a small commission. Thank you for supporting Truncation!