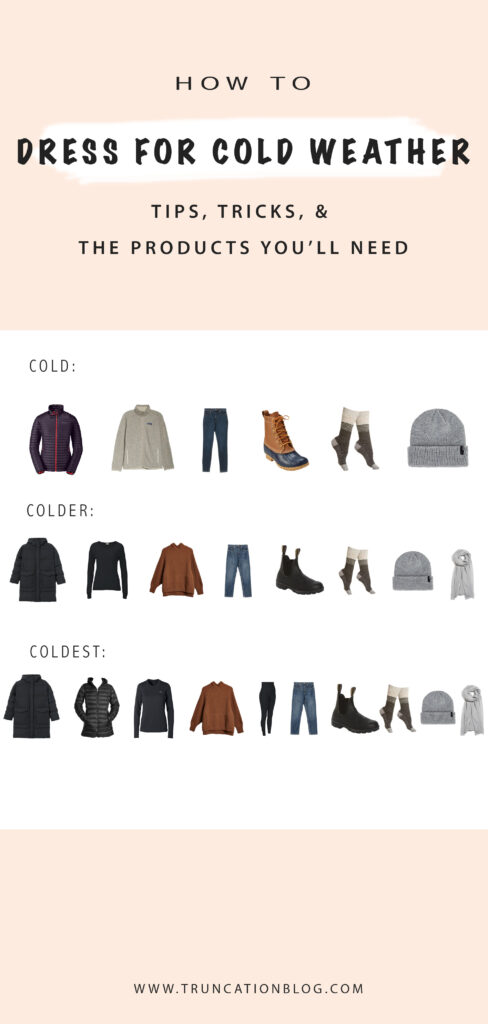 I'm going to jump right in today because I have a lot of ground to cover! How to dress for cold weather has been, hands down, the topic I've been asked about the most in the last few years of blogging.
So I thought I would do a full blog post about it so that now I can have a place to point people to.
I actually have a lot to say on this subject because I'm not native to Midwest, and it's frigid temps. I had to learn how to stay warm when I moved here (sounds funny, but it's true!) and it's actually been a bit of a learning curve. In fact, when I told my husband I was going to write this post his response was "well even I know how to do that." BUT he's from Wisconsin so he grew up in this climate. I had to remind him that cold weather dressing is not as intrinsically obvious as he (or other natives) might think.
And I totally get why I get so many questions… cold weather gear is a bit of an investment, and there's nothing worse than paying a few hundred dollars for gear that doesn't actually keep you warm.
So that's where I come in. Over the last 17 years of living here I have done the work for you, and I've figured out which brands and gear actually work well. I'm here to share that knowledge with you.
I've broken my recommendations into three different categories: cold, colder, coldest. Cold I'm classifying as 32+ temps, Colder is 10+ temps, and Coldest is -20+ (if it's below -20 just stay home ha!).
And before you scoff at my -20, I wore my "coldest" gear while walking a mile to and from work every day during one of the coldest winters on record… including multiple days where it reached -20. So trust me when I say I've been there, and I've got your back. 🙂
Before we get into the specifics let's cover a few random tips:
layers, layers, layers. The colder it get's the more layers you'll need (duh), but what you're layering with really matters. In other words, not every layer is equal. Regular yoga pants may be great for layering under jeans until you're in -20 temps… in which case some wool long underwear is going to serve you much better. Same with socks: cotton is not going to keep you warm, but wool will save your feet. Etc., etc.
Make sure your ears, mouth, and nose are covered when it gets super cold. And don't forget to double up on socks and gloves for the super cold temps.
If you have a choice between glasses and contacts, wear your contacts. First of all, if you are wearing a scarf, your glasses will fog up every time you breathe (also every time you go inside), but if your glasses have any metal in them they can actually freeze and hurt your face.
Don't go outside with wet hair. It will freeze. Nobody wants frozen hair.
Good outdoor/cold weather gear costs money. BUT it is an investment because good gear should last you a lifetime if you treat it well. All of my gear is going strong after at LEAST ten years of heavy use. With that said, if you can't afford full price you can usually find pieces secondhand in great condition.
Okay. Let's begin with the actual products shall we?
Cold: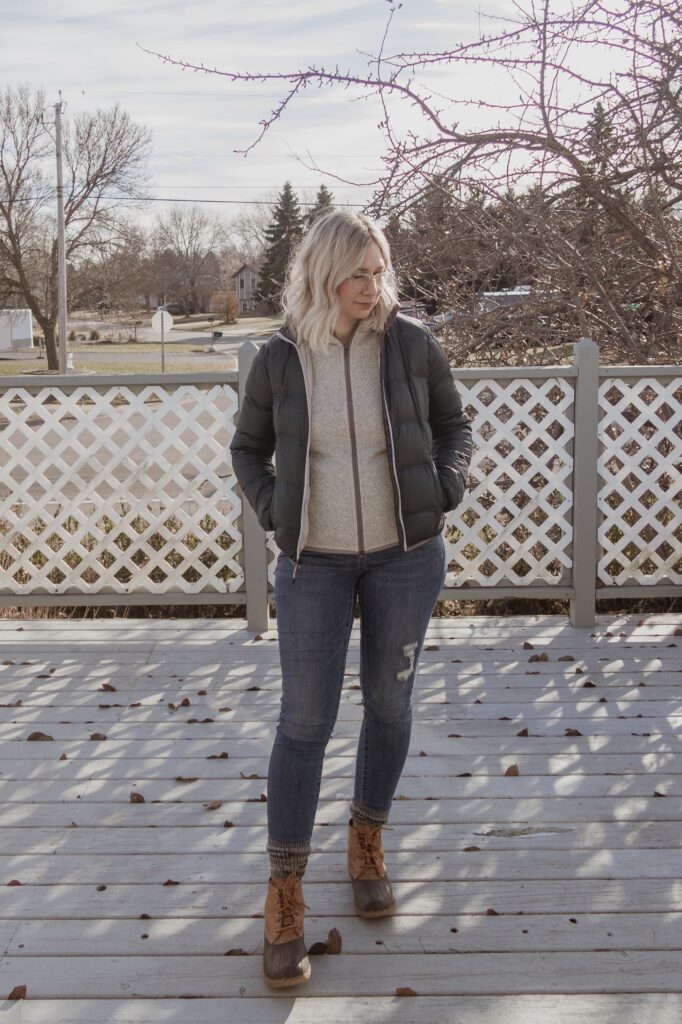 | Top layer: lightweight puffer coat |
After a lot of (unfortunate) trial and error, I've found that Eddie Bauer makes some of the best outerwear you can buy.
I bought this Microtherm jacket about ten years ago now, and it's still in perfect condition. It's the perfect lightweight coat that keeps you super toasty warm (it has a temp rating of -5). It also packs down super small so it's easy to travel/commute with. The exact version I bought is no longer available, but the current style is 50% off for a limited time so it's a great time to make the investment!
| Middle layer: fleece jacket |
Patagonia is another brand (+ they're sustainable!) that makes really great cold weather clothes. I've also had this Better Sweater for about 10 years, and it's also in perfect condition. I specifically love it because it has the coziness/warmth of fleece without the bulk so you can easily layer it under things.
| Base layer: basic tee |
When it's only 32 degree temps I usually just keep it simple with a basic cotton tee. I don't find that I need anything high tech with the fleece and puffer jacket.
| Bottoms: skinny jeans |
I say skinny jeans specifically because if you're going to be outside for a length of time you don't want a lot of wind whistling up your straight leg denim. Basically, you want something close fitting so there's no room for air flow. I'm wearing my postpartum jeans in this photo, but the skinny jeans I usually reach for are the Everlane authentic stretch.
| Feet: duck boots & wool socks |
This combo is magic my friends. I've been doing it since before duck boots where trendy, and I'm still doing it even though they're no longer trendy because… magic. With that said, not all duck boots are made equal. The Target brand will not do the trick. I haven't tried the Sorel or Sperry versions, but I swear by the L.L. Bean version. No water gets in these bad boys so your feet stay nice and dry . Plus they're stable enough that they are pretty much the only shoes I use for cold weather outdoor activities (hiking, etc.). As for wool socks: all of my socks are basically REI brand or Smartwool. It may seem crazy to pay $20 for one pair of socks, but they WORK and they LAST. I swear to you that your feet will stay toasty with this combo in even the most frigid temps.
(click on the images below for affiliate links to each product I mention)

Colder: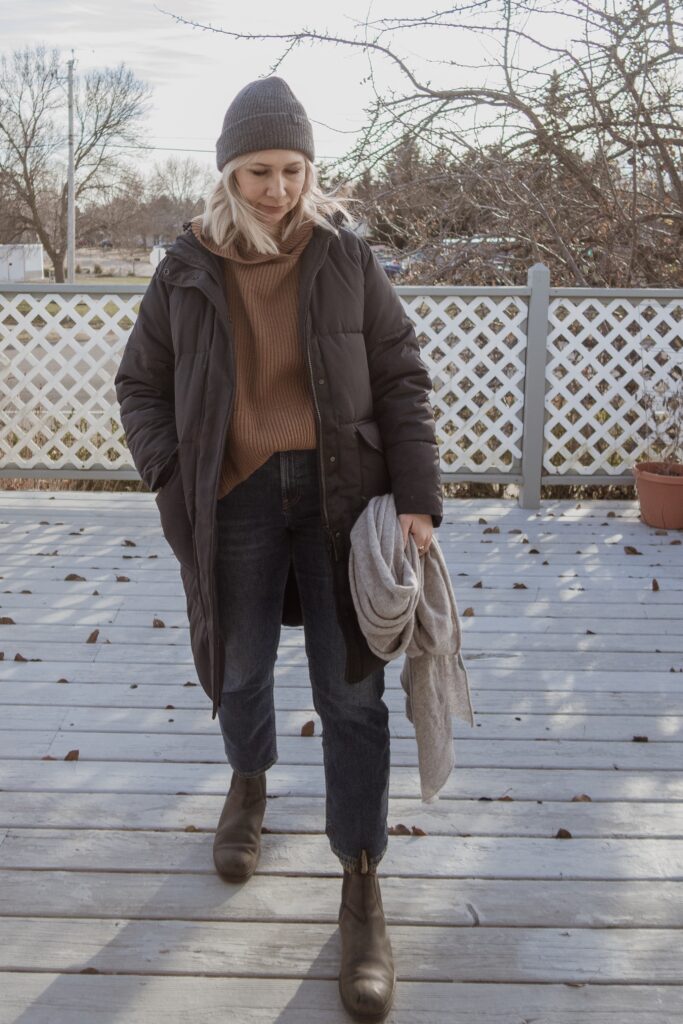 | Top layer: long puffer coat |
This coat from Everlane's Renew range (gifted) is a new addition to my wardrobe (I did a review of it here). I had finally worn out a Gap puffer coat I'd had since high school (it wasn't very well made… I told you! Trial and error), and it filled that hole nicely. It keeps me super warm, and if you stay true to size it's big enough in the sleeves to fit bulky sweaters underneath.
| Middle layer: wool sweater |
If you live in a cold climate, you need a wool sweater in your life. Thankfully, they're super easy to come by secondhand (I love vintage Irish wool sweaters). This sweater is no longer available, so I linked to another tried and trusted wool sweater here.
| Base layer: lightweight long underwear |
I swear by L.L. Bean's base layers. Their long sleeve silk top is PERFECT for layering under wool sweaters. I'm sensitive to wool and this layer cuts the itch, and it's lightweight enough that you don't feel super bulky. It also feels really nice against your skin.
| Bottoms: straight leg denim + basic leggings |
While above, I said to stick to skinny jeans, if you're planning on layering leggings (I love my Girlfriend Collective leggings) under your jeans you'll probably want something a bit more loose fitting. I'm wearing the Gap cheeky in this photo, but I typically wear the Everlane cheeky straight jeans (if you're new to my blog, I'm not wearing my normal jeans at the moment because I'm 7 weeks postpartum). The leggings will take care of the airflow, and the straight denim will give you the room you need.
| Feet: blundstones and wool socks |
I already talked about wool socks above so I'll skip that here, but I wanted to chat about my Blundstones. You honestly don't need BOTH Bean Boots and Blundstones, but I wanted to show you a couple of options in case the Bean Boots aren't your style. I would say that these are SLIGHTLY less warm than the Bean Boots, and it's only because they are a bit more open at the top. But they do a great job as well, and they keep your feet just as dry. I've been asked about the fit of these, and I'm wearing my true size. I can fit really thick wool socks in them so I definitely wouldn't size up… but I wouldn't necessarily size down either because they still fit well (just with a bit of room) even with thinner socks.
| Extras: hat, gloves, scarf |
I personally don't use a wool hat because they scratch my head too much, but if you aren't sensitive to wool, I definitely recommend finding a good wool hat. I really love Brixton hats because they stay in place and are really comfortable (+ they make a wool version as well!).
As for gloves, I love the Smartwool liner/tech gloves at these temps. They aren't bulky so I don't have to keep taking them on and off to do basic things like buckle my kids into their carseats, but the wool content keeps my fingers warm.
For a scarf, I'm pretty set on this cashmere scarf (gifted + review here), but it is a pretty spendy scarf so if that's out of budget for you give Everlane's new cashmere scarf a try. Whatever you end up using, I highly recommend it include wool or cashmere as that will keep you warmest.

Coldest: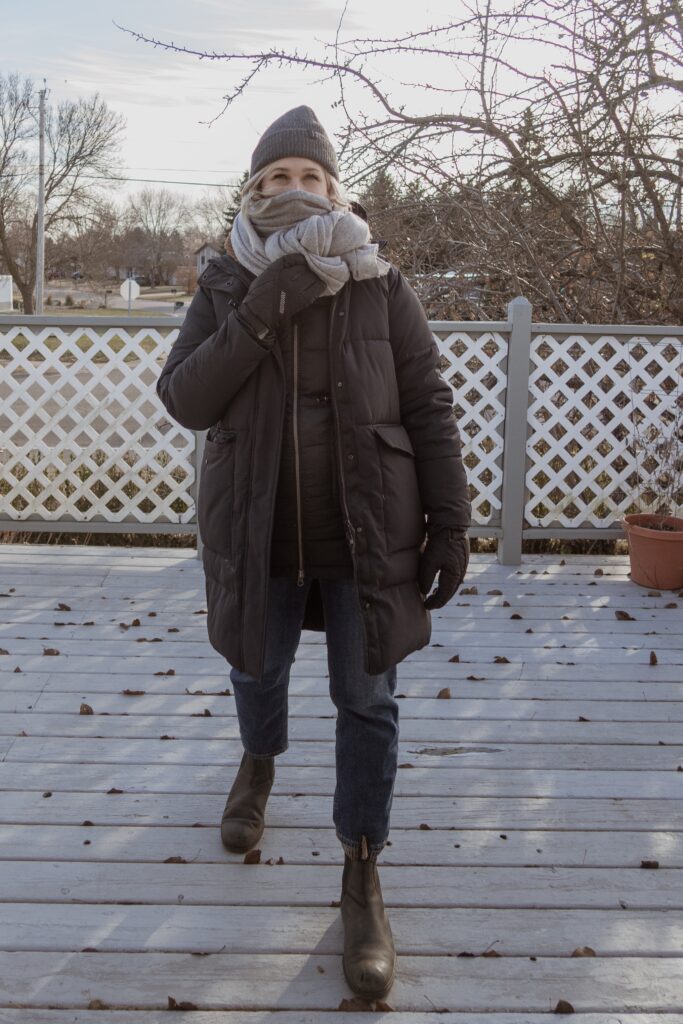 | Top layer: long puffer coat |
Nothing more to say about this coat so refer to above.
| Middle, top layer: thing puffer coat |
Now this may sound crazy to you, but when it's -20 out I layer up my puffer coats. BUT I do it with this super thin parka from Eddie Bauer. It's the perfect size for layering under other coats… in fact, when David and I did Europe for three weeks in a carryon, I packed this coat to layer under my trench coat during colder days, and it was PERFECT. Same concept here: it just adds the perfect amount of extra warmth without making you feel like a marshmallow.
| Middle layer: wool sweater |
Same sweater as above so refer to above thoughts.
| Base layer: heavyweight tee |
For my base layer I still look to L.L. Bean, but this time I use their heavyweight long sleeve base layer. Again, it protects my skin from the wool sweater, and the heavyweight material adds extra warmth. With this combo of coat, lightweight coat, sweater, base layer you will stay warm… I promise!
| Bottoms: straight leg denim + long underwear |
No new thoughts on the denim, but a note on the long underwear: when it's sub zero temps, basic leggings aren't going to cut it. You need proper, heavyweight long underwear. Not to be a broken record, but I use the heavyweight base layer pants from L.L. Bean, and they work perfectly. They're not overly bulky so they still fit under jeans, but they do a great job of keeping you warm.
| Feet: Blundstones + 2 pairs of wool socks |
Blundstones and wool socks covered above, so refer to previous notes, BUT I wanted to touch on the two pairs of socks thing: wear two pairs… that's it. Ha! No but for real, wearing two pairs will give your feet that extra touch of warmth that you'll need. You can find thinner wool socks at most outdoor stores if you find traditional wool socks to be too bulky when layered, but I honestly just go for it with two pairs of Smartwool socks.
| Extras: hat, gloves, scarf |
Nothing new about the hat and scarf (except make sure to use it to cover your mouth and nose as well), but just like with the wool socks, I layer up my gloves. I wear the liner gloves I mentioned above, and then put a pair of ski gloves over top. I use L.L. Bean's version and they do a great job. With the layering, even if you have to slip off the ski gloves to do more fine motor things, you'll still have the base layer gloves on. When it's this cold out, you don't want to risk exposing your skin for more than a second or two.

Phew! I think that's everything I wanted to cover. It's a lot of info, I know, but dressing for cold weather really is an art form. I hope this really helped you! I wish I would have had a post like this when I was trying out (and waisting money on duds) cold weather gear over the last 17 years. I mostly wanted to do this so you don't have to do the same. If you stick to the pieces I recommend in this post, I promise you'll stay warm!
Do you live in a cold weather climate? Have you nailed your cold weather dressing?
Until next time,
Karin