Okay. The secrets out! I am a faux leather legging convert. I really tried to resist the trend you guys. Like, I really tried (not sure why actually ha!)… but then I gave in, and there has been no looking back. So to share the love I have for faux leather leggings with all of you guys, I thought I would do a little New Years Eve styling post.
And you guys… if there was ever a year to wear leggings on New Year's Eve this. would. be. it.
In fact, let's all make a pact that we will reject fussy, complicated (and not warm enough) New Year's Eve outfits this year and instead all wear fancy athleisure!
Okay fine. I won't make you make a pact with me… but you may just want to after you see the outfit inspo. 😉
Anyway. I will, once again, stop rambling and get to my New Year's Eve outfits:
Outfit 1:
Shop the Look

---
I have to admit, this is a very edgy outfit compared to what I normally go for… but I'm totally digging it! I've noticed lately that I've been having a slight shift in my style preferences, and honestly? It's because I'm finally being honest with myself about what I actually like, and dressing 100% from my own style instincts instead of taking my cues from external resources. BUT more on that another time.
I wasn't sure if I'd love the leather on leather look of this, but I really do! It definitely helps to soften the look by putting a ivory colored sweater underneath it all, but I think this would look equally good with a black sweater for a monochrome look or a bright red sweater for a more festive look. And even without the jacket this outfit would stand up nicely thanks to the added touch of the leather leggings.
---
Outfit 2:
Shop the Look

---
Bag is gifted, and no longer available. This cardigan comes with a pretty steep price tag so I found a much (much) more affordable alternative that I'll link here for you guys.
This is a much softer look, but it still has just a little bit of something extra! I loved playing around with wearing the cardigan as a stand alone piece. This isn't how I typically would style a longer cardigan, but I really love the end result. But to make the look feel a bit more special (i.e. NYE special), I added some suede heels to push it over that edge. I've said it before, and I'll say it 1,000 times more… don't underestimate the power of adding a pair of heels to a casual outfit!
---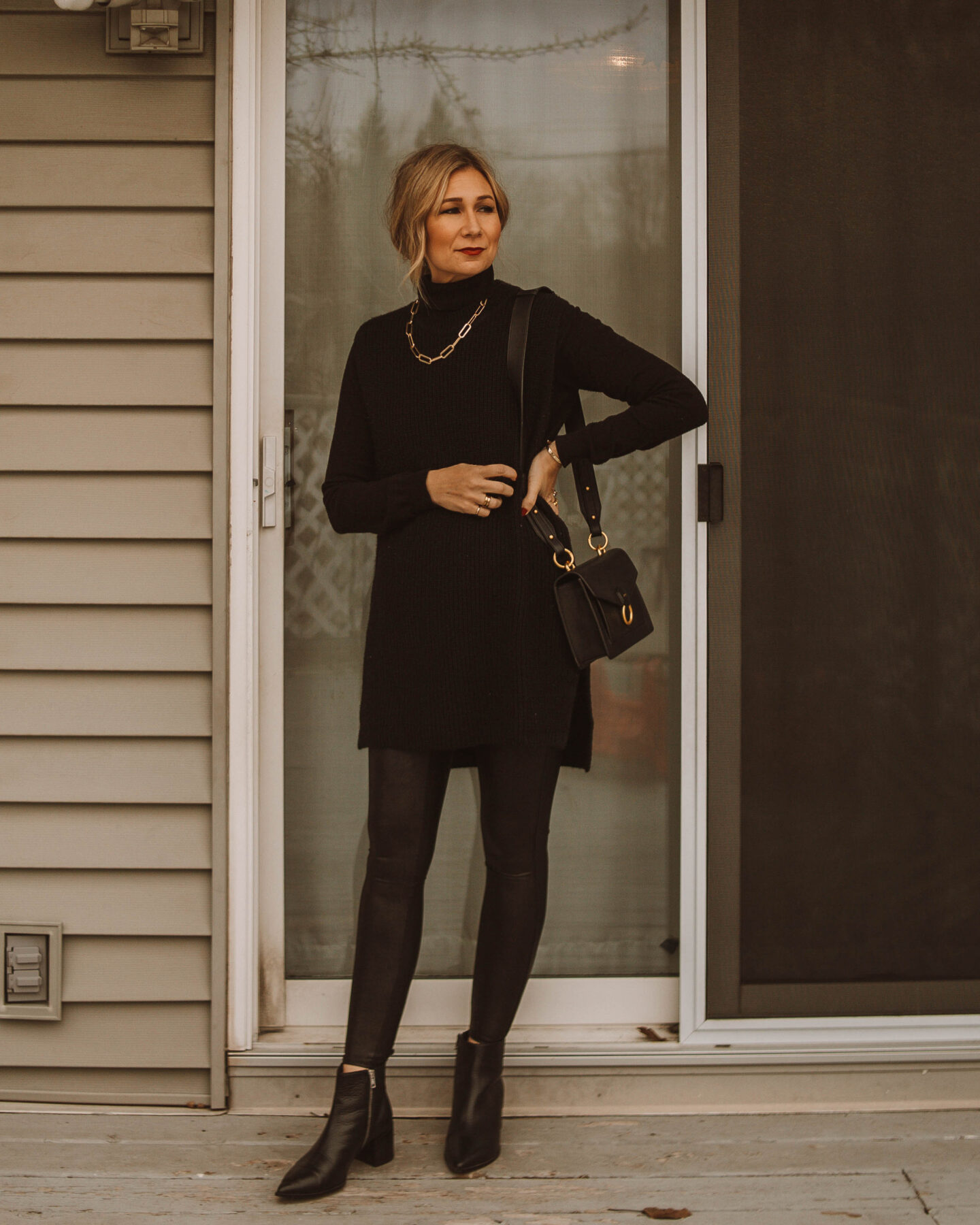 ---
Boots were gifted
This is my final outfit, and I'm loving the monochrome look! I think it stands out a bit more in a sea of all black outfits due to the extra touch of the sweater vest. I have really been loving the power of a sweater vest and it's ability to bring an outfit up a notch (but in such a simple way). And this one is long enough that it's a great option for anyone not super comfortable with wearing leggings as pants. This offers just a touch of extra coverage! I love pairing this with the black turtleneck, but I also would have loved this with a white button down for a slightly crisper look.
---
Well those are all of the New Year's Eve outfits I have for you guys today! I hope you found some inspiration… and maybe permission to wear leggings. 😉 Which outfit would you wear? Let me know in the comments!
Until next time,
Karin