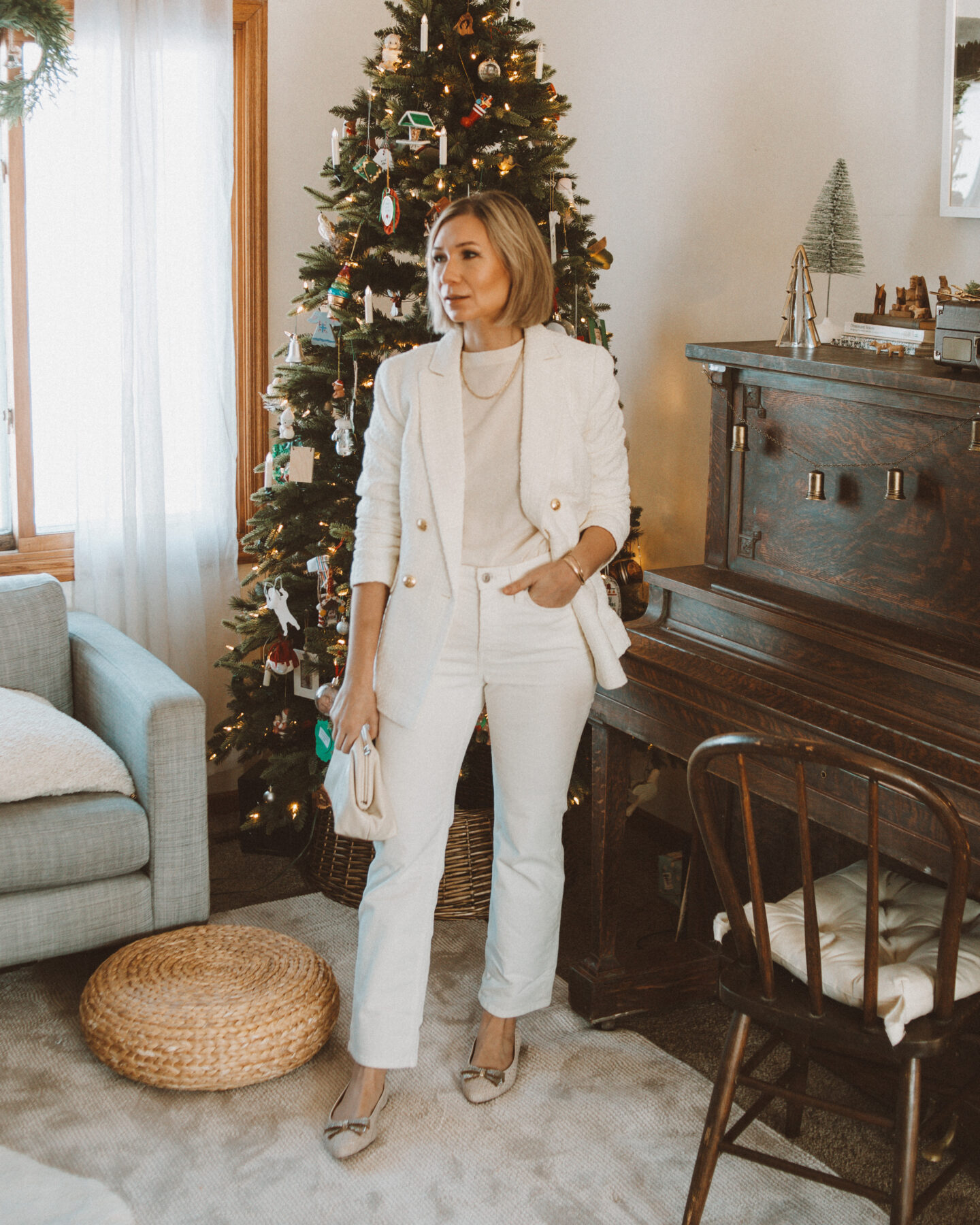 *Thanks to Talbots for sponsoring this post!
Outfit Details:

---
Sizing notes: Sweater (M. Gifted), Blazer (S. Gifted), Flats (TTS. Gifted), Pants (Linked similar)
Happy Friday my friends! Does anyone else feel excitement for weekends in December? I do ha! The last few years we've really laid low during the Holiday season, and this year we're not going to go crazy or anything, but we do have a few things to look forward to including a few Holiday parties… and you know what that means! Party outfits.
It honestly feels really good to have an excuse to put on fancier clothing because, in general, my lifestyle is very casual and I've always loved a good red lip and a bit of sparkle. With that said, I'm not someone who loves the go big or go home approach. I love a bit of sparkle, I don't love a full on sequin. If you're like me, I've got your back. Here's what you need to wear for New Years Eve:
One of my favorite ways to go glam is to do a monochromatic look and this look from Talbots is literally a dream come true. Monochrome only really works when you do it with varying textures, and the textures in these pieces are so stunning. The tweed blazer looks so luxe with the gold buttons and the fit is that perfect oversized fit (i.e. not too oversized). I felt like a million bucks wearing it, and I'm excited to style it with a basic white tee and light wash jeans as well!
The cashmere crew is another great textural addition with the cloud like knit and the soft drape. The sweater is so soft, and it has a really beautiful, classic fit. To top it all off, these tweed flats are the perfect addition because they create a bookend effect with the tweed of the jacket. But even better? The glittery bows make them extra special… they add just a tiny bit of color to break everything up. Again, I can't wait to wear these flats with a casual sweater and jeans.
These are the kind of party clothes I like to wear: clothes that can also seamlessly fit into my wardrobe for everyday use. Talbots has a lot of those kind of clothes… think elevated and chic, but also comfortable and wearable. I also have my eye on this black and white colorblock fleece, this sweater coat with faux fur trim, and this ribbed turtleneck sweater.
And pssst… before you go, just an FYI: you can get 50% off all markdowns and 40% off all new arrivals right now!
---
Well that's all I have for you guys today! I hope you enjoyed my advice on what to wear for New Years Eve and hopefully you found a new place to shop like I did! Have an amazing weekend friends!
Until next time,
Karin