Alright friends… we're back to rounding up my outfits into one post! I felt like my feed was looking a bit cluttered, and after doing a poll in my Instagram stories, it seems 70% of you guys feel the same way. SO. Here we are back where we started. ;). And good timing too because I've got lots of fleece to share with you guys!
So here's what I wore this week:
Saturday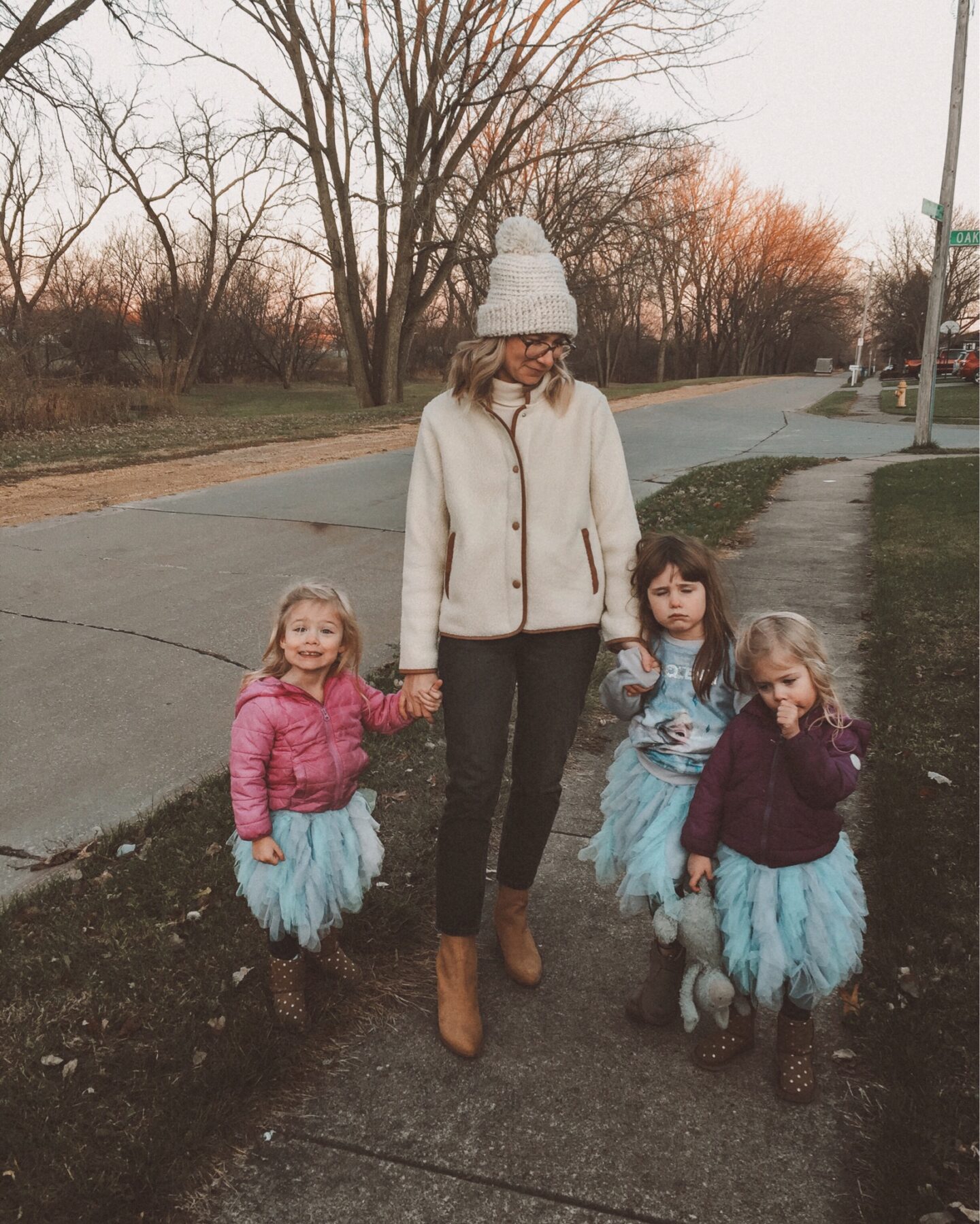 Shop the Look

Boots were gifted
I'm wearing a small in the fleece, and a medium in the turtleneck. Everlane denim guide here (90's cheeky)
I love pairing unexpected things like a casual fleece with a more dressed up boot. 1. because it makes the pieces in your closet even more flexible by giving them new ways to pair up in your closet, but 2. because it makes the more dressy pieces feel a little less stuffy.
---
Sunday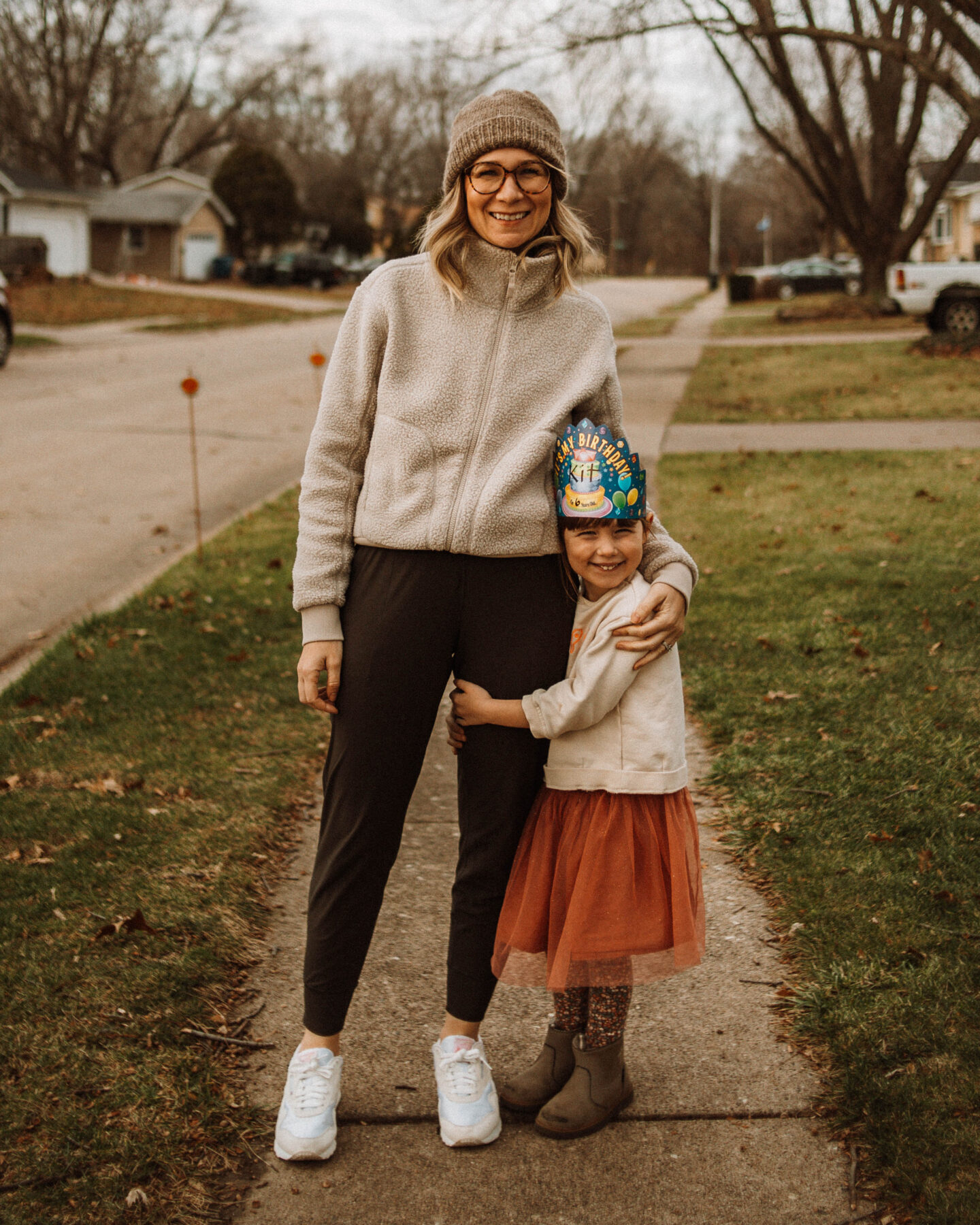 Shop the Look
The perfect weekend outfit if you ask me! These jogger pants remain one of my absolute favorite things in my wardrobe! I still can't get over the quality, and they feel just as soft as my lululemon leggings but with the fun added quality of looking like a jogger pant. I can't recommend them enough!
---
Monday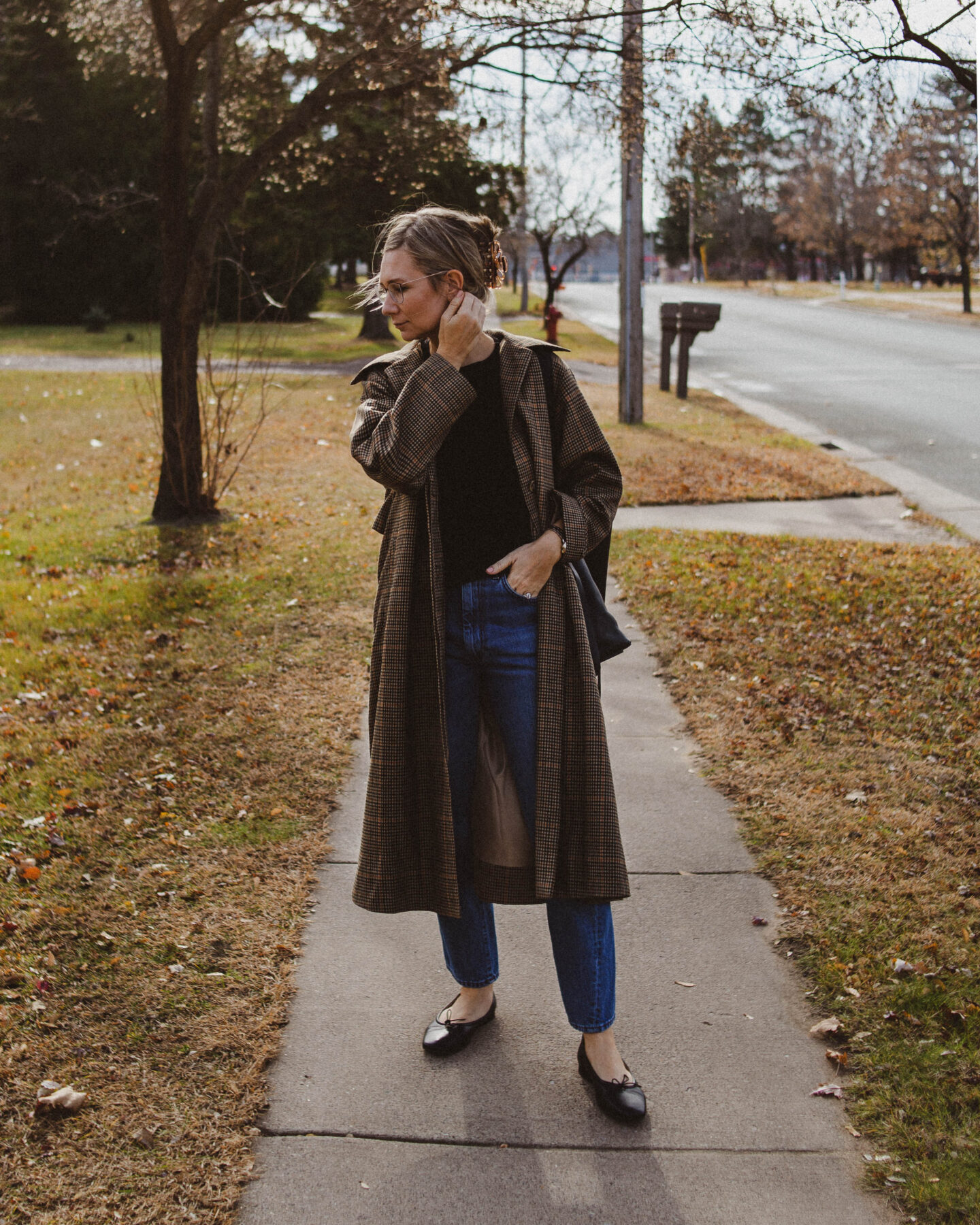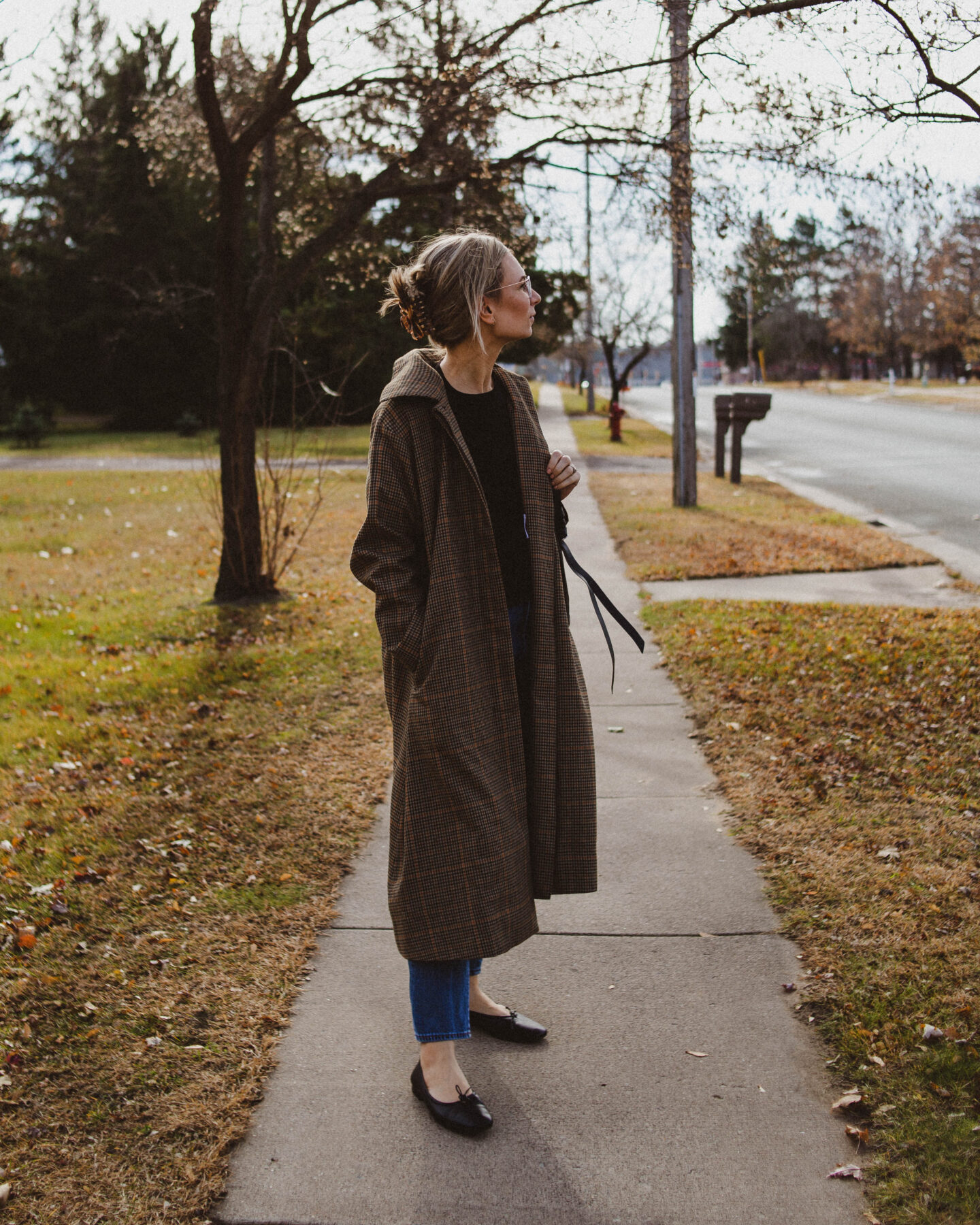 Shop the Look

Flats were gifted
I love this trench because it makes a simple outfit (tee and jeans) look anything BUT simple! It's such a fun statement piece. It's an older jacket from Toteme that is no longer available so I linked to similar styles.
Size up 1-2 sizes in the jeans. They run really small!
---
Tuesday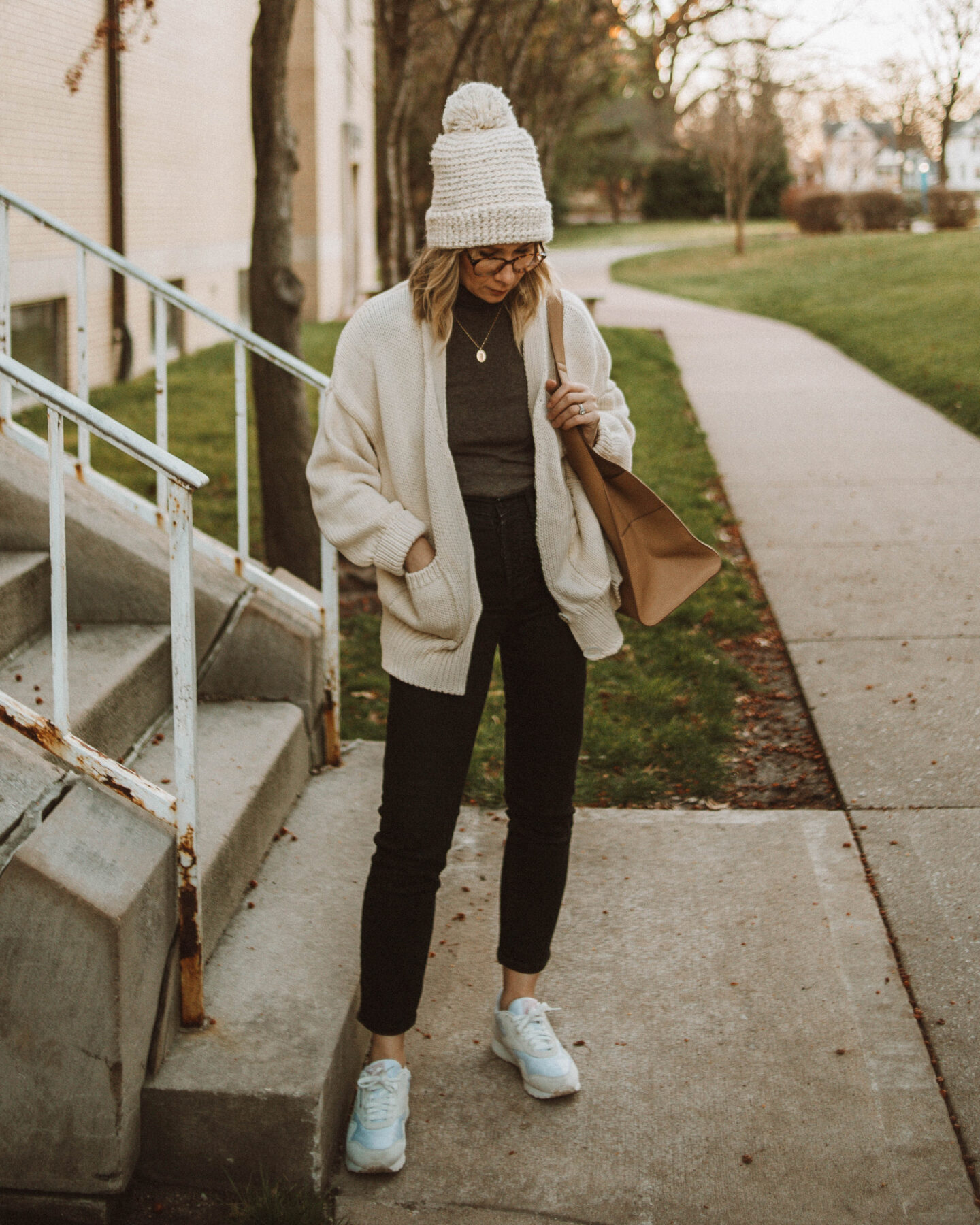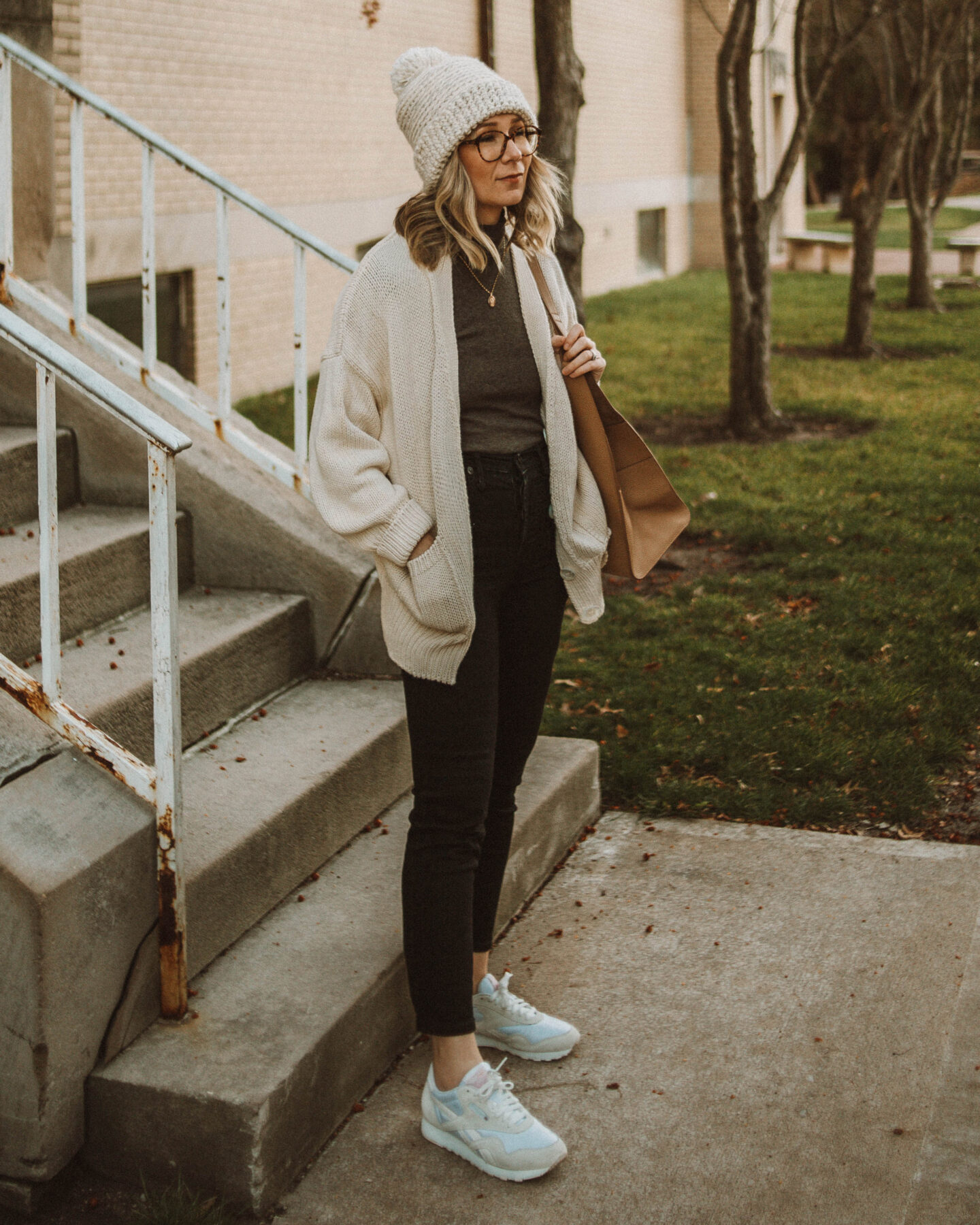 Shop the Look
denim was gifted (everlane denim guide here). necklace was gifted. Use code KARINEMILYBLOG 5 to get $5 off
This look is as cozy as it gets. I love matching a really oversized sweater like this one with a skinnier jean to balance everything out. And I love the sporty touches of the hat and sneakers!
---
Wednesday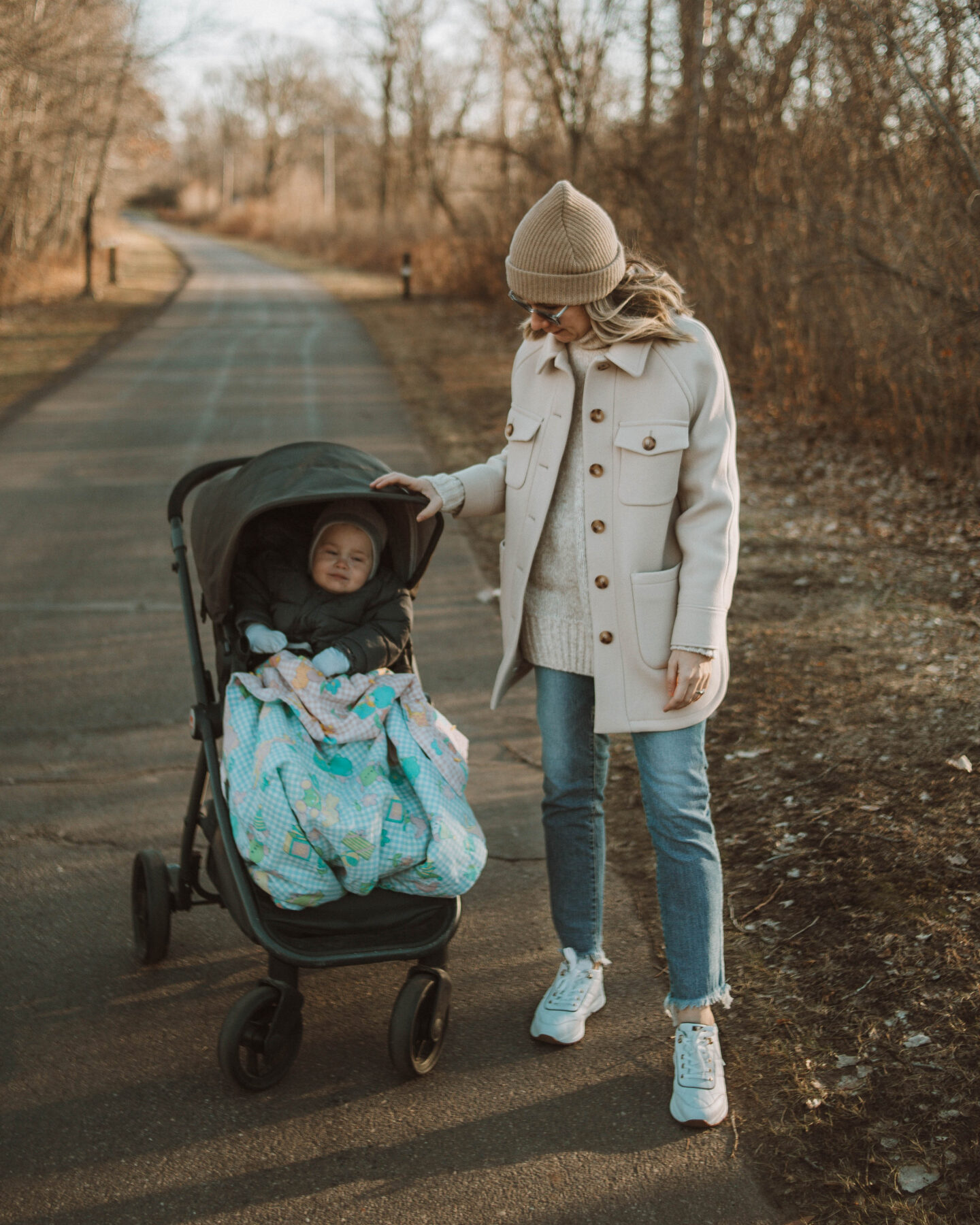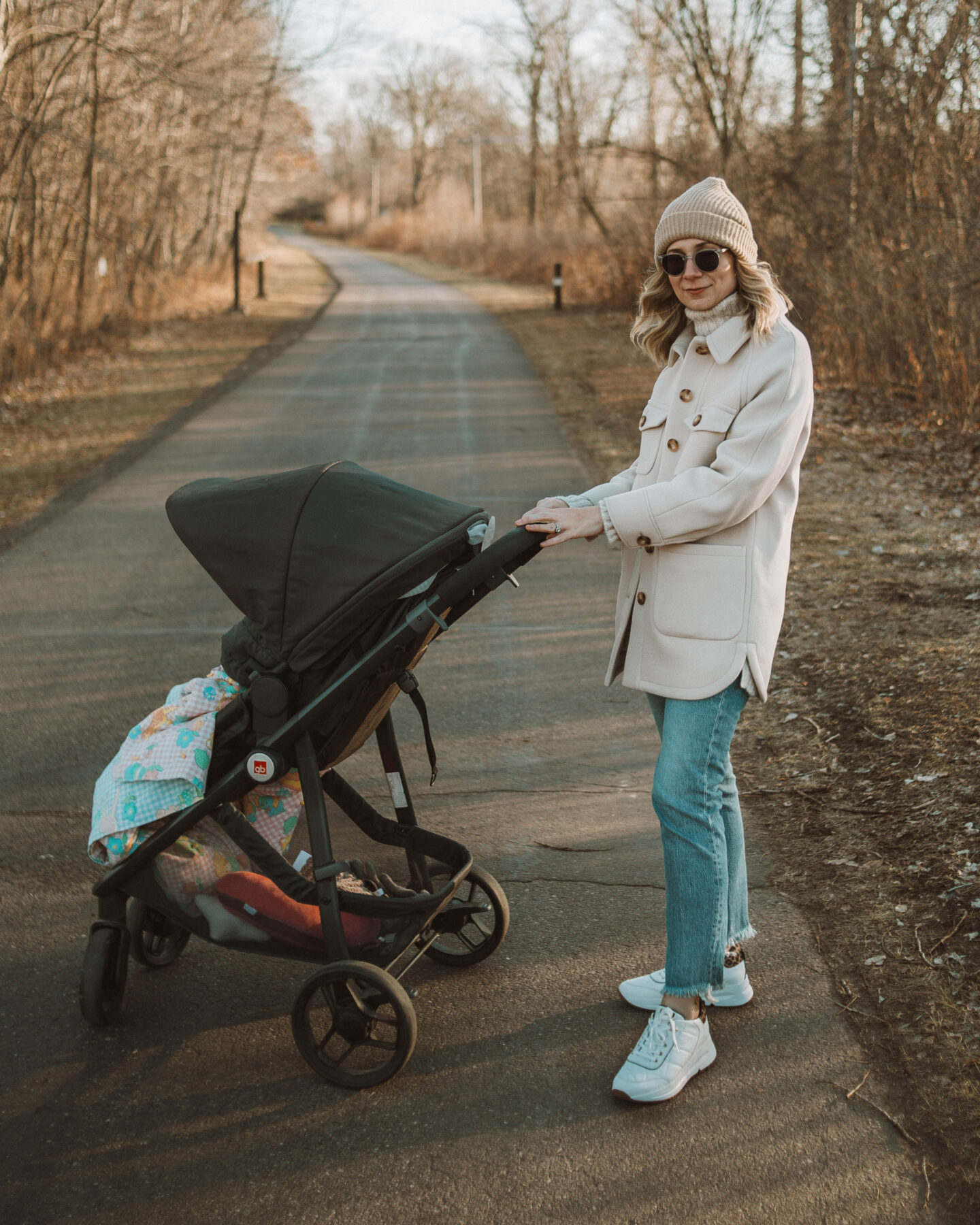 Shop the Look

I'm wearing a size 34 in the coat and a small in the sweater. See my Madewell Denim Guide for more info on my jeans.
If you saw my post a couple of weeks ago about coats, then you'll know I'm wanting to build up my coat collection. I had originally planned on investing in some longer/wrap style coats, but when I saw this coat from Sezane I knew immediately its the coat I wanted to invest in next. It's a really great style for my casual lifestyle plus it's really warm and layers well over sweaters. It's a pricey piece, but it is superb quality. It will definitely last for many years to come.
I also wanted to briefly mention these sneakers. One thing I had on my list for Black Friday was a pair of casual sneakers that were still a little bit… flashy? That's not the right word, but I just wanted a little bit of extra detail. I also wanted a platform in the sneaker to give me just a little bit of height. I found these at Nordstrom, and they check all the boxes! They have a hidden (slight) wedge, there's a quilting detail on the leather, and the back has a leopard detail. They are honestly perfect, and so comfortable! They fit true to size if you're interested.
---
Thursday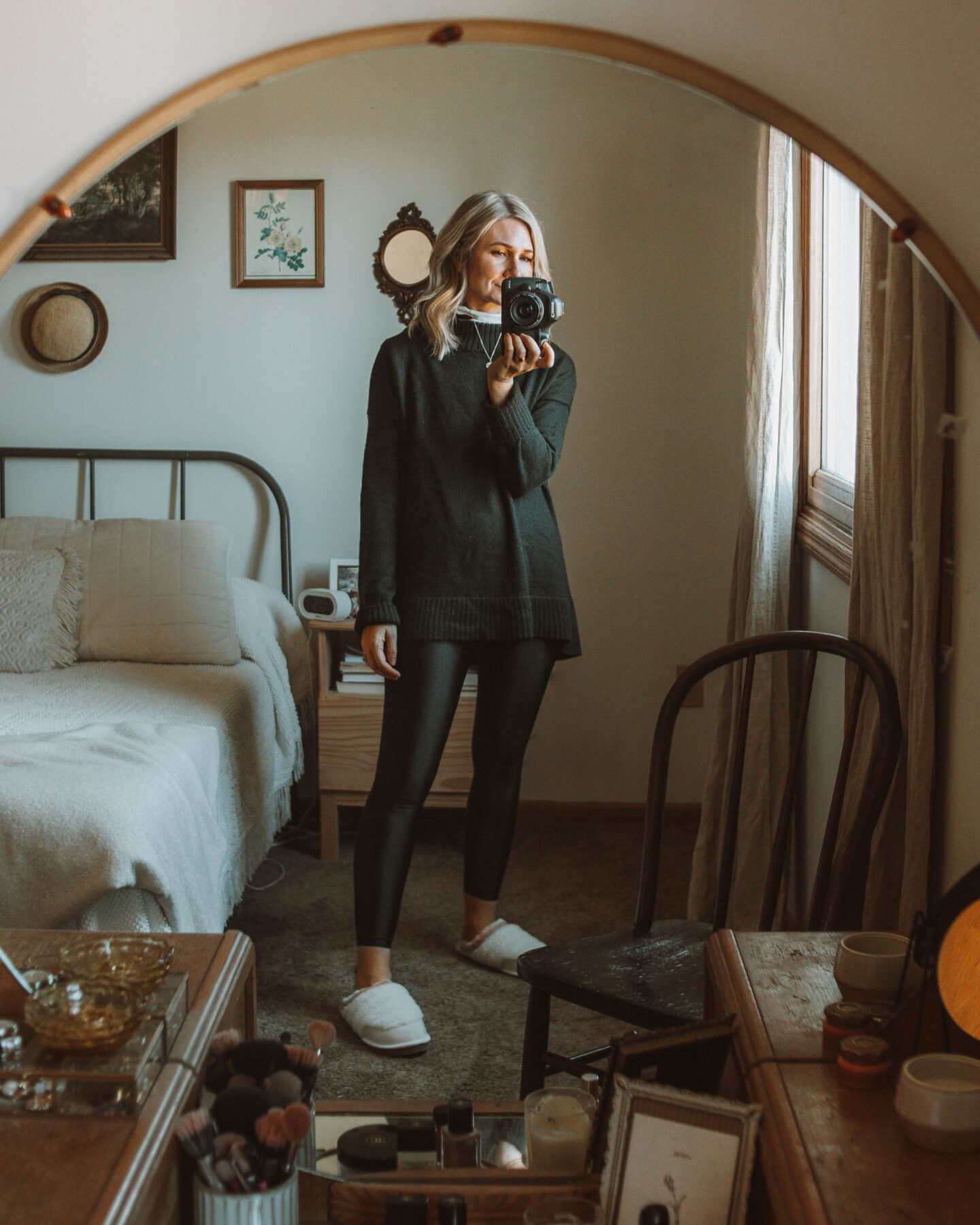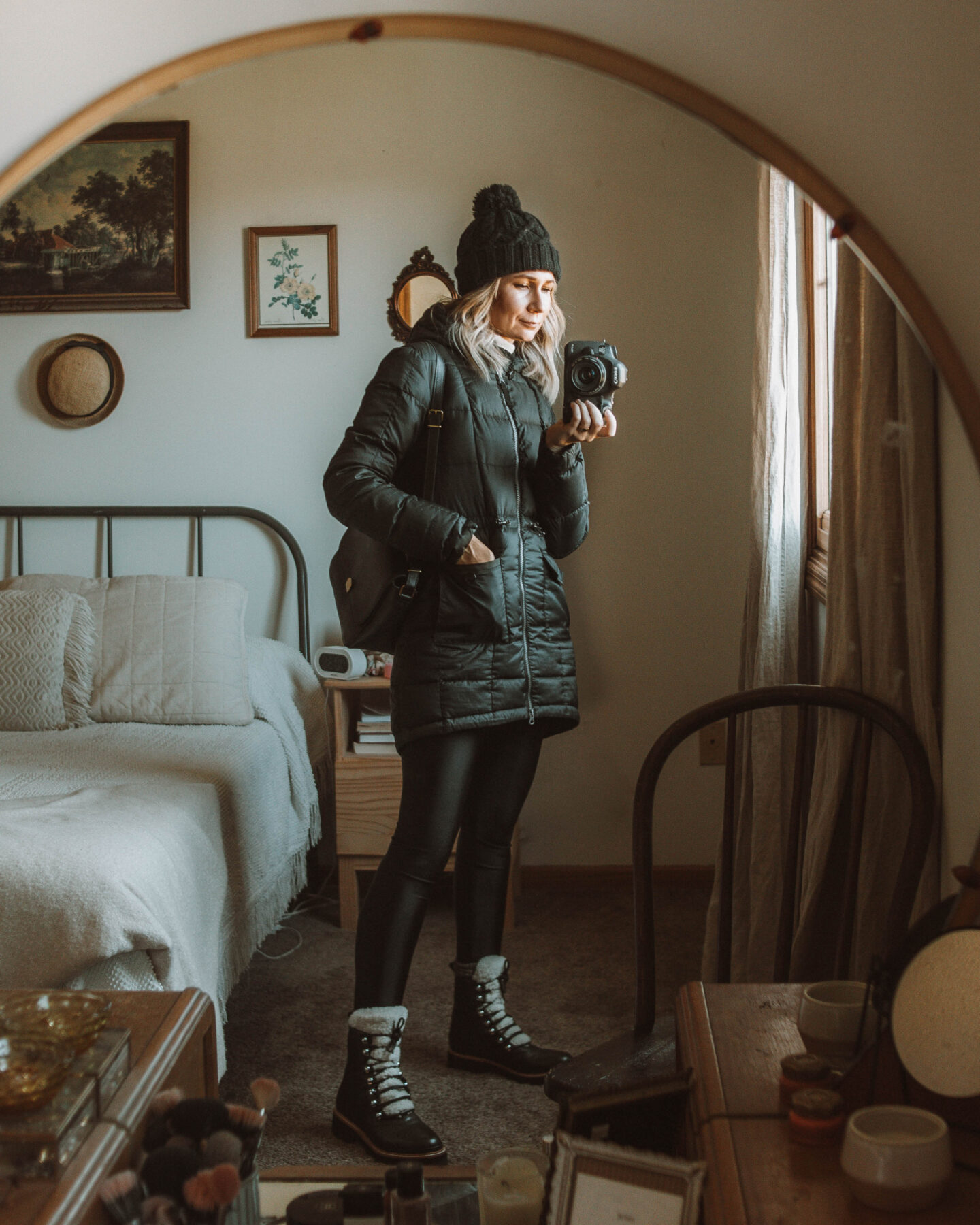 Shop the Look

Sweater and turtleneck were gifted (review here). Bag was gifted. Hat is super old from Asos so I linked similar. Coat is also very old, but they still have the same style although updated. It's half off right now!
I've had these boots and leggings for awhile now, but I haven't felt "bold" enough to wear them yet. I got the boots because I wanted a pair of really warm and cozy boots for the cold weather we got here, and I also wanted a more casual style of boot to wear with leggings like I did here. Lately, I've just been feeling a bit more willing to wear exactly what I want, and while this outfit felt a bit out there for me I really like the combo of the shiny leggings, and the shearling boots. Plus it's a VERY comfortable outfit which is a major plus!
---
Well that's all I've got for you guys today! Let me know which outfit you liked the best in the comments below. I hope you all have a great weekend!
Until next time,