Ah. Another Monday. Another chance to recover from the weekend, and another chance to start a week. Sorry. I don't even know what the means… Mondays, amiright? Should we continue to ramble on incoherently about Mondays? Or should we talk about half zip sweaters?
Right. Half zip sweaters.
It's okay. I'll just ramble to David about Mondays… he's always game for tuning me out…
Kidding!
Anyways. Half zip sweaters.
If you follow any style bloggers at. all. you may have noticed that half zip sweaters are all over the place right now. I started noticing the trend last fall, but per usual, it's taken me awhile to jump on the train simply because I didn't find a style that I really loved.
I did try to find some vintage options online, but I tend to shy away from ordering vintage sweaters online because the feel of vintage sweater material (both wool and synthetic) can be either really good or really bad. And with the current pandemic I haven't really been able to get out and go thrift shopping like I used to.
Anyway. It took me awhile to find an option that I really liked…
until recently. Within a couple weeks of each other, I found two styles that I REALLY love. I ordered both with the plan of returning whichever I didn't like as much, but I fell in love with both sweaters. So I'm keeping them both, and I don't feel bad about it because I've already worn both a bunch and know I will continue to do so ?
BUT. I do feel like half zip sweaters can be a bit tricky to style. They are one of those pieces of clothing that have a very specific "look", and if you aren't careful you can end up looking like you're wearing a costume.
So I thought it would be helpful to show you two ways I've been wearing mine.
Yeah?
Let's get to it:
Sweater 1: Everlane Felted Merino Half Zip Sweater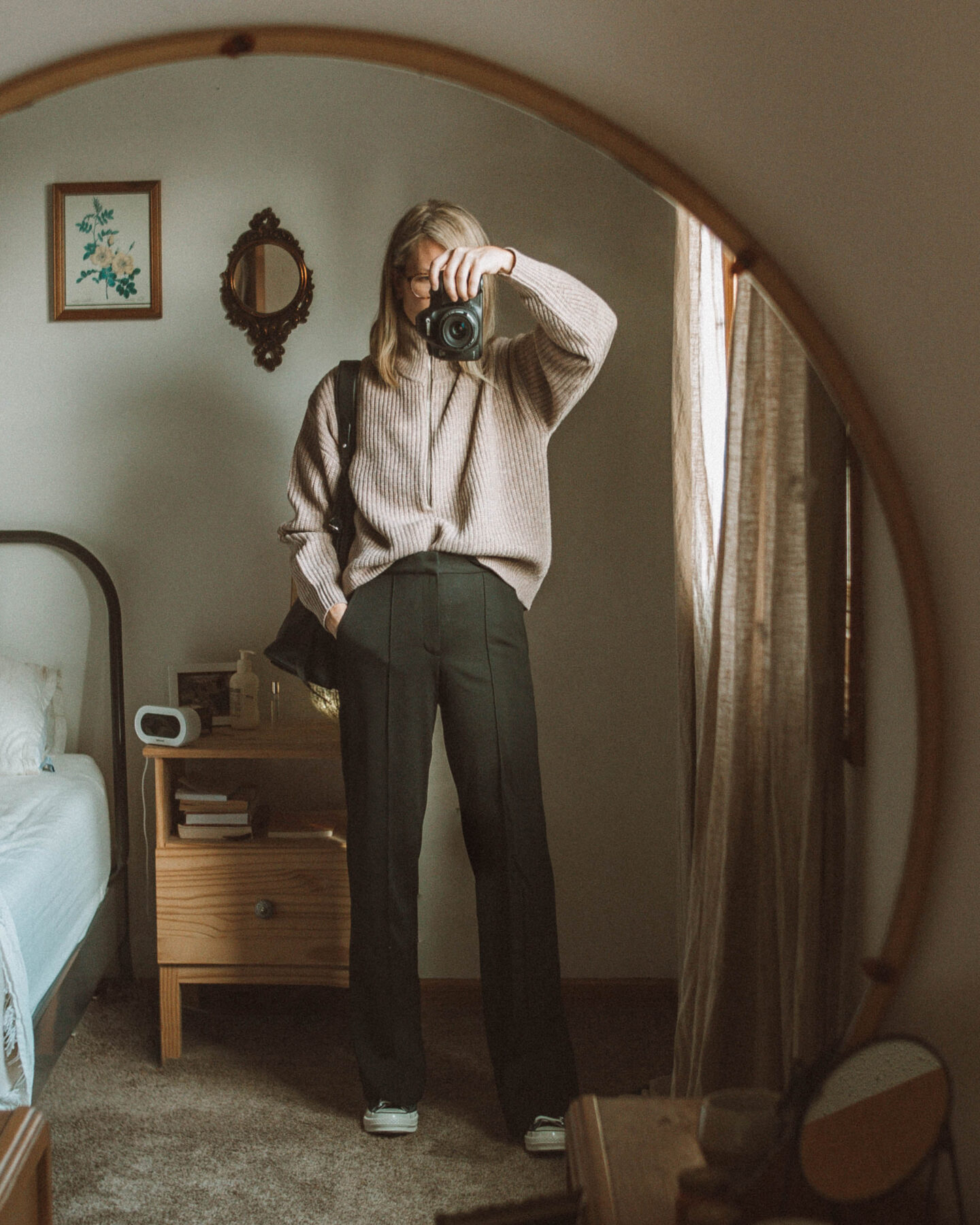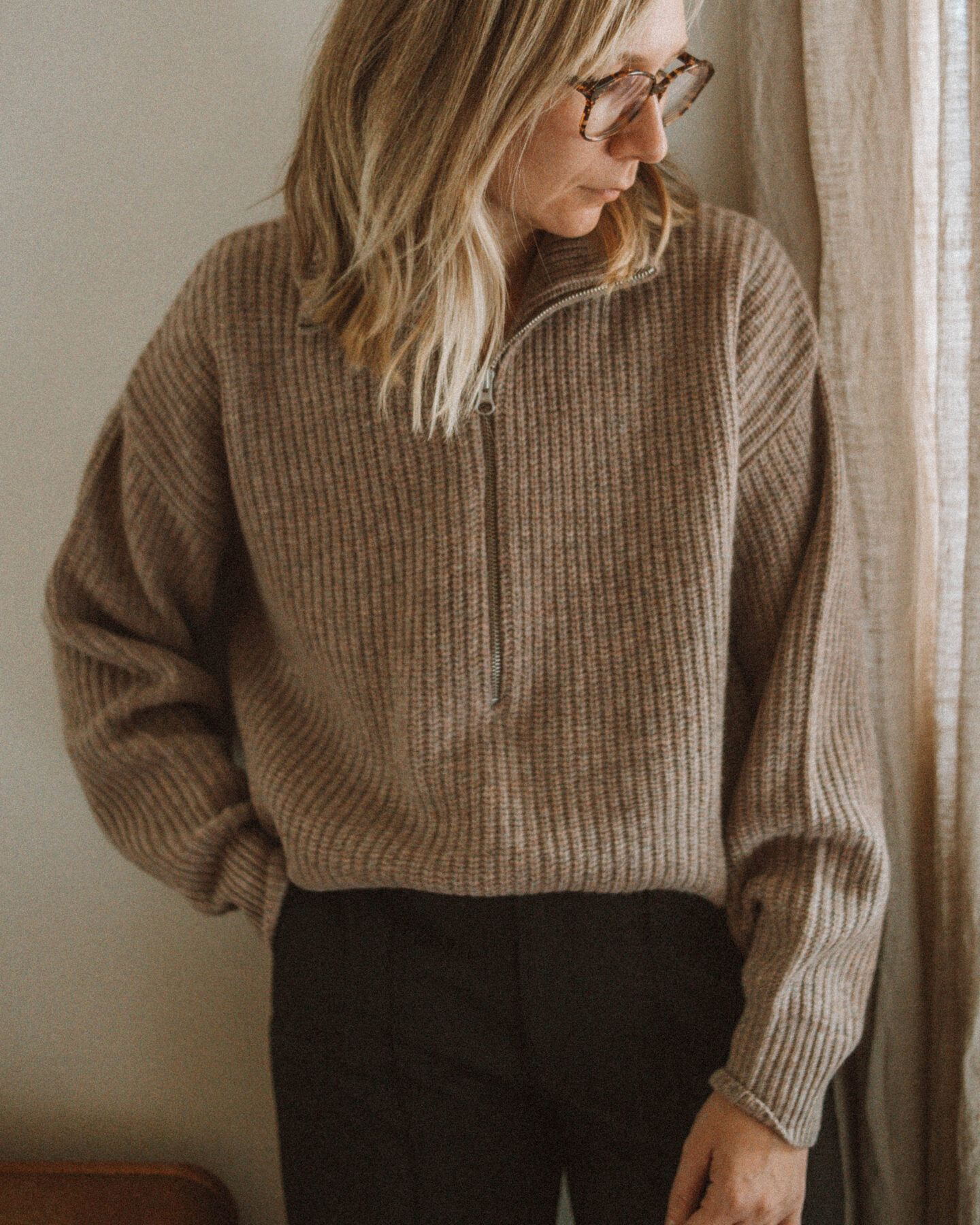 Shop the Look

Unfortunately this Everlane sweater is currently sold out, but I believe they'll be restocking it in an additional color this month so add your name to the waitlist if you were interested in it! Sometimes they restock as well when returns come in, so keep checking back.
I'm so bummed it went so fast because it honestly is an amazing quality sweater! It's so, so soft (not even a tiny bit of itch), and the felted merino just looks really nice in real life (and in pictures!). It has that really pretty ribbing to it, and I love that the zipper is not super shiny. Sometimes shiny zippers can make clothing look cheap so the muted zipper really elevates the whole sweater. I also love that the zip is quite deep so you can wear the zipper as low as you want to and the collar will still lay well. And finally, it has really nice wide cuffs at the sleeves which gives the arms a subtle balloon effect (but not over the top either). I'm wearing a size XS.
I hope you guys can get your hands on it because it is probably the nicest Everlane sweater I own!
I decided to pair the sweater with some wide leg full length pants and my converse. This combo gives the overall look more of a modern feel to it so you don't run the risk of looking too costumey. And I like that, while I'm wearing smarter pieces up top, the converse make the overall effect much more casual.
I really love the way this outfit came together (will definitely be repeating it!), and I especially love that it's an extremely comfortable outfit.
Sweater 2: Madewell Pointelle Half Zip Sweater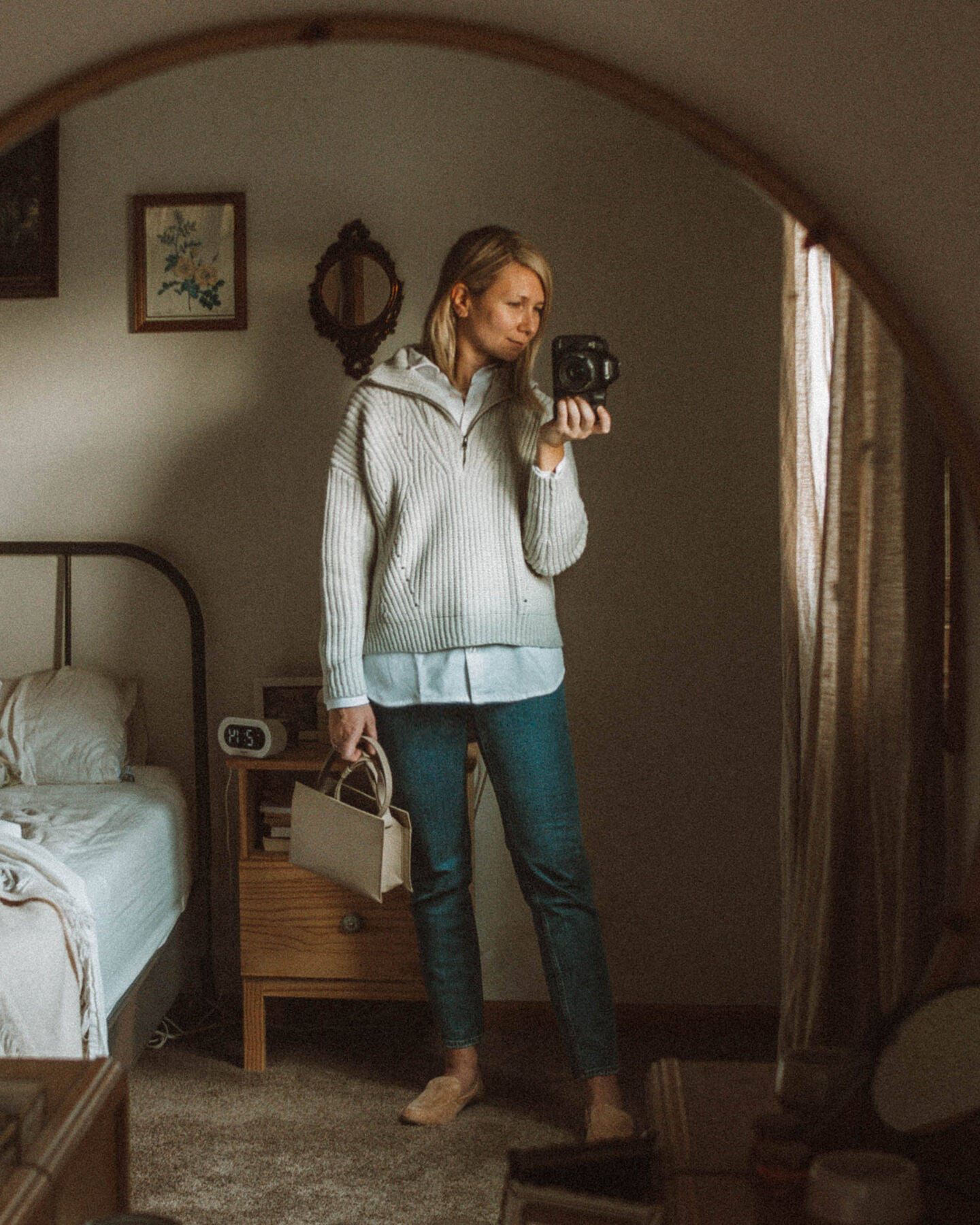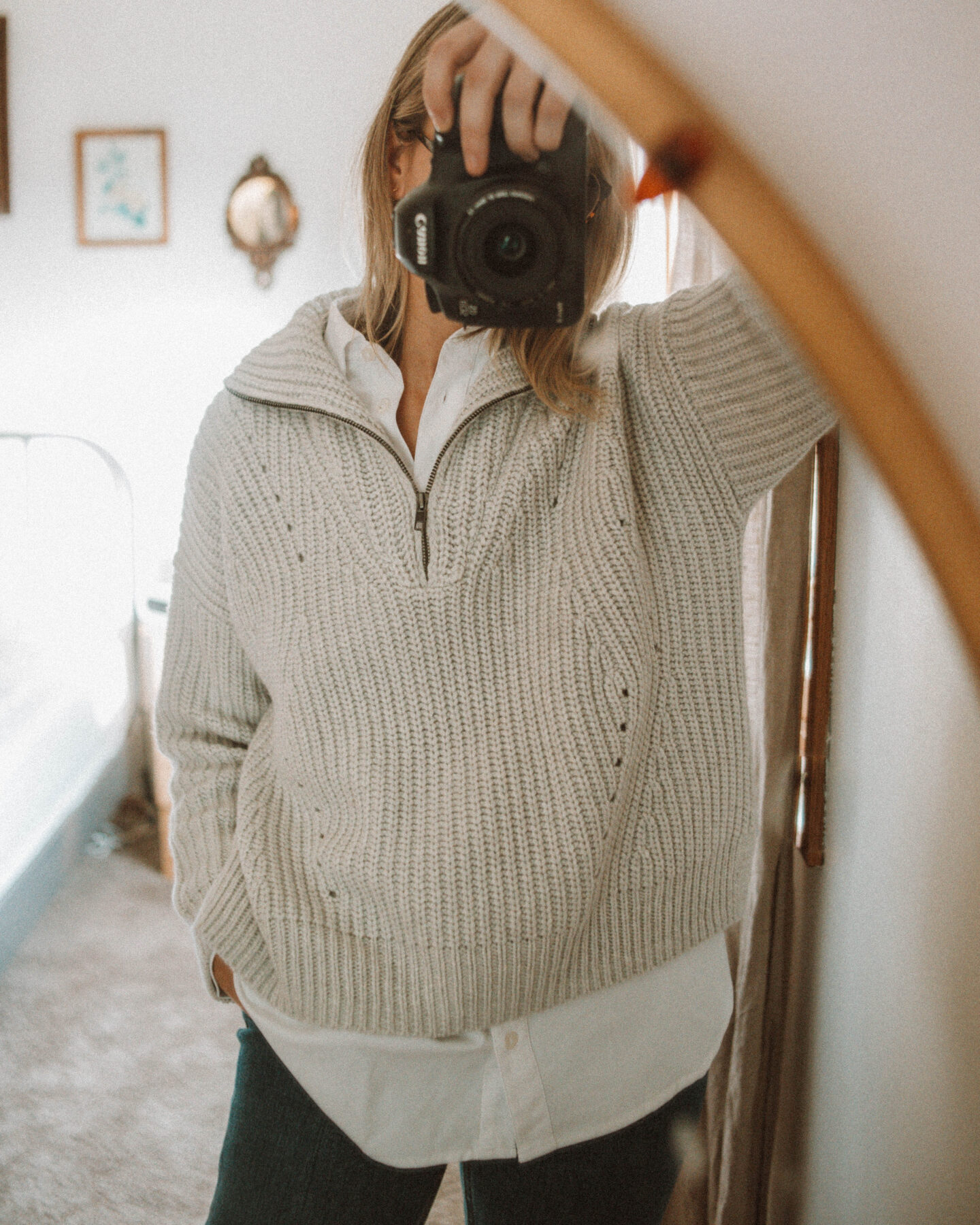 Shop the Look

This Madewell half zip sweater is another great option! The reason I ended up keeping both is because, while they are both great options, they both offer different looks to my wardrobe. This Madewell option is a bit softer, a little bit more feminine, and less minimal.
It's also made extremely well, and is super soft (although the Everlane sweater is more soft… this one has just a slight itch to it, which is easily remedied by adding a layer underneath). It's hard to tell in these photos, but it's more of a taupy grey than a straight silvery gray which makes it an excellent neutral. I really love the pointelle details on this sweater, and the fact that the sweater is a gunmetal color. The collar on this one is also a little bit wider when unzipped, and the zipper doesn't go as far down. The rib knit on this one is really pretty as well, and I like the change of direction that the ribbing does at the zip.
The dropped shoulder, and the absence of the wide cuff makes the arms a bit more relaxed which I think is a nice contrast to the more feminine details in the sweater itself.
I decided to take a bit more of a classic approach when styling this half zip sweater, but I made sure to avoid a mom jean silhouette so I didn't enter into 80's/90's costume territory. Keeping the jeans a more slim fit, with a classic suede flat adds a more timeless element to the outfit. And I decided to pair it with a button down underneath to make the overall look a bit more modern.
Again, I really love how this turned out! I can't wait to experiment with pairing it over slip dresses, and other slightly more out there silhouettes. How would you pair it? Let me know in the comments!
---
Well that's all I've got for you guys today! I hope you enjoyed this little styling session. I find these super helpful for myself as well! Taking the time to style my clothing before I'm facing the pressure of getting dressed quickly in the morning helps me reach for things easily and allows me to have outfits already formed in the back of my mind. You should try it out! You don't even have to take pictures of your outfits… just getting a feel for how your clothing pairs with other pieces in your wardrobe makes getting dressed a lot easier.
I hope you guys have a great week!
Until next time,