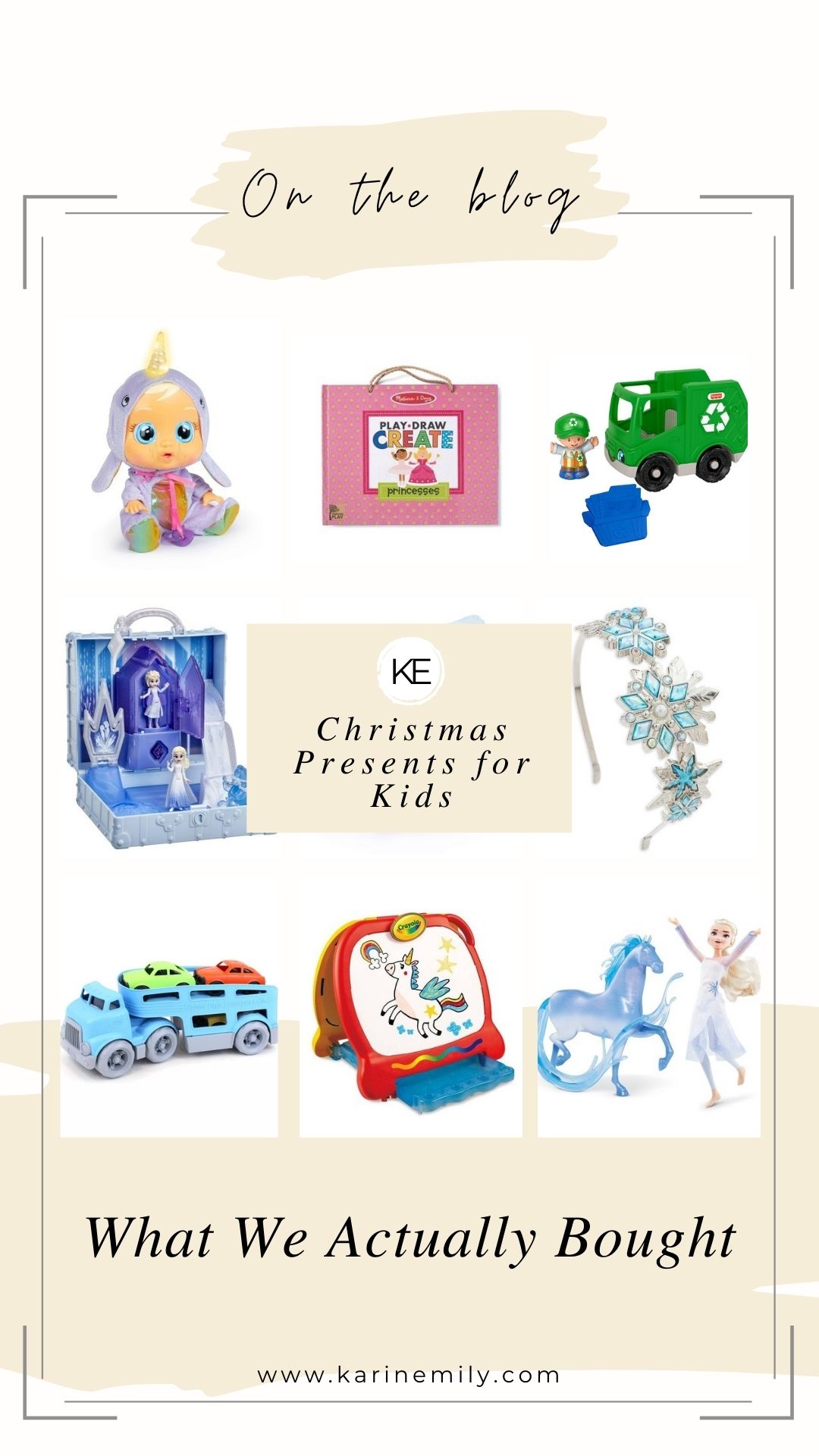 Okay hi. Bear with me on this one okay? Ha! I had a spur of the moment idea to post about Christmas presents for kids. As in, what we actually got our kids for Christmas.
A few weeks ago, I posted some gift guides for you guys, and while I 100% stand by those guides as suggestions I'd make for presents (I actually bought a few things on those guides for other people/for Kit's birthday), one area where they do fall a bit short is that they are very general. As in, pretty much anyone would be reasonably happy to receive these gifts.
So to mix things up, I thought a nice compliment to that post would be a very personal look into what we actually will be giving our kids (I didn't include stocking stuffers… just the big stuff!).
But first, let's chat about gift philosophies. I know some people do the 3 present rule of something they want, something they need, something to read. I think that's a great idea… but not for me. As it plays out in our house, we just buy them what they need when they need it so unless they happen to need something right at Christmas time, we just get it at other times of the year (although Gabe will be getting some jammies in his stocking). And as far as books, we already have so many that I don't really want to buy more. As they get older that might change, but for now they are content with the books we have on our bookshelf.
And finally, I just like getting them fun presents! I figure twice a year they get to open up a few fun presents (we don't buy presents for other holidays like Easter or Valentines day… they usually just get candy), and it's the best for them! I, personally, don't feel like I need to reign it in on Christmas or on their Birthdays… as long as it's in budget.
SO with that said, what I ended up with this year was 4 presents for each kid, and they're all things that they've been asking for or that I know they will super love.
I'll share what we got for each kid separately so that if you have a child with similar interests you can get a grouping of ideas. Make sense?
Oh and side note: I found all of these presents in one fell swoop at Target. I had a list, went to Target, and majorly lucked out that they had everything I wanted. So if you end up wanting to order a few things, they're all conveniently from one store.
Okay! So here's what we got them:
Kit

You'll see some similarities between the girls' presents… they all got one of those cry babies for example (side note: those things are horrendous, but my girls are going to go crazy over them so… eh).
Kit has been really into Frozen for, well, forever now. So every year it's the same request: Elsa this, Elsa that. This year she really wanted a Fire Spirit and Nok so I was happy to find both at a reasonable price. She also has been wanting an Elsa crown, and Target's Disney section came to the rescue!
Ella

Ella has been wanting Frozen things and Tangled things so that's what she's getting! Plus she loves puzzles, and we've been working on her ABC's so I'm hoping this alphabet train puzzle will be helpful!
Rosie

So Rosie hasn't particularly asked for Frozen things, but I know that if she sees Ella and Kit getting Frozen toys, she'll be sad so I got her this Anna and Elsa set. I actually think she'll really like this because she loves playing baby and with this set she can tuck them into bed until her heart's content. 🙂 She's also the artist in our family. She soaks up anything to do with art, but she also needs alone time throughout the day so I thought this art easel (I also got her new crayons and markers to go with it) would be perfect. When she's needing some space and alone time she can take this little easel to a quiet corner of the house and recharge.
Gabe

Gabe is all about cars these days, but with 3 girls ahead of him his options are somewhat limited. He's going to especially love the car carrier because he loves to sort things. Also, he is obsessed (I mean he flips the pages and makes all the noises we've read it so many times obsessed) with the Dada book by Jimmy Fallon so when I was walking by the book section, and the Mama version caught my eye, I couldn't resist. Have you read it yet? It's so cute!!
---
Well that's everything we got for them! For their stockings they always get candy canes, socks (unicorn socks this year!), an ornament, and something small like hatchimals. So nothing crazy on that front!
I hope you found this useful! I know it's always helpful to hear what people actually picked up. Have you finished your Christmas shopping yet? Let me know in the comments so I don't have to feel so bad for being last minute this year. ?
Until next time,