Happy Friday friends! Lot's of cozy, stay at home outfits for this week's outfit roundup.
Can you guys believe how close we are to Christmas? Things have seemed to simultaneously creep by now that we're in lockdown again, and also fly by as Holiday seasons seem to do.
I've started a bit of Christmas shopping, but I'm definitely not as on my game as I usually am in regards to presents. Usually I have all Christmas presents by Halloween, and this year I'm about a 1/3 of the way done. Ha! Oh well. It'll get done when it get's done right??
This next week we have a virtual visit with Santa planned (it's through the Santa Experience at the Mall of American if you're interested), and I'm really excited for the girls to have that tradition still in place, even if it is through a screen.
ANYWAY. I've really been craving comfy, cozy stay at home outfits over the past couple of weeks, and if I'm being honest, you'll probably be seeing lots more loungewear in the coming weeks… I can feel myself losing steam with wanting to get dressed every day. Normally I would fight through that feeling, and force myself to get dressed, but I'm kind of done fighting it. Instead I'm going to turn my focus towards figuring out how to make loungewear look cute enough that I can go to the grocery store in it, and then I will share all of my experimentations with you. 😉 Deal?
This past week, I did manage to get myself dressed in "real" clothes most days, but as you'll see they were all very casual.
K.
Here's what I wore this past week:
Saturday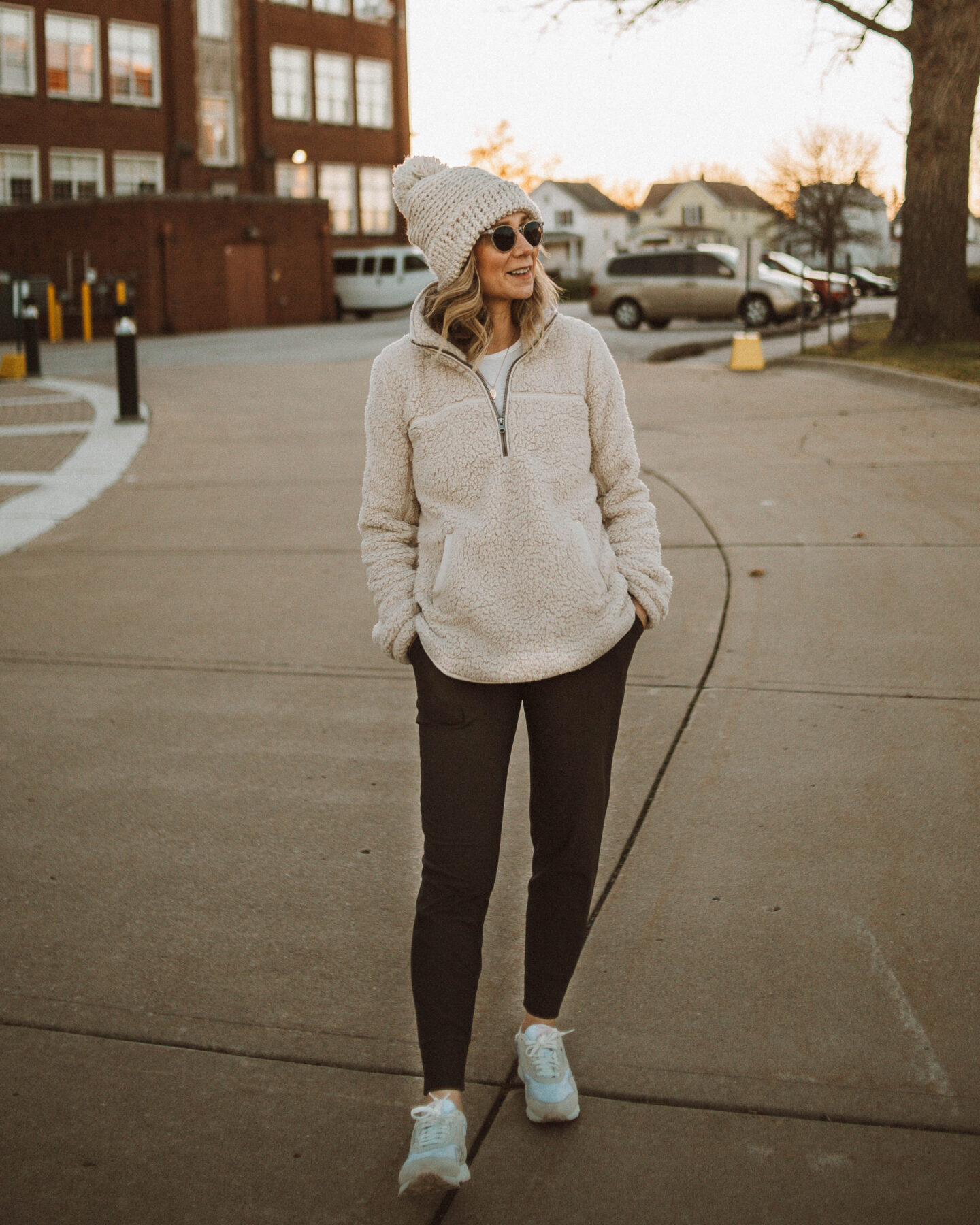 Shop the Look

I love a cozy outfit like this one! It's very basic and practical and yet it looks cute and stylish. In fact, this is probably my ideal mom outfit!
---
Sunday
I didn't change out of pajamas on Sunday so no outfit photo for today!
---
Monday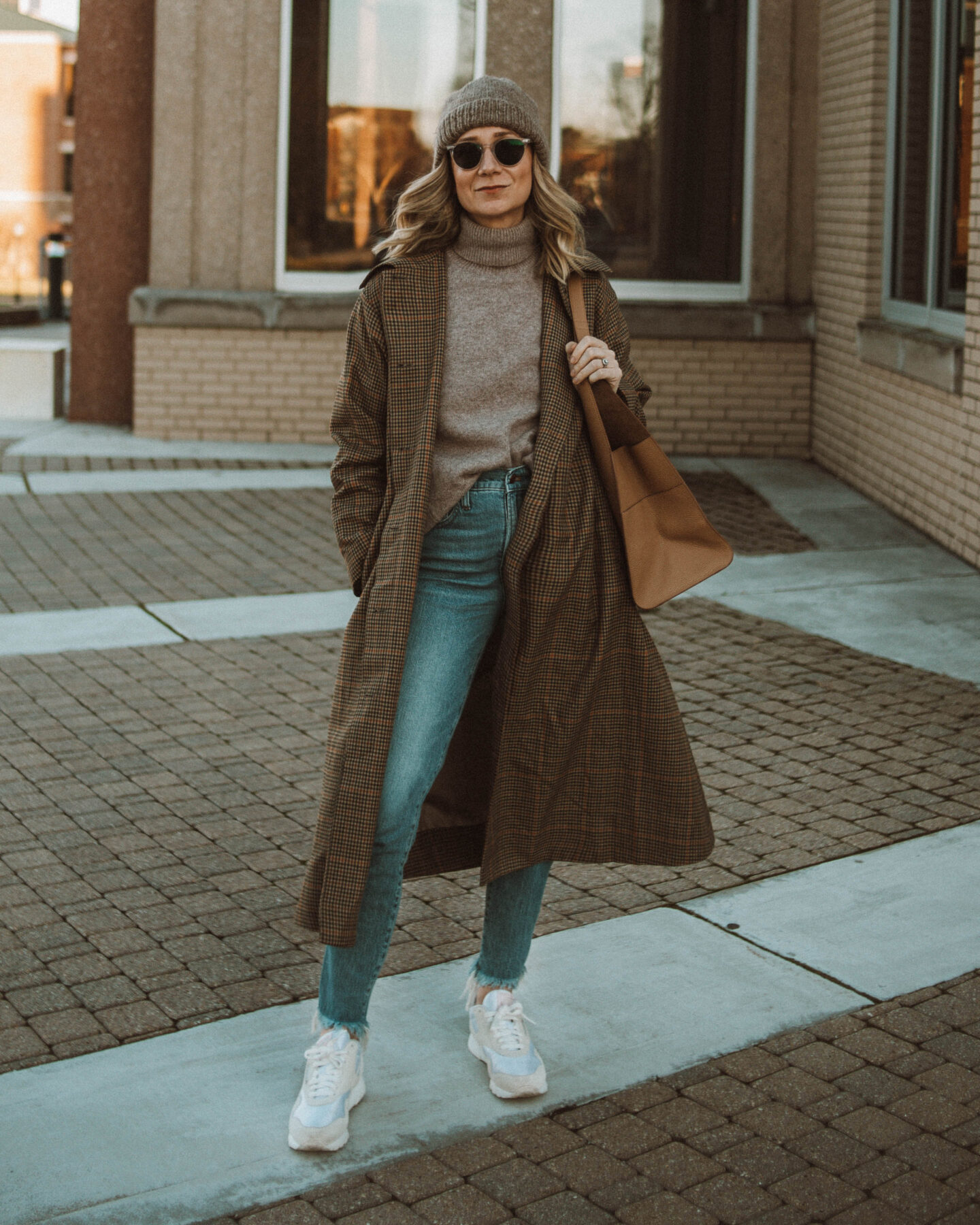 Shop the Look

The coat is no longer available so I linked similar. The Toteme sweater I found secondhand for a BIG deal. I still linked it, but it's a pretty big investment even at the discounted price. I also linked a similar style for much less. I will say though, if it's within your price range, the Toteme version is just stunning. It's a beautiful knit up close, so incredibly soft, and it fits like a dream. I went for a size small and it fits a lot closer to my body than it does on the model. I don't mind that as much because I really love the fit, but if you DO want that really oversized fit go up a few sizes.
---
Tuesday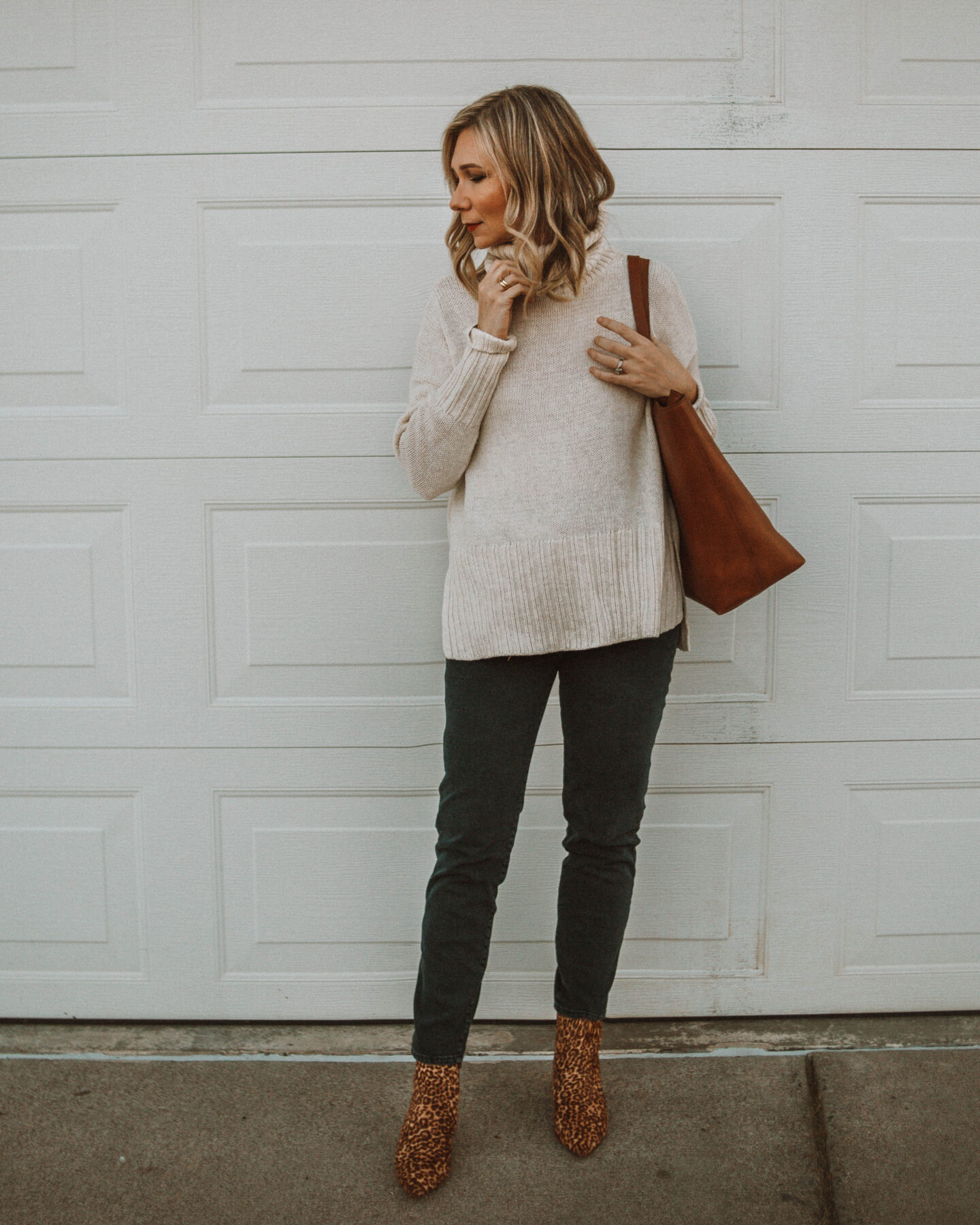 Shop the Look

Bag was gifted. Take your true size in the jeans and boots.
I love a simple outfit like this one (sweater and jeans), paired with a fun boot like these leopard brint booties from J. Crew. When I'm at home, I'm super comfy in my tunic sweater and mom jeans, but then when I leave to go get groceries, a fun pair of boots give my outfit a little something.
---
Wednesday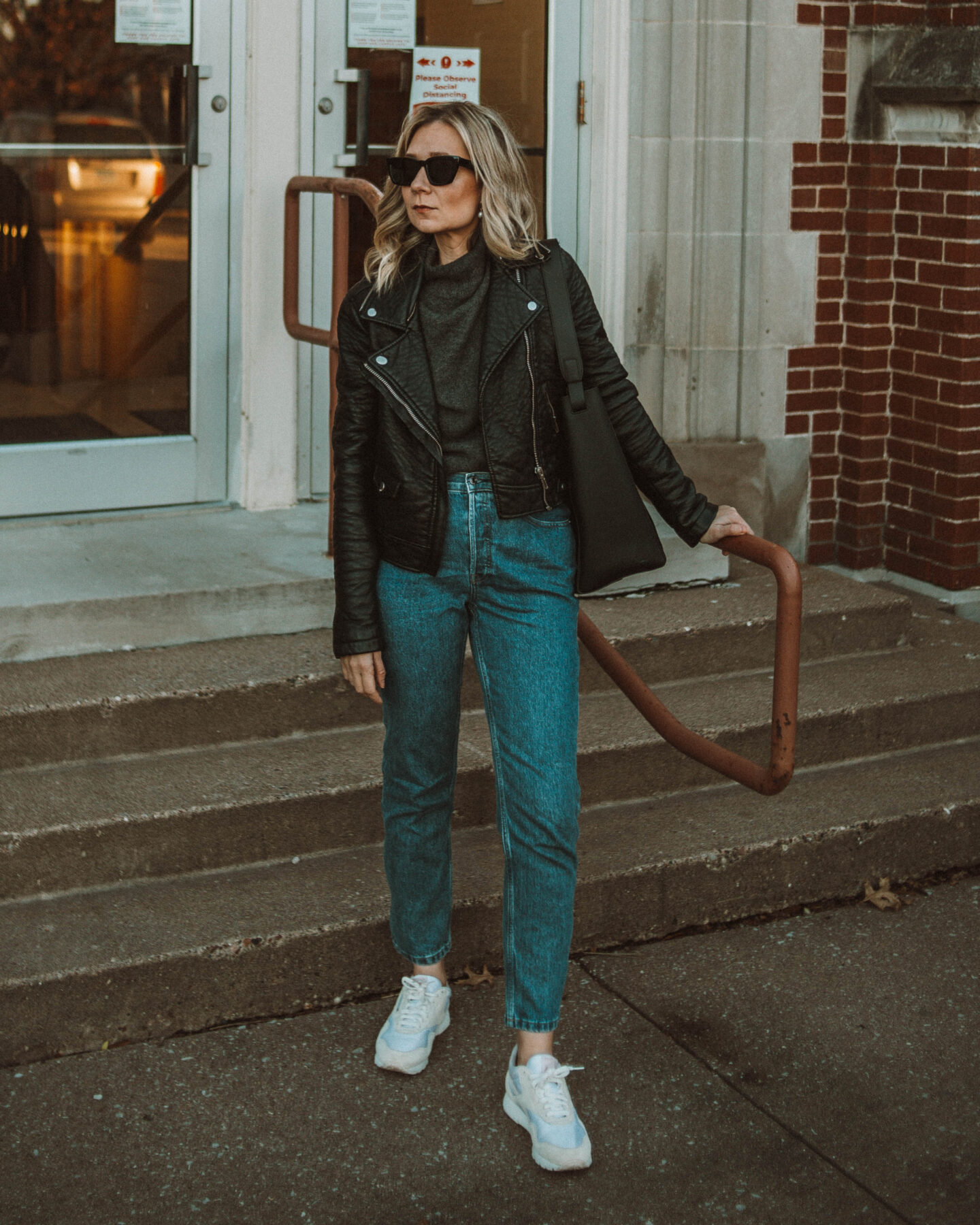 Shop the Look

Jacket is very old and thrifted so I linked one that looks almost identical (and currently 30% off!). The bag is from Everlane and sold out, so I linked something very similar. Denim review here.
I haven't pulled out either of my leather jackets in a super long time, but I've been feeling them lately! I like how they add the perfect amount of style to the most basic look while still retaining wearability.
---
Thursday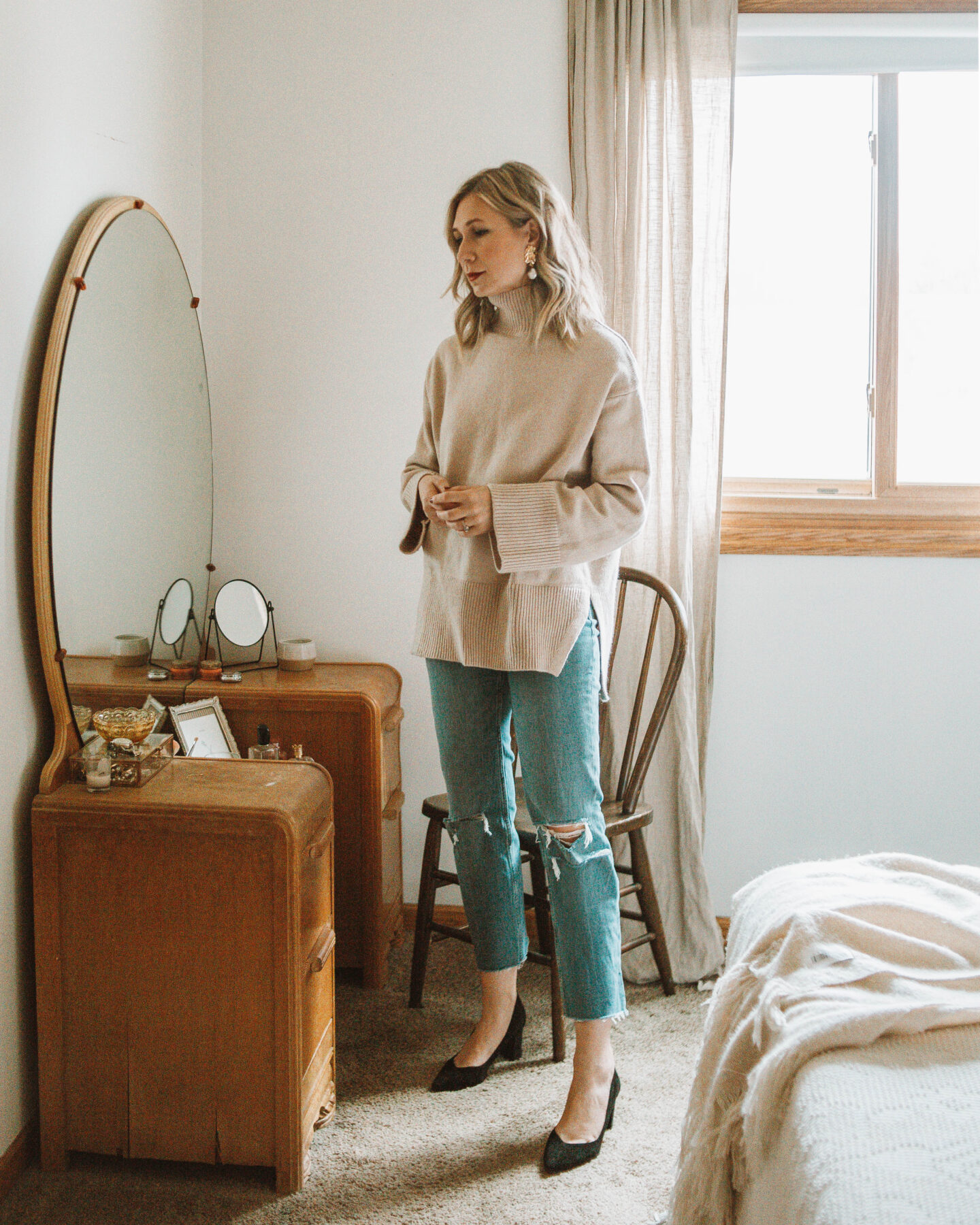 Shop the Look

Okay. I didn't really wear fancy earrings and heels. I wore the sweater and jeans, but I just felt like playing dress up for the camera okay? Ha! This is a great outfit though for a casualish Holiday gathering (even if it's just with immediate family!). I've said it time and time again, but there's no need to always have a whole separate wardrobe of occasion wear. Often times you can get away with a very normal outfit from your closet if you just throw on some statement jewelry and a pair of heels!
---
Well that's all I've got for you guys today! I hope you enjoyed another week of outfits. And I hope you are all enjoying your Holidays so far! If you feel like it, let me know a fun thing you've done to get yourself in the Holiday spirit in the comments below! I'd love to glean some ideas. 😉
Until next time,