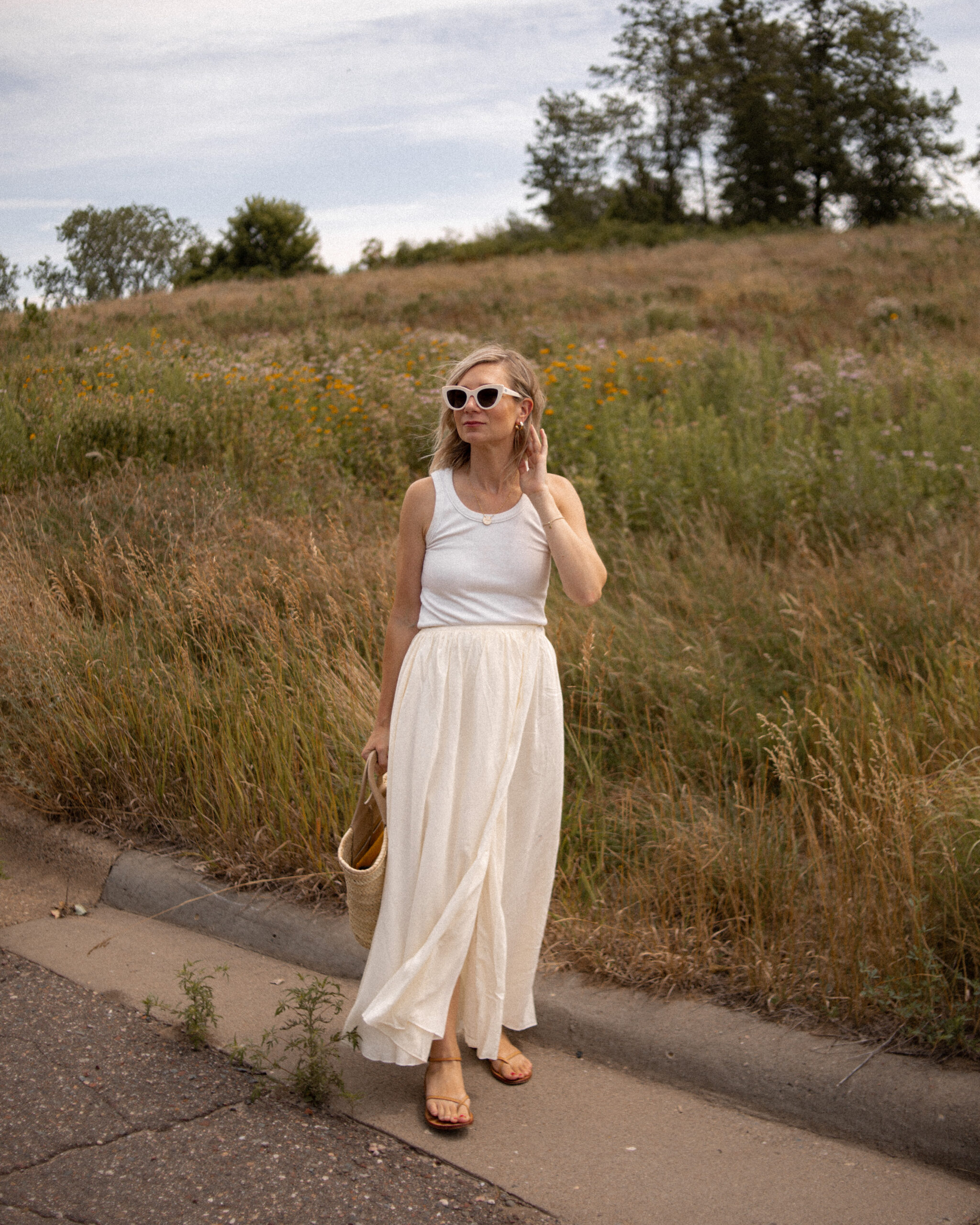 *the pieces in this blog post from Revolve were gifted
Happy Monday friends! We've had a very relaxing weekend, which is partly chosen and also partly forced ha! The kids are still testing positive for Covid so we're still homebound, but to be honest it was pretty welcome to have a weekend of forced relaxation. I spent a fair amount of time going through my fall clothing and perusing some of the fall collections that have been released lately.
And speaking of fall collections, I've got a few new things from Revolve to show you guys today. I've got the prettiest summer to fall skirt, a great activewear outfit, AND… a wedding guest dress! Yay! I get lots of questions about what to wear to a wedding, and the dress and shoes I have to share with you are exactly what I'll be wearing to any weddings I have in the near future.
Okay! Let's get to it:
Outfit Details:
Skirt (S) | Tank (S) | Sunglasses | Sandals are old | Bag
This wrap skirt is gorgeous and adds such a romantic touch to any outfit. I love that it's maxi length and that the slit is generous, but not too showy. Its lined so the skirt has some weight to it which means it won't just blow open at the slightest wind, but it definitely still has beautiful movement to it. It's the perfect summer to fall clothing item because it is lined so there's a bit of warmth to it + it will look great paired with some higher boots and a fitted sweater tucked in this fall. I went with my regular size small and it fits perfectly.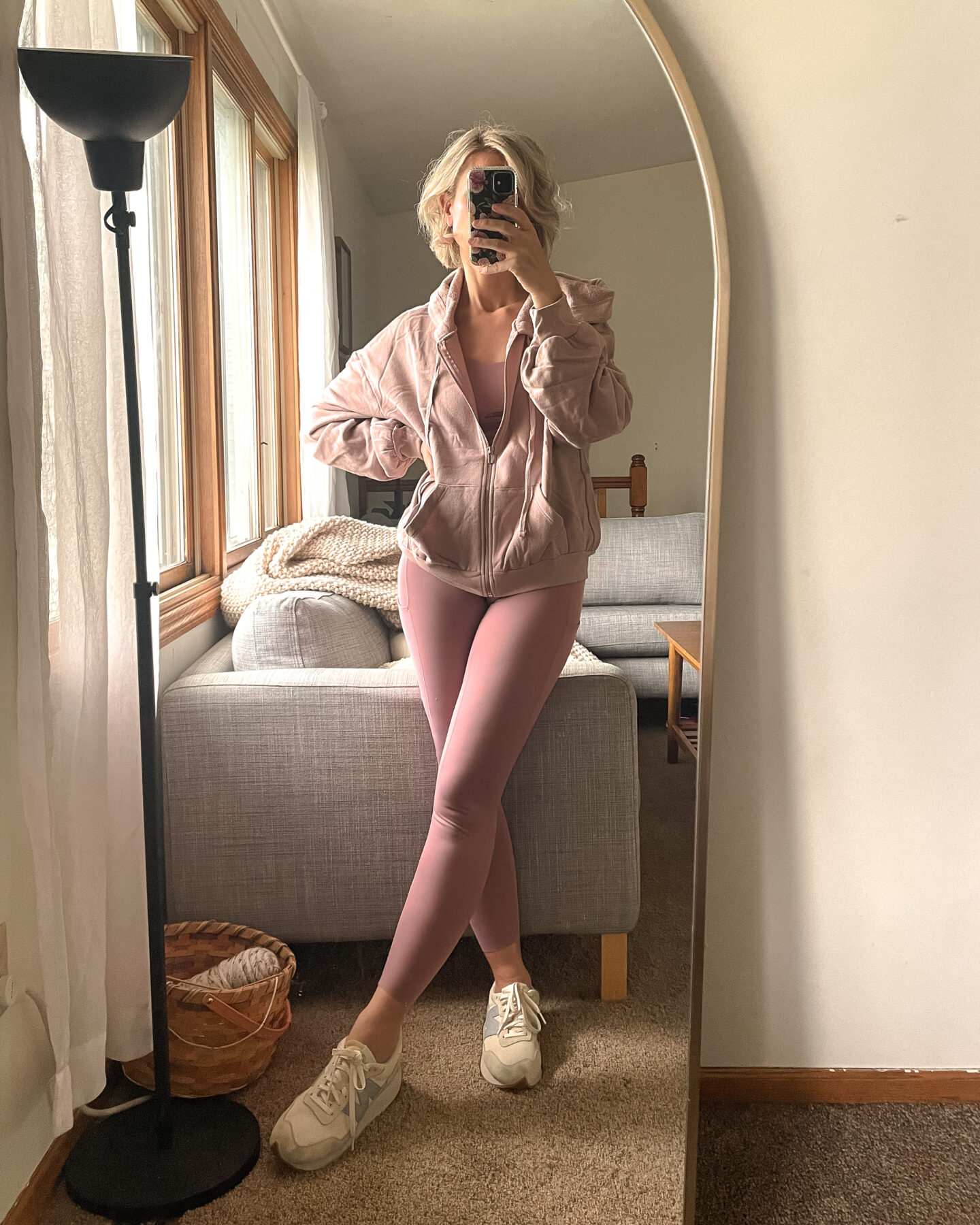 Outfit Details:
Sports Bras (S) | Leggings (S) | Sweatshirt (S) | Sneakers (go up 1/2 size)
One thing I've committed to this fall is to purge my workout drawer and pare things down to only a handful of matching sets. Right now I just have lots of random pieces that don't necessarily go with each other, and it would make my life a lot easier to have just a handful of sets that I know go together and I can just pull out easily. I've had these leggings from Revolve for awhile now, and so with my workout wardrobe goals in mind I decided to get the matching sports bras. I'm really glad I did because the quality of this brand is so good. Both pieces are silky soft, and the stretch is perfect. They aren't so structured you can't breathe, but they also still have a good amount of hold to them. The leggings are also one of my few that have pockets, and that just makes life so much easier! I'd definitely go with your true size in this set. I'm an A cup and the small fits really well in the bras, and a small in the pants fits perfectly as well.
Outfit Details:
Dress (S) | Heels (TTS) | Earrings
Okay so I saved the best for last! I was lacking in the wedding guest dress department for coolish weather and so this dress immediately caught my eye. It's the prettiest sage green, and it feels so old school Hollywood… I just feel so feminine whenever I wear it! It's made of a really silky viscose blend and it's surprisingly not super wrinkle prone. I just love the hip hugging skirt and the gathered top… perfection! I'm wearing a size small.
AND THESE SHOES YOU GUYS! I'm usually not one to go for a super dramatic heel, but when I get dressed up I do really like to go for the glam, and these heels deliver glam! They remind me of Cinderella shoes and my girls were in awe of them when they saw them ha! They are just so freaking pretty, and fun but in a more subdued way. And the best part? They're actually comfortable (I mean for a pair of heels), I was worried the plastic would bite into my skin, but I had no issues with that. Plus they are easy to walk in because of the ankle strap, it makes them feel really secure. I stayed true to size (I wear a 9), and the fit is perfect.
---
Well that's all I've got for you guys today! I hope you enjoyed this little mini Revolve haul. Let me know what outfit you'd wear, and tell me I'm not the only one swooning over those heels?!
Until next time,
Karin