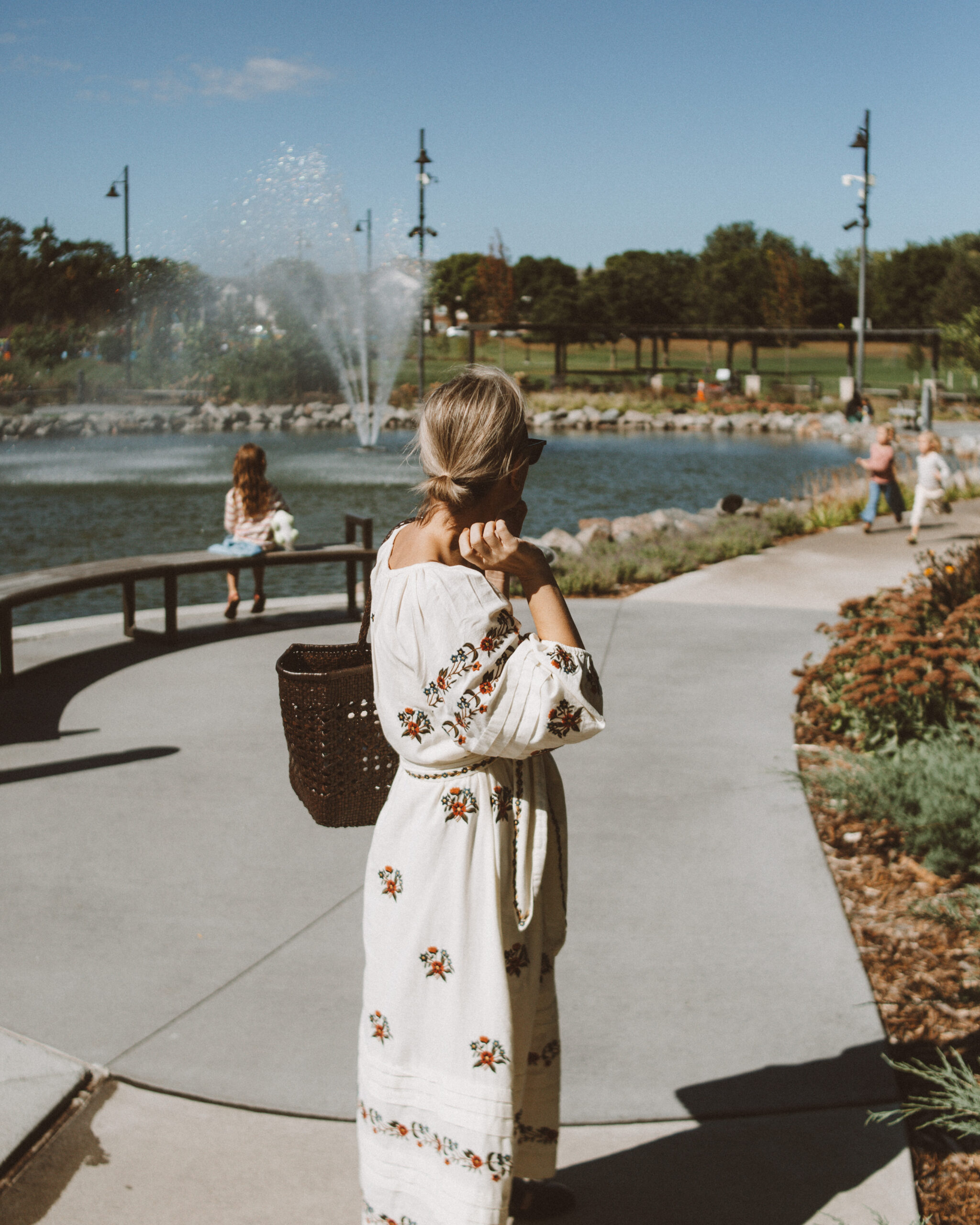 Outfit Details:
Dress (Size 1. linked this year's version) | Shoes (run a 1/2 size big) | Bag (linked a similar option from the same brand) | Sunglasses
Happy Monday friends! I thought it would be fun to start a new little style series called Style 101… quick little posts that give quick little style tips. Today I thought we'd start with one of the things I think people struggle with most often: how to make your style your own. Or, in other words, how to add personality to your style.
My biggest tip? Focus on how your clothes make you feel. I know that seems a bit like a "duh" statement, but it truly is the best way to figure out your own personal style. When I'm getting dressed I'll usually start with the base of what I want to wear. So, for example, with the dress I'm wearing in these photos let's break down how I got dressed:
I knew I wanted to wear this dress, and I had an idea that I wanted to wear some Mary Janes with it because I love how the models on the Doen website always look with that combo. But when I put on the Mary Janes it didn't feel quite right… it was a little TOO sweet. So then I thought some casual sneakers may be better, but when I put them on I felt like it took away from the dress. But when I tried on these fisherman loafers, I felt like the outfit was just about there. I had my hair down, but I decided to try a messy pony tail and that was the finishing touch that made me feel like my outfit was complete.
There was a lot of intuitive-ness going on in the process, and the biggest point I'm trying to make is: I didn't just copy and paste something I had seen on the Doen website. I took a general trend that I've pinned before (prairie dress), but then added personal touches that my gut connected with. And that's my tip: it's okay to be generally inspired by someone else, but LISTEN to your gut. Don't ignore it if it's telling you to add that quirky accent or to reach for an accessory that may feel a little unconventional. When you're done getting dressed you should feel like yourself in an outfit, and if you have a hard time trusting your gut… stop it! Ha! Ignore what you think you should do, and focus on what you want to do.
THIS is how you take your style to a personal level. Anyone can be trendy by copying and pasting an outfit they see on their favorite influencer, but to have true style you need to make your outfit your own.
Again, this may seem a bit "duh", but it truly is what takes things to another level… plus you'll feel better in your clothing, and the confidence that brings will add to the overall effect. 🙂
---
Well that's all I've got for you guys today! I hope this Style 101 series will be fun for you guys… let me know if you have anything you want me to cover in the comments! Have a great week friends. 🙂
Until next time,
Karin