Outfit Details:
Jacket (S. Gifted) | Bag (Gifted) | Sneakers (I sized up. Gifted) | Sweater (Mine is from Masai Copenhagen, but sold out so I'm linking similar) | Jeans (26) | Sunglasses
Happy Wednesday friends! Ot's been a week and a half of ear infections, a schedule packed with school events, and a year's worth of laundry. But today we're talking bags so things are good. 🙂
I've had a lot of you ask for a bag collection post and that's what we're going to do today! But before we do, let's talk about my bag "philosophy" and what I consider when I'm making a bag purchase. I own one high end designer bag, and it's a vintage Prada backpack… which I love and adore. But that's the only really expensive bag I've ever bought. It's not that I don't like designer bags… I very much do. BUT I have buyers anxiety when it comes to BIG purchases. When it's in budget, I have no problem spending a couple hundred dollars on something (which is still big I know), but anything over $400 and I can't pull the trigger. It's also why I never buy bigger home purchases or do renovations ha!
So I don't really see myself buying expensive bags anytime soon. With that said, I have a rotation of nicer bags that are more of a mid range price ($200-$400) that I LOVE and get tons of use out of. I tend to go for bags that have some sort of interesting detail, but that are very classic in design because I really bond with my bags and want them to be with me for the long haul. And because of said bonding, I don't keep a very big collection… just a handful of bags I rotate between.
I'll share each of the bags in my fall collection, but I wanted to focus on my newest in St. Barths tote bag from Naghedi NYC, which was kindly gifted from CoatTails. I have actually been eyeing this bag for awhile, but I couldn't decide if it would be too summery for fall and winter with the woven detail, but when CoatTails offered me a voucher, I decided to go for it and I am SO glad I did! It's stunning in person. And I don't find it reads as a summer bag at all (although it would still work for warmer weather). I wasn't expecting it to be stretchy, but because it is it has the most beautiful slightly slouchy shape to it when it's loaded down with your purse essentials. I also love that you can carry it like a handbag, but it also fits on your shoulder and because of the stretch pulling the bag downward it actually stays! You guys it's the perfect mom bag and would make an amazing diaper bag because the handwoven neoprene is easy to wipe down, plus the texture hides stains! And it's super lightweight so it's not heavy to carry at all.
And the texture is beautiful. Like I said, I like my bags to have a bit of interest and the textured weave combined with the slight sheen of the neoprene makes this bag a big step up from a basic blag tote bag. It doesn't have any compartments on the inside, but it does come with a zippered pouch for all of your smaller essentials. I cannot say enough good things about this bag, and I 100% recommend it. I love that it does make a good mom bag, but it would be a great work bag as well as it would fit a laptop, etc.
I have the large size, but it does also come in a variety of sizes and colors so if this one's too big there's an option for you.
Okay let's get to the rest of the bags in my fall wardrobe: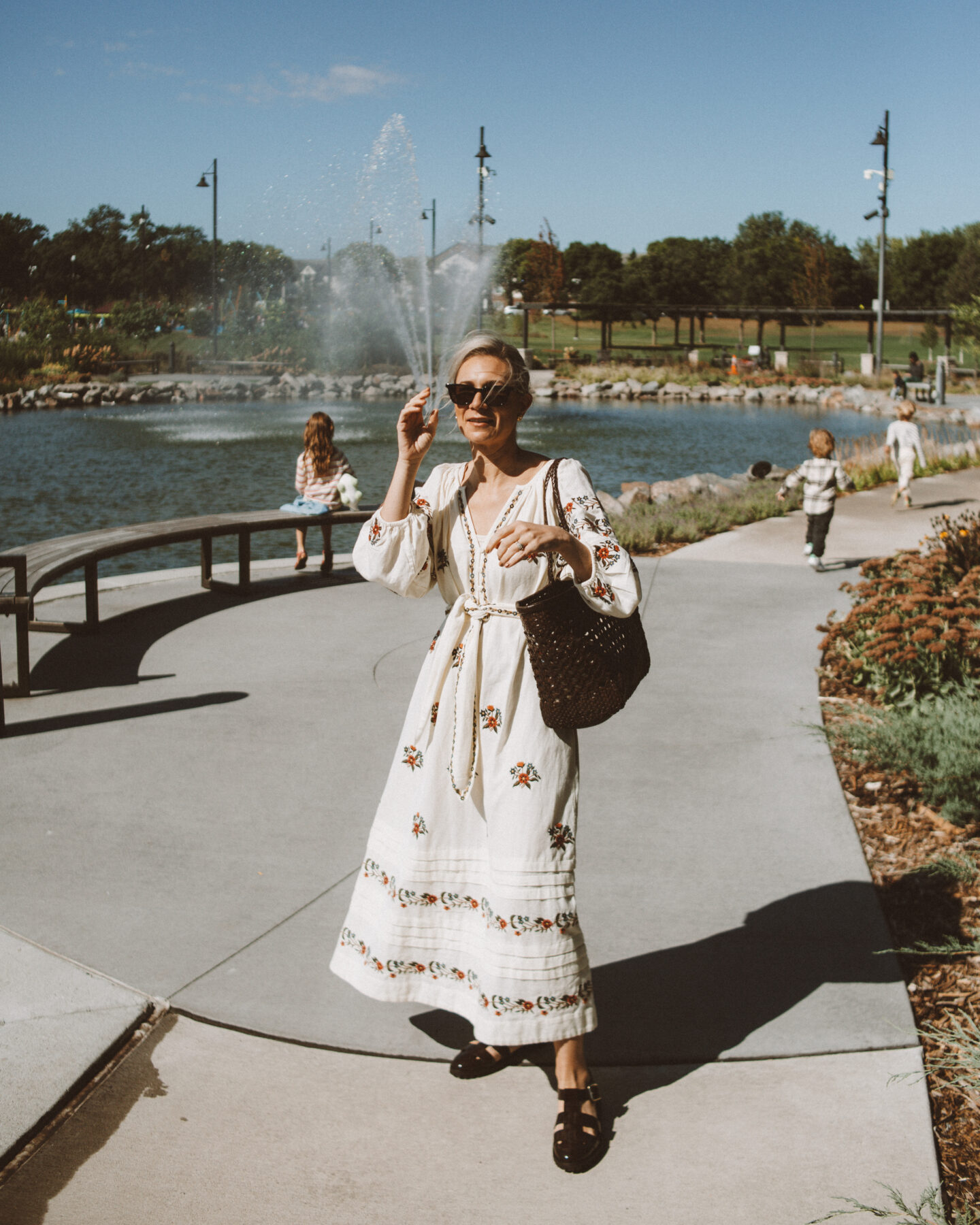 Dragon Diffusion Cannage Max Tote in Dark Brown
This bag is sadly no longer available, but I linked to something similar. Dragon Diffusion make the best woven bags, and this one has been such a staple year round for me because of the color. Even though it has the traditional weave of a summer bag, the color gives it staying power in fall and winter. It's huge so it's my go to bag when I want to carry lots of things!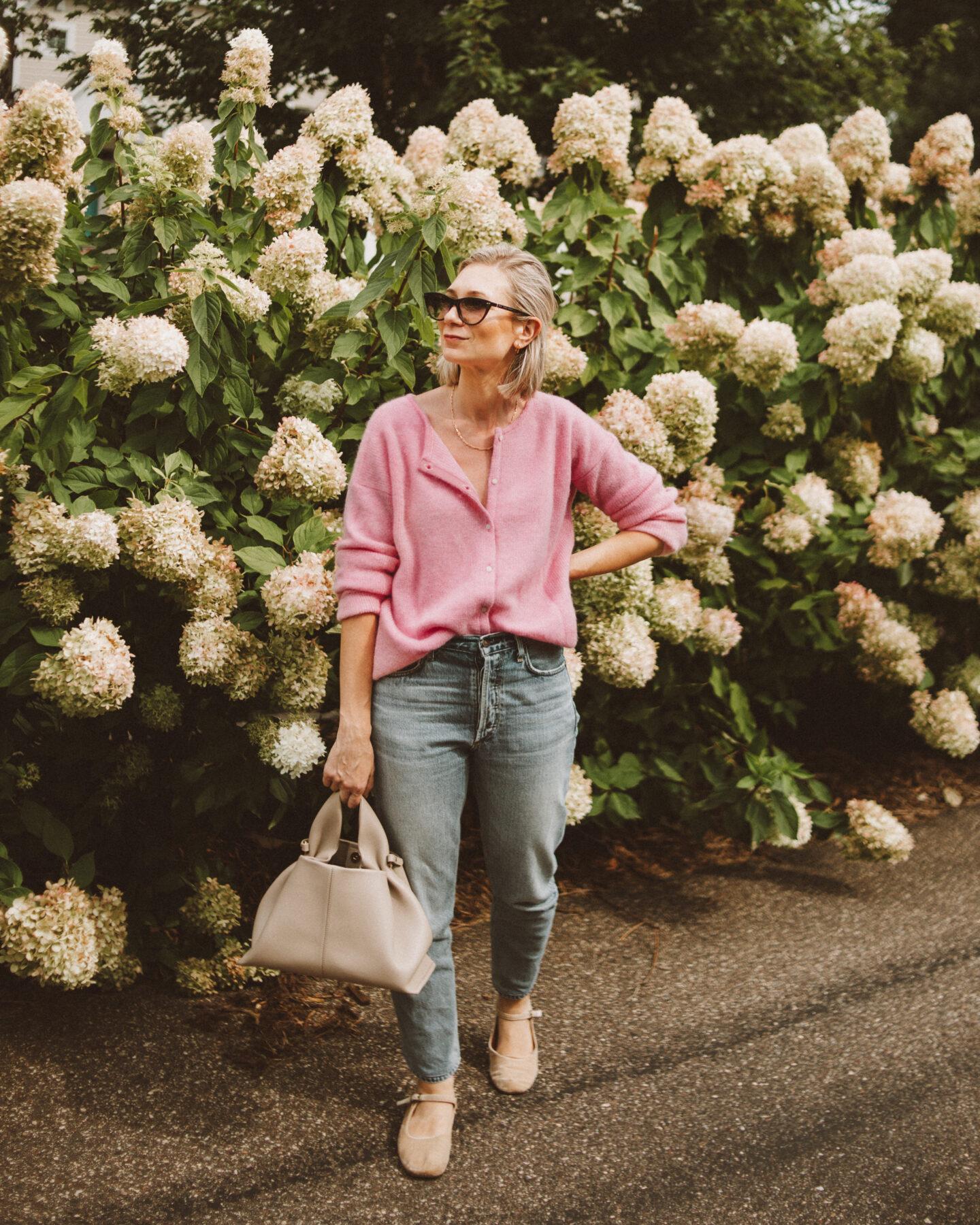 I already reviewed this bag here, so I'll direct you to that post instead of repeating the same information here.
This is such a stunning bag! I love that it's so versatile with the option to keep the sides open (how I like to wear it) or to fold them in for a more traditional tote bag shape. It also has two different handle heights so you can wear it on your shoulder or on your arm. This one also fits a lot and comes with an attached zip pouch. I get compliments on this one all the time!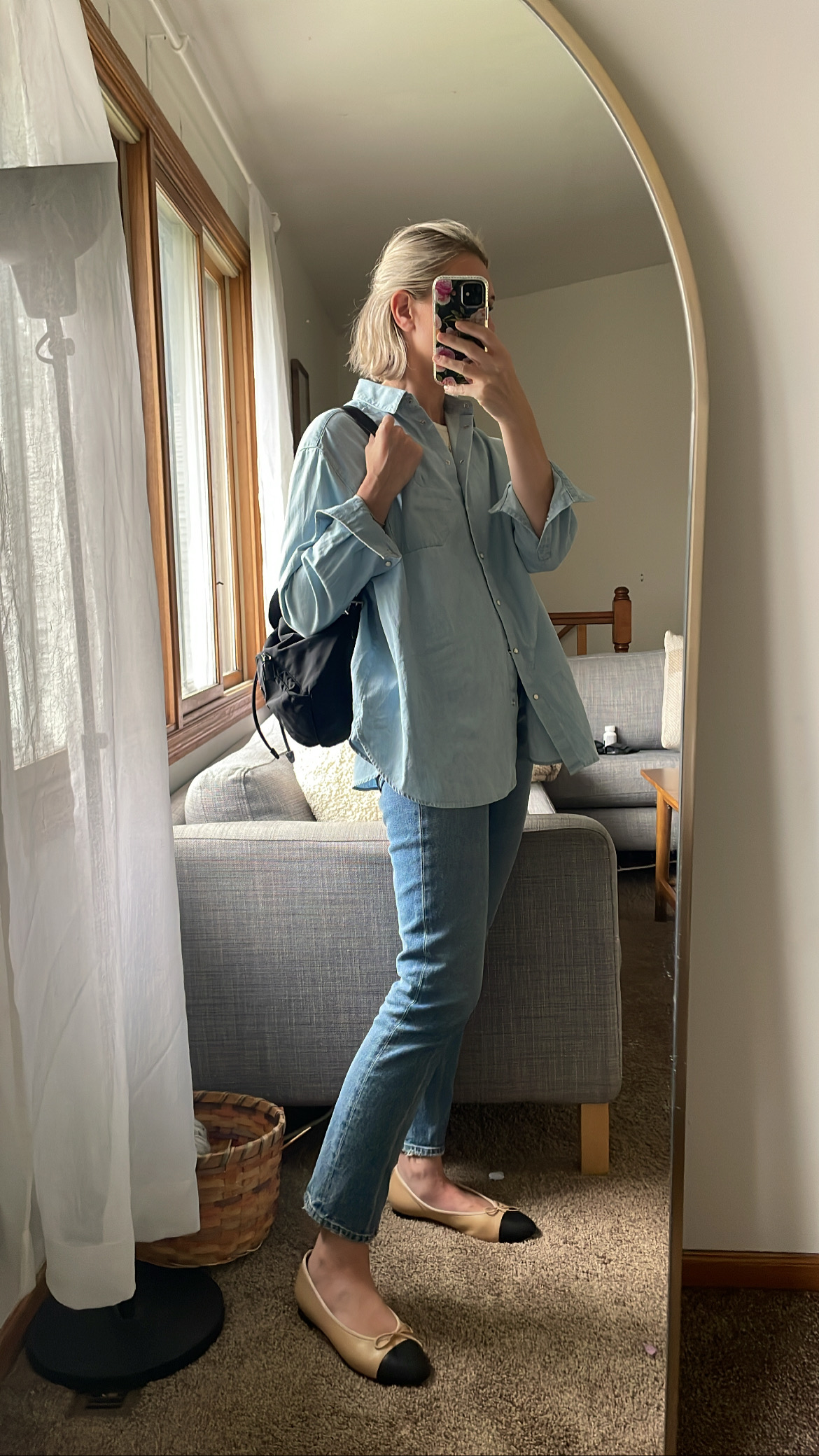 Prada Vintage Medium Tessuto Backpack (found one on REBAG)
Ah my beloved Prada backpack. I will be honest, I feel chic as heck carrying a Prada backpack, but I love this backpack for more than just the logo. It is indestructible… it washes clean because of the nylon material, and it's made so incredibly well that any pulling on it from my kids has zero effect on the straps or pulls. And it fits almost as much as the Polene Cymbe bag. Sometimes I stuff the thing silly and it doesn't feel or look awkward at all, and it's such a lightweight bag to begin with that it's not heavy to carry. If you're looking to make a first designer purchase I highly recommend trying to find one of these secondhand. They're so timeless and practical and yet so cool. Plus you can find them for around the $500 price range so they aren't quite the price gouge that other designer bags are.
All Saints Odette East/West Leather Tote
This was a NSale purchase, and I'm SO glad I picked this up becasue it's about as classic as you can get, and I was lacking a very classic black tote… but I love that it's still a bit more interesting with the winged shape, seam detail, and pleats. This one isn't quite as big as the Naghedi or the Polene, but it still fits a good amount because of how soft the leather is.
Polene Numero Un Nano in Textured Black Leather
This was my third Polene bag and it's a huge winner in my book… I love Polene and how they make basics look just a bit more special with their unique designs. This is the perfect throw on and go little bag when you don't need to carry a ton of stuff. I can fit my mid size wallet, a pair of sunglasses, my keys, my phone and that's about it… but that's all I really need anyway. I chose to get this one in the textured leather so it wouldn't show scratches and it's held up so well!
Studio Noos Teddy Mom Bag in Ecru
This bag was a bit of an impulse purchase, but it's been one of the very best impulse purchases ever… I wear this bag ALL the time. It's huge and it fits literally everything, but it's made really well so I don't have to worry about the strap seams ripping. I love how it adds so much texture and warmth on outfit and it instantly makes what you're wearing interesting.
This is one of my oldest bags, and to be honest I don't carry it as much anymore, but I have no desire to let it go because it's such a beautiful shape and gives such great retro vibes to any outfit. I'm on a bit of a hiatus with it at the moment, but I'm confident I'll get lots of wear out of it in the future.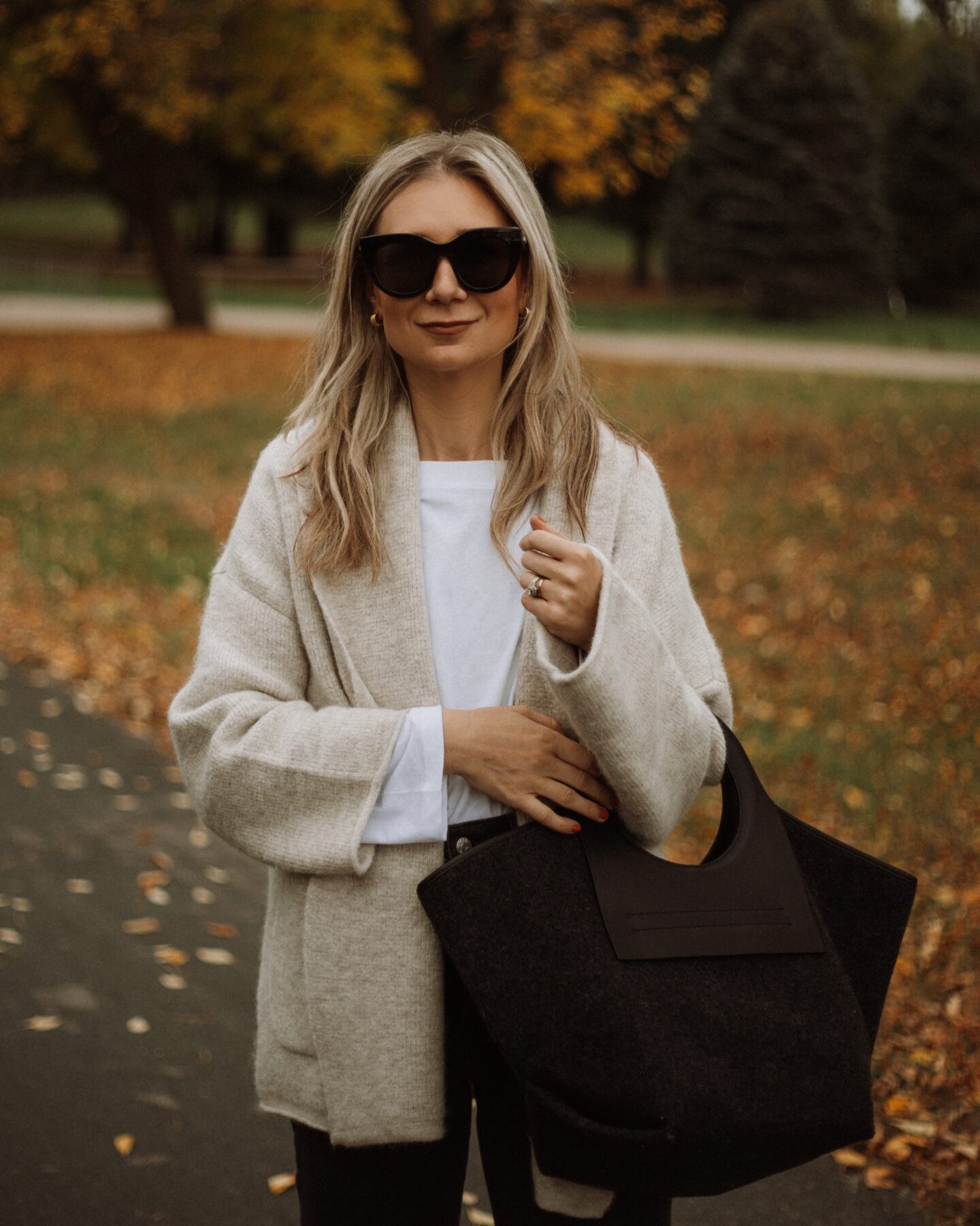 Hereu Studio Cala Bag in Black Wool
I have this same bag in the straw version, and I love both so much. The shape is so beautiful and interesting, and they are such practical bags while also being super chic. Unfortunately, this wool version is an older, limited edition version but I gave you a link to the whole bag collection (including the other Cala styles) because they honestly make the most stunning bags. I've been eyeing this one for awhile, but it's always sold out so hopefully I'll catch it at some point!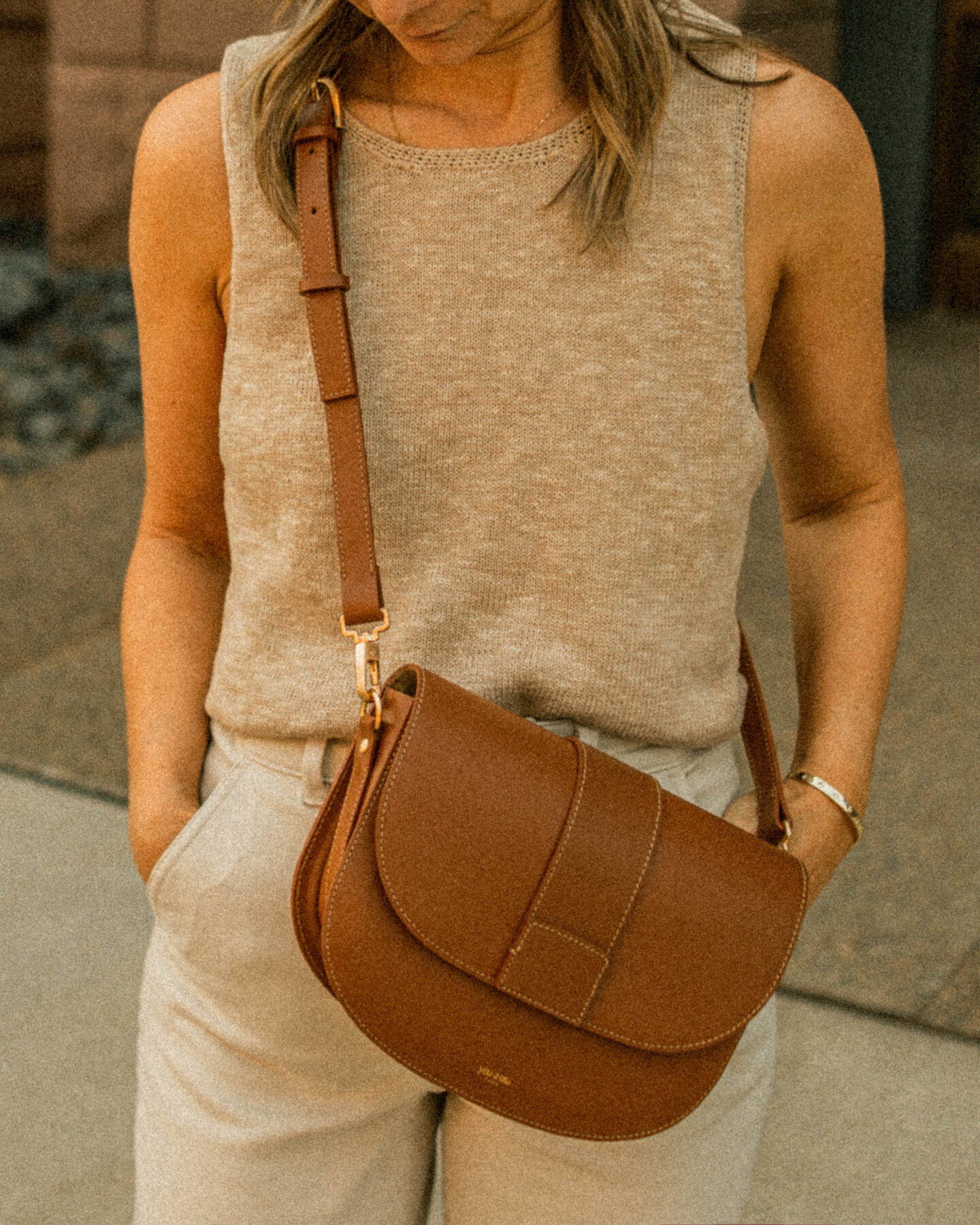 This bag is really old, and I tried to google it to find it or the brand and I came up empty! I linked to a similar bag from Sezane that is gorgeous. Any brown saddle bag however is a classic and would work with most people's style.
---
Well that's it! I know this collection will feel huge to some people, and small to others, but it feels just right for me. I feel like I have a bag for every occasion (I didn't include the clutch I wear for fancier events because it's an heirloom from my Grandma) and I never feel lacking. I do have a couple of bags that I'd perhaps like to invest in, in the future but I don't feel in a rush to do so! I hope you found my notes about each bag helpful… trust me when I say I know how hard it is to buy something you know you'll use all the time 🙂
Until next time,
Karin