Shop the rest of the look:

---
Okay! You guys have been asking me to review my Polene Numero Neuf ever since I got it, but I wanted to wait a bit just to give myself some time to really sit with the bag and figure out not just what my first impressions were, but what I thought after using it for a few months… and I've used it a lot so I have thoughts. 🙂 I was INSTANTLY drawn to this bag when I first saw it. I love the brand, but I don't particularly resonate with a ton of their other bags… but this one? Yes I did! But I was really only interested in the taupe color, which was out of stock for months. So when it finally came back in stock I grabbed one quick (it's still in stock thankfully!)!
Honestly? This bag did not disappoint. The dumpling shape is stunning, and it's perfectly minimal while still having slight "interesting" details like the line down the front, and the thicker handle. It also has very minimal branding with the logo stamped in the front in tiny letters. You can wear it as a handbag or a shoulder bag – I've worn it as both, but the shoulder strap does tuck away nicely if you don't want it hanging around when you aren't using it. The pebbled leather is beautiful – so soft, and it's easy to clean because it's not a smooth leather… and I would know because my oldest dripped her ice cream all down the front of it when I wasn't looking and it wiped clean. 😉
I really love it, and the quality is there for it to be a forever bag. Two things I do want to point out in case these may be deal breakers for you:
It is a bit heavy. I don't notice it on a daily basis, but this probably wouldn't be a bag I'd reach for if I was going to be spending a day where I was constantly carrying it.
The opening at the top is much smaller than the actual bag. Again, I don't notice it and everything I use fits in nicely with no issues getting them back out, but if you like to have a longer billfold wallet or like to pack a big folding changing pad you may have to wiggle a bit to get them in and out. Just something to keep in mind!
---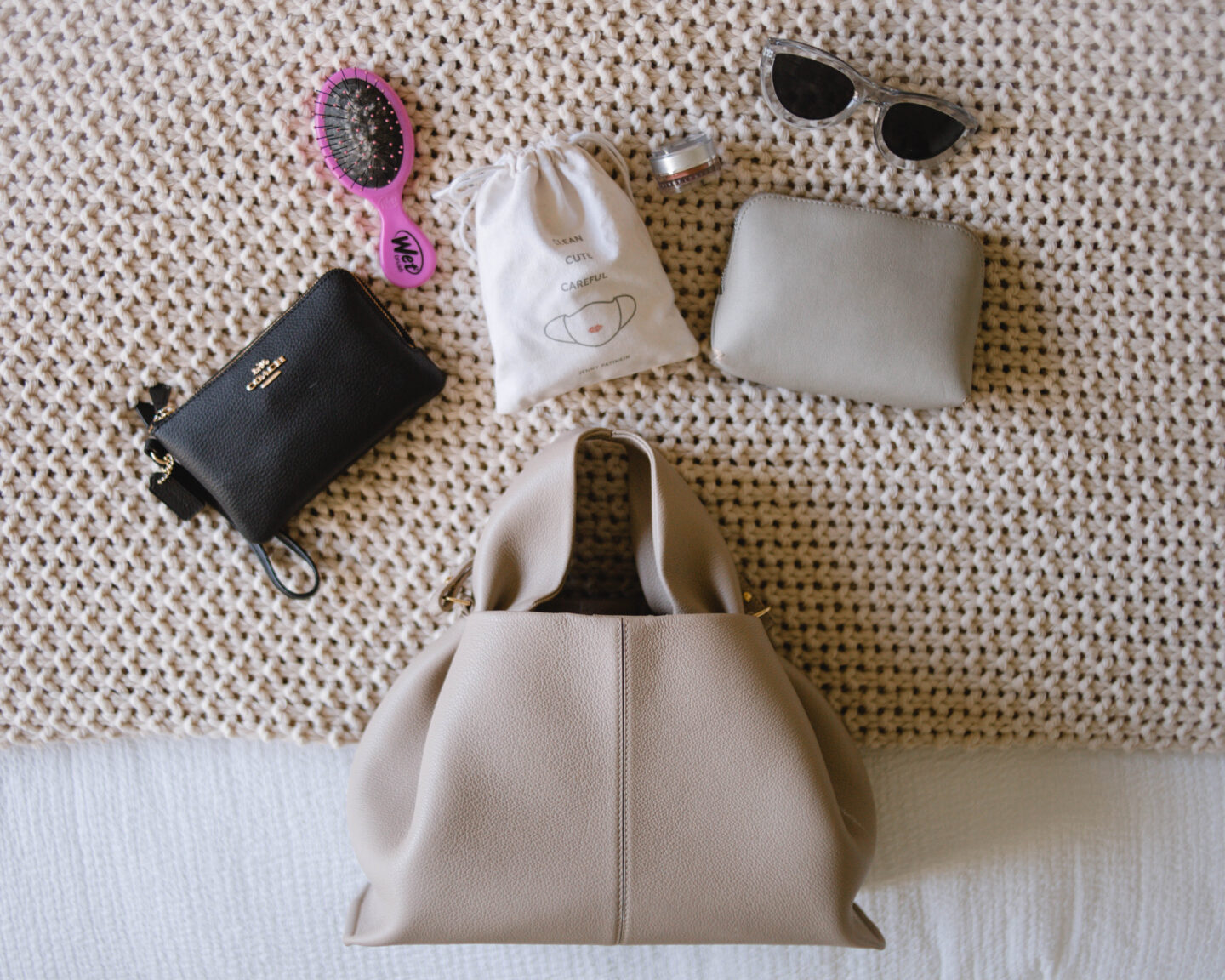 ---
All in all, I definitely recommend the Polene Numero Neuf. It instantly became a favorite for me and that feeling has not changed.
Until next time,
Karin