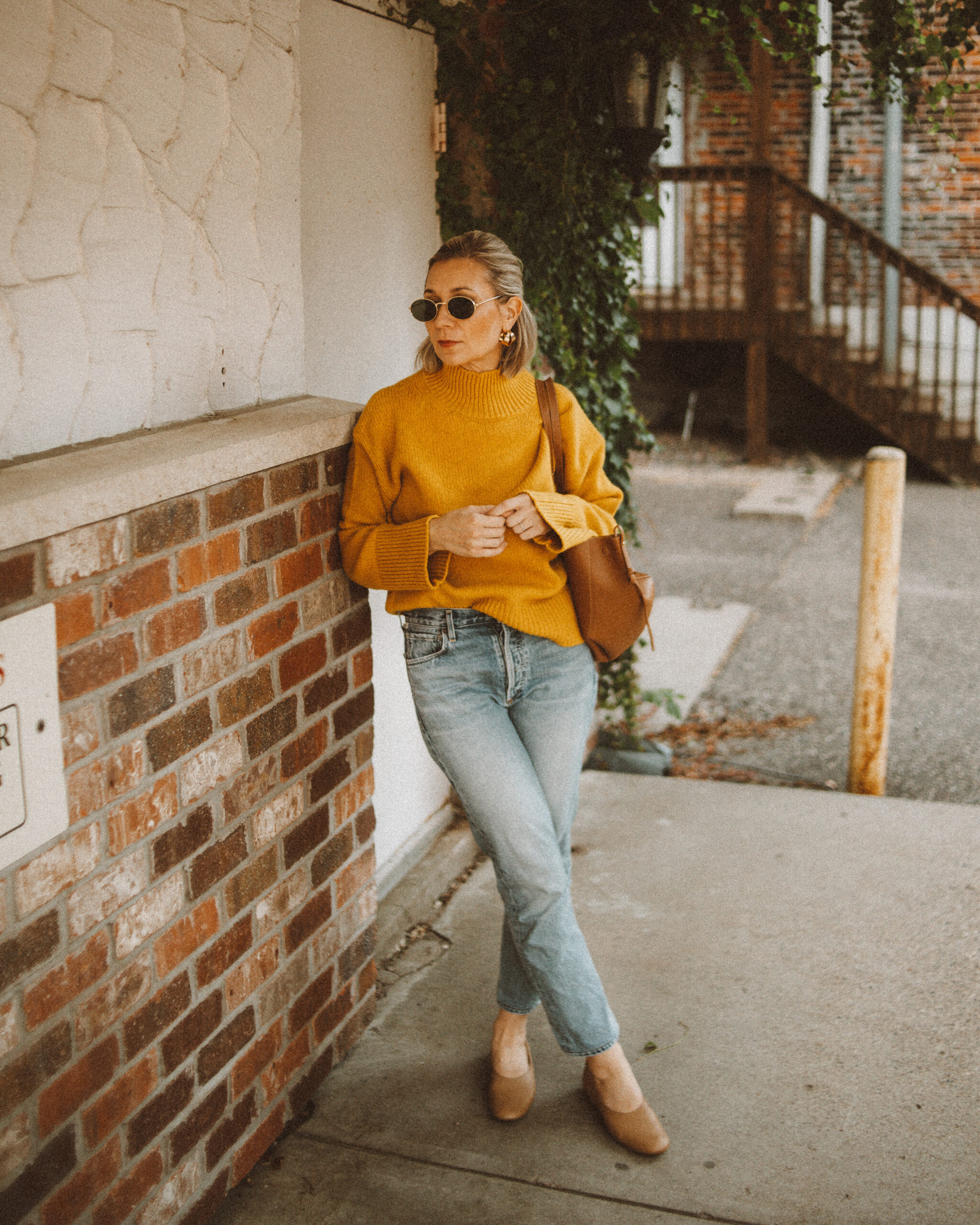 My sweater was gifted, but this post is not sponsored
Sweater (S) | Jeans (26) | Flats (1/2 size small. Color is caramel) | Bag | Earrings
For several years now Alex Mill has been a brand on my radar, they just do the whole menswear inspired, effortlessly cool vibe SO well. It's a look I love to admire to, but also know isn't totally me. STILL, I love to mix in some of their pieces into my more feminine wardrobe and I think the mix is perfection. There's something just really cool about a slightly menswearish piece with more feminine ballet flats and chunky gold jewelry. It's a combo I love to play around with.
In particular, I am always drawn to their sweaters. It started with the iconic striped button back crewneck a couple of years ago, and continued last year with their Camil cable sweater which is unfortunately sold out (but I'm hoping they'll restock it this season), and now this season it's continuing with their new Betty turtleneck, which is a beautiful sunny, happy sweater that gives me so much joy. I don't often wear color, but when I do I'm very drawn to this shade of yellow and I couldn't resist it in this very classic sweater shape.
The Betty is a very weighty sweater and it's extremely warm with it's Lambswool mix. It's true chunky perfection. The oversized turtleneck paired with the wider sleeves gives it the right amount of interest while still being very much a staple item. I stuck with my true size and I'm glad I did because it IS very oversized, but I find it still easy to tuck in a bit into my pants or jeans. I do find it a tiny bit scratchy, so if you're pretty sensitive you may want to keep that in mind, but I always layer my sweaters with long sleeve tees in the cold weather anyway, which takes care of that problem for me. I don't find the neck to be scratchy however.
Overall it's such a lovely sweater and I'm so excited to add it to my sweater collection!
---
Well that's all I've got for you guys today! I hope you enjoyed this little sweater roundup. Have you trued anything from Alex Mill?
Until next time,
Karin