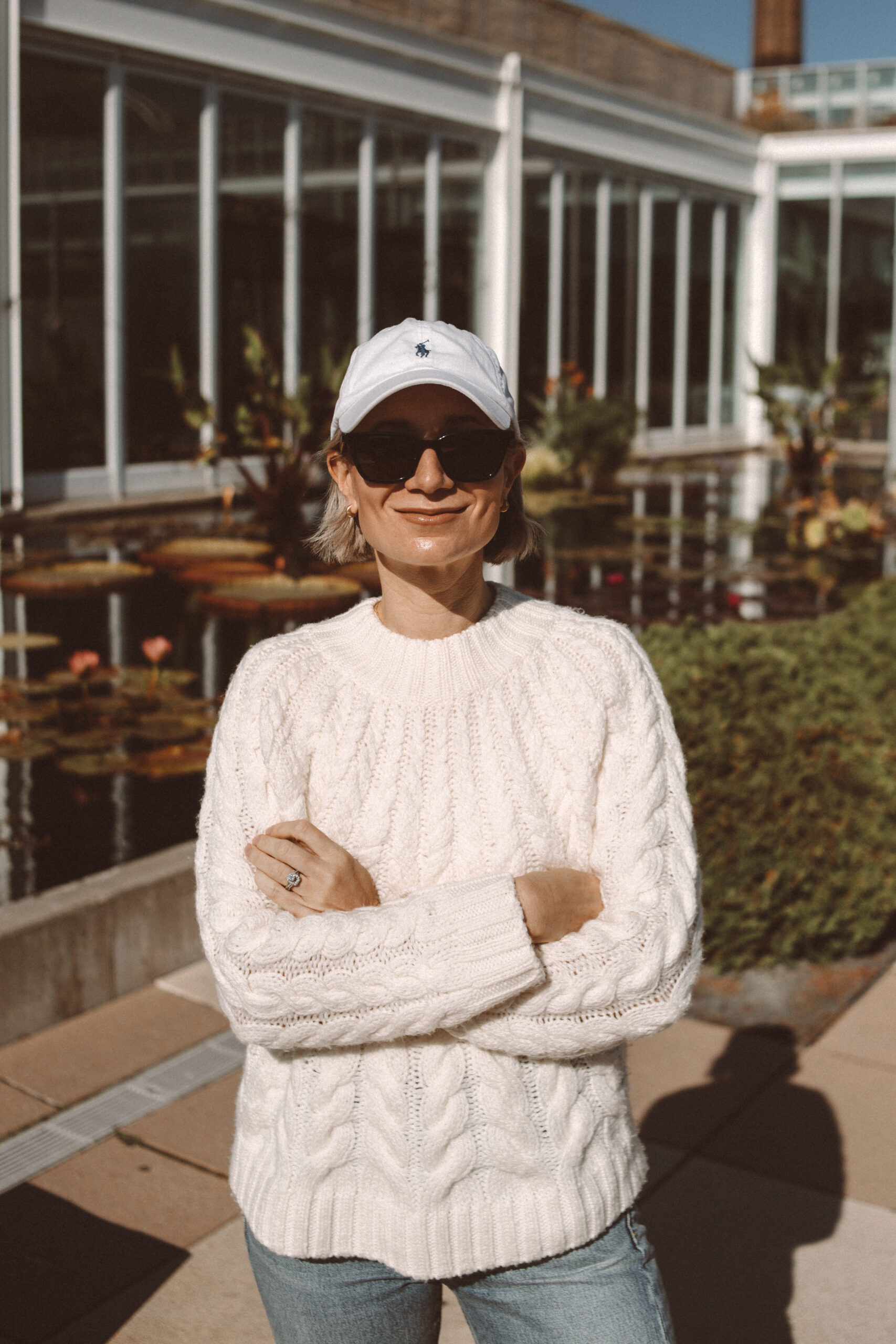 Outfit Details:
Sweater (M. Gifted) | Jeans (Got a new pair in a size down – 25) | Sneakers (Sized up a full size to a 10) | Hat | Sunglasses
Happy Friday my dear friends. It has been a week… and I'll admit it's of my own making ha! I've been searching on Marketplace for a couple of years now for a bed that matches the one we already owned that was a part of the set I inherited from my Grandma. And two weeks ago I finally found one… in Iowa. So I enlisted the help of my cousin to pick it up and drop it off in my parent's garage (they were driving back from Florida at the time). After driving down to pick it up last weekend, selling our bunk bed on Marketplace yesterday, my dreams have come true after a very chaotic couple of weeks 😂. I think David summed it up well when he labeled our house a swirl of chaos lately.
Amidst all the chaos we did manage to meet up with David's brother and his family at the zoo last weekend and I jumped at the chance to wear this new cable knit sweater from Sezane. Their sweater selection has been SO good this year, but this one has been my absolute fave of the bunch. It just has an extremely luxe feel to it that makes it feel so cuddly and the cable knit gives an otherwise very basic sweater the perfect amount of texture and interest. I did size up like I normally do in sweaters and I love the slightly oversized fit. It's the perfect sweater to wear with jeans and sneakers… a very comfy mom outfit that's still chic.
---
Well that's all I have for you guys today! I wish I could say our weekend was going to be less chaotic, but we're having a joint birthday party for Gabe and Kit so the calm will have to next week 😉. I hope you all have a wonderful weekend!

Until next time,
Karin