Hey friends! I have a feeling most of us will be in need of at home Christmas outfit ideas this year. Or at the very least, cozy but chic outfits are much more on the agenda than anything fussy or complicated!
To be perfectly honest, I typically spend most of Christmas morning in my pajamas as the girls get me up as early as they can ha! In the afternoon I do tend to gravitate towards some sort of festive outfit, but we've been spending Christmas day as just our immediate family for a few years now so things stay pretty casual for us.
So since I've had a few years of practice getting dressed for cozy holidays at home, I thought I would share some outfits I'd reach for happily on Christmas day… plus I styled them with shoes so that you can get ideas for if/when we're able to gather with loved ones again.
You'll not find a lot of festive colors in these outfits because, well, I'm a neutral lover ALWAYS, and these are outfits I would truly reach for. But don't fret if you are a color lover! I'll be sharing a post soon with outfit ideas centered around a red sweater. And actually speaking of that!
This week is what I'll be calling my Christmas Karinapalooza. It's a thing I promise! Basically, I'll be bombarding you (I mean… gifting you) with six blog posts.
Yup! You heard me right. Six posts. I'm doing a week jam packed with all kinds of Christmas and Holiday content…
and then next week I'll be starting a two week vacation from blogging. So basically, this week you'll get enough content to carry you through the next couple of weeks. 😉
SO. Here we are on day 1 of my Christmas Karinapalooza.
let's get to the Christmas outfit ideas. We'll start with the dressier ideas and we'll work our way down to very casual:
Outfit 1: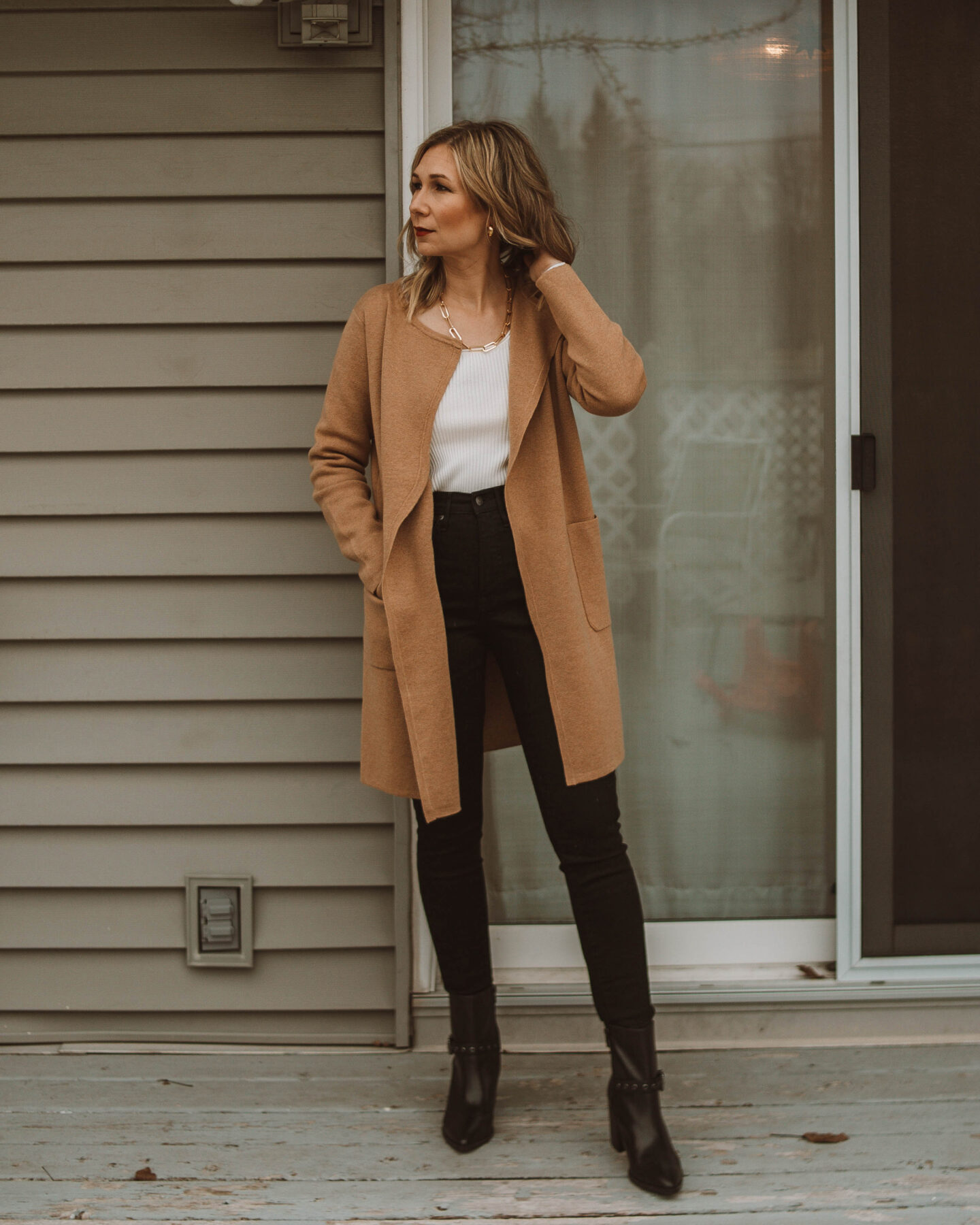 Shop the Look

I love a look like this because you're wearing stretchy jeans, and soft knits on top so the overall effect is very soft and feminine. If I were leaving the house I'd pair it with these edgier boots and gold statement jewelry just to give it some flare, but even without this is still a really nice outfit combo. This sweater blazer has been a true closet hero. I just love the quality of these sweater blazers so much, and this color and length are just so divine. I literally want to wear it with every outfit, but I'm trying to reign it in and diversify. 😉 They do run fairly big, so I sized down.
You can find a review of the denim here.
---
Outfit 2:
Shop the Look

Sweater vests are my new favorite thing! They look so classy and chic, but they are still super cozy and warm. I love doing the monochrome thing with a same colored turtleneck underneath, but this look would be so cool with a pair of black jeans or pants, and a black turtleneck underneath as well! I may have to try that one next. This sweater vest is one of the best that I've seen! I love the turtleneck neckline, and the ribbing gives it a very cool touch. It's made of wool so it is a tiny bit scratchy, but I can't imagine wearing this without something underneath so that's not a problem for me. I love it paired with the full length jean (these are the best I've found! I love that the leg is still slim so its still very flattering. Plus they're on sale for $33 with and extra 20% off!) and the kitten heel. All around this is a very simple outfit, but the elements add special touches that I really love.
---
Outfit 3:
Shop the Look

The jeans are an older pair from Gap so I linked similar
You'll probably sense a theme here, but AGAIN. Easy, comfortable, but chic. I love a good pair of stretchy jeans with a cozy oversized sweater. I really can't think of a better combo actually! But adding a pair of interesting boots really kicks this outfit up a notch. I have loved having these boots as an addition to my wardrobe this fall… they just give the perfect amount of oomph to any outfit, and I like that the heel gives me a little lift (but they're SO easy to walk in). This color palette is just so pleasing to me ha! I love the warm neutrals, but adding in the gray color of the jeans just makes everything work so well in my opinion. I feel like a black jean would have been too harsh against the softness of the sweater. A washed black or gray jeans is much softer, and works in harmony with the tones/textures of the other pieces. Also, this sweater is currently 60% off, but selling quickly!
---
Outfit 4: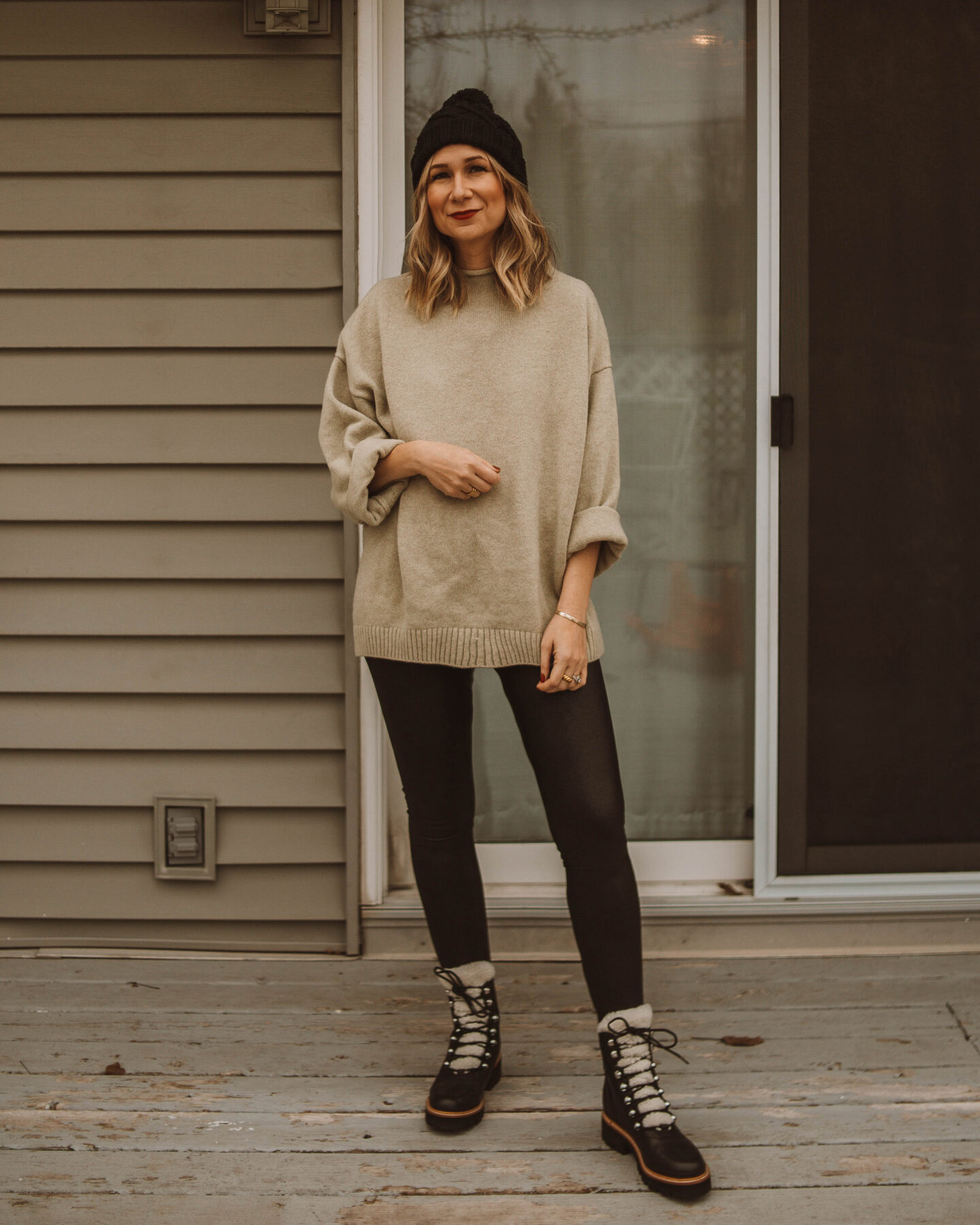 Shop the Look

The sweater is old from James Street Co. so I linked some similar styles
This is probably the comfiest of my offered looks, and, well… it's the leggings. You guys I finally gave into the faux leather legging trend. I was actively against it for a very long time, and then I was passively against it for awhile, and then I started softening up a bit… but then when they went on sale on Black Friday, I decided to give them a try (fully intending to not like them and send them back)…
but they are the best thing ever. I literally don't want to wear anything else. They are just so stretchy and comfortable, and they don't feel restricting at all. But they also just make me feel like I'm not wearing leggings as pants, and they immediately give an extra edge to any outfit… and lately I've been craving a bit of edge in my wardrobe. So yes. I've finally embraced the leather legging trend, BUT I'm also okay with it because leggings really are a great option for busy moms like myself, but these can actually really make an outfit. And that was the longest run on sentance every. I'm wearing them in a small (you can find my measurements here).
---
Outfit 5: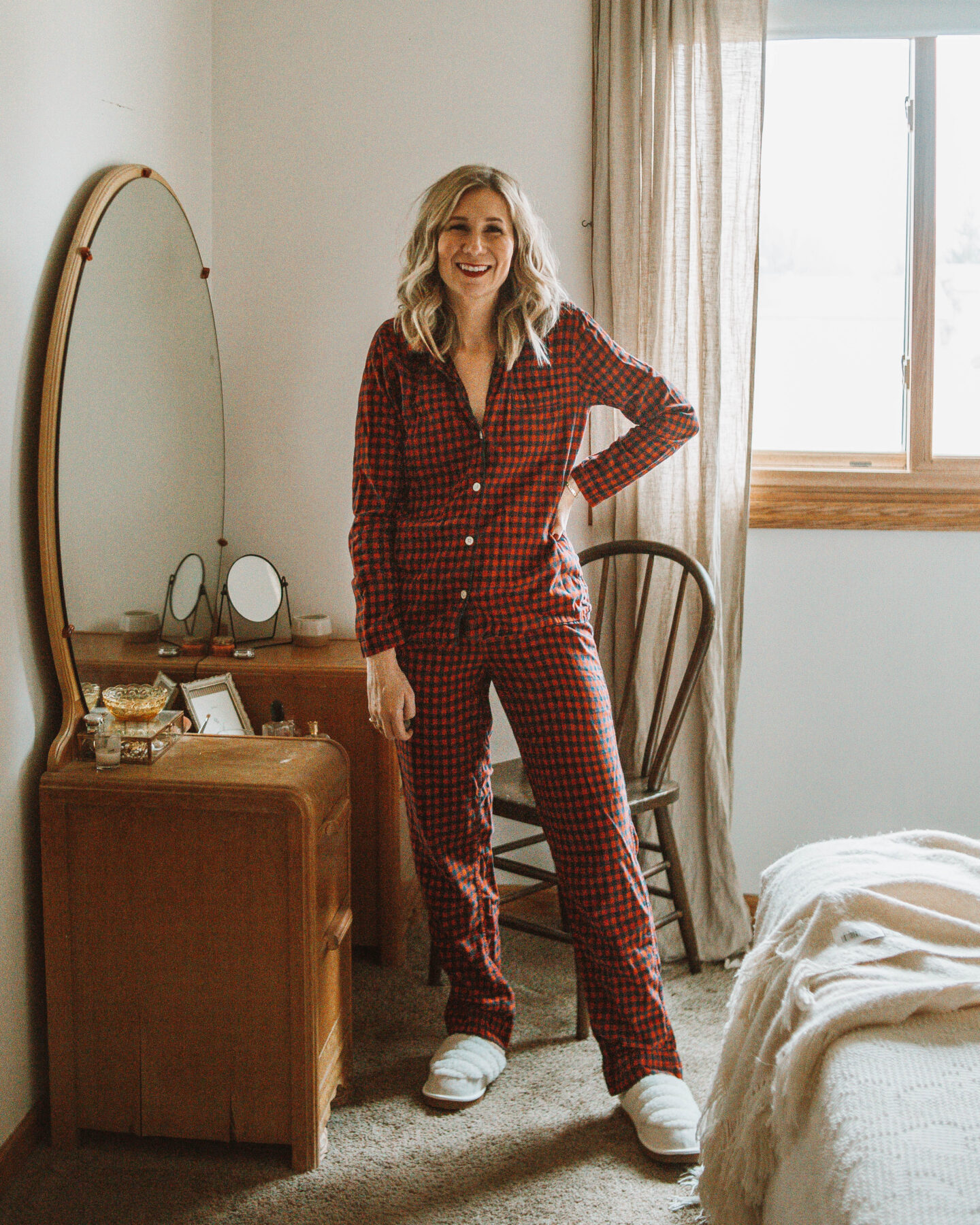 Shop the Look

My set is very old from Madewell so I linked a very similar, updated version
Okay so I had to throw this one in because, quite honestly, this is probably what I'll be wearing on Christmas morning. Not much to say about pajamas so I'll leave it at that. 😉
---
Well that's all I've got for you guys today! I hope you enjoyed this look at my favorite cozy Christmas outfit ideas. Which one do you think you'd wear? Let me know in the comments!
Until next time,
Karin