Happy Tuesday everyone! For today's installment in my Christmas Karinapalooza (I'm a dork I know) I have a cold weather favorites post featuring some new in pieces from Everlane.
Well, sort of. Some are new in, and some are pieces I've acquired over the last few months, but haven't gotten around to really showing them to you in detail.
Regardless of timeline, there have been some really exciting launches this Fall, and I'm feeling very inspired by the pieces that I have added to my wardrobe so I'm happy to be sharing them with you today.
AND just so you're aware, Everlane is offering free express shipping at the moment so if you see something you like you can still get it before Christmas!
We're going to keep the intro short today because I've got a fair bit to show you… let's get to it:
(P.S. you can view my measurements here if you're curious about sizing)
Look 1:
Shop the Look

The boots, coat, and sweatshirt were gifted items
I'm going to keep the reviews pretty informal today since we have a lot to get through, BUT suffice it to say that I pretty much love everything I've acquired recently.
First up is this new anorak jacket. This may be my favorite thing from Everlane in a long time (except maybe the boots… it's close!). This jacket is beautiful in real life. The wool is really nice, the details are all minimal but thoughtful, it's constructed well, and the color is a beautiful oatmeal color. I sized down to an XS, and I'm glad I did since it does have a more boxy fit. One thing to keep in mind with this jacket is that it's a jacket, and not a coat. It will keep you warmish on colder days, but it's not going to cut it when the temps really drop. I'll probably still get away with it if I layer underneath, but this will most likely be more of a fall, early winter, early spring jacket for me. But if you live in a milder climate, this would be perfect!
The sweatshirt is also a really nice addition to my wardrobe. I actually didn't have any hoodies in my closet, and I wear black a ton so this fits right in. There's not much you can say about a hoodie, but I will say that it's made of a nice mid weight cotton so it lays really well. I also love that it's not super cropped, but it's also not super long. I actually have been living in it since I got it!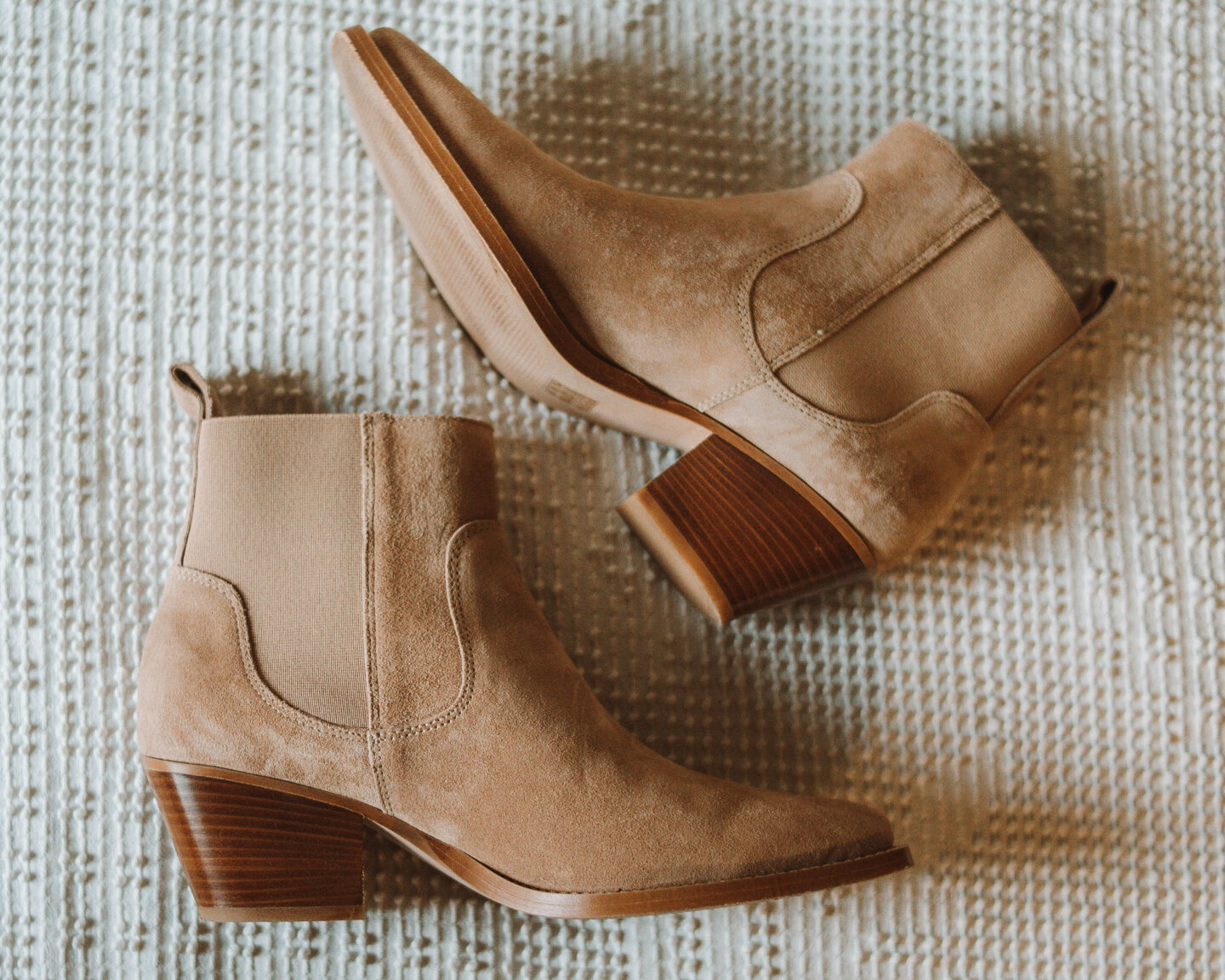 Okay so finally let's talk about these boots. I have been eyeing these boots for SO long. And I honestly don't know why I didn't go for it sooner because now that I have them they are the only boots I want to wear ha! I should have known because I have the taller style (the wild west boot) in black and they are probably my most worn pair of black boots. I was a little worried that the shaft would be too short on these leading to cold ankles, but that's fortunately not the case. The 90's cheeky jeans I'm wearing are the cropped version, and the boots hit the hem of the jean. There is a tiny bit of ankle peeking out, but with matching socks you can't tell. The suede is really nice on these, and they are just really good quality. I went with my true size and they fit great, but I would say if you have wider feet you will probably want to size up.
---
Look 2:
Shop the Post

The cardigan and boots are gifted items
I've already reviewed the sweater here, and the jeans here so I'll focus on the cardigan today. Honestly, there's not a whole lot more I can say about the cardigan that I didn't already say about the sweater. It's still made of that super soft alpaca knit (although the cardigan does feel a tad bit itchier), and has that same cloud like feel to it. I wanted to get mine in the same color as the sweater I already owned to turn it into a set, and I really love the effect that gives to my outfit. If you remember, I decided to size up in my sweaters to give them the look of a tunic, but with the cardigan I stayed true to size. I'm not sure yet if I'm happy with that decision or not. I feel like I would like it even better in a size medium, but I do love it in the small as well.
---
Look 3:
Shop the Look

The blazer and Sweater are gifted items
Let's quickly talk about the sweater. This was my first foray into Everlane cashmere, and I have to say I was a teensy bit disappointed. The sweater feels very soft when you first touch it, but it's actually pretty scratchy when you put it on, which is not something I've experienced with other cashmere pieces. I am sensitive to wool, and it's not terribly scratchy so if you don't struggle with wool you'll probably be fine, but I definitely wanted to bring that up for anyone who is sensitive like me. Other than that element, the sweater really is so beautiful! The color is so nice, and the shape of the sweater is so pretty with the little pearl buttons, and the long cuffs. I got this in a size small.
The blazer I love. I've now tried the double breasted blazer they offer and this oversized version, and I prefer this version by a lot. While it is oversized, the absence of the double buttons makes it a little less overwhelming to wear. It's boxy, but it's not too boxy. I do really love the longer length, and the color is so pretty! I love that it's almost a cross between a cooler/warmer color. It makes it really versatile to wear in my opinion. I always size down in jackets/blazers because of my narrow shoulders, and that's what I did with this one as well.
Look 4:
Shop the Look

The sweater, flats, and bag are gifted items. The bag is completely sold out so I linked to a similar style.
I already talked about this sweater in this post, but I wanted to still share this outfit with you because I didn't provide a very good look at the sweater in that post.
---
Well that's all I've got for you guys today! I hope this look at my cold weather favorites from Everlane was helpful. Like I said, I've been really pleased with the selection lately!
AAAAAND that's it for today! I'll see you back here tomorrow for another Holiday themed post. 🙂
Until next time,
Karin