Does anyone else feel a sudden urge to hibernate on December 1st?
This time of year, I just want to live in comfortable, cozy clothing and drink only hot chocolate…
which brings me to today's blog post. Over the last few years, I've really been trying to invest in better pieces for my loungewear wardrobe. I've always just been a ratty sweatshirt/sweatpant kind of girl, but I decided that it's time for me to work towards having a few "adult" options. My goal is to have three nice sets of pajamas, and three nice sets of loungewear + underwear/bras that work for me.
So I thought I would share my first foray into the world of eco friendly Loungewear, Pajamas, & Under Garments.
To be transparent, all of these items were gifted to me so that I could share them with you, but you know me well enough by now to know that I'll always share my real thoughts/opinions and I won't ever show you something that I won't use in real life.
So let's get into the pieces:
Eco Friendly Loungewear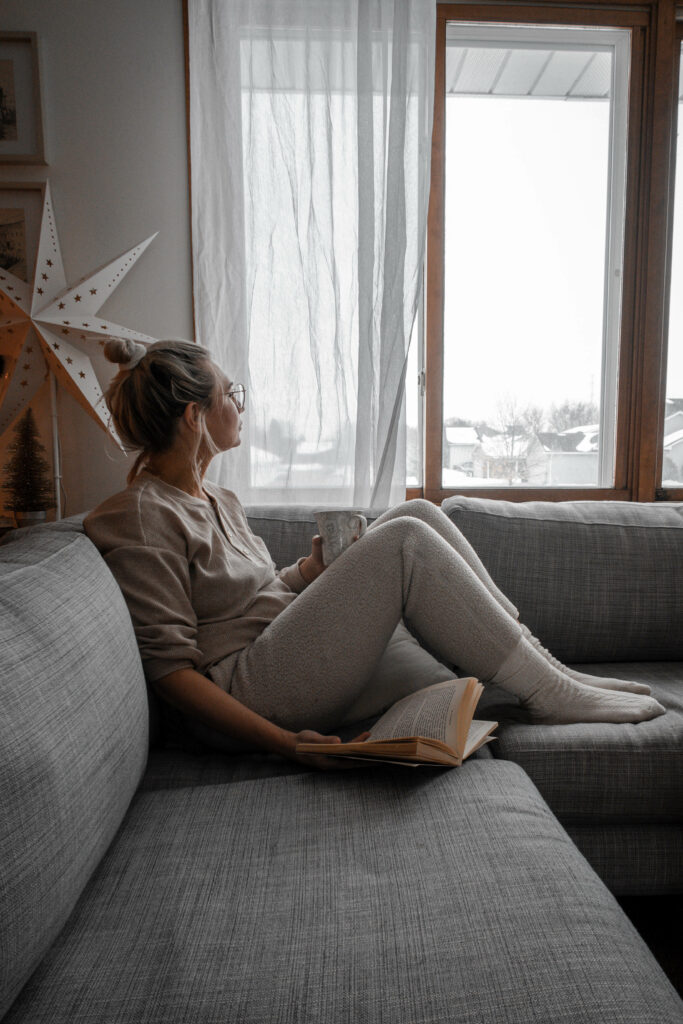 For loungewear I pretty much live in sweatpants/leggings and a cozy top. But, like I said above, as my older pieces have worn out I've been trying to replace those pieces with more "adult" versions.
I've actually had a hard time finding a pair of sweatpants that I really love. I'm not a huge fan of the jogger trend in sweatpants because I always feel like the ankle is too tight and when I'm lounging I want to be super comfy… and a LOT of sweat pant styles these days are joggers. Or the waistband is too thick and restricting/the elastic isn't sewn in properly so it bunches up (in other words, they aren't made very well).
These Everlane sweatpants are nearly perfect. The waistband is sewn well so there are no elastic bunching issues. They aren't a jogger style so no awkward ankle tightness, and they are really warm and cozy.
These eco friendly loungewear pieces are made of their recycled fleece, and they come in this beige color and navy (their new raglan fleece sweatshirts come in these colors as well in case you want to have a little fleece tracksuit moment). The sizes range from XXS to XL, and I would say they run true to size. I debated sizing up so that they'd be extra slouchy, but I'm glad I stayed true to size because I think they would have been too big. They also have a slight taper at the bottom which means that they look pulled together enough that you could potentially wear these out of the house. I probably won't, but you could if you wanted to (I mean you can kind of wear whatever you want out of the house so don't listen to me). My only complaint with these is that pile on the fleece is big enough that when your legs are super dry (that's right… mine are) it does kind of catch and rub on your scaly skin. Are you grossed out yet?
I paired it with their new Waffle Long Sleeve Henley, which will be released tomorrow. There's not a whole lot to say about this Henley other than it's super cozy and soft. It has a boxy fit, and it's slightly cropped. I love this taupy oatmeal color, but it also comes in rust and light gray and sizes xxs-xxl. I would stay true to size unless you want a super slouchy fit.
Some other lounge wear pieces that I really love:
The Tradlands Sweatshirts
The Patagonia Los Gatos fleece line
Girlfriend Collective Leggings
Smartwool Socks
And I haven't tried these yet, but I've heard really good things about these sweatpants from Amour Vert.
Eco Friendly Underwear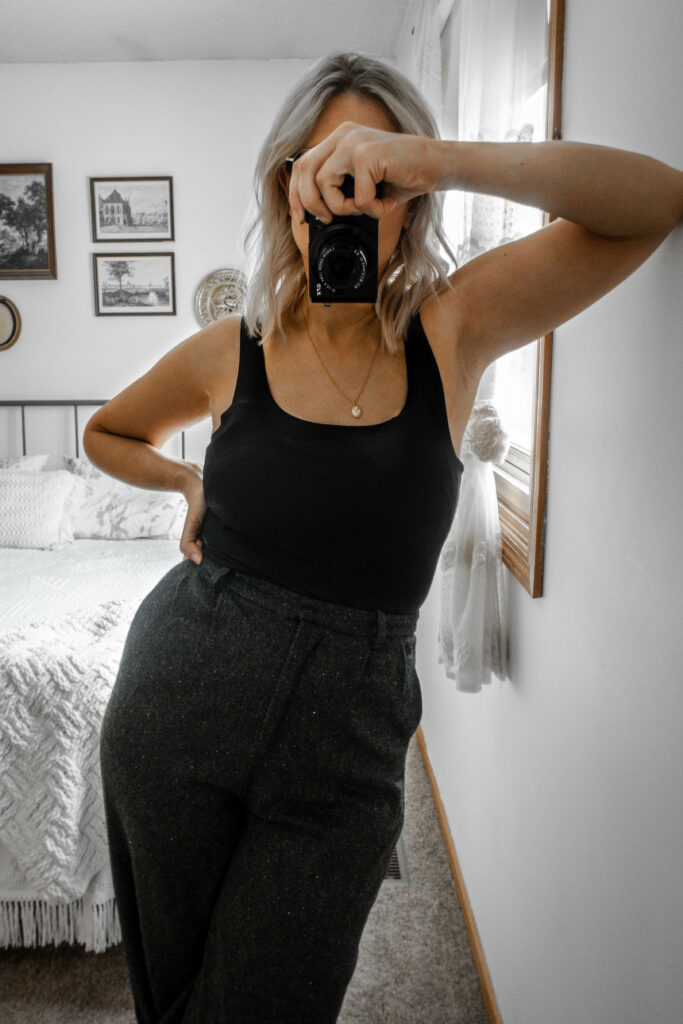 I was introduced to Organic Basics this past year, and I have to say…
I've fallen in love.
They make the best undergarments, and I don't really see myself looking elsewhere from here on out. Everything I have tried has been made extremely well, and is actually comfortable to wear. Plus, I love the minimalistic designs and the neutral color range.
The pieces I own, and can vouch for, are:
The Bikini Briefs
The Triangle Bras
The Organic Tee (these are my favorite tees!)
You can save money with these packs that they offer
and the Invisible Tank Top, which is what I'm wearing in the photo above. It's the perfect layering tank top. It's super smoothing and thin so you can literally wear it under anything without even an ounce of bulk or bunching. They come in white, deep taupe, and nude as well and sizes ranging from xs-xl.
Get 10% off sitewide using KARINOB3
A few other undergarments that I love:
The pima micro rib tees from Everlane
Eco Friendly Pajamas
Confession: these are the first eco friendly pajamas that I've tried. I'm really picky about my pajamas, and the idea of ordering them online makes me feel a bit nervous. I like to be able to touch the fabric to make sure it's soft enough for me.
But I decided to give this silky pajama set from Summersalt a try, and it did not disappoint! It is the softest pair of pajamas I have ever owned, and it's very breathable. And even though it is a thinner material, it did keep me warm enough at night. I ordered true to size, and it fits well… although if you have wider hips I would suggest ordering a size up.
I still have some experimenting to do in this arena, but here are a few pairs that I'm considering:
This limited edition set from Everlane
Anything from Sloan is a huge investment, but they look so nice
This set from Amour Vert
So those are my eco friendly loungewear, pj, and underwear recommendations! Are you also trying to update your pajama/lounge wear collection? I find that those two categories tend to last a really long time (at least for me), so this is one area where I am more than happy to invest in nicer pieces.
What's your favorite lounge piece to wear?
Until next time,
Karin
P.S. Did you see my recent Everlane Boot Guide?