Thank you to Everlane for sponsoring this post!
Happy Friday friends! I've got some Everlane summer sale recs for you so make sure to keep scrolling, but first I've got a great roundup of new in pieces for you guys as well today. I'm really excited to share these pieces with you guys… and they might possibly be some of the best Everlane basics I've tried in a good long while! Everything is very neutral, timeless and super versatile so I'm confident these pieces have found a home in my closet for the long haul. Do I have your interest yet? Ha! The thing I'm MOST excited about is a pair of sandals so let me show you those first:
Shop the Look

Sizing notes: shirt – S, Denim – 26, Sandals – TTS
I wore this for a little day date recently, and this is the perfect summer outfit in my opinion! I love a good tee and jean combo and this one is made even better by the shape of the jeans, the rich tones of the sandal, and the unique cut of the tee. Everything is very basic… but it's also really interesting, which is exactly what I love in a good basic! The sandals in particular are just so good! I love the color and the shape is so cool! They're also really comfortable right away. I like that they're minimal, and yet they're also kind of not. The leather is soft and thin so they don't rub or cut at all. They run TTS! This tee is another new favorite of mine! It's a substantial weight and I love the details like the deep v neck, and the dropped shoulder seams. I went with the larger of my two sizes for a slightly oversized fit. It's already an oversized fit so going any bigger I think would have made it seem a bit shapeless, so I'd actually stick with your true size.
If you're curious about these jeans, check out my Everlane Denim Guide Here.
Shop the Look

Sizing notes: Top – XS, Jeans – 26, Mules – TTS
This outfit is such a fun summer outfit, and would be equally great for a weekend dinner out or a day at the museum with my kids. This top in particular is stunning with the simple, chic shape and the open back! It's not over the top, but it definitely packs a punch. It's made of the same material as the new pinafore dresses so it's a really lightweight cotton material. This is my new go to for occasions that need a bit of something extra. I went with the smaller of my two sizes and it fits perfectly. I also wanted to showcase these new woven mules! They are such a classic style with the woven material and the square toe. They're also super comfortable right away and I can't wait to get more wear out of them! I think they'll look really cute with an oversized sweater this fall.
If you're curious about these jeans, check out my Everlane Denim Guide Here.
Okay let's get to some of my recs for the Summer Sale – today is the last day of the sale so make sure to check it out! These are the pieces that I already own and love: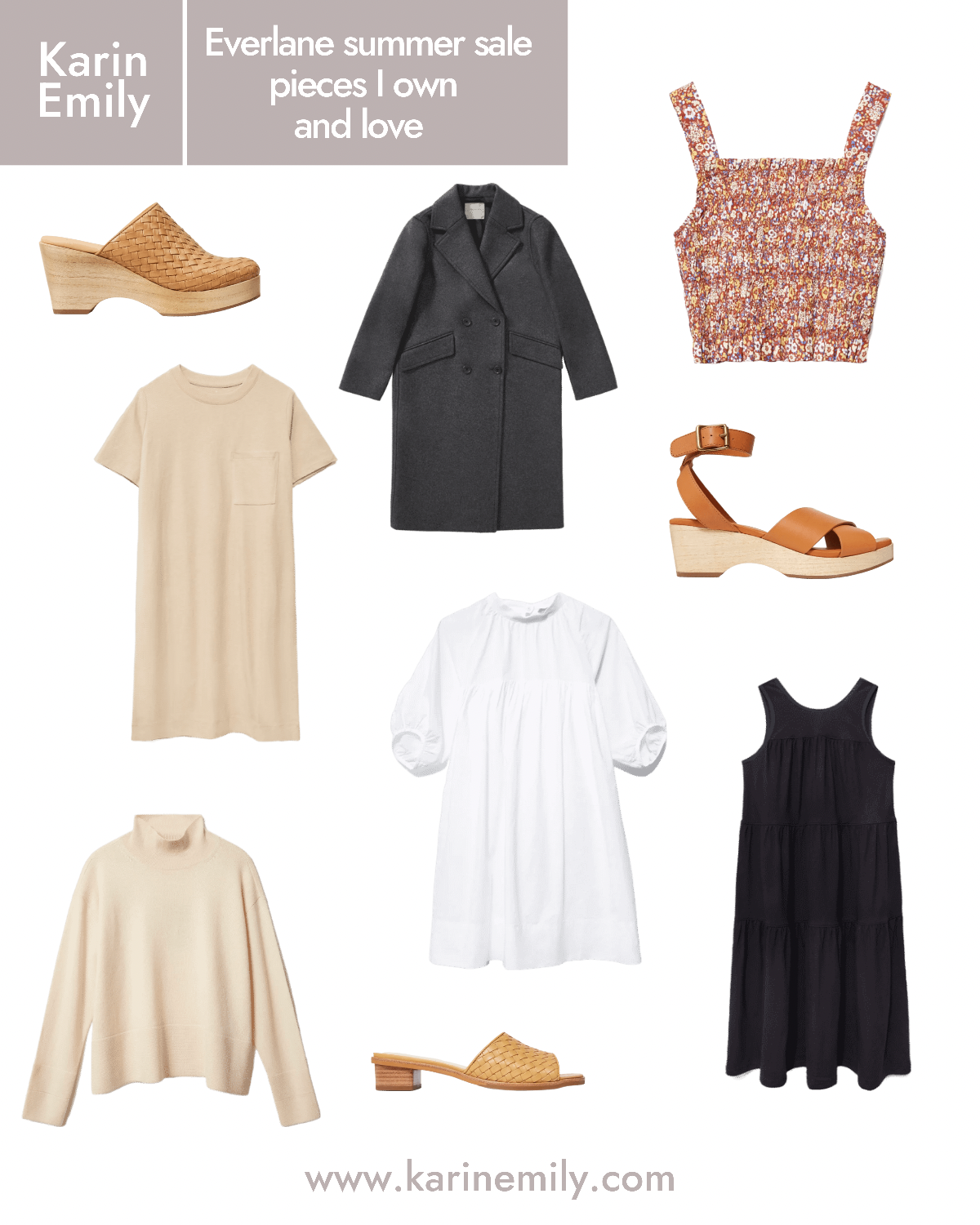 Shop the Edit

---
Well that's all I've got for you guys today! I hope you enjoyed this little Everlane summer sale edit! Make sure to check out the sale – so many good pieces are marked down right now!
Until next time,
Karin