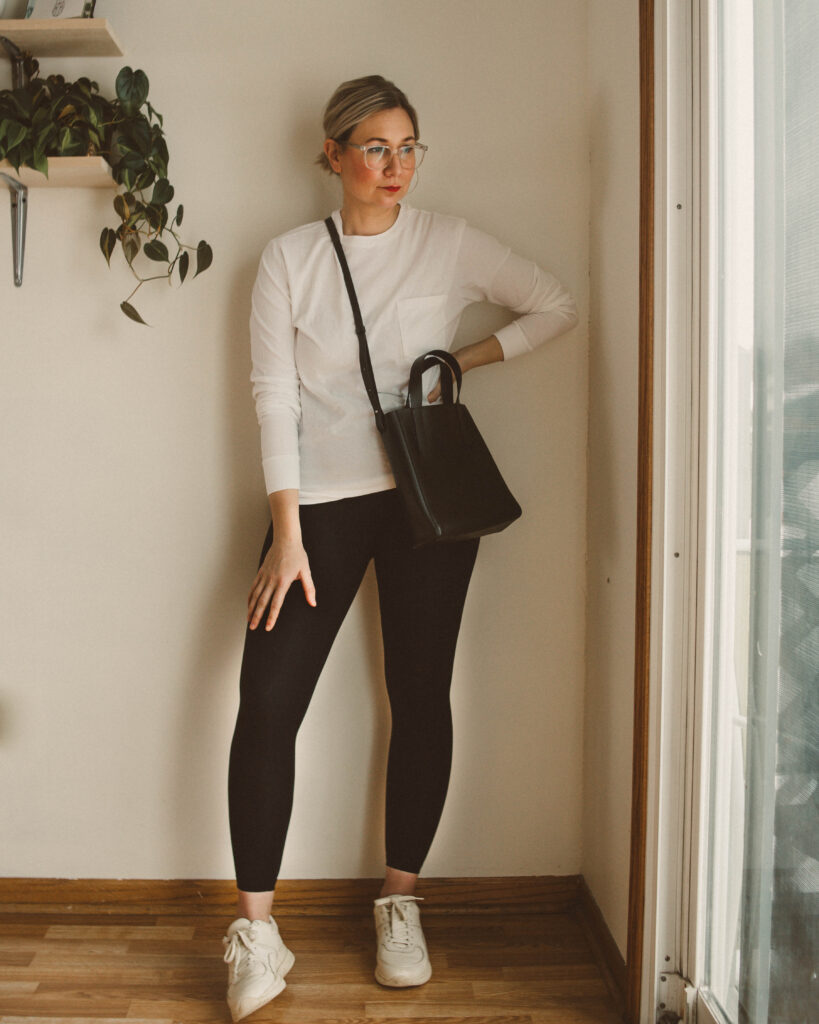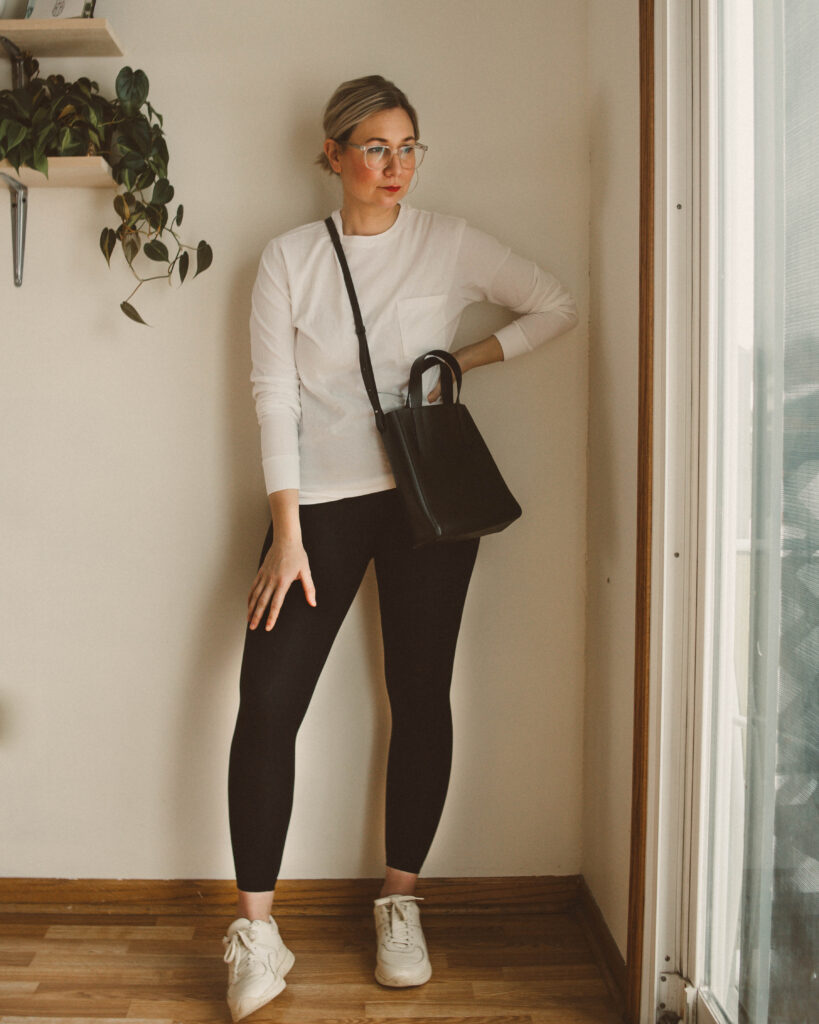 * This post is not sponsored in any way. I purchased these leggings to provide a review for you, but all links are affiliate links.

Confession time: I really had no interest in the new Everlane Perform Leggings. I'm not exactly sure why, but for some reason I just felt like leggings weren't something they were going to do well.
But then a few of you asked if I was going to review them, and so I did a poll in my stories on Instagram… the results were overwhelmingly clear! 98% of you said you'd like a review.
So here we are. I placed an order and I've been trying them out over the last week so I could give you as informed a review as possible.
I kind of get why you'd want a review to be fair. Leggings can be really good… or they can be really bad.
Weirdly enough the Everlane Perform leggings fall somewhere in the middle. They excel in certain areas, and fall short in other areas.
So without further ado, let's get to the review:
I'm wearing my true size small in the ankle inseam.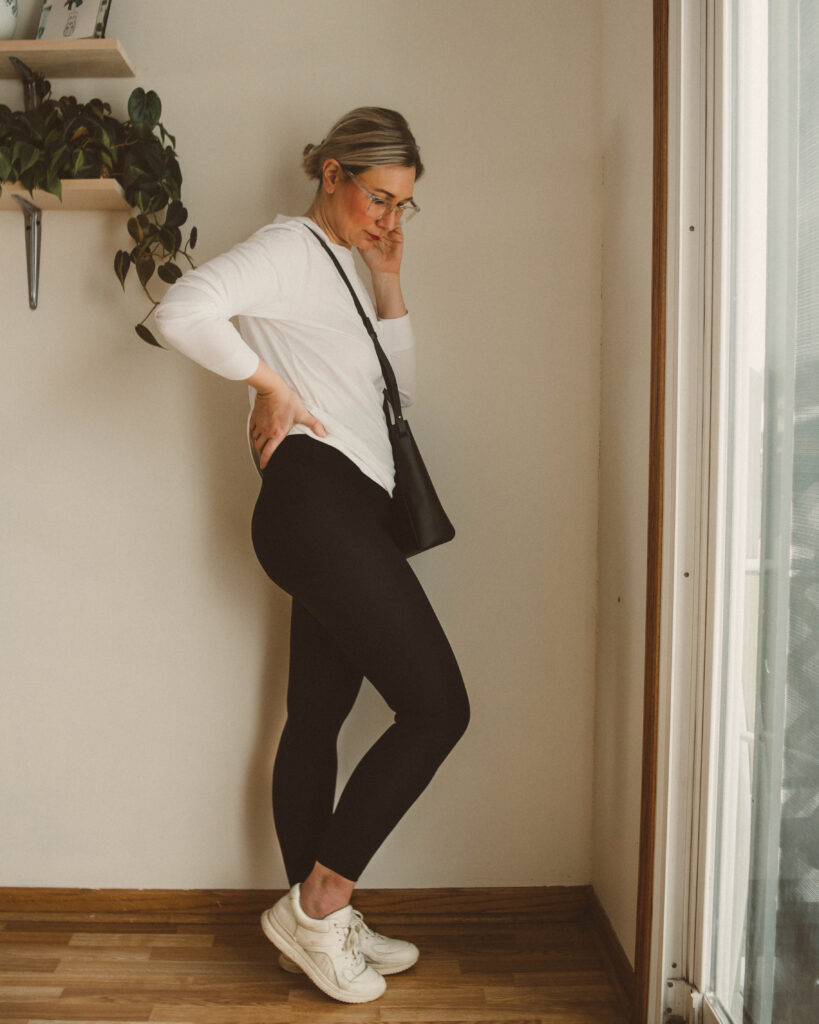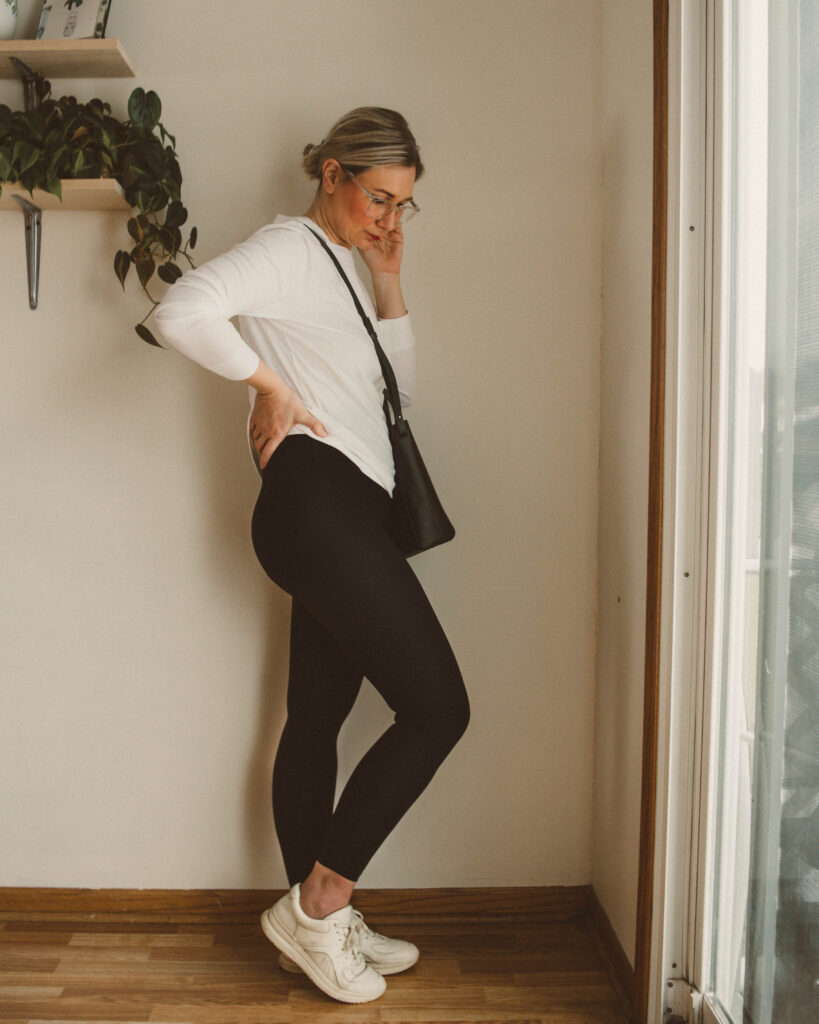 What the website says:
Inseam: 28″
58% Recycled Nylon, 42% Elastane
Machine wash cold, tumble dry low
Interior front pocket fits cards and keys
Made in Kandy, Sri Lanka
DESCRIPTION
Do what you want—in a legging that does it all. Made of premium performance fabric from a renowned Italian mill, the Perform Legging features an extra-high waist, minimal seams, an inside pocket, and lightweight compression with technical sweat-wicking properties. Plus, it's comprised of 58% recycled nylon and dyed at a Bluesign®-certified facility—without the harmful chemicals.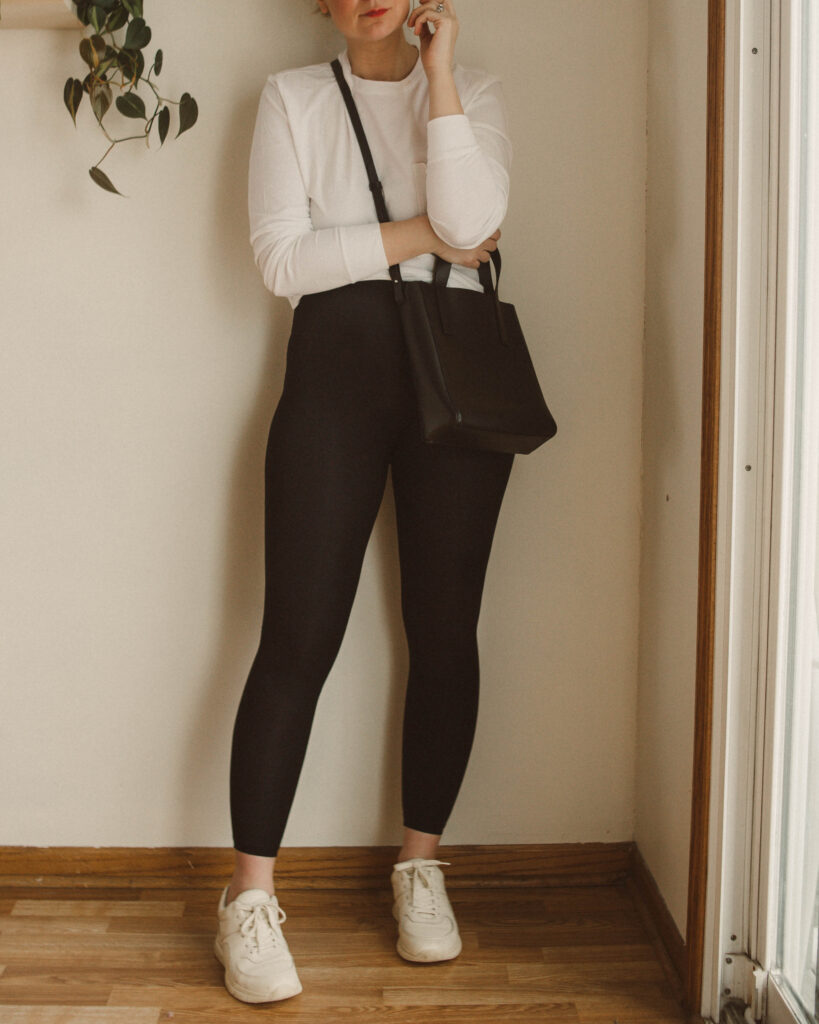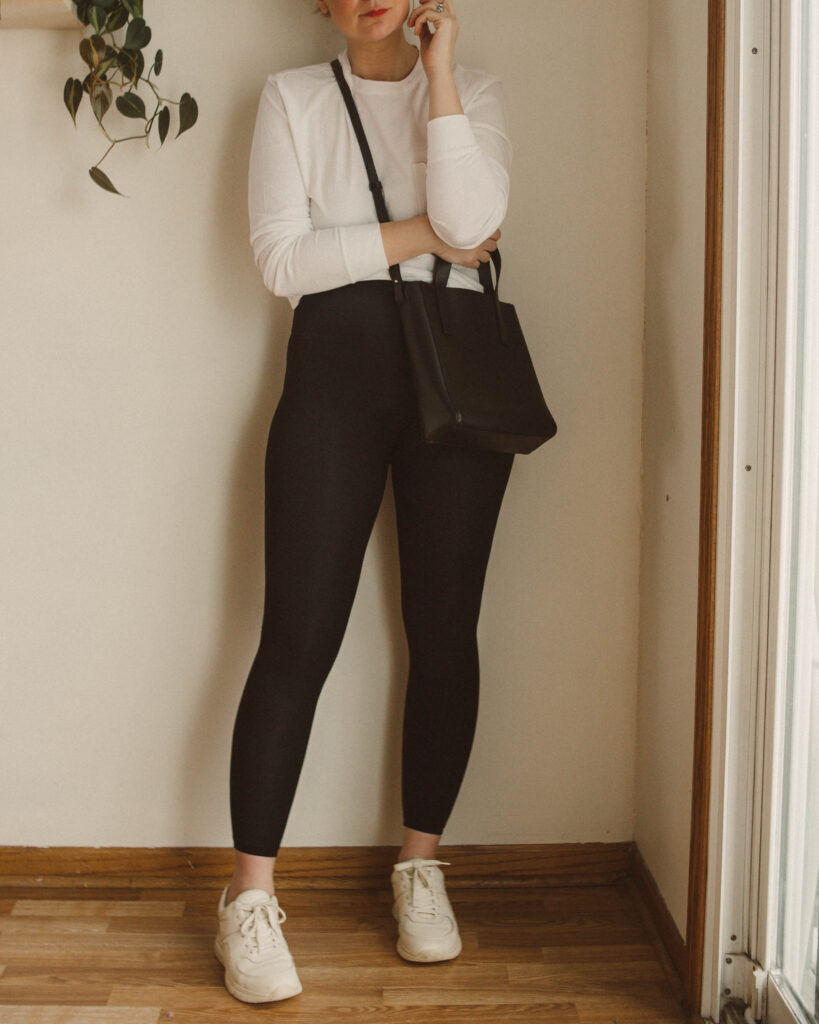 What I say:
The materials is very soft and comfortable to wear. These probably are the most comfortable performance leggings I've ever tried (though to be fair, I haven't tried a ton of brands). They don't pinch or cut in at the waistline nor do they bunch up at the knees. They're also very, very thin…
Which leads me to one of my complaints: they are so thin they feel like tights to me, which means they are not warm at all. Unless you are layering them under jeans or a longer dress they won't cut it in frigid temps (evidence that they might have been designed in a warm weather climate 😏)… just walking into the gym I was frozen by the time I made it in. So I would not wear these year round as a stand alone piece or for cold weather running. Oh and just for reference, I'm defining cold weather as below freezing (it was in the teens when I froze walking into the gym).
However, they perform really well for running. They kept me cool while running on the treadmill at the gym and they stayed put (worst thing ever when leggings slip down while you run), plus the lightweight material kept chafing to a minimum.
However, however, I did find issues with them when I wore them for yoga. A couple of times when transitioning moves they rolled down my waist onto my stomach… super annoying.
In regards to style they do look really similar to my Girlfriend leggings, but that's really where the comparison ends (see above points, the Girlfriend leggings are almost too heavyweight in my opinion). They are very high waisted. I'm short torsoed, but they hit right under my rib cage.
Now to the burning question: are they see through? No. At least not my black pair. I have heard from a few other people that the colored pairs are though so keep that in mind. They are also not overly shaping so don't expect them to smooth out any bumps.
To sum it up: They are great for lounging and running, and as a stand alone piece when it's warm out. They are not great for yoga or very cold weather unless you are layering them. Like I said, they weirdly fall right in the middle.
I hope that helps! I definitely am glad I picked up a pair because they are so comfy, but I don't think I'll add another pair to my rotation.
Let me know if I missed any helpful points in the comments!
Until next time,
Karin
See my other Everlane reviews here