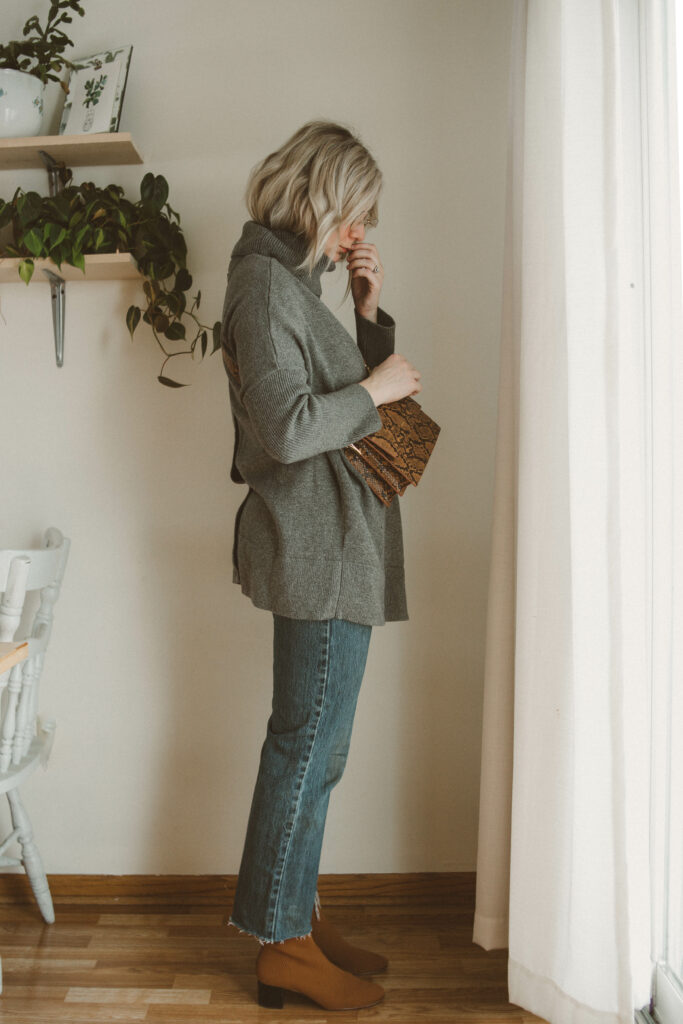 I have literally been working on this post for about two weeks now, so excuse the fact that these outfits were not on chronological days.
You guys. Sigh.
Things are really, really tough right now. I'm not saying this to throw a pity party, and I'm also not complaining… I'm just being honest.
I, of course, see the silver lining in all of this, and it's that I have four beautiful children whom I love and adore with every ounce that I am.
But four kids 5 and under is damn hard.
There. I said it. It's so hard.
And having twin toddlers is draining every last bit of my reserve and making me feel drained and empty by the time bedtime comes along.
I'm in one of those seasons where I feel completely clueless. I keep reminding myself: I've never done this before so of course I'm clueless! But then I wonder why anyone thought it was okay to give the clueless mom four little children (I'm kidding). Seriously though, I feel like so much is out of my control right now and the control freak in me is very, very uncomfortable with that.
I'm not joking when I say that God has used these last five years of motherhood to mold and shape me, to humble and challenge me in ways I never would have imagined.
Switching to big girl beds has opened a can of worms I never knew existed with all three girls. I won't go into specifics because I don't like to air my kids dirty laundry out for everyone to read, but I'm realizing there are things that require a huge shift in the way we've been doing things and that's both overwhelming and scary to me.
But I know it's what my kids need in order to grow into the kinds of adults that I want them to be.
I hope, if nothing else, that you take encouragement from this. Big behaviors and emotions are normal for kids. They are exhausting and overwhelming, and it's okay if you feel like you have no idea what you're doing.
In a text, my mom said "it's baby steps, and sometimes it's a guessing game" which I'm learning is the definition of parenting.
It's okay to say it's hard. It's okay to be frustrated and to feel like you're at your wits end. Just bring all that swirl of emotion to Jesus and He'll happily meet you at your lowest point. I know this from experience.
All that to say, this post almost didn't get up, but here it is in all of it's glory (sarcasm) SO YOU BETTER ENJOY…
kidding. But I do hope you enjoy.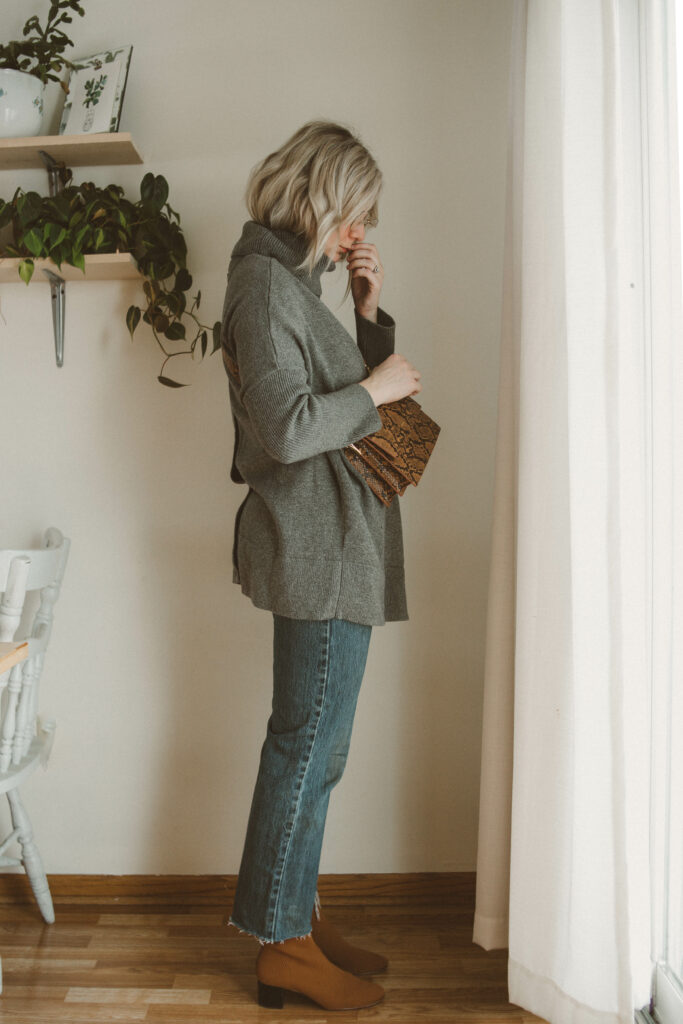 I love every piece in this outfit. The softest, most cozy over-sized sweater (did I mention it has a detachable turtleneck??), my favorite pair of vintage Levi's, and the comfiest sock boots. THIS IS MY KIND OF OUTFIT. The kind where you feel like you're wearing pajamas, but (shhh) you're not.
Outfit Details (Affiliate Links):
Sweater | Purse (Sold out in this print. Linked Mock Croc version) | Boots (Gifted) | Denim (Vintage 501's. Similar Linked)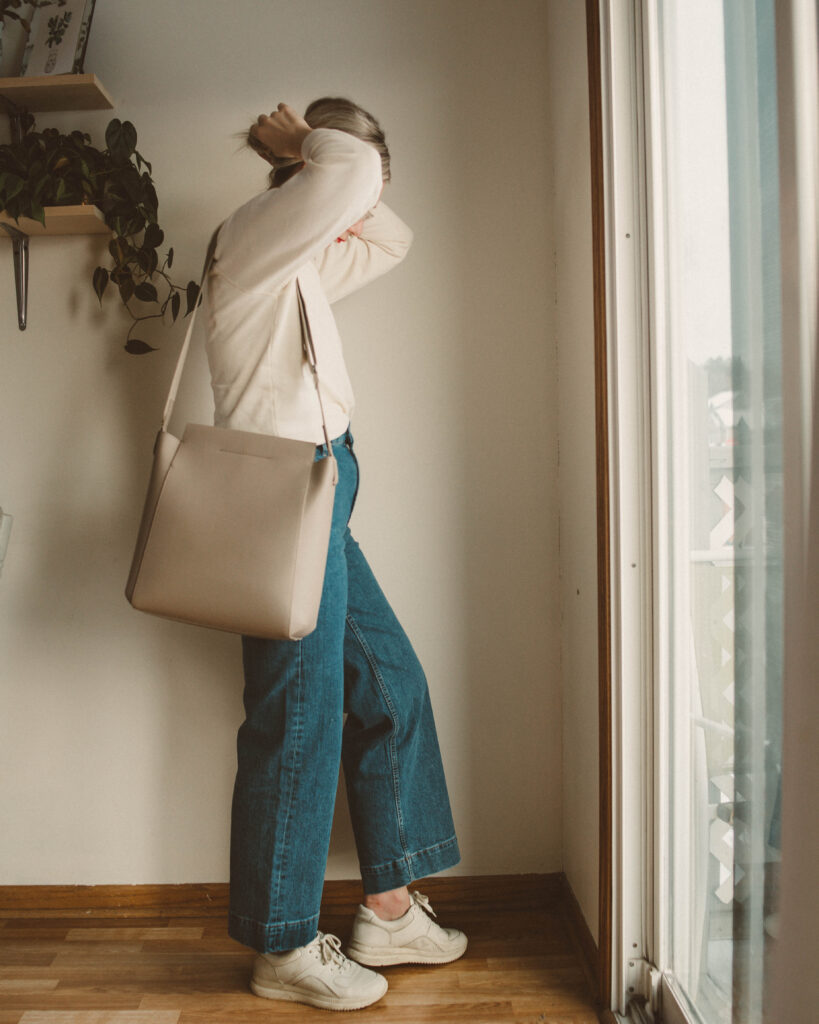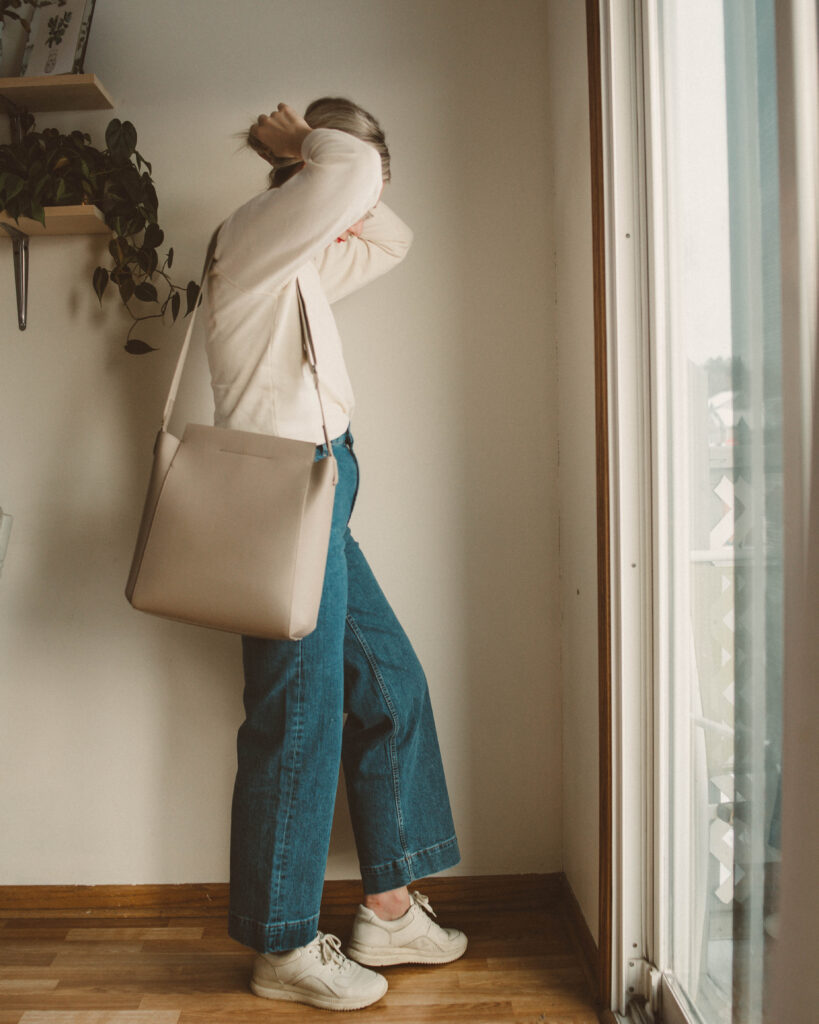 I've been craving really simple outfits lately (surprise, surprise) due to my current household going ons, and this is that: simple. But so comfy, and still pretty stylish if I dare say so. I was just gifted this purse from Everlane and it's not at all what I was expecting, but I do really love it. For some reason, I didn't realize it would be this big! I've been eyeing it for awhile, but was unsure if the shape would make it hard to fit things in. But when they released it in this color I decided to go for it because I was looking for a taupey grey bag. It's actually super spacious, and easy to carry since it works cross body. Sometimes I get annoyed with my totes because they don't stay up on my shoulders super well when I'm corralling children so it's nice to have a spacious cross body option. Let me know if you'd like to do a "what's in my bag" post with it.
Outfit Details:
Sweatshirt (Gifted) | Denim | Sneakers (Gifted) | Bag (Gifted)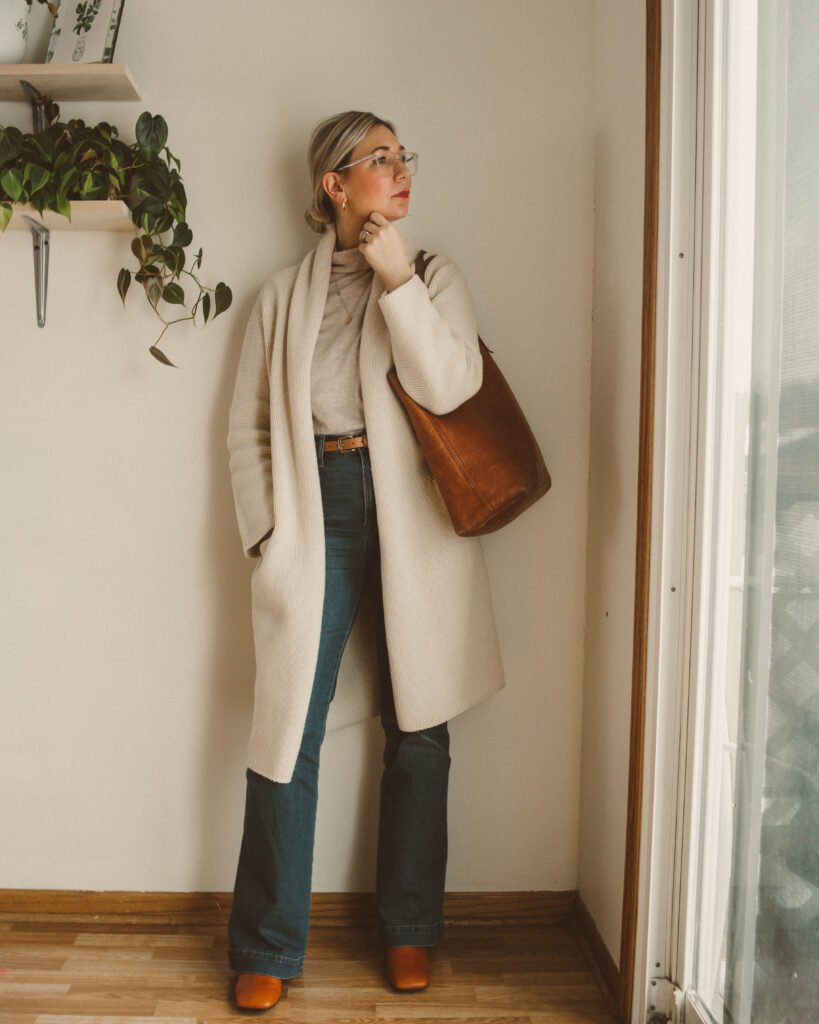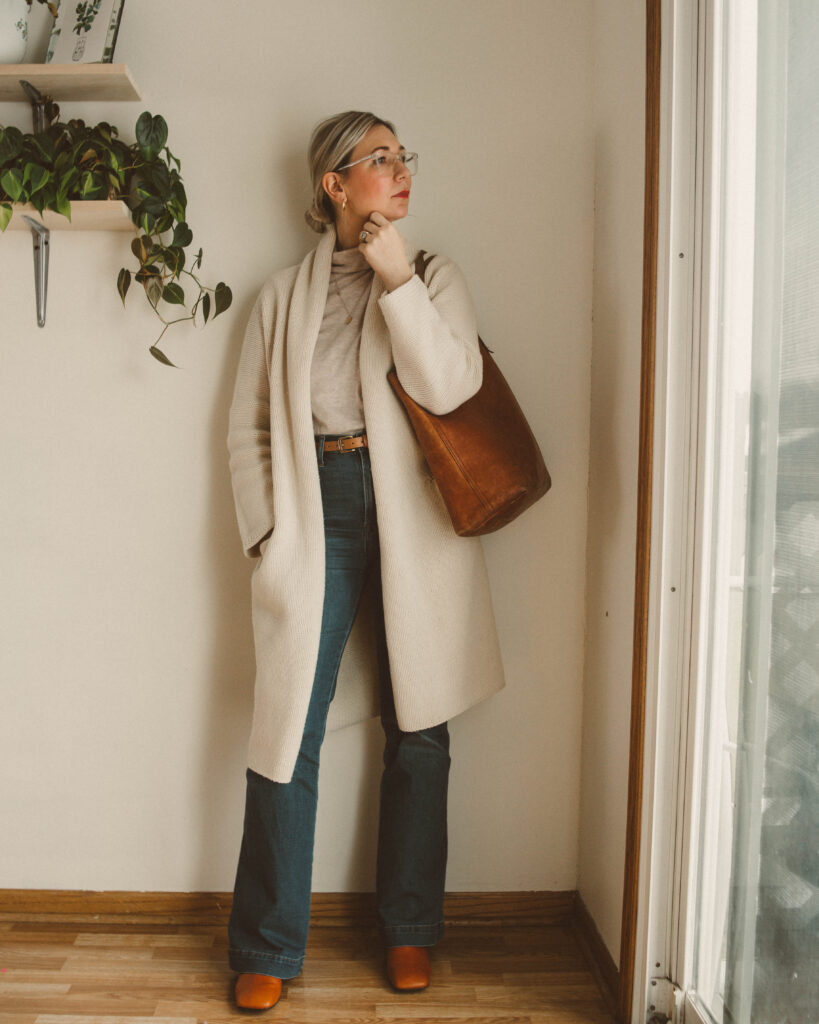 If you're paying close attention, then you know I wore this exact outfit a few months ago. Like I said, I've been craving easy and sometimes it's nice to just reach for an outfit combo that you know you love and works. This fit the bill nicely. I love the warm brown tones mixed with the cooler neutrals. I don't normally like to mix cool and warm in the same outfit, but I think because they're all neutral it works.
Outfit Details (Affiliate Links):
Secondhand Turtleneck (Linked Same) | Secondhand Sweater Coat (linked similar) Denim | Boots | Bag | Belt | Necklace | Earrings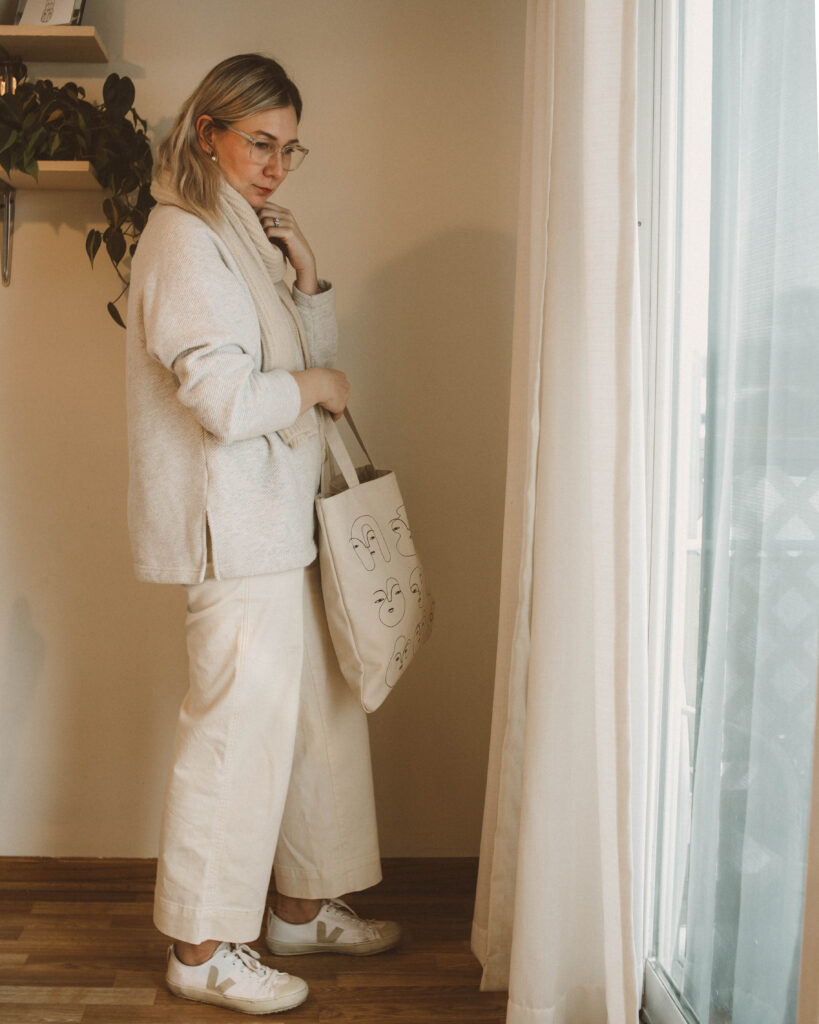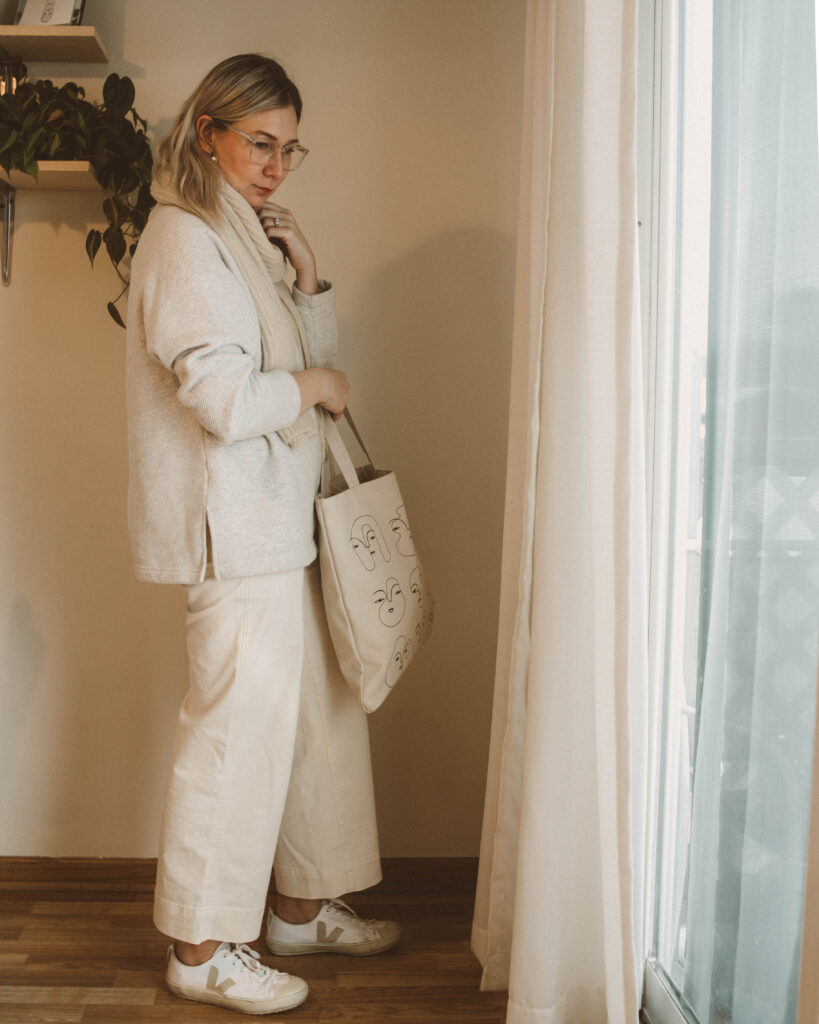 This outfit was cozy as heck… and it was a bit of a practical decision since I hadn't shaved my legs and I can't stand wearing skinny/tighter jeans or pants when my legs are in that condition (that's way too much information, but? Oh well.). I do love the silhouette of an oversized top over a wide leg pant though. There's something very architectural, but relaxed about it. And the monochrome color palette makes it very fresh and modern.
Outfit Details (Affiliate Links):
Sweatshirt | Pants | Sneakers | Scarf (sold out in this color. Linked camel color) | Tote | Hand me down earrings (linked similar)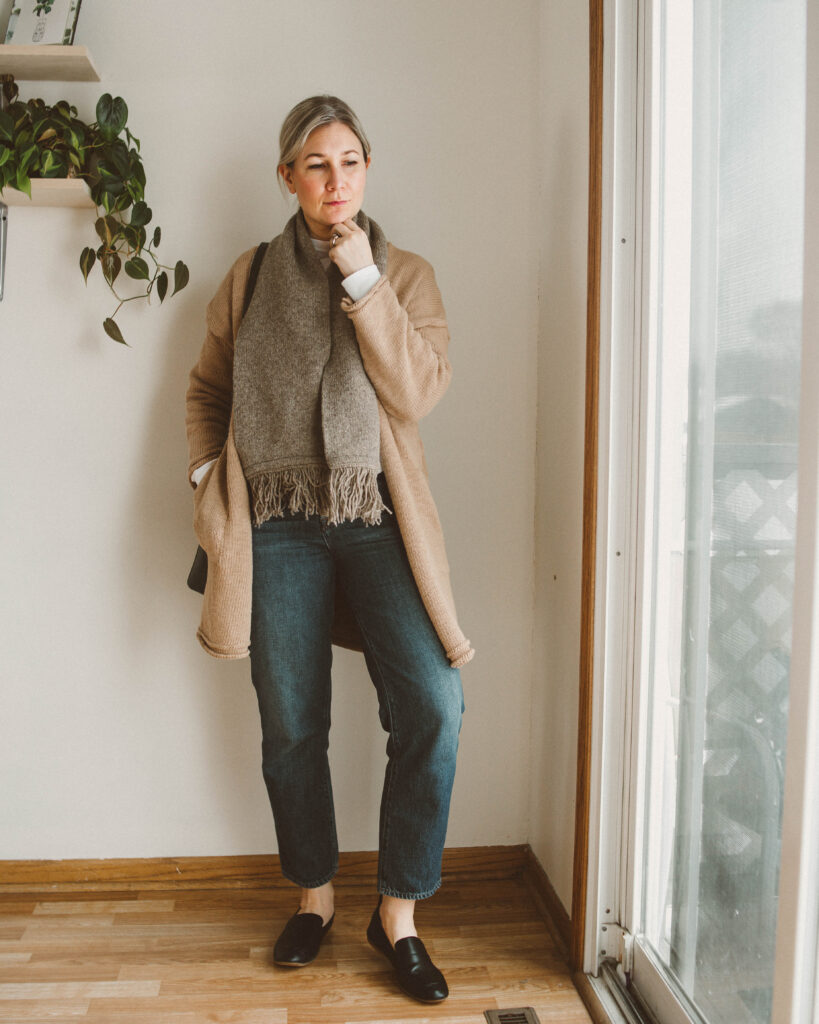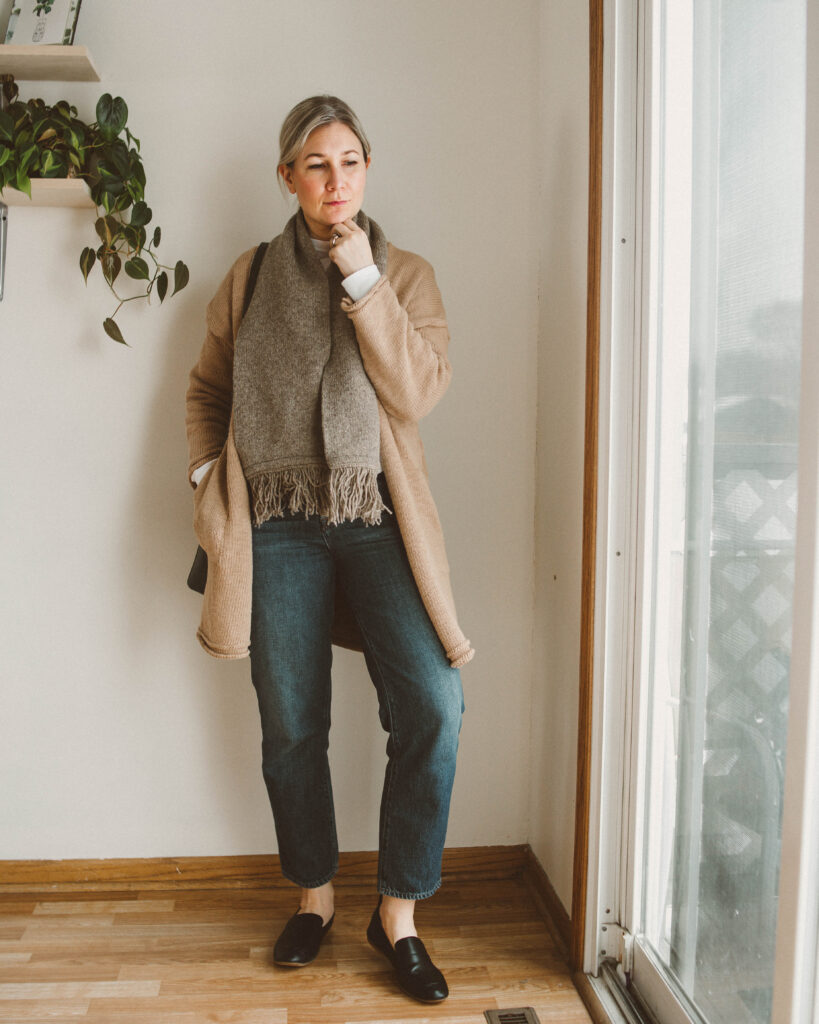 I've been so drawn to Pinterest images of the famous (infamous because of the price?) Acne scarf. I don't even try to seek it out, but I'll find myself pinning an image because I love the way the scarf looks, and then realizing that it's the same scarf every time. It's a great scarf, don't get me wrong, but it's not high on my priority list of purchases at the moment (even though I would purchase it secondhand or perhaps consider Everlane's version). I did find this vintage option at a local thrift store, and I'm very pleased with it. It gives a similar look, but at a fraction of the cost. This sweater coat has also been a fast favorite of mine. Earlier this fall I had ordered the sweater featured below from It is Well, and they very graciously sent this sweater coat as well. It's so warm and snuggly and I love the warmth it brings to any outfit. It's the perfect addition to a cold weather closet.
Outfit Details (Affiliate Links):
Long Sleeve Tee | Sweater Coat (gifted) | Vintage Scarf (linked similar) | Secondhand Denim (linked similar) | Loafers (gifted) | Purse (gifted)
I'm realizing more and more that winter dressing is my absolute favorite. I used to think fall dressing was the best, but I just love all the comfy layers you can get away with when it's cold. What about you?
Until next time,
Karin