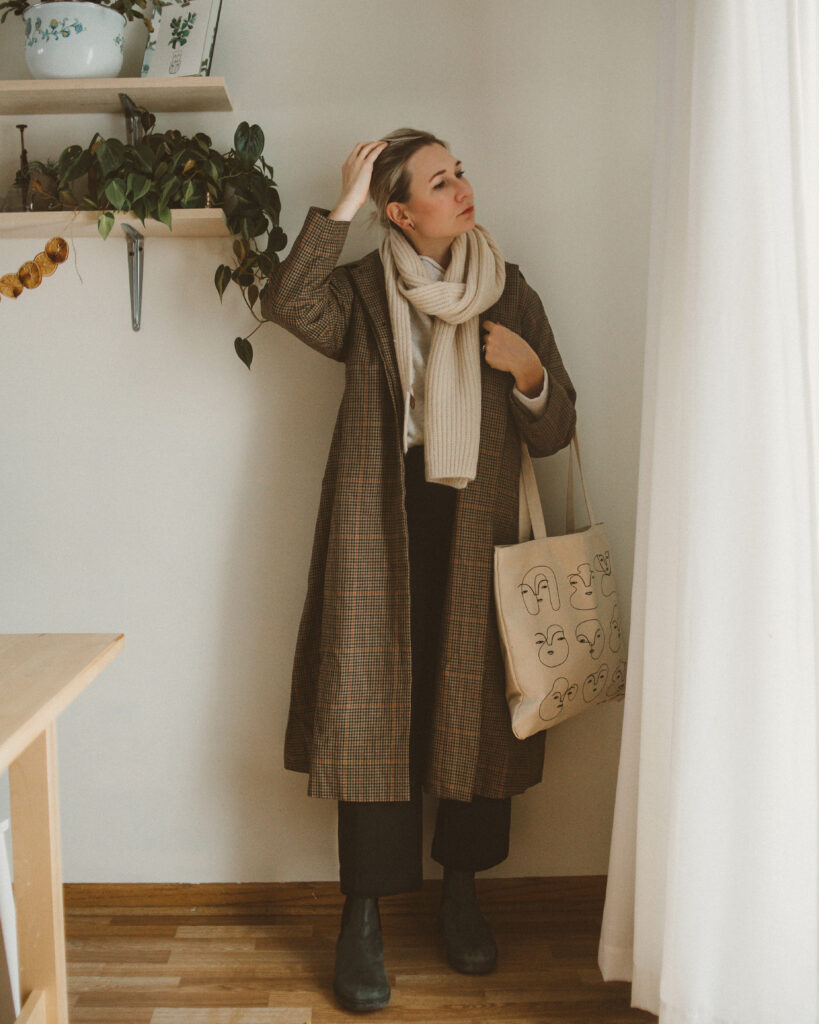 *The beginning part of this post is a chatty update, so if you're just here for the Blundstone review you can skip to the bottom.
Back to square one. I keep trying to convince myself that I'm one of those bloggers who actually has time to… well… blog. Daily blog posts really appeal to me. They feel more personal, they feel more casual, they feel less daunting. And in certain seasons of this blog I've been able to pull them off. I thought this was another one of those seasons, but I was wrong. Well, it's not that I can't pull it off, it's just that I would have to let a lot of things go in order to pull it off.
Which is kind of what I've always done in order to make blogging work. But lately I've been feeling like a lot of my anxiety would reduce if I had more balance in my life.
As it stands, I don't have enough time to work out, clean, cook dinner, take a shower, relax ever. So something is always skipped and its typically working out and down time… both things that would significantly improve my mental health.
Plus we're in one of those seasons of parenting. I was kind of sort of mentally prepared for having twin three year olds, but I was not prepared for twin three year olds, and a five year old. At the end of most days I feel as if all of the energy I started the day with (both mentally and physically) has been siphoned off of me and absorbed by my girls (and then some). It's just a constant swirling vortex of big emotions around here, and it. Is. draining. Plus establishing, and enforcing, boundaries is a full time job all on its own. As my fellow Minnesotans would say… Uff Da.
But with all that said, I don't want to give up this blog because it's my creative outlet, and it's my chance to connect with all of you wonderful people. So I'll just continue to modify like I have the last five years of blogging. A little here, a lot there, whatever I can manage at that given time.
My plan at the moment is just to go back to a weekly, but simplified version of my daily outfits and then leave it there for now… although I may play around with some passion posts that are not style related (if I have time of course).
But mostly, what I hope you'll take from all of this is that I was very serious when I chose quietness as my word of the year. I NEED quiet in my life right now. I have allowed too many voices to crowd my mental space. I have allowed social media to influence me and take over my time, and I have filled my days with more than I can possibly do. So I'm choosing to pursue quietness over growth on this platform and I'm choosing to be a rested, less stressed mom and wife for my family over the push to always do more.
I'm just so sick of the message that more is better. More clothes, more followers, more money (although I recognize that for some people, more money would actually be better). I'm just so tired of it all. I've always struggled with how to be a style blogger, and yet not encourage you to spend all of your money chasing after the idea that enough stuff/the right kind of clothing will finally make you happy. Because it won't. It's fun to talk about clothes, and to share outfits, and to connect with other women who enjoy being creative through our wardrobes… but it's all worthless if we're pursuing it to find fulfillment.
My goal this year is to reflect on this and see how my blog can juggle both… the idea that style is fun, and expressive, and morale boosting while at the same time digging into the darker side of style (i.e. the idea that it will make you better somehow) that isn't talked about that often.
And I want to focus on some other topics as well. Nothing super serious or earth shattering, but things that help me achieve a quieter life that I think may help you as well.
Phew. You guys know how much I appreciate you. I know I'm not one of those bloggers that stays the course. At the end of the day, this is mostly a fun outlet for me so I don't take it for granted that you continue to follow even though I change things up on a weekly basis ha! Some of you have been with me since day one and you will probably never know how much that means to me.
SOOOOO. With all of that said let's get into today's blog post!
Because the intro was so wordy, I'm not going to say much about each photo. BUT one thing I've been wanting to do more of is show you how versatile one item of clothing can be… because at the end of the day, you really don't need so much. If you have one really good thing, you won't need five other options right?
I thought I would start this train of thought by sharing a Blundstone boot review plus five outfit ideas. To be perfectly honest, this time of year I just want to live in my Blundstones. They are warm, so comfortable, and they still look stylish (take notes all of you who have asked about looking cute in super cold weather).
And they're incredibly versatile, as you'll see in the below outfits. They style well with wide leg pants, jumpsuits, skinny jeans… even dresses (see this post from last winter).
They are on the investment end of the spectrum as far as how much they cost, but the investment is absolutely worth it in my opinion. They are incredibly well made, and they are constructed in such a way that a trip to the cobbler will fix any issues that may come up.
With that said, I bought mine secondhand (a great option for those who would like to save a bit of money) and I've had them for two years now and they are in great condition. I'll probably have to give them a bit of a polish after this winter, but no big deal.
And for those of you who have asked, I stayed true to size. They do run a smidge big, but they are the type of boot that is begging to be paired with a thick pair of wool socks so that extra room is needed.
If you are on the hunt for a pair of winter boots that actually keep your feet warm, won't get destroyed by the elements, and will still look polished then look no further (they even have a lace up version if that's more your thing).
So here are the five looks I created using my Blundstones as a base: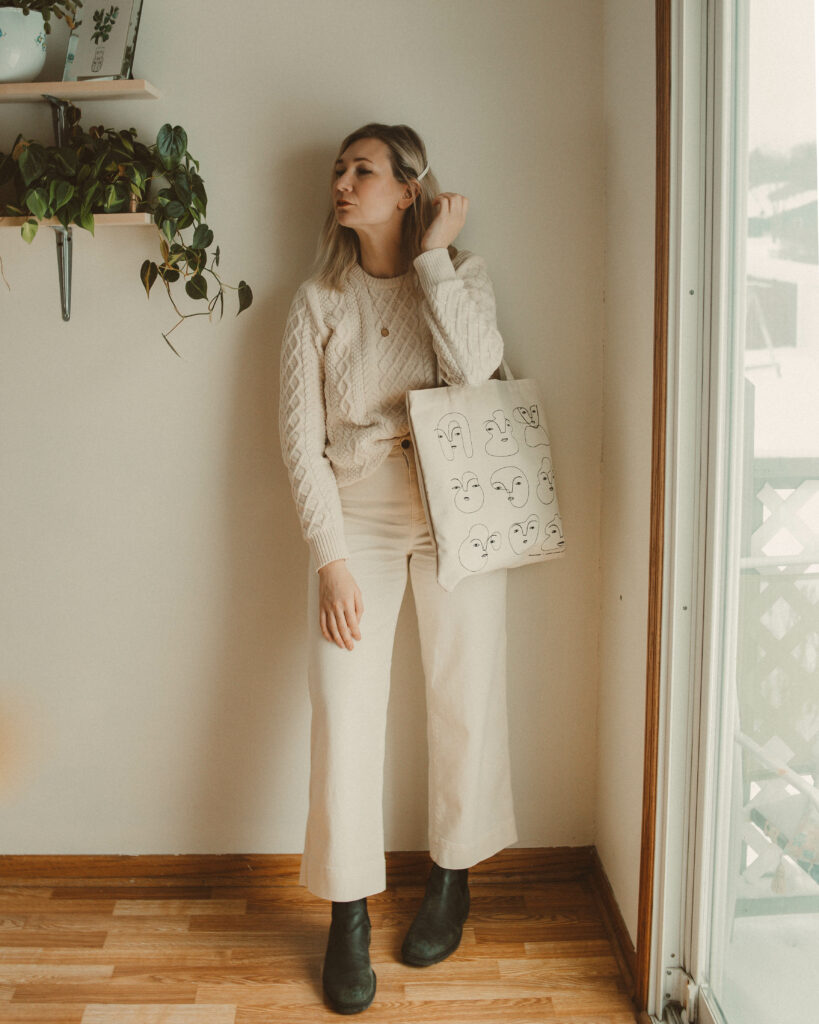 Outfit Details (sweater is vintage so I linked similar. pants are true to size):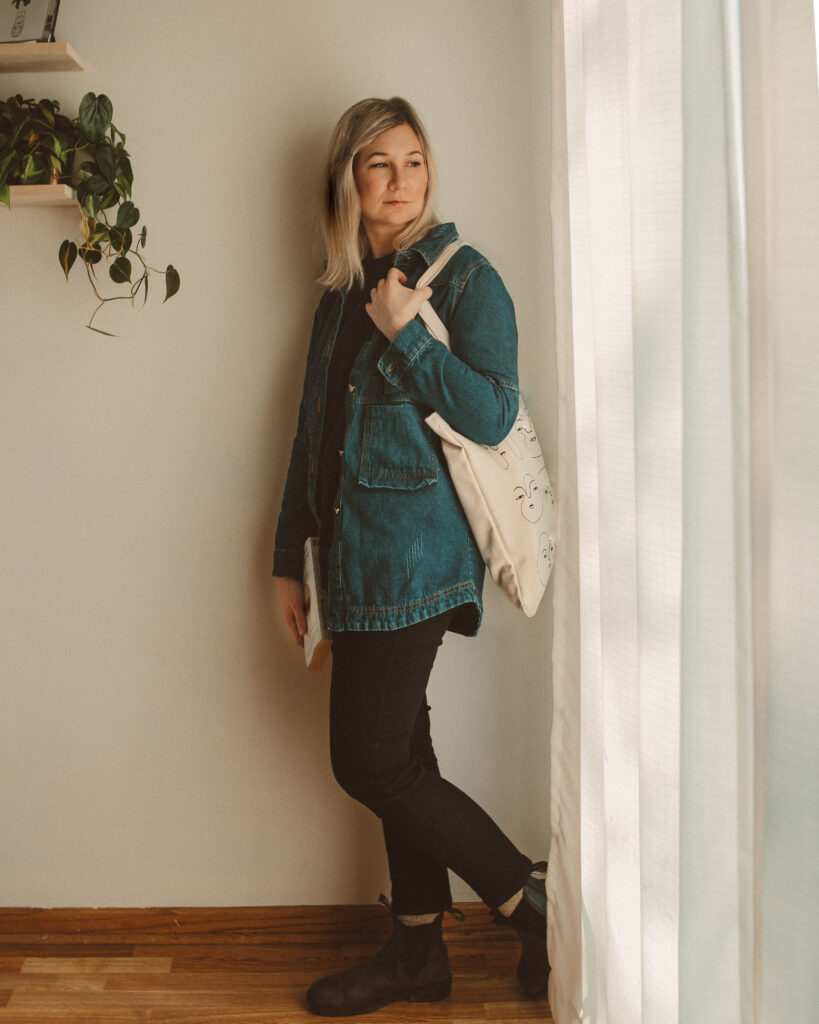 Outfit Details (jeans were gifted and are currently on sale for $39. see my review here. jacket is vintage so I linked similar):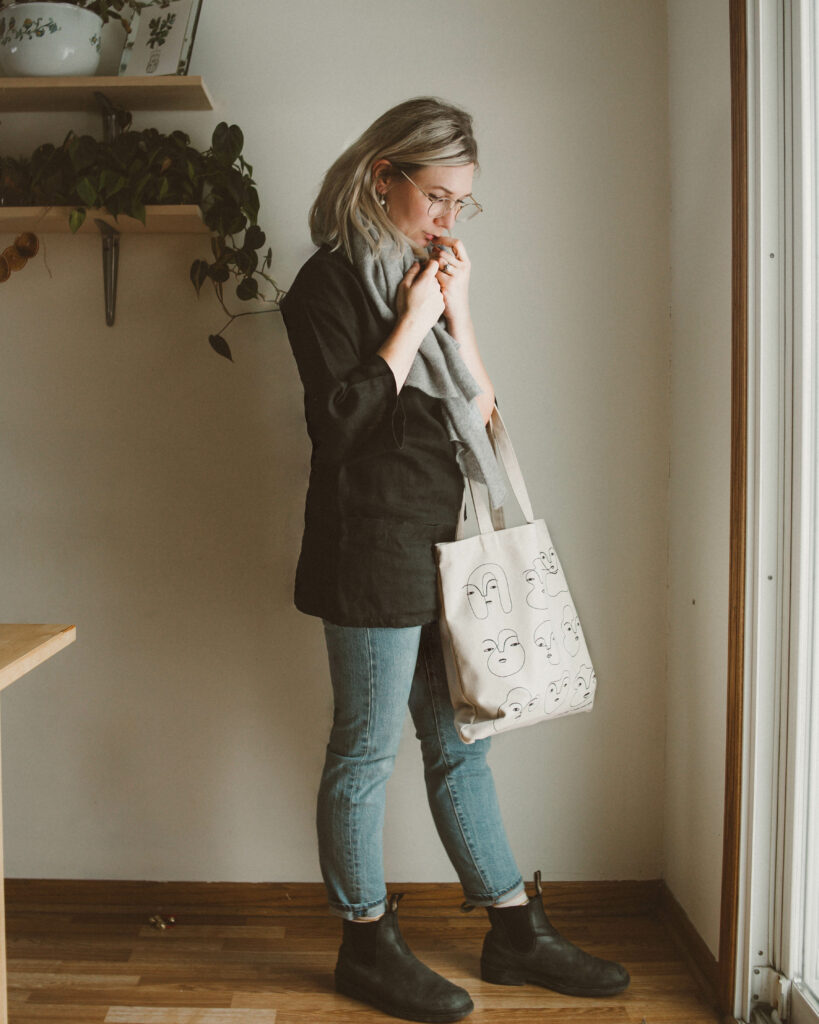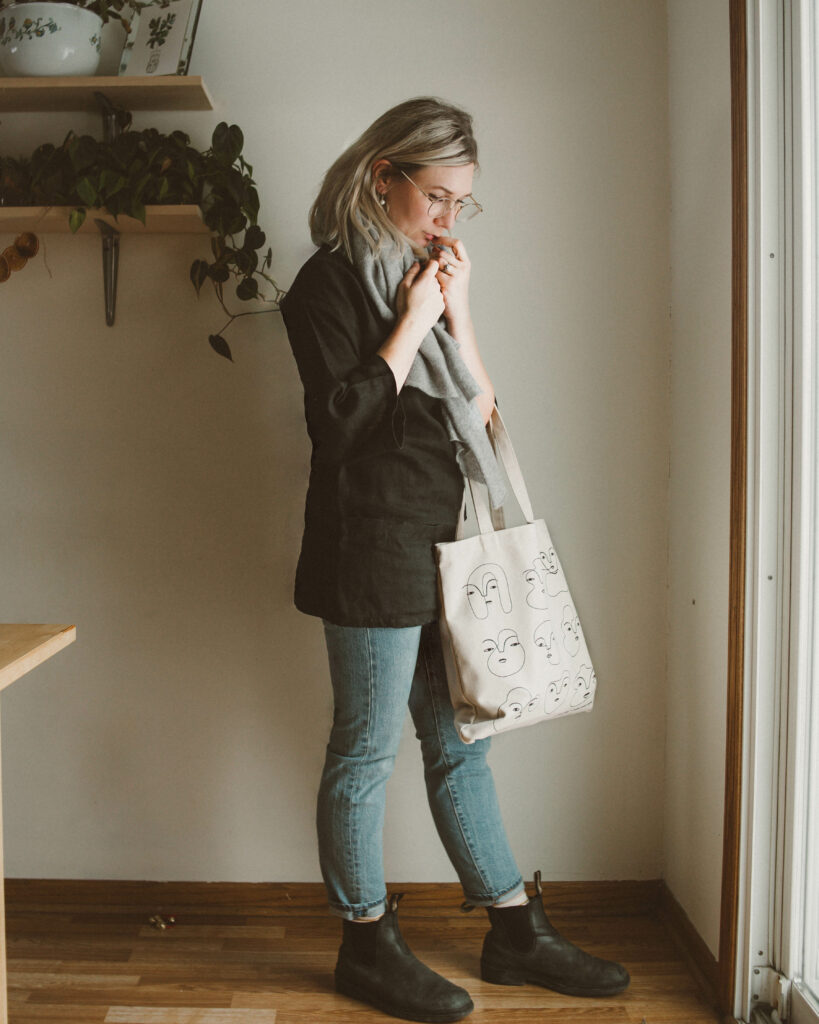 Outfit Details (affiliate links. scarf was gifted, see my review here. i ordered my true size in these jeans):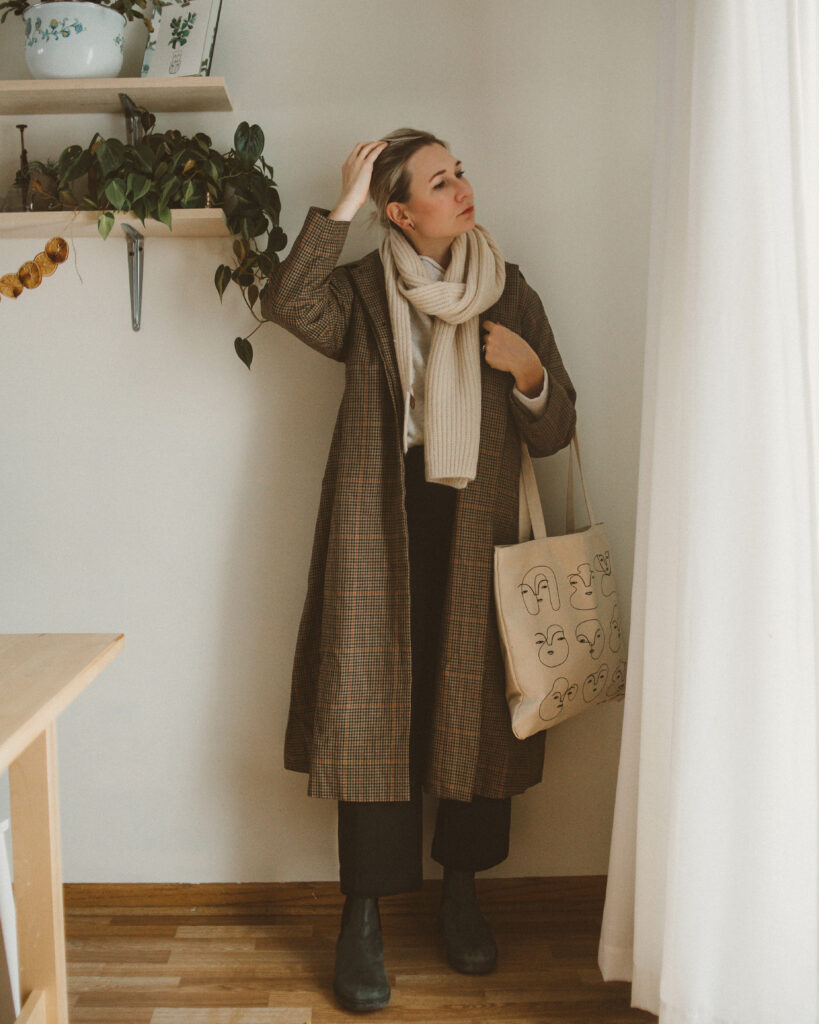 Outfit Details (affiliate links. pants were gifted. coat is secondhand Toteme, but I linked to a retailer that carries it still):

The scarf is from Parc Boutique here in Minneapolis, you can purchase it online here (it's currently on sale for $30).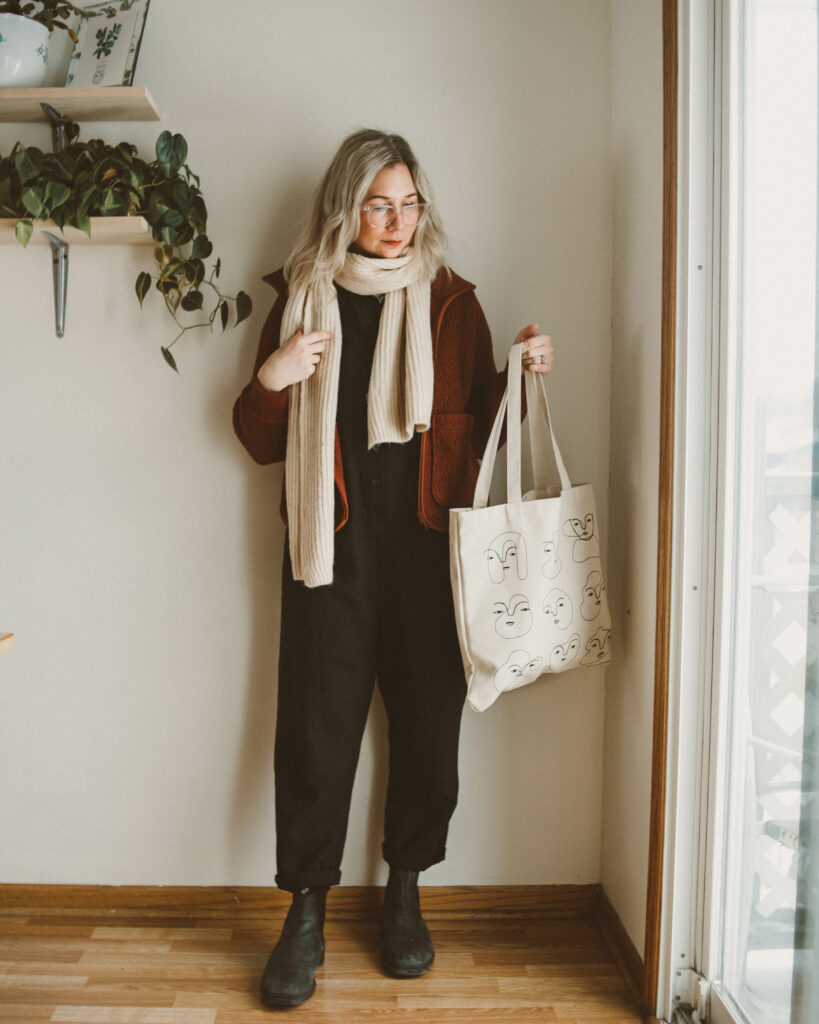 Outfit Details (affiliate links. jumpsuit was gifted. see my review here):

The scarf is from Parc Boutique here in Minneapolis, you can purchase it online here (it's currently on sale for $30).
I hope you found this post useful as always. I've been asked a good number of times for a Blundstone boot review so hopefully this satisfied the itch for those of you who wanted it.
Let me know what you think about this idea of enjoying style while simultaneously celebrating a smaller, more minimal closet. I'd love to know your thoughts, and how you approach it. Let me know in the comments!
Until next time,
Karin