Happy Mother's Day weekend! It's supposed to be a really nice weekend so I think we're going to continue our tradition of going to the Midwest Zoo. It'll be especially fun this year because Bella and Posie are old enough to actually enjoy it. Last year they mostly just napped in the stroller 🙂
Now that my bump is getting bigger, and the weather is getting warmer I've been wearing a lot more dresses (yay!), which has opened up my wardrobe options quite a bit. I was getting tired of wearing my one pair of maternity jeans and leggings constantly.
So I thought it would be fun to share with you guys a week of dresses as a spin on my regular week of outfits. I love dresses for everyday wear because, with the right dress, they are super comfortable and easy to throw on. And as a work at home mom, I don't really find them to inhibit my ability to keep up with the girls. The current "flowy" silhouettes do a great job of keeping things covered, and allowing for a lot of movement… which is important for me these days with my two very active twins. 🙂
So let's get into it shall we? I'll break down each day for you so you can see how/where I wear them.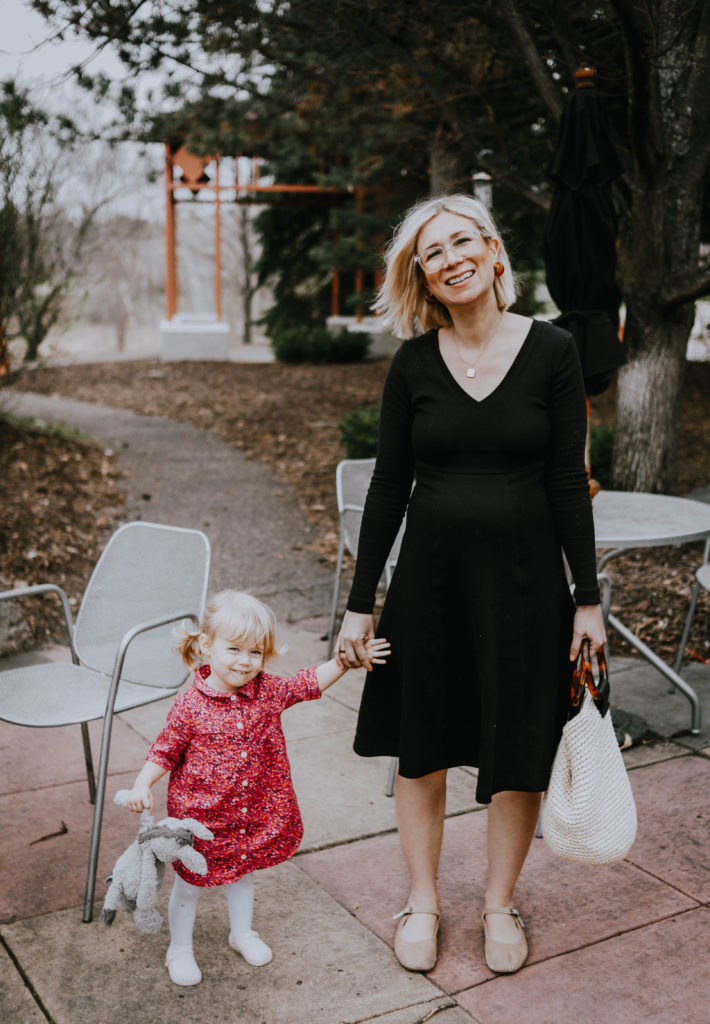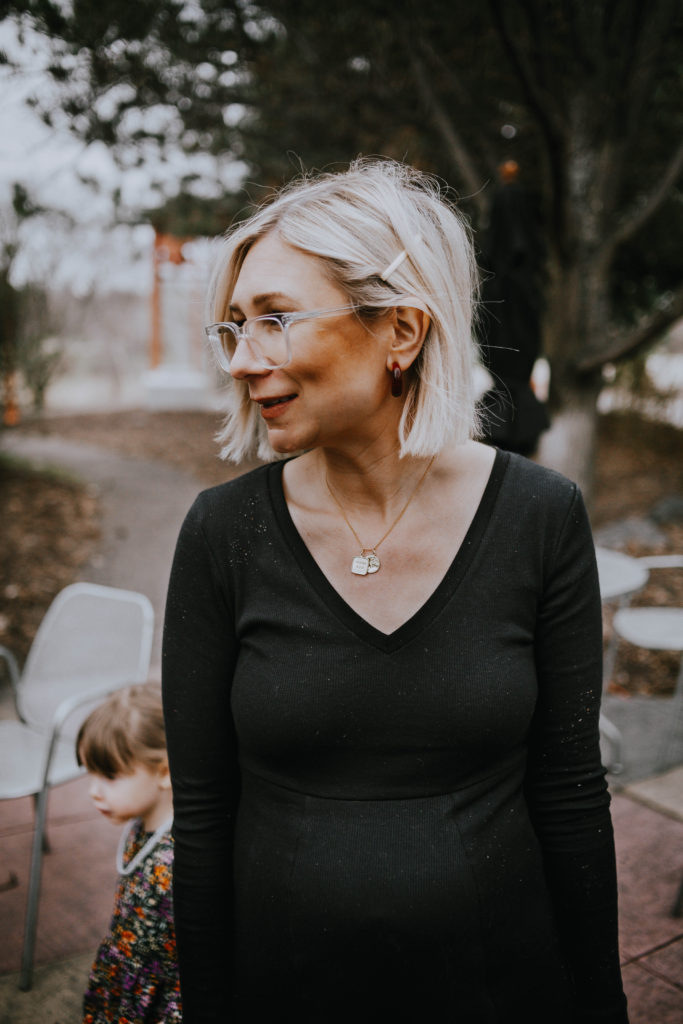 I wore this KOTN dress to church, and I really love how comfy it is. It's made mostly out of a finely ribbed Egyptian Cotton, but there's enough stretch in it that it is super easy to wear. The length is also perfect for bending over, and just general keeping up with the girls. This dress could definitely be dressed up with some heels, but I love it for every day with a pair of comfy flats.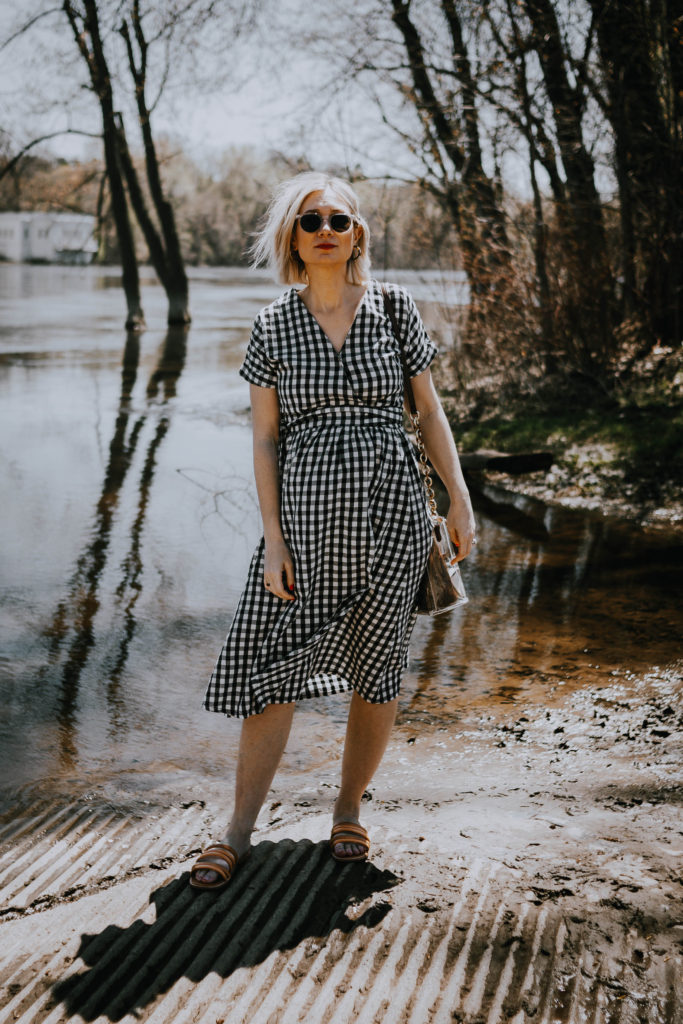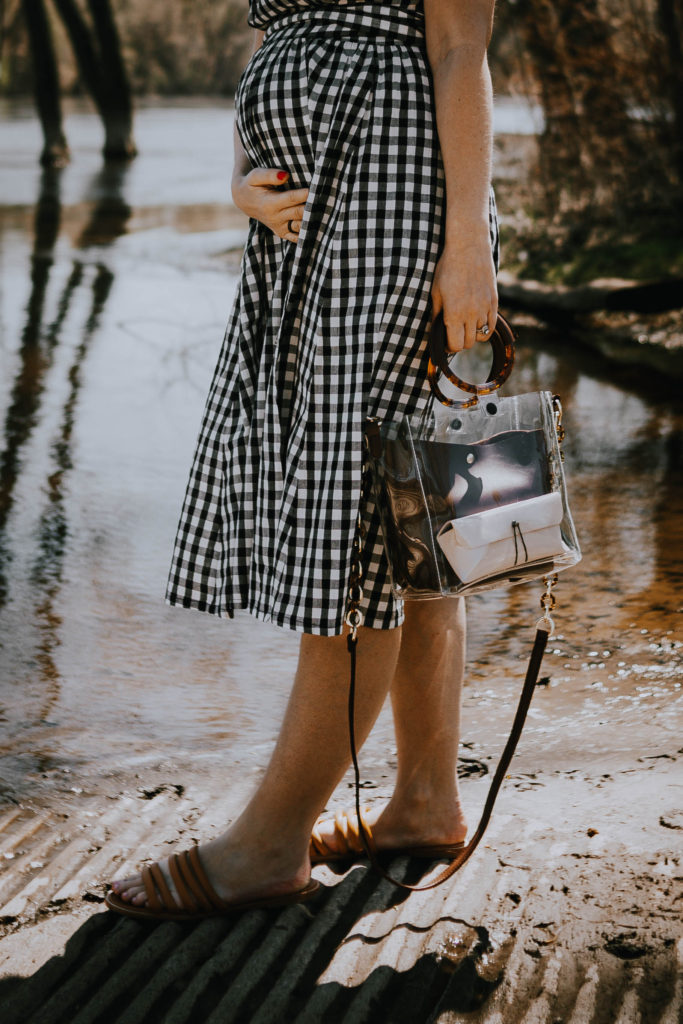 You may have seen this dress in Wednesday's post, but it's a recent favorite of mine. I have been a big fan of the overall aesthetic of Sezane for a really long time, but I've never picked anything up. But then I saw this dress, and I knew it was time. I will admit, I did have to do a bit of "sewing up" with this dress to make it mom friendly but it was super easy to do. It's a true wrap dress so I just put a few stitches over the chest area, and around the thigh area of the wrap opening. While it did stay put pretty well, I need the extra insurance of knowing its not going anywhere. I wore this on a trip to the park with the girls, and then for a walk down to the water.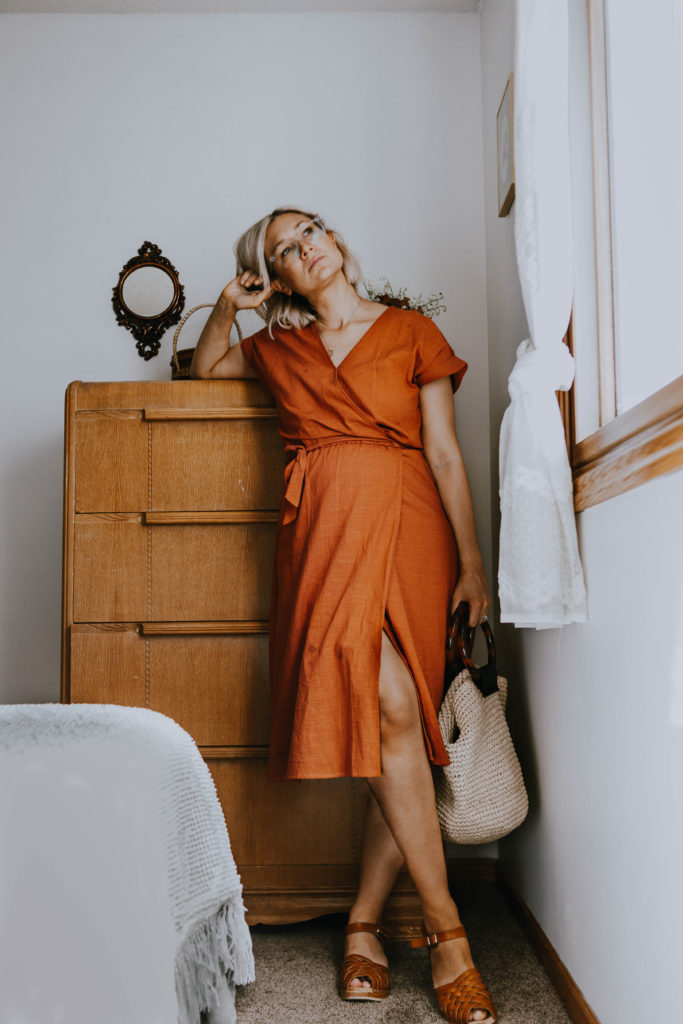 This dress has a really similar vibe to the Sezane dress, but with some slight differences. It's not a true wrap so there is an elasticized waist, and a built in snap at the bust. One bit of "arranging" that I did do was to cut off the built in slip that came with the dress. Anyone else hate those? I think they make a dress look cheap, and for some reason they always seem to make the skirt of the dress a lot smaller. I really love the color of this dress too, it adds a lot of brightness to my wardrobe, and paired with my clogs it looks really pulled together but it's the easiest thing to wear.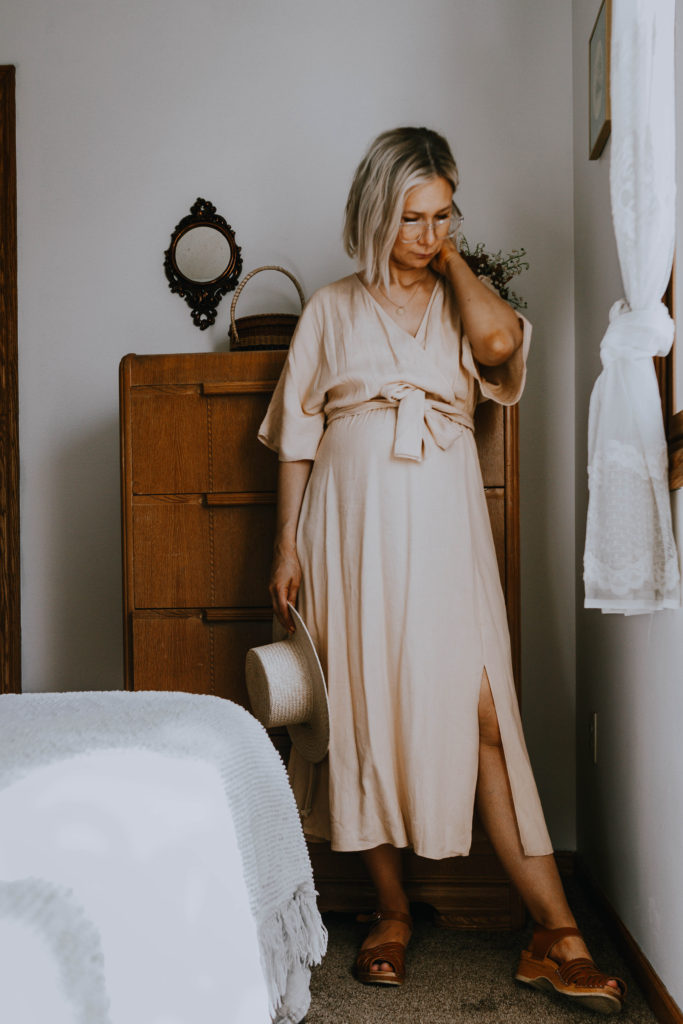 Bonus outfit! I ended up spilling lunch all over the other dress so I had to change. We ended up going out for dinner that evening so I put this slightly dressier version on. This dress is actually easy to wear for everyday wear, but to dress it down a bit I like to wear it with sneakers (like in this post), but for dinner I thought it looked really nice with the clogs. This dress is honestly the dress of my dreams. It's so soft and comfy, the color is perfect, and I just feel so pretty and feminine when I wear it. It's like the above in that it has the elasticized waist, but the skirt is not a wrap while the top is. I did a few stitches in the top, but I thought the slit was a good length so I left it as it was.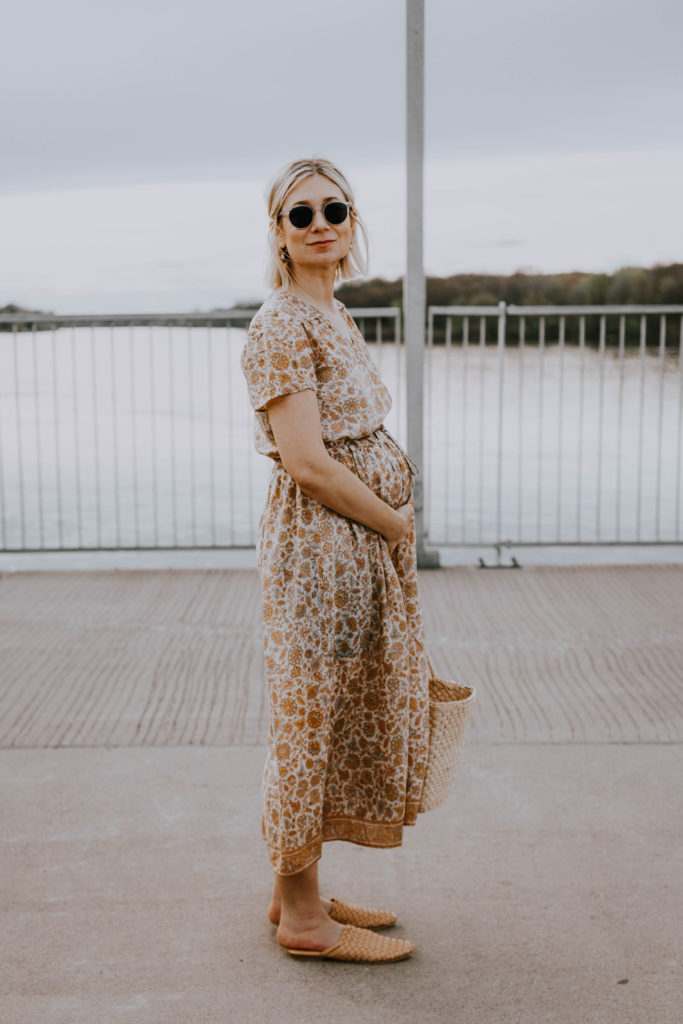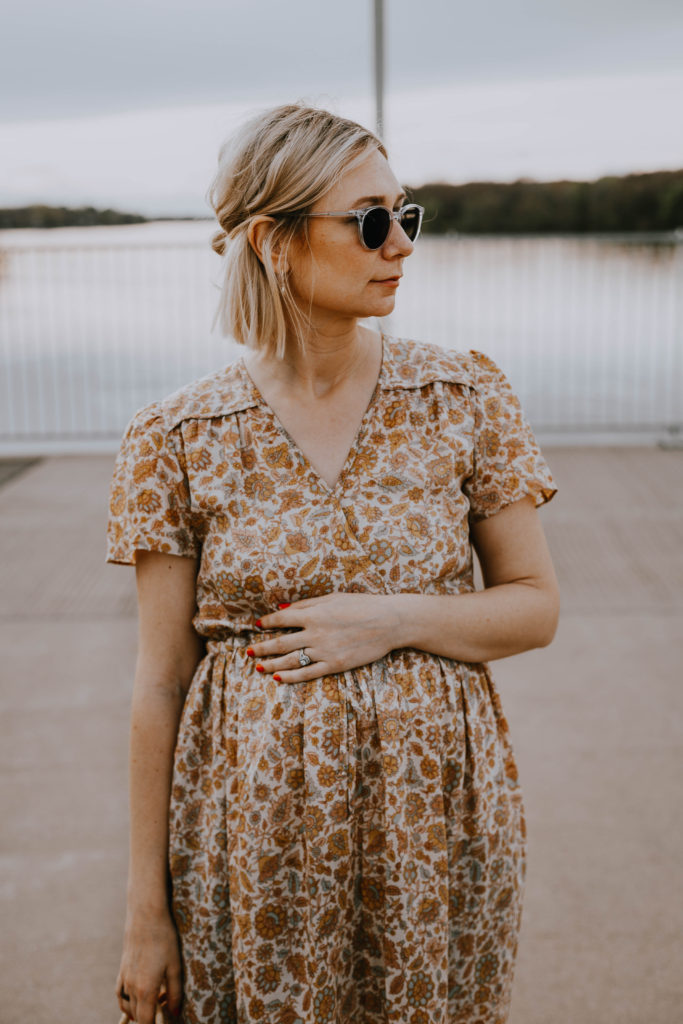 This dress is such a dream. I have wanted a Christy Dawn dress for a long time (they are just SO dreamy), but I couldn't decide on a print. Then I saw this one on Poshmark, and not only was it marked down to a great price, but it was the perfect print/color. This is one of their dawn dresses and they are so lightweight and floaty that this is going to be perfect for warm weather. It has a wrap type top, but with a built in snap on top, and a regular skirt. I just love all of the details on it though like the flutter sleeves, and the seam at the shoulder. I wore this for a picnic at the river.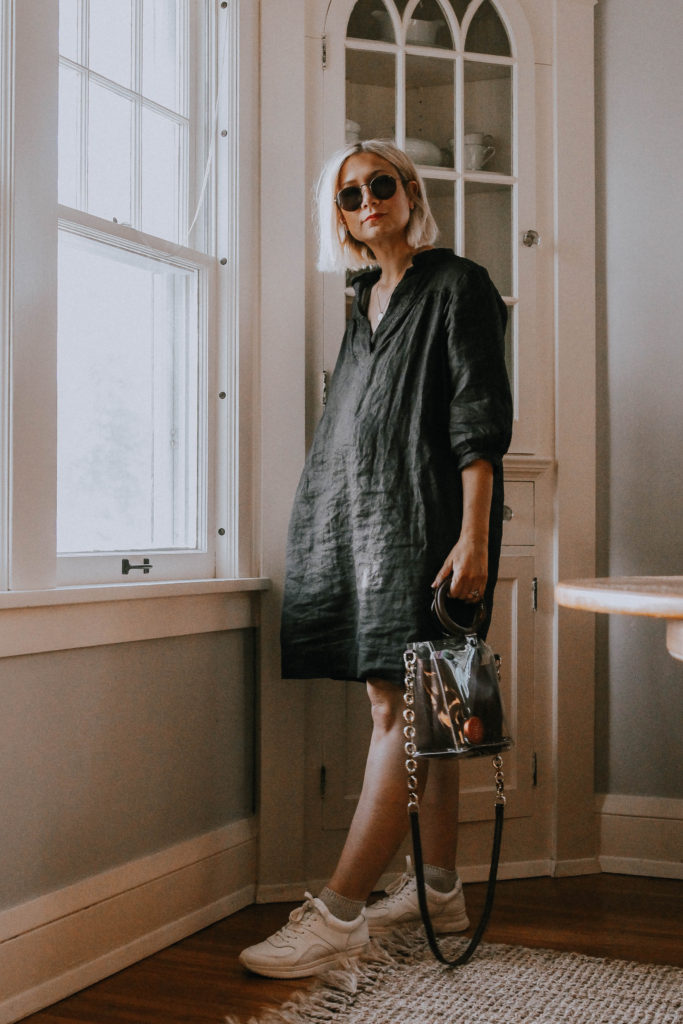 It was a little bit cooler this day so I pulled out a longer sleeve dress, and I actually really love this dress paired with sneakers. I got it last winter so I haven't styled it for warmer weather yet. It's such a comfy dress, and I'm happy to find that it works year round. One thing I will say about this dress is that it's not great if you're going to have to be on the floor with your kids. For days like that, I prefer a longer dress so I don't have to worry about anything being on display. Although honestly, you could just throw on a pair of bike shorts (which apparently are back in style right now… not sure I'll be jumping on that train) underneath, and then you'd be totally fine.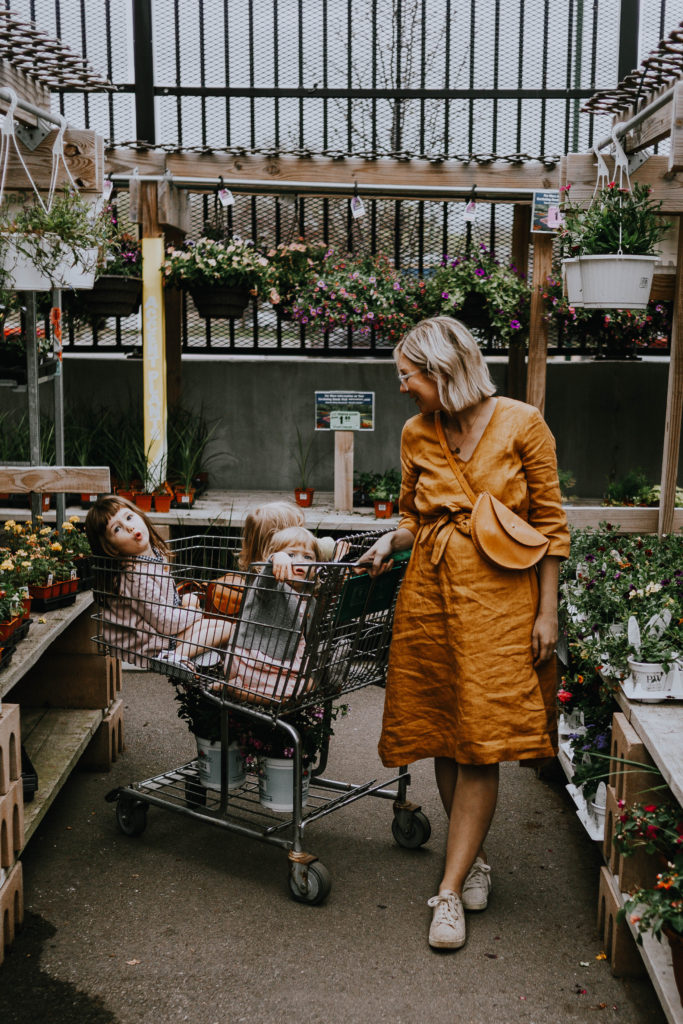 I first shared this dress in my pregnancy announcement, and I've been excited to share it in a more formal way… and to just plain wear it with warmer weather. It's so pretty and relaxed + comfy. Which is kind of the trifecta I go for when selecting a dress. It's funny because when I see how wrinkled this dress is, I think of what my mom always says whenever she sees me wearing linen: "linen wrinkles, you'll constantly have to iron it." And I mean no shade to mom or anything, but I think that's really funny because I like linen for it's wrinkles. It just looks gives it an easy and natural look that I think is perfect for real life. I wore this dress on an outing to the Garden Center to pick out flowers.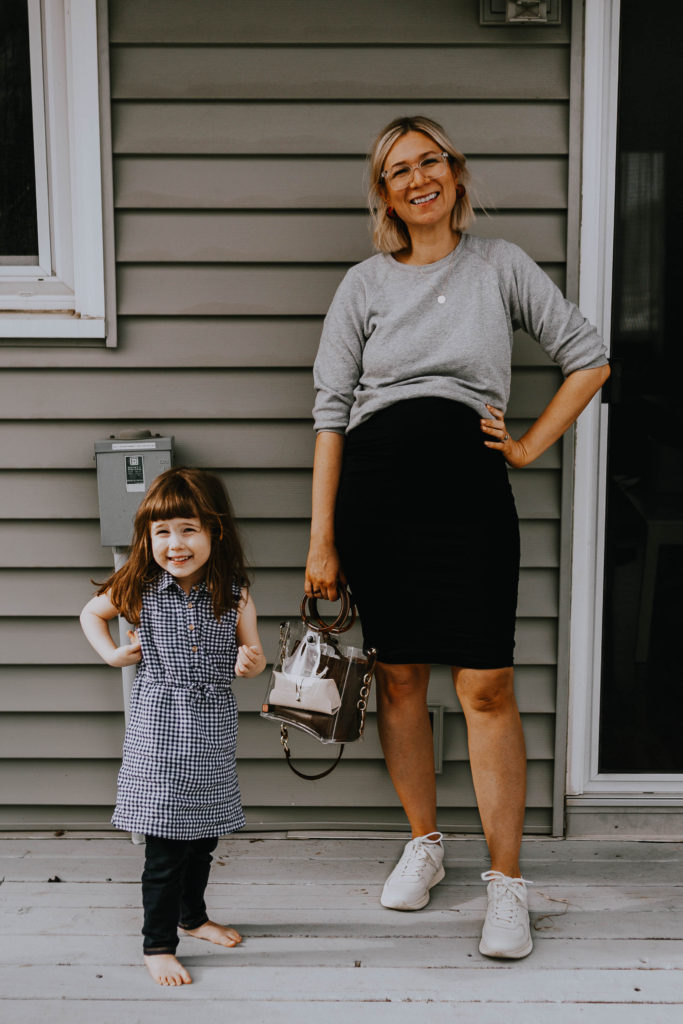 Can we just take a second to look at Bug's pose? Ha! She wanted us to pose like this so how could I not indulge? Future blogger I think? This dress is the only maternity dress I styled this week, but honestly there are so many simple black dresses out there like this. I love a dress like this because you can throw a sweatshirt over it and it suddenly looks like a skirt! And paired with some tennis shoes, you have a casual outfit that looks cool. Like the black linen dress above, this dress probably isn't the best for days where you'll be on the ground a lot with your kids because it is pretty form fitting. It's stretchy enough that you could, but you'd be showing off quite a lot.
So there you have it: my week of dresses. I'm so thankful for my dresses right now with my pregnant body. They make the body changes a little bit easier to handle, and ensure I don't have to buy very many maternity clothes.
Are you an everyday dress wearer? Or do you save them for special occasions? What's your go to style?
And what are you all doing this weekend? Any Mother's Day plans? And if Mother's Day is hard for you for any reason, my thoughts and prayers are with you this weekend.
Some of the links in this post are affiliate links. If you choose to shop through them I will make a small commission. Thank you for supporting Truncation! 
You can see other pregnancy related outfits here