Another week, another set of outfits. Life, man, life.
Ha!
But for real, we're halfway through December, and I kind of can't believe it. We've had a lot going on, all good things, but it's been making this month fly by.
We saw Santa with the girls last weekend and it was so sweet to see them interacting with him. This is the first year where we haven't had a child terrified to see him!
I do really love this time of year, and I can't wait for the girls to experience the next few weeks. This is the first year we won't be traveling over the Holidays since we got married, and I CANNOT wait to be cozied up for a few weeks.
But to bring it full circle, this week of outfits was not a week of cozy outfits, but it was a lesson in how to make basics interesting:
For years now I've been tucking all of my tops in, and while I still really love that look I've been into leaving things untucked lately. It's a nice change. I really love this sweater from VETTA. It's so cozy and warm, but the turtleneck is detachable so I can cool down if I need to. I love it paired over these skinny jeans from Everlane. The whole outfit is really comfortable and easy to wear, but it looks like you put a lot of effort into it. Add a pair of statement boots, and it looks like you actually have an hour or two to get ready in the morning… which I do not ha! But honestly, this is a great way to pull together an elevated outfit and still be super comfortable.
The Details:
VETTA Capsule Sweater, Size Small
Everlane Denim, Size 27 (Gifted. See Review Here)
Everlane Boots, Size 9 (Gifted. See Review Here)
Everlane Wool Coat, Size 2 (Gifted. See Review Here)
Secondhand Rebekah Minkoff Purse. Similar look with this one or this one
Mejuri Necklace (Gifted)
Madewell Earrings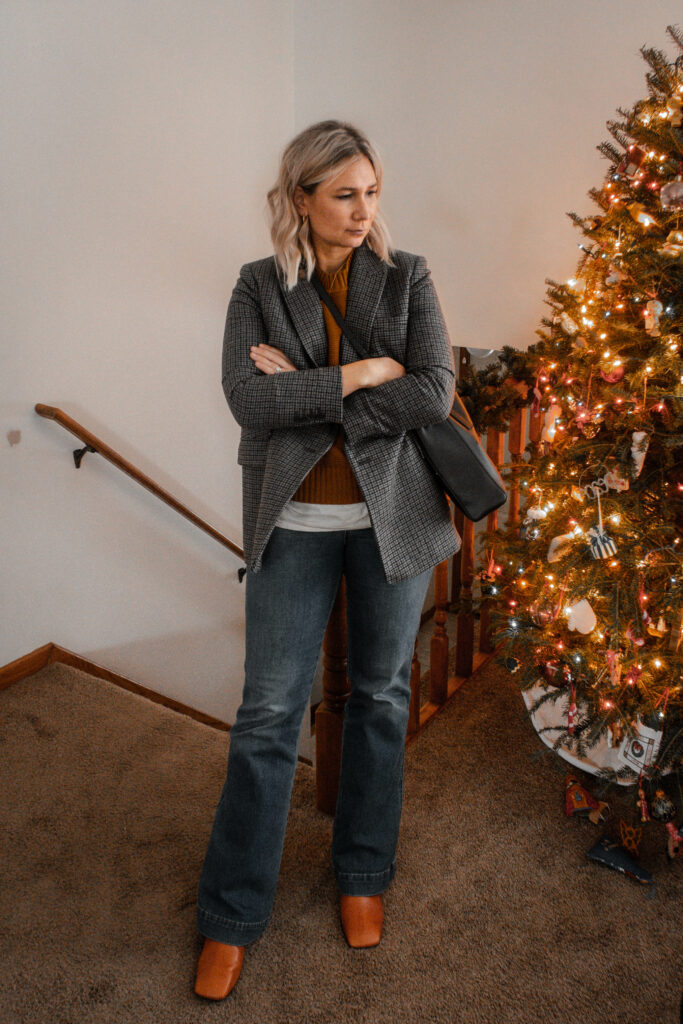 Funny story: whenever I wear these jeans, someone always says "are flares back in style?" which is funny because I guess I didn't realize they ever went out of style! I think there have always been times when other styles were more fashionable, but I've actually always had a pair of flares in my rotation. I think they are really classic and don't necessarily fall under the category of "trendy." And this is a great argument for curating a closet made out of classic pieces. Because even when trends come and go, your classic pieces will always work. But you can make them look a bit more modern by adding in a modern shape (like these square toe boots). I think this is where the French really excel: they have a closet full of classic pieces, with a few trendy pieces mixed in every season… a much better approach to building your wardrobe than to buy every single new trend that comes along.
The Details:
Everlane Sweater, Size Medium (See Review Here)
Everlane Blazer, Size 2 (Gifted. See Review Here)
Gap Denim, Size 27
Menodemosso Boots, Size 9
Everlane Tote (Gifted. See Review Here)
Mejuri Necklace (Gifted)
Madewell Earrings
Hubby's Hane's Tee
Kim K. W Charlotte Tilbury Lipstick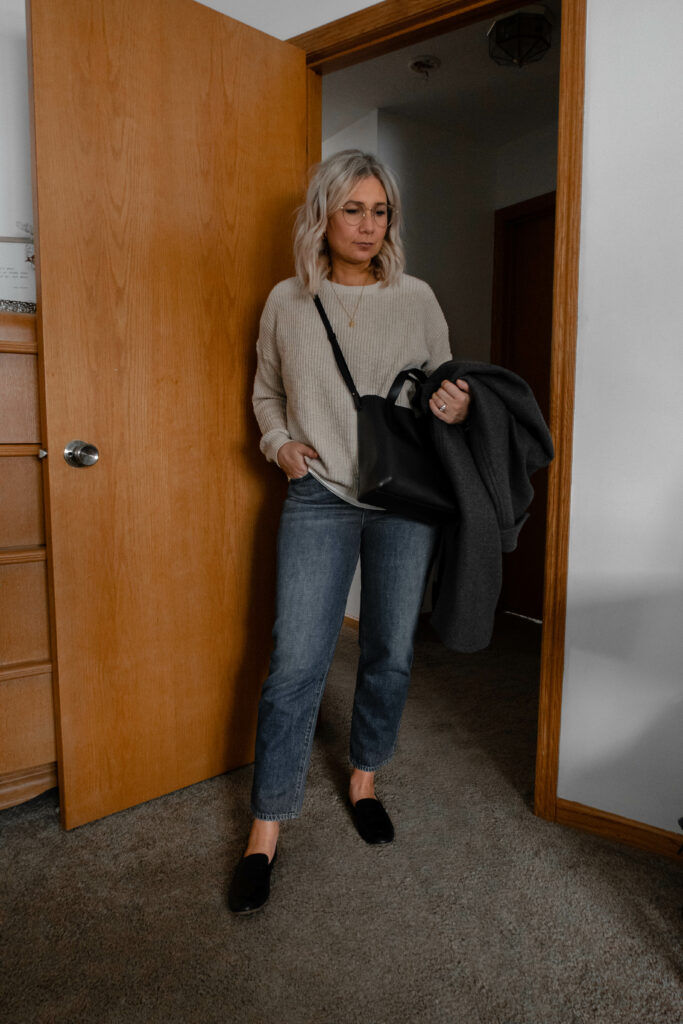 This outfit is another example of the first outfit… leaving things untucked. I've actually really been inspired by Lizzy Hadfield of Shot from the Street lately. She has a really great laidback cool style. I definitely can't pull it off like she can, but I enjoy trying ha! This It is Well sweater is the perfect piece for this kind of look though. It has that oversized, slouchy look but it doesn't look sloppy. And there's nothing better than your hubby's Hane's tees for layering under a slouchy sweater. However, the key to keeping this kind of outfit polished is to pair it with a structured shoe, like these loafers from Everlane. The combination of slouchy on top, and structure on bottom is the perfect example of why balanced proportions are important in an outfit.
The Details:
It is Well Sweater, Size Small
Secondhand J Brand Denim via the Real Real. Similar Here, and on Sale!
Everlane Loafers, Size 9 (Gifted. Review Here)
Everlane Tote (Gifted. See Review Here)
Mejuri Necklace (Gifted)
Madewell Earrings
Hubby's Hane's Tee
Everlane Wool Coat, Size 2 (Gifted. See Review Here)
Eye Buy Direct Glasses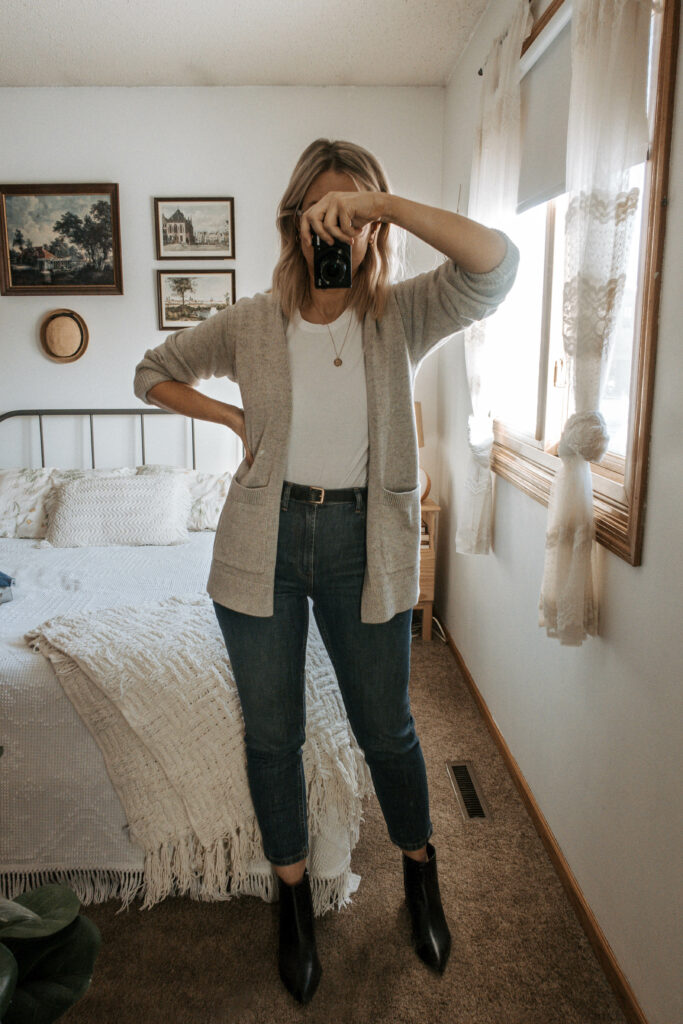 I really love how this outfit came together. First: I love gray, white, and black together. Second, I love the pairing of these Everlane cheeky jeans with their Boss Boot. The little bit of ankle showing is really flattering, and the pointed toe makes your legs look really long. This kind of outfit is perfect as a stay at home mom as well. It looks nice and polished, but it's super easy to wear, comfortable, and all of the pieces can be washed in a washing machine.
The Details:
Everlane Cardigan, Size Small
Organic Basics Tee, Size Small (Gifted)
Everlane Cheeky Jeans, Size 27 (See Review Here)
Everlane Boss Boot, Size 9 (Gifted. See Review Here)
J. Crew Belt
GLDN Motherhood Pendant
Parker Clay Tote (Gifted)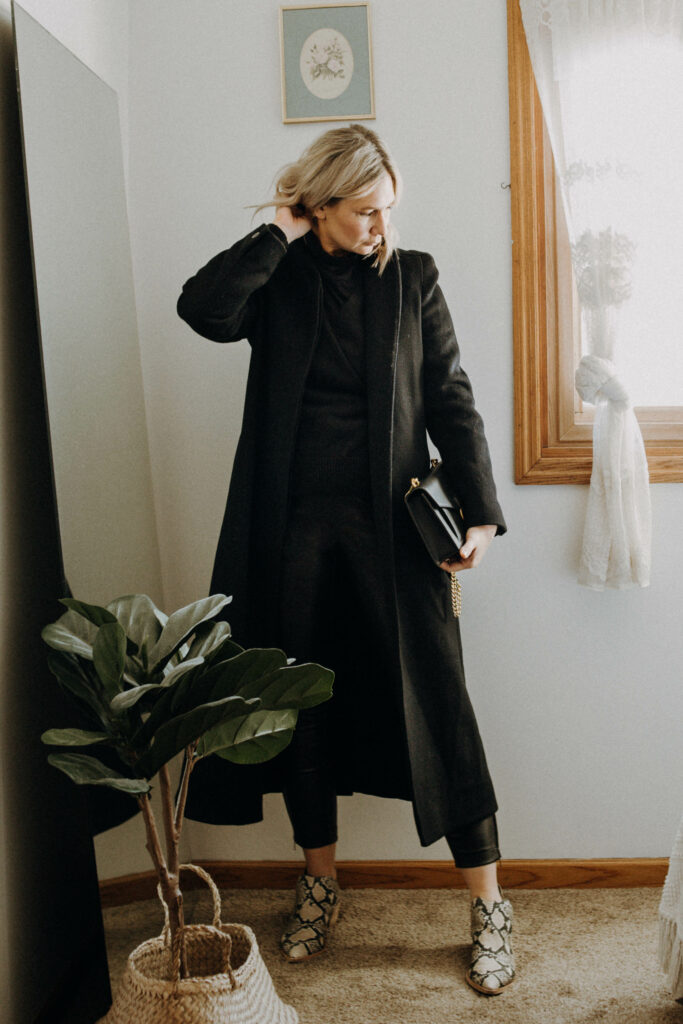 This is not your typical stay at home mom outfit ha! I had a girls' night, a.k.a my excuse to pull out these vegan leather pants from Brass for the first time. I'll be honest, on a scale of 1-10, these pants are about a 7 for comfort. BUT I really love how they look, and knowing I will only wear them for dressier occasions makes them worth it to me. They are perfect for adding a bit of dimension to an all black outfit as well. In fact, the cotton turtleneck, the wool sweater, and the leather pants make an all black outfit a lot more interesting. They break up the look with their varied textures. And, of course, the faux snake print adds a really cool element as well. It's fun to have an excuse to dress up every now and then!
The Details:
Thrifted Sweater. Similar
Everlane Turtleneck, Size S
Vintage Coat. Similar Ethical Option Here. More Affordable Here.
Dolce Vita Boots, Size 9
Leather Pants, Size 4 (They are on major sale! Size Down in these)
Friday by JW Pei Bag (on major sale!)
And that's it! Do you have excuses to dress up this year? What's your favorite piece to pull out? After New Years Eve, I probably won't get dressed up again for a good long while, so I'm taking advantage of it while I can!
Until next time,
Karin