Oh hey. Just a quick check in today to show you the lounge wear I've been wearing lately (yay for lounge wear!)
Last week I showed you the spring outfits I wish was wearing right now, and the sentiment still rings true: I wish I had an excuse to wear pretty spring outfits right now, but…
today I'm going to show you what I'm actually wearing.
I mentioned in my last post about lounge wear, that I've really been trying to build up my lounge wear collection since I am a stay at home mom, and on days where I don't leave the house (in normal life), it's nice to have something nice, but comfy to put on. In my last post I showed you what I like to wear for colder weather, but now that it's warming up I've had to incorporate some cooler pieces.
So! Let me show you what lounge wear I've been wearing: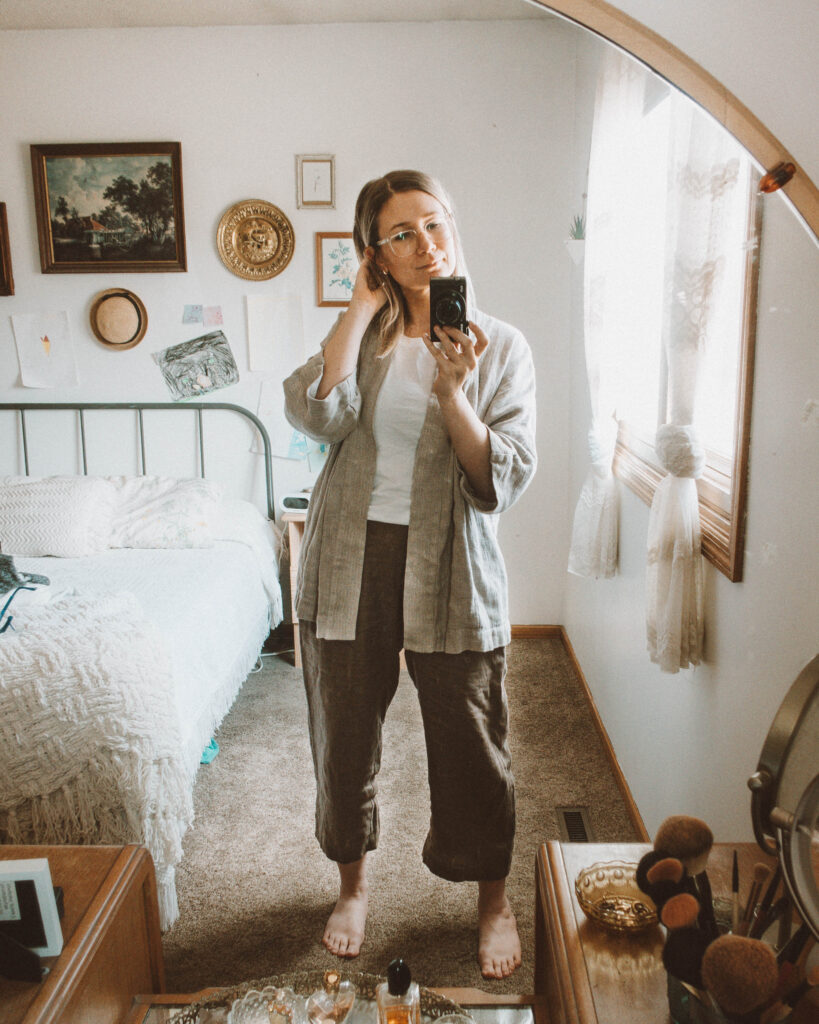 Lounge Set Details (Affiliate Links):
Everlane Tank: This is the cutaway tank that they brought out last summer. It's a nice, thick material (I find that sometimes their tees/tanks are much too thin for my liking) and I like the neckline on these. It's not quite a crew, but it's still high enough to cover everything. Overall, a really good basic tank top. I stayed true to size.
Brown Bliss Linen Pants (gifted): These were gifted to me last spring, and I was barely able to get any use out of them before my growing baby bump got in the way. I really love these for lounging because the natural material is soft and comfy. The looseness of this silhouette also adds to the ease of these pants. I'm wearing my true size small.
Off On Linen Jacket: I've had this jacket for awhile, and I almost sold it awhile ago because I hadn't reached for it in so long… until I realized it's a really great lounge wear piece! It acts like a robe, but looks a bit nicer. I would 100% run to the store in this outfit (with a nice pair of Birks!)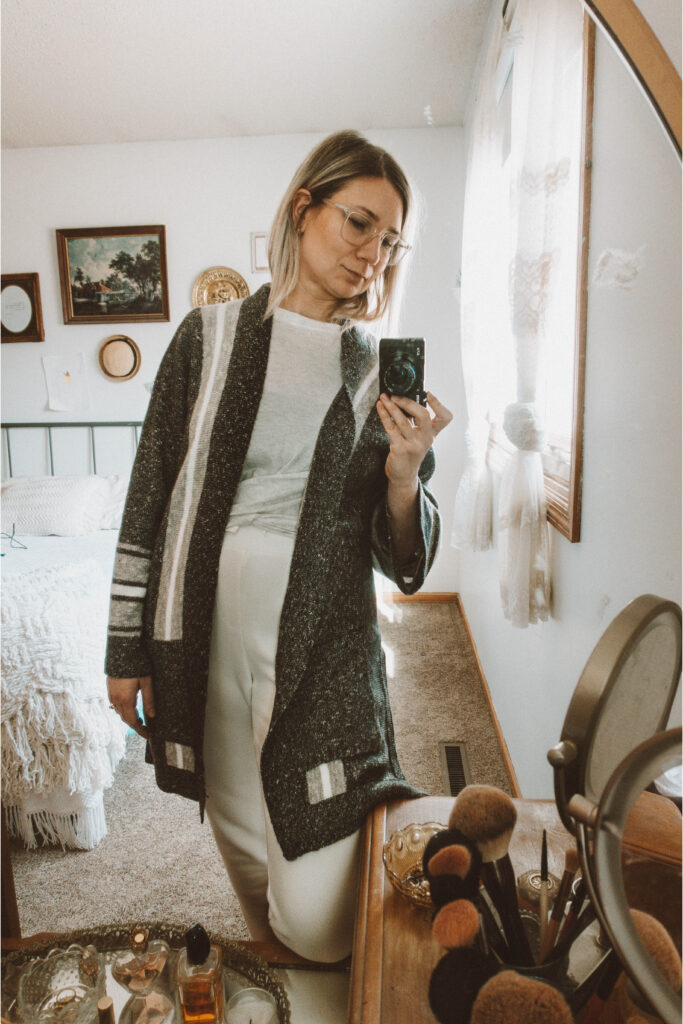 Lounge Set Details (items gifted):
Upwest Twist Front Tee: This twist front tee is a super soft alternative to a typical tank top or t-shirt. I've worn it a bunch for easy yoga practices as well (with my new favorite lounge leggings from Boob Design
Upwest Joggers: These joggers are super soft and cozy. Joggers have historically been my go to when I want to wear lounge wear around the house (my linen pants are catching up!). I do really like this pair because I find that sometimes if joggers aren't made well they pull at the knee because the cut at the ankle is a bit too tight (does that make sense? Does this happen to anyone, but me??). This pair does not do that, and they are really comfortable to wear.
Upwest Lounge Cardigan: This is my new favorite thing to wear around the house. It's so soft (Upwest claims to make soft clothes for strong women so when I say all of their pieces are soft it's because, well, that's the point!), and it looks nice enough to wear out of the house (with a pair of leggings and a blank tank).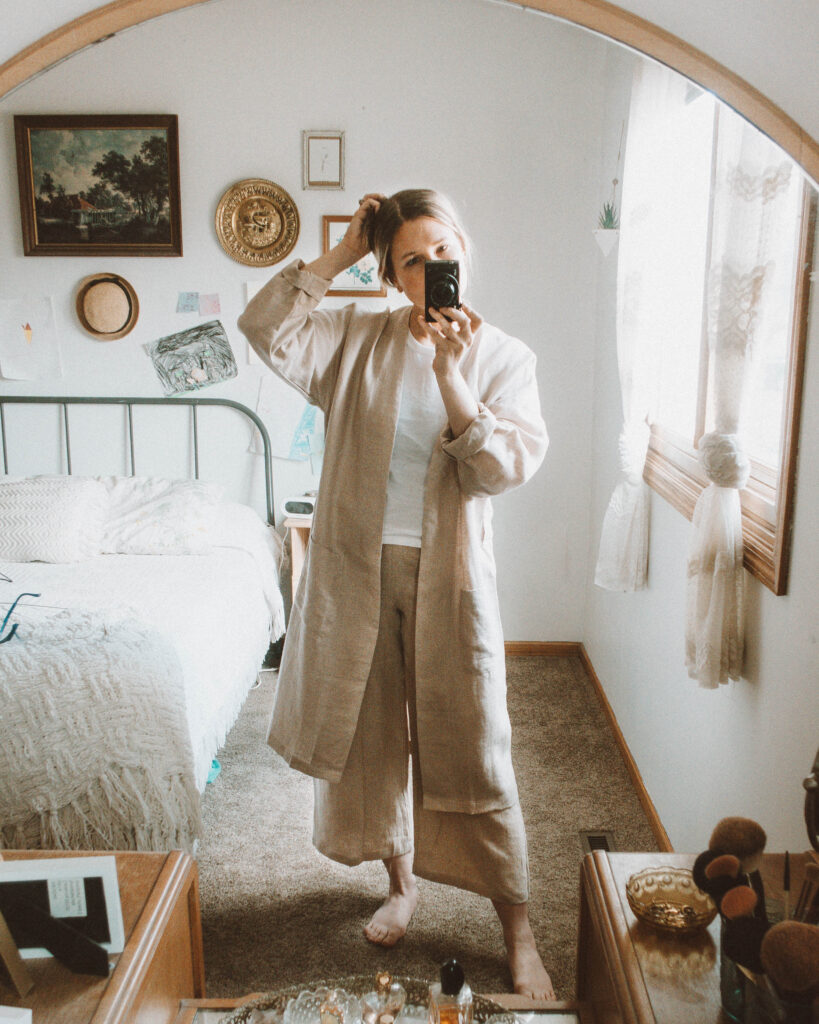 Lounge Set Details (Affiliate Links):
Linen Robe and Linen Pants: I just picked this set up from my favorite linen shop on Etsy (Love & Confuse), and it's exactly what I wanted it to be! It's soft and comfortable for at home, but as separates they incorporate well into the rest of my wardrobe. I ordered it before the Corona virus was really on my radar, and now I'm really happy I did since I'm basically living in lounge wear right now! I sized down in the robe (XS), but the pants are true to size (I got a small).
I'm also wearing the same Everlane tank listed above.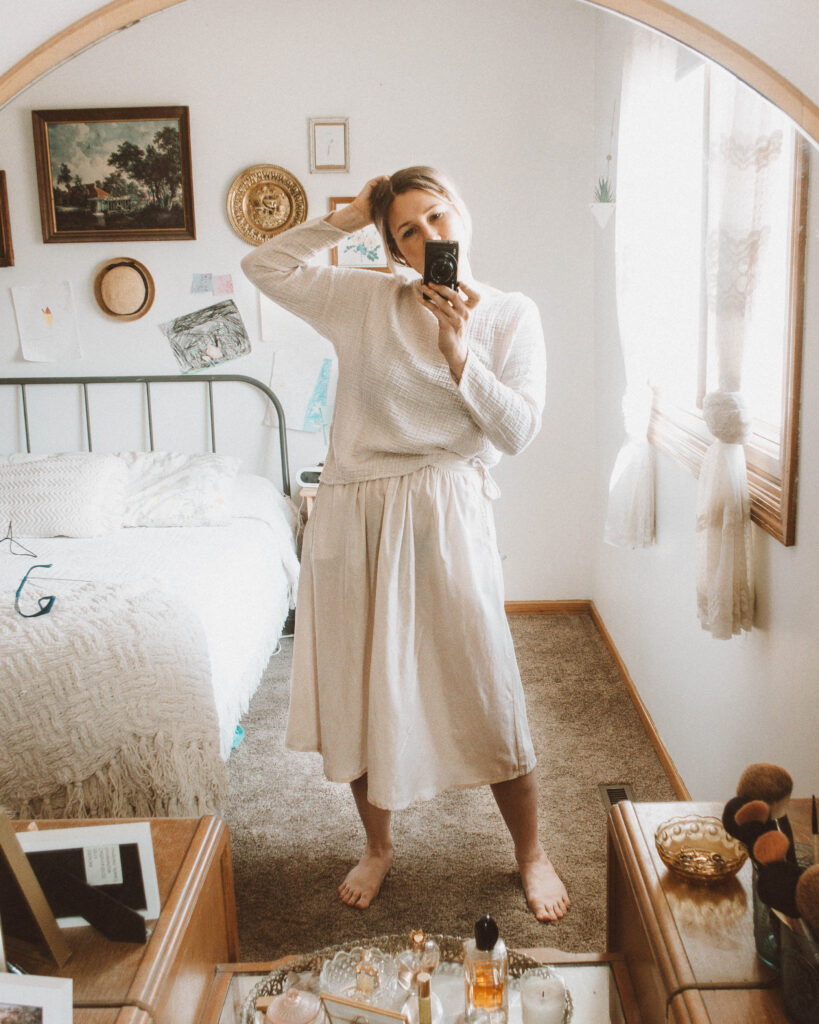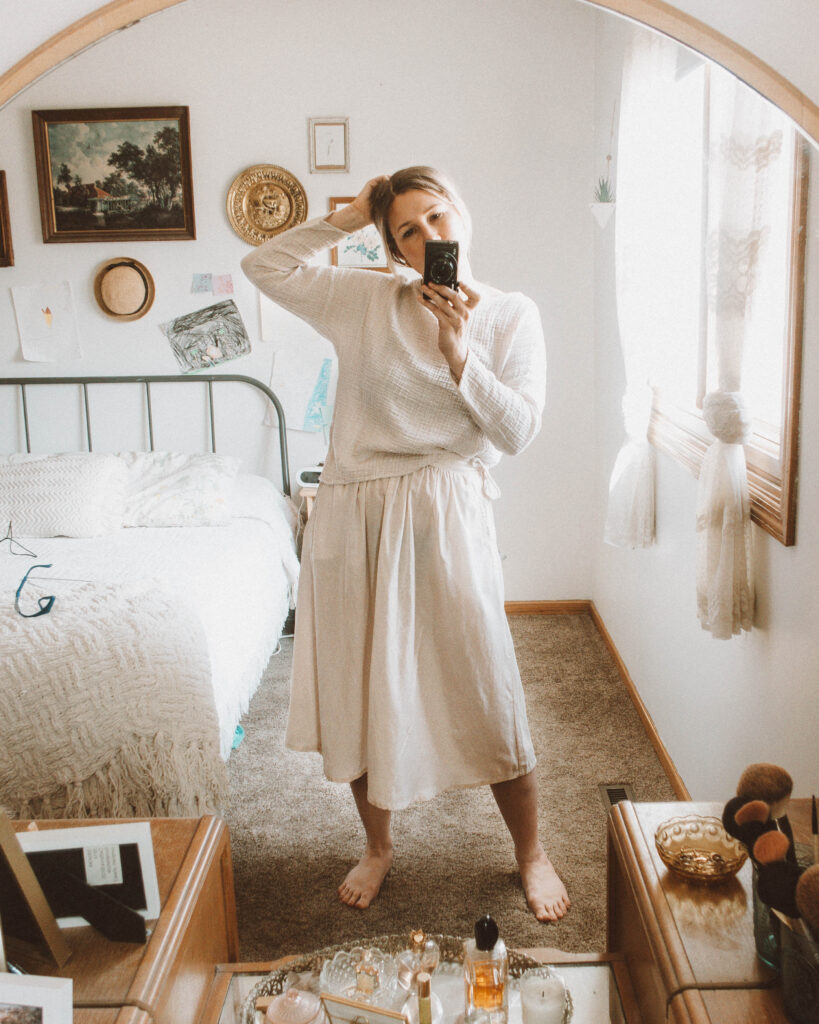 Lounge Set Details (top was gifted):
This beautiful top and skirt are part of the new spring line just released by It is Well L.A. You all know how much I love their brand. I've owned a few pieces now, and they have all become some of my most reached for pieces ever (that's not an overstatement or an exaggeration). I just think the brand does cool, but insanely comfy super well. My ultimate goal in life is to be as comfortable as possible in any given moment (that may be an overstatement)… but I also like to look nice, and It is Well helps me accomplish that. Both of these pieces are really soft so they are perfect for lounging (and then later for leaving the house… when we can do that again). The skirt is slightly see through so you will need to wear the appropriate undergarments, but it is so silky and lightweight so it's the perfect piece for really hot days. I got my normal size small. The top is just fine with a nude colored bras. I also got my normal size small.
Well there you have it. Some super cozy, comfy outfits to wear while hanging out at home (which we're all doing a lot more of lately). One thing I can definitely be thankful for is a chance to be cozy and comfy more often than I'm used to.
What are you all living in these days? I'm thinking of doing a legging comparison post soon in case you're a die hard legging fan. Is that something you'd be interested in? Let me know!
Until next time,
Karin