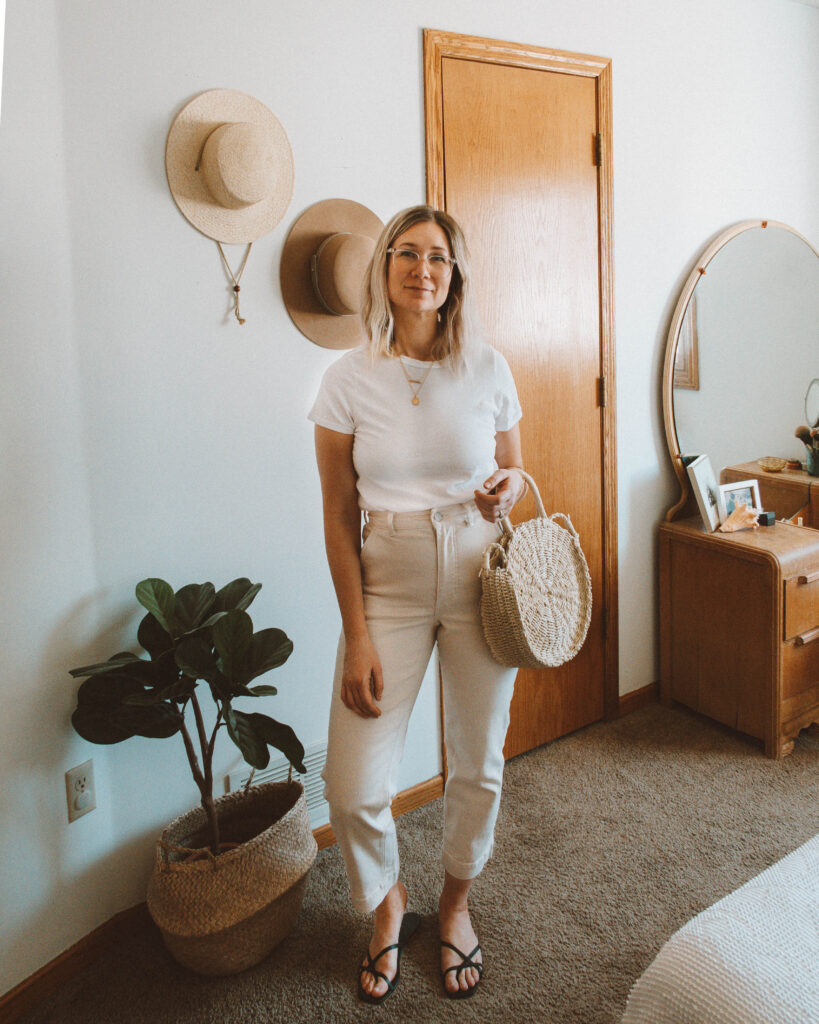 And it's Friday! Or is it Tuesday… Wednesday?
Anyone else feeling like the days are all melding together? David and I just had to sit down and talk about our "schedule" now that he's working from home every day. Things are so upside down right now…
as I'm sure you all feel as well.
The good news is that Ella and Rosie are well on their way to being potty trained (taking advantage of the time that we have!), and Gabe is well on his way to eating us out of house and home (he started solids a couple of weeks ago, and he does. not. stop. eating now). He tried pears today, and you would have thought that a light shone from heaven and revealed to him all that was good and holy with the way he reacted.
Two words: sweet tooth.
Anywho, we're just plugging away over here, as I hope you are as well.
I played dress up again this week so I could show you guys some easy spring outfits for working at home, BUT I also got dressed a bit more than I did the week before. I'm still staying v comfy, but I at least put on real pants a couple of times.
Before I get to the outfits I put together, I just wanted to address the elephant in the room:
the root situation I've got going on. I, very foolishly, put off getting my hair done and now it's going to be a good, long wait before I can get in for a touch up. So if you feel the need to let me know in the comments that I have failed to maintain my hair… don't worry, I already know.
Okay let's hop to it:
---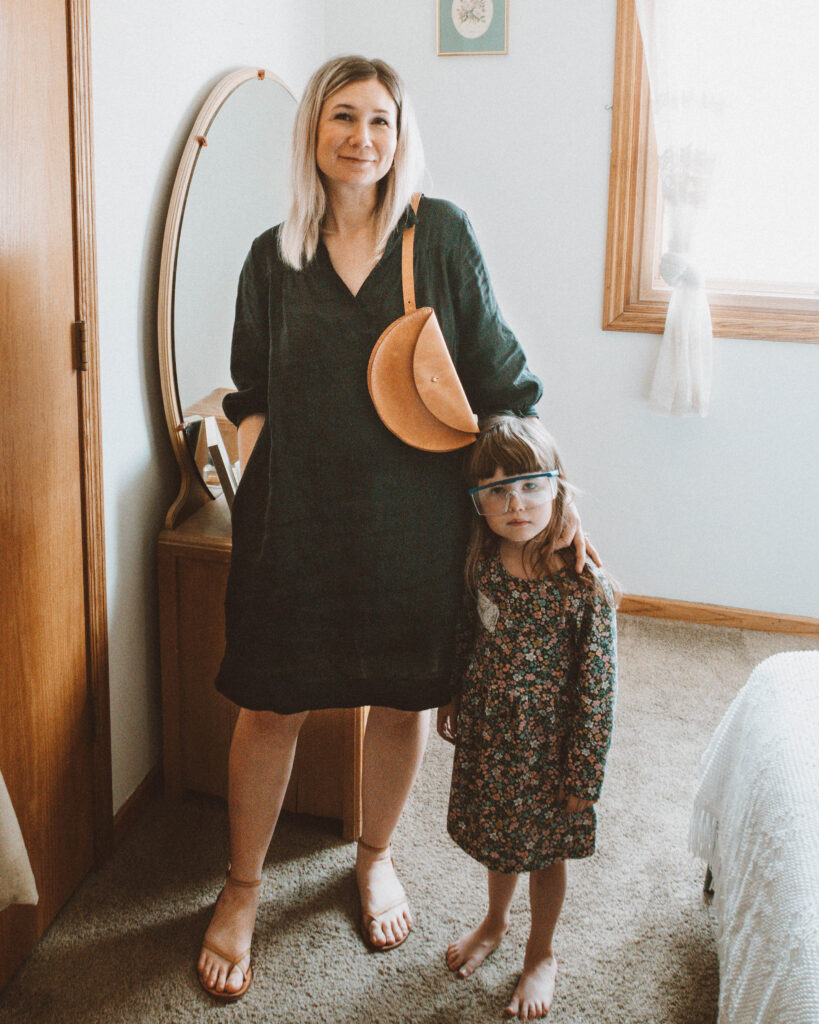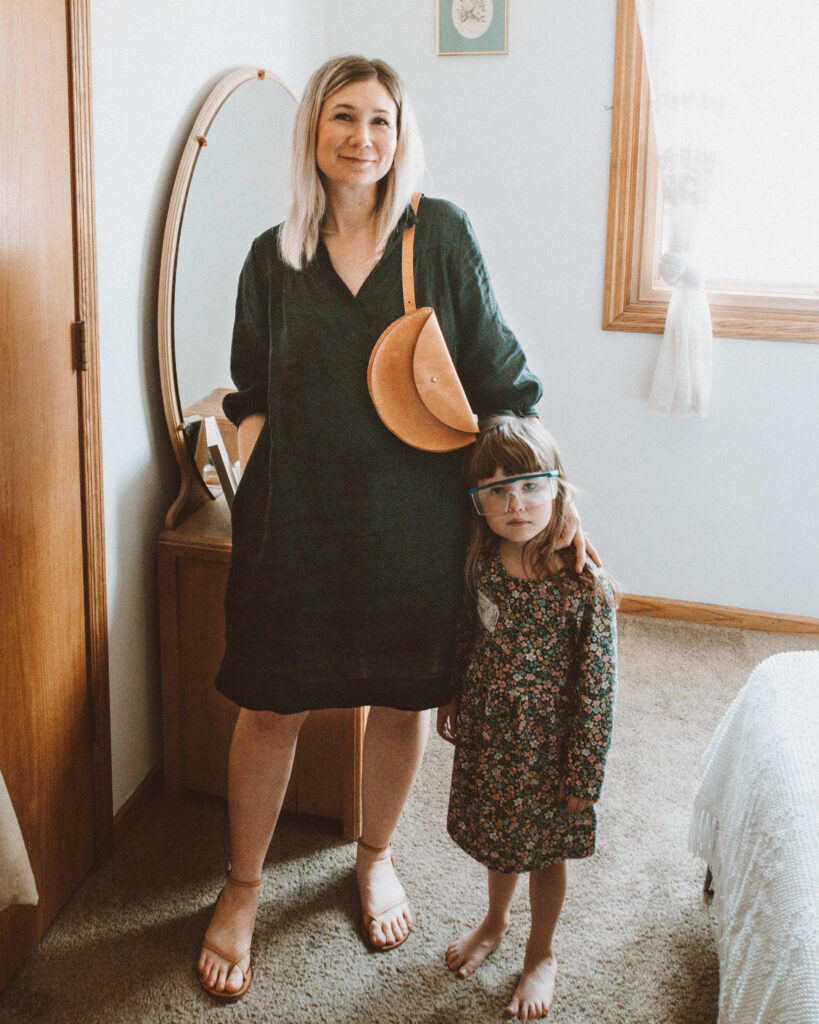 ---
Outfit Details (Affiliate Links):

Dress was a gift from Sugar Candy Mountain
---
I'm going to be real honest with you: I'm mainly sharing this photo with you because this photo of Kit needs to be out in the world. She is her own person and I cherish that in her (don't ever change baby girl!). But aside from Kit totally overshadowing me (doesn't take much), I love this outfit because it is compiled of some of my most worn clothing pieces ever. I have gotten countless wears out of this bag, this dress, and these sandals. If you haven't checked out Sugar Candy Mountain yet, please do so… their pieces are so lovely, and the ladies behind the brand are just so lovely. I did actually wear this outfit "to church" (a.k.a. our living room couch) on Sunday… we're trying to keep up routines with our kids, including putting on our church clothes!
---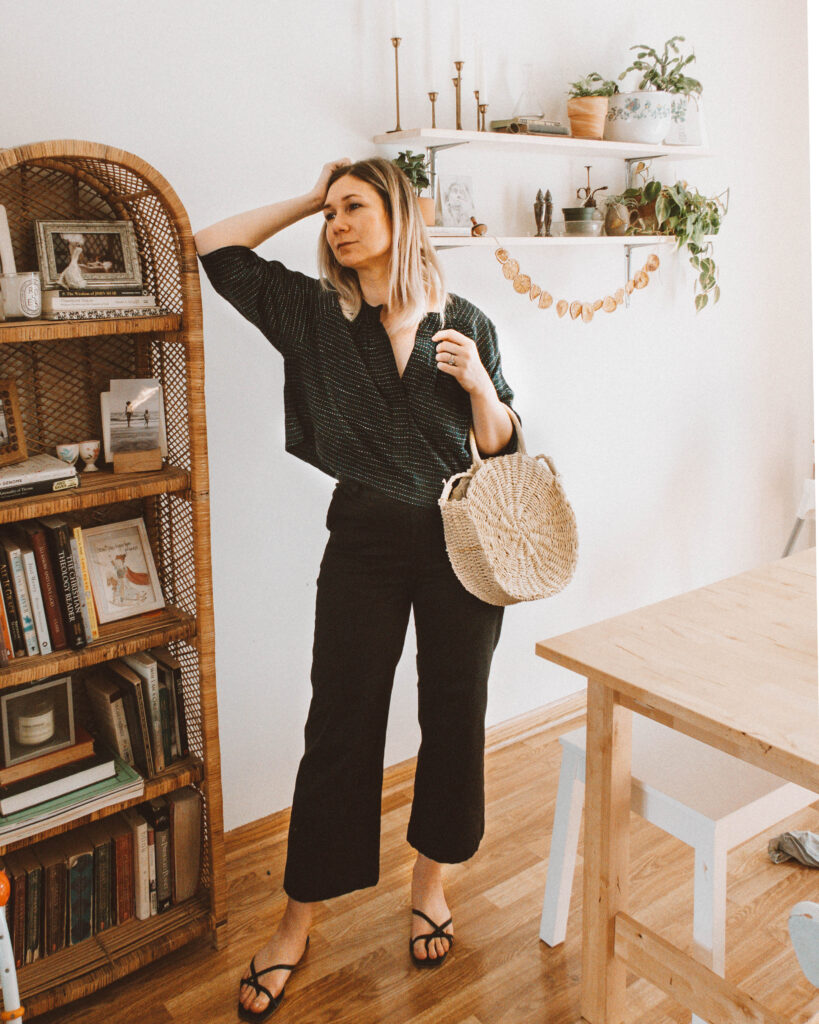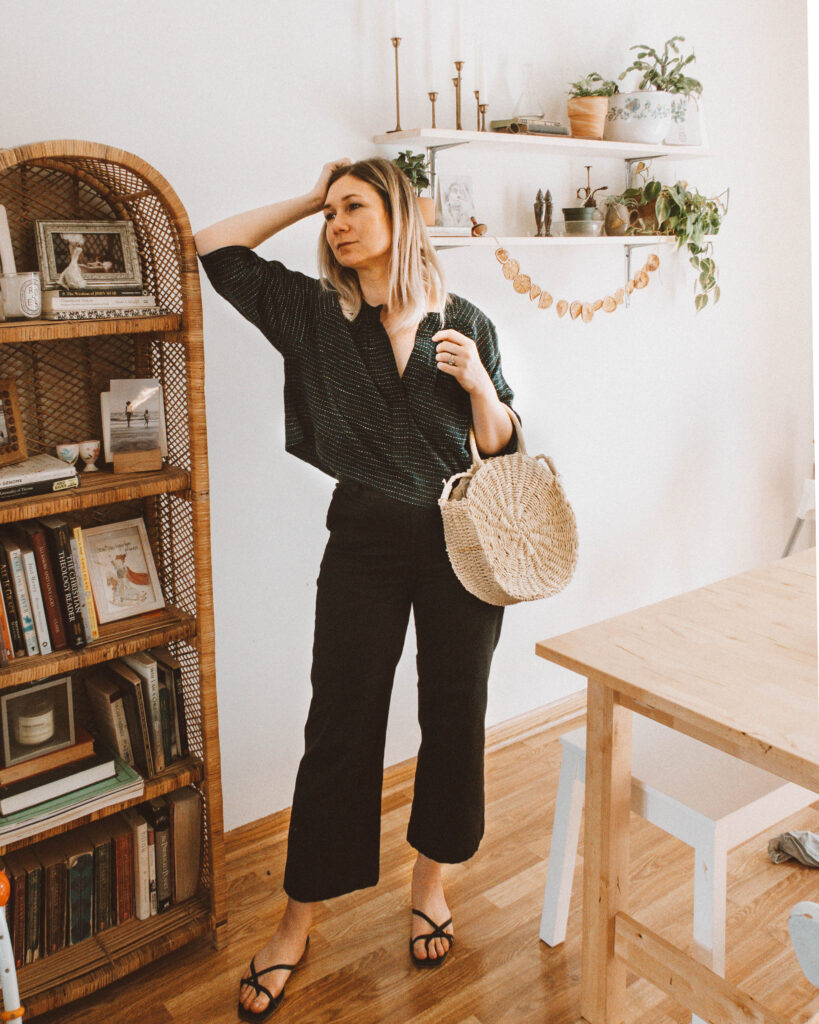 ---
Outfit Details (Affiliate Links):

Mirth Blouse is currently on sale + 20% off through the end of March | Sandals are old/gifted from Everlane so I linked similar | Pants are gifted
---
If it's okay to toot my own horn, I told David as he was taking this outfit "I really like this outfit!" (he didn't care, but I told him anyway). But I've actually decided to make it my goal to be able to say that about every outfit I put together from my wardrobe. I have really pared things down over the last 6 months (things had started to get a little out of hand again), and I'm really trying to live by the "if I don't love it, don't keep it" rule. I've been reading through some of my earlier posts on capsule wardrobes to remind myself that less is more, and outfits like this one, which feel very "me", give me the encouragement to keep on with that goal. I also wore this outfit a few days ago… until I changed into leggings to go on a run and never changed back out of them.
---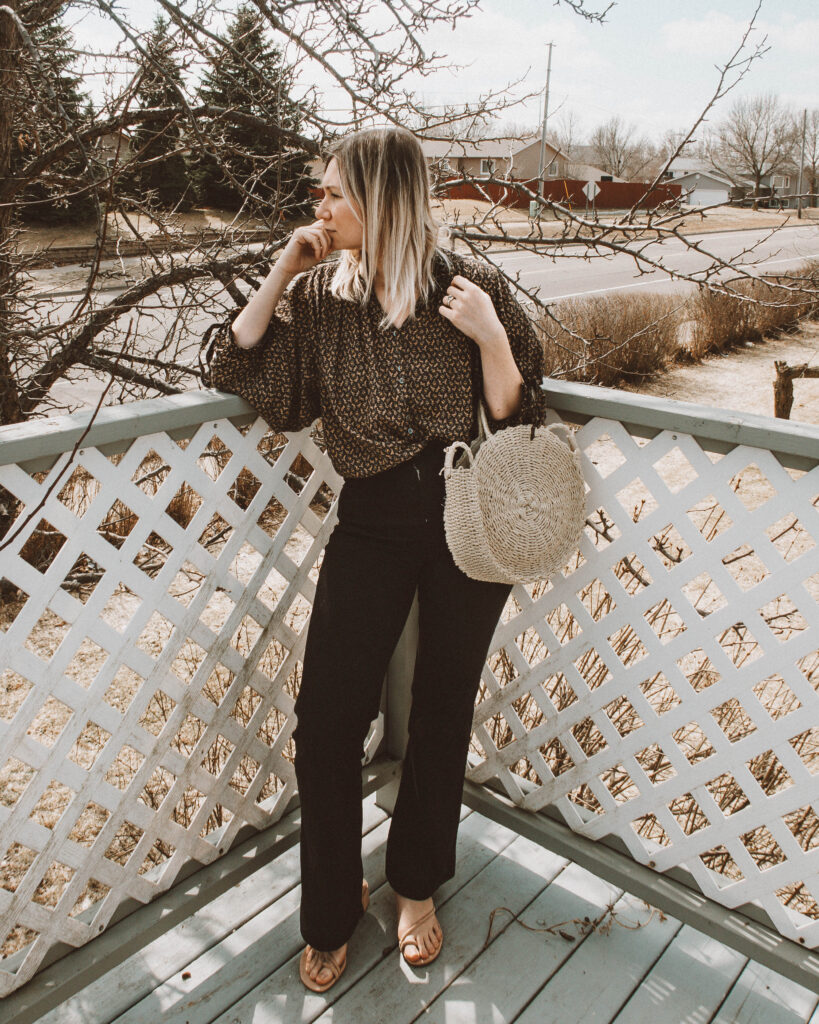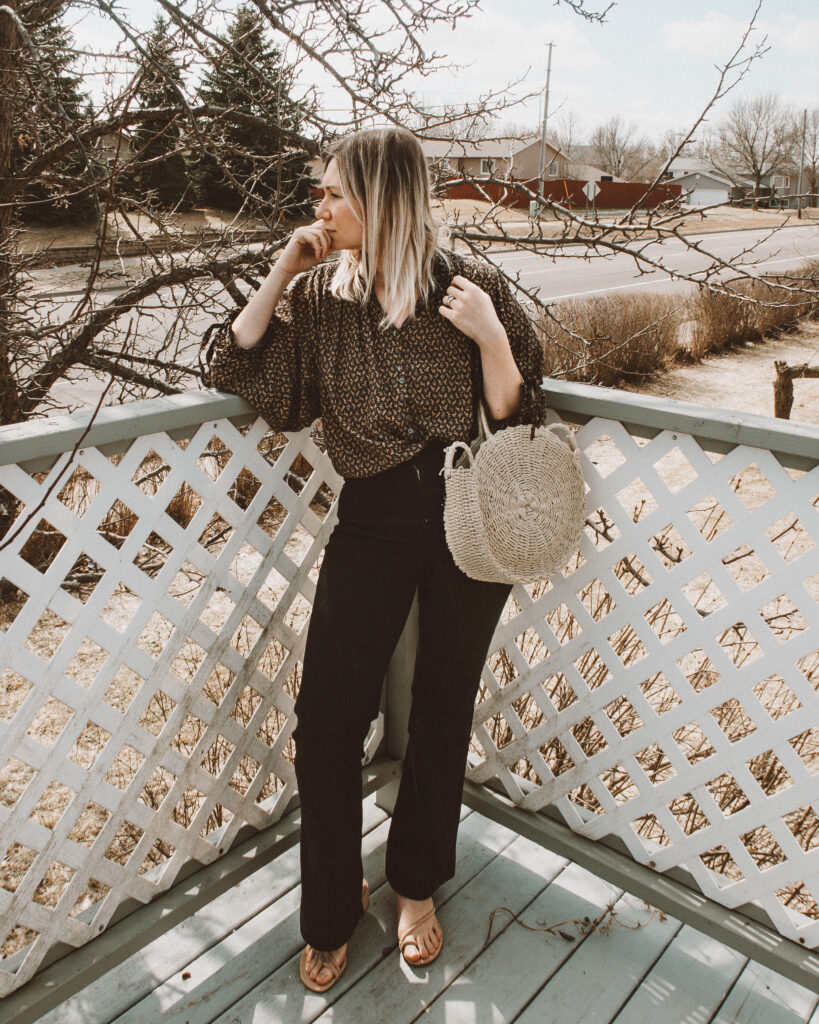 ---
Outfit Details (Affiliate Links):

Blouse is a few seasons old from Doen so I linked similar | Sandals are last season Jeffrey Campbell (Zella style if you want to search secondhand) so I linked similar | Everlane denim was gifted (see review here)
---
This is another outfit that I feel great in. I have realized that I really don't like the way I look or feel in skinny jeans. I'm not sure exactly why, but when I wear them I just feel really off. Flares are one of my very favorite cuts of denim to wear, and I just love the vintage vibes I get when paired with this 70's inspired blouse.
---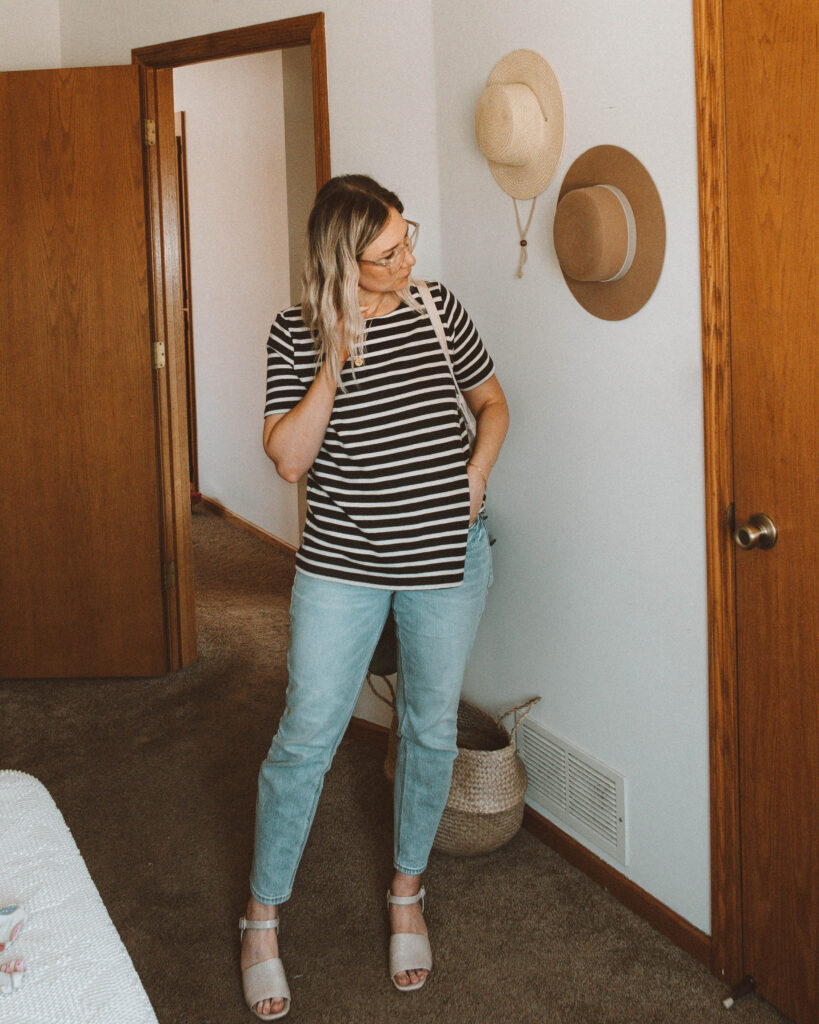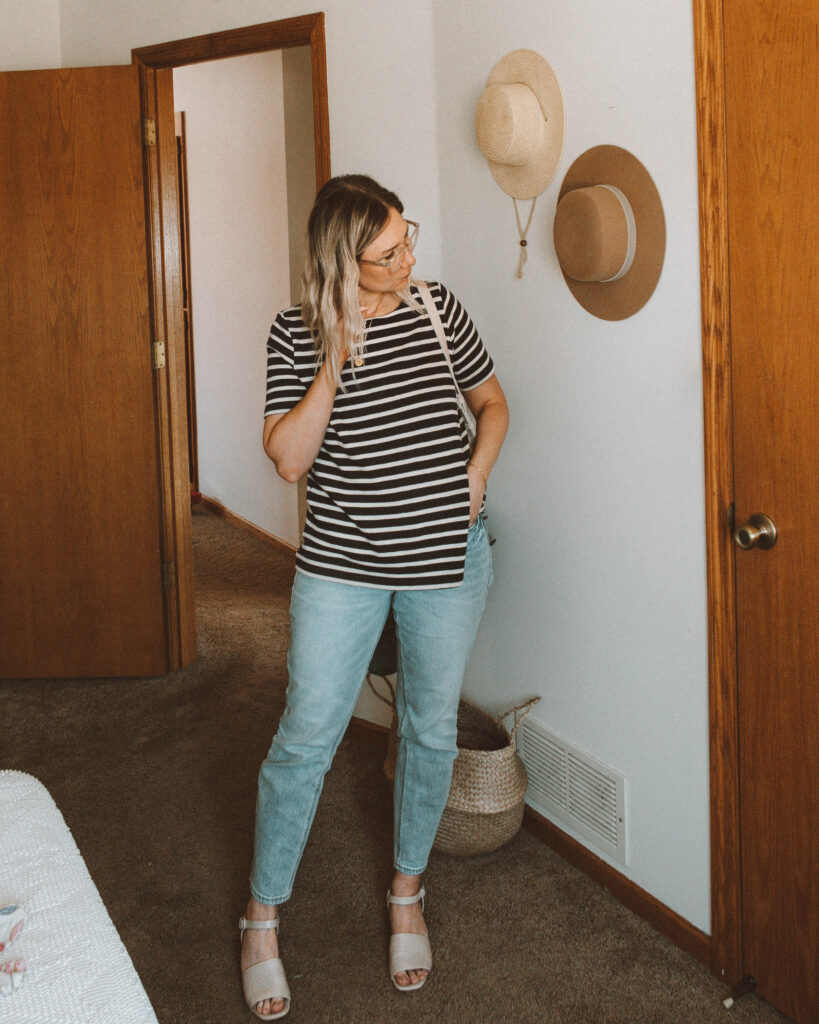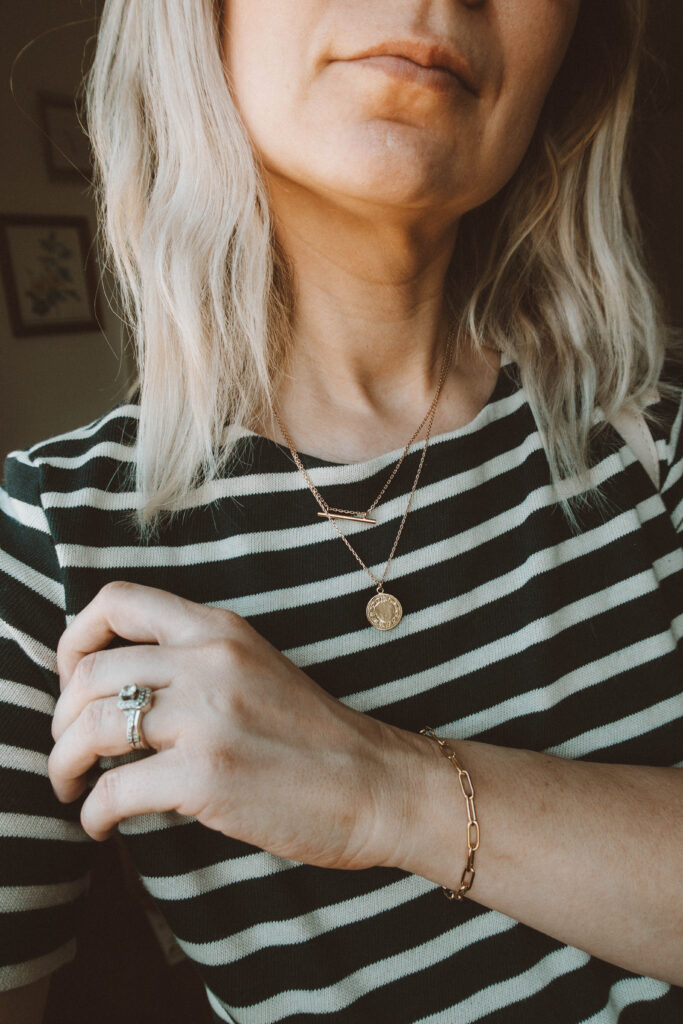 ---
Outfit Details (Affiliate Links):

Top is gifted from Boob Design (see review here) | Bar necklace is sold out so I linked similar
---
This is a really basic outfit, but it's the kind I love to reach for on a regular basis. These tops from Boob Design are so handy for nursing, and I love the assymetrical hem, which makes the shirt look pulled together even worn untucked. These sandals from Everlane are another favorite of mine because they are so, so comfy, but they have a bit of a heel so you feel kind of fancy… and what stay at home mom doesn't want to feel fancy every now and again? I did actually wear this outfit for a little bit yesterday (to be clear, when I say I wore these outfits, I did not actually wear the shoes around the house… just clearing that up).
---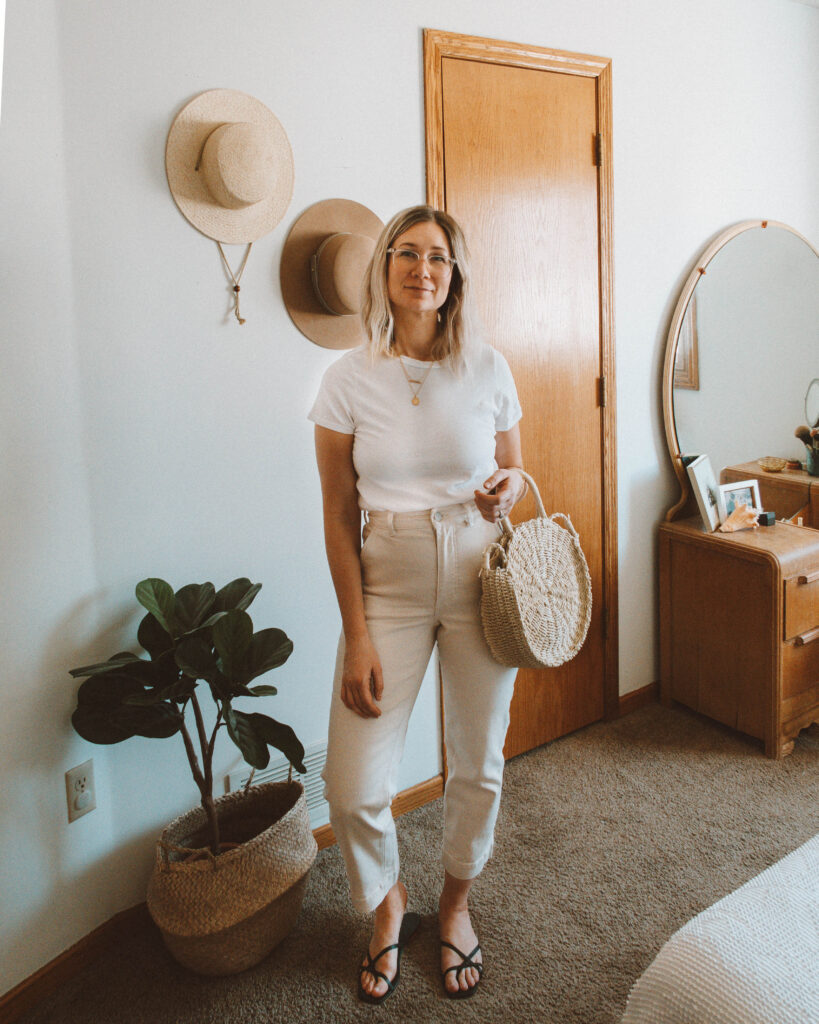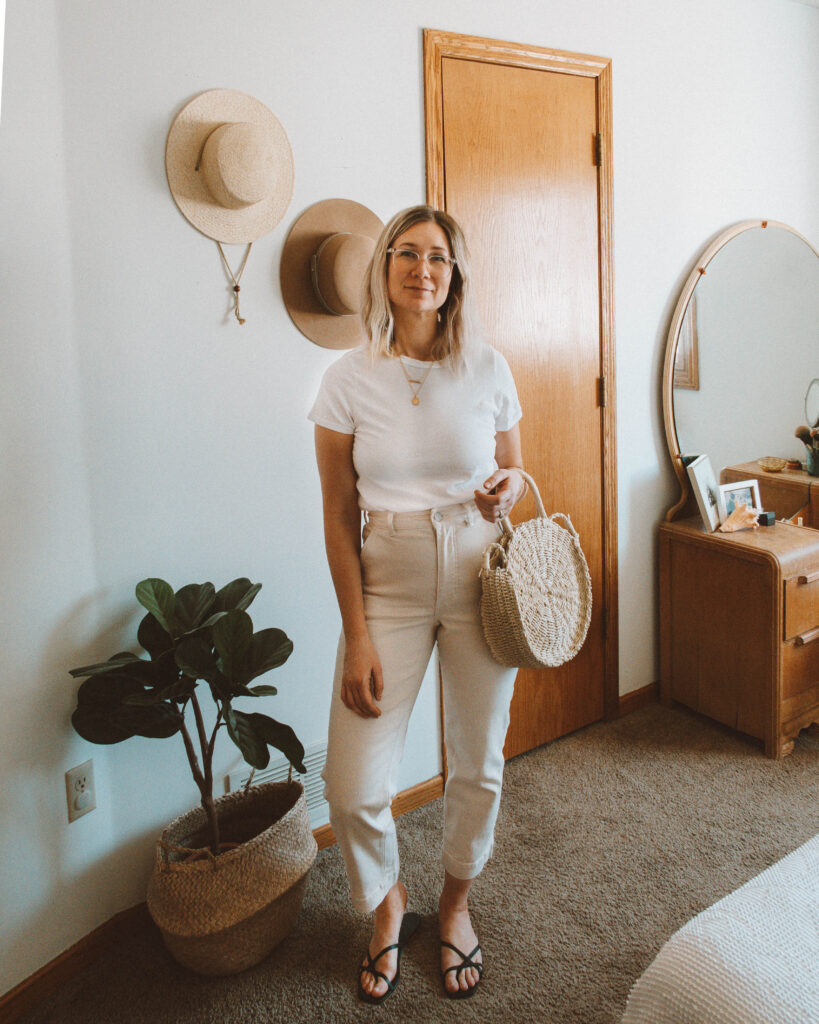 ---
Outfit Details (Affiliate Links):

The next two outfits are dress up outfits (i.e. I tried them on to show you because they were in my head, and I wanted to see what they looked like in execution). I really, really love the color palette in this one (I know a lot of you will question my use of the word "color"). Very recently I have realized that the reason a lot of clothing in my wardrobe wasn't working for me was because I had a lot of warm toned clothing in my wardrobe.
I do not look good in warm tones… they make me look sallow and washed out. Cool tones suit me much better. Now that I've realized that, I have been making better choices in the colors I allow in/to stay in my wardrobe. And this outfit is the perfect example because, while it is comprised of neutrals, the neutrals are all cool toned neutrals. The pants aren't too yellow, the shirt is nice and bright white, and the black shoes look so much better on me than if I would have paired this outfit with a warm cognac. If you haven't played around with tones yet, I highly suggest taking some photos of yourself in both tones so you can see which ones work for your coloring.
---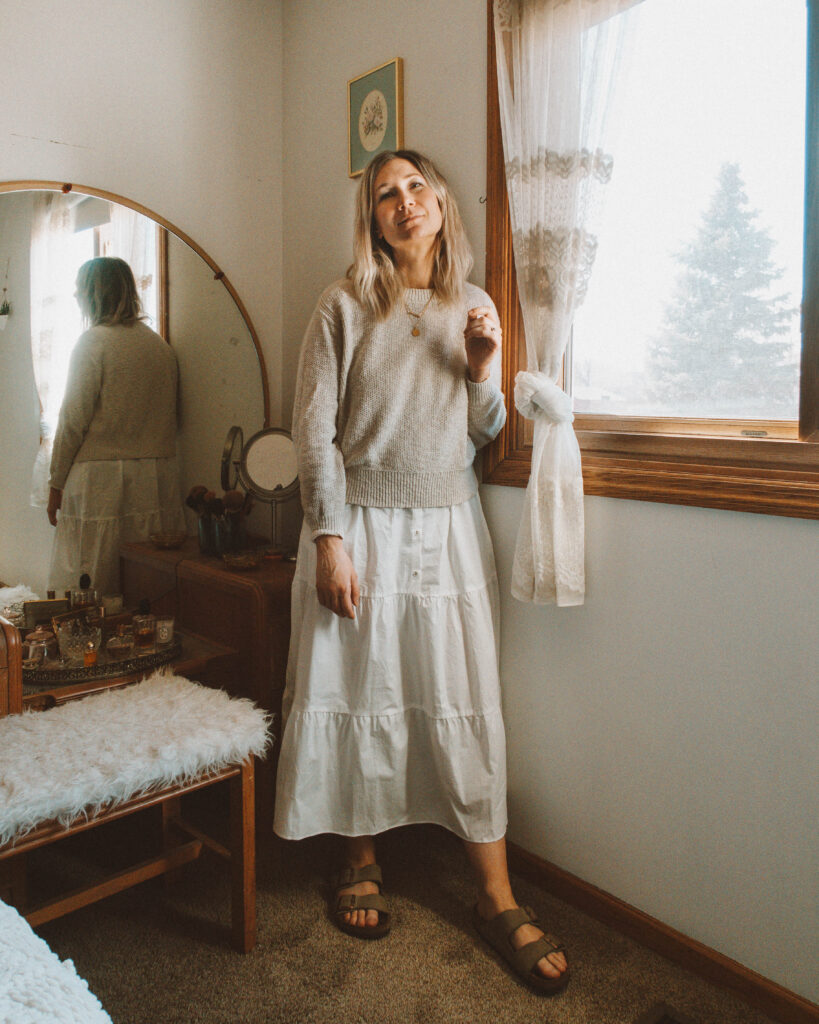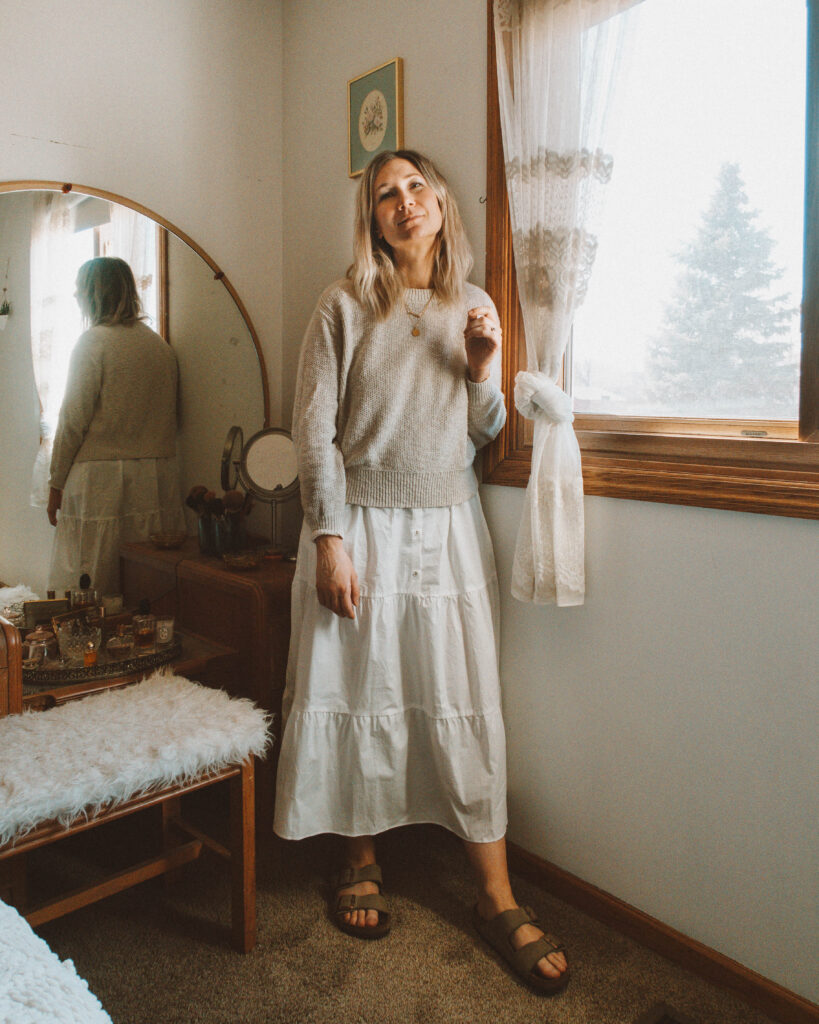 ---
Outfit Details (Affiliate Links):

Dress is secondhand/old from Hatch so I linked similar
---
This is another example of a cool toned neutral palette, and I really (really) love the way this outfit came together. While I didn't actually wear this outfit, I 100% would/probably will because dresses are so comfy. This one buttons all the way down to your hips so it's super easy to breastfeed in, but unfortunately this dress is no longer available. If you're thinking of dresses you can breastfeed in though, look for options that have buttons. Can I also just say that this sweater from Everlane just keeps getting better and better? The more I wear it, the slouchier and softer it gets. I really, really like it.
---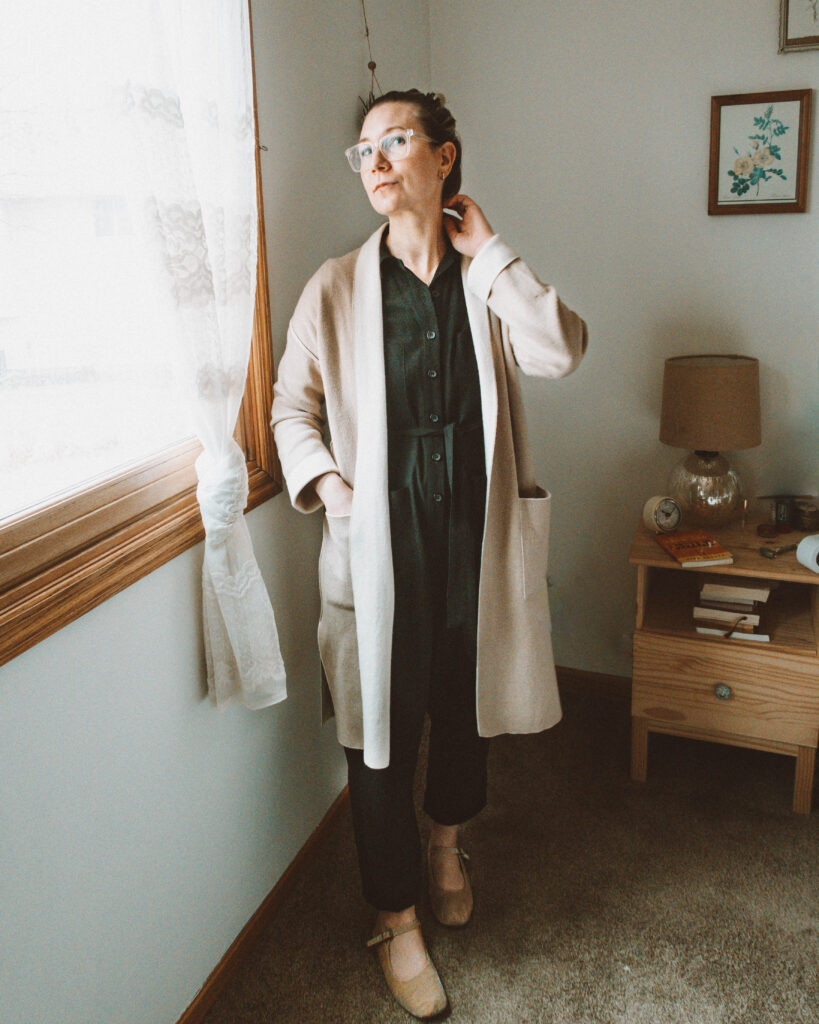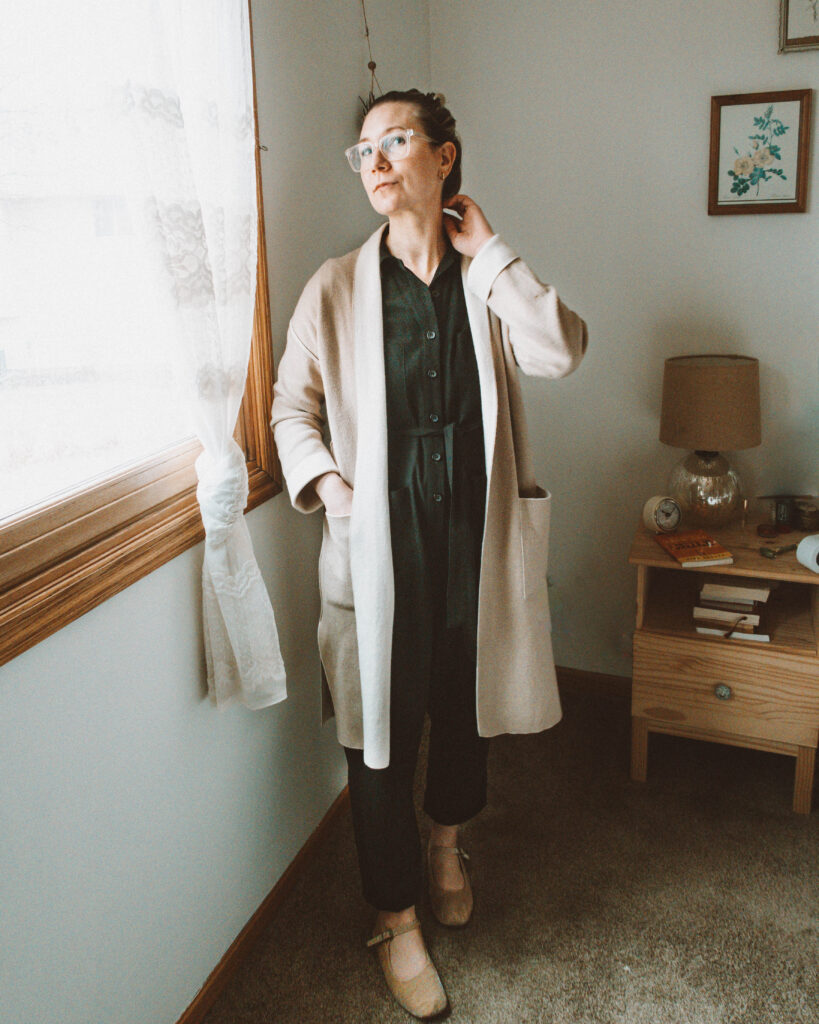 ---
Outfit Details (Affiliate Links):

---
Earrings are gifted from Kiki Koyote | Jumpsuit was gifted | Flats are no longer available so I linked to similar | Cardigan was gifted and is currently on sale for 50% off
And we'll finish off with the one outfit I actually wore out of the house! I'm giving David the stink eye in this photo because he threw me to the wolves (a.k.a. Target) by refusing to go grocery shopping instead of me (I'm kidding. He would go in a heartbeat if I asked him to). I have to say though, that this photo does not do this outfit justice. This was another outfit where as soon as I put it on, I just felt so "me" in it. I'm such a fan of each individual piece, and together they make a really lovely combo. I just wanted to point out that this cardigan does have wool in it, but it's of such a high quality that it doesn't bother my skin (which is saying a lot because I'm pretty sensitive), so if you've been looking for a warm, wool cardigan but were worried about itching, definitely try this one! Also side note: Tradlands (the maker of this jumpsuit) just released their new Jude pullover and it looks so beautiful! I can't wait to give one a try, but I wanted to draw your attention to them right away because Tradlands' stock tends to run out fairly quickly.
---
Well then, well then, well then. I guess it's the weekend… a.k.a. more of the same + some online church.
In all seriousness I'm trying to stay as positive as I can right now, and focus on things that make me feel better because honestly? The rest is out of my control. I hope you are staying encouraged as well, and if you aren't, and need someone to talk to, please (please) feel free to reach out to me. You can find me on Instagram or you can e-mail me at truncationblog@gmail.com I'm MORE than happy to chat with you.
And with that I'll sign off. Who's made it into real clothes yet? Let me know in the comments!
Until next time,
Karin