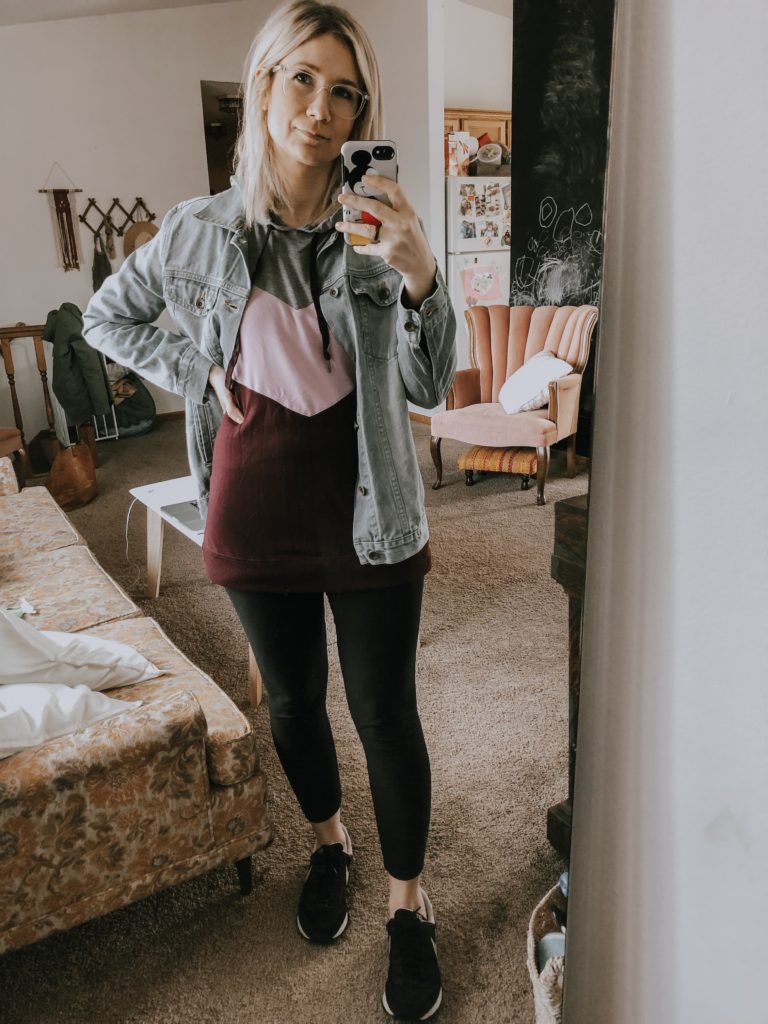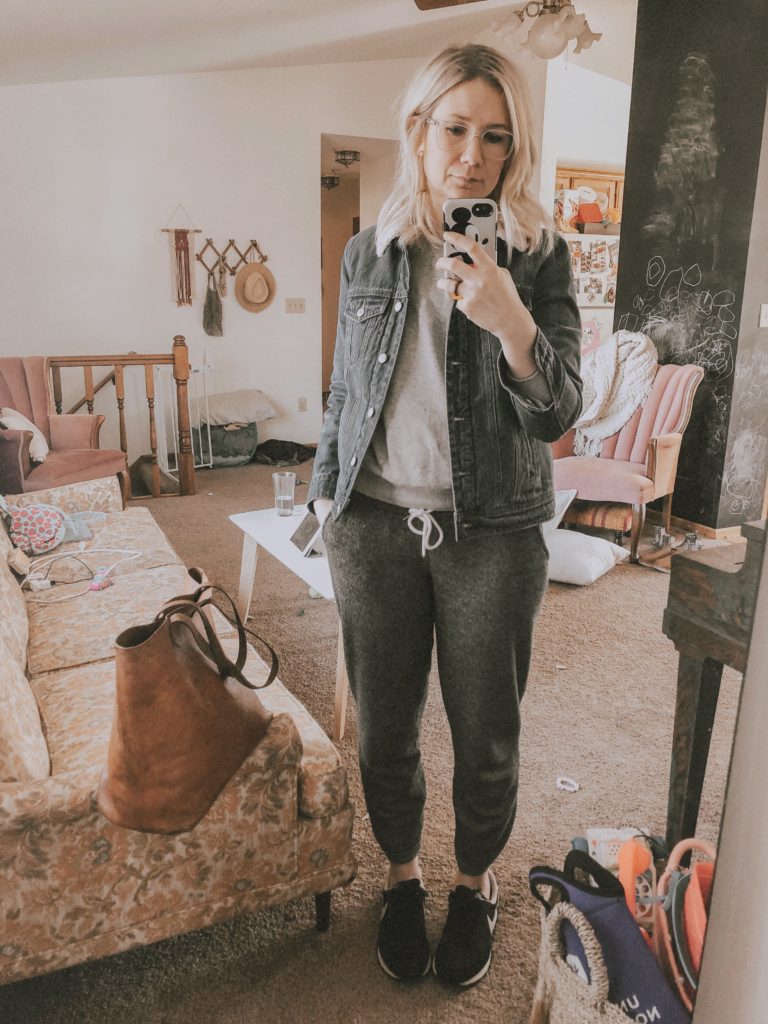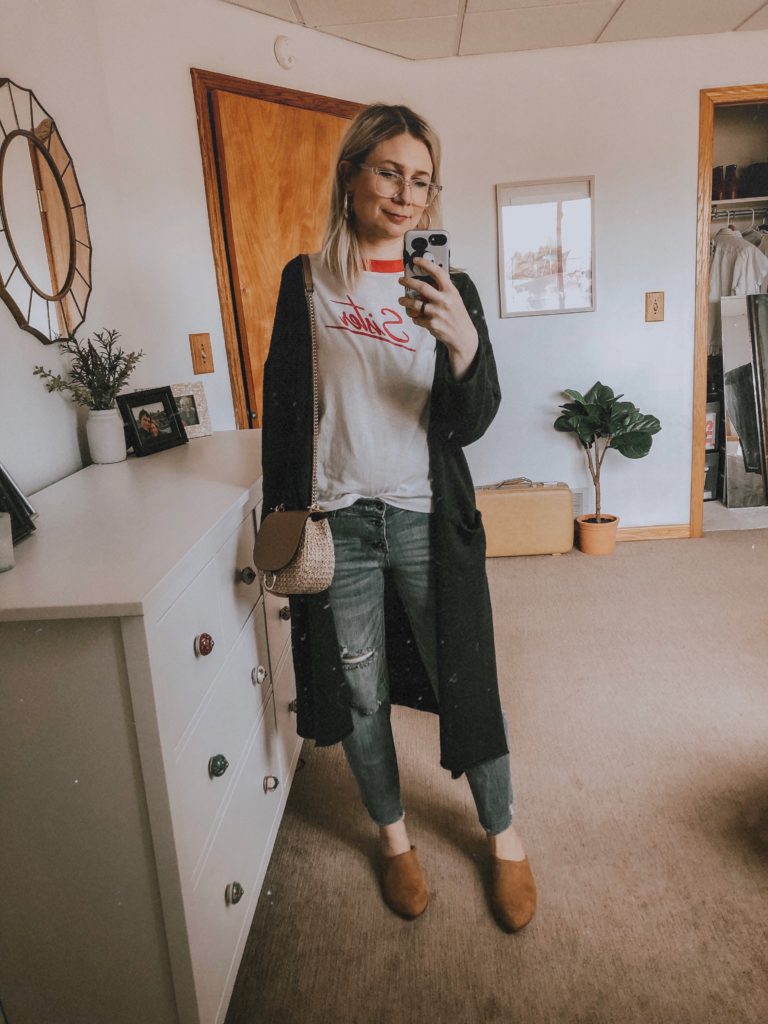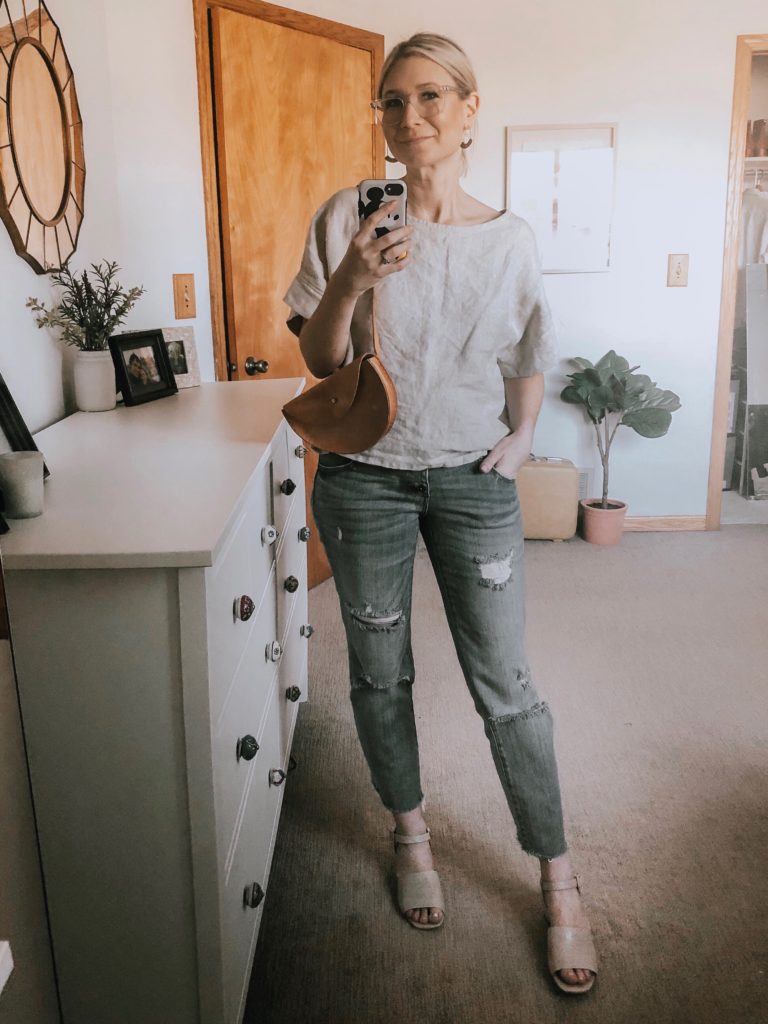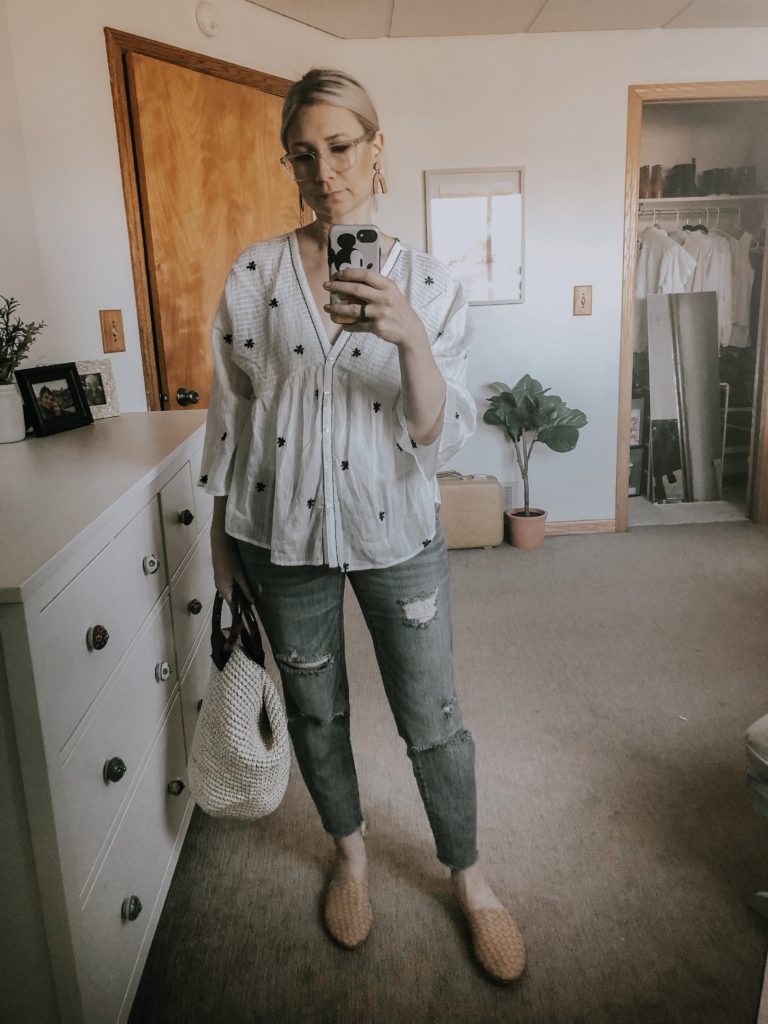 So… this definitely isn't a week of outfits post, but more of a wearing lately post. This pregnancy is kicking my you know what, and to be perfectly honest most days I wear sweatpants or pajamas all day. I'll be 20 weeks next week and I'm HOPING things start to turn around a bit, but so far I have felt pretty crummy and tired. So instead of a week of outfits, I've just been taking mirror selfies on days where I've felt somewhat presentable and now that I have a handful to show you it feels worth my time to make a post.
You'll notice a bit of a progression as time goes on. 🙂 I've been feeling a bit more able to look presentable the last couple of weeks so my outfits have been a bit more styled and put together. I literally lived in leggings and sweatpants the first few months which is very unlike me. Part of that was the comfort aspect of it (obviously), but I also outgrew my high rise denim pretty much immediately and it wasn't warm enough for dresses so I just wore what I could fit in. I have since purchased a pair of maternity denim, and also found a couple pairs of jeans that I can make work with the rubber band trick (literally just looping a rubber band through the button hole to give yourself a few extra inches in the waistband).
But I wanted to point out a few things specifically:
First: the leggings in the first outfit were gifted to me from a brand called the Parallel Connection. They brand focuses on spreading positivity to women and those with learning disabilities. The leggings are made with sustainable fabric and partial proceeds go towards learning disability organizations. They are currently running a kickstarter (which you can find here), and their leggings are available for preorder. They're really comfy and stretchy and they aren't see through at all! Definitely check them out.
The heels in my fourth photo are a new color release of the block heel sandal (sand lizard) from Everlane. I'll be sharing more information in an upcoming blog post so stay tuned for that. But in the mean time have you seen the list of "coming soon" for May on their site? So many good things on the horizon (including some new jumpsuit styles!).
The basket weave mules in my last photo are ethically made, and they are less than $100! They are definitely a dupe for the St. Agni Paris mules, which are stunning but also quite pricey. The Liberte mules run small so I would order at least a half size up. I got my normal size 9 and my heel hangs off a bit. I'm hoping that with some stretching they'll fit a bit better, but even with some stretching a half size would have been better.
Finally, you may have noticed a few new non ethical pieces in this outfit roundup. The truth is that I was very ill equipped for pregnancy with my current wardrobe. I got rid of most of my pregnancy clothing, but even if I would have kept it, most of it would not have fit as I'm a different size than I was with both of my previous pregnancies… and my current wardrobe is full of high waisted denim and shorter tops that are meant to be tucked in. I do have a few dresses, but not enough to sustain me long haul. And, quite frankly, our budget doesn't allow for me to run out and buy a large number of ethically made clothing that will fit over my growing bump. So I've been trying to mix it up as much as possible and buy sustainably where I can (like this jumpsuit), but allowing myself to purchase a few non sustainable clothing pieces as well (like my maternity denim, and some flowier tops). But I'm trying my best to buy non maternity so that I can wear it even after I'm pregnant. The point is:
sometimes this whole "ethical fashion" thing becomes complicated. It's not always as simple as having a desire to buy from sustainable brands. Sometimes life circumstances, budget, and other variables get in the way and that's okay. Secondhand is always a great option, but sometimes that fails us as well. There is so much pressure to be perfect when it comes to social justice issues like ethical fashion, but perfection is not attainable for most people. I hope that, as an influencer in this space, I can encourage you by being honest about my inability to do this thing perfectly. I think the best we can do is be mindful about our purchases and to do the best that we can do (whatever that may look like for you and your circumstances).
And I'm not sure what things are going to look like in the future for me either because adding a fourth child to the mix is expensive ha! I may be permanently adopting a hybrid approach, but time will tell.
I am thinking about sharing a capsule wardrobe of sorts for my summer wardrobe. Being that I'm pregnant and will be reaching for a small amount of clothing I thought it would be fun to do a "throwback" and create a more formal capsule.
Well I think that's everything I want to say. I hope you guys have a great weekend, and I'd love to hear your thoughts on how you approach mindfulness in your own closets. Let me know in the comments below!