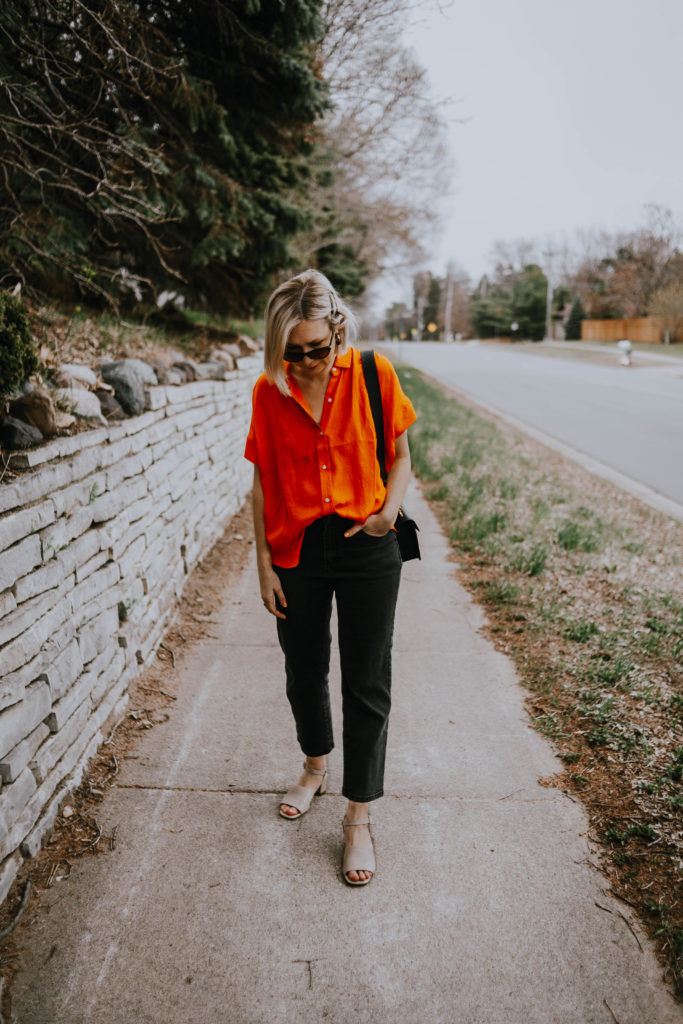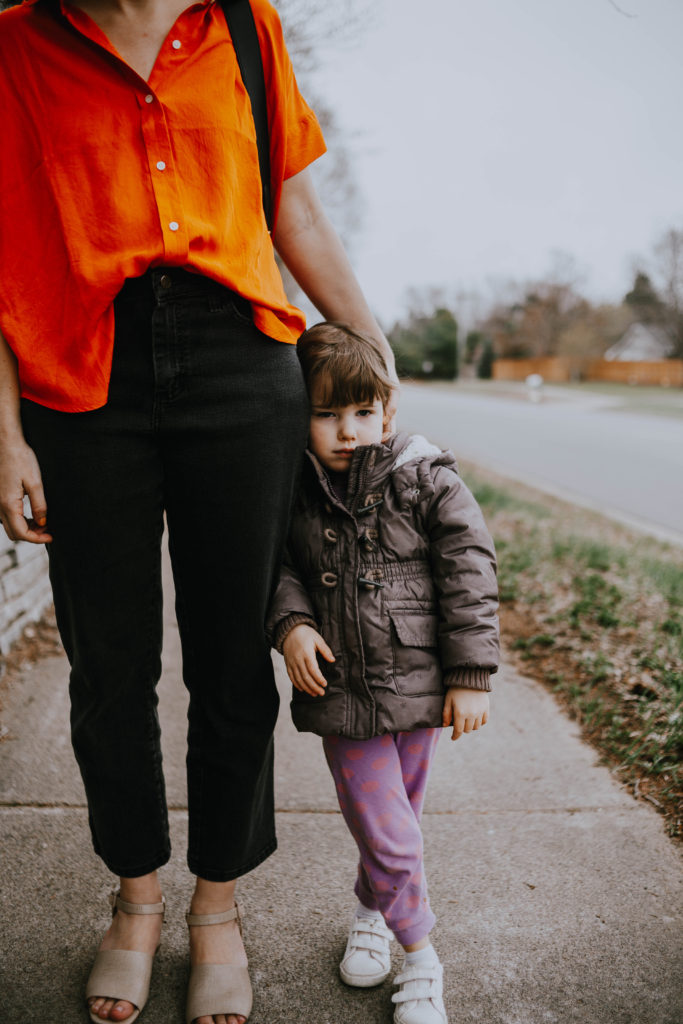 FIRST of all, I just wanted to let you know that if you've tried to comment in the last couple of weeks, and have been met with a firewall warning the problem SHOULD be fixed. So sorry about that! If you are still experiencing issues would you mind e-mailing me at truncationblog@gmail.com? I would REALLY appreciate it. But hopefully we don't have anymore issues going forward.
Two other things: I'm wearing color! And I found another pair of non maternity jeans that are stretchy enough to wear with a rubber band!
Hint: they're thrifted Lee jeans that a lot of older ladies get at Department Stores… i.e. they are super stretchy, and are an ACTUAL mom jean. Win!
Truth be told though, I'm finding it harder and harder to fit into things. Although I say that with a grain of salt because when I was pregnant with the twins I literally ran out of things to wear. I existed in leggings and my hubbies t-shirts for the last month… and I only made it to 34 weeks. SO. Perspective right?
Which brings me to my next point, which is that I have 100% committed to the idea of putting together a capsule wardrobe for this summer. I mentioned I might do one in Friday's post, but I've decided that since I'm basically doing one by default I might as well make it official, and share it with you guys. So stay tuned for that! I'll likely have it up the beginning of June.
But even though a lot of things aren't fitting me these days, and I REALLY just want to wear sweatpants and leggings lately (#truth #ihatewhenpeopleusehashtagswhentheyarenotonsocialmedia #butimdoingitanyway), I still wanted to share what's new in for spring at Everlane because:
a. I found a shirt from Everlane that works with my 20 week belly, and
b. there is SO much new in/coming soon at Everlane that I LOVE right now…
but can't wear. So I thought I would share it with you in a more informal setting just in case you hadn't taken a little poke around lately (which you should).
But before I share my picks from their spring releases, I wanted to give you a quick little review of each of the pieces I'm wearing in this post:
The blouse I'm wearing is the Japanese GoWeave Light Square Shirt in the color Poppy. It comes in three colors: orange red, olive/khaki green, and navy blue and retails for $78. I got it in a size 4, which works well over my baby bump, but if I were in normal sizes I would need a 2 (or perhaps even a 0, though I like this shirt on the baggy end. It was hard to capture the color of the fabric in these photos because there is a slight sheen to the fabric that makes it turn a little orange in some lights (you can kind of see that in the picture, though its definitely a more muted orange)… it's honestly really, REALLY lovely in real life. It's made of 100% triacetate which is a very soft fabric, and I imagine it will work really well in warm weather. For what it's worth, when I put it on my four year old kept touching it and saying "you look like an angel mommy!"
The shoes I'm wearing are the Block Heel Sandal in the newly released color Sand Lizard. They come in seven colors and retail for $155. I'm wearing my true size 9. I absolutely love these sandals, and know I'm going to get a ton of wear out of them this summer. It's really hard for me to find comfortable heels because I am as flat footed as big foot (I'm just assuming he's flat footed), but these actually are. I wore them for about seven hours one day while I was out with the girls, and I only experienced a slight bit of rubbing on one of my big toes… not even enough to get a blister. I love the subtle snakeskin texture, and the fact that the buckle is the same color of the shoe. The monochromatic-ness is really cool.
Both are great picks for your warm weather wardrobes, and I highly recommend.
NOW. Onto what's new in for spring at Everlane, a.k.a. my picks from the clothes that I can't wear (I'm crying a little right now… but also not because it's such a first world problem to have, and I recognize that).

+ I'm super excited about all of the new sandal releases this month AND did you see they are releasing two new jumpsuits?? They look really promising! You can waitlist them here.
Are you guys as into the spring line as I am? What are your favorite pieces?
If you like my Everlane reviews, you can find more of them here.
what I'm wearing in this post:
blouse (sustainable) c/o | jeans: thrifted, but similar/same here | sandals (sustainable) c/o | bag (vegan) (on sale) | sunglasses: old, but similar here | leopard print hoops: old, but similar here (on sale)| tortoiseshell barrettes
Some of the links in this post are affiliate links. If you choose to shop through them I will make a small commission. Thank you for supporting Truncation!