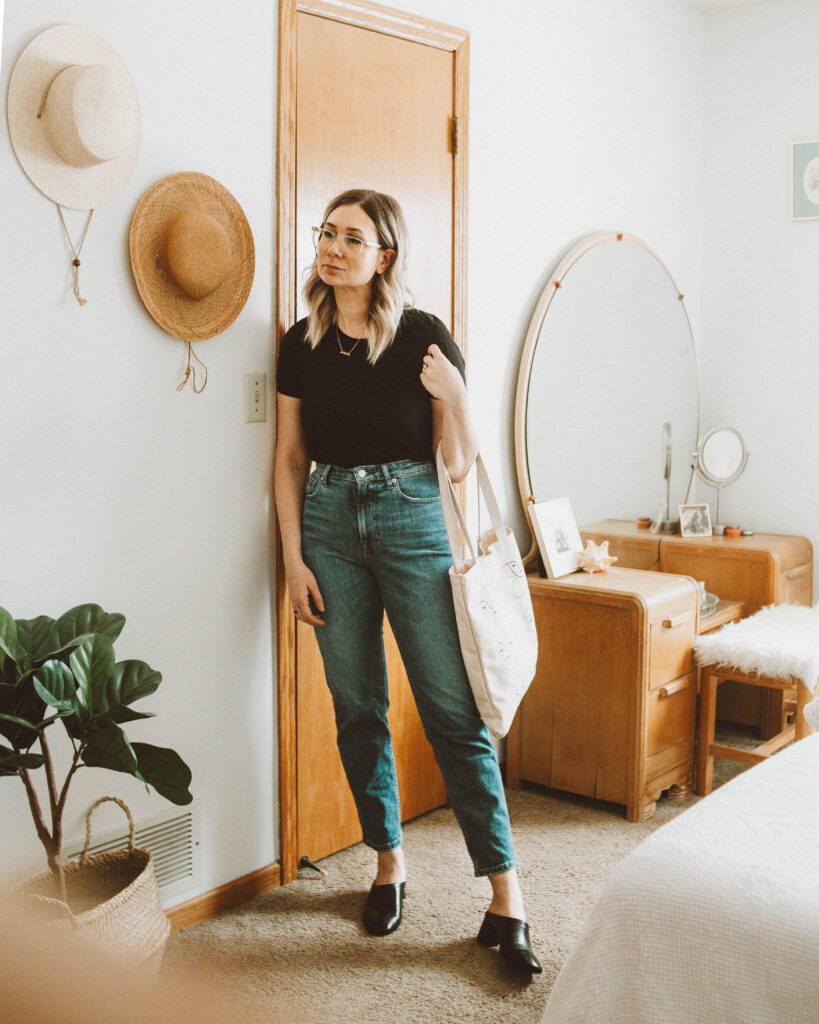 This week was weird you guys. We had a day of glorious weather the Saturday before Easter, a very snowy Easter followed by several days of more snow, and now it's supposed to be in the 60's all weekend.
Good thing I'm not actually leaving my house or else these outfits would have looked a bit more random.
I did actually wear most of these outfits, but I really didn't bother with shoes this week as I spent most of the week indoors. I didn't even leave for a grocery run because I've been feeling a tad under the weather (I'm 99.9% positive it's allergies, but just to be safe…), so I braved the world of online grocery delivery. I basically filled my cart three days before I knew things would get desperate and then checked availability every hour until I got a window.
In moments like that things feel so surreal… but then I have to remind myself that not being able to secure a grocery delivery is not, in fact, a suffering. It's just an inconvenience… and one I can, and will, get over.
SO yes, back to the spring outfit ideas:
I still find joy in getting dressed every morning so I do it. I'm not saying I don't change into sweats by 4:00, but I do feel a bit more ready to tackle the day when I'm in "real" clothes. I've always been that way, and I guess a pandemic isn't going to change that.
With that said, I generally dress with comfort in mind + I'm a work from home mom so my outfits aren't unrealistic for that stay at home life.
Okay okay. I've talked your ear off. Let's get to the spring outfit ideas: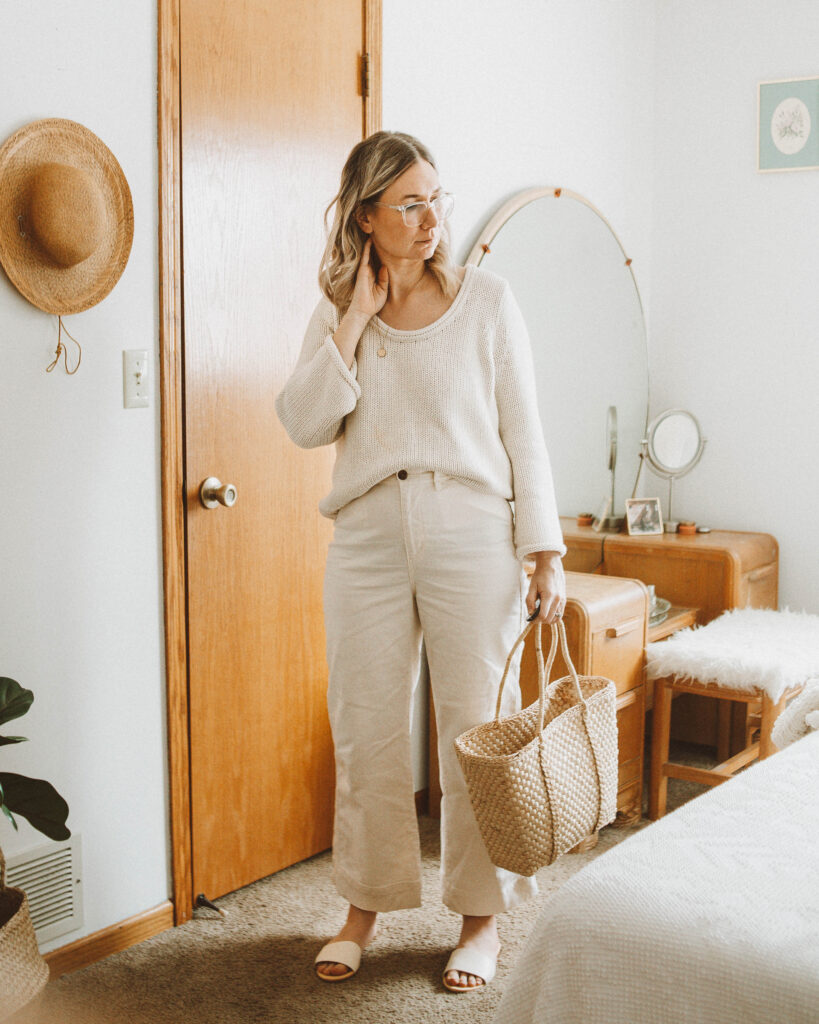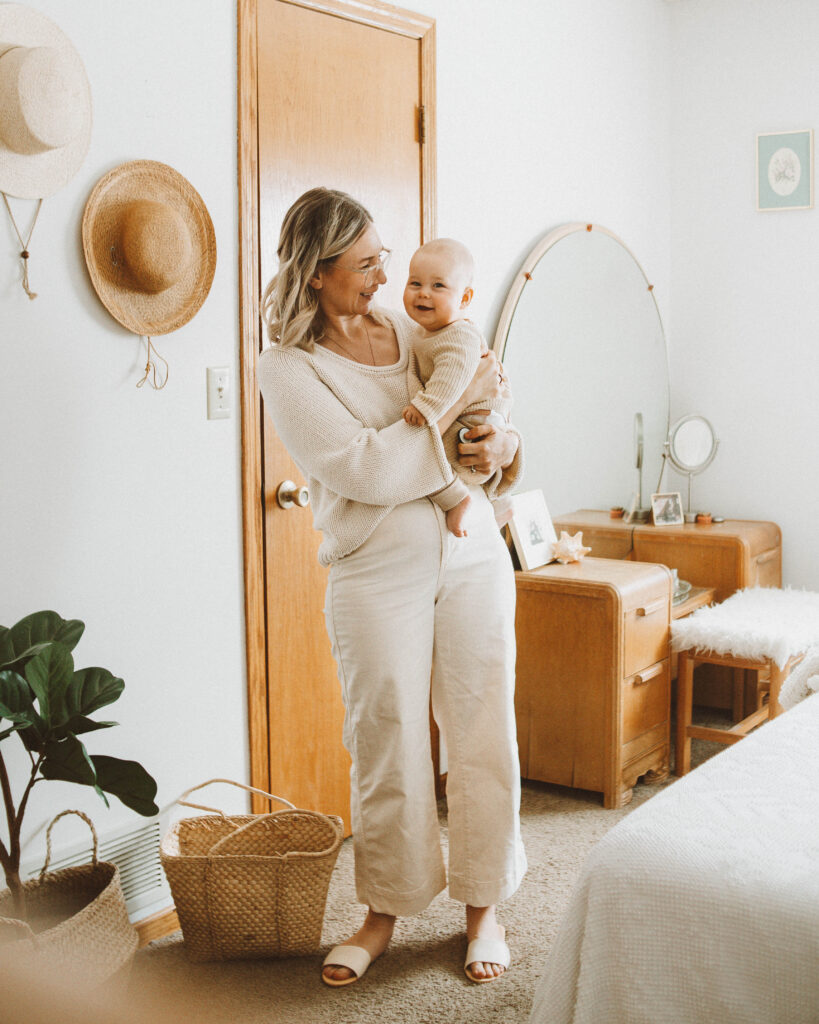 Outfit Details (Affiliate Links):

J. Crew Sweater | GLDN Necklace | Gap Pants | Nisolo Sandals (15% off with code NOTALONE) | Vintage Basket Bag (Gifted from the Oak Closet. I linked similar)
Oh you know, just a couple of sticks of butter.
I love these sandals from Nisolo. They're very minimal, which is exactly what I was looking for and they are not a super bright white. They have more of a creamy tone to them that I find to be just slightly more wearable. And even though they have a thinner band for your foot to slide into, they're actually very comfortable and wearable. I got my true size, but if you have wide feet I would size up. They're currently 15% off with code NOTALONE.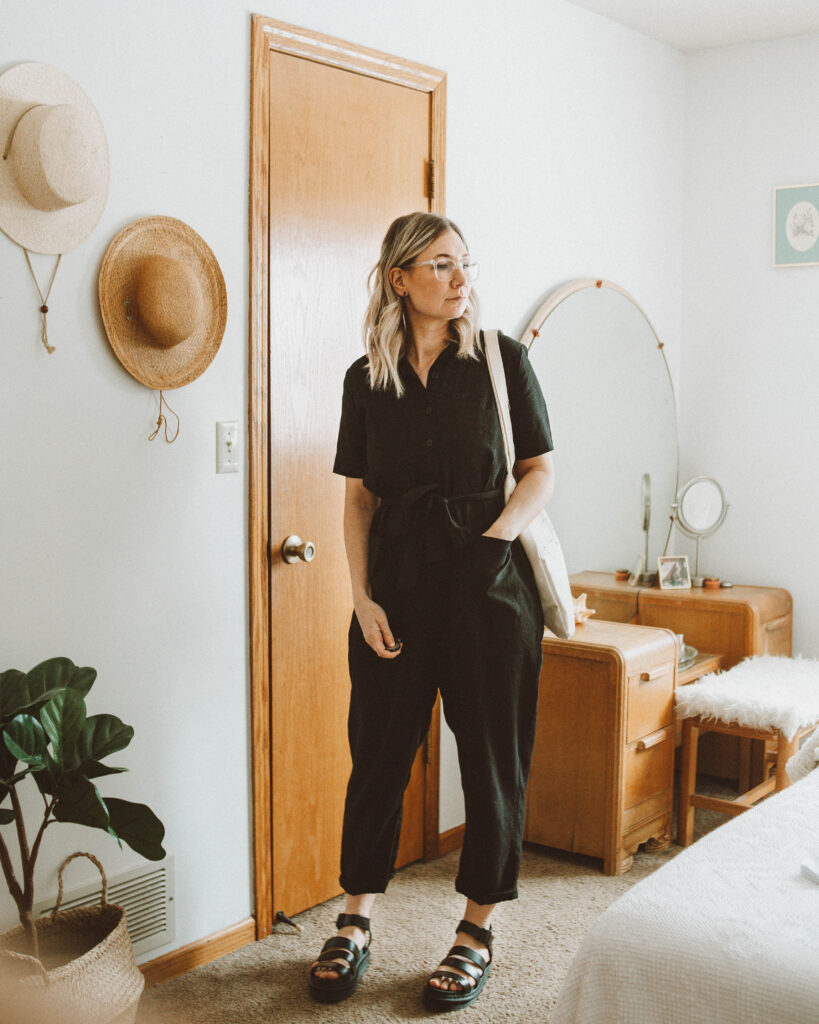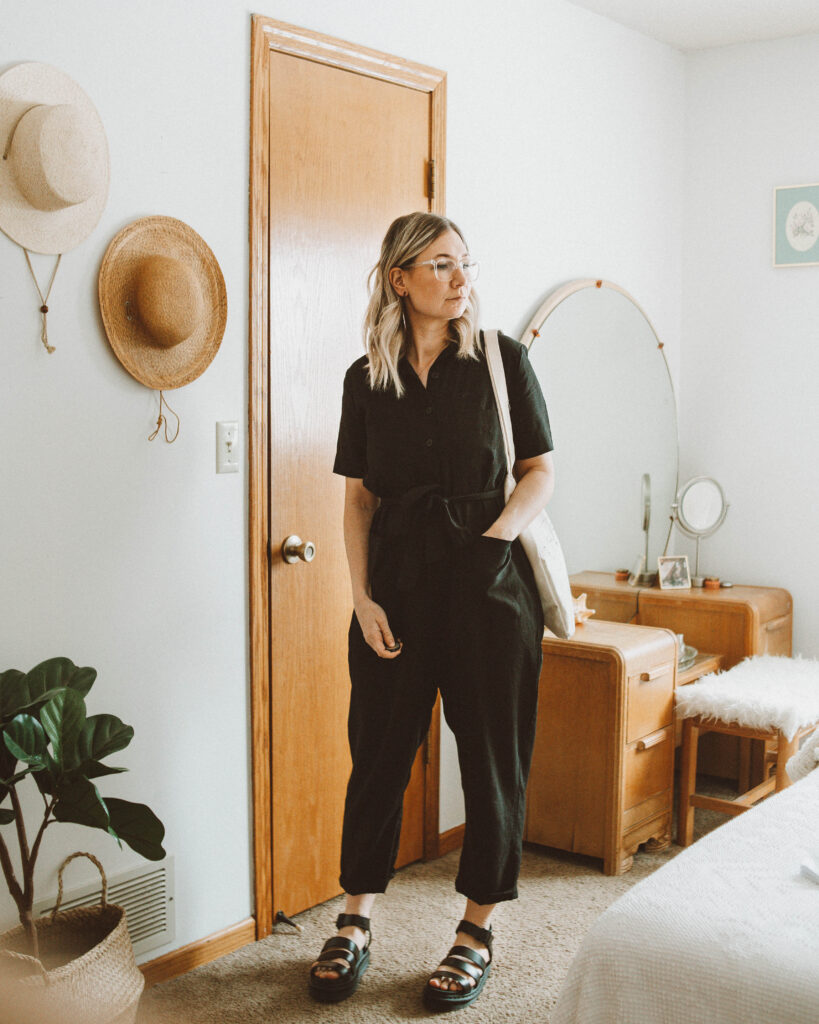 Outfit Details (Affiliate Links):

Tradlands Jumpsuit (Gifted. Review here) | Dr. Marten Sandals (size down a full size) | Tradlands Tote | Holz Design Earrings
This jumpsuit is the only jumpsuit I ever want to wear. It's just jumpsuit perfection for me! I love the fit, the comfort, the buttons which make it easy to go to the bathroom (YOU know the struggle of trying to take an ill fitting jumpsuit off for an emergency… or is it just me?). Tradlands does simple, perfected design SO well, and this jumpsuit reflects that well. I have a more detailed review here if you are interested. Also, quick fit note on these Doc Martens: make sure you size down a full size… they run huge.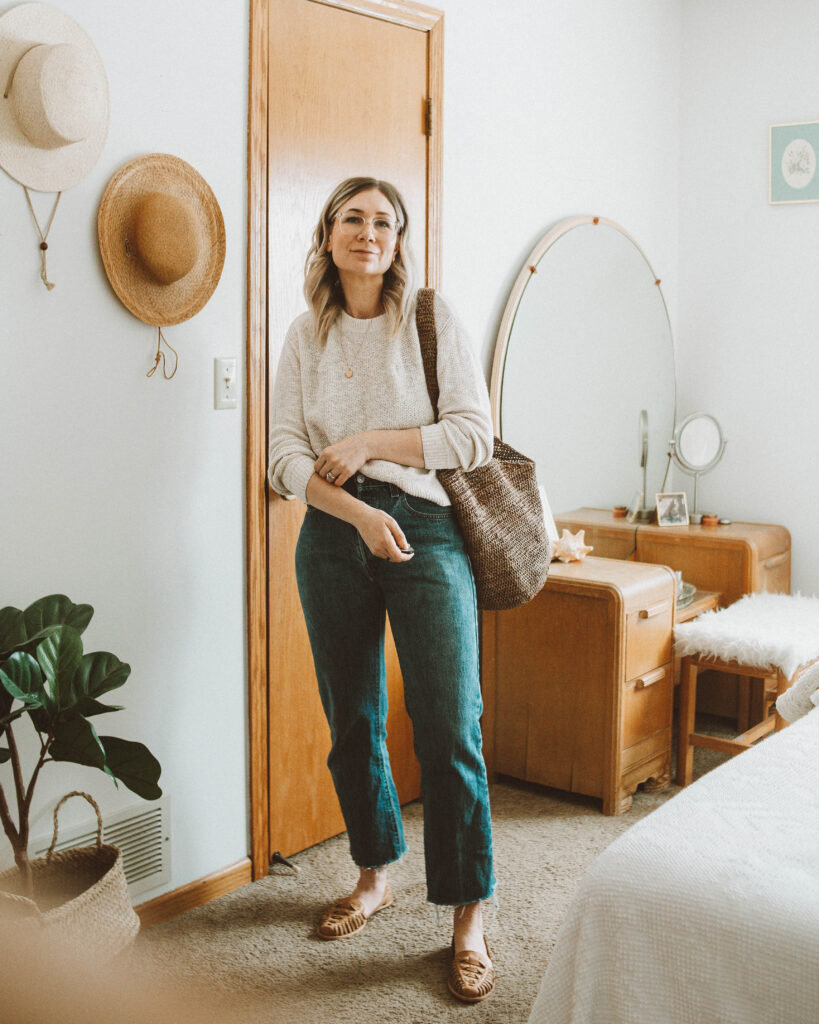 Outfit Details (Affiliate Links):

Everlane Sweater | Vintage Levi's (Linked Similar) | Nisolo Sandals | Helen Kaminski Bucket Bag | GLDN Necklace
Not much to say about this outfit except: favorite spring sweater? Check. Favorite vintage denim? Check. Comfy, easy sandals? Check. This outfit checks all the boxes for me, and it's my ideal "running around the house with four kids" outfit.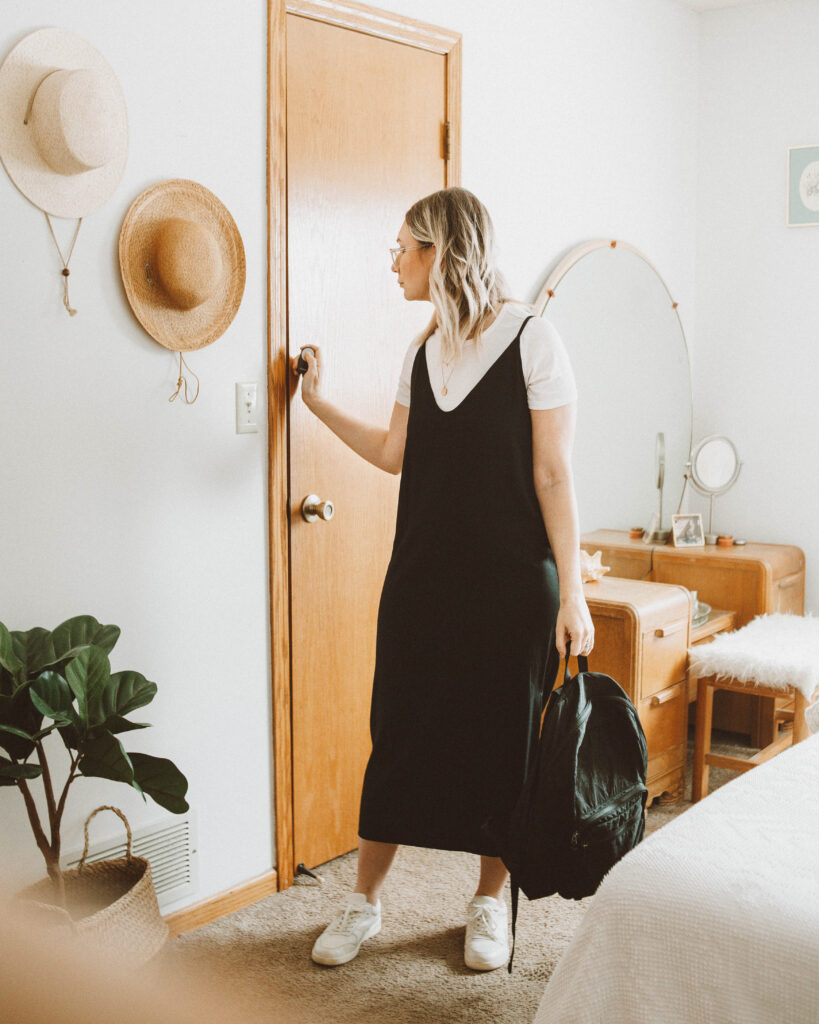 Outfit Details (Affiliate Links):

Everlane Tee | Everlane Slip Dress | Everlane Sneakers (Gifted. Review Here) | Baggu Backpack
I was feeling a bit fancy the day I wore this, and then I will admit to changing into my sweats just a tad bit earlier ha! I do really love this outfit though, and in days where we can leave the house again I will be replicating it. Just a side note about this tee: I don't know if I've ever talked in depth about these micro rib tees from Everlane before, but they are the best layering tees. I have one in black, and one in white and they seriously do the best job as a layering piece. They are made of a fabric that kind of sticks to your body. I know. That sounds ridiculous and not at all appealing, but what I mean is that they lay against your body really well so you don't get any bunching underneath your outer layer. Just trust me on this one okay!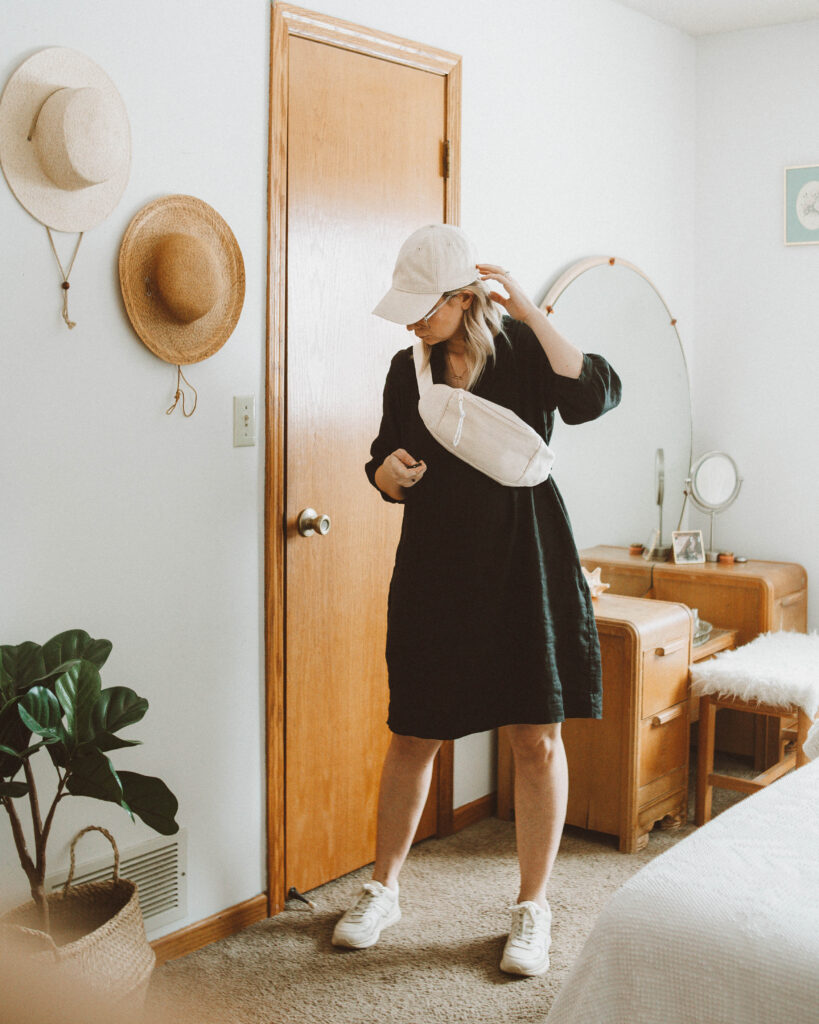 Outfit Details (Affiliate Links):

Madewell Cap | Sugar Candy Mountain Dress (Gifted) | Everlane Sneakers (Gifted. Review Here) | Gap Hip Bag | Red Cherry Blvd. Necklace (No longer available so I linked to similar. Link to the shop)
This is such a classic outfit for me. I've had this Sabine dress (gifted) from Sugar Candy Mountain for quite a while now, and it is one of my most reached for pieces. It just makes me feel so good, and the linen has worn in so it feels like I'm putting on a cloud every time I wear it. It's just that perfect piece for me that I want to put on over and over again (sorry if you're sick of seeing it by now!).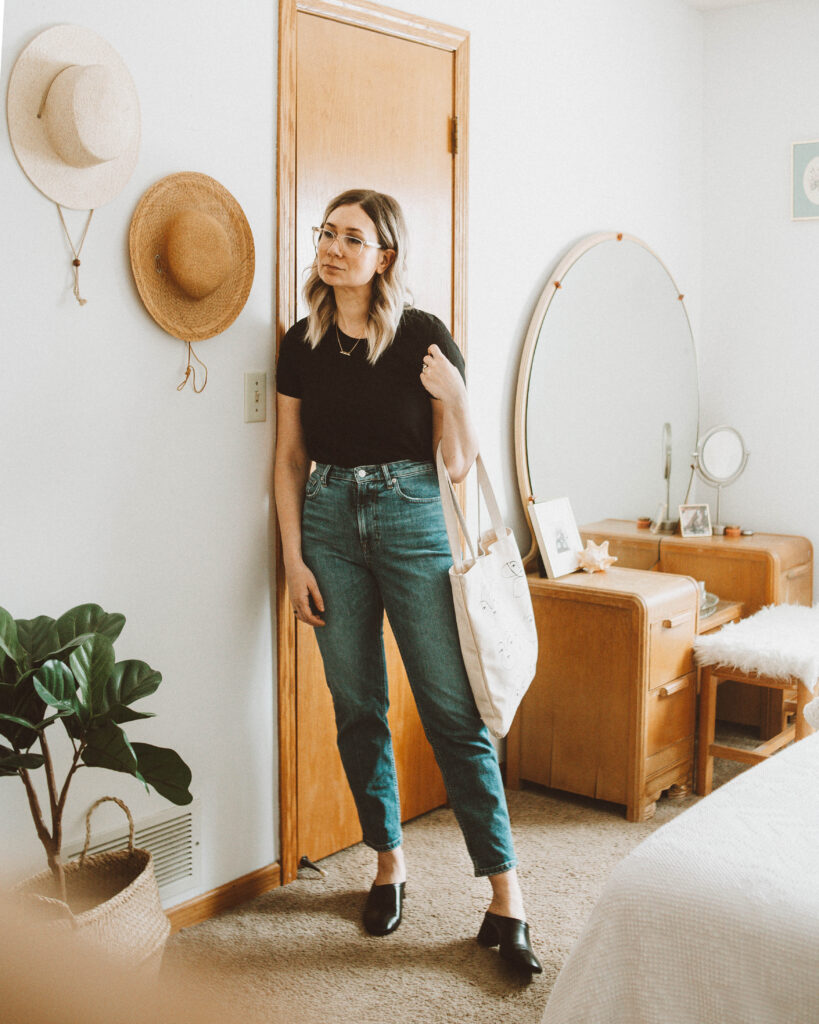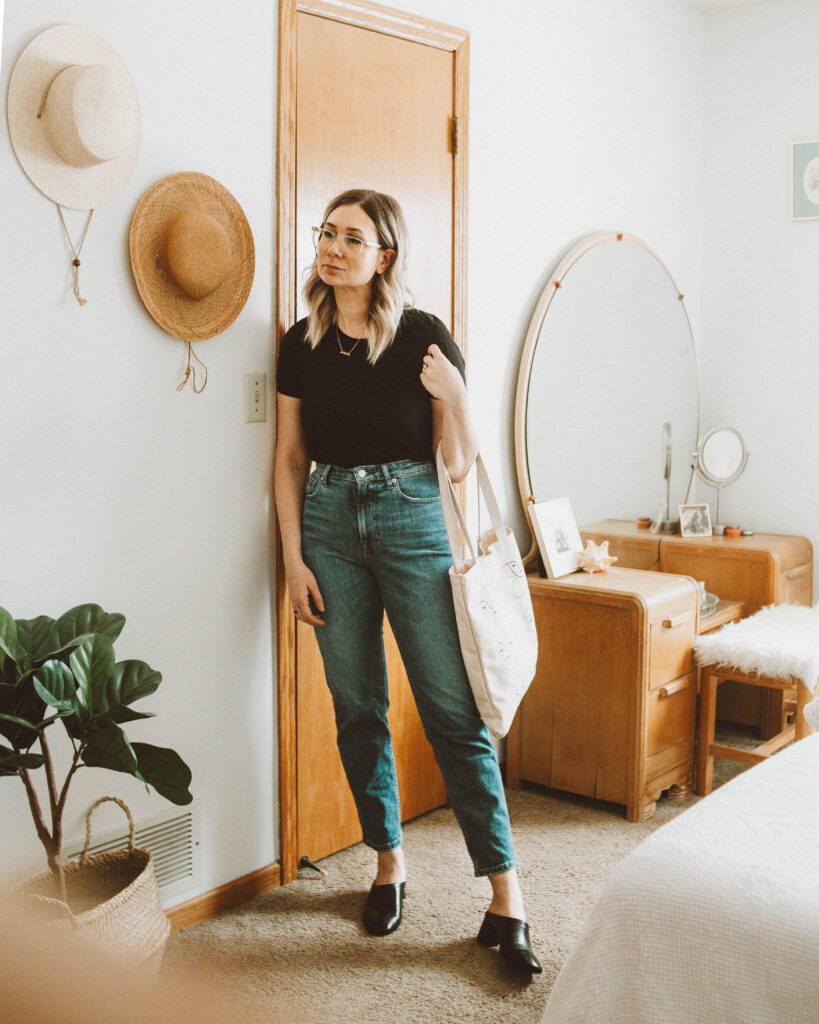 Outfit Details (Affiliate Links):

Everlane Tee | Everlane Denim (Gifted. Everlane Denim Guide Here) | Everlane Mules (Gifted. See Review Here) | Tradlands Tote | Red Cherry Blvd. Necklace (No longer available so I linked to similar. Link to the shop)
Simple, but effective. And that's exactly how I like my outfits to be. I do like the bit of interest that the heeled mule and the tapered denim gives to this look, but this is about as basic as you can get. My kind of outfit. 😉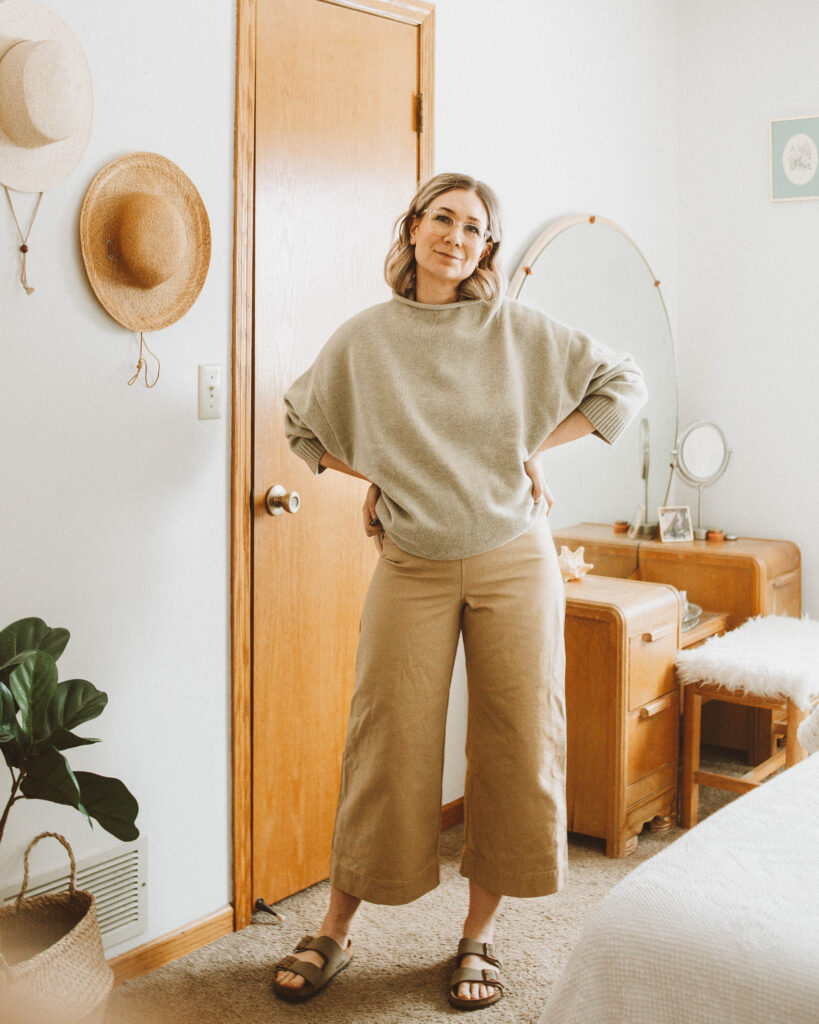 Outfit Details (Affiliate Links):

James Street Co. Sweater (currently 40% off) | Elizabeth Suzann Pants (Older style so I linked a newer version) | Birkenstock Sandals | GLDN Earrings
This was a total dressing for comfort kind of outfit. A super cozy sweater, pants with an elasticated waistband, and Birkenstocks. Can't go wrong my friends!
Well thanks for joining me for another week of spring outfits! Stay tuned for the coming weeks because I've got some good things planned (an Everlane review, Some educational activities my kids have been loving, and my much requested diastasis recti update).
I hope everyone has a glorious weekend, and can enjoy some sunny weather.
Until next time,
Karin