Lately I've been doing a lot of decluttering (I know I'm not alone in this!), and it's made me realize a couple of things:
I'm not as much of a minimalist as I thought.
I want to become much more serious about pursuing minimalism.
Here's the thing: I have zero problem purging things. I am really good at getting rid of things that are no longer serving me. I very rarely attach sentimental feelings to material things. BUT…
I am really good at buying things I don't need.
So I go through these cycles of purge, then fill those spaces back up with crap I don't need, then purge, then fill, and it just keeps going.
One of my goals for this year was to break that cycle, and having all of this time to really do some purging has just cemented that desire.
Right now my goal is to really dig into a minimalist lifestyle, and actually get rid of everything that I don't love, and isn't serving a purpose.
This includes toys, kitchen stuff, linens, gadgets, stuff in the garage… everything.
I'm not expecting this to be completed overnight, but I'll be slowly minimizing our spaces over the next few years.
And this includes my closet.
I have purged a lot from my closet over the last few weeks.
I'm just now learning how to be discerning in what I add to my closet. But funnily enough, I thought I had been discerning ever since I started my capsule wardrobe (and then beyond that when I stopped doing capsules).
Turns out though, I wasn't. I had the epiphany recently that I've been
a. accepting clothing into my closet that I only sort of (or mostly) love, instead of fully loving them.
b. shopping based on what works for other people instead of what works best for me.
One example: the ochre, warm brown, mustard, rust trend has been strong the last few years so I added pieces in those palettes happily into my closet.
But then I started realizing that I never want to reach for those pieces because I don't actually like them very much. I realized I am much more attracted to cool toned pastels (basically the exact opposite!). I've added a few things in those colors into my warm weather wardrobe, and I have loved wearing them.
I also like black more than I like brown as a base color, so I'm leaning into that as I go through and continue to curate my closet.
All that to say: I now feel confident that I can create the small wardrobe I desire and do the work of minimizing my closet because I have let go of a lot of wardrobe expectations (i.e. what my closet should be full of) and accepted what actually works for me and my tastes.
Side note: it's been a minute since I chatted about the how to's of purging/minimizing, and the process I go through so let me know in the comments if you'd like me to do a post on it.
Okay then! Let's get into this week's outfits:
---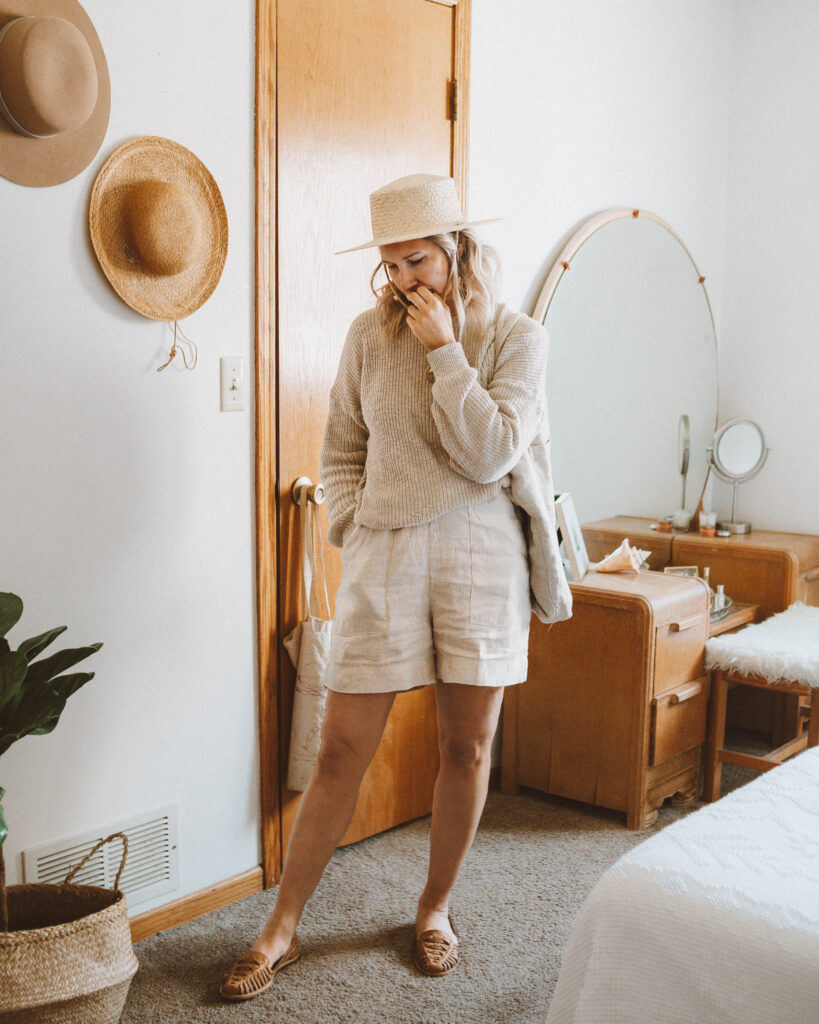 ---
Outfit Details (Affiliate Links):

It is Well L.A. Sweater | Sugar Candy Mountain Shorts (20% off with code INITTOGETHER) | Nisolo Sandals (15% off with code NOTALONE) | Shin+Na Linen Tote (Gifted. See Review Here)
This combo is an all time favorite for me. This It is Well sweater is so comfy and soft… plus I love all the little details like the wide cuffs, the raised neckline, and the texture of the weave. It's probably one of my top 5 favorite pieces in my wardrobe.
Same with these Sugar Candy Mountain Shorts (true to size). They are very high rise, and the inseam is long so they are just so dang practical… while also being super cool. The huge pockets are perfect for fitting anything your kids find in the yard, and they have a nice, comfy elasticated waist. Plus the linen feels like butter it's so soft. I told David that I used to make fun of my mom for wearing shorts like this, but now I totally get it. Long live the mom shorts!
---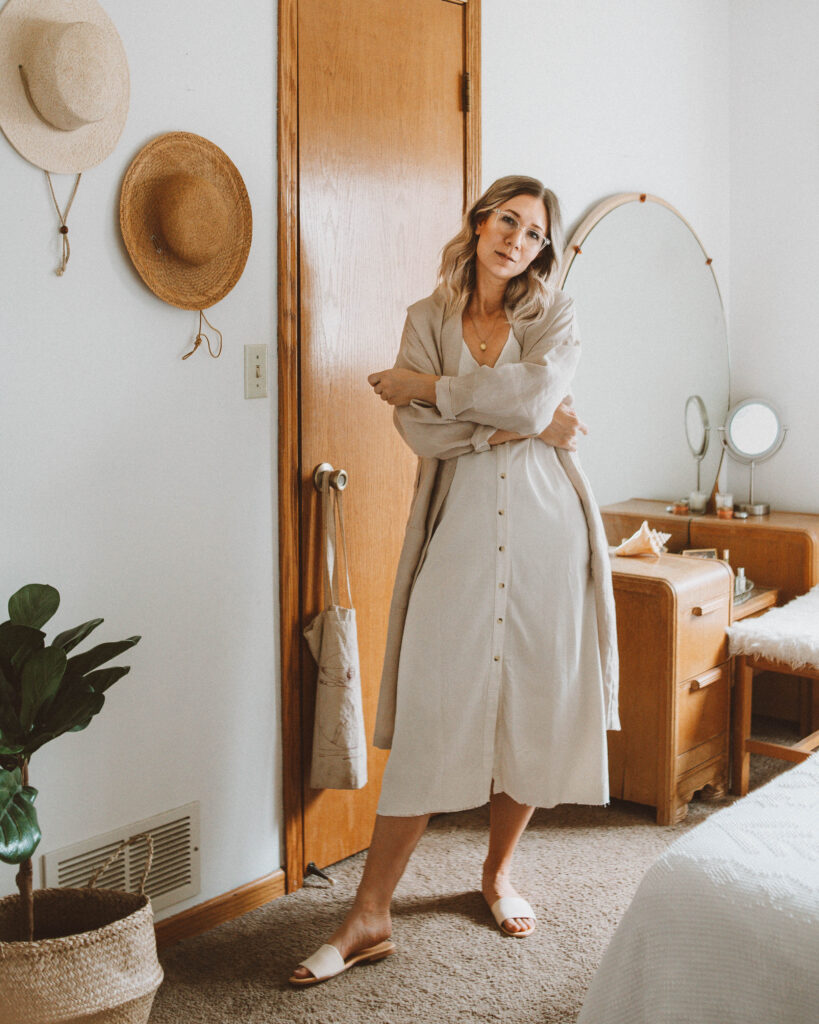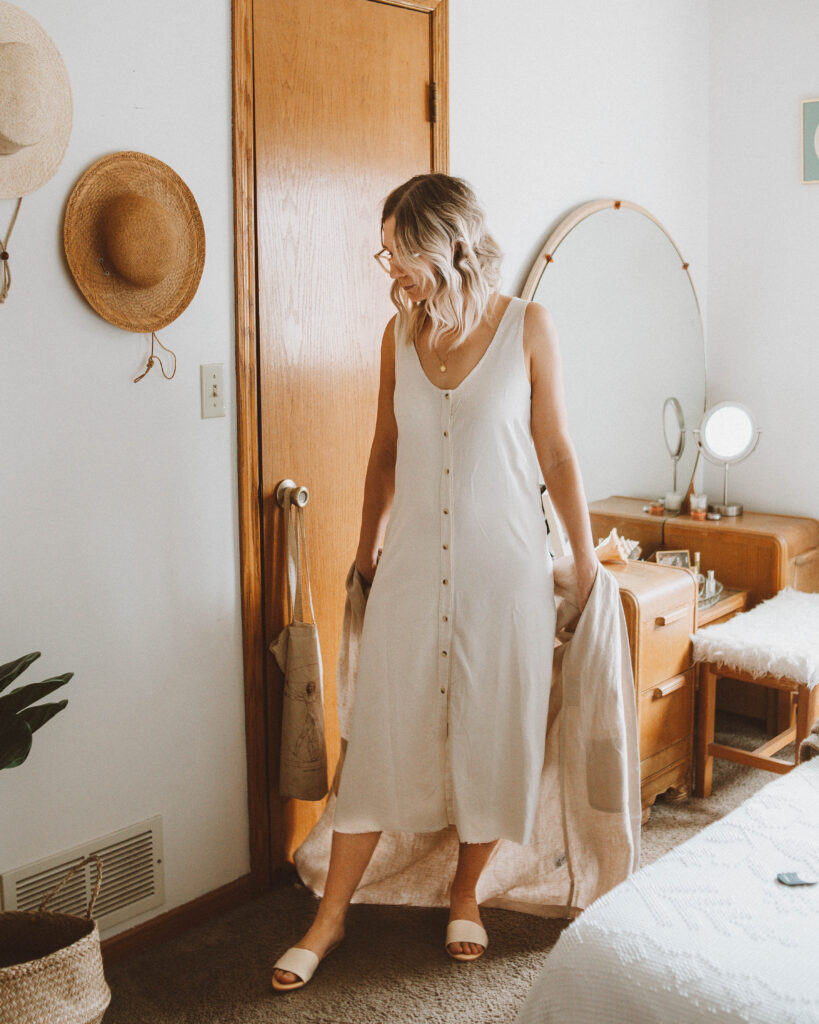 ---
Outfit Details (Affiliate Links):

Lacausa Dress via Descendants Shop (Gifted. 20% off with code MOMSRULE) | Love & Confuse Linen Duster | Nisolo Sandals (15% off with code NOTALONE) | GLDN Motherhood Pendant
This is an ideal outfit for me. This raw silk dress from Lacausa (gifted from the Descendants shop) is so soft it feels like a nightgown. Or maybe a better way of saying it is that it feels like I'm wearing a cloud… it just floats around me. I feel so elegant and feminine when I wear it. The little details like the buttons and the raw hem also make it stand out from the other white dresses in my closet… I already know this will be a closet staple for me this summer.
This linen duster has garnered quite a few questions from you guys, so I wanted to quickly touch on some of the most asked questions: It's a medium weight linen so it has a nice drape to it while also being very soft and comfy to wear. The sleeves have a dropped seam which also lends to it's relaxed fit. The sleeves are a bit long, but I don't mind that because I like the look of them rolled up. It does come with a belt, but I prefer to wear it without. There are belt loops attached, but they sit flush to the jacket so they don't pouf out like some belt loops do. You really can't notice them unless you're really looking for them. I sized down and got the beige color.
---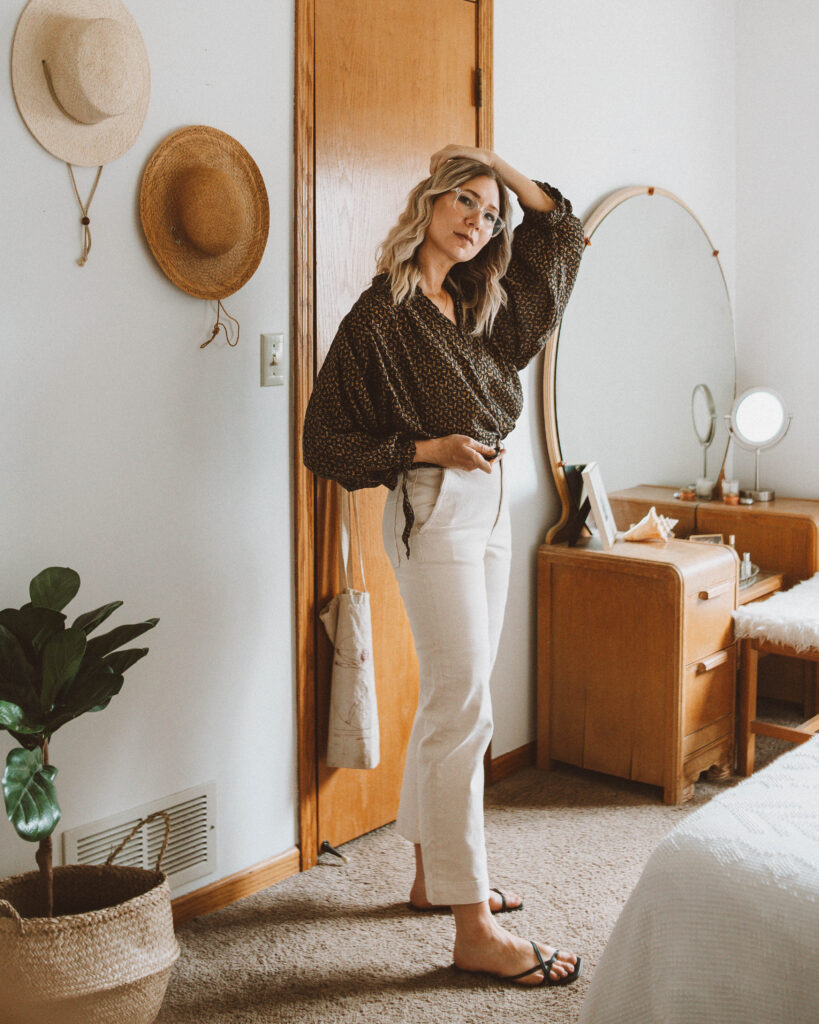 ---
Outfit Details (Affiliate Links):

Older Doen Blouse (Linked Similar currently 25% off) | Everlane Pants (Size Down) | Older Everlane Sandals (Gifted. Linked Similar)
These pants are a new favorite of mine. I used to own them in black, but they felt repetitive to other black pants I owned so I sold them, and picked up this color instead… they suit my wardrobe much better. I like that these are an ivory color… but they're almost khaki. They're also a great, comfy alternative to jeans as they are very stretchy. The fabric is thick so it holds it's shape, but it also means that they are too warm for really hot days… something to keep in mind if you want your clothes to work all year long. They run pretty big so make sure to size down in these.
---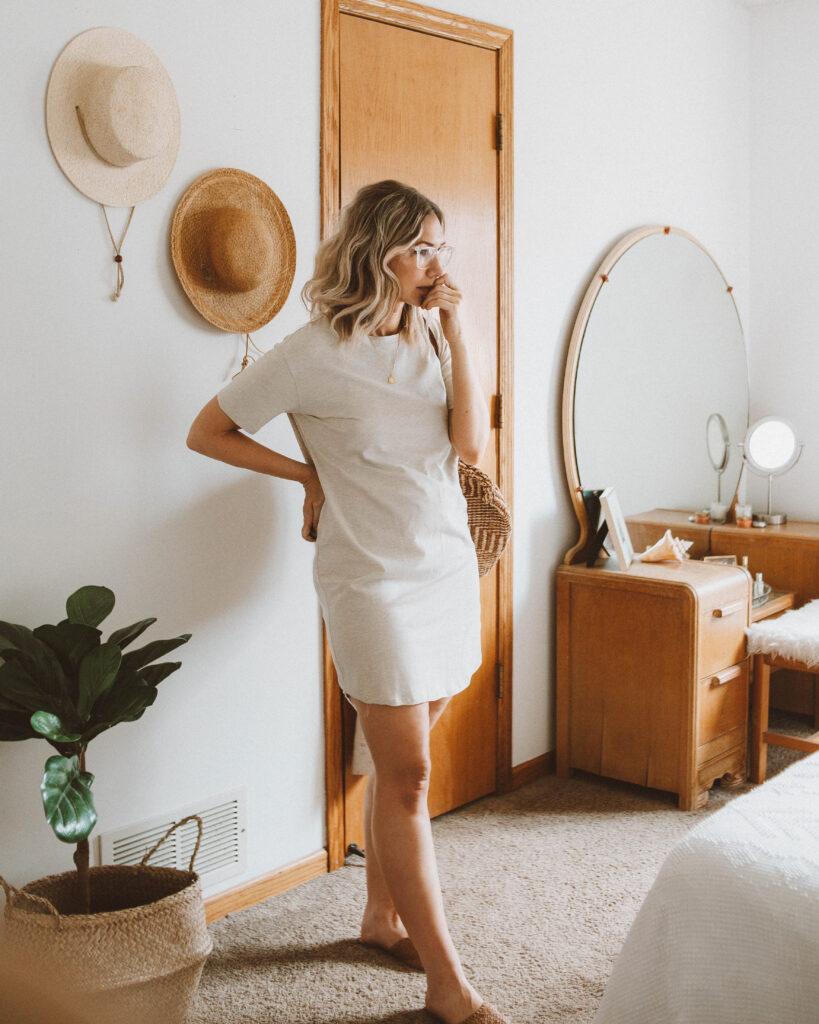 ---
Outfit Details (Affiliate Links):

Tradlands Dress (Gifted. See Review Here. 15% off orders of $100+ with code HEYMAMA) | Either/Or NYC Slides (Gifted. See Review Here) | GLDN Motherhood Pendant | Vintage Straw Bag (Linked Similar)
While I love the idea of this outfit… and I even like the way it looks, this look is not one I'll be repeating. I'm actually going to pass this dress on to a friend because I've realized that I'm just not a short dress kind of girl. I don't feel like I can really move in them, and that's a problem for a mom with four very active kids. The dress itself is beautiful, and really well made but it just doesn't suit.
---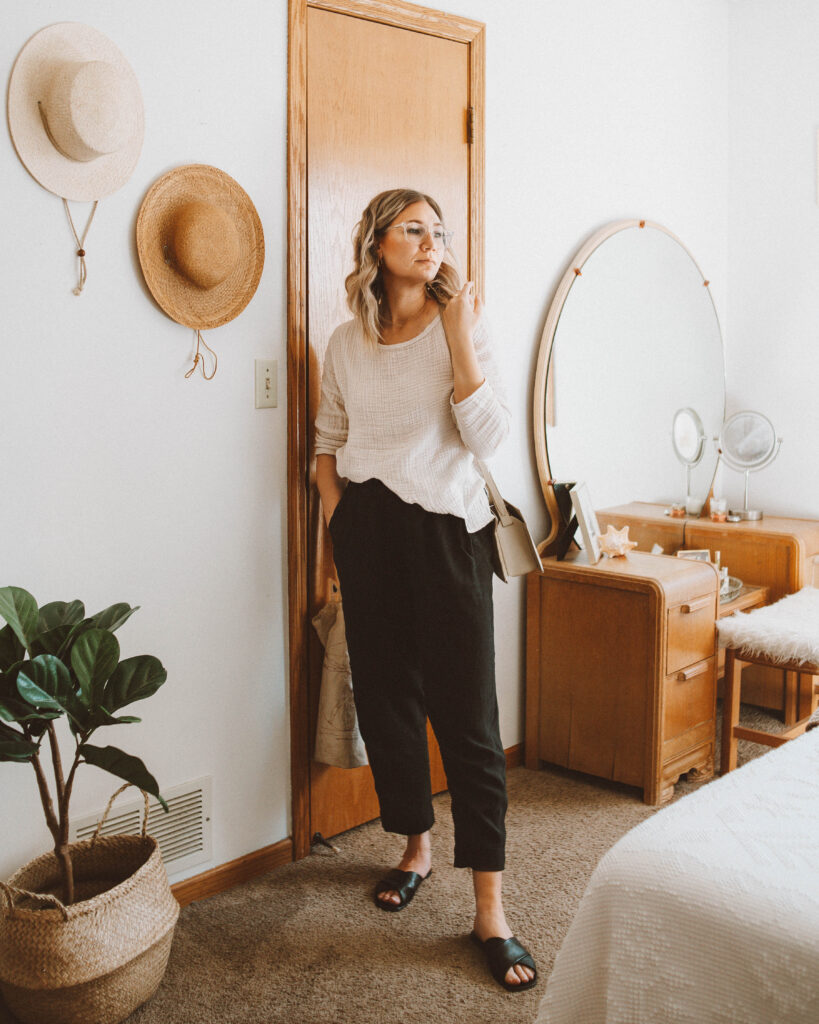 ---
Outfit Details (Affiliate Links):

It is Well L.A. Top (Gifted) | Everlane Pants (Gifted. Review Here) | Everlane Sandals | Everlane Bag (Gifted. Review Here)
I love how this outfit turned out. It's slouchy and comfy, but it still has interesting shape and texture so it doesn't look boring. This It is Well top is so soft and comfy to wear, and the pants are so roomy that they don't feel restricting at all. I love an outfit that looks like you tried way harder than you did. Both pieces are true to size, but size up in the top if you want a slouchier fit.
---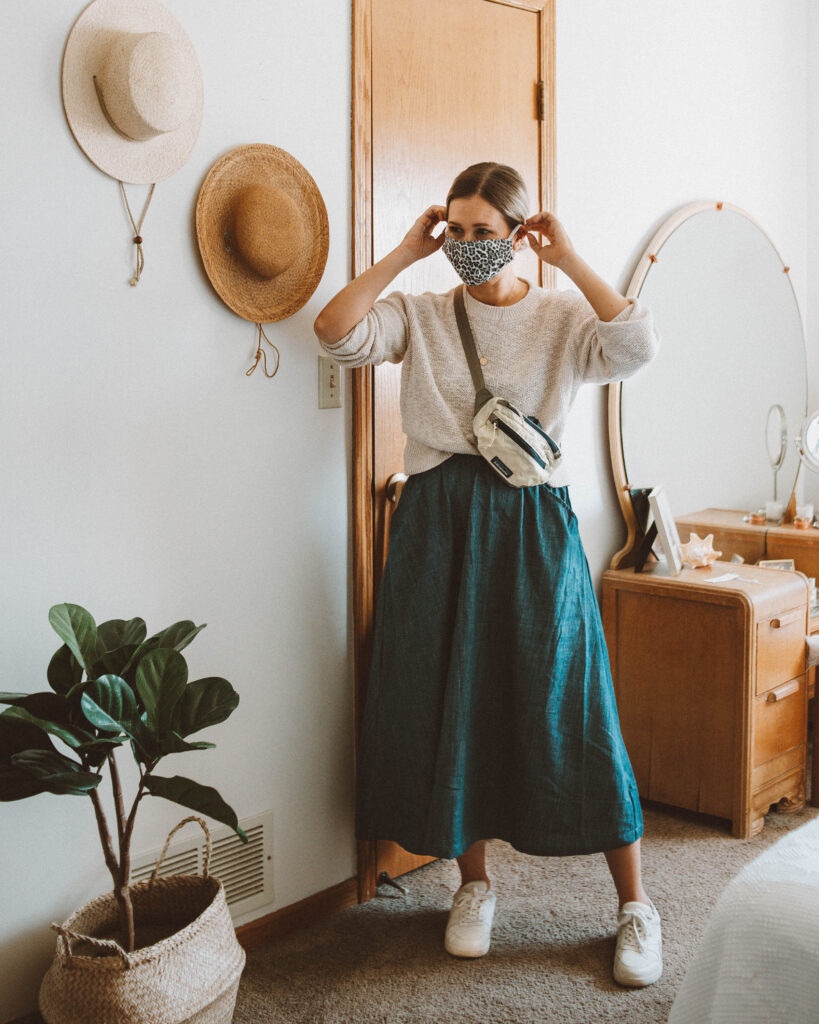 ---
Outfit Details (Affiliate Links):

Everlane Sweater | GLDN Motherhood Pendant | Curator San Francisco Skirt (20% off with code HOMEBOUND) | Everlane Sneakers (Gifted. Review Here) | Patagonia Hip Pack
It felt weird to share a photo of myself wearing a mask, but I did it mostly so that when I come across this post again in the future, I'll have a visual reminder of how weird this time in my life was.
This skirt from Curator San Francisco was a recent addition as well, and I was so happy when I came across it. I had a similar fast fashion skirt when I first started blogging (any OG readers remember it?) that I wore a ton, and I absolutely loved it. But it wasn't made very well so it started to fall apart after only about a year of wear. This is super similar (but much higher quality), and I'm happy to have a denim skirt back in my wardrobe!
---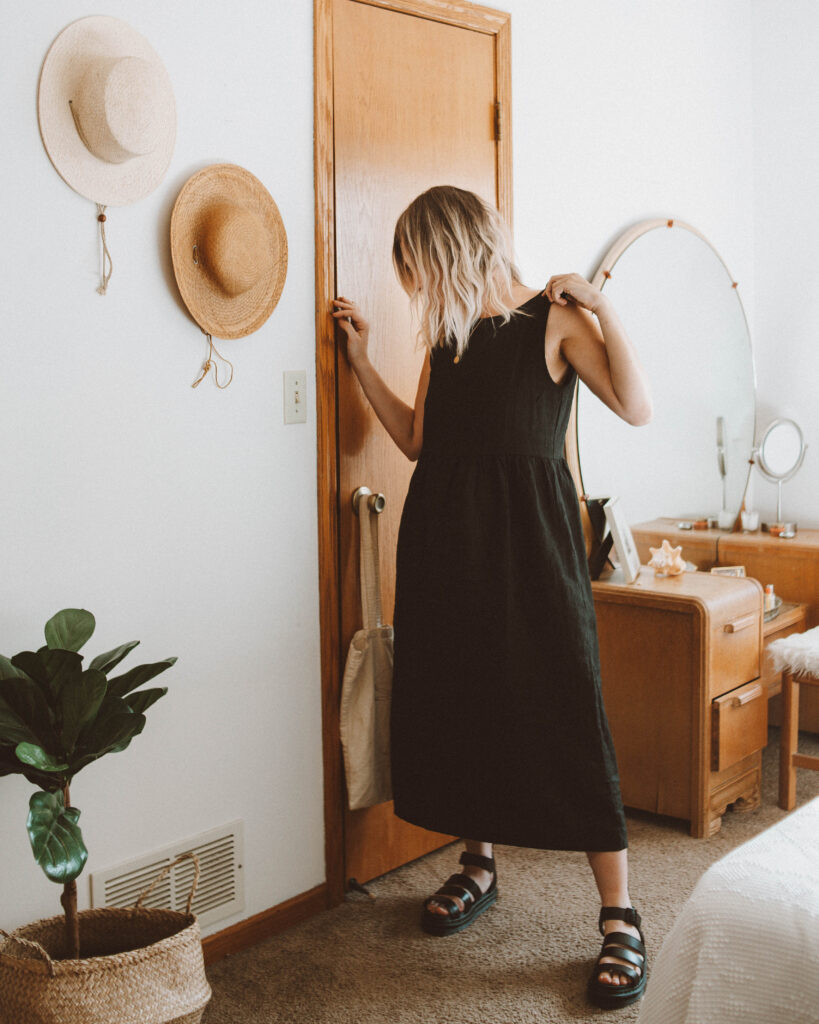 ---
Outfit Details (Affiliate Links):

Pyne & Smith Dress | Dr. Marten Sandals | Red Cherry Blvd Necklace
I love the combination of a sweet linen dress with a big chunky shoe. It just makes the outfit so much more interesting. I recently decided to sell my other Pyne & Smith dress that I've owned for several years and swap it for this one, and I'm so glad I did! The other dress was just as lovely as this one (super soft linen and made with such care), but there were several things about it that made me never want to reach for it: the overall length, and the sleeve length. I'm not a 3/4 sleeve kind of girl, and I also really don't prefer dresses that hit right at the knee. When I purchased the dress I was very attracted to the idea of having a black linen dress, but I didn't pay attention to the other styling notes. This version works so much better for me! It's the black linen dress I wanted while being longer, and sleeveless. Both things I much prefer.
---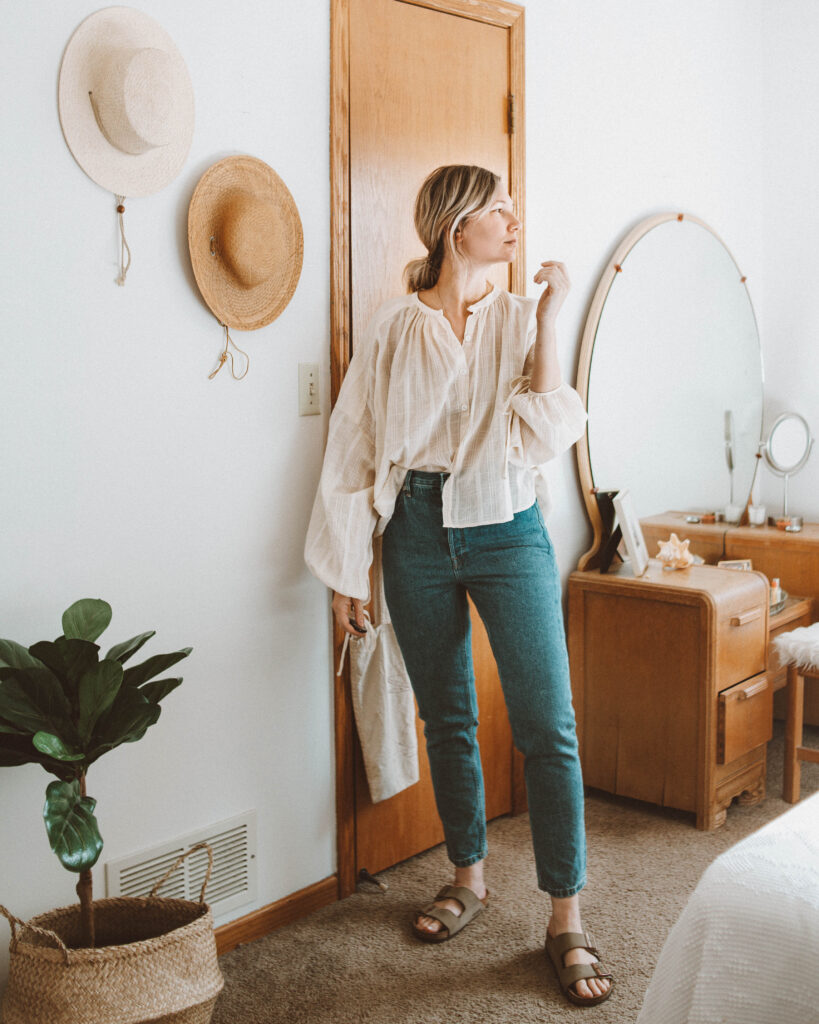 ---
Outfit Details (Affiliate Links):

Christy Dawn Blouse (20% off with code TOGETHER20) | Everlane 90's Cheeky Denim (See Denim Guide Here) | Birkenstock Sandals | Red Cherry Blvd Necklace
This blouse from Christy Dawn is so sexy and pretty. It's the perfect amount of sheer without showing "the goods" off. It's just a soft, feminine blouse and I absolutely love what it adds to my wardrobe. It reminds me a bit of the Doen Jane blouses, but just slightly more easy to wear (in my opinion) because the sleeves aren't quite so dolmany (I made up that word, don't worry about it). I also like that the sleeves have ties on them so you can tie them a bit tighter and push the sleeves up to really play up the balloon sleeve effect.
---
Well I guess that's it! Another week of outfits in the bag.
I'm not sure exactly what we'll be doing this weekend, but I hope to get outside as much as possible. We finally set up our little pool, and the girls have been in heaven. Once it gets a little warmer, I'm excited to let Gabe sit in the water because so far he's a bath baby so I think he'll love it.
What are you up to this weekend? Oh and let me know if you'd like to see a post on decluttering!
Until next time,
Karin