Updated on 6/17/20 to include a full on Tradlands Review of the three pieces mentioned in this post.
Oh hello again.
Excuse me if I seem a bit distracted, but Kit is watching the Land Before Time II while I write this, and I keep getting distracted by just how bad it is. Has there ever been a sequal worse than LBT II? If you can think of one, let me know in the comments because I am convinced this is it.
Moving on…
If you missed it, I shared (part of) a new in at Everlane post on Wednesday, and now it's time to share 5 days wearing new spring arrivals from Tradlands.
Unlike my Everlane picks for this month, the two pieces that were sent to me from Tradlands were instant favorites. I don't know if I've gone a day without wearing the new Jude pullover to be honest.
And the Nico dress is a really comfy option for days you just can't do pants (often for me if I'm being honest).
I originally planned on doing a more in depth review for you on these two pieces, but as is the case with a lot of Tradlands launches things are pretty picked over already (still some sizes though!), so at this point reviews probably won't be that helpful.
**UPDATED ON 6/17/20 WITH REVIEWS DUE TO THE RESTOCK HAPPENING SOON. CLICK HERE TO PUT YOUR NAME ON THE WAITLIST.
SO this post is for those of you who already picked these pieces up, and would like some inspiration on how to style them.
And then when Tradlands does a restock of the pieces, I'll circle back and update this post with a couple reviews.
Let's treat this as more of a lookbook then for the spring launch. Sound good?
I did sneak in an outfit with my Finn Jumpsuit because it's just the best jumpsuit ever (already did a review of it here so check it out!), and because it's now restocked in all sizes. If you missed out on it during the first few drops, now is the time!
So yes. All chatting is completed now. Let's see some photoz shall we?
My measurements:
5'4.5″
135ish lbs.
27″ waist
32″ hips
---
Outfit Details (Affiliate Links):

Tradlands Sweater (Gifted) | Everlane Denim | Nisolo Sandals | Secondhand Basket Bag (linked similar) | Motherhood Pendant
Style: The Jude Pullover in Birch
Also comes in: Surf and Sepia and sizes XXS-2XL
Cost: $217
My Size: Small
What the website says:
Design
Drop shoulder
Honeycomb knit pattern
Wide ribbed neck, hem, and cuffs
Custom yarn dyed colors
Responsibly sourced and woven in Peru
Materials & Care
100% cotton
Soft and mid-weight
For best care, machine wash cold, lay flat to dry
Size & Fit
Loose, gently oversized fit
Wider fit through body
True to size
The easy-going knit of your dreams is here. Introducing: the Jude. Full of personality and ready to complement yours — for the long haul. Cool and comfy with a custom honeycomb knit, our Jude Pullover is your next staple to reach for and live in. Crafted in midweight cotton with a dose of elegance and ready-to-layer refinement, the Jude is a stand-out style for tucking in or tossing over.
Whether over a dress, tied around the waist or paired with jeans, this knit is a timeless classic (coastal adventures, chilly bonfires, work or brunch: we're ready for you).
What I say:
Fit: This definitely has a very slouchy fit to it, but I don't hate it. It's a VERY cozy sweater so I like it a bit oversized. The dropped shoulders add to that effect, and the length of the sleeves. The sleeves are a bit long so very petite people may have to take that into account. I do actually wish they tapered in just a bit at the cuff, but of course that's just preference. It has a boxier fit throughout the bust, but the tulip hem is also a really nice addition because it allows the sweater to be oversized, but not shapeless. The length hits at just the right spot (about mid hip) for it to work well untucked and tucked in.
Material: It's a very soft cotton sweater. I find sometimes with 100% cotton, if the weave is done poorly then the sweater can actually hurt my skin after awhile (it's so weird!), it just becomes very rough and bobbly. This sweater however, has none of those issues. It's extremely soft and the weave is really comfortable to wear. It does seem to stretch out a bit with wear, but it came back into shape after washing (to be fair, I go about 10 wears between washing).
---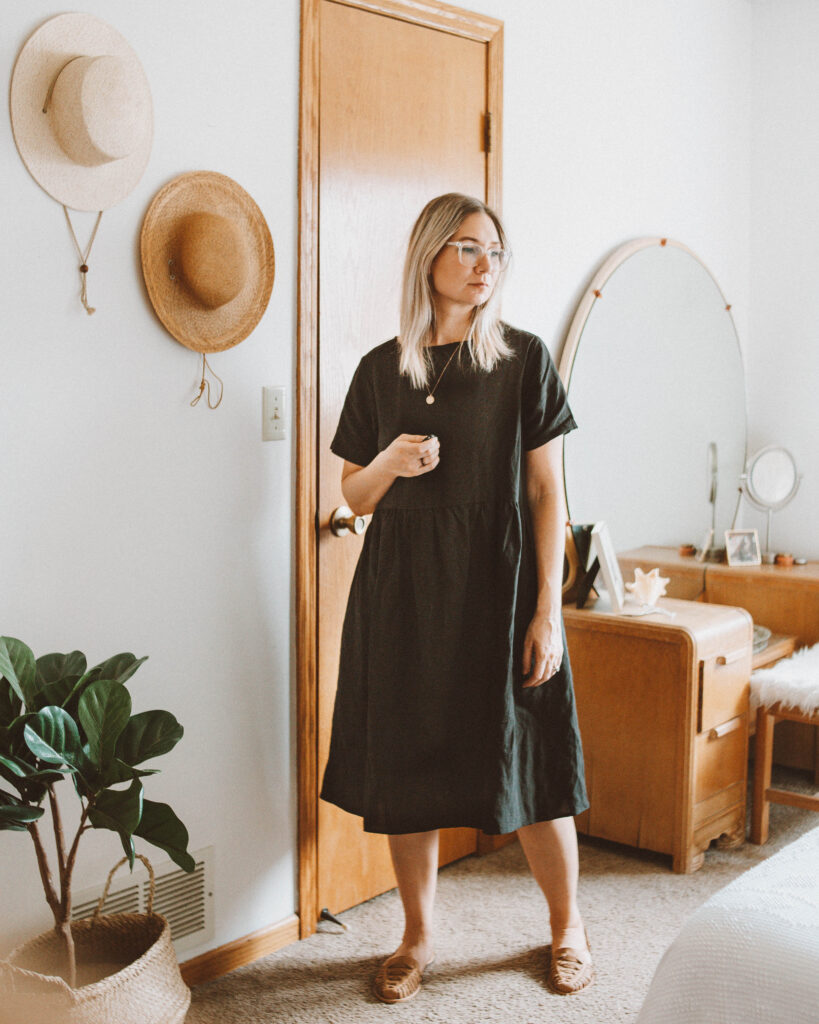 Outfit Details (Affiliate Links):

Tradlands Dress (Gifted) | Nisolo Sandals | Motherhood Pendant
Style: The Nico Dress in Black
Also comes in: Surf, Cameo, Caroline Print, and sizes XXS-3XL
Cost: $197
My Size: Small
What the website says:
Design
Midi length 
Slight shirring at waist 
Custom dyed colors
2 hidden pockets on side seams

Materials & Care
70% Tencel, 30% linen
Sustainable, textured fabric
Moisture wicking and breathable
Machine wash cold, hang dry

Size & Fit
Relaxed through hip and thigh
Loose, gently oversized fit
True to size
The grown-up sundress you've been waiting for. Unfussy, full of life and effortless, the Nico is a retro, elevated essential that moves as beautifully as it wears. Inspired by Sadie's mother's handmade dresses of the '70s, the Nico Dress is a fresh and modern twist on a classic silhouette.
With a slightly oversized look and the crucial addition of pockets, this refined piece has a freedom to it that will make you want to sway (and tap into your inner child). Whether chasing kids at home or out in the field flower picking, get ready to feel totally yourself. It's a made-to-last must-have for you, for life.
What I say:
Fit: The fit on this dress is literally what dreams are made of. Too much? Well let me tell you. First of all, it's extremely comfortable. No tight armpits, not itchy seams at the waistband… it's like wearing a cloud. Really. Can you tell I'm a fan? First, I love the length of the sleeves. They aren't too long (I hate sleeves that end right at your elbow), and they don't resemble cap sleeves. They just hit perfectly a few inches below your armpit. Second, I find the slight boatneck to be very flattering, and it plays to the overall simplicity of the dress. Third, it does have a very relaxed and boxy fit, but there is a slight nip in at the waist to give the most subtle, but necessary definition to the waist line. And finally, it's the perfect knee length, but not quite knee length dress. I find dresses that hit below the knee to be so much more wearable for my lifestyle (mom to four kids), but sometimes midi dresses get in the way too (ever try to stand up when you're on the floor with your kids and have your foot get stuck in the hem of your dress? Please tell me I'm not alone!). This length is perfect. OH! And it has pockets!
Material: It has such a unique material makeup: 70% tencel and 30% linen, and to be honest I've never really felt a material like it. It's definitely very soft, but it has some (very slight) texture to it like you would expect with linen. It is a very lightweight material, but you can wear it throughout the year with the appropriate layers… just expect to have to really layer up in the coldest months.
---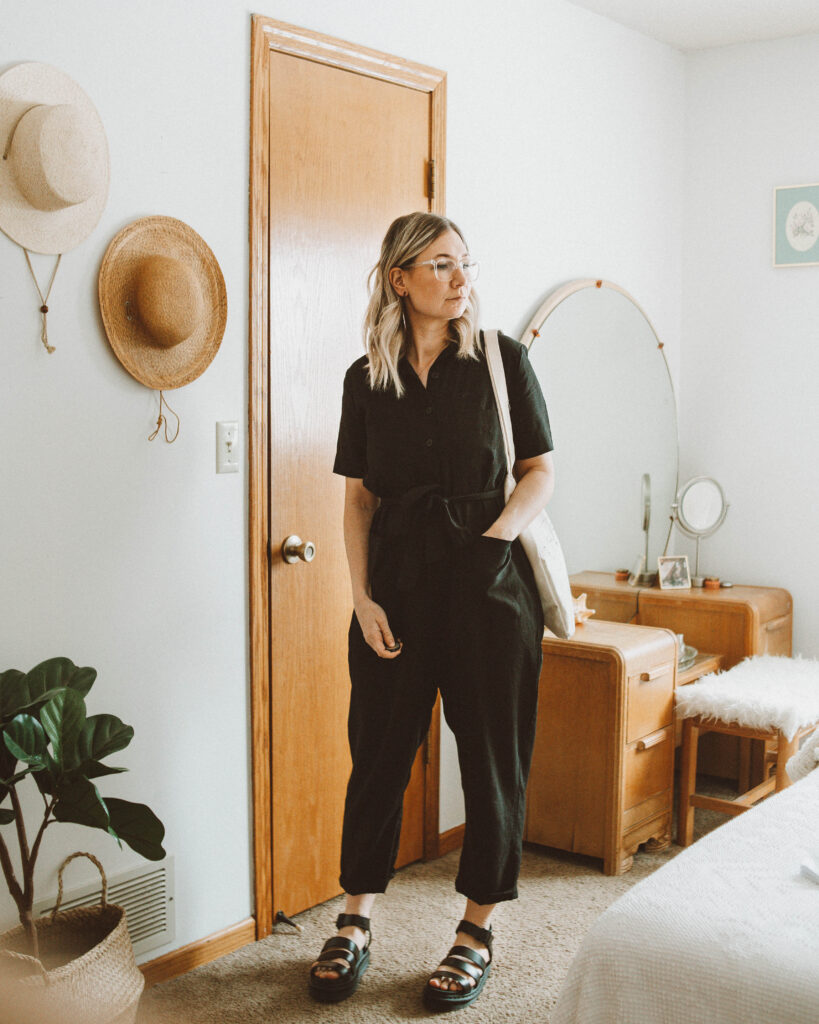 Outfit Details (Affiliate Links):

Tradlands Jumpsuit (Gifted) | Dr. Marten Sandals | Motherhood Pendant
I originally reviewed the Finn Jumpsuit here, and I styled it almost 9 months pregnant if you need some pregnancy style inspiration
Style: The Finn Jumpsuit in Black
Also comes in: Surf, Poppy, Sand and sizes XXS-2XL
Cost: $237
My Size: Small
What the website says:
Design
Relaxed through hip and thigh
Slightly cropped, perfect for cuffing
No belt loops
Fabric sash belt included
6 button front for easy on / off
2 x hand / chest patch pockets
Materials & Care
70% Tencel, 30% linen
Sustainable, textured fabric
Moisture wicking and breathable
Continues to break in with wear
Machine wash cold, hang dry

Size & Fit
Order your regular size to fit true to size
Mood: Classic, cool, effortless. Introducing the archival-inspired jumpsuit of your dreams. The Finn is made of sustainable linen and Tencel fabric with coverall details like deep patch pockets. Comes with a sash belt (and no belt loops) so you can choose where to cinch it. Relaxed fit through the hip and thigh for max comfort. The slightly cropped hem is easy to cuff.
Add earrings and heels for a night out or wear with sneakers or slides for weekend errands. A timeless, well-made essential to live in now and love forever.
What I say:
Fit: First things: it comes with a waist tie, but the waist tie is flexible because there are not preassigned belt loops… something that I really appreciate as a short torsoed gal. I often find that when there are belt loops, the fit seems a bit awkward or I'll have to do creative bunching to get it to look right. With this jumpsuit you can tie the band wherever your natural waistline hits. Another thing I really appreciate about the fit is that the crotch is not too dropped. I find that with a lot of jumpsuits I have to get the crotch brought up a bit to make it look "right." There's still plenty of room in the midsection, but the crotch is not super low. It's also the perfect length for me as an average heighted gal, but it will probably need to be hemmed or cuffed for my petite friends (my tall friends may be able to get away with it as a more cropped fit). I also love the longer sleeve length here, even though I just said I don't like sleeves that go to my elbows. In this case, it adds to the style of the jumpsuit instead of taking away from it. And the weight of the material makes the neckline drape open really well when it's unbuttoned a bit.
Material: It's made of a really nice black linen tencel. It doesn't wrinkle easily at all (same with the Nico dress actually)… super win in my book! And it holds up really well to sticky hands and other "elements" you may come across. For other notes on the material see the above review of the Nico dress.
---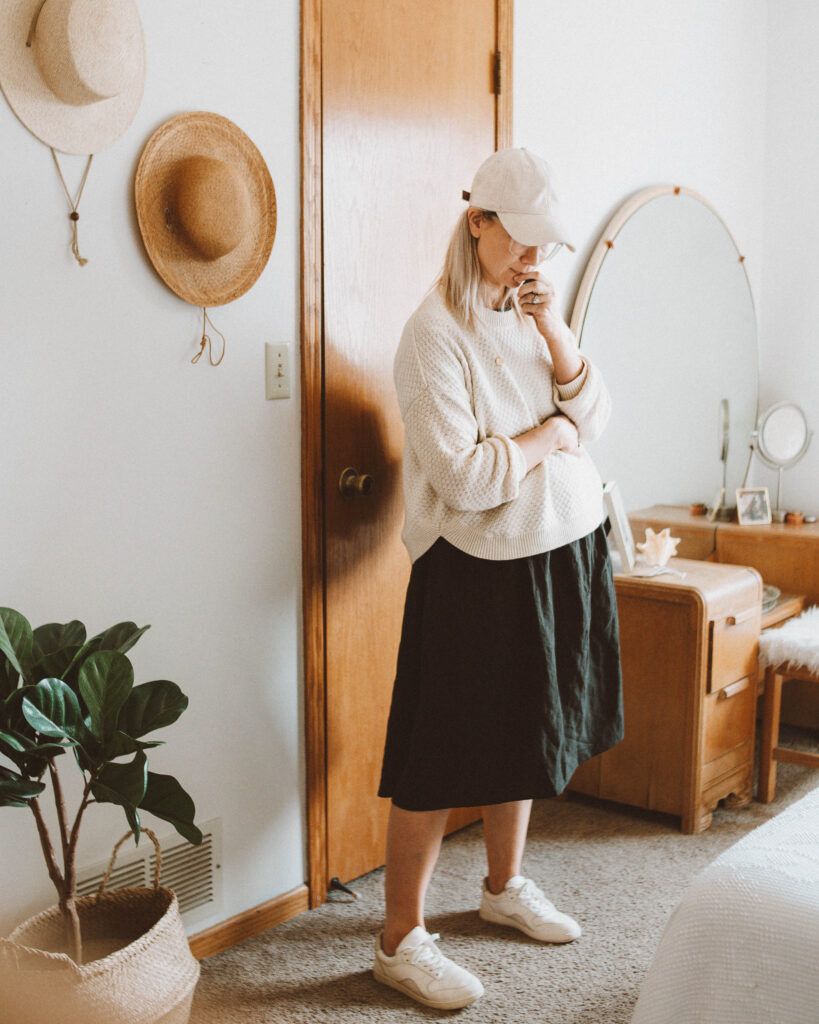 Outfit Details (Affiliate Links):

Tradlands Sweater (Gifted) | Tradlands Dress (Gifted) | Everlane Sneakers (Gifted. See Review Here)| Motherhood Pendant | Madewell Cap
---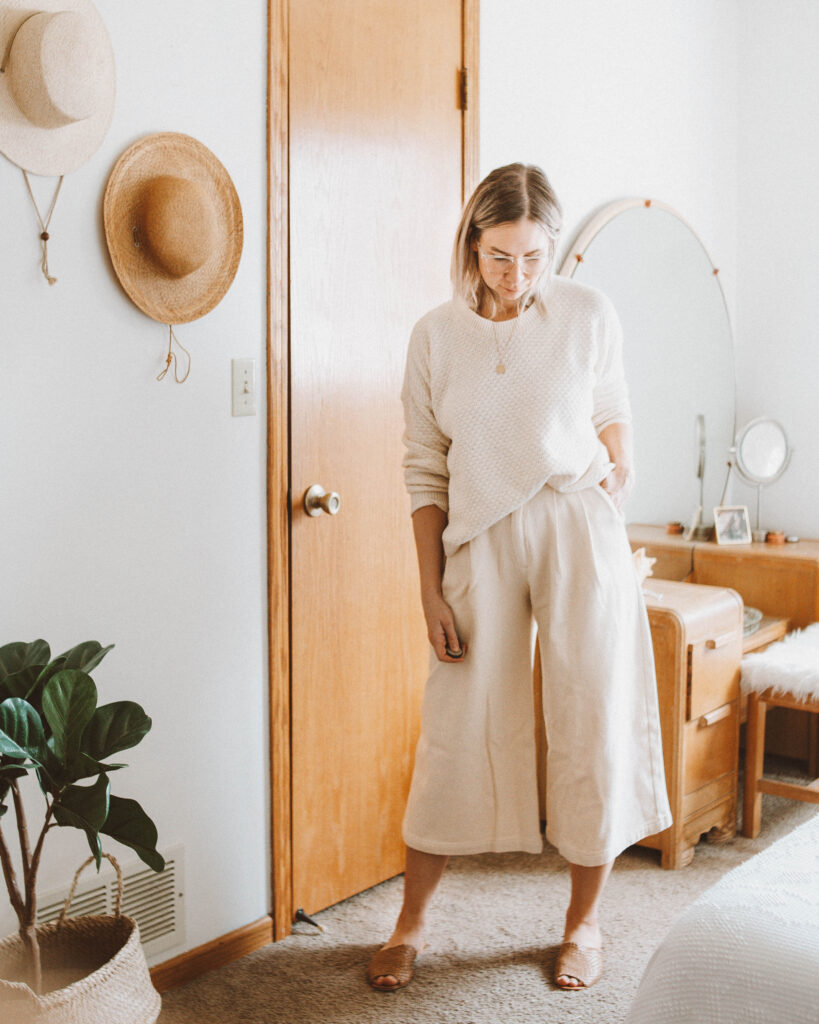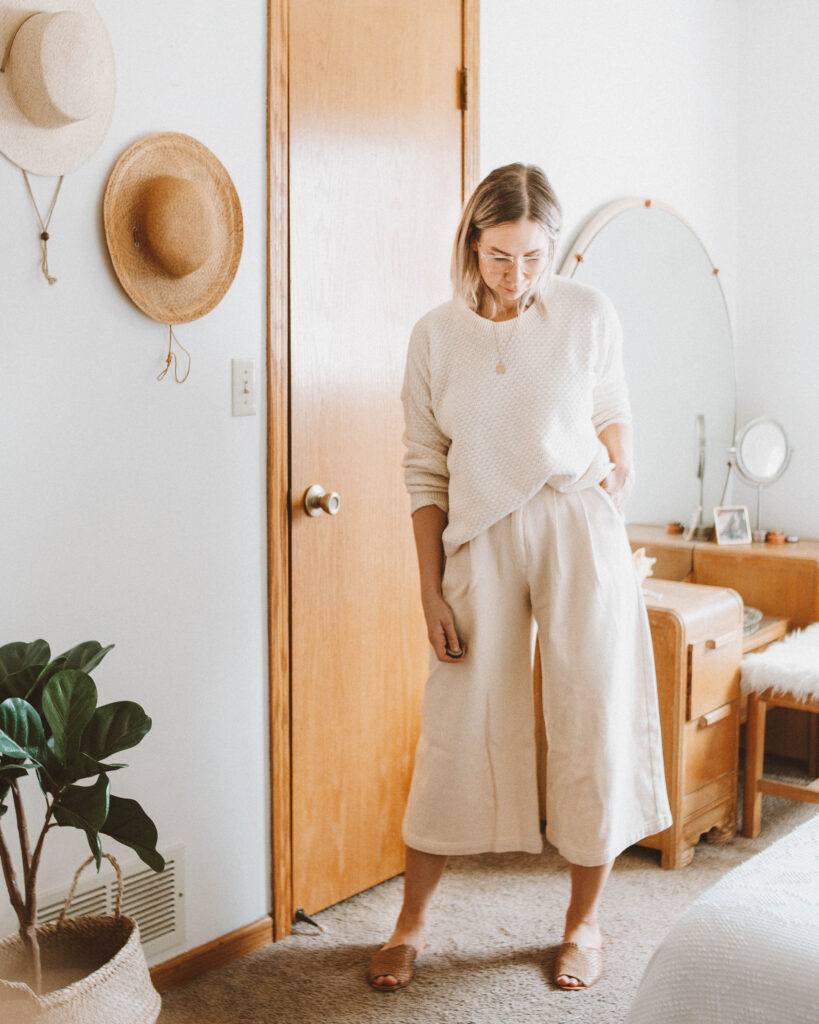 Outfit Details (Affiliate Links):

Tradlands Sweater (Gifted) | Motherhood Pendant | Either/Or NYC Sandal (Gifted. See mini review here) | Esby Pants (currently 50% off)
I hope this post was helpful for those of you who already have these pieces! If you're bummed you missed the launch, make sure to add your name to the waitlist so you'll be notified when they restock. And like I said, I will circle back and update this post once a restock happens.
Well I hope you all have a wonderful weekend! It's supposed to be SO sunny here, and I plan to get the kids outside as much as we possibly can. Our sweet neighbor left us a big bucket of sidewalk chalk so we're planning on making him and his wife a big "mural" (in quotes because it will be a 5 year old and 2, 3 year olds creating it so that term is used loosely ?) in our driveway. We've also started the weekly tradition of ordering in takeout and snuggling up for a movie so we'll probably do that at some point as well.
And with that… signing off!
Until next time,
Karin