Happy Wednesday friends! Today I've got 3 Tradlands Cozy Pieces to share with you guys.
It feels like it's been a long time since I sat down and chatted with you guys. I'll get to the reviews in a minute, but how are you all doing?
As you're reading this, I'm packing and getting ready for our first trip since before Covid hit.
We're heading to Arizona for a week because one of my best friends is getting married (just David and I, the kids are staying with Grandma and Grandpa)
To be honest, I should be super excited for the trip (and I AM super excited to see my friend get married… she is so deserving of the love she has found), but at the moment I just feel kind of anxious about it all.
We're planning on traveling in the safest way we can… we'll be staying at my brother in law's family home (no one will be there except my sister and brother in law), and we're not going to do much besides relax at the house and enjoy takeout.
We do plan to do some outdoor activities like hiking in Sedona, and a road trip to the Grand Canyon, but the thought of flying right now kind of makes me nervous, and well… you know.
But on the other hand, it will be so nice to get away for a little bit with just David. It's been a hard year for more reasons than just Covid and everything else that's been going on. We've also had a really hard year personally, and I think the break will be so nice… a chance to process and rest.
But anyway…
let's get to the point of today's post shall we?
Tradlands just released a bunch of new styles for fall, and as always, their release was flawless.
I was gifted three pieces from their new line so that I could share them with you, and there is still a bunch of pieces in stock so this review should be really helpful for anyone on the fence as Tradland's pieces are of a higher price range.
Okay. Here we go:
the Haven Mock Neck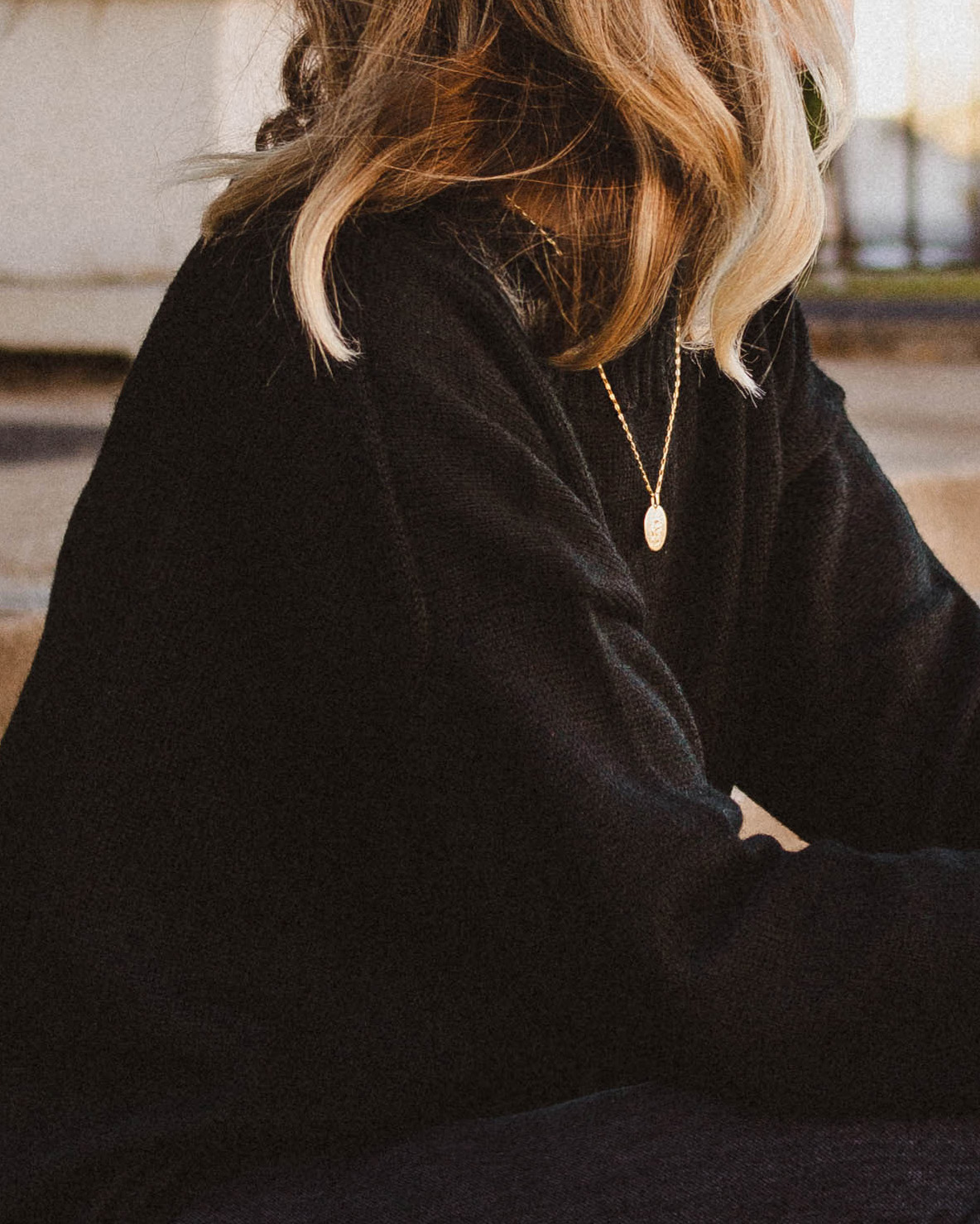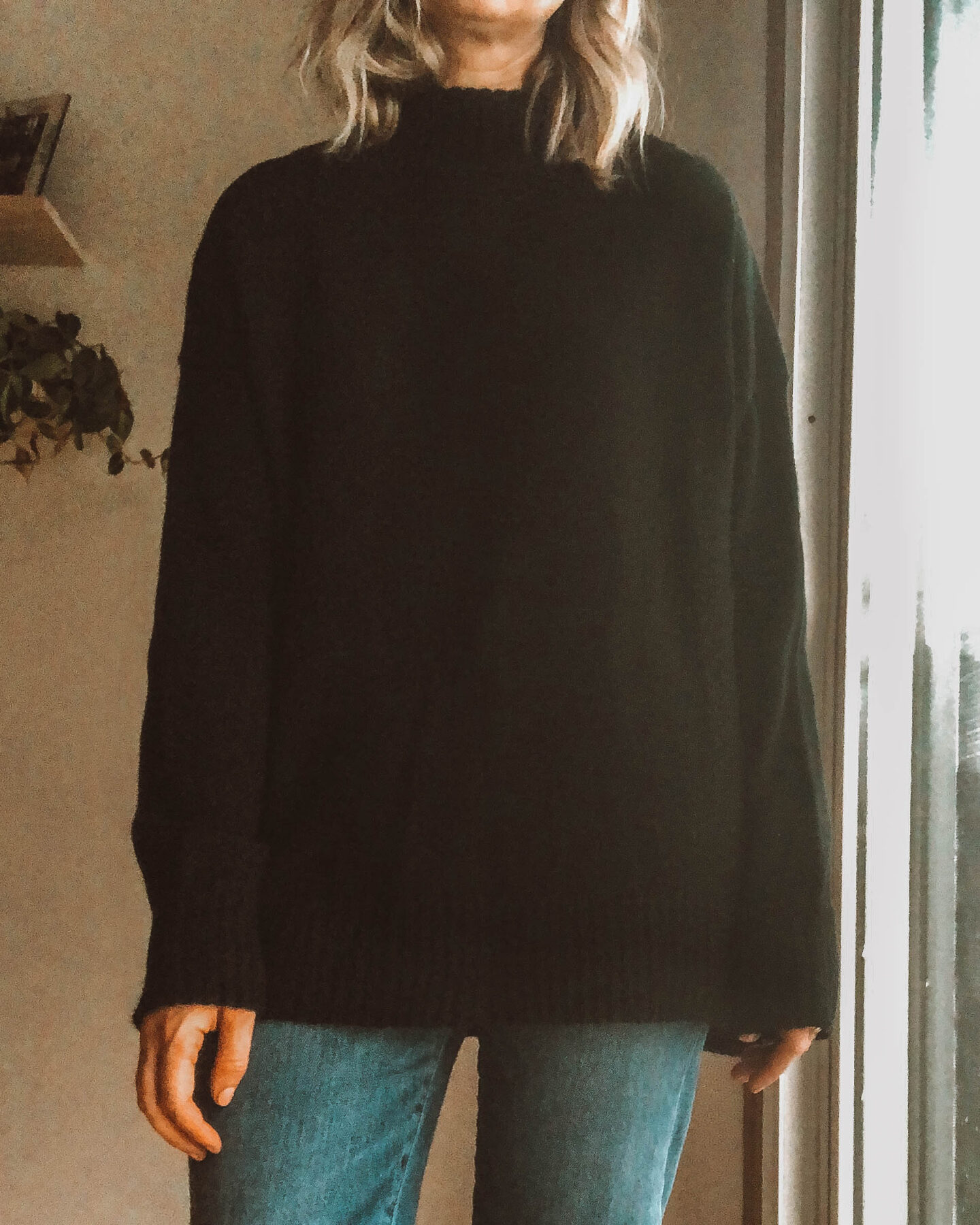 The Haven Mock Neck Sweater in Black, Size Medium
Also comes in Gray and White and sizes XXS-2XL – Retails for $237
Specs:
Design
Wide ribbed mock neck collar
Timeless knit pattern
Wide ribbed neck, hem, and cuffs
Dropped shoulder
Responsibly sourced and woven in Peru
Materials & Care
50% alpaca, 45% recycled poly/acrylic
(for softness), 5% wool
Soft and mid-weight
For best care, machine wash cold, lay flat to dry
This is a really beautiful sweater! I really enjoy that it's made in such a classic design with the mockneck, straight fit, and split hem. The design makes the sweater extremely versatile: the weight of the sweater is thin enough to tuck in easily, but the length also makes it a great candidate as a tunic sweater… perfect over skinny jeans or leggings.
It's made from an alpaca blend, and to be very honest with you guys it is a bit itchy. I'm pretty sensitive so keep that in mind, but with that said, I had no issues with itchiness when I wore a long sleeve tee (anyone else's brain automatically go to the Office whenever someone says "long sleeve tee"??) underneath. The material is super soft and warm, and it's going to be such a great powerhouse whenever the weather turns super cold here.
The color is also a very saturated black which I love. You really can't go wrong with a classic black sweater, and it's even lovelier with the look of the alpaca yarn added in.
I sized up to a medium because I wanted to really lean into the tunic aspect of the sweater, and it's perfect for that reason. If you're not that interested in wearing it over leggings then I would say go with your typical size because it does run pretty oversized.
Monty Striped Turtleneck & Mesa Field Chore Coat
The Monty Turtleneck in Stripe Size Small
Also comes in Grey Stripe, Gold Stripe, and sizes XXS-3XL – Retails for $79 although for a limited time it is 20% off using code LAYERS20
Specs:
Design
Roomy, double layer neck
Box cut is cropped below hip
Gently tailored and relaxed fit
Overlocked interior seams
Soft neck-tape and printed tag for max comfort
Responsibly sourced and made in Shanghai
Materials & Care
95% cotton 5% spandex
Machine wash with confidence — this only gets better with time
Size & Fit
Pick your regular size for true-to-size fit or size up for a more relaxed look
As with all of Tradland's other basics, I'm a huge fan of the Monty turtleneck.
In terms of style, it appears that the Monty is just a typical turtleneck, but there are certain elements to it that make it stand out:
First, the weight of the material. All of their basic pieces are made with a substantial weight to them (i.e. they are not tissue thin) which makes them a.) drape extremly well b.) skim over the body in a really flattering way.
Second, the shape of the overall fit is slightly boxy, but not so boxy that it might be hard to style. It's still very easy to tuck in, but the longer hem in the back, and the split hem at the side make it a beautiful piece untucked as well.
The neck is double layered so the turtleneck lays really nicely on the neck, and if you choose to leave it unrolled it sits up on the neck without looking sloppy.
In terms of sizing, I would say to definitely stay true to size and even maybe size up. The body of the turtleneck is roomy enough in your true size, but the arms are a very slim fit. I prefer it that way because I will likely mostly layer this top, but if you want to wear it on your own, and you want a little extra room in the arm I would size up for sure.
The Wool Blend Field Chore Coat in Mesa, Size XS
Also comes in Denim and sizes XXS-2XL – Retails for $197
Specs:
Design
3 exterior pockets, 1 interior pocket
Gently tailored and relaxed fit
Double stitched, extra thick buttons
Responsibly sourced and made in Shanghai

Materials & Care
60% Wool 40% Recycled Poly
Soft, broken-in feel
Hand wash in cool water or dry clean
Only gets better with time
Size & Fit
Fit is true to size
Room to layer underneath
I'll admit this chore coat was way out of my typical comfort zone, and yet I was so drawn to it when I saw it. It's such a classic style, but this print and color are so fun! With that said, I'm honestly not sure how much wear I'll get out of this jacket, but it is a fun piece to have when I'm in the mood for something a bit different. If you're more in my camp with my usual style I would perhaps suggest looking at the denim version of this chore coat… but if you're up for something a bit daring, this print is pretty fabulous!
The coat is made of a really nice, thick wool mix and is actually very warm to wear. It's the perfect in between jacket for fall and before the cold weather really sets in. But with a little strategic layering you can get away with wearing this for as long as possible.
It has a very traditional chore coat fit, but it does almost have a blazer feel to it which makes it a great coat for an office setting that also transitions easily to weekend wear.
The sleeves are cut a little long FYI. The sizing on this coat is actually a little bit tricky, and I'm honestly not sure what size to suggest for you. I typically size down in jackets because I have narrow shoulders so I got my normal XS, and while the jacket fits perfectly at the shoulders, and in the arms it's a bit too snug to button up. But I think if I sized up the arms would be too much. For me, this is not an issue because I don't typically button these types of jackets, but definitely keep that in mind in case you would like to button it.
---
Well that's all I've got for you guys today! I hope you found these Tradlands cozy pieces reviews helpful, and that it answered any questions you might have. Please feel free to leave any additional questions in the comments below!
Until next time,
If you want to check out my other Tradland's reviews go here.