Two truths before I start:
1| I didn't intend to take these photos with the girls, but they insisted. So to keep the peace, I complied. It's funny how when I want them to take a photo with me they refuse, and when I don't want them to they're suddenly interested. I feel like this sums up life with young children perfectly. So you get a little extra dose of cuteness in today's post (cause we all know I'm not that cute).
2| I am squeezing into these jeans. Ha! I wasn't sure if we were going to share about our pregnancy before these photos were shared so I figured you might notice if I was wearing maternity jeans. 😉 You can kind of tell in the one solo picture of me if you look close.
Okay enough of that, let's get into the meat of todays post!
this post is not sponsored by Tradlands, but they did send me this t-shirt to share with you guys.
I'm super pleased to be partnering with Tradlands on the launch of their new spring collection! The sale started yesterday for VIP customers, and will open to everyone else tomorrow. You guys know how much I love Tradlands… in fact I think I may be president of the Tradlands girlfriend tee, and varsity sweatshirt fan club. 🙂
I pretty much wear one or the other at least once a week, and I have since I was introduced to them.
It's funny actually because for a long time I knew about Tradlands, but I never bought anything from them because I'm not a big button down fan (if you are though, I've heard really good things about their button downs!) so I just assumed they weren't for me.
But then they reached out to do a collaboration over their denim jackets (which are sadly no longer available), and I was instantly hooked.
I have not found better basics, and it proves true the notion that basics are where you should be investing.
I always used to think that a t-shirt was a t-shirt was a t-shirt. But the minute I tried their t-shirts (and then sweatshirts), I realized just how wrong I was.
Their t-shirts are made from the softest, nicest fabrics. The material is thick enough that it skims over, and flatters curves and doesn't require any sort of special bras underneath. But the 100% cotton is also breathable during hot weather.
I own two of the 103 girlfriend style, and I'm ecstatic that they're releasing more colors because the only reason I haven't purchased more is that they had a limited color selection before. With the old version, I found that the girlfriend ran a bit small and shrinks a bit in the wash, but Rachelle from Tradlands let me know that they have fixed those two "issues" with the new spring launch. So, in other words, order your regular size. I think I'm going to have to order the new shell color after I'm done with this pregnancy. 🙂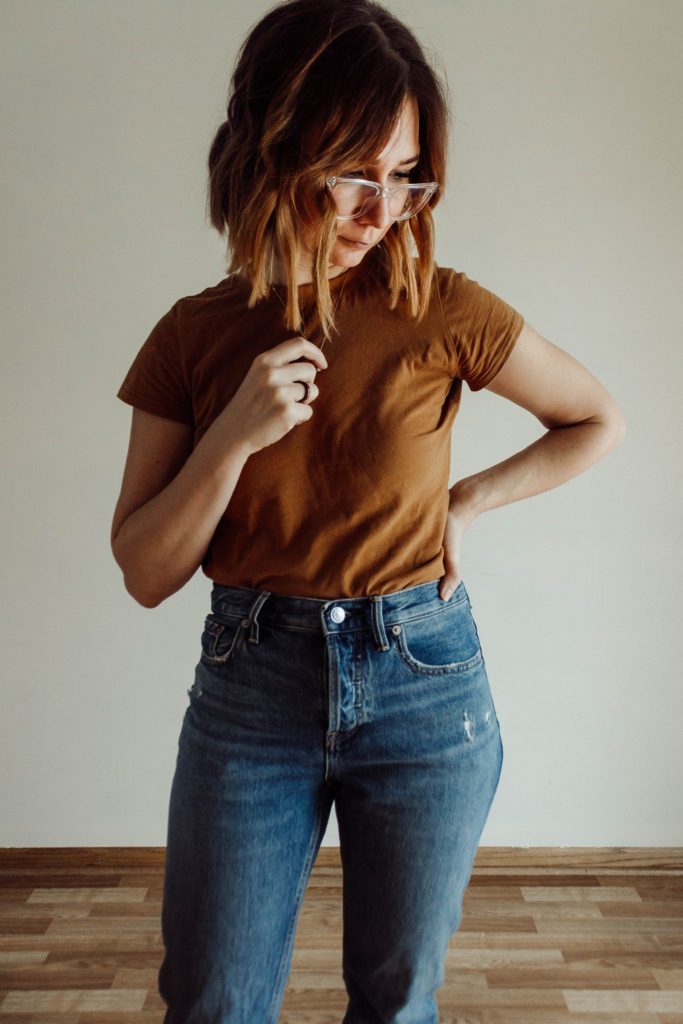 The new 102 Box T-shirt has a much looser fit. I am wearing it in a size small, which is actually perfect during these first few months of pregnancy, but I think in my normal body I would prefer an XS. The main difference in the new box tee vs. the girlfriend tee is the fit. It still has the same substantial, soft fabric but the fit is much more oversized and it has a straight hem as opposed to the curved hem of the girlfriend tee.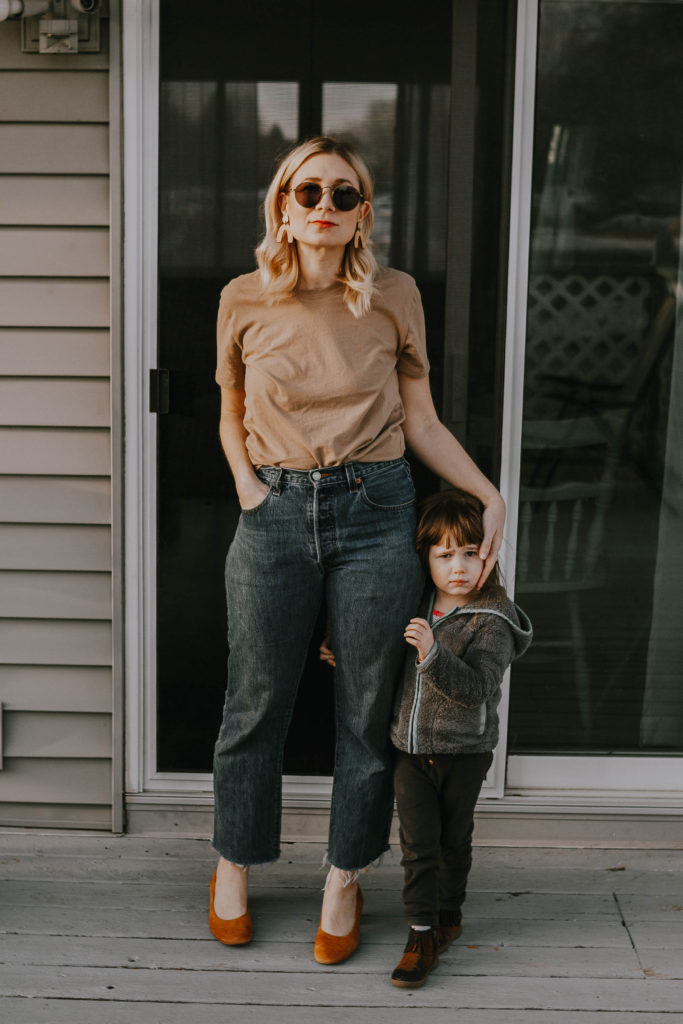 As you can see, the sleeves are much longer as is the length. I have mine tucked in here, but it hits me right at hip level (even with my little bump). You can see that better in this photo: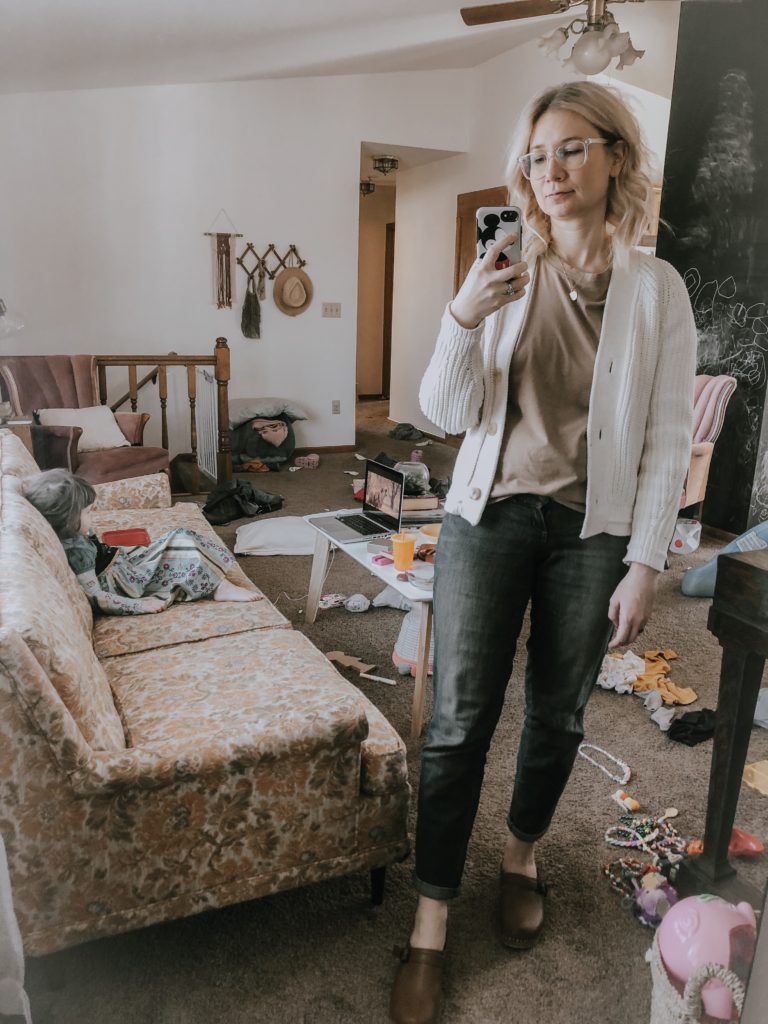 Overall, it is a much more boxy fit, but I do love that it's not super wide like some boxy fit t-shirts… it's a happy medium in my book.
Definitely check out the new spring collection! I also have a new Varsity sweatshirt in rust, and one of their new box tops in salt coming so I'm sure you'll be seeing those pop up in upcoming weekly outfit roundups. 🙂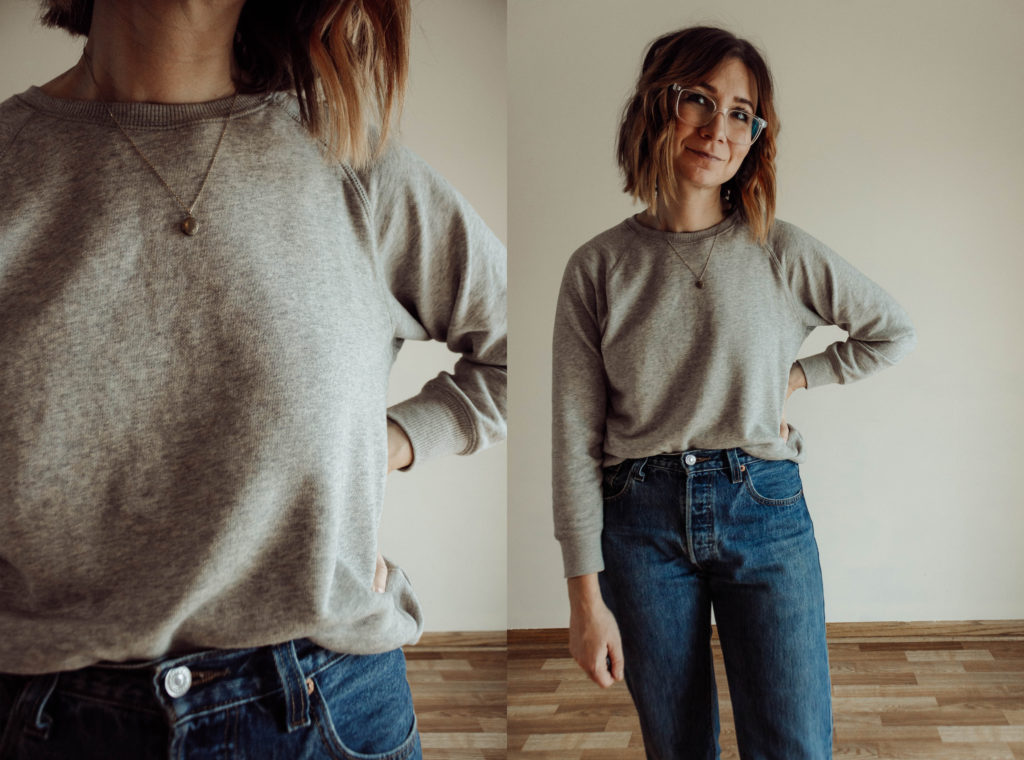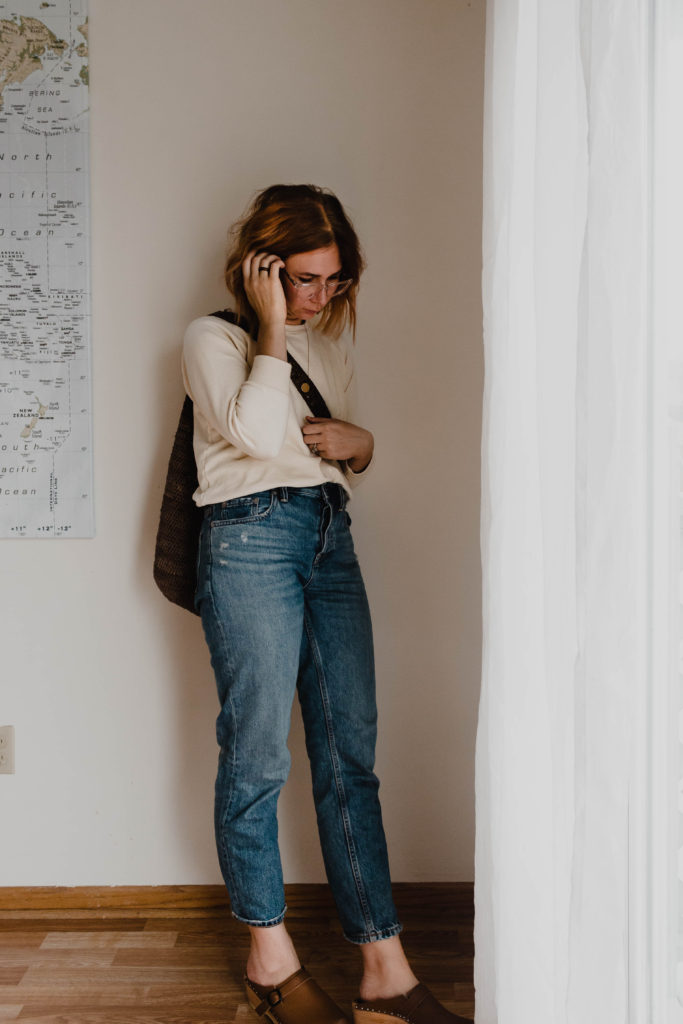 You can view the new collection here. Have you guys ordered anything yet? Are you planning on it? If you have any specific questions let me know, and I'll do my best to answer them quickly! And, as always, you can take 15% your order using code KARIN15.
Until next time,
Karin