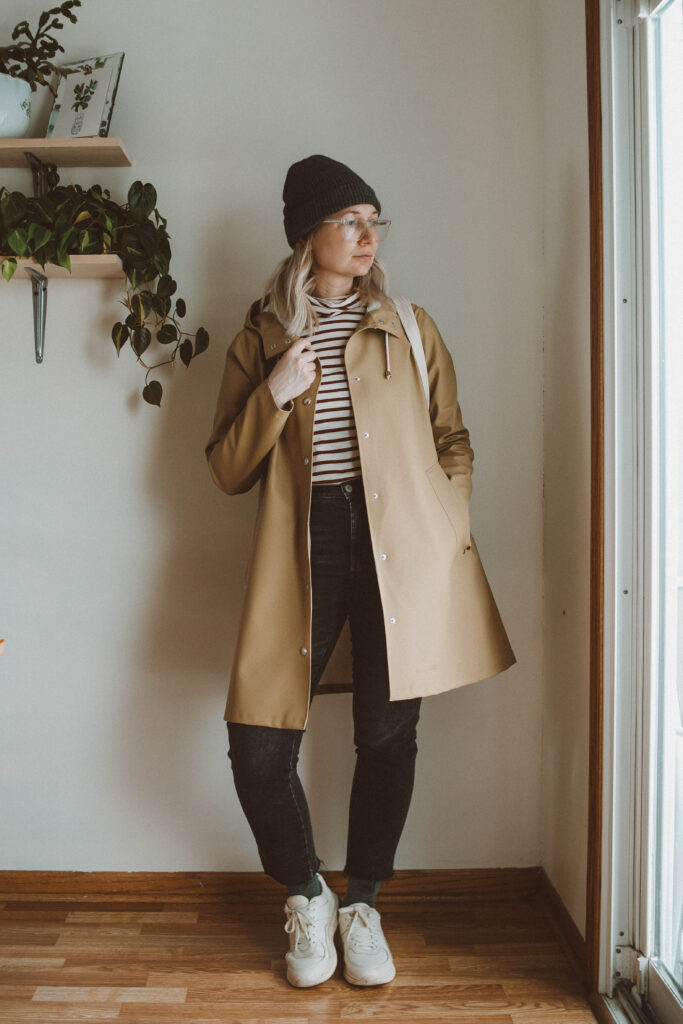 I'm feeling very torn as I sit down and write this.
I have Gabe next to me on his play mat acting like the sweetest, cutest little baby, and I have Ella and Rosie in the other room decidedly NOT laying down for their afternoon nap.
So I feel torn between loving being a mom right now, and being on the verge of becoming raging hulk mom (deeeeeep breaths). Ha!
Yes we're still dealing with sleep issues, yes it frustrates the heck out of me, but you better believe I'm more stubborn than they are so we'll see how long it takes before I wear them down. They. are. stinkers though.
Which I ACTUALLY REALLY LOVE ABOUT THEM (all caps because I need the reminder).
Don't worry I'm kidding. I really do love my children and everything about them. I think they're the best ever. But boy do they know exactly how to push my buttons.
ANYWAY. I've been trying to get this Stutterheim Raincoat Review up for a few weeks now (nap time is when I typically write these and they've kept me busy at nap time lately), and… drum roll please…
it's finally up!
In early December, Stutterheim was kind enough to gift me this raincoat… and I can honestly say I don't know if I've ever loved a jacket more.
I wanted to use it for awhile and really get a feel for it before I officially shared it with you, which I have now officially done.
I have the Mooseback style Raincoat in Tobacco, which unfortunately is sold out in this color, BUT is still available in a ton of other colors so it's still worth a review.
So here's the specs:
comes in 32 different colors and sizes XXXS-XL
Retails for $295 (although some colors are on sale).
It's made of a cotton/poly blend coated in PVC with Metal Snap buttons. It can be machine washed, but only on the delicate settings (Note: I have not tried this yet, but the website says it's possible).
Designed in Stockholm, and made in Poland.
The fabric feels very sturdy, and yet it is lightweight enough to wear it for a spring jacket. It has the feel of a traditional rain slicker, which means that it's also not a material that "moves." It's very structured, and stays structured while you're wearing it. Does that make sense?
With that said, it IS very comfortable and I have no issues with sitting down or feeling awkward when driving, etc.
It does keep moisture out, and it also is surprisingly effective at keeping the wind out. It's actually a really great spring/fall jacket and it works really well for winter when layered over a thick sweater.
I got it in a size XS (I sized down), and there IS room for a thick sweater so I would definitely suggest sizing down.
It has deep side slash pockets, and a hood that actually stays up, and finally:
the design is really minimal which I love. It's such a simple, classic style and it's one of those closet items that will literally never go out of style.
Overall thoughts: One of the best jackets I've ever owned, and the simple design really elevates any outfit while simultaneously being an extremely practical option.
Can you tell how much I love it?
So like I did in my Blundstone review, I thought it would be helpful to leave you with a few styling ideas: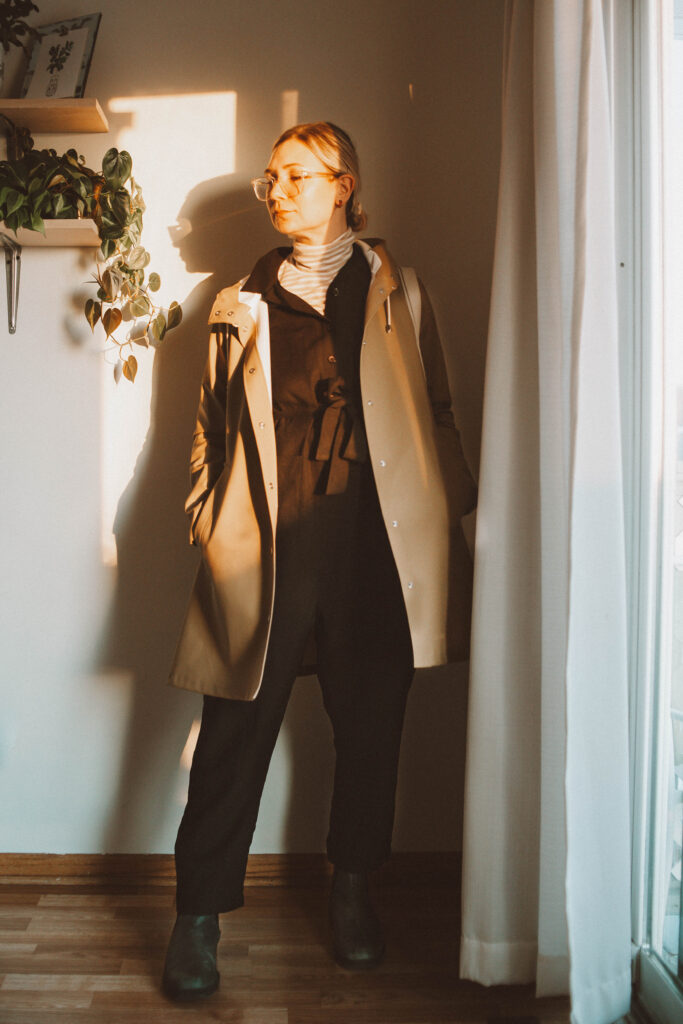 Outfit Details (Affiliate Links):
Jacket (Gifted) | Turtleneck | Jumpsuit (Gifted) | Boots (Review Here) | Bag (Gifted) | Earrings (Thrifted so I linked similar)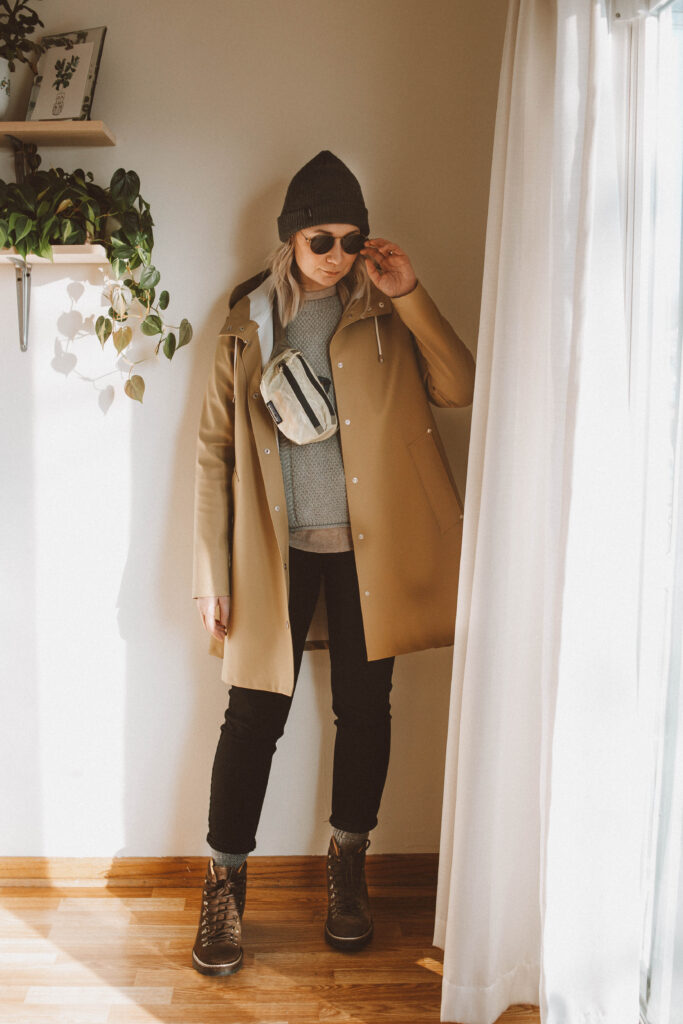 Outfit Details (Affiliate Links):
Jacket (Gifted) | Hat | Sunglasses | Tee | Sweater (Gifted) | Denim (Gifted. Review Here | Hip Pack | Socks | Boots (Thrifted so I linked Similar)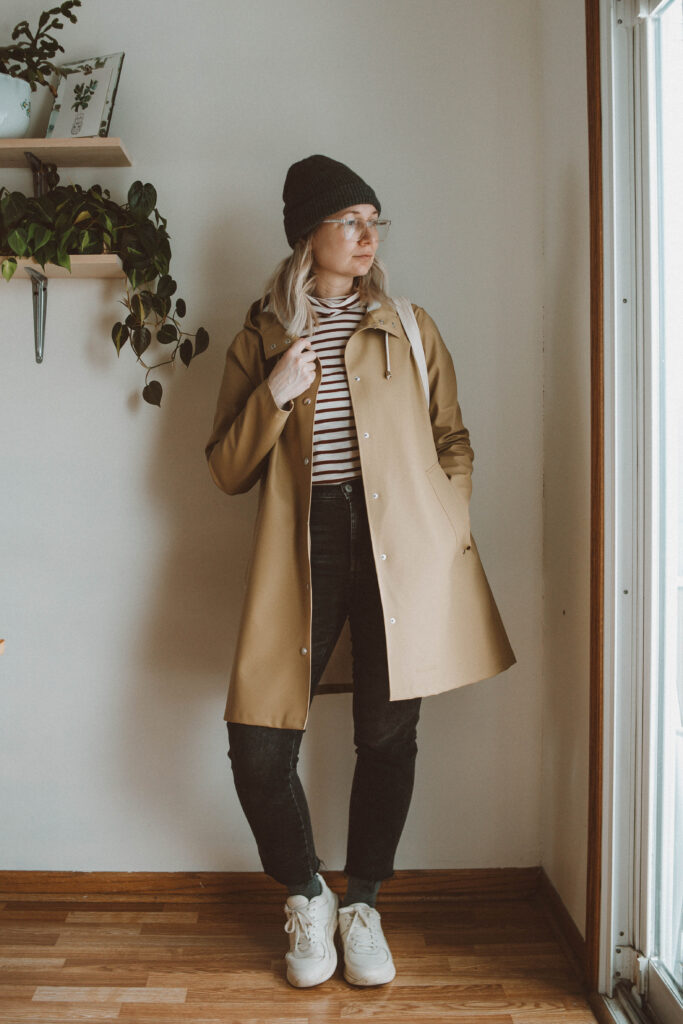 Outfit Details (Affiliate Links):
Jacket (Gifted) | Turtleneck | Denim | Socks | Sneakers (Gifted. Review Here) | Hat | Tote
Outfit Details (Affiliate Links):
Jacket (Gifted) | Tee | Sweater (Secondhand so I linked the same, but in current colors | Pants (Gifted) | Boots | Bag (Secondhand so I linked Similar)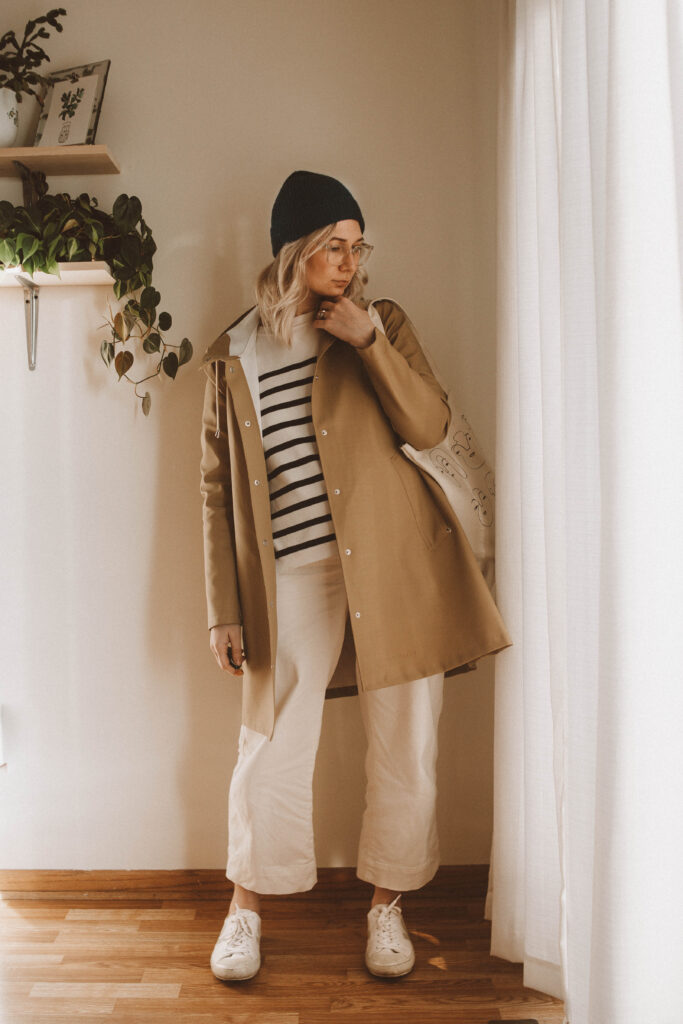 Outfit Details (Affiliate Links):
Jacket (Gifted) | Hat | Sweater (Thrifted so I linked similar) | Pants | Sneakers | Tote
And that's all for today folks! The twins are finally quite (yay!), Gabe is still being sweet as pie, and I can hear Kit singing Joy to the World in her quiet rest time (apparently it's Christmas all year round when you have kids) so all is well with the Rambo world.
Have you considered Stutterheim before? Is this your first time hearing about them? Let me know!
Until next time,
Karin