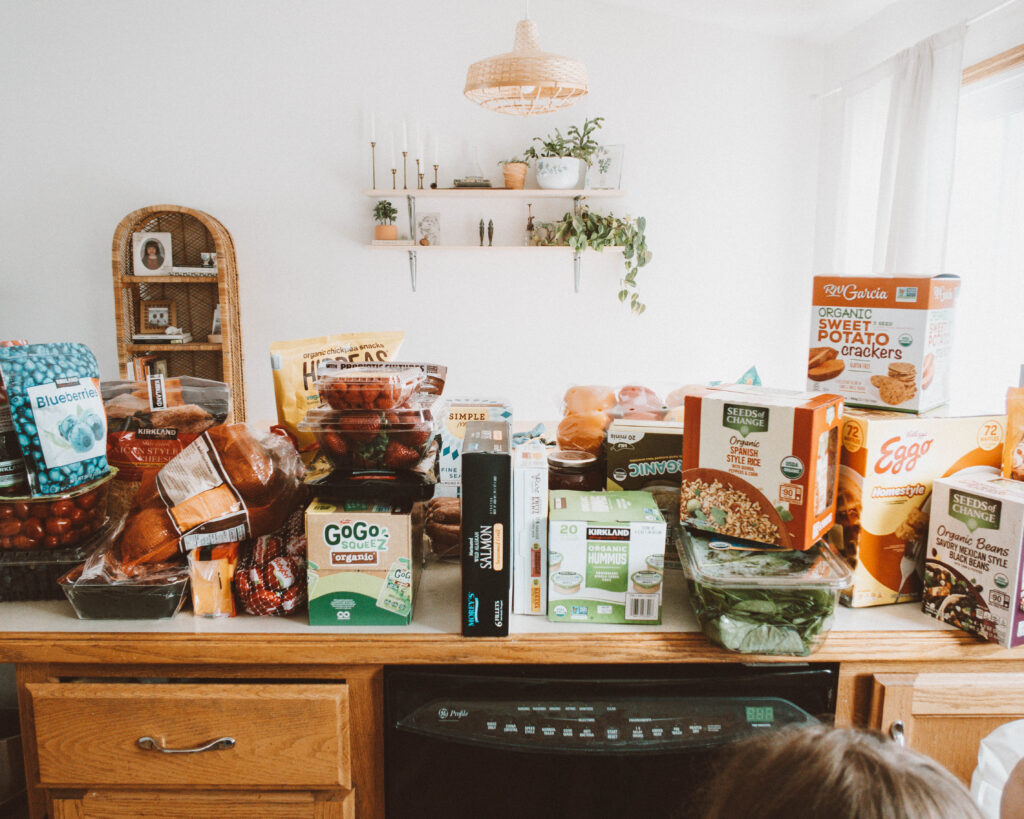 This is a super impromptu blog post.
I wasn't going to share this with you guys, but as I was unpacking my grocery delivery from Costco I realized that it might actually help you to know which things I got and how I'll be utilizing them over the next few weeks.
I don't typically grocery shop in bulk like this (save for a few things we like to stock up on in normal life), but with all that's going on right now I thought it would be more helpful to do one big Costco trip every 1-2 months, and then supplement as needed at Aldi.
So that's what I did! I bought an enormous amount of groceries, and I'll be freezing a lot of it (we have an additional freezer in our laundry room) so that it'll last me for at least a month.
The meal plan is for 2 weeks of meals, but I'll just repeat it the second half of the month to make it into a four week plan. Make sense?
Oh, and we eat a variety of foods but I am dairy free so all of these meals can be made dairy free if desired (I'll share how I do so if it's not obvious).
Also, these are real meals. Like, this is actually what we'll be eating, not this is ideally what we'll be eating… like I said this was impromptu so I didn't plan these meals with the idea of impressing you in mind.
Oh and one last thing: at the beginning of the week I will typically make a big pot of soup or prepare salad fixings so if a meal has dairy in it I can just eat that instead. I also keep a container of dairy free yogurt for an easy breakfast if I can't eat what the girls are eating.
So with that said: this is our Costco meal plan:
---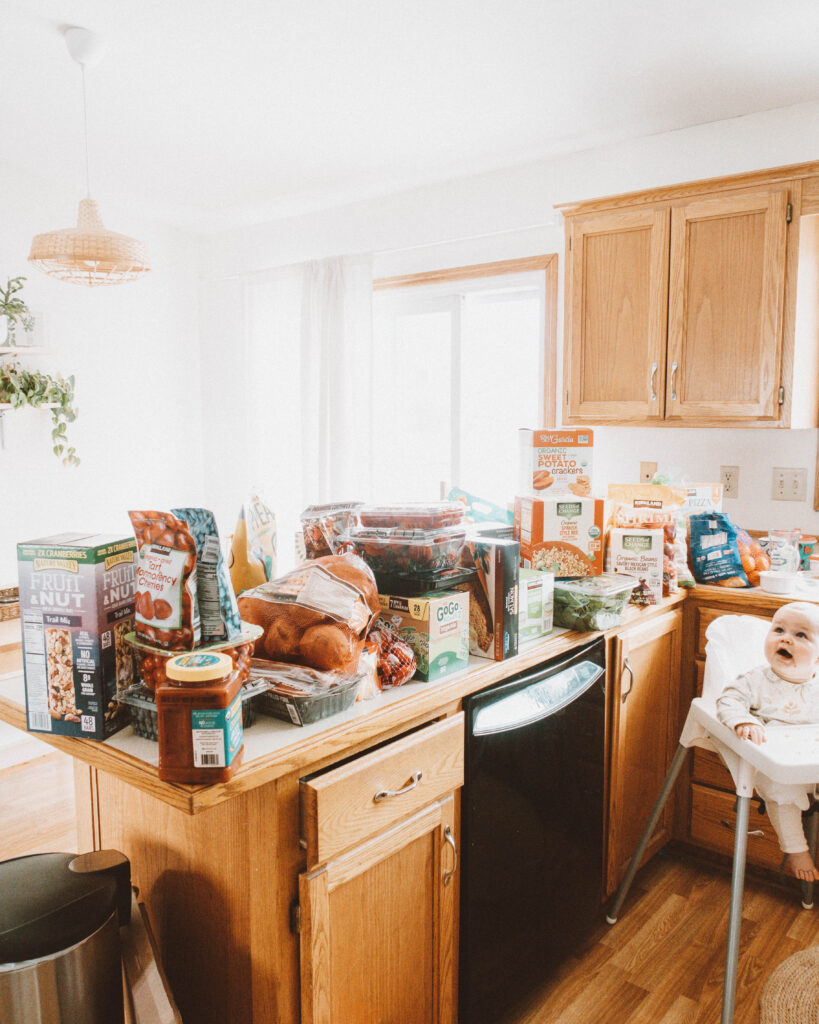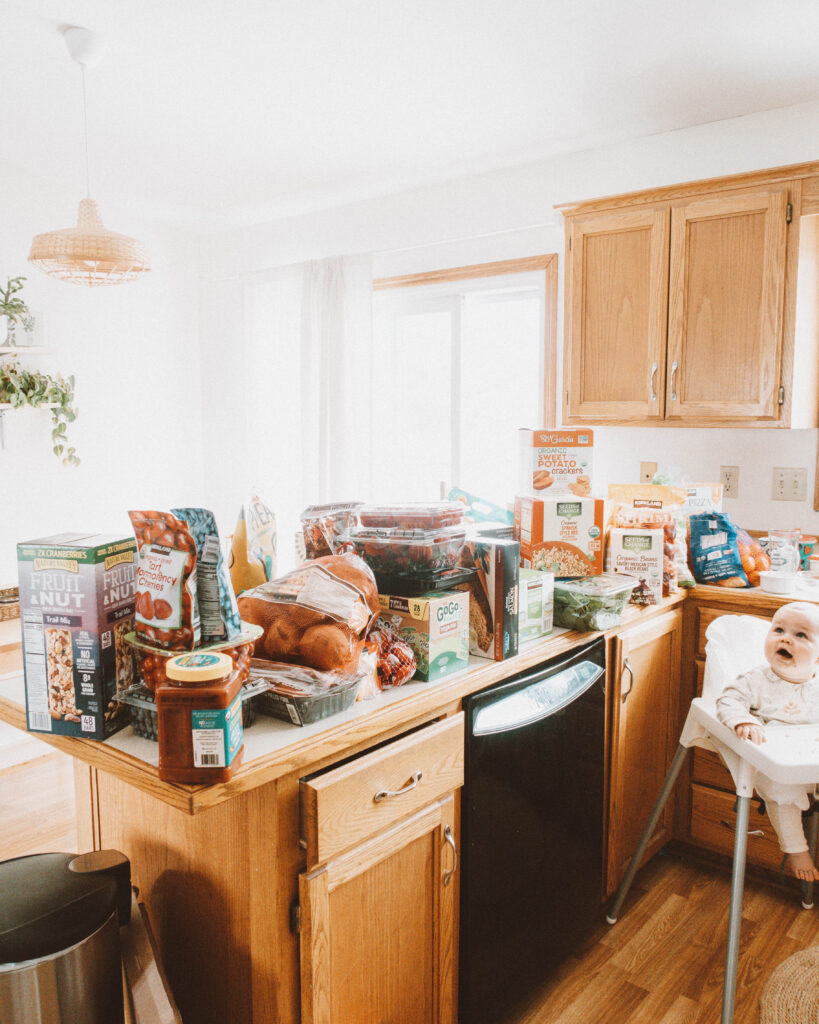 ---
Day One:
Breakfast: apple juice, berry, and kale smoothie (using the smoothie packs from the Costco freezer section), and honey toast (Gabe gets buttered toast as babies can't have honey)
S1: crunchy dried apple slices
Lunch: cucumbers and hummus, sweet potato crackers, and pears
S2: guacamole and crackers
Dinner: california pulled pork sandwiches with canned corn and grapes (Costco recipe)
S3: Hippeas and Babybel cheese (you can substitute some turkey lunch meat instead of cheese for dairy free)
---
Day Two:
Breakfast: frozen waffles (check to make sure they are dairy free if needed), and strawberries
S1: Hippeas
Lunch: McDonalds happy meals and soup for me (we've been doing happy meals on Fridays because we do Kit's preschool drive by every Friday, and it's nice to not have to prepare a meal when we get home).
S2: Trail Mix Snack Packs
Dinner: garlic sausages with bell pepper and potatoes + clementines (Costco recipe)
S3: Dried Cherries and String Cheese (turkey lunch meat if dairy free)
---
Day Three:
Breakfast: eggs and raspberries
S1: Goldfish crackers (sweet potato crackers if dairy free)
Lunch: pre-made lasagna, salad, and clementines (I'll just do salad)
S2: dried blueberries and lunch meat
Dinner: frozen pizzas and grapes for pizza and a movie night (I do popcorn with earth balance soy free butter substitute, or sometimes I get the Amy's Cheese Free frozen pizza… much better to have no cheese than a cheese substitute IMO)
S3: applesauce pouch and hippeas
---
Day Four:
Breakfast: Annie's cinnamon rolls (dairy free!) and blueberries
S1: leftover Cinnamon Rolls
Lunch: omelettes, mini peppers, and pears
S2: Guacamole and Crackers
Dinner: bean chili, corn bread (I use oat milk for the milk substitute), and raspberries
S3: Banana and Peanut Butter
---
Day Five:
Breakfast: bagels with cream cheese (I use Kite Hill dairy free cream cheese that I get at Whole Foods or Target) and grapes
S1: fruit leather strips
Lunch: beef roast sandwiches with frozen mixed veggies and clementines
S2: Granola Bar (make sure dairy free) and Baby Carrots
Dinner: salmon and asparagus with rice and berries
S3: Lunchmeat and Babybel (use fruit for dairy free)
---
Day 6:
Breakfast: English Muffins (not dairy free so I do toast or yogurt instead) with apple sauce pouches
S1: dried blueberries
Lunch: pb&j, Cherry Tomatoes, and Blueberries
S2: granola and yogurt
Dinner: greek pork tenderloin with tomato salad and melon (Costco recipe)
S3: goldfish crackers (regular crackers for dairy free) and an applesauce pouch
---
Day 7:
Breakfast: french toast (I use coconut milk and butter substitute) with raspberries
S1: crunchy dried apples
Lunch: BLT's and banana slices
S2: trail mix packets
Dinner: Burgers and Roasted Sweet Potatoes with grapes
S3: Hippeas and a pear
---
Day 8:
Breakfast: Avocado Toast with pears
S1: guacamole and carrots
Lunch: black beans and rice with baby carrots, clementines, and cherry tomatoes
S2: dried cherries and sweet potato crackers
Dinner: australian lamb loin chops with carrot top harissa and peas + apple slices (Costco recipe)
S3: cereal (dairy free)
---
Day 9:
Breakfast: yogurt (dairy free for me) and granola with bananas
S1: grapes
Lunch: McDonald's (soup or salad for me)
S2: trail mix snack packs
Dinner: grilled NY strip steak with spanish peppers and skinny berry parfaits (both Costco recipes, substituting coco whip for cool whip and dairy free yogurt for regular yogurt)
S3: dried blueberries and string cheese (lunch meat)
---
Day 10:
Breakfast: hard boiled eggs with strawberries
S1: Goldfish crackers (regular for dairy free)
Lunch: granola bars (dairy free) with sweet potato crackers and hummus, snap peas and a banana
S2: dried blueberries and lunch meat
Dinner: frozen pizzas, salad (just salad for me, but see day 3 for pizza substitute details), and apple slices
S3: real fruit, no sugar added popsicle
---
Day 11:
Breakfast: Annie's cinnamon rolls and blueberries
S1: Leftover Cinnamon Rolls
Lunch: homemade lunchables (skip cheese if dairy free) with Hippeas and grapes
S2: hummus and Crackers
Dinner: cheese, ham and egg breakfast sandwich (skip cheese if dairy free), and melon with a salad
S3: Banana and Peanut Butter
---
Day 12:
Breakfast: scrambled eggs and spinach and fruit smoothie (I use almond milk for smoothies)
S1: Fruit Strips
Lunch: chicken nuggets, mixed frozen veggies and raspberries
S2: granola bar (dairy free) and baby carrots
Dinner: wontons, broccoli, clementines
S3: lunch meat and mini peppers
---
Day 13:
Breakfast: Pancakes (I use this recipe for a dairy free option) and strawberries
S1: dried cherries
Lunch: fish sticks, frozen broccoli, and grapes
S2: granola and yogurt
Dinner: slow cooker salsa chicken (just cook salsa and chicken in the slow cooker and spoon into tortillas) tacos with cherry tomatoes, avocado, and pears
S3: goldfish crackers (regular for dairy free) and an applesauce pouch
---
Day 14:
Breakfast: veggie muffins and apple slices
S1: crunchy apples
Lunch: butter pasta (use butter substitute if necessary), frozen veggies, and raspberries
S2: trail mix packets
Dinner: scrambled eggs, roasted tomatoes and potatoes, and avocado with cinnamon banana slices
S3: hummus and crackers
---
My grocery list:
Costco shopping list:
2 bell pepper trio packs
Mini bell peppers
Cherry tomatoes
Carrots
Mini cucumbers
Bag of avocados
Clementines
1 lb baby potatoes
Bag of sweet potatoes
Baby carrots
Blueberries
Strawberries
Raspberries
Spinach (Freeze it)
Butter lettuce
Romaine
Kirkland pulled pork
garlic sausages
Pork tenderloin
NY strip steaks
Frozen lasagna
Beef pot roast
Blackforest ham
Cheese
Babybels
Formula
Bacon
Salsa
Hummus
Guacamole
Frozen burgers
Frozen chicken
Frozen salmon
Chicken nuggets
Fish sticks
Frozen Waffles
Frozen veggie muffins (Garden Lite)
Frozen pizzas
Shredded cheese
String cheese
Cinnamon rolls
Frozen berries and kale smoothie packs
Frozen broccoli
Mixed frozen veggies
Frozen asparagus
Vanilla greek yogurt
Cream cheese
Jelly
English muffins
Bagels
Hamburger buns
Kaiser rolls
2 pack bread x 2
Granola
Raisin bran
Pasta
Seeds of change bean microwave packs
Seeds of change Spanish rice microwave packs
Canned corn
Dried cherries
Dried blueberries
Applesauce pouches
Nature Valley granola bars
Sweet potato crackers
Crackers
Hippeas
Crunchy dried apple slices
Fruit leather strips
Goldfish crackers
Trail mix snack packs
Aldi shopping list:
Corn bread
Black olives
Capers
Apple Juice
Flour tortillas x 2
3 pack green pepper
Onions
Cilantro
Tomatoes
Snap peas
Apples
Grapes
Pears
Melon
Bananas
Eggs x 2
Turkey lunch meat
Frozen peas
Whole Foods shopping list:
Dairy free vanilla yogurt
Earth balance soy free spread/sticks
Amy's roasted vegetable pizza with no cheese
leeks
dye free candies
Vanilla pudding mix
Dairy free cream cheese (kite hill)
Dairy free whipped topping (coco whip)
Dairy free angel food cake
---
I hope you find this helpful! This isn't a normal way of shopping/meal planning for me, but it's a great way to do it right now when grocery store runs are a bit tricky.
K. Signing off!
Until next time,
Karin
See more meal ideas here