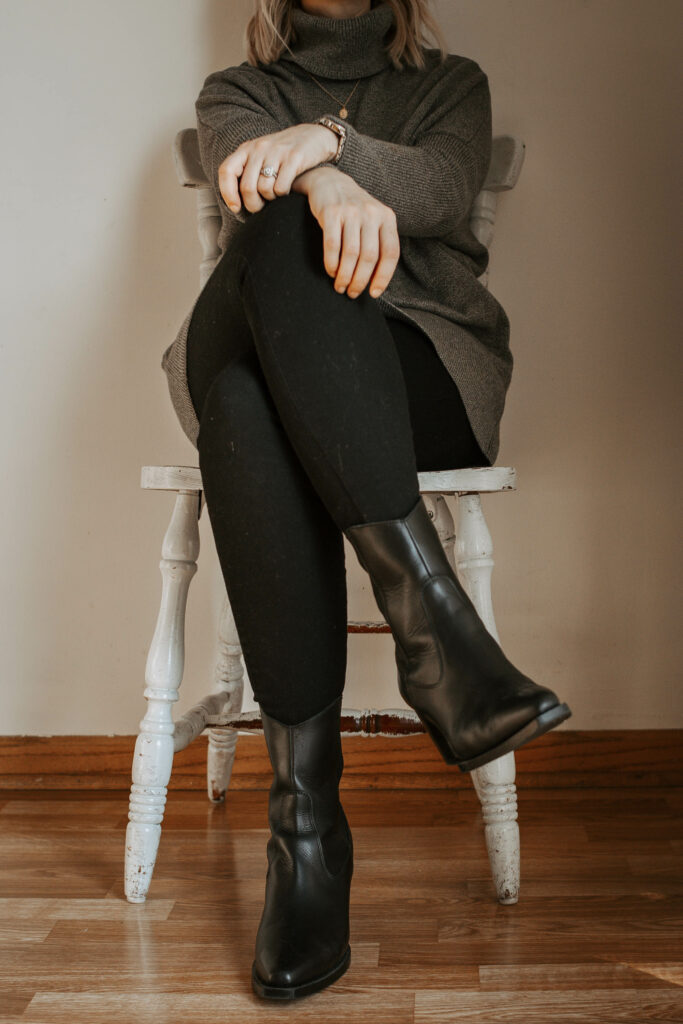 I've been wanting to put this post together for awhile now.
In a similar fashion to my Everlane Denim Guide, one day I noticed that I had enough of the Everlane Boot range to give you guys a really good overarching look at the different styles.
They do have quite a few styles to choose from so my hope with this post is to provide you with some clarity so that you can make the best choice for your wardrobe.
Everlane boots are not the most expensive option on the market, but they do still come with a hefty price tag so I understand the hesitation to purchase without knowing how they really perform.
Well I've got your back. That's why I created this Everlane boot guide.
I don't own every pair, so unlike my denim guide, I won't be reviewing every single pair they offer.
But I do think the pairs I have are some of their more popular styles so hopefully you see the pair you're thinking about in this post.
I'll be reviewing the 7 pairs I own, and apart from the Day Boot, they were all gifted as part of my ongoing partnership with Everlane.
For reference, I am a true 9 and my feet are a normal width BUT I do have extremely flat feet. Unfortunately I won't be able to speak about arch support, but I do know a comfortable shoe when I see one (wink wink) so I'll do my best to let you know if any style is painful or uncomfortable.
Okay. Enough with the intro. Let's get into the reviews:
---
The Modern Utility Boot
This review originally appeared in this post.
The Modern Utility Lace up Boot in Black, Size 9
Retails for $185, comes in sizes 5-11, and 3 different colors
I love this new style of boot that Everlane just released, I have another pair of black lace up boots from Madewell, so I worried these would be a bit redundant in my closet, but actually I find that they really aren't because of the minimal construction on these.
I like that they are all black (upper and bottom). It makes them look just a bit more dressed up, but they also look great casually like I styled them here so they are very versatile. They also have a very minimal shoe lace and sole, which I really love. They kind of play to the chunky boot trend that's happening right now, but they are not so chunky that you'll feel weird wearing them when we've moved on from that trend. In other words, they are a very timeless style and I imagine I'll be reaching for them for many years to come.
As far as construction, they are very well made (I love all of Everlane's boots to be honest) with a sturdy sole, and comfortable fit. They are made of the same type of smooth leather as their market tote, but it's a bit thicker. You'll definitely want to treat it right away though because that kind of smooth leather is more susceptible to wear.
The website says they have a narrow fit, but I don't think they're more narrow than any other average pair of boots. With that said, you may have to size up if you have wider feet. I took my normal size 9, and am wearing a thick pair of wool socks underneath, and they are very comfortable. They are also really comfortable right out of the gate, and easy to get in and out of because of the zipper.
The Day Boot
For 24 hours starting on 12/9, Everlane will be lowering the price of their Day Boots to $175 so if you're planning on picking up a pair I suggest holding off until then.
The Details:
Comes in 8 Colors: Black, Bone, Ecru, Brick, Smoke, Navy, Lavendar, and Metallic Iron
Sizes range from 5-11
Retails for $235
Has a customer rating of 4.79
What the Website Says:
---
Runs true to size. Take your true size for a snug, glove-like fit. These will give with time and mold to the shape of your foot.
100% Italian leather
Treat with protectant. Spot clean with a cloth.
2″ heel
Made in Montopoli in Val D'Arno, Italy
DESCRIPTION
Made from buttery-soft Italian leather that molds to your foot, the Day Boot has an easy ankle height, a walkable stacked heel, and a back pull tab. Plus, details like a center seam and a covered side zipper keep this shoe looking extra-sleek.
What I Say:
---
The leather is so incredibly soft (I would argue even softer than the day glove), and really comfortable… I had zero break in time. I was also worried that the heel would be too much for me, as I'm usually a strict flats girl, but the width of the heel make them really easy to walk in.
I would argue that these are the most comfortable, and the highest quality boot that Everlane makes (of the styles I've tried). They are really well constructed, the heel looks super luxe, and the leather is beautiful. Plus the little details like the seam down the front, the zippers at the side, and the seam cover at the back make them look extra special.
In fact, these are the boots I would recommend investing in first if you weren't sure which style to start with. You really can't go wrong. They fit true to size and the leather is supple (I don't use that word as often as I should) enough that you can wear a thicker sock.
The only downside with these shoes is that, like most Everlane boots, the soles are very slick. If you live in a cold, wintry climate like I do then you'll probably have to stick on a pair of anti skid shoe pads.
The Wild Western Boot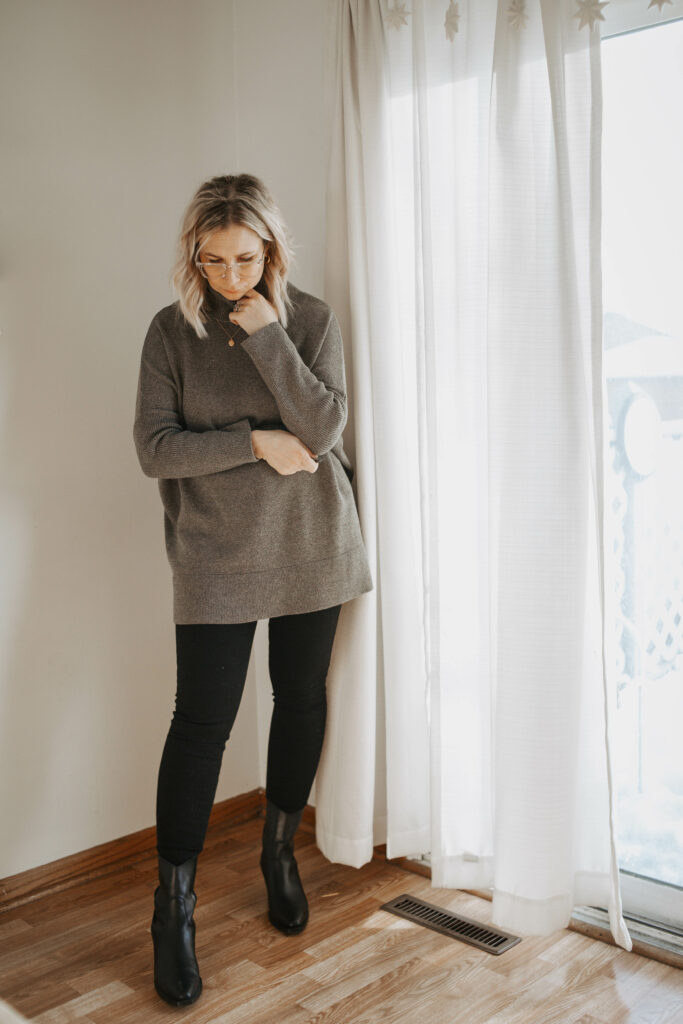 The Details:
---
Comes in 2 Colors: Black & Bone
Sizes range from 5-11
Retails for $235
Has a customer rating of 4.64
What the Website Says:
---
100% Leather upper with elastic side panels & rubber outsole
Treat with protectant. Spot clean.
60mm / 2.36in stacked leather heel
DESCRIPTION
Inspired by Western Americana, the Wild Western Boot is made of premium Italian leather and features a tapered square toe, an angled heel, an easy elastic back, and a handy back tab so you can pull-on and go. Dress it up with trousers and skirts, or opt for a more casual look and pair it back to your favorite jeans.
What I Say:
---
Man these boots are cool. I love that they make such a statement with every outfit, but they're still subtle because they are a basic black. While I find the Day Boot to be the best bang for your buck, these are the boots I have gotten the most wear out of… and they're one of the newest additions to my closet.
The ankle shaft comes up just below your calf, and is close fitting but stretchy enough that it should fit a lot of people. I don't find that they feel restricting or uncomfortable around the ankle. They have a very pointed toe, but the slight square at the very edge does a great job of eliminating the dreaded toe pinch.
The heel, while a bit taller than some of the other pairs, is still very easy to walk in due to the chunky heel and the overall shape of the boot. They are also very easy to get on and off even though they don't have a zipper due to the back tab.
The leather does not feel nearly as nice as the Day Glove, but it's a different kind of leather so it's hard to really make a comparison. It's a much thicker, rigid leather so there is a bit of creasing at the toes, although I find it's not noticeable unless the shoe is off. The plus side of the thick leather is that these are one of the warmest pairs of boots that I've tried from Everlane.
My only complaint is the same as the Day Glove: slippery soles.
The Knee High Boot
The Details:
---
Comes in 3 Colors: Black, Adobe Brown, & Bone
Sizes range from 5-11
Retails for $250
Has a customer rating of 4.42
What the Website Says:
---
Runs true to size with socks. If planning to wear with tights or thinner socks, take a ½ size down from your true size.
100% Italian leather upper
Treat with protectant. Spot clean with a cloth.
15in Shaft circumference (based on size 7, )16 1/3in Shaft height (based on size 7), 2in / 50mm stacked heel
Leather pull tab
Made in Montopoli in Val D'Arno, Italy
DESCRIPTION
Made from buttery-soft Italian leather, the Knee-High Boot has a perfectly slouchy look with a high-profile silhouette. It features a walkable two-inch heel, a cushioned insole for all-day comfort, and a wider shaft for easy-on, easy-off appeal. Pair with jeans, skirts, or dresses
What I say:
---
These aren't quite what I was expecting when I first saw Everlane's promotions for them. I thought they'd be a rigid riding boot style of boot, but they really aren't. They are made from, what feels like, the same leather as the Day Boot so they are actually quite supple (there's that word again!), and a bit slouchy… I actually really love and prefer this to a riding boot, but if that's not your thing then these might not be for you.
They are very comfy. The heel isn't super high so they are really easy to walk in, and you can't even feel the leather on your leg because they are so soft. They also have the same type of heel as the Day Boot (plus a lot of other similar details like the seam cover at the back, and the seam that runs around the ankle) so they have that same, luxe feeling.
I'm 5'5″ and they hit right at the knee. I've had no issues with them staying up, even though they are so soft. They'res some sort of elastic at the top of the boot shaft that keeps the boot nice and snug. However, due to that elastic, they may be a bit tight for anyone with very muscular calves.
Overall I really love these boots, and think they're a really classic pair to have in your wardrobe. They fit true to size, although if you want to wear a thick sock I would size up a half size.
Same complaint as the Day Boot… nothing new here.
The Square Toe Chelsea Boot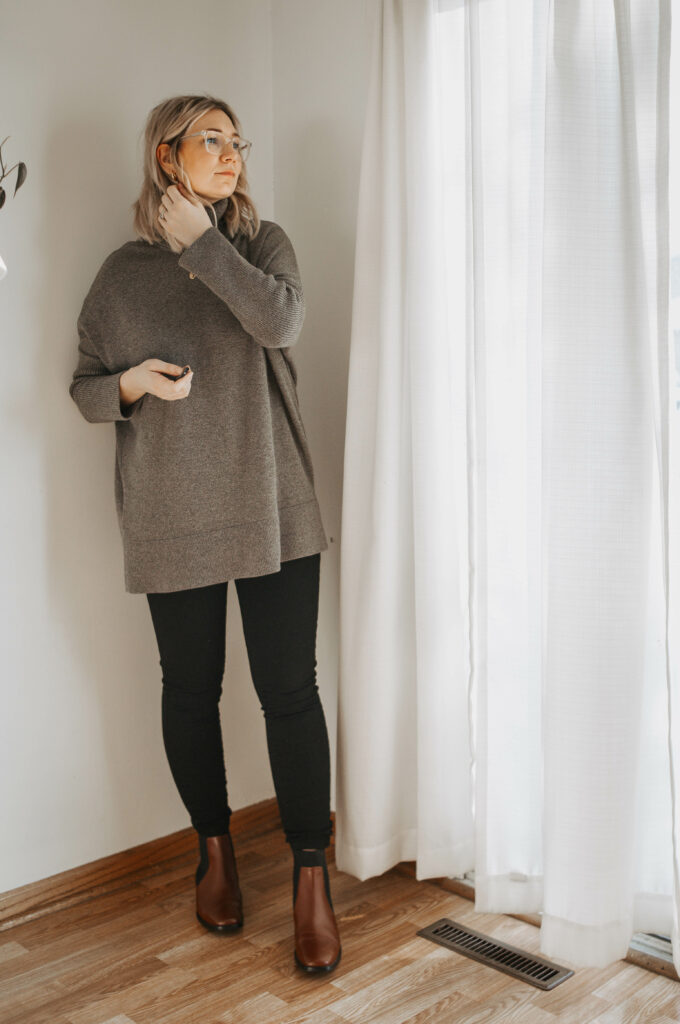 The Details:
---
Comes in 4 Colors: Biscuit, Black, Peanut, & Chocolate
Sizes range from 5-11
Retails for $225
Has a customer rating of 4.56
What the Website Says:
---
100% Italian leather
Treat with protectant. Spot clean.
Made in Lastra a Signa, Italy
DESCRIPTION
The timeless Chelsea boot—with a cool square toe. Made of premium Italian leather, the Square Toe Chelsea Boot has a leather heel tab, a low stacked heel, and elastic panels on the sides and front for pull-on ease.
What I Say:
---
Oh these shoes make me so sad! Here's the deal:
Aesthetically, these are my favorite boot that Everlane does. I adore the rich peanut color with the contrasting black elastic, I love the square toe, and I love that they are a flat boot that still looks really polished and elegant.
Sadly, they seem to be the poorest quality shoe that I have ever tried from Everlane. Now, to be fair, these are the pair of boots I've owned the longest so keep that in mind, but they have scuffed pretty badly (which I can fix with a little shoe polish), the leather is fairly creased at the toe, and as I was putting them on to take these photos, the pull at the back broke! Bummer.
All of these things are easily fixed via DIY or by bringing them to a cobbler, but I've only owned them for a year so I think they should have lasted a bit longer.
But now that I've registered my complaints, I do have to say (like I said above), I LOVE the look of these boots. They give a very androgynous edge to any outfit, which I think is really cool. Plus they don't seem to have the same slippery sole problem that the other boots have.
Unfortunately, I can't fully recommend these boots because, for the price point, I do feel that they should last longer than they did BUT if you have money to spare, and you're cool with a yearly trip to the cobbler I'd say go for it. Just know you've been warned.
They fit true to size, although if you want to wear a thick sock with them I would size up a half size.
---
The Rain Boot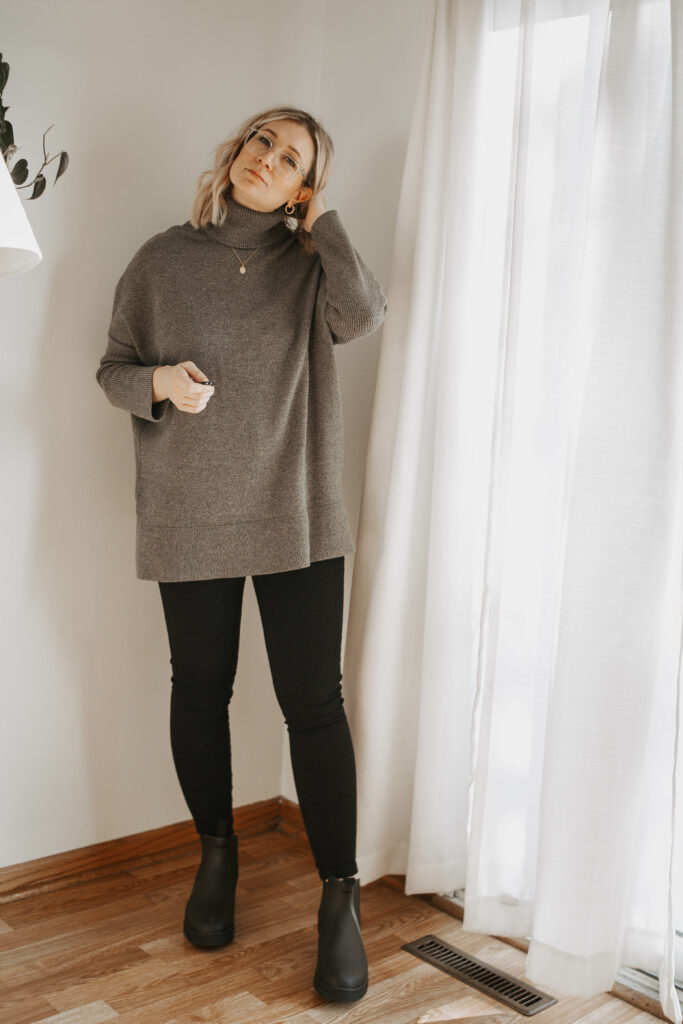 The Details:
---
Comes in 5 Colors: Black, Surplus, Stone, Toffee, & Pink
Sizes range from 5-11
Retails for $75
Has a customer rating of 4.65
What the Website Says:
---
Made to be worn in your usual size with thick winter socks. With other socks, size down.Half-sizes, size down from your usual size.
100% rubber upper
Wipe clean.
Made in Suzhou, China
DESCRIPTION
Our goal was simple: design the most comfortable rain boot. Ours features a versatile ankle height, a capable tread, and a custom-designed cushioned insole for cloud-like comfort. Plus, Chelsea stretch panels and easy-to-grab pull tabs mean you can just slide in and go—no more tiresome tugging. Made from flexible, easy-to-clean rubber, the Rain Boot was designed to leave plenty of room for thick, comfy socks, so you can stay warm no matter the weather.
What I Say:
---
These rain boots are very chunky, and almost utilitarian. They really remind me of my Blundstone boots in their style (like the double pull tag detail), but the material is obviously quite different. I really appreciate the chelsea boot style in a rain boot, and the substantial sole makes them slip proof.
They fit true to size, but with that said I don't plan on wearing them with anything other than a substantial sock. If you are planning on wearing thin socks I would suggest sizing down a half size. They are made of a really nice, thick rubber and feel very high quality. I've worn them a bunch in inclement weather, and they've hardly scuffed or scratched. Plus, all you have to do to clean them is to wipe them down with a damp rag.
I like that they taper in at the ankle so rain/snow really do stay out. And there doesn't seem to be any leaking where the upper part of the boot meets the sole. I've had cheaper rain boots in the past that leaked at that seam. They feel very well constructed.
My only complaint with these boots is that they are actually quite heavy. I wore them several times while running errands, in several hour stretches, and they remained comfortable, but the weight of the boot caused my calves and feet to fatigue. But this isn't a huge problem unless you plan to use these for doing a ton of walking, and to be fair, it might just be related to my flat footed problem.
The Glove Boot ReKnit
The Details:
---
Comes in 6 Colors: Black, Toffee, Bone, Tomato Cobalt, & Slate Gray
Sizes range from 5-11
Retails for $155
Has a customer rating of 4.71
What the Website Says:
---
Fits true to size
88% Recycled Polyester, 10% Nylon, 2% Elastane, 100% Leather Detailing
Spot clean with a mixture of warm water and a small amount of gentle soap or detergent.
2″ heel Leather details
Made in Thai Binh City, Vietnam
DESCRIPTION
The most flattering boot—ever. Made of our textured ReKnit fabric, the Glove Boot has a sleek holds-you-in fit and the perfect amount of stretch for all-day comfort. Complete with chic rib detailing, a just-right height, and a walkable heel, this boot fits like a glove and looks damn good. Plus it's made from renewed plastic bottles (9 per pair, to be exact), so you and the planet can look your best.
What I Say:
---
These boots, like the leather version, are so comfy. They are soft and stretchy, but yet they hug your foot in a super supportive way, so in that regard, they are a true sock boot. In fact, next to the Wild West Boot, these are my second most reached for pair.
The heel is easy to walk in. It's a nice stacked heel so it's very supportive, and like the Day Boot and the Knee High Boot, it feels like it's made extremely well. With all three boots, the heels look good as new, even though I've worn them all for very real life situations.
True to size. Even if you want to wear thick socks I would stick to your normal size, because there is a lot of give due to their stretchy fabric.
The ribbed detail on the fabric (which is recycled polyester) is a really nice touch. It makes them look more luxe than some of the neoprene versions I've seen out there, and the toffee color is stunning. It's such a rich shade of cognac, and it adds the perfect punch of something to every outfit I pair them with. The material is really thick so I don't think it will stretch out. I've worn them a ton, and they still feel very snug.
These should fit a wide variety of ankle sizes because the fabric is so stretchy, but if you do have wider feet/ankles I would definitely size up.
Someone asked me how I keep them clean, and I have two answers for that: First, they don't seem to attract dirt like you might think. Like I said, I've worn them a ton and for the most part they have stayed pristine. I did get a little spot on the toe, and I just spot cleaned it with a little detergent and it came right out.
My only complaint is, once again, the slipper soles.
The Boss Boot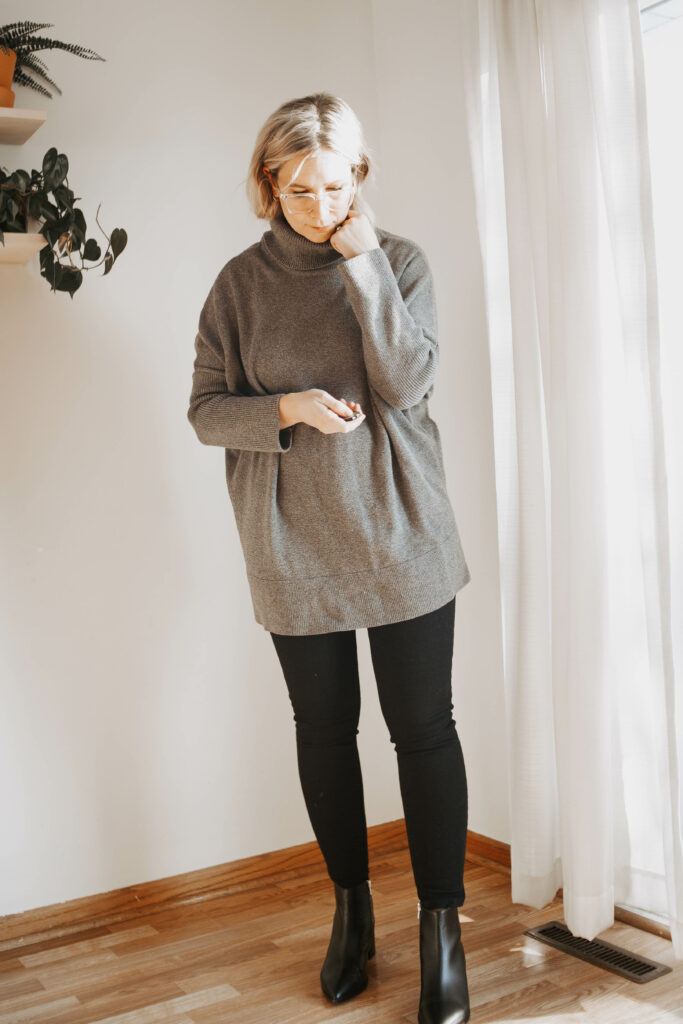 The Details:
---
Comes in 5 Colors: Pebbled Black, Burgundy, Black Patent, Bone Patent, & Black/White Snake
Sizes range from 5-11
Retails for $235
Has a customer rating of 4.7
What the Website Says:
---
Fits true to size
100% Italian leather.
Spot clean with a cloth.
2-inch stacked leather heel
Made in Lastra a Signa, Italy
DESCRIPTION
Handcrafted in Italy from premium Tuscan leather, the Boss Boot features a pointed toe and a walkable block heel, plus a side zipper for a leather-jacket-inspired edge.
What I Say:
Okay I really love these. I still stand by my above thoughts about the Day Boot being the best bang for your buck, but these are a close second. They really elevate any outfit you wear them with… they really do make me feel like a dang boss every time I wear them. I love the special details like the pebbled leather, and the silver zipper because they make the boot look polished and classy. They are a pointed toe, but my toes don't feel pinched in them at all, and they are really easy to walk in. And bonus! No slippery sole issues with this style. They are made with a thick, high quality leather so (other than the rain boot) these are the warmest style they offer. I would definitely size up a 1/2 size if you want to wear them with thick socks. Otherwise, you should probably stay true to size. Just an FYI: they did stretch out a bit after a few wears for me, and they did rub at the ankle a bit. However, break in time was minimal, and now they are perfect. If you are wanting to start a boot collection, I would get started with the Day Boot and the Boss Boot (and maybe even stop there because those two styles are just so good).
I honestly can't think of anything I don't love about these boots.
Phew! That's a lot of reviewing. I hope you found this Everlane Boot Guide useful. I know online shopping can be really tricky, especially when you're going to be dropping a good amount of money on a pair of boots. Let me know if you have any questions in the comments below, and if there is a pair you're dying to know about that I didn't include, let me know that as well.
Until next time,
Karin
P.S. I'm also wearing this VETTA Sweater, and these Everlane jeans