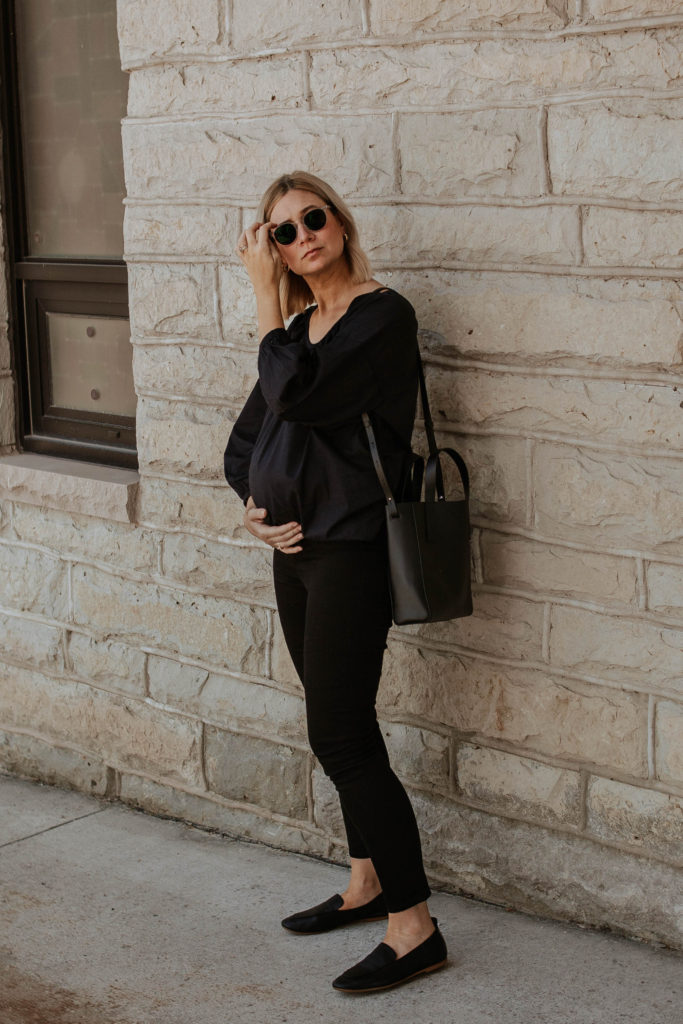 I'll admit to you guys, I've been thinking about my fall wardrobe a ton already.
I attribute it 100% to the fact that I am OVER maternity dressing. I remember Grechen from Grechen's Closet saying how she missed her waistline, and all I can say is "amen sister!"
I've gotten to this point in all of my pregnancy's so I knew it was coming, but I find myself dreaming of my fall wardrobe, and high waisted jeans, and shirts tucked in…
I know, I know. There are bigger fish to fry in this world than Karin's waistline dilemma's, but it's the truth of where I'm at.
With that being said, I've been eyeing a lot of Everlane's new releases through the lens of "will this work in a few months when I can really get a lot of use out of it."
So today I thought I would do something a little fun and show you pieces that are new in at Everlane, but that will translate well into your fall wardrobe. I love pieces like this because they end up being the workhorses of my wardrobe: they are the pieces that I know I can reach for year round, and I'm guaranteed to get my money's worth out of them.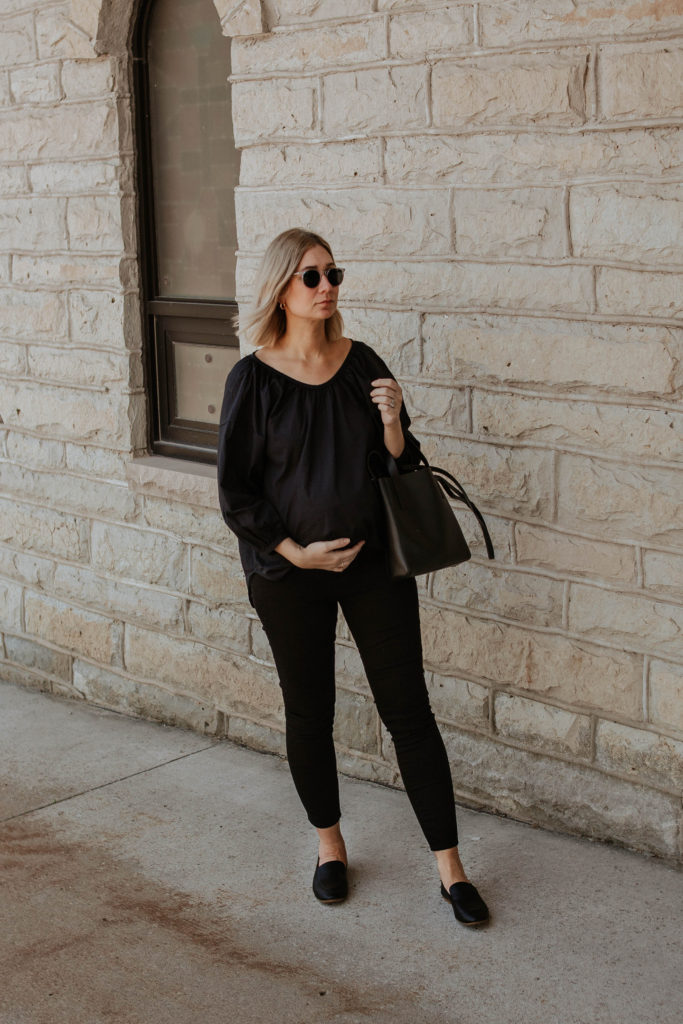 I have three pieces that I'm going to do a mini review of, but to be transparent:
Two of these pieces were sent to me from Everlane (the loafers and the tote), and I purchased the blouse myself. As always, my thoughts and opinions are 100% my own!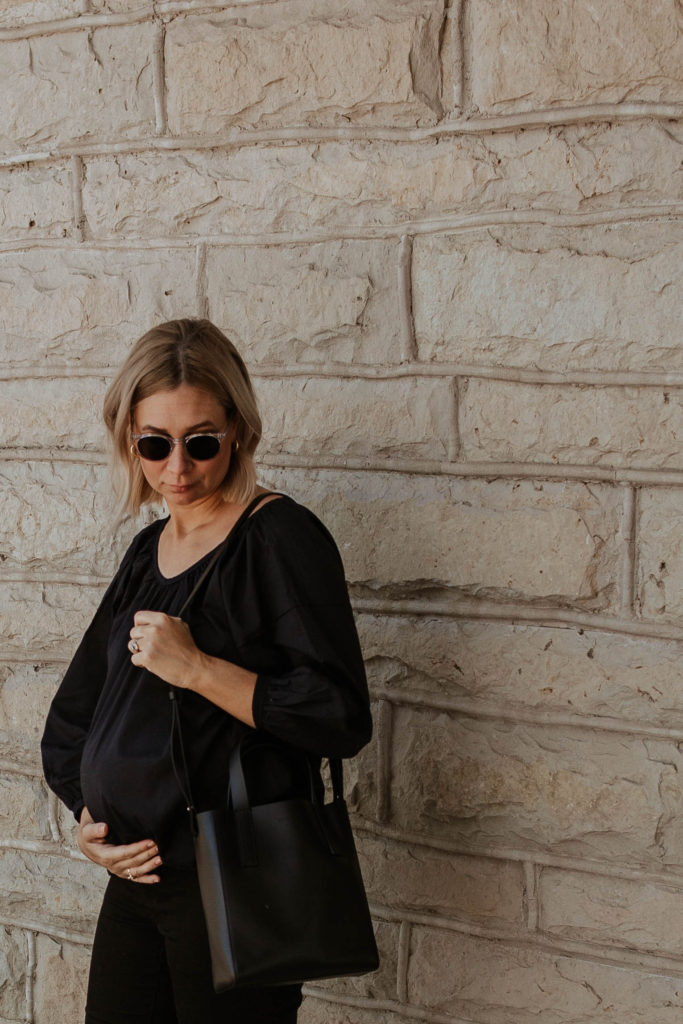 I'll admit, when Everlane launched this blouse last month I was really intrigued (and even more so when I saw it on a bunch of people on Instagram), but I figured I would just have to wait until I wasn't pregnant anymore to try it out. But on a whim, I decided to try it out… especially considering it's a generous cut and I knew that my typical size would probably fit through any postpartum phase that I am about to go through.
I love the lighter colors that they offer, but I have been wanting to build the "black" section of my wardrobe and I thought this blouse would be a perfect place to start… I am super pleased with it in black. It's going to look so good tucked into jeans this fall.
This top is really lightweight and breezy. It's perfect for cooler summer days, but with a layer underneath it will be perfect for fall as well. I love the slightly scooped neckline, and the balloon sleeves. I especially love that the sleeves have volume to them, but that they aren't TOO voluminous. I find that with the balloon sleeve trend, it can definitely go too far… especially when you want a blouse to outlast trends. This one is definitely "on trend", but it's classy enough that you can wear it for years to come.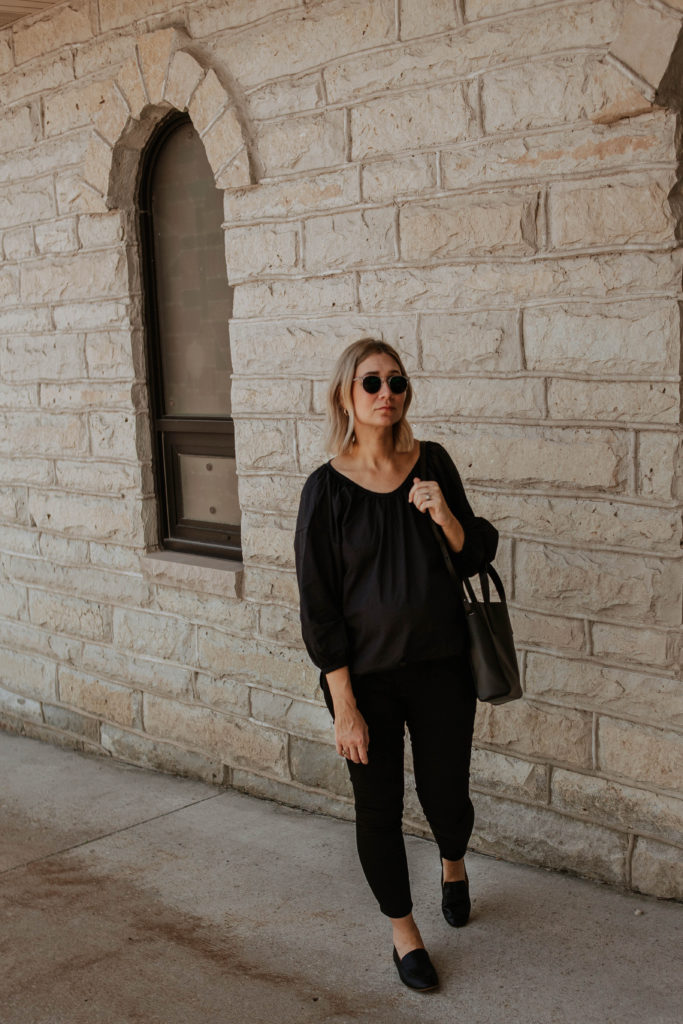 My one issue with this blouse is that the sleeve length hits about three fourths of the way down your arm, and the closure is pretty tight. I found myself having to unbutton it after a bit because it was a bit uncomfortable. I'm hoping after I lose the pregnancy bloating that won't be an issue, but we'll see.
I got it in my typical size 4. It comes in sizes 00-16, and three colors: black, covert green (a light khaki olive), and White Multi Stripe (white and light blue). It retails for $55.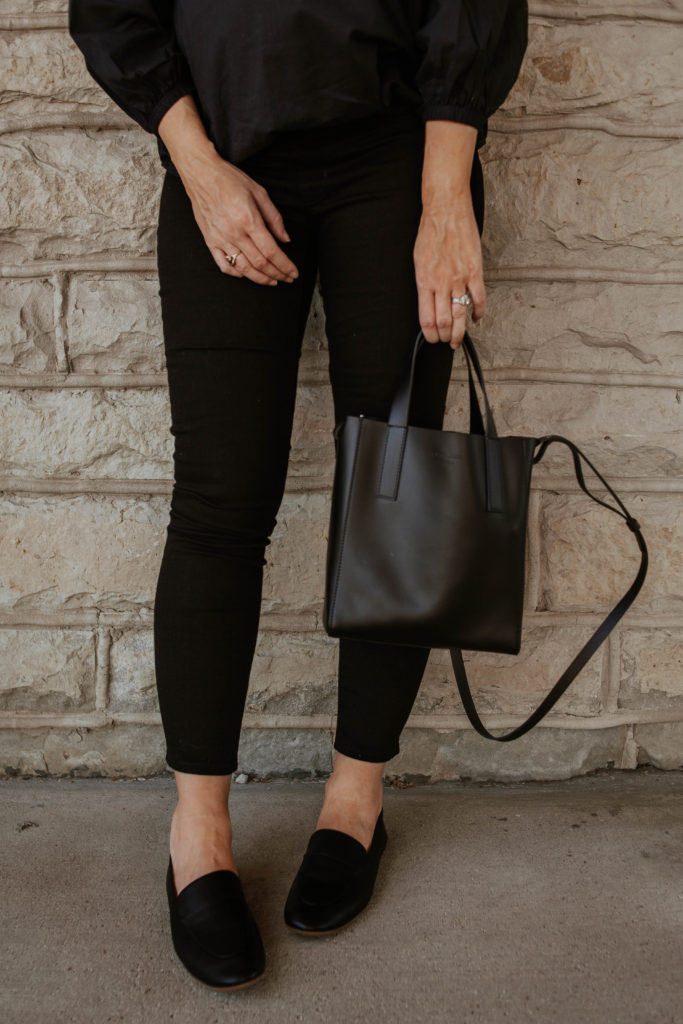 This is actually not a new release from Everlane, but it's something I've had people reach out and ask if I would review.
I'll admit, I was hesitant to try them at first because I wasn't sure if they fit with my style and I don't like to add things to my wardrobe that I don't love… even for the sake of blogging. But as I've been thinking of my fall wardrobe, and doing my wardrobe planning (something I'll be sharing about in a few weeks) I realized that a lot of the outfits I was pinning on Pinterest had loafers in them. So I decided to give these a try.
I'm really glad I did! They are an all around simple, but super versatile shoe. I imagine that I'll get a ton of use out of these for years to come because they are such a timeless style.
One thing to note in particular about these shoes: they are a bit hard to get on… at first. I've noticed that with each wear it's gotten easier, but right out of the box I really struggled. I kept with it though because I held them up to my Day Flats and they were the same size.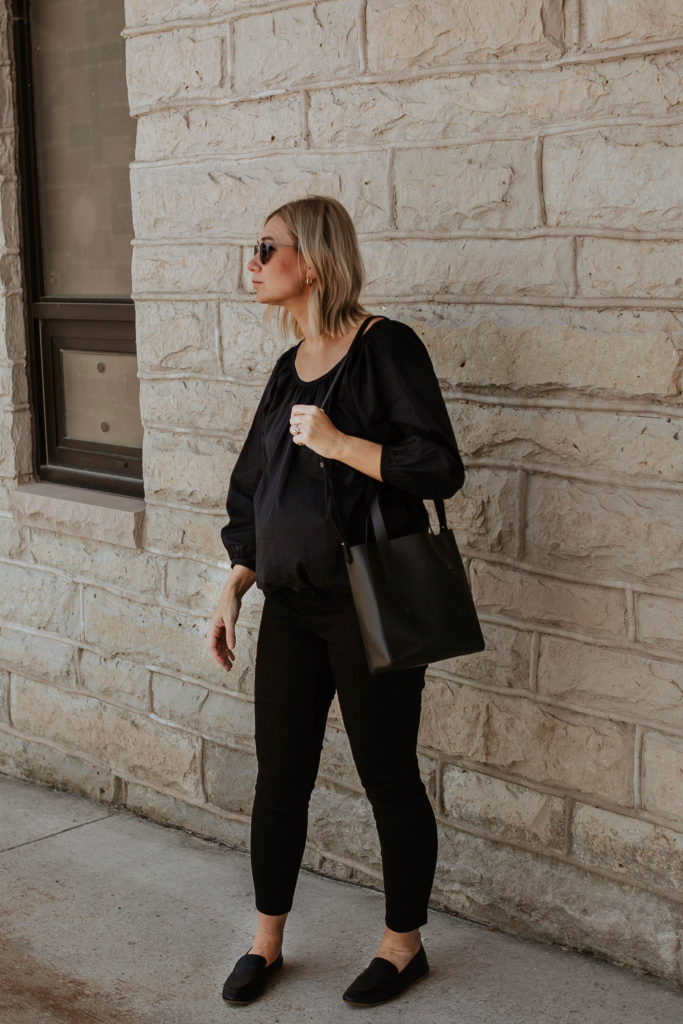 Once I got them on however they were an absolute perfect fit, and SOO comfortable. They literally feel like you have nothing on your feet and I have gotten zero blisters or rubbing on my feet. I think the snug fit actually limits all potential rubbing. But like I said, keep with it if they're hard to get on (unless they feel too small once you actually get them on) because they do loosen up over time.
The leather is really soft like the other "day" items that they offer and extremely lightweight.
I got my normal size 9. They come in sizes 5-11, and five colors: black, pale yellow, dark rose, white, and caramel. They retail for $155.
Finally, the brand new Day Tote Mini (this bag is no longer available so I linked to a similar one from Everlane here):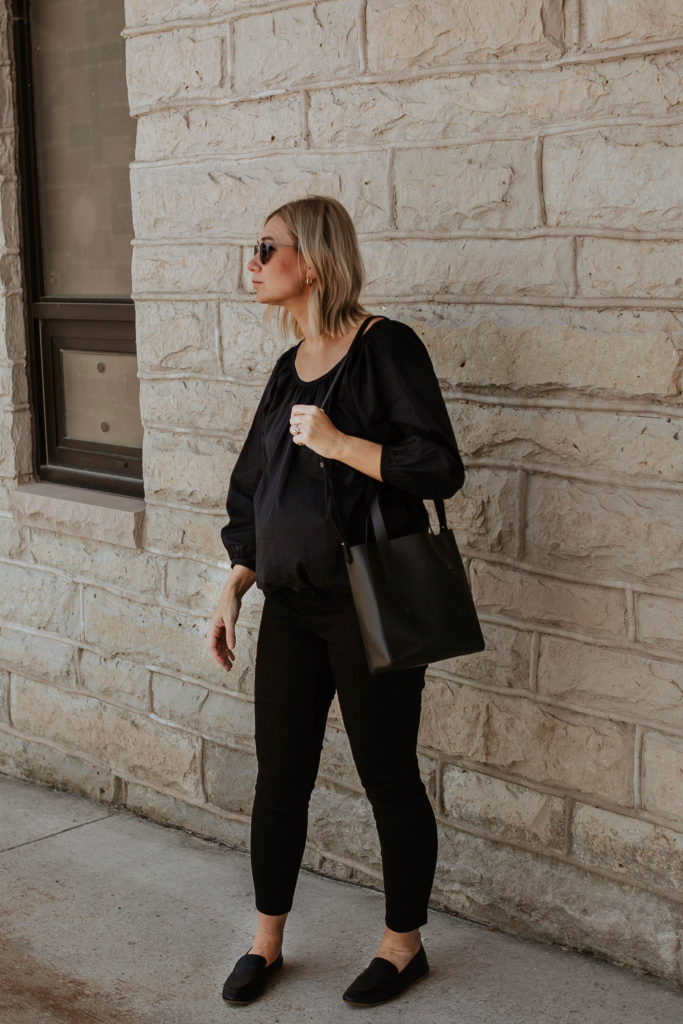 This is actually my first bag from Everlane, so I don't have any other experiences to compare it to… but overall I really like this bag.
The leather is a bit thinner than I'm used to in a bag (typical of their other "day" items) so I wasn't sure about it at first to be honest. It just didn't feel super substantial to me at first.
But I brought it with me to Door County, and I actually found the lightness of the leather to be a good thing. It was so easy to carry around, and my shoulder didn't ache after a day of hauling it around… even though it was stuffed.
You can see that it hits me at about hip level when I wear it with the shoulder strap, and the arm straps are roomy enough that I can wear it without it being too tight. There is a faint embossed logo on the front of the bag, but other than that it is a very minimal design with only one decorative seam on the back.
It comes in three colors: black, light taupe (I was SO tempted by this color as well!), and lemon. It retails for $155.
So there you have it! Three Everlane pieces I'm looking forward to bringing into fall with me. Have you tried any of these pieces? What are some of your favorites from their recent lineup?
Oh and if you want to see the rest of my Everlane reviews you can go here (I do about one a month). I also have a really helpful Everlane denim guide here.