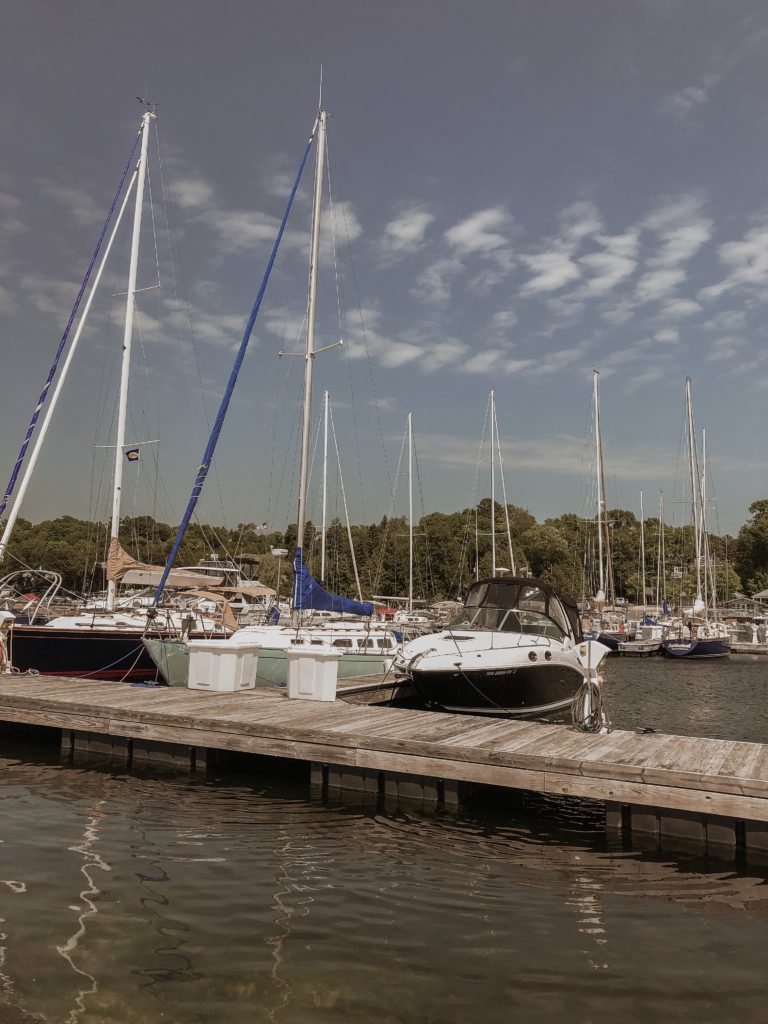 As I mentioned on Friday, David and I went to Door County over the weekend/beginning of this week for our 10 year anniversary (crazy!). It's not until the end of the month, but David's parents graciously offered to watch the girls for us, and this was when they could do it.
While I was very excited at the prospect of getting away for a few days, it was also a catch 22 because I'd rather take a trip when I'm not pregnant and I'm feeling like myself.
We had always thought we'd do something kind of big and fun for our 10 year because our honeymoon was pretty low key, but I didn't want to spend the money on a big trip when I knew I'd just be tired and achy the whole time.
But we figured we should do something because 10 is a big deal right?! So we decided to head up to Door County, WI and it was honestly the best place to spend a few days in my current "condition" (I think it's funny when people describe pregnancy as a condition).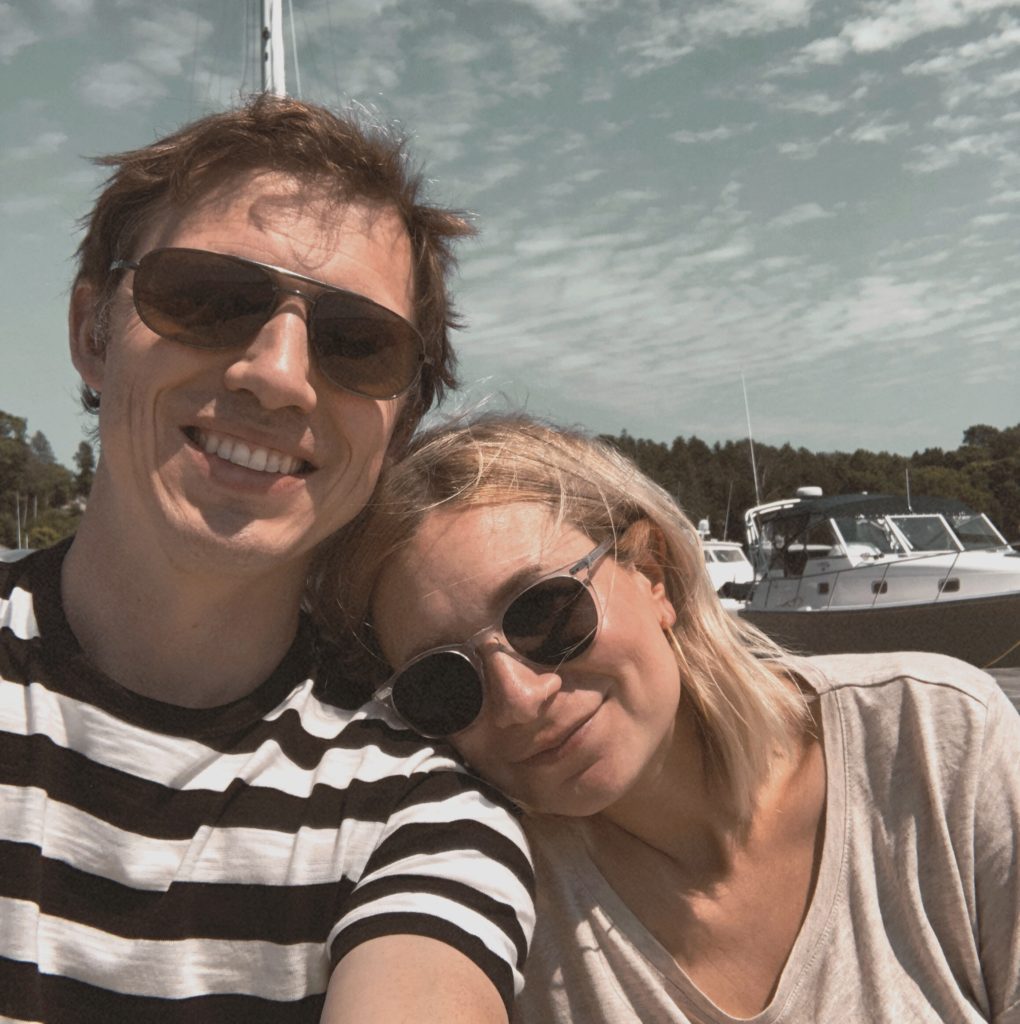 We didn't do a whole lot other than relax, eat, and walk around the various towns in Door County but it was a really nice trip.
I thought I'd do a small recap today and tell you what I packed, what I wore, what we did, and where we ate (including how I stayed dairy free) so let's get to it!
First of all: what I packed vs. what I actually wore.
I honestly wasn't really sure what to pack as I've never been there. I figured casual clothes were best, but just in case I packed my linen dress from Only Child, a pair of maternity jeans, and my new everlane day loafers and air blouse (review of both coming tomorrow!).
With the exception of the blouse, I didn't use any of my just in case items… ha! I kind of thought that might happen but I wanted to be prepared. 🙂
So here is what I actually wore and what we did each day: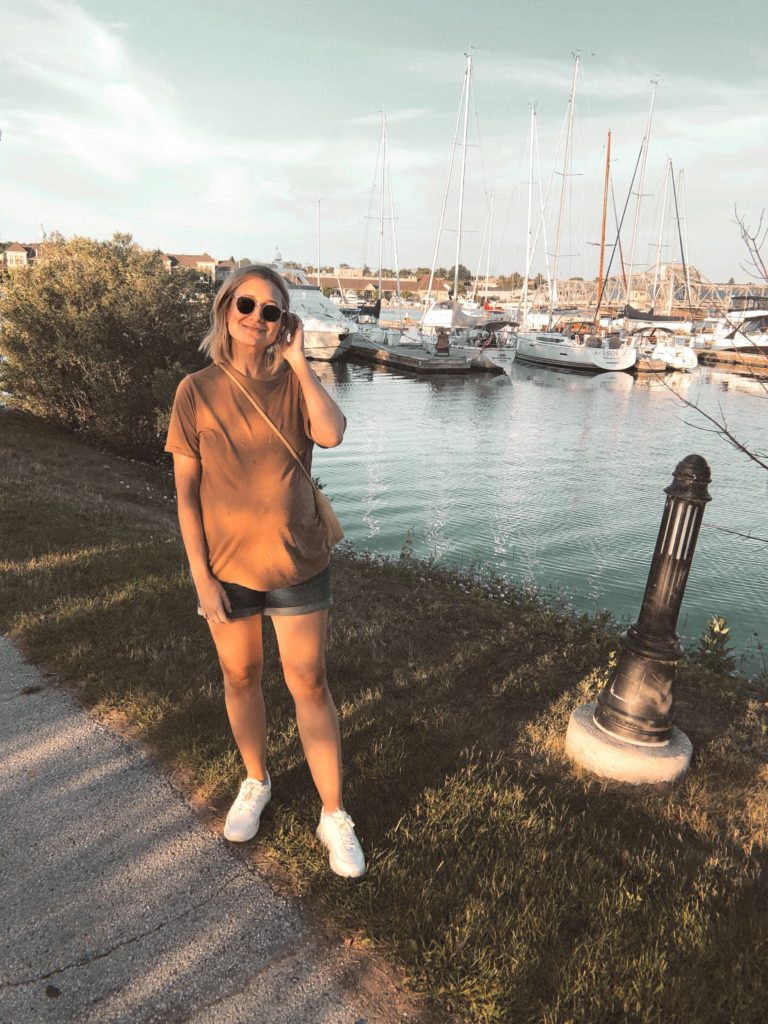 We left early Sunday morning and first stopped off in Green Bay. David and I had never seen Lambeau Field (yes, we're big Packer's nerds) so we wanted to walk around and visit the museum. We also ate at 1919 Kitchen & Tap, which is located in the stadium), which was really fun.
After we were done, we made the final trek to Sturgeon Bay where we stayed for the rest of our trip. We booked a room at White Lace Inn Bed and Breakfast and had a fantastic stay. The owner's were super accommodating and it was a really cute vibe.
That night we took it pretty easy and just walked downtown to eat at Sonny's Italian Kitchen. This restaurant wasn't the best, although I'm willing to chalk it up to the fact that I had to "dairy free" my meal (I ordered a dish that was supposed to have mozzarella, which I had removed, and then asked for my garlic bread "dry"… they didn't have really any dairy free options available, but I find most restaurants super accommodating) It DID have amazing views of the Bay so that was really nice.
You'll see that my outfits each day followed a very predictable formula: top, denim shorts, sandals or sneakers. I only packed one pair of shorts, which was perfect, and then rotated the top I wore with them. For footwear I just packed one pair of sandals, and one pair of sneakers which was again, the perfect amount.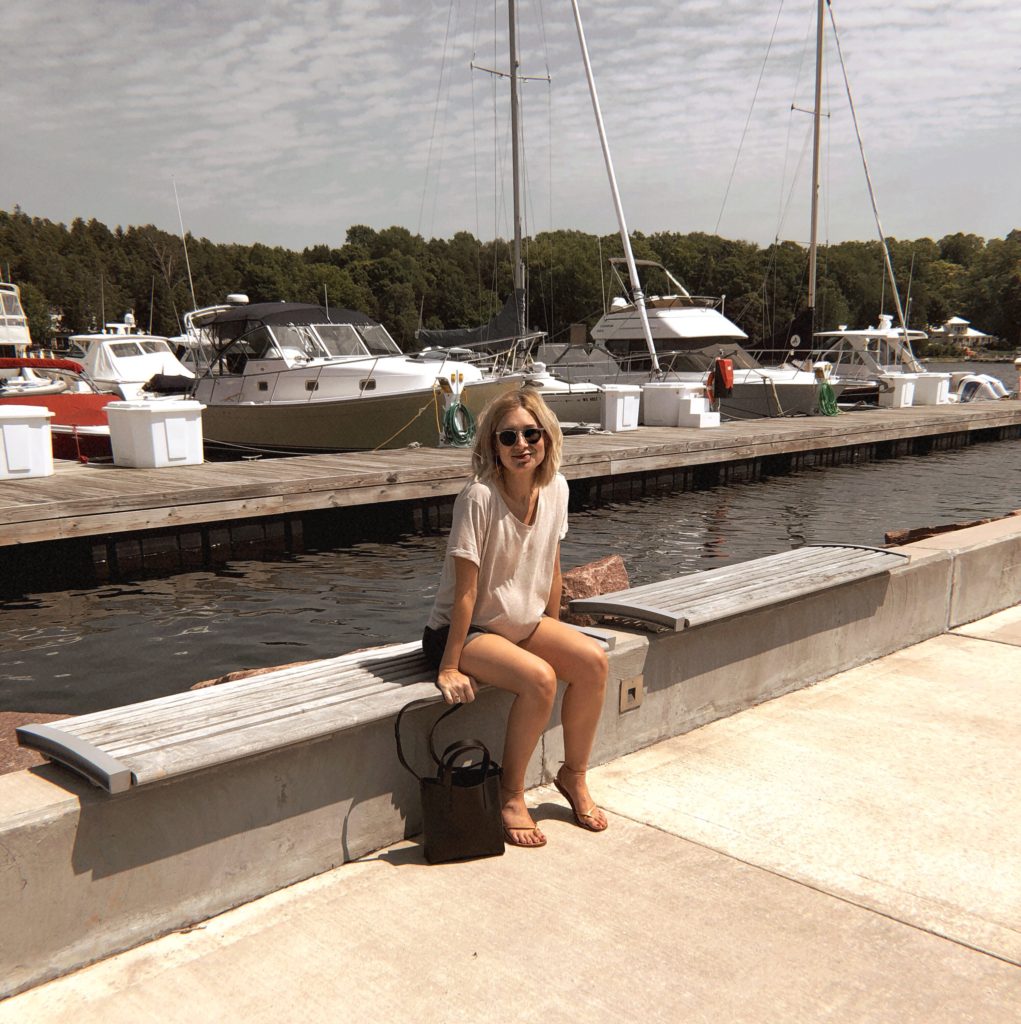 Day two we started off by going to downtown Sturgeon Bay and peeking in at a few shops. We got the girls some candy, and a little stuffed animal for baby boy. Then we headed out to visit some of the other towns in Door County.
For lunch we stopped in Egg Harbor at Wild Tomato Pizza. Several of you had suggested Wild Tomato, but what cinched it for me is that they offer vegan cheese! We got a build your own pizza and just did vegan cheese on half and regular cheese on the other half. I really loved this meal, and I would have eaten a lot more, but lately baby boy has been rolling around so much when I eat that it makes me feel full really fast (ha!).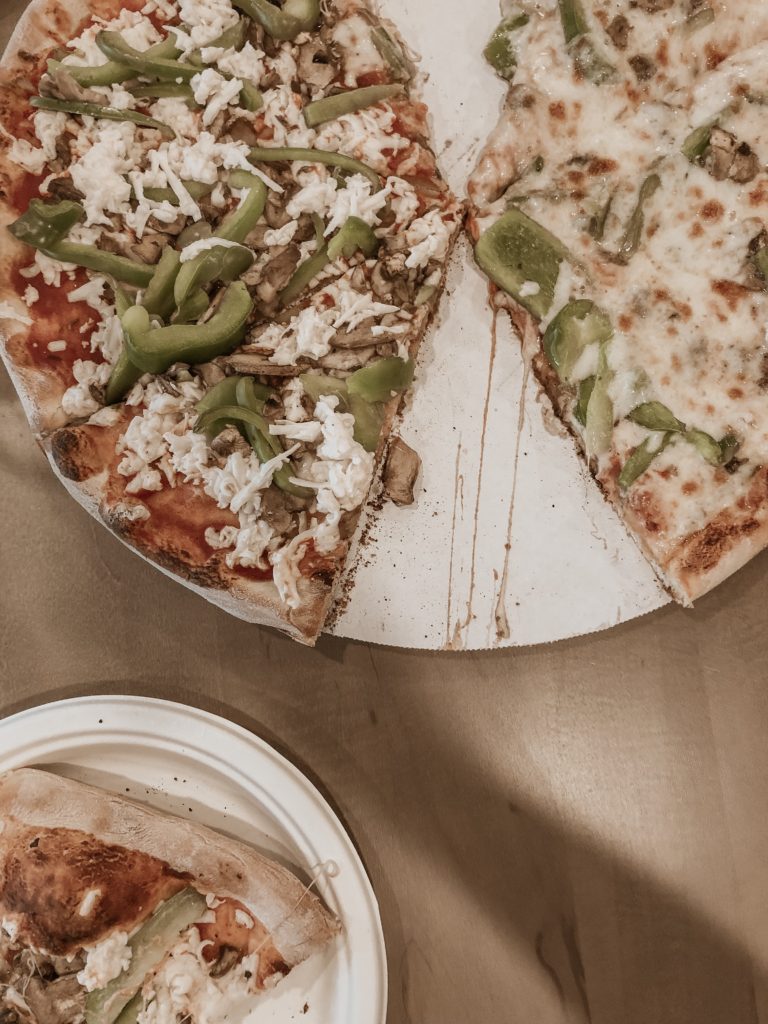 After lunch we walked down to the marina and just spent a bit of time watching the water and everyone fishing. It was really relaxing with beautiful views!
We then headed over to Peninsula State Park. I was bummed we couldn't do much hiking, but with my sciatic nerve pain I can't do a whole lot of moving these days so we settled for taking a drive through and getting out at some scenic locations: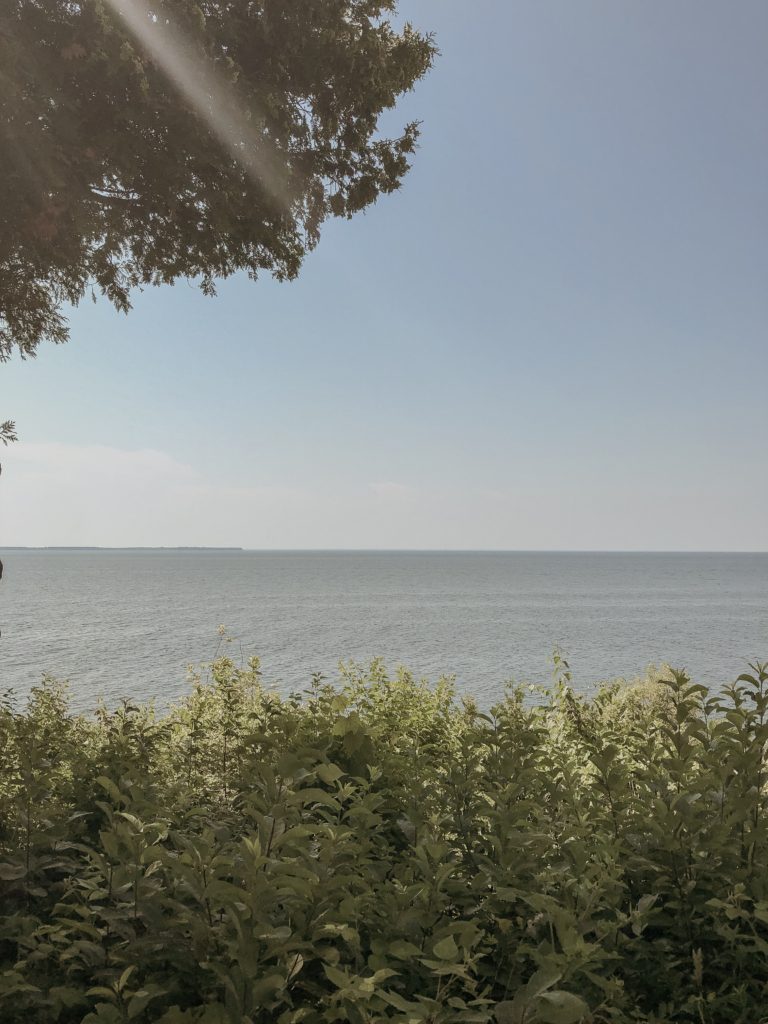 By this time it was late afternoon so we decided to stop at Wilson's for some "ice cream." I put that in parenthesis because I obviously can't have ice cream. I was hoping for some lemon sorbet, but they were out so David got some rainbow sherbert and I settled for a root beer. This is one of the bummer's of eating dairy free, but the symptoms are definitely not worth the "cheating!" For anyone else wanting to stay dairy free during a visit, I'd still hit Wilson's up because it is super cute, and I've heard they normally have lemon sorbet available.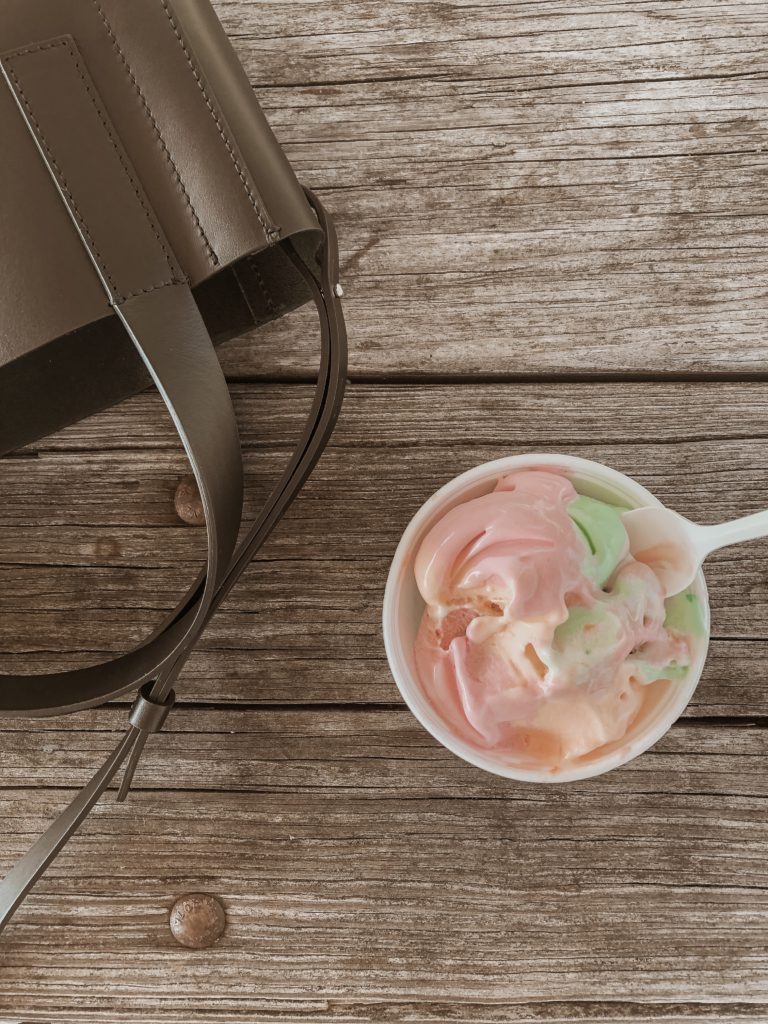 After Wilson's we started heading back and decided to stop in Fish Creek (per a lot of your recommendations). We were able to walk around a little bit (and pick up some yummy cherry preserves), but it started down pouring so we decided to find a place for dinner.
Honestly at this point we were really tired and David was in the mood for a beer so we decided to go back through egg harbor and stop at a restaurant we had seen earlier in the day, Shipwrecked Brew Pub. David really liked his meal here (he got a chicken salad wrap and did the beer sampler), but I wasn't wowed. I got the Fish and Chips, and it just didn't taste… seasoned. I'm not sure I'd recommend it, although it did have a really fun atmosphere.
And by that time we were spent so we went back to our inn and watched the Bachelorette ha!
We headed out around 10:00 on Tuesday morning, and stopped at Grandma Tommy's General Store on our way out of town to get some Door County coffee for my in-laws.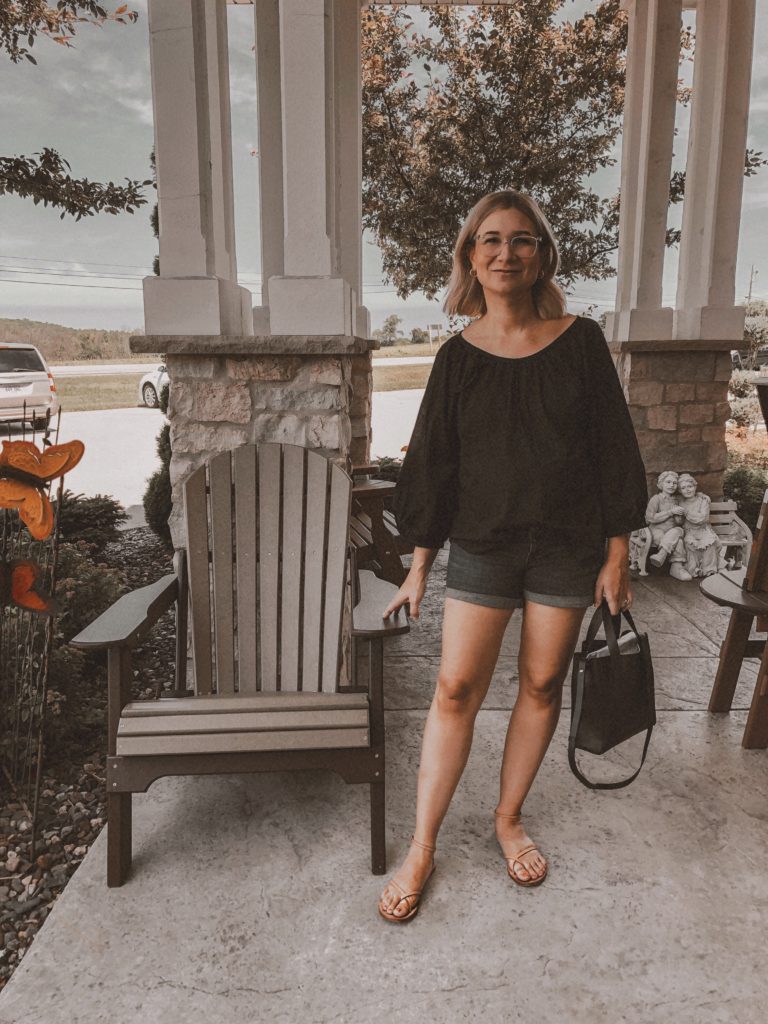 Overall it was a really nice and relaxing trip, and we enjoyed our time there. I would like to go back when I can do a lot more hiking because there are SO many state/county parks to explore.
The only time I really struggled to eat dairy free was at the White Lace Inn with the breakfast they provided, but after our first morning there I realized I could ask them to make me a bowl of oatmeal so it was all good. I'm learning that being dairy free means asking a lot of questions ha! I usually just preface it with: I know I'm high maintenance, but I really appreciate your flexibility! People tend to be happy to help when they realize you know you're being "difficult."
There you have it! That's pretty much everything we did, ate, and wore! Have you been to door county? What were your favorite things to do?
And on a separate note, the outfits in this post conclude my 30 Days of Summer Style Series! It's been fun to show you my outfits in real time, and I'll probably continue to do so (I've enjoyed this format), but perhaps in a less formal, maybe not every day kind of format. I'm holding my blogging schedule loosely at the moment because I know the end of pregnancy can be super tiring. I'll do my best in other words! I know you guys understand.
Outfit Details:
Day one:
tee, everlane (sustainable) | shorts, target maternity. non maternity option here (sustainable) | sneakers, everlane c/o (sustainable) | purse, baggu (sustainable) older color, but other colors still available | sunglasses, eye buy direct
Day two:
tee, H&M | sandals, old from Nisolo (sustainable). similar style available here | purse, everlane c/o (sustainable. review coming tomorrow) | sunglasses, shorts, and sneakers are same as above
Day three:
blouse, everlane (sustainable. review coming tomorrow) | earrings, GLDN c/o (sustainable) | everything else is mentioned above