Everlane Denim | Everlane Tee | Thrifted Mules. Similar
Yesterday I woke up earlier than I normally do and couldn't go back to sleep.
I ended up having about two hours before the girls got up and it was so nice. I drank some coffee, I listened to music, I even journaled a little.
It left me feeling so motivated and excited for the day.
And instead of just letting myself coast through the day like I seem to do lately, I had the energy to be more intentional with the girls.
We went on a walk and gathered fall leaves for a bouquet, Bug and I made hot chocolate (1 tablespoon unsweetened cocoa powder, 1 tablespoon maple syrup, and 2 cups coconut milk) and sipped it while we read books, and we painted pumpkins.
I think I want to try to get up early more regularly, which means I have to go to bed earlier, which means I need to stop wasting my time on things that don't enrich my life (i.e. mindless iPhone time). This is a hard one for me, because I am not a morning person, but I am realizing that having space to myself at the beginning of the day makes a huge difference in my ability to be present in my various roles.
It even left me motivated to finally get this Everlane Jean Review up for you guys. I know a lot of you have asked for it, but I wanted to wait a little while so I would have a better idea of how they wear over time.
I did a video review as well if that's your jam, but I'll try to be as detailed as I can in this post.
The pair that I picked up are the Modern Boyfriend in Mid Blue.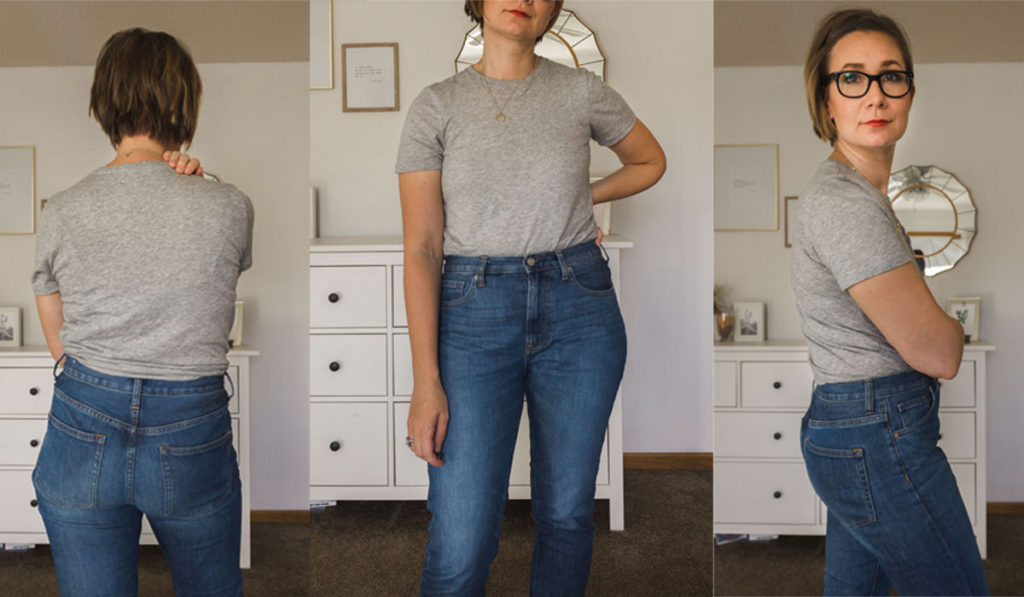 Fit:
these fit more like a straight leg/mom jean than a typical boyfriend. Most of the boyfriend denim I've owned has been much baggier in the waist and hips with a pretty obvious taper towards the bottom of the leg. The Everlane Jean is a bit less slouchy up top and a bit more straight legged on bottom.
Sizing:
However, I did size down in them. I imagine with a larger size they would sit a bit lower on my waist and therefore be a bit slouchier. The website says they are mid-rise, and again I think that would probably be true with a larger size. If you prefer a high rise, I would suggest sizing down like I did. On me, the smaller size sits right at my belly button.
If you're curious, my waist size is 30″ and I typically wear a size 28/6 in other denim brands. I bought these in a size 27.
Also, I'm 5'5″ and they hit me right above my ankle bone… so it seems like the length is catered to average height. If you're petite you'll probably need them tailored, and if you're tall they'll just be a bit more cropped (which is in right now!).
Material:
These are much more structured than most designer jeans. I also own a pair of AG boyfriend jeans and the Frame Le High Straight Jeans and both of these jeans are so stretchy they feel like sweatpants. Now, obviously there is a benefit to that kind of material. But, a big downside to material like that is that it slips down throughout the day (even with a belt). This denim is much more structured and weighty and it doesn't have a ton of stretch so it stays in place.
With that said, the knees do have a good amount of give to them so you kind of get the best of both worlds. They stay up throughout the day, but they still have enough stretch in them so that you can sit on the floor/do what you need to do in them. I will say that the first day they were a bit uncomfortable in the waist (too tight), but they loosened up throughout the day and now fit perfectly… even with a couple of washes.
And speaking of washes, I've washed them twice (no drying) and the material has held up great so far.
Overall thoughts:
I really love these jeans. They have pretty versatile sizing so I think this style will appeal to a pretty wide audience. They remind me a bit of the classic Levi 501's, but with more stretch so they are more comfortable.
I love the way they look as well. They feel very modern to me and I think they look great with shirts tucked in and with a cardigan over top. I also love that they don't have any distressing or whiskering. I'm hoping to add the black ones to my closet next fall.
I hope that was helpful! It's kind of intimidating to purchase denim online, so I hope that this will give you an idea if they are right for you.
Also, I'm happy to answer questions for you if you have them so just leave them in the comments below and I'll do my best!
Have you tried this Everlane Jean? Or any of their other options? They also have a skinny option in high rise and mid-rise.
Also, also, here's my video if you want to see them "in real life".
Here's a link to my other Everlane review as well.
Until next time,