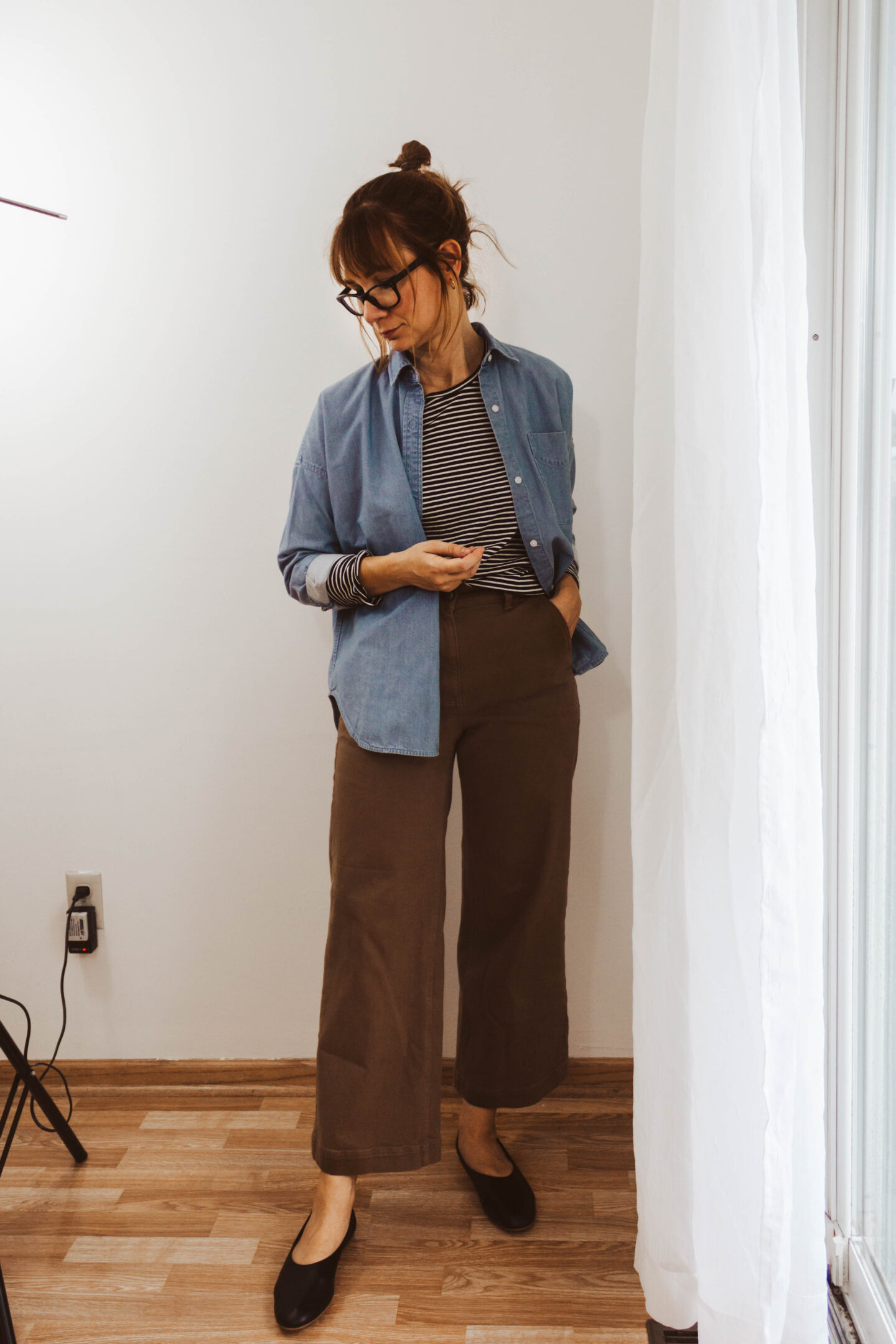 For some reason it feels like it's been forever since I sat down and wrote a blog post… which is weird because it really hasn't been that long.
We've just had a lot of life happen in the last week and it feels like it's been a month, and not a mere seven days.
We started physical therapy for Ella and Rosie to give them that final push to start walking (hopefully they start soon! My arms are getting tired!), and Kit is starting preschool.
I feel a little emotionally tired to be honest. These changes are good ones, but I struggled with both the decision to put the twins in therapy, and to start Kit with preschool at the age of three.
I'm feeling confident now, but the process leading up to starting these things was a bit emotional.
I imagine I'll feel this way pretty constantly until the girls are grown… no one ever told me how hard it is to make decisions that affect other people's lives ha!
But let's get to today's post shall we!
I've never done a post like this, but now that I'm done sharing an official capsule wardrobe with you at the beginning of each season, I wanted to find a way to share some of my favorites from my fall wardrobe.
This really isn't anything fancy…
at the start of each season I always take my fall clothes out of storage and try them all on. I put together different outfits, and just basically shop my closet!
I do this because,
a:: it stops me from going out and buying a ton of new stuff
b:: it gets me really excited for a new season!
So I thought I would just do my best to capture that process for you guys.
This is super chill you guys, I didn't do any Photoshop tricks… no fancy collages, and I didn't remove the light stands from my photos… I didn't do my hair or makeup…
just one afternoon while the girls were sleeping, I pulled out my camera and took some photos.
Chill.
Some of these clothes are new, some of them were gifted, some I've picked up over the spring and summer, and some are old. But they've all been acquired slowly and with thought… no massive shopping sprees here.
Also, as you saw from the title of this post, I'm labeling this an "affordable" ethical fashion look book.
All of the clothes were bought from ethical brands, but cost less than $150… which I get is still expensive for a lot of people.
But in the ethical fashion world, that's quite a bit less than some other offerings.
OH! and I do have other clothes besides these, but they're all either thrifted or old so I thought I would keep this post to things that are still available.
Enough disclaimers already!
I'm not going to do much chatting between photos, I'm just going to show you the outfits…
Let's do this!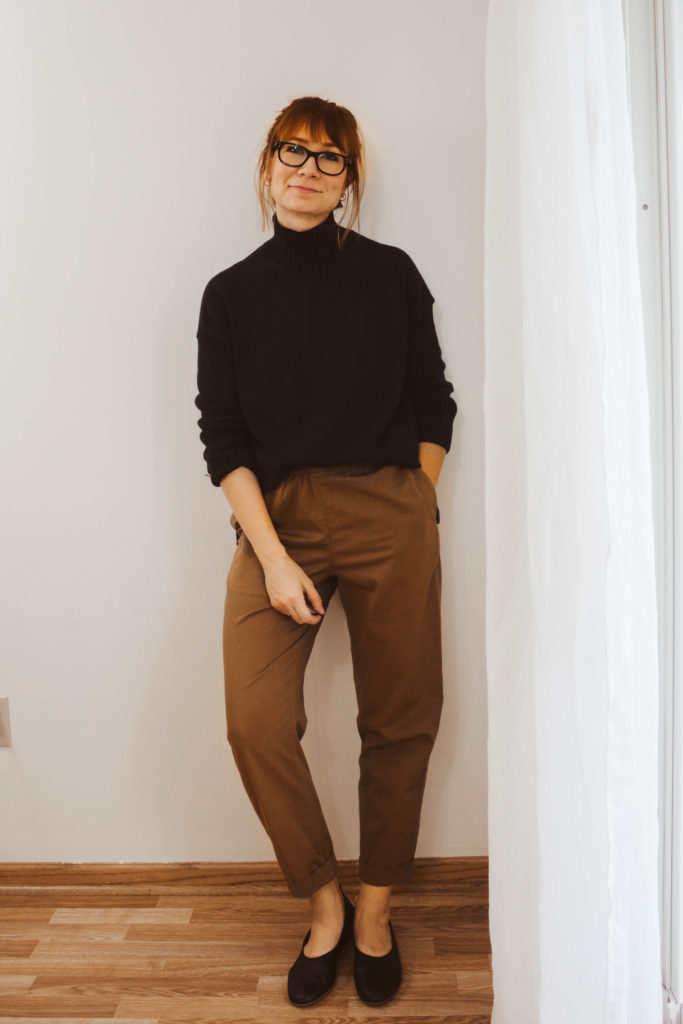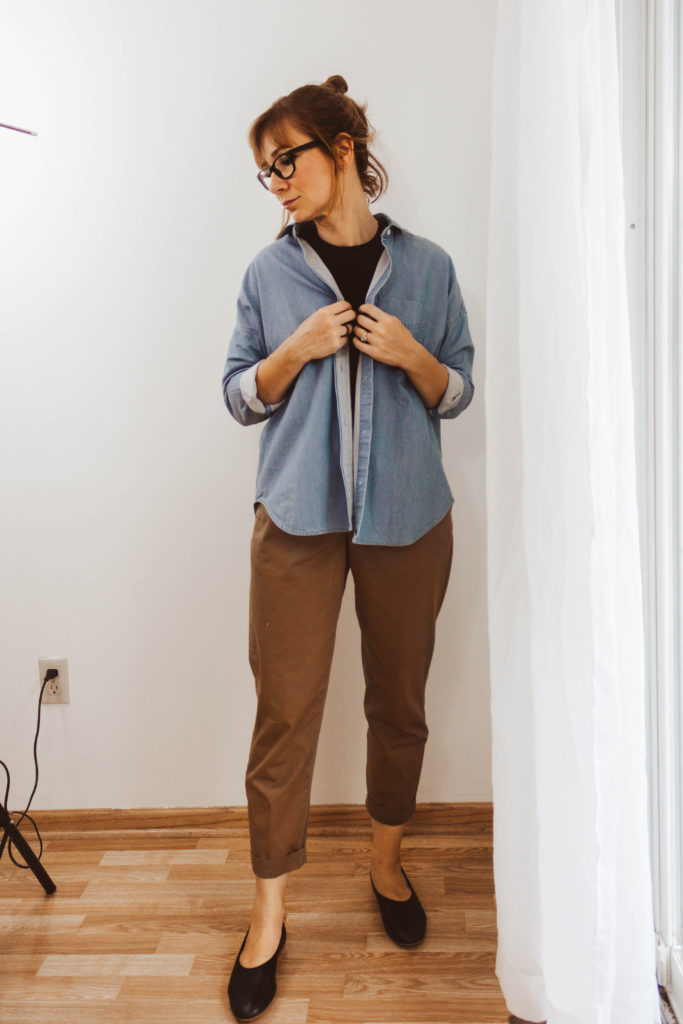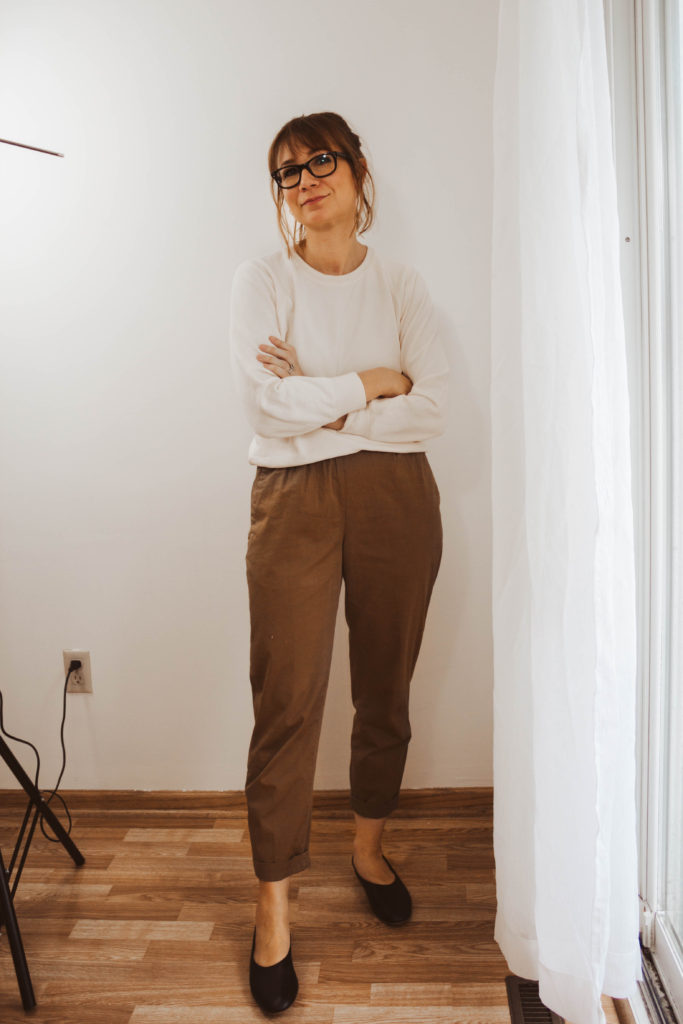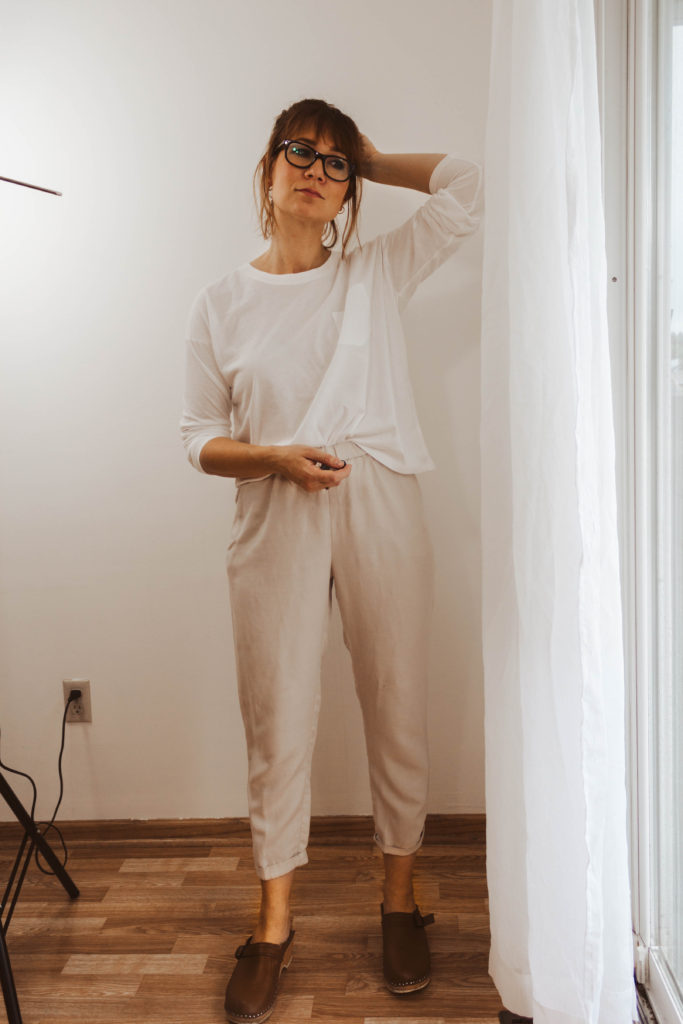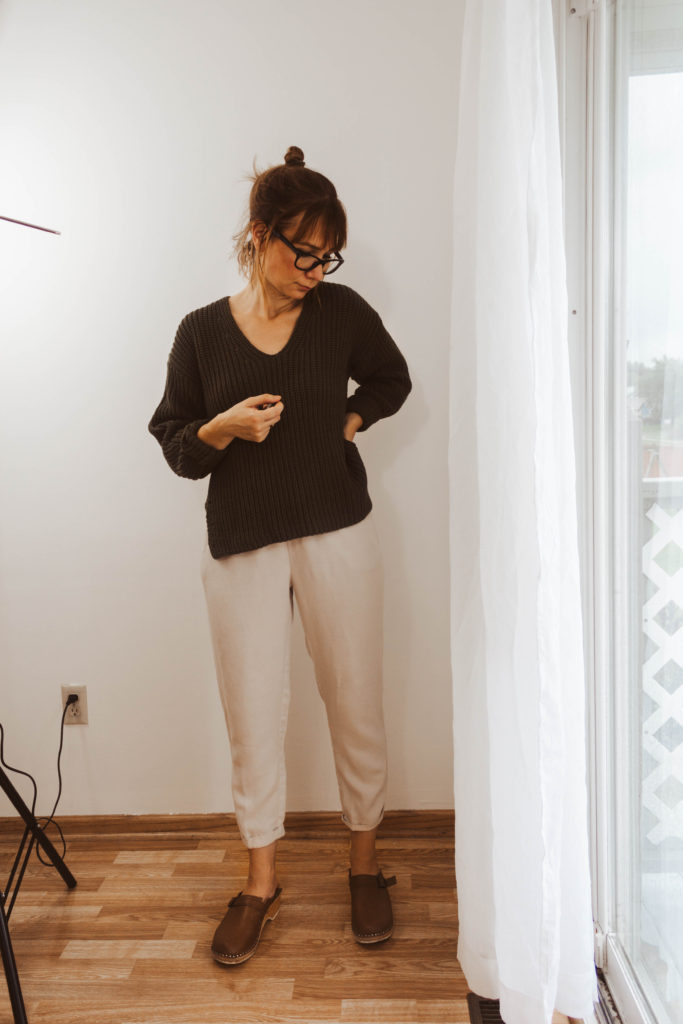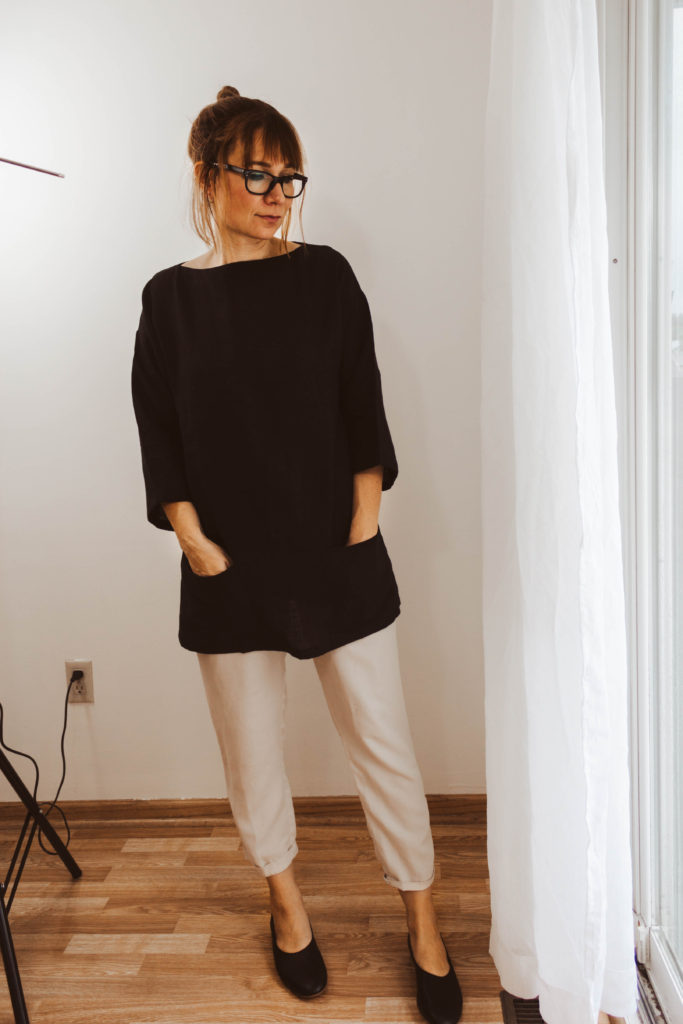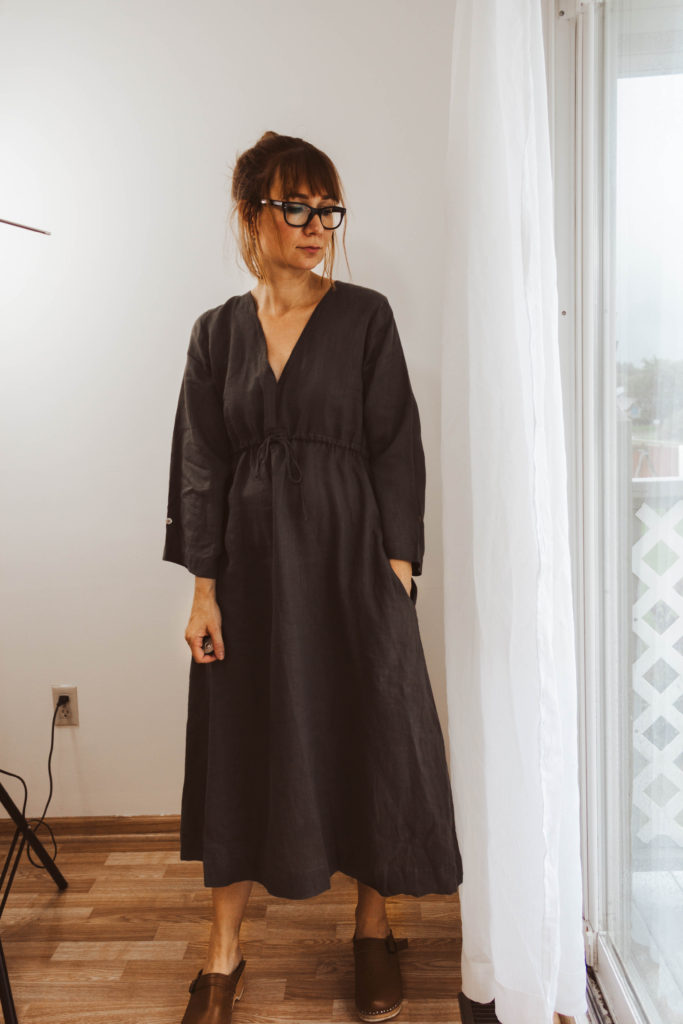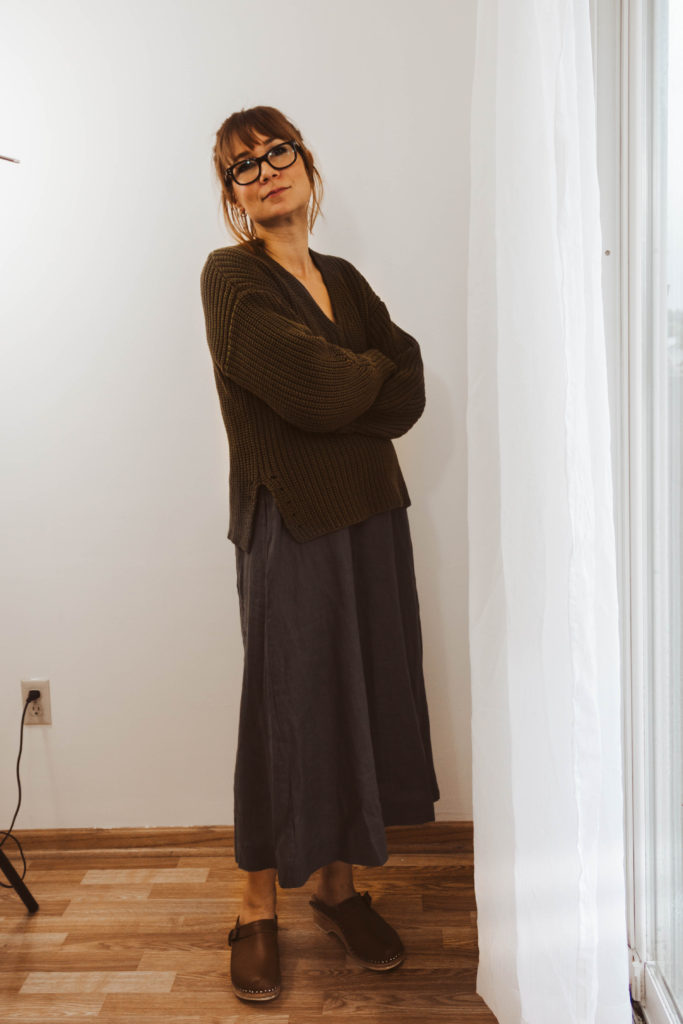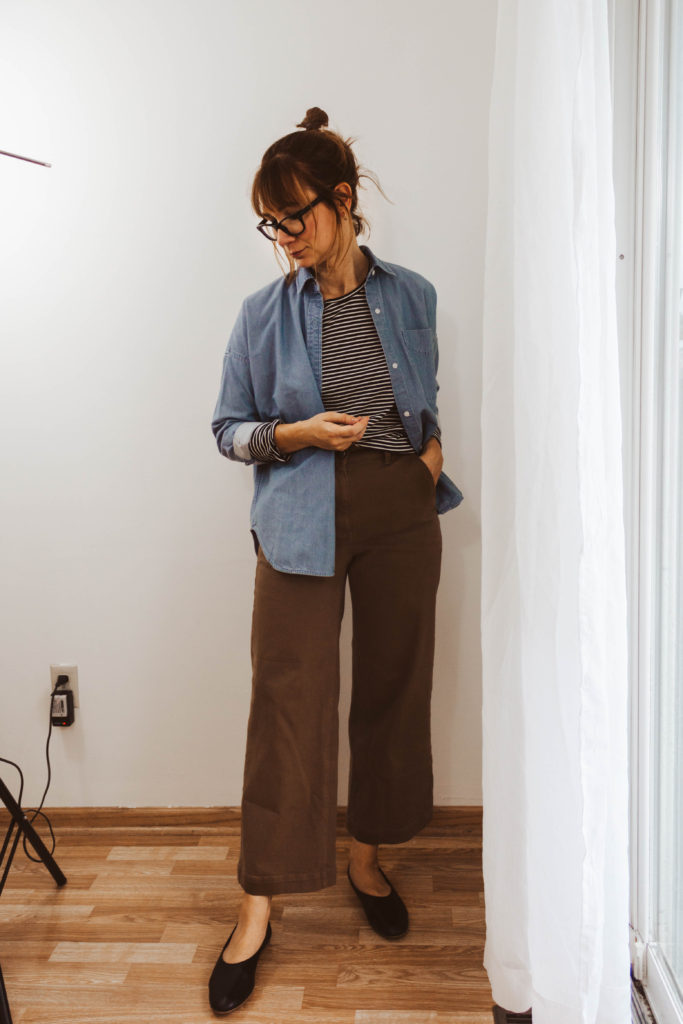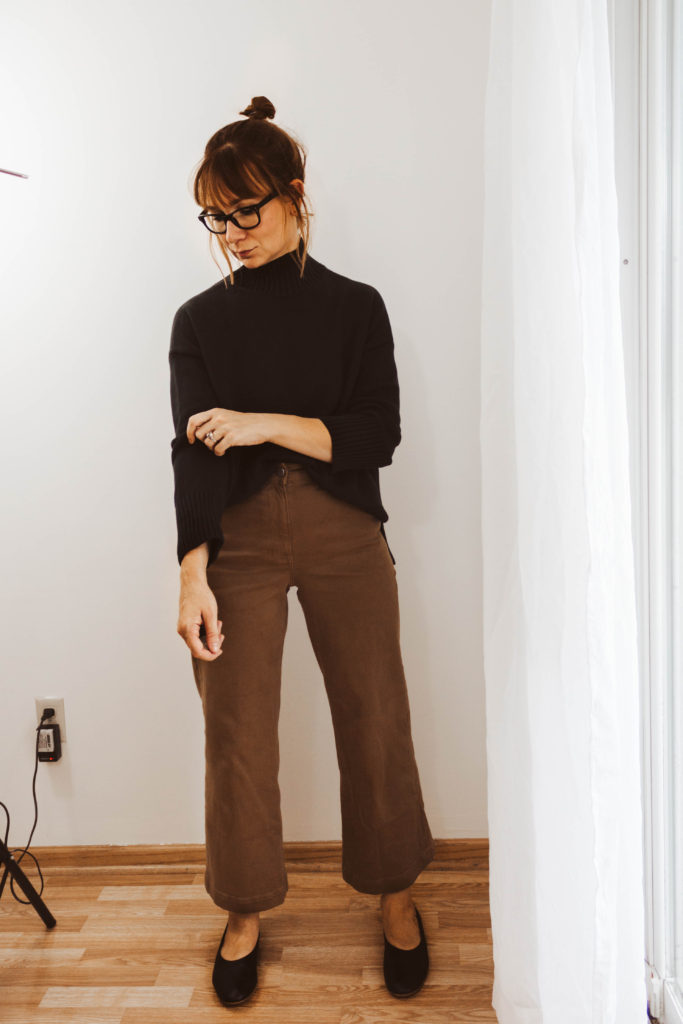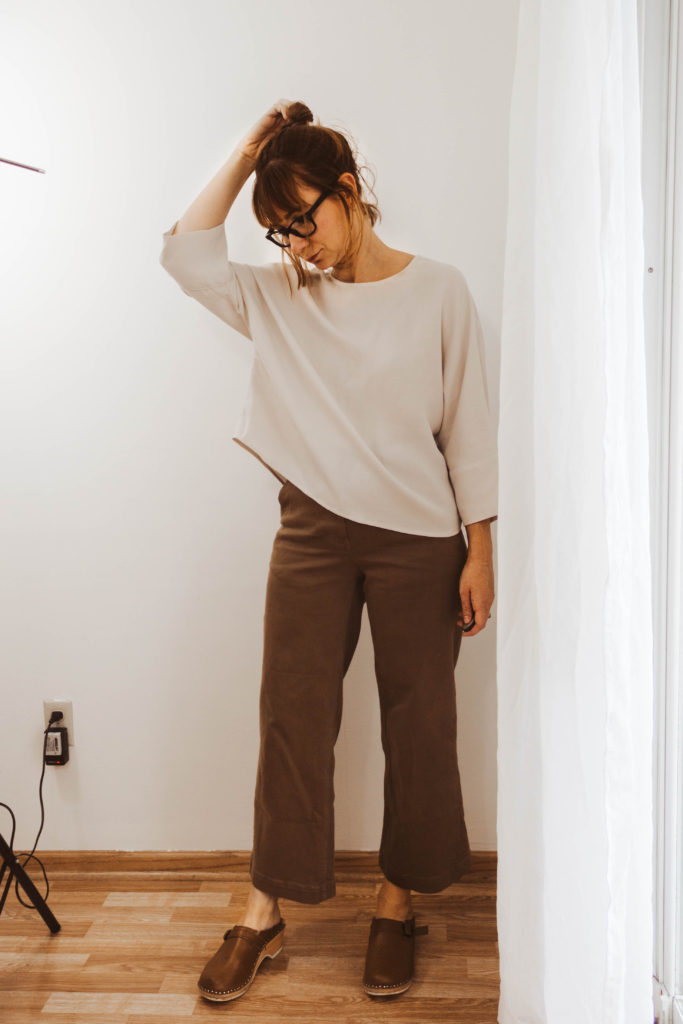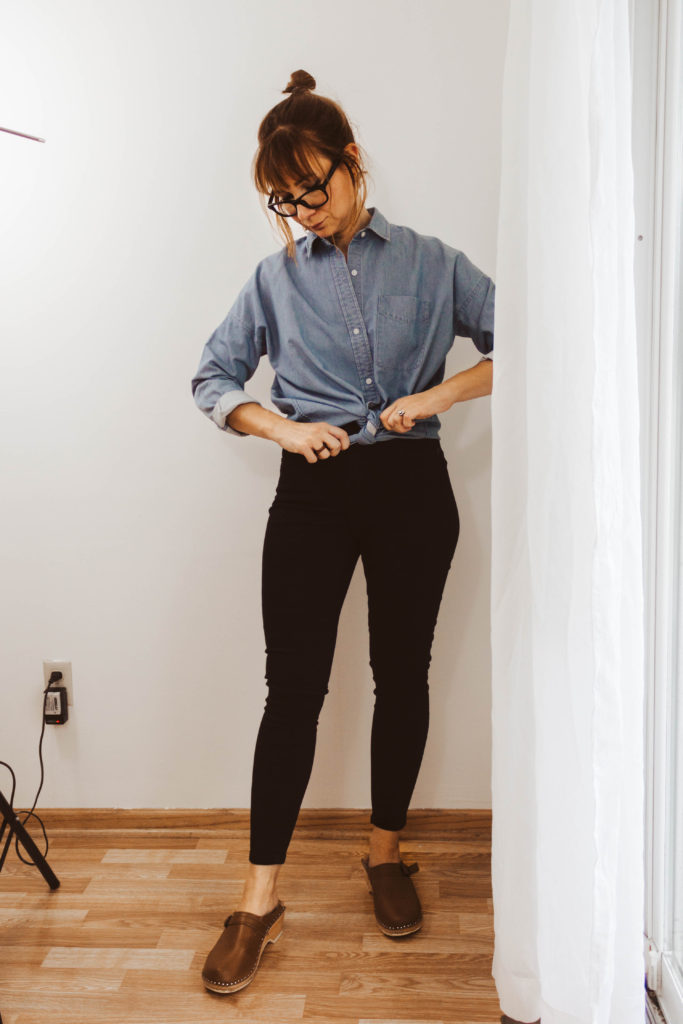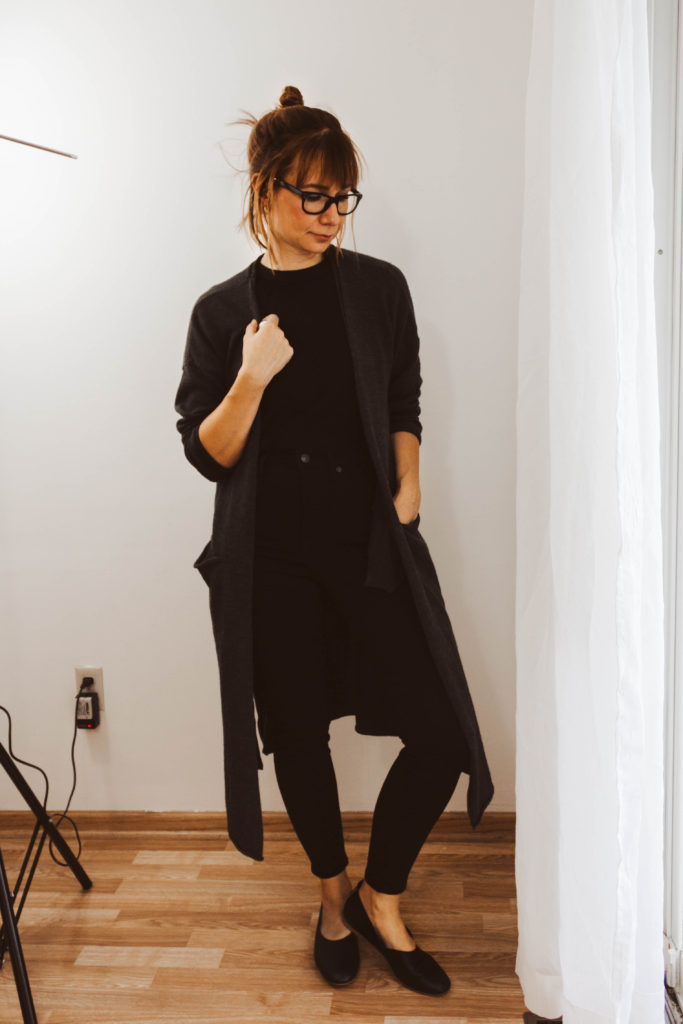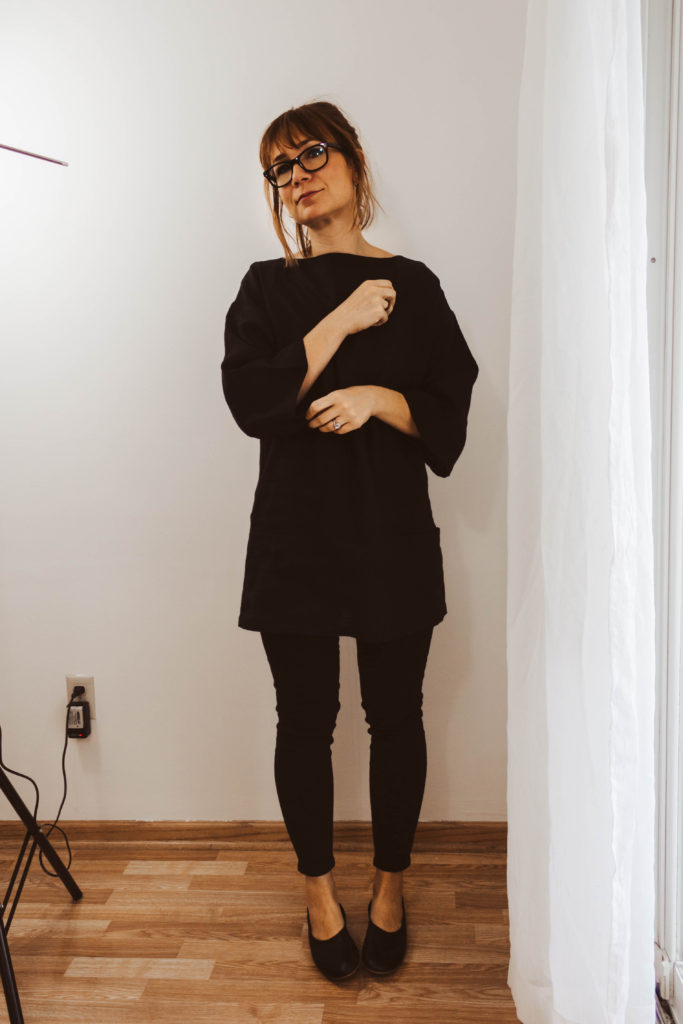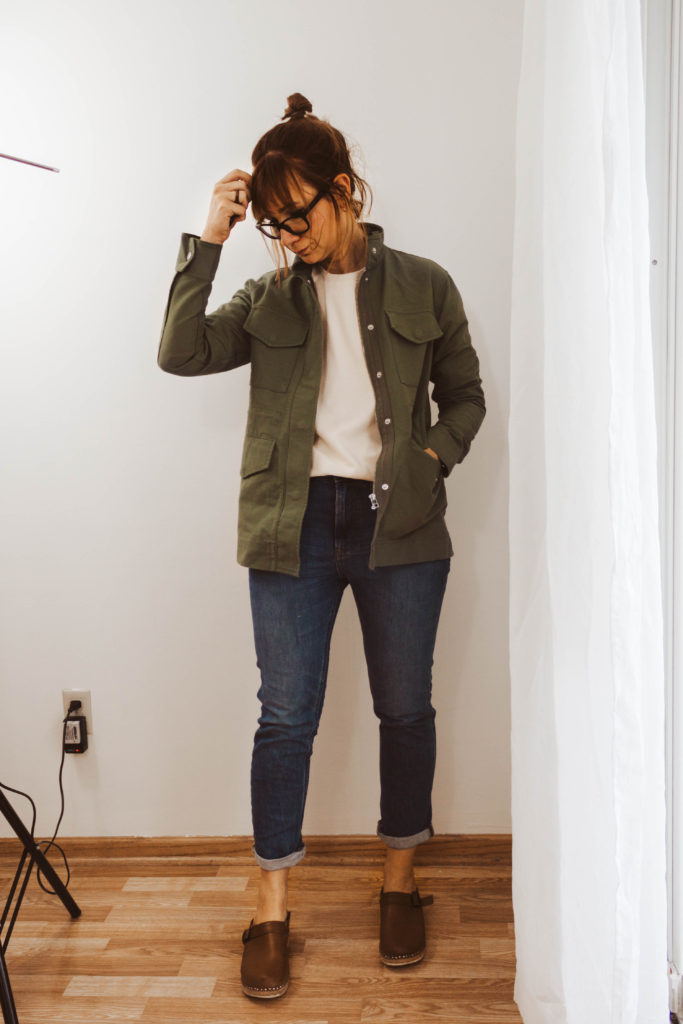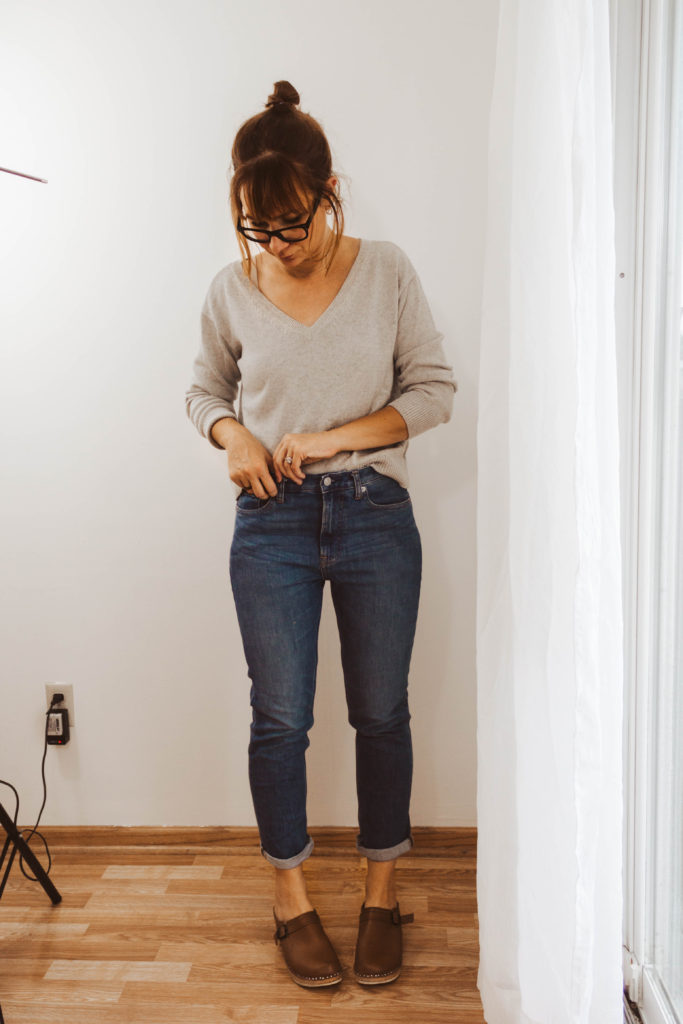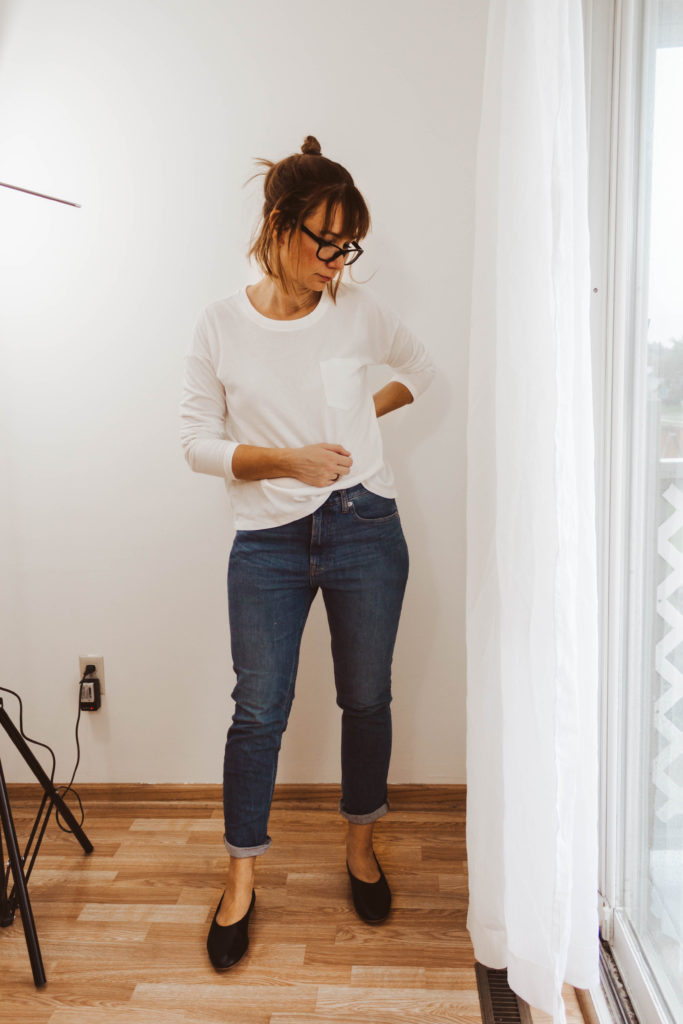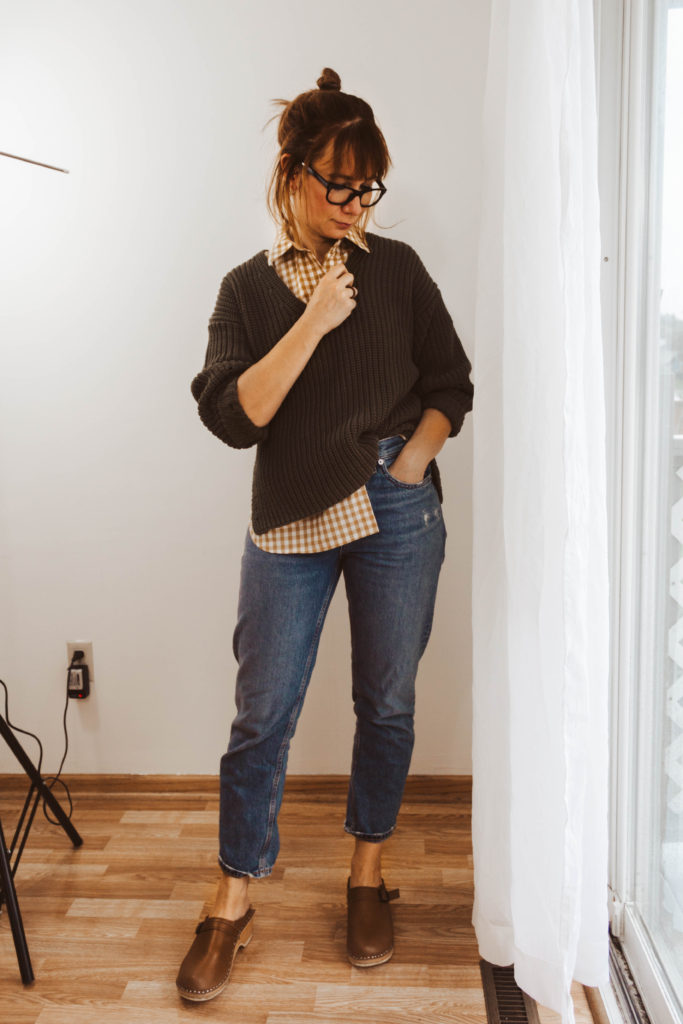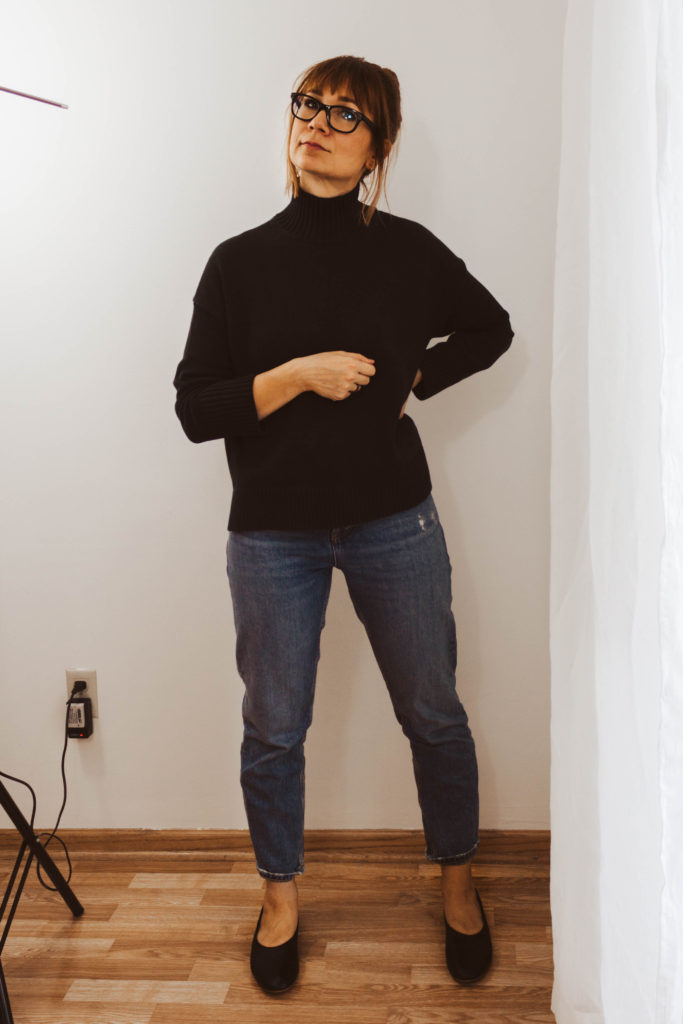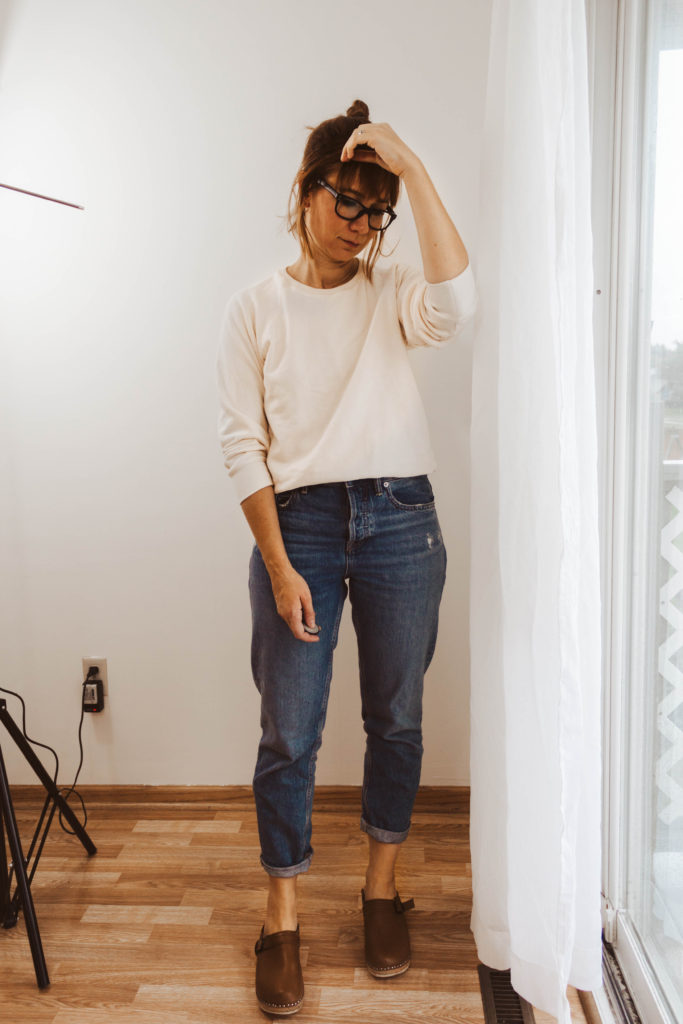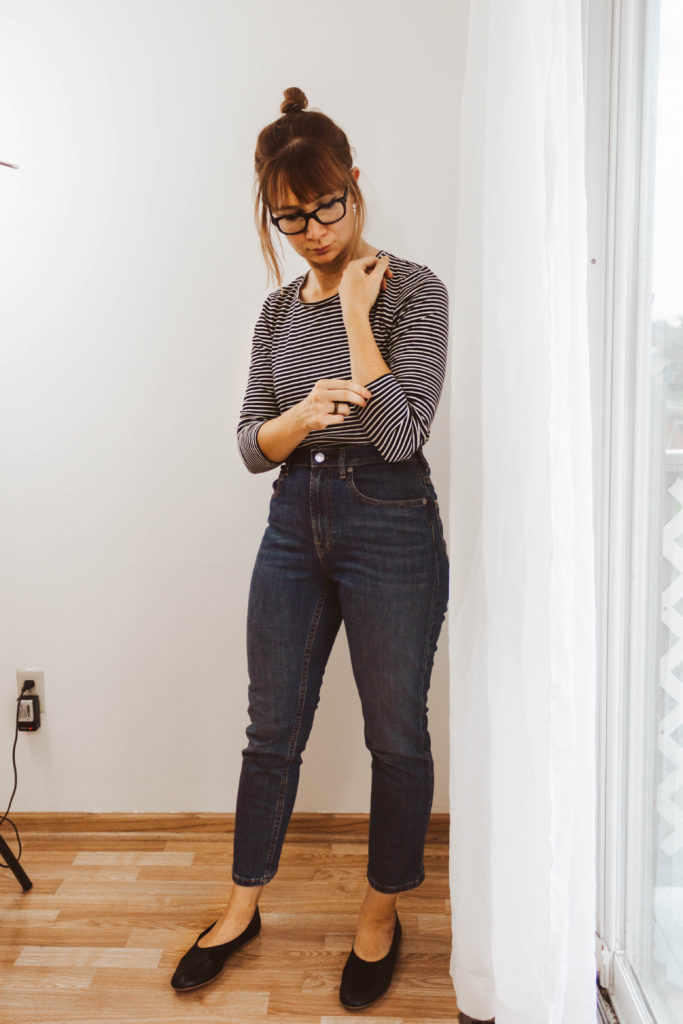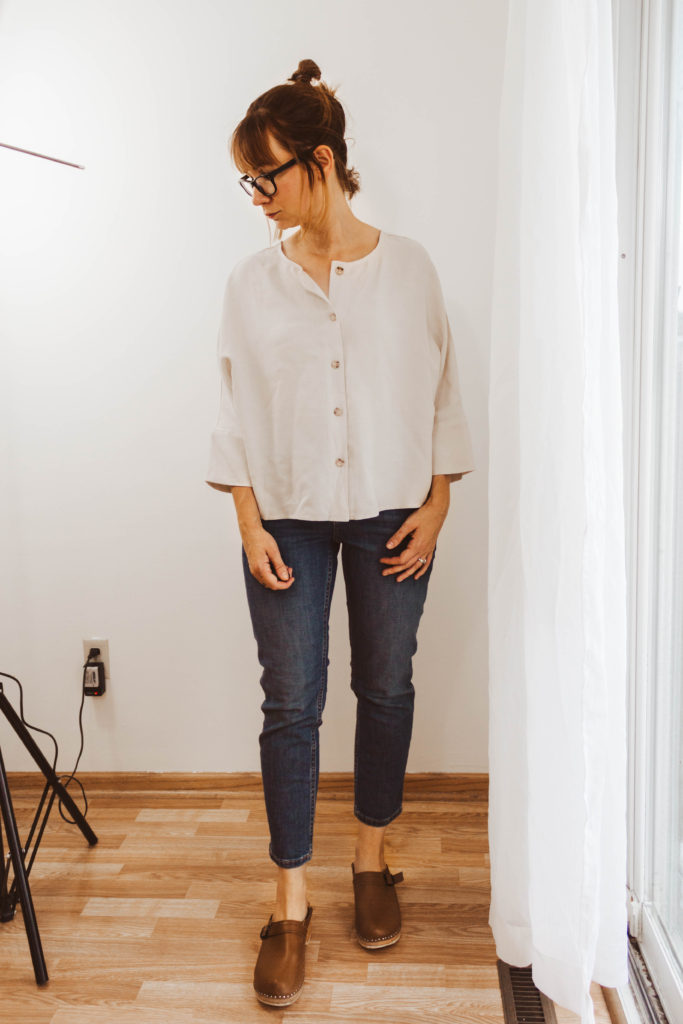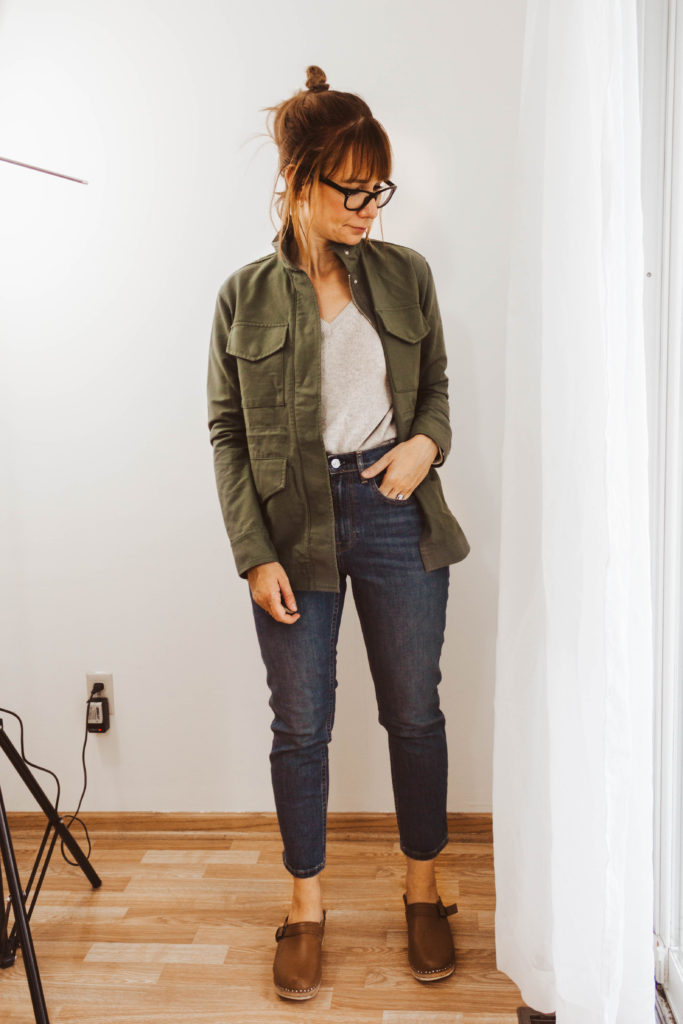 ::
Clothing shown in this look book:
Everlane black turtleneck sweater. fits TTS.
Everlane cognac tapered pants c/o. size down 1-2 sizes. See review here
Everlane black glove shoes. fits TTS See review here
Tradlands black short sleeved tee c/o. No longer available
Everlane denim shirt. TTS
Tradlands ivory sweatshirt c/o. fits TTS. (15% off with code KARIN15)
Everlane white long sleeve tee. fits TTS.
VETTA taupe tapered pants c/o. size down
Troentorp clogs. fit TTS.
Everlane green sweater. No longer available
Everlane cognac wide leg pants. size down.
Everlane striped long sleeve tee. fits TTS.
Sugar Candy Mountain linen dress. No longer available. Other beautiful styles here.
Love & Confuse black linen tunic. fits TTS.
VETTA taupe boxy blouse c/o. size down 1-2 sizes.
Everlane black skinny jeans c/o. fit TTS. Everlane Denim Guide here
It is Well L.A. charcoal cardigan c/o. fits TTS. (it's no longer available in charcoal so I linked to the black option).
Everlane cargo jacket. size down.
Everlane boyfriend jeans. no longer available
Everlane gray v-neck sweater. fits TTS.
yellow gingham button down. No longer available
Everlane boyfriend jeans. no longer available
Everlane cheeky jeans. fit TTS. Everlane Denim guide here
::
So there you have it!
Just looking at these photos has me excited for fall…
and this post was fun to put together for you guys.
We've been talking a lot lately about comparisons, and the idea of "appreciate and release" so please take this post with a grain of salt.
If you see an outfit you like in this look book, look at the clothing objectively before making any purchasing deciions.
And maybe try looking to your own wardrobe! Do your own try on… maybe even take photos for your own personal look book (helpful to reference when you're in a rush!).
Now tell me… who's excited for fall? Have you pulled your fall clothes out yet, or is it still too hot?
Until next time,
Karin